I saw a girl in the street wearing a braided scarf and I just wanted one! It's a nice addition to complete any outfit. I called it scarf but I feel it's an accessory between the statement necklace and the scarf. It's a very simple sewing project to make and the best is that you can upcycle some of your old t-shirts to make it. If you don't have any, no worries, it works fine with new fabric too.
Material you will need to sew a braided scarf:
Three old t-shirts (or jersey fabric)
Matching thread
Scissors
Sewing machine
Sequins or beads (optional)
I looked in my wardrobe a grab three colors matching t-shirts to make my braided scarf. As I said, you can use jersey fabric too. The reason why I suggest jersey fabric is because it doesn't fray. If you choose to use any other kind of fabric, prefer one lightweight and you will have to make a double fold-hem on each fabric edge.
If you choose to work with old t-shirts, you can even make your scarf without a sewing machine. you will have to make a few hand stitches but nothing complicated or too time consuming.

Let's start by cutting the t-shirts into strips of 3″ wide (7cm). Start cutting next to the shirt bottom edge, it's the easiest way to cut straight strips.

To make your scarf you need three long strips, one in each fabric. Each strip must have a length of more or less 3 3/4 ft. (3.5m). I know it's a very long strip, remember you will braid it and the length will be reduced. Plus, you want to be able to make several wraps around your neck when wearing it.
So you probably will have to sew strips together to make 3 long ones. You can take a look at the pictures here over, to see how I sewn the strips in diagonal.
Place two strips at 90 degree angle, edges have to overlap. Make a seam in the diagonal to attach both strip together. Cut the triangle tip and open. repeat as many times as necessary to make three strips of 3 3/4 ft. long.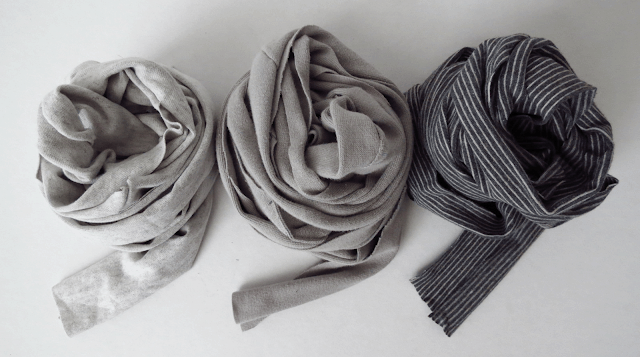 A this point, this is what you must have: three long strips of each color! You are ready to start braiding your scarf.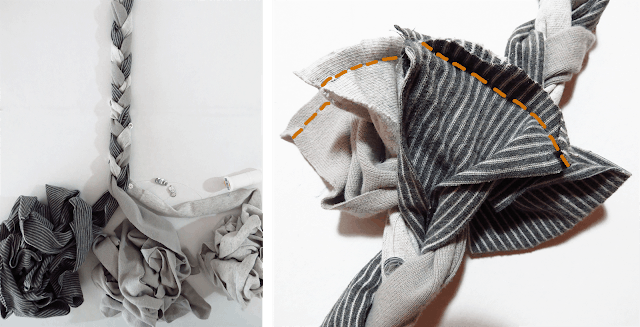 Attach the ends of each strip together with a safety pin, and find a place to attach it (or borrow someone's hand).
Start braiding, rolling the edges of each strip inside. Braid, braid, braid and when you reach the end, sew the end of each strip with its beginning. Cut off the excess fabric and adjust the braid so the seam remains invisible.
And done! Wrap it around your neck 2,3, or 4 times as you like to wear it.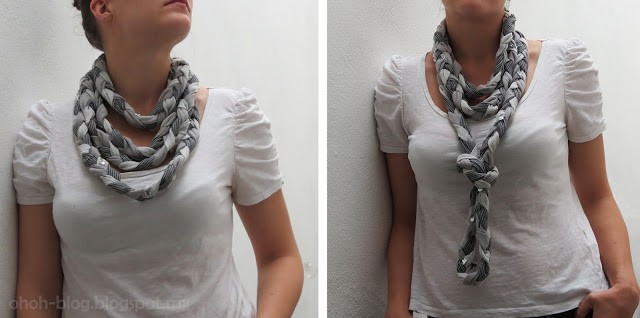 To make my scarf a little fancier I stitches a few silver sequins on it. You can do the same or add some beads or a ribbon when braiding. Up to you to customize it as you like. I hope you enjoy this easy sewing project. Have fun making your scarf and don't hesitate to share your creations in comments.
Want to remember it? Save this DIY braided scarf in your favorite Pinterest board.
You will find all the tutorials featured in the video on my "Best DIY" page.
Amaryllis