Waiting for the holidays, at the beach or enjoying the swimming pool, here's a little DIY to get you in the mood!
Mientras esperamos las vacaciones, a la playa o para disfurtar la alberca, un pequenio DIY para aminar nos y poner nos en el ambiante!
En attendant les vacances, à la plage ou à la piscine, voici un petit DIY pour te mettre dans l'ambiance!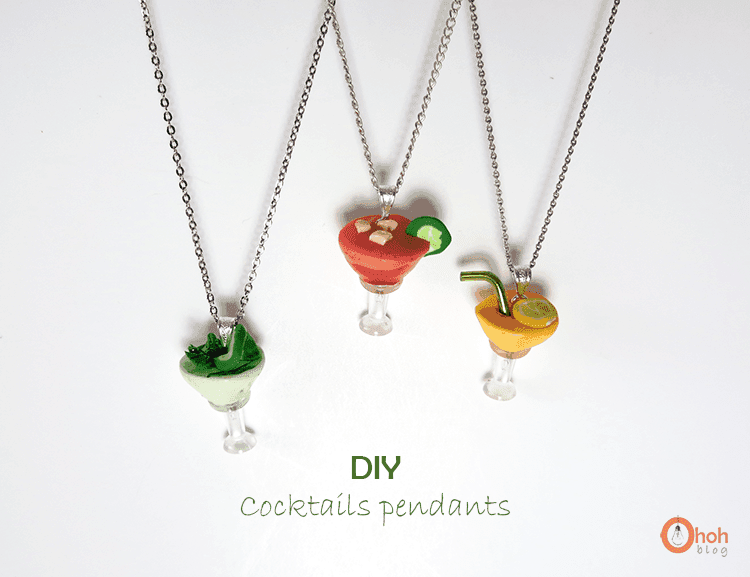 You will need: Polymer clay, push pin, pendant hook and a jewelry chain.
Vas a necesitar: pasta polímero, unas chinchillas, ganchitos de joyería y una cadenita.
Tu vas avoir besoin: de pâte polymère, de punaises en plastique, de supports pour pendentif et une chaînette.
Orange Cocktail:

You need three colors: White, orange and yellow
You use a push pin as a base for your cocktail glass, you put over a piece of polymer clay. With your fingers, you give it the shape of your glass. When you are satisfied with the shape, stick a piece of wire as straw and add a lemon slice on top.
Necesitas tres colores: blanco, naranja y amarillo.
Usas una chinchilla como base para tu copa de cóctel, y pones encima un pedazo de pasta de polímero. Con los dedos dale forma a tu copita. Cuando estas [email protected] con la forma, clavas un trozo de alambre como popote y añades una rebanada de limon encima.
Tu vas employer trois couleurs: blanc, orange et jaune.
Tu utilises une punaise comme pied pour ton verre à cocktail, et tu mets dessus un morceau de pâte polymère. Avec tes doigts, tu lui donnes une forme de verre. Lorsque t'es satisfait(e) de la forme, enfonce un morceau de fil de fer comme paille et ajoute une tranche de citron sur le dessus.
Mojito cocktail: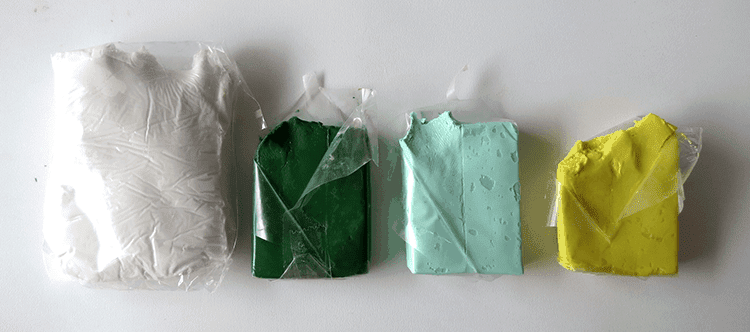 Colors you need: White, dark green, light green and yellow.
To make the "mojito" color, you mix white and two tones of green. You make the glass shape and wrap it with a thin piece of white polymer clay. You can add a green lemon slice and some mint leaves.
Colores que necesitas: Blanco, verde oscuro, verde claro y amarillo.
Para hacer el color "mojito", tienes que mezclar blanco y dos tonos de verde. Haces la forma del vaso y lo envuelve en una fina pieza de blanco. Puedes agregar una rebanada del limón y unas hojas de menta.
Couleurs: blanc, vert foncé, vert clair et jaune.
Pour rendre la couleur "mojito", tu mélanges du blanc et deux tons de vert. Tu fais la forme du verre et tu l'enveloppe d'une fine couche de pâte polymère blanche. Tu peux ajouter une tranche de citron vert et quelques feuilles de menthe.
Sunset cocktail: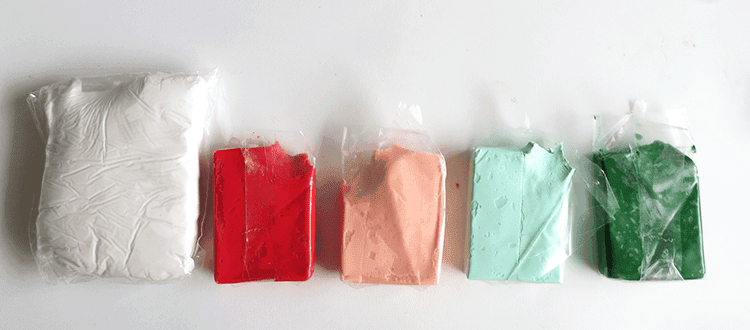 Colors: White, red, peach, light green and dark green.
Mix peach and red color in different proportions to have a color gradient. Stick them on top of each other and make the glass shape. Add some white square as an ice cube and a limon slice on the side.
Colores: Blanco, rojo, melocotón, verde claro y verde oscuro.
Mezcle el melocotón y el rojo en diferentes proporciones para tener un degradado de color. Pega los tres tonos uno encima del otro y haz la forma de tu vaso. Agregue algunos cuadritos blanco como cubos de hielo y una rebanada de limón a lo lado.
Couleurs: blanc, rouge, pêche, vert clair et vert foncé.
Mélanger la couleur pêche et le rouge dans des proportions différentes pour avoir un dégradé de couleurs. Colle-les l'une sur l'autre et fais la forme du verre. Ajoute quelques carrés blancs comme glaçons et une tranche de citron sur le côté.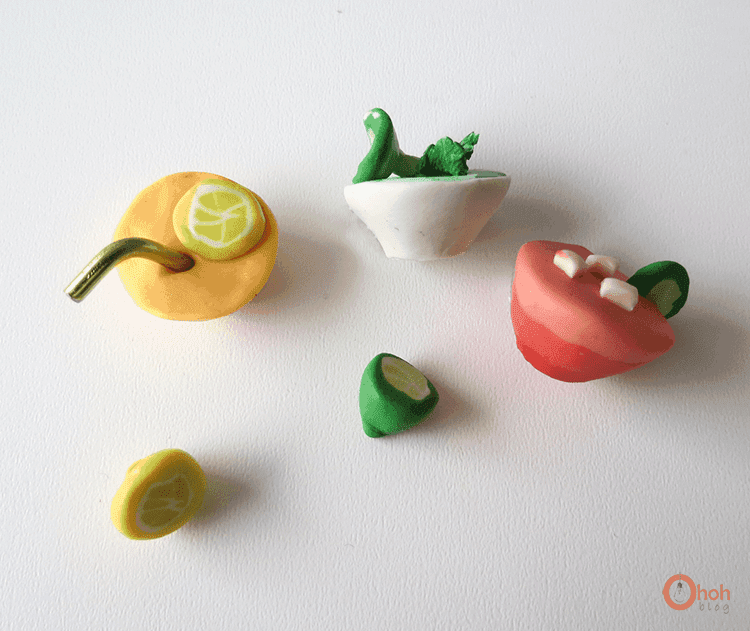 Preheat the oven. Take off plastic push pins and place your polymer clay work on a baking sheet. Oven it during 20-25 minutes at the lower temperature.
Precalentar el horno. Quítas las chinchillas de plástico y coloque tus piezas de polímero en una bandeja para hornear. Hornas durante 20-25 minutos a baja temperatura.
Préchauffer le four. Enlève les punaises en plastique et place tes pièces de polymère sur une plaque de cuisson. Mets les au four pendant 20-25 minutes à basse température.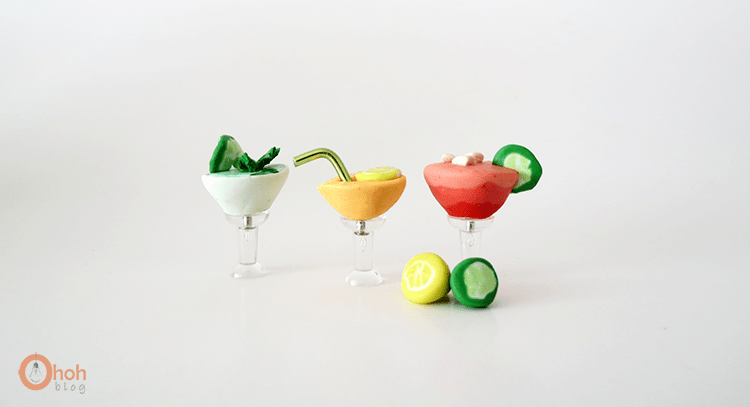 Take them off the oven and let them cool it down. Glue the push pins as a base for your cocktail glass.
Sacalos del horno y deja los enfriar. Pegues las chinchillas como pies para tus copas de cóctel.
Enleve-les du four et laisse-les refroidir. Colle les punaises pour faire les pieds de tes verres à cocktail.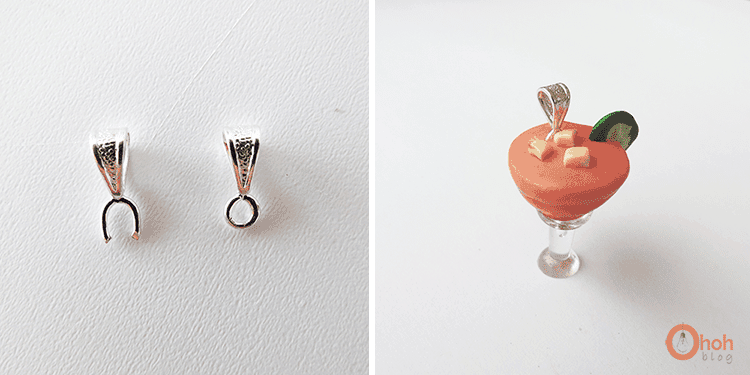 To use your cocktail as necklace pendant, you must put a hook. I pressed the hook in the glass and I added a drop of glue to secure it. I think it would have been better to do it before baking polymer clay … but it was not too bad after work!
Para usar el cóctel como collar, vas a necesitar ponerle un gancho. Presioné el gancho en el vaso y añadí una gota de pegamento para fijarlo. Creo que habría sido mejor hacer este paso antes de hornear la pasta polímero … pero aun asi funciono!
Si tu veux utiliser le cocktail comme collier, tu dois mettre un crochet. J'ai enfoncé le crochet dans le verre et j'ai ajouté une goutte de colle pour le fixer. Je crois que ça aurait été mieux de le faire avant la cuisson de la pâte polymère … mais ça a pas trop mal fonctionné après!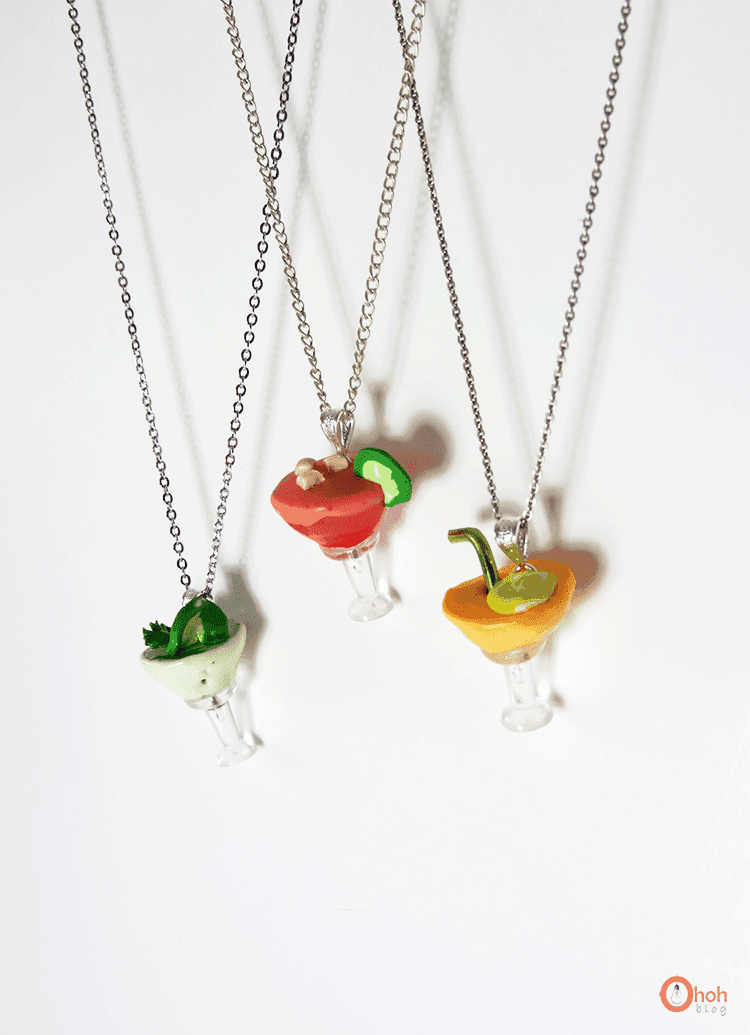 To have a better finish, you can varnish your pendant with transparent nail polish.
Para tener un mejor acabado, puedes barnizar tu colgante con esmalte de uñas transparente.
Pour avoir une meilleure finition, tu peux vernir ton pendentif avec du vernis à ongles transparent.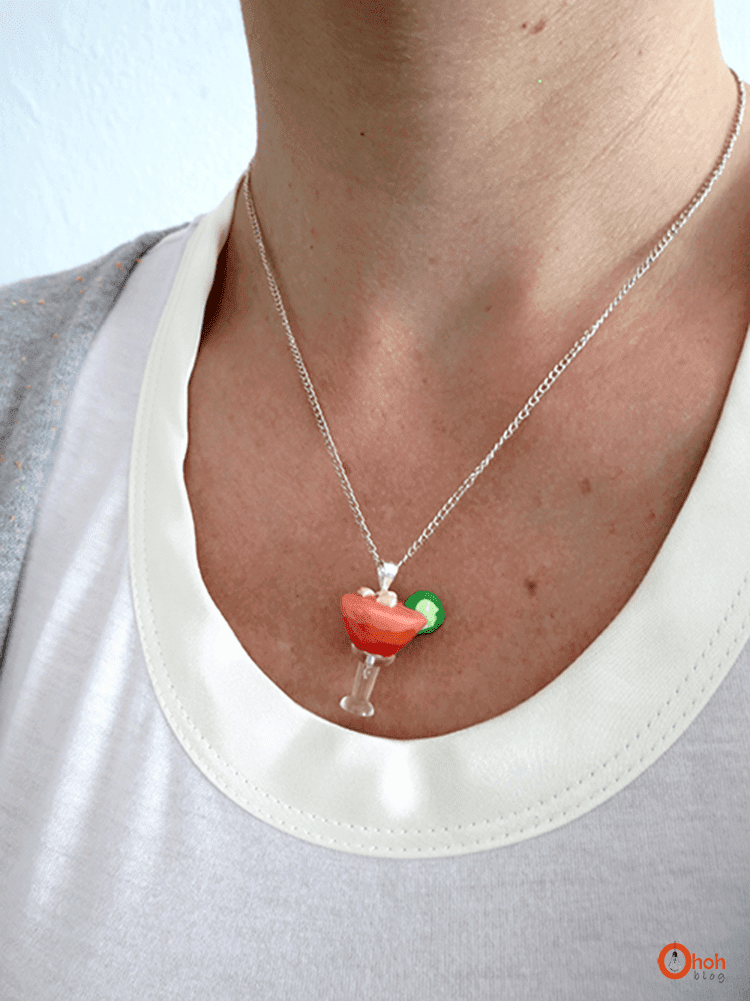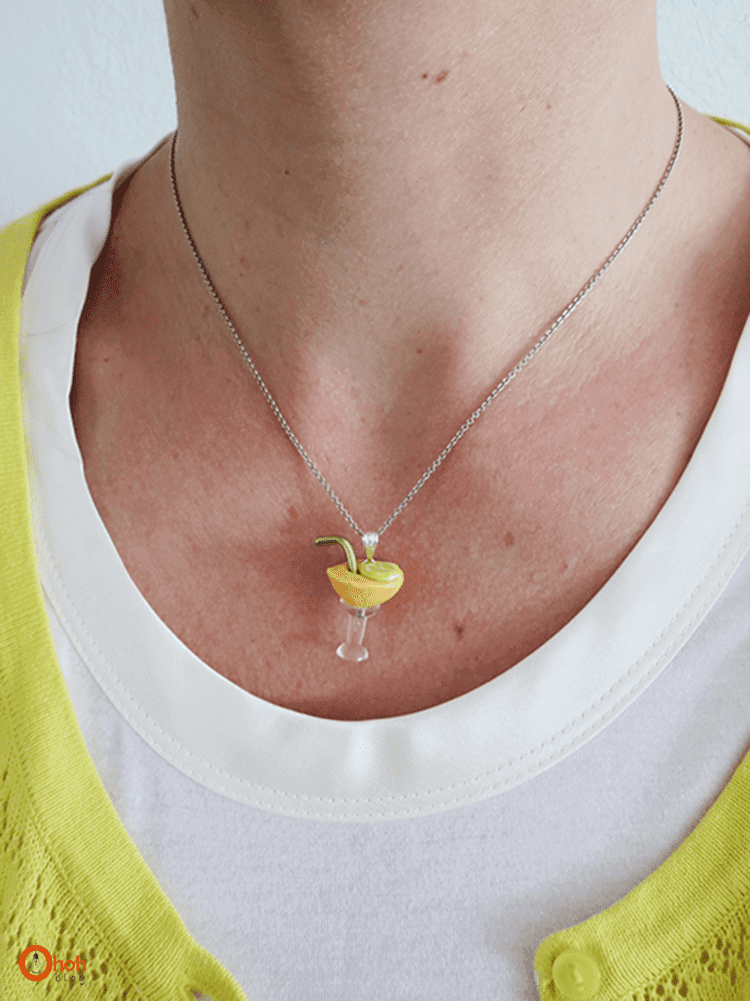 +
+ + This is a sponsored post written by me all opinions are my own.This
post contains affiliates links + + + – See more at:
https://www.ohohdeco.com/2014/04/diy-hair-jewelry.html#sthash.5lfcHDnR.dpuf
+
+ + This is a sponsored post written by me all opinions are my own.This
post contains affiliates links + + + – See more at:
https://www.ohohdeco.com/2014/04/diy-hair-jewelry.html#sthash.5lfcHDnR.dpuf
+
+ + This is a sponsored post written by me all opinions are my own.This
post contains affiliates links + + + – See more at:
https://www.ohohdeco.com/2014/04/diy-hair-jewelry.html#sthash.5lfcHDnR.dpuf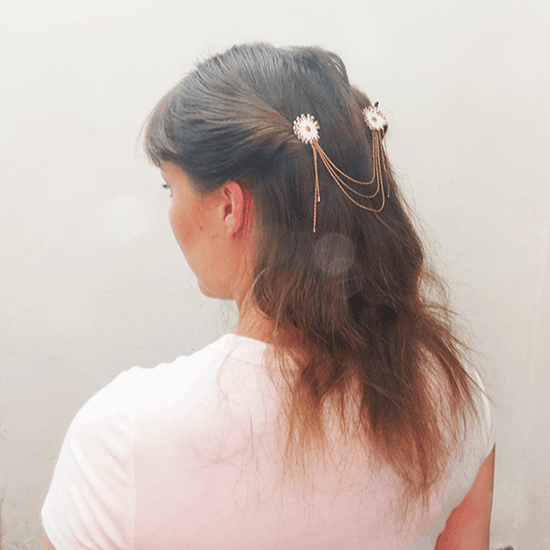 Amaryllis