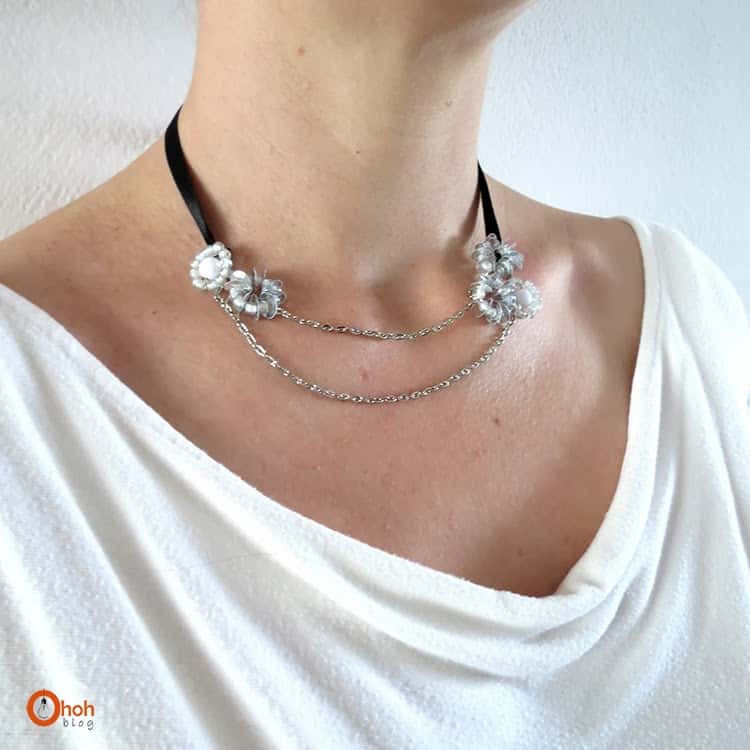 A nice accessory to complete your New year's eve outfit.
You will need the following materials: silver chain, pearls (small and large), wire, ribbon, rings, sequins, and pliers.
Un buen accesorio para completar su atuendo de víspera de Año Nuevo.
Usted necesitará los siguientes materiales: cadena de color plata, perlas (pequeñas y grandes), hilo, liston, anillos, lentejuelas, y pinzas.
Un joli accessoire pour compléter votre tenue du réveillon.
Vous allez avoir besoin du matériel suivant: chainettes, perles (petites et grandes), fil, ruban, anneaux, sequins, et pinces.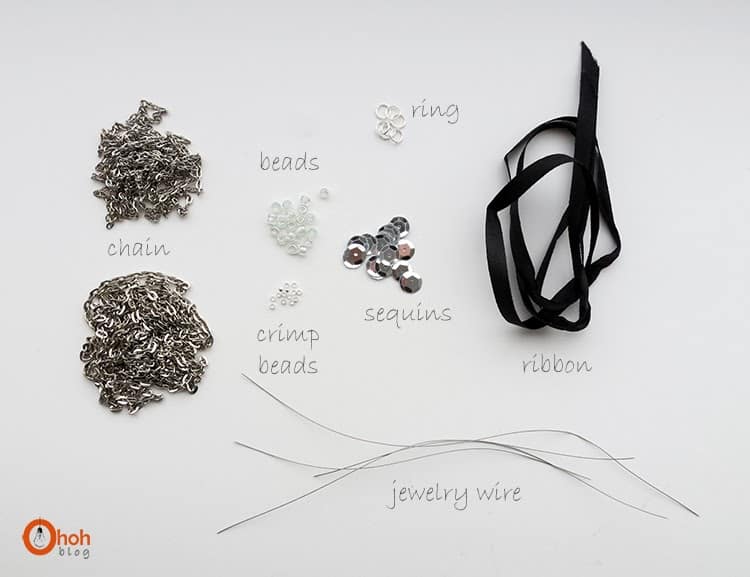 I made two different kind of flower with beads. For the first version I put beads and sequins alternately and I closed the loop with a crimp bead.
Hice dos tipos diferentes de flores con las perlas. Para la primera versión, alterne perlas y lentejuelas, y cerré el bucle con una cuenta de prensado.
J'ai fait deux différentes sorte de fleur avec les perles. Pour la première version, j'ai enfilé perles et sequins en alternance et j'ai fermé la boucle avec une perle à écraser.

For the second version, I used beads and closed the ring with a crimp. I put a large bead on the wire and have folded it inside the ring. I made a loop around the ring and secured it with a crimp bead. I hope this is clear … if not, I found this video.
Para la segunda versión, use las perlas para hace un anillo que cerré con una cuenta de prensado. Puse una cuenta grande en el hilo y lo doblé al interior del anillo. Hice un lazo alrededor del anillo y lo he asegurado con una cuenta de prensado. Espero que sea claro … si no, encontré este video.
Pour la deuxième version, j'ai enfilé des perles et fermé l'anneau avec une perle à écraser. J'ai enfilé une grande perle sur le fil et l'ai repliée à l'intérieur de l'anneau. J'ai fait une boucle autour de l'anneau et l'ai fixée avec une perle a écraser. J'espère que c'est clair…sinon j'ai trouvé cette vidéo.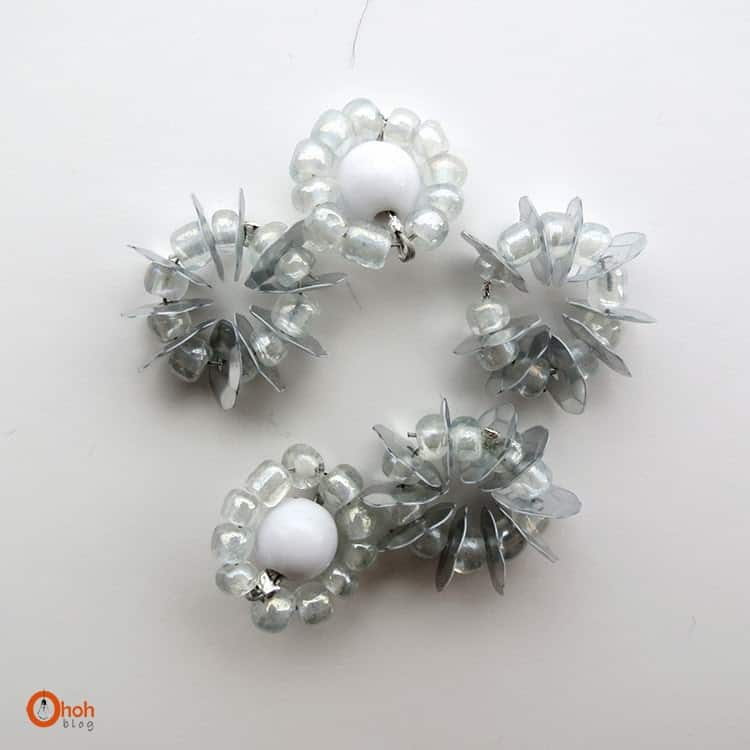 After making the flowers, cut two pieces of small chain and attach them with rings. Then fix a piece of ribbon on each side. I made knots, but it would have been prettier to sew them.
Después de haber hecho las flores, cortan dos piezas de cadenitas y amaran las con anillos. Después, pongan un liston a cada lado. Hice nudos, pero hubiera sido mejor coser los.
Après avoir fait les fleurs, couper deux morceaux de chainette et attacher les avec des anneaux. Fixer ensuite un morceau de ruban de chaque côté. J'ai fait des nœuds, mais ça aurait été plus joli de les coudre.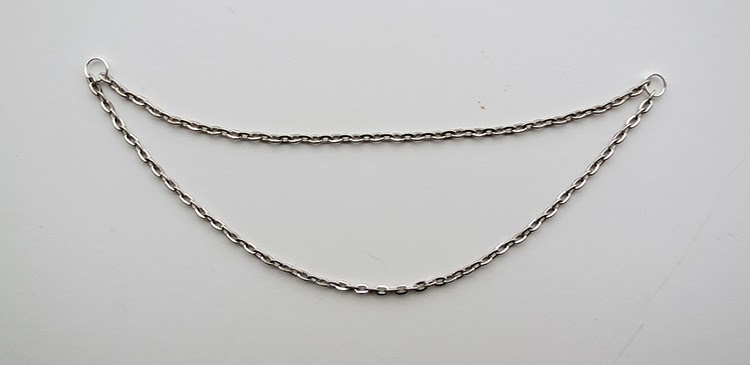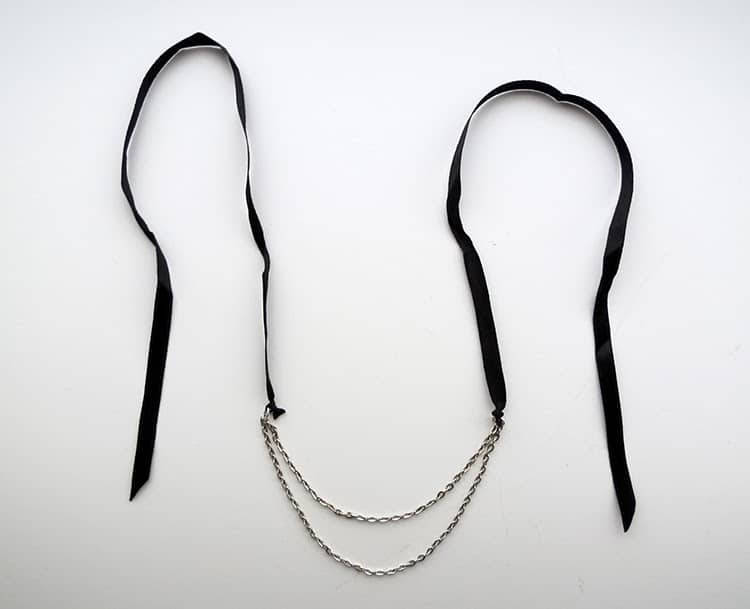 It's almost done, it just remains to sew the flowers on the necklace.
Ya casi está, sólo queda por coser las flores en el collar.
C'est presque terminé, il reste juste à coudre les fleurs sur le collier.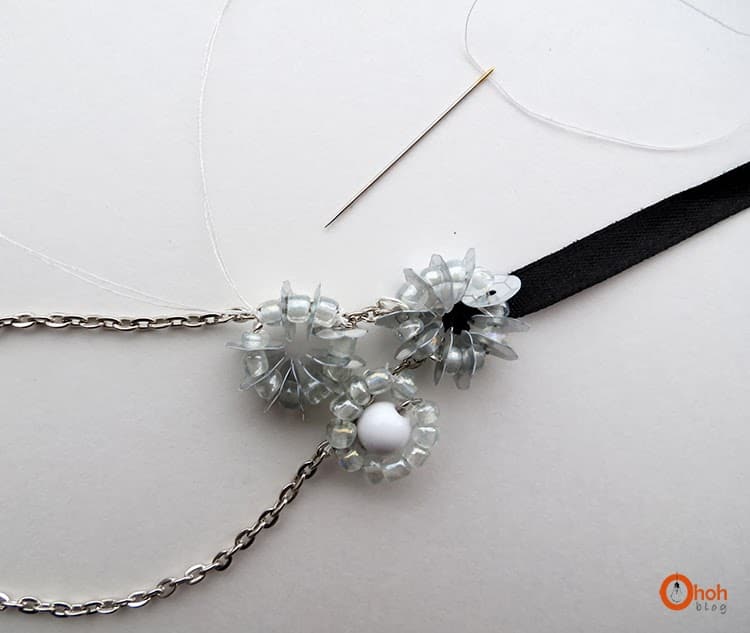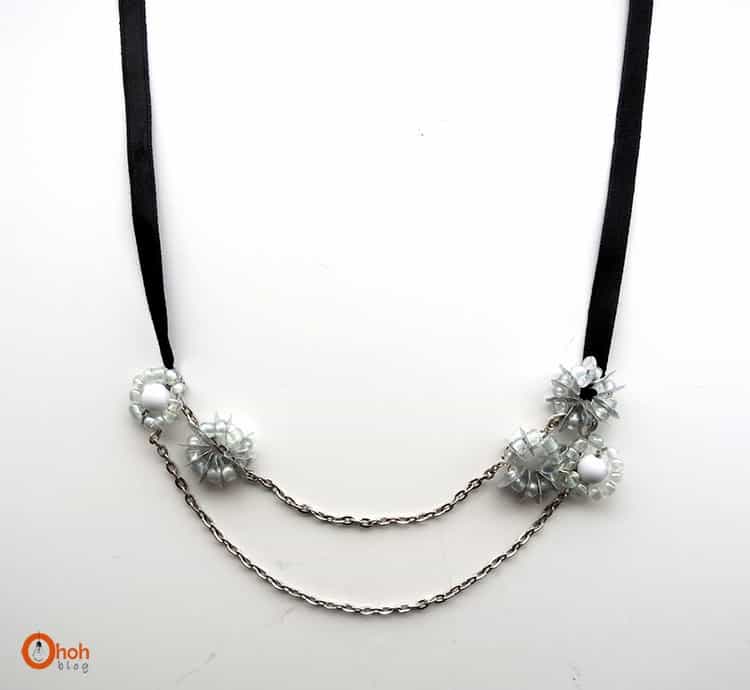 What is nice with ribbons, is that you can easily adjust the length of the necklace and wear it different ways!
Lo bueno con los listones, es que se puede ajustar fácilmente el largo del collar y llevar lo de diferentes maneras!
Ce qui est sympa avec les rubans, c'est qu'on peut facilement adapter la longueur du collier et le porter de différentes manières!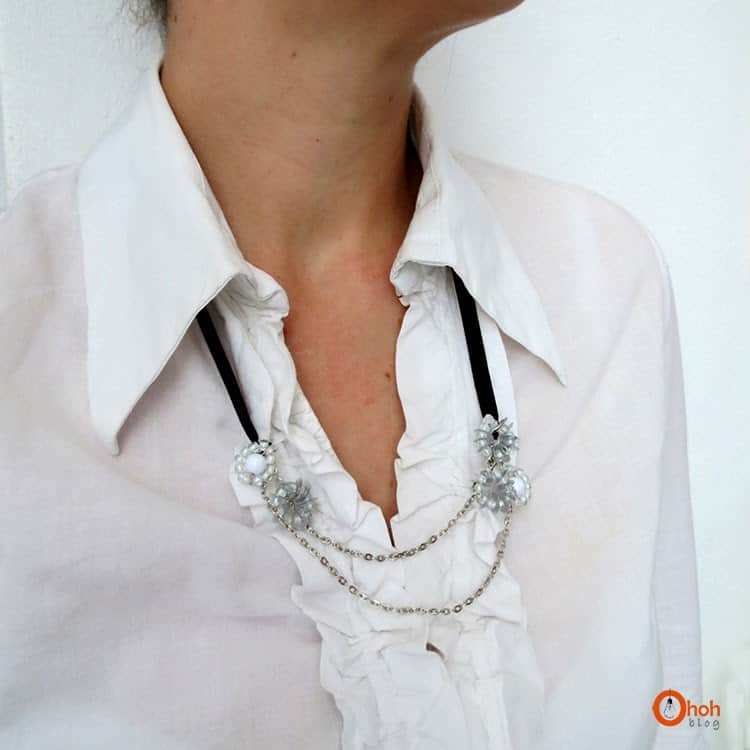 Amaryllis