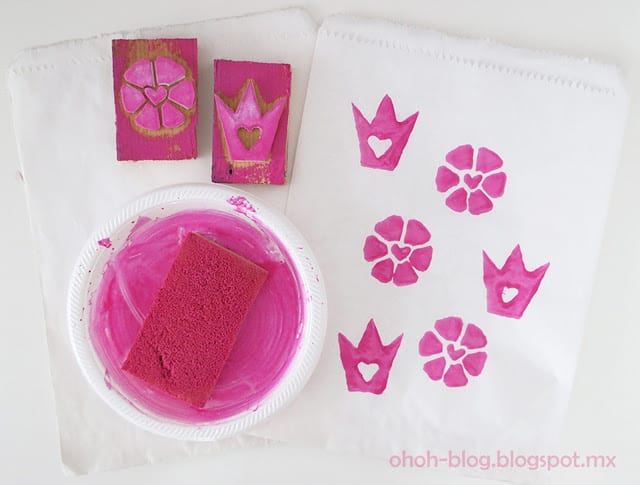 I Like to share one more crafts I made ​​for my daughter's birthday party. I made cute little stamps and use them to customize goodie paper bags. It's a super simple way to give a personal touch!
I made ​​two different shapes, always on the princess theme, a crown and a flower! It's a super easy craft to create a stamp without carving and with materials you probably already own. You just need a foam sheet and some scrap wood. Within a few minutes you can have your own DIY stamp block.
How to make a DIY stamp
Material:
Foam (5mm)
Wood pieces
sponge
plastic plate
acrylic paint
scissors / cutter
glue
Instructions:
Draw a pattern on the foam and cut it with cutter or scissors. Glue the pieces on the wood. Place a sponge on a plastic plate and deposit a little acrylic paint on top. Put the stamp on top of the sponge. Verify that the paint is wisely spread on the stamp and and you can start stamping.
I used them on white paper bags and I closed bags with a circle cut out of colored paper! You can also craft personalized invitation cards, or thank you tags. You know stamping is fun so you will always find a good use for your handmade stamp.
If you want to see more step by step picture, have a look at this post. Let me know in comment what shape you will create for your stamp!
* * *
Sigo con las manualidades que hice para la fiesta de cumpleaños. Una forma sencilla de darle un toque personal es utilizar sellos! Hice dos, siempre sobre el tema de las princesas, y los usé para decorar la bolsas de dulces!
Material:
Fomi (5mm)
piezas de madera
esponja
plato de plástico
pintura acrílica
tijeras/cutter
pegamento
Instrucciones:
Dibujar un patrón sobre el fomi y recortar con el cutter o las tijeras. Pega las piezas de fomi en la madera. Coloque la esponja en el plato y depositar la pintura acrílica encima. A continuación, poner el sello sobre la esponja y pueden empezar a sellar. He utilizado los sellos sobre bolsas de papel blancas y las cerré con un círculo de papel de color!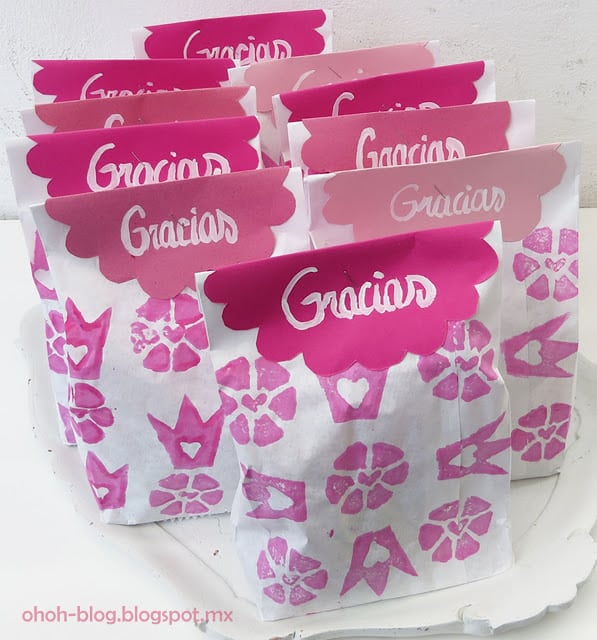 Amaryllis