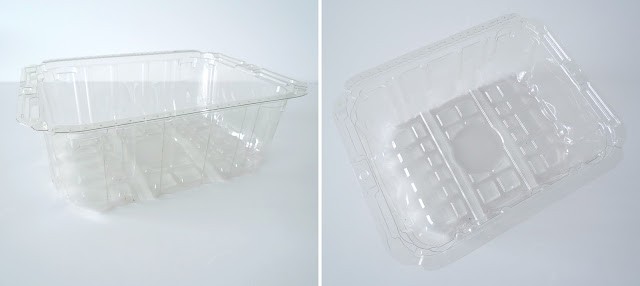 These plastic packaging are everywhere and are used for food packaging, they are ugly and are thrown into the trash usually … unless you want to make fun geometric stamps!
Estos envases de plástico están en todas partes y se utilizan para empaquetar alimentos, son feos y los tiramos a la basura por lo general … a menos que quieras hacer divertidos sellos geométricos!

It's very simple, just cut the bottom of the box, apply paint and press onto the support where you want to print the drawing.
Es muy sencillo, basta con cortar la parte inferior de la caja, aplicar la pintura y presiona sobre el soporte donde desea imprimir el dibujo.

I made several test with different paint and different material. It works very well with acrylic paint on paper, it works pretty well with fabric paint on fabric jersey. But it doesn't work on a thick cotton fabric.
Hice varias pruebas con diferentes pinturas y materiales. Funciona muy bien con pintura acrílica sobre papel, y funciona bastante bien con pintura para tela sobre jersey. Pero no salio bien en una tela de algodón un poco gruesa.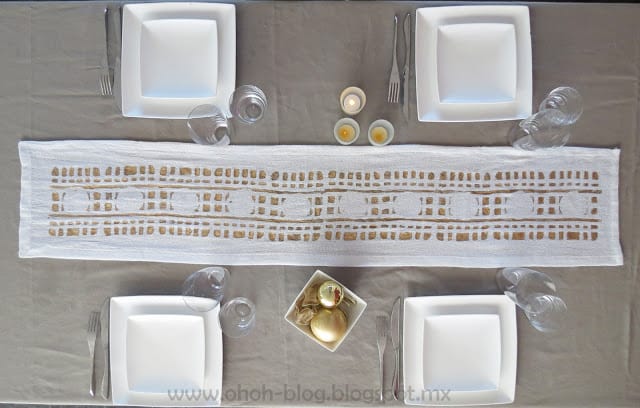 As I still wanted to use the cotton fabric to make a table runner, I repaint the drawings with a brush. I love the result and the geometric design of the stamp.
Como quería seguir utilizando la tela de algodón para hacer un camino de mesa, volvi a pintar los dibujos con un pincel. Me encanta el resultado y el diseño geométrico de la estampa.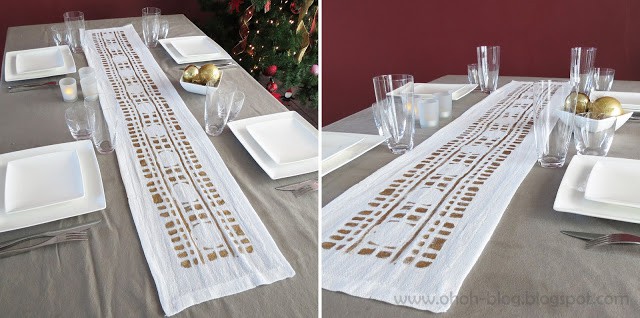 I used the paper as gift wrap (perfect at this time of year). These are just two examples, there are many different packaging with various designs that can be used in a multitude of ways. Do you have another idea?
He utilizado el papel como papel de regalo (perfecto en esta época del año). Estos son sólo dos ejemplos, hay muchos envases diferentes con varios diseños que se pueden utilizar en una multitud de formas. ¿Tienes otra idea?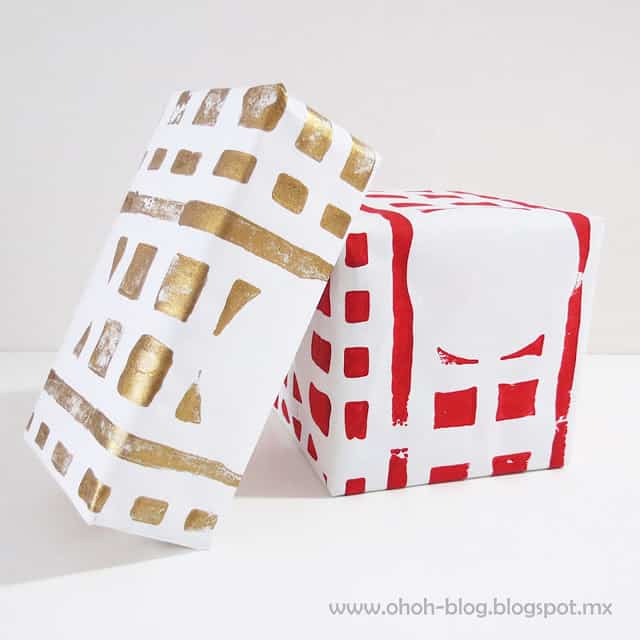 Amaryllis