It's a tradition from Belgium, Netherlands, Germany, North of France…and may be more places (don't know)!
In the night of 5 December, young children put their
shoes in front of the chimneys and sing St.Nicholas songs. Often
they put a carrot in their shoes, as a gift to St. Nicholas'
horse. The next morning they will find candy and toys in their
shoes. Saint Nicolas normally only brings gifts to good children and others are punished by Père fouettard (in practice, like with Santa
Claus, all children receive gifts without distinction).
Es una tradición de Bélgica, Holanda, Alemania, norte de Francia … y tal vez más lugares (no lo sé)!
En la noche del 5 de diciembre, los niños ponen sus zapatos frente a la chimenea y cantar canciones de San Nicolas. A menudo ponen una zanahoria en sus zapatos, como un regalo al caballo de San Nicolás. A la mañana siguiente encontrarán dulces y juguetes en sus zapatos. San Nicolas normalmente sólo trae regalos a los niños buenos, los otros son castigados por Père Fouettard (en la práctica, al igual que con Santa Claus, todos los niños reciben regalos sin distinción).

I wanted to show you the cardboard toys I made last year as present for my kids.
This is not done according to the rules of "the art of cartonnage", and I didn't use the good kind of paper, but I still like the result! And my kids too!
Quería mostrar los juguetes de cartón que hice el año pasado como regalo para mis hijos.
No los hice de acuerdo a las reglas de "el arte de cartonaje", y tampoco usé el buen tipo de papel, pero me gusta el resultado! Y a mis hijos también!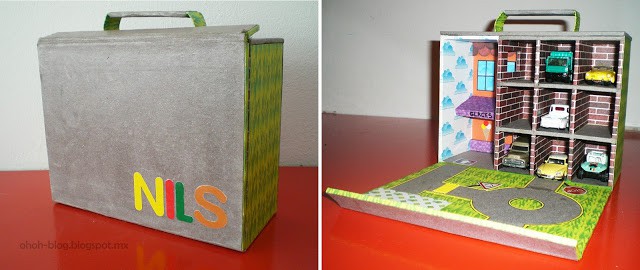 For my little girl a doll bed and a wardrobe. And for my son, a suitcase-garage so he can carry around (a part of) his cars.
Para mi niña una cama y un armario de muñeca. Y para mi hijo, una maleta-garage para que pueda llevar (una parte de) sus carritos.
And this year St. Nicholas was really busy so he went to the store! Hope he will do better next year!
Y este año, San Nicolás era muy occupado, así que fue a la tienda! Espero que lo hará mejor el año que viene!
Amaryllis