Are you looking for home decor craft ideas?
Do you struggle to find creative projects you can make on a budget?
I realized that many people struggle to create beautiful home decor with a limited budget. I'm convinced that turning a house into a home doesn't need to be expensive. Being creative and working with DIY project can save you a lot of money, plus you will have the satisfaction of making something unique and personal.
Ohoh deco is here to help you create the decor you are dreaming about. I show you how to make beautiful crafts and DIY for your home which include easy sewing tutorials, paper crafts, lighting, simple woodworking, wall decor, and recycled crafts. Most of the DIY projects only required a few materials and very basic tools, as much as possible I try to reuse and recycle items. They are free and also because I care about our planet, and on my small scale, I try to contaminate less.
This the place where you can find inspiration to create and decorate on a dime.
Ohoh deco is:
Your inspiration to make home and seasonal decor on a budget
Your friend who shows you with detailed tutorials on how to create beautiful crafts.
Your DIY mate which you can answer questions and share your make.
Favorites tutorials
Here are some of my favorite and most popular post:
Sewing tutorial:
Home decor DIY:
Seasonal Crafts:
Recycled crafts:
Want to see more? You can visit my "Best DIY" page.
You can browse my projects and DIY by checking out the categories on the navigation bar (top) or by simply searching for what you want in the search box on the sidebar.
Now, Let's connect:
Join my community! Once a week I will send you an inspirational email with creative DIY that I'm sure you will enjoy. I don't (and never will) share your email address or send you spam (I hate them). It's FREE and you can unsubscribe anytime in just a click.
Get in touch:
I love Pinterest and fill my creative boards with new ideas every day: DIY Decor, Interior inspiration, Seasonal crafts and Sewing for the house
If you want to see more pictures of my house and be the first to hear over upcoming projects you can join me on Facebook and Instagram.
Want to know more about me?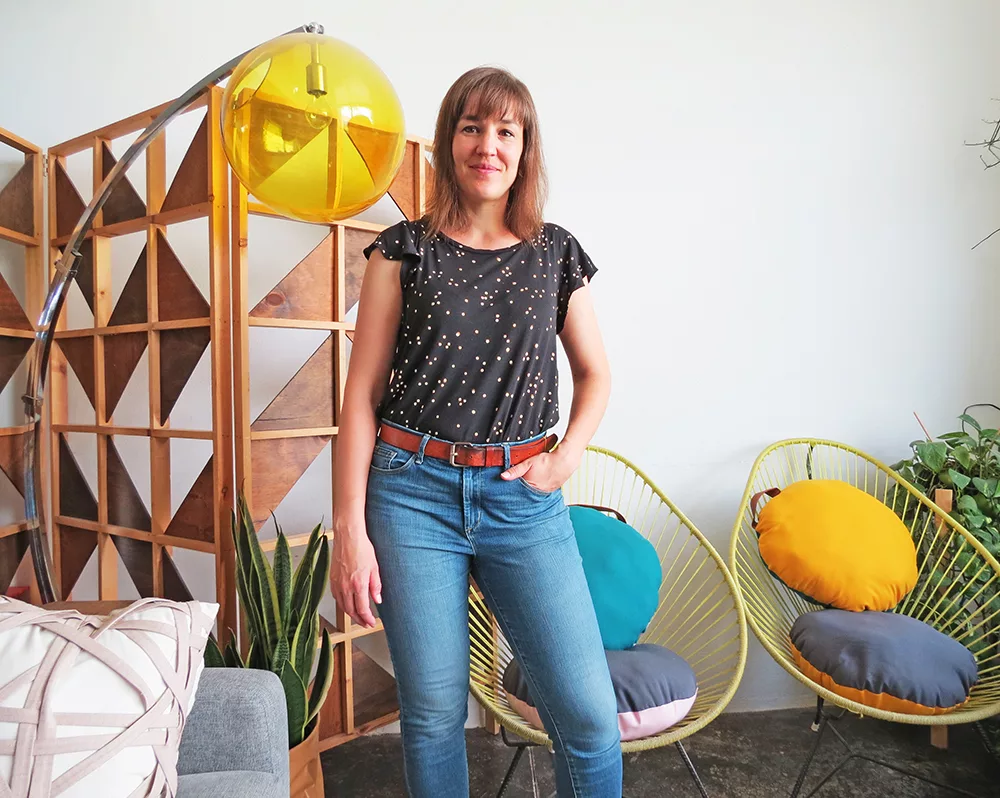 Hello,
I'm Amaryllis, I have three kids and a nice husband. I'm Belgian but we live for several years in Mexico. I studied interior design but gave up work to look after my children. So I started Ohoh deco to share my passion for decoration and crafts.
I like to create beautiful decor on a budget. I use simple supplies and recycle materials to upgrade my home, a lot of creativity on tight money. I love to share my crafts and DIY ideas with my readers. It makes my day when I can help you to make a beautiful creation that fits your needs and your home.
Why Ohoh?
When I started sewing, a few years ago, my son was one year old and didn't speak yet. Besides mama and papa, the only thing he used to say was: "Oooh oooh!" … Which meant: " there is a problem"! And there were a lot of "Oooh oooh!" when I first started sewing! Since sewing is going better … and above all, he learned to speak! This blog began its life as "Ohoh Blog" I switched it for "Ohoh Deco" so the name is more in tune with the content of the blog. You can read more about the change in my post A new blog name.
I'm so glad you found my little DIY corner, thanks for being here!
I love to hear about you, about the DIY you make and about your craft ideas, so please come over to Facebook to leave a comment, find me on Instagram and write a comment on my blog posts. Don't hesitate to send me a photo of your craft projects and please subscribe to the newsletter to receive once a week craft projects directly into your inbox, you will love them!
Amaryllis