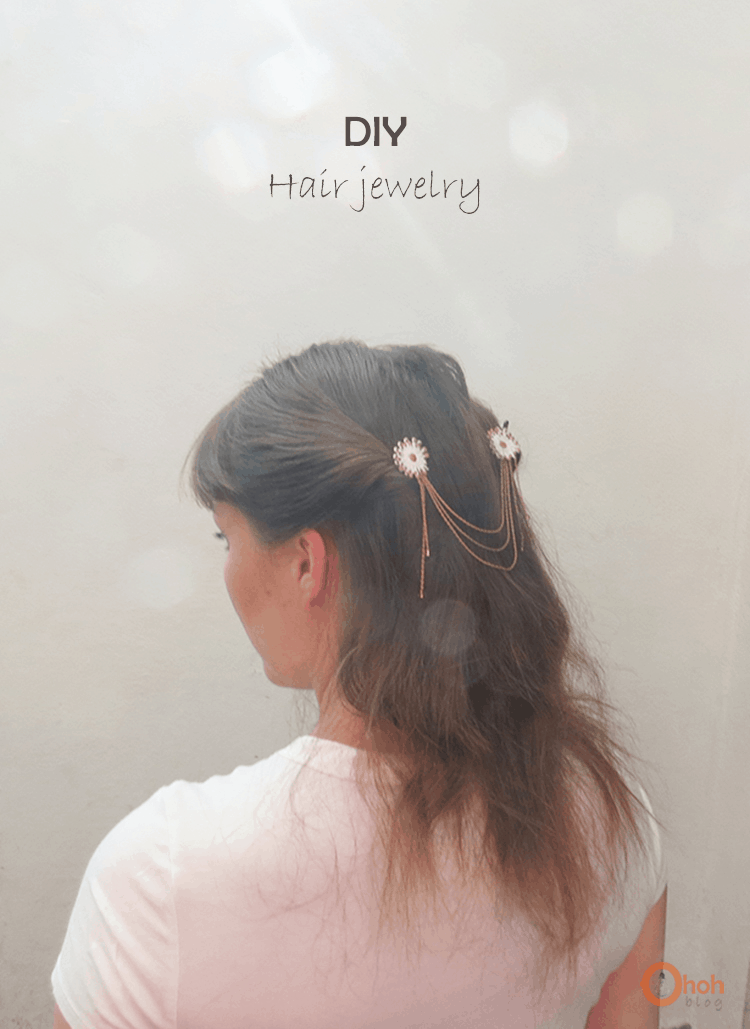 What's nice with long hair is that you can try different hairstyles … when you know how! I'm pretty bad at it (I'll pass the episode when I tried a brushing and the brush remained tangled in my hair) so I usually ends with a ponytail or a clip …so original! I saw some nice hair jewelry, simple and pretty. It was time for a little DIY.
Lo bueno con tener el cabello largo es que puedes probar diferentes peinados …cuando sabes hacer lo!!! Estoy bastante mala para eso (te paso la vez en que intenté hacerme un peinado y que el cepillo se quedo enredado en mi cabello), así que por lo general termino con una cola de caballo o un clip … vaya que originalidad! Ultimamente vi algunas ideas de joyas para el cabello, bonitas y sencillas. Tenia que intentar un DIY.
Ce qui est chouette avec les longs cheveux, c'est qu'on peut essayer pleins de coiffures différentes…quand on sait! Je suis assez nul (je te passe l'épisode ou j'ai essayé de me faire un brushing et ou la brosse est restée emmêlée dans mes cheveux) donc je termine généralement avec une queue de cheval ou une pince…pour l'originalité on repassera! J'ai quand même vu quelques idées sympas de bijoux de cheveux, simple et joli. Il fallait que je tente un petit DIY.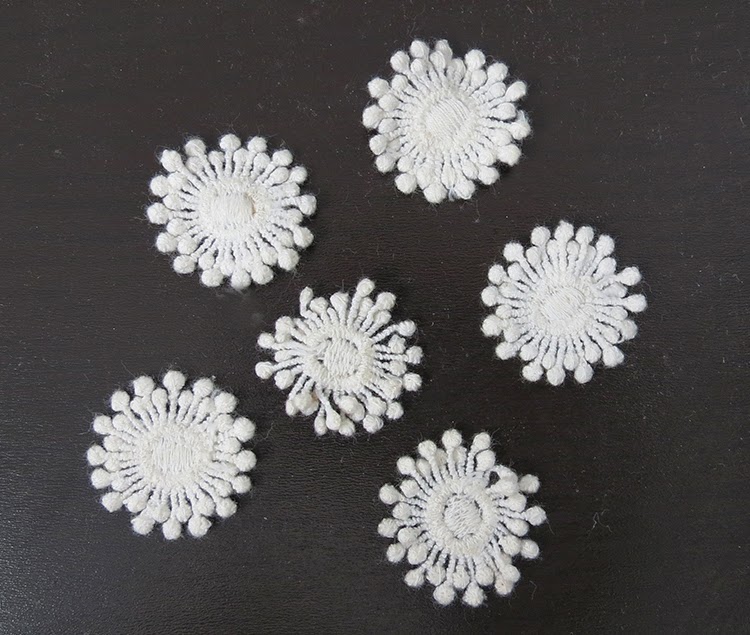 Times ago, I received an email from Wholeport (a craft supplies online store) asking me if I wanted to choose some supplies on their website and make a tutorial. Free crafts supplies? Yes I want! It was hard to decide in all the pretty things they have, and I finally opted for those embroidered flowers.
Hace tiempo, recibí un correo de Wholeport (una tienda en línea de material para manualidades) me preguntaron si quería elegir algunos suministros en su página y hacer un tutorial. Material gratis? Claro que si! Estuvo dificil decidir entre tantas cosas bonitas, pero al final eligi estas flores bordadas.
Il y a quelques temps, j'ai reçu un mail de Wholeport (magasin en ligne de matériel de bricolage) me demandant si je voulais choisir quelques fournitures sur leur site et réaliser un tutoriel. Du matériel gratos? Oui évidement!!! J'ai eu du mal à me décider entre toutes les jolies choses, et j'ai finalement opté pour ces fleurs brodées.

You'll need chainette, 4 beads, two rings, two hair clips, flowers and a little glue. Cut three chain pieces of 6″, 7″ and 8″. Then cut 2 pieces of 3″ and 2 pieces of 2″, glue bead at the end of the 4 small chains.
Necesitarás cadenita, 4 cuentas, dos anillos, dos pinzas para el cabello, flores y un poco de pegamento. Cortar tres piezas de cadena de 15, 17 y 19 cm. A continuación, corte 2 piezas de 7 cm y dos de 5 cm , pegar las cuentas al final de las 4 cadenitas.
Tu vas avoir besoin de chainette, de 4 perles, de deux anneaux, de deux pinces à cheveux, de fleurs et d'un peu de colle. Coupe trois morceaux de chainette de 15, 17 et 19 cm. Coupe ensuite 2 morceaux de 7 cm et 2 morceaux de 5 cm, colle une perle à l'extrémité des 4 petites chaines.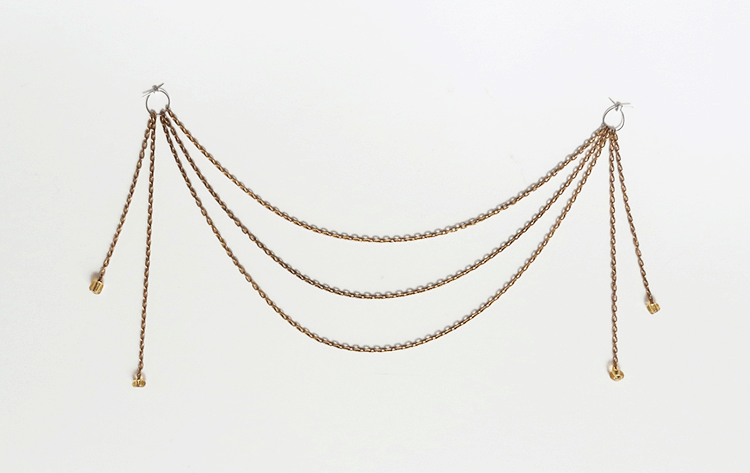 Attach chains together passing a ring at each end.
Juntas las cadenas entre sí mediante un anillo en cada extremo.
Tu attaches les chaines ensemble en passant un anneau à chaque extrémité.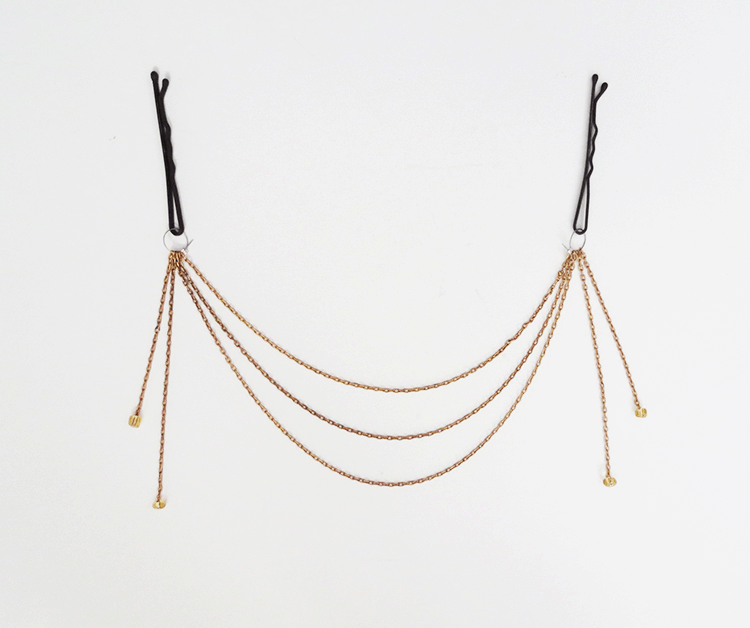 Pass a hair clip in each ring and glue the flower on it. I added some details on flowers with gold paint.
Pasar una pinza en cada anillo y pegar la flor encima. He añadido algunos detalles en las flores con pintura dorada.
Passe un clip à cheveux dans chaque anneau et colle la fleur dessus. J'ai ajouté quelques détails sur les fleurs avec de la peinture dorée.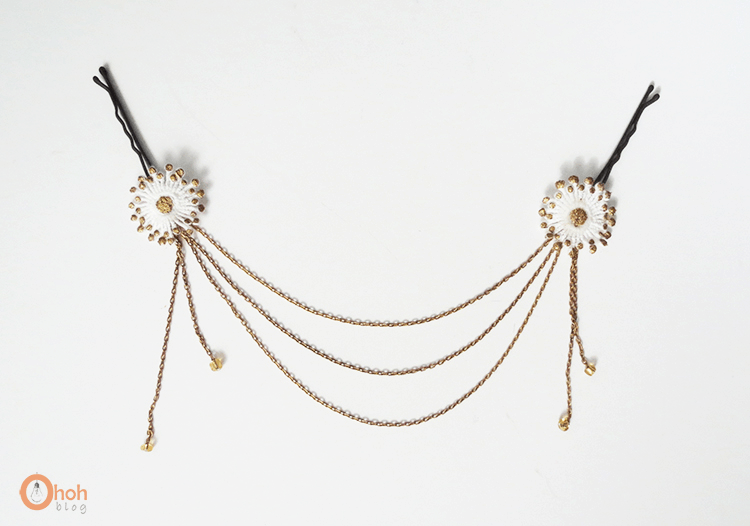 And voila!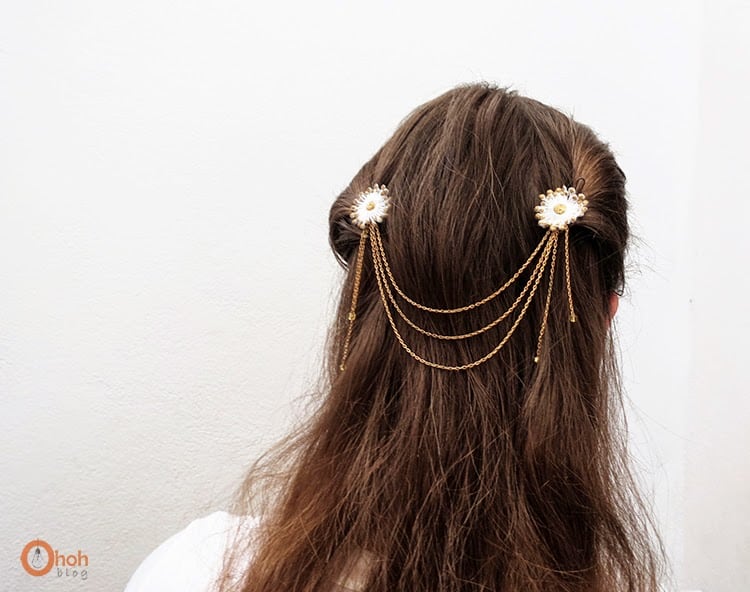 + + + This is a sponsored post written by me all opinions are my own. + + +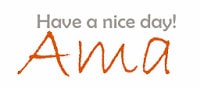 Amaryllis