Floating shelves are making a comeback. They double as both storage space and display case, giving you a place to put books, collectibles, seasonal decorations, family photos, vases, flowers, and more. Designed to attach to the wall without showing brackets or braces, they're airier than a bookshelf or cabinet and give your home a modern feel. With a little bit of imagination they can be both fun and chic.
Floating Shelves in the Office
Floating shelves will give your home office a decluttered, contemporary feeling, even if you're a messy worker yourself. Clean lines and monochromes like black or white work well in office settings. Set against white walls, black shelves will create a simple modern effect that's conducive to concentration. You can use floating shelves to store books or other resources you need for work without taking up too much space. Don't neglect the design of an area you use to work, where you can easily get distracted by the wrong choice of color.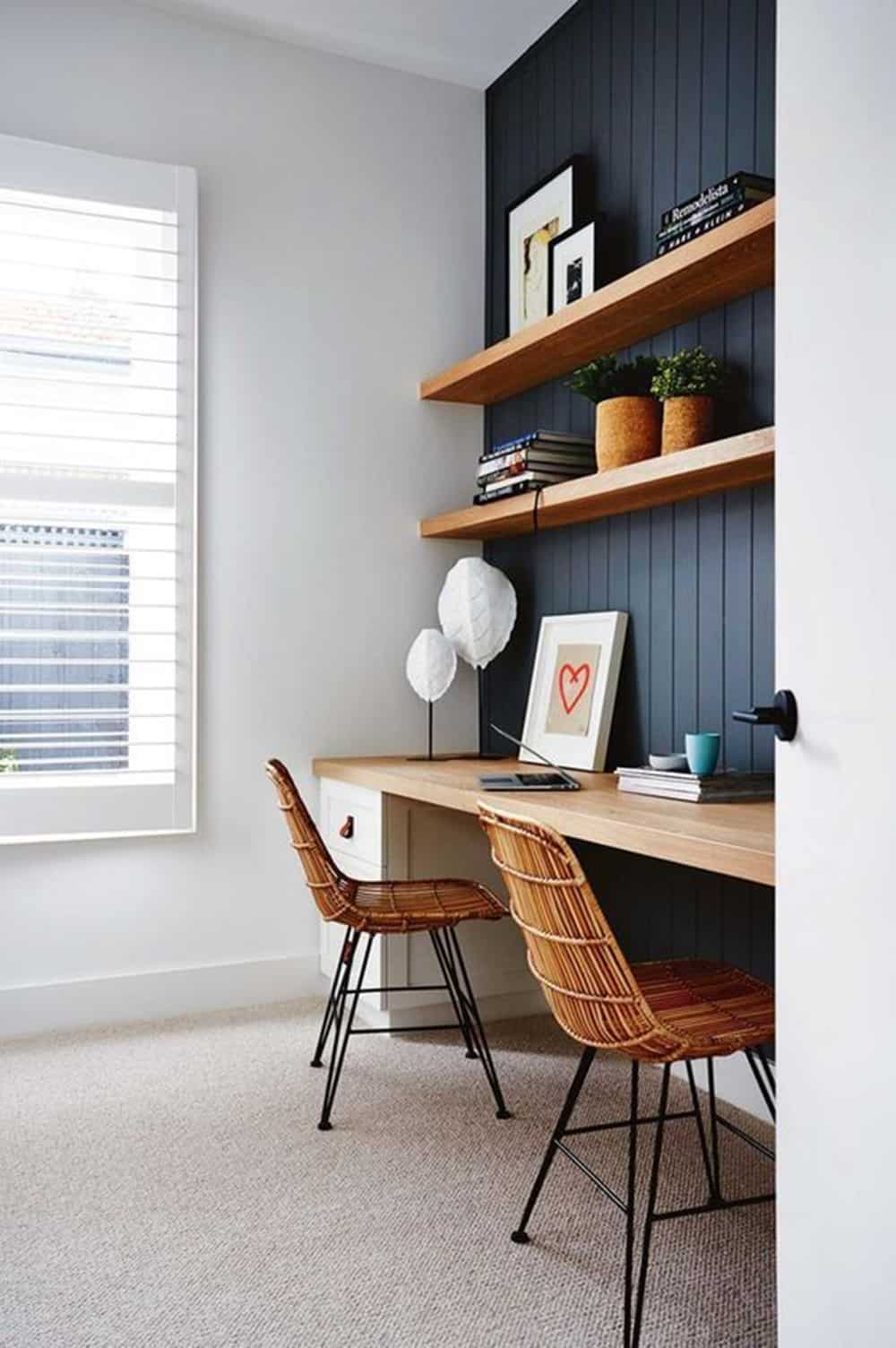 Living Room Floating Shelves
The living room is where you want to show all of your collectibles, family photos, and seasonal decorations. Floating shelves animate blank walls and you can arrange them in any pattern you desire. In the living room, feel free to get creative with eccentric patterns (such as shelves with dips and right angles) or more traditional looks. The living room is also a great place to try your hand at DIY floating shelves, such as carved wood or driftwood. All you need is a hidden bracket and you can use anything for floating shelves.
Floating Shelves for Bathroom Storage
If your medicine cabinet is overflowing with combs, creams, toothpaste, and makeup, a floating shelf in the bathroom can give you some breathing room. They're perfect for towels or general bathroom storage, or you can use them as a cosmetics shelf to clear up some room around the sink.
Bedroom Floating Shelves
Bookworms will want to keep their bed surrounded by their favorite novels, especially kids and teens who rarely come out of their caves to begin with. Floating shelves add some fun and creativity to bookshelves. They can be arranged in different patterns on the wall, stacked or offset. You may want shelves with side-ends to act like bookends, or just invest in some quality bookends to keep everything in place. Make sure you buy high quality, durable floating shelves that can hold up all the weight of your kid's favorite fantasy series.
Floating shelves are versatile and you can use them to fit just about any space. Use them to spruce up large blank walls or take advantage of vertical space for storage. Display your framed family photos and seasonal decorations from Easter to Christmas. Floating shelves are simple to install whether you buy them online or make them yourself.
Do you use floating shelves in your home? Have you made your own? Share what you've done with floating shelves in your home!

+++ This guest post contain sponsored links, more about our privacy policy HERE +++
Amaryllis