How to make a nice geometric lampshade using only straws?
¿Cómo hacer una bonita pantalla de lámpara geométrica utilizando solo pajillas!
Comment faire un bel abat-jour géométrique en utilisant simplement des pailles?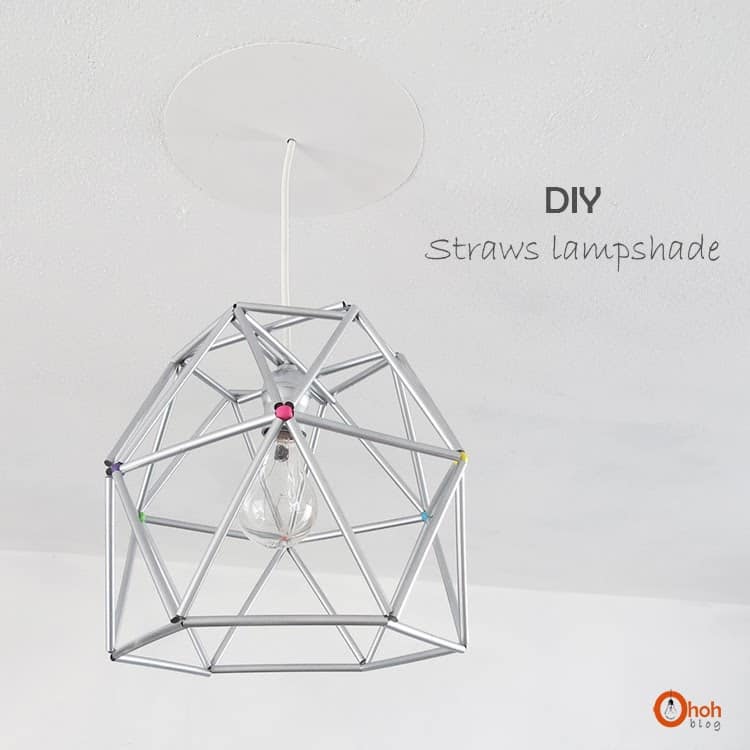 You'll need: thread (embroidery thread style), beads, straws, a pair of scissors. Possibly spray paint.
Vas a necesitar: hilo (estilo hilo de bordar), cuentas, pajas, un par de tijeras. Y posiblemente pintura en aerosol.
Tu vas avoir besoin: de fil (style fil à broder), de perles, de pailles, d'une paire de ciseaux. Éventuellement de peinture en spray.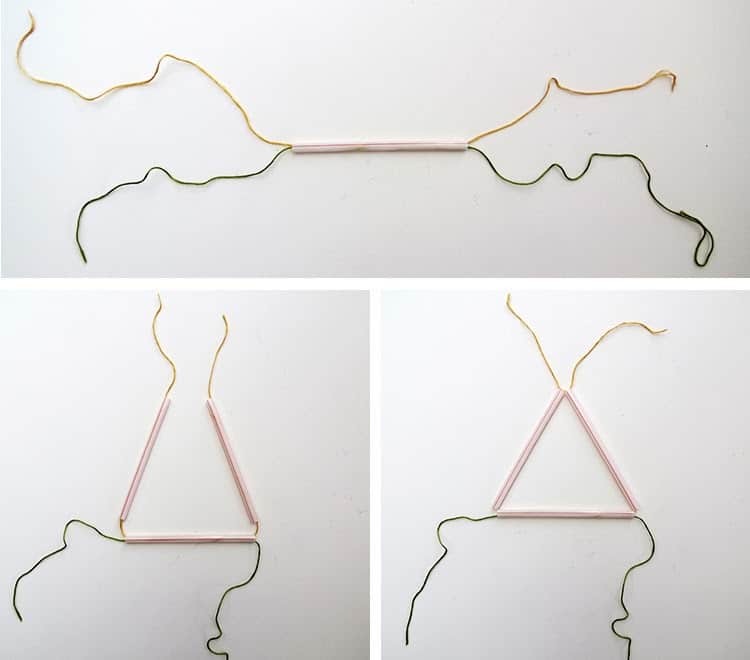 To begin you should cut the straws in half. For the first part of the lampshade, I worked with 36 pieces of straw (5′ long each one) .
Pass two piece of thread in a straw. You will form a triangle above and one below so as to have a lozenge. Tie a knot at the top of each triangle.
Para comenzar debes cortar las pajas en medio. Para la primera parte de la pantalla, he trabajado con 36 piezas de paja de 12 cm cada una .
Pasas dos hilos en una paja. Vas a formar un triángulo arriba y otro abajo de manera que tengas un rombo. Haga un nudo en la punta de cada triángulo.
Pour commencer il faut couper les pailles en deux. Pour la première partie de l'abat-jour, j'ai travaillé avec 36 morceaux de pailles de 12cm.
Passe deux fils dans une paille. Tu vas former un triangle au dessus et un en dessous de manière à avoir un losange. Fait un nœud à la pointe de chaque triangle.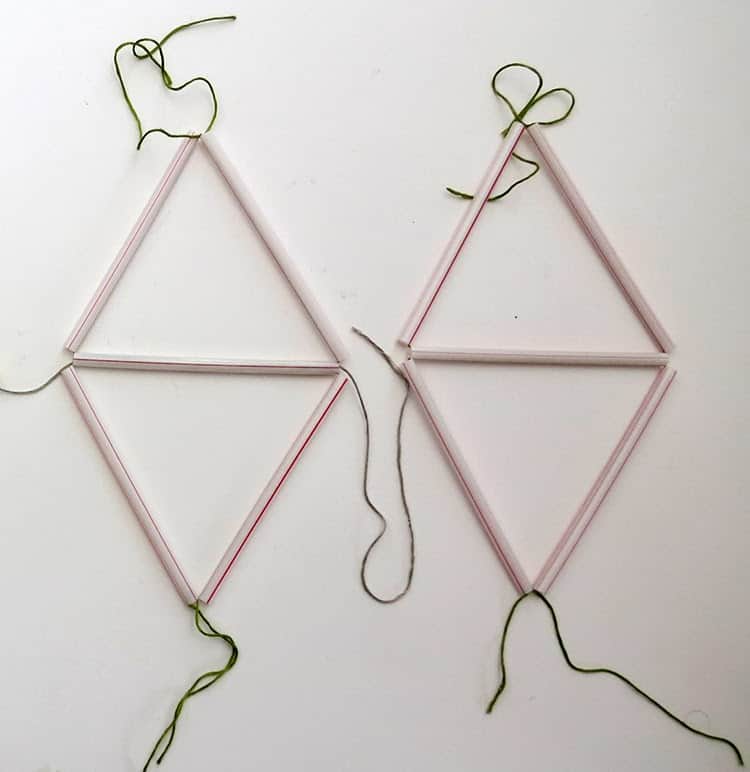 Do the same thing until you have 6 lozenges.
Haga lo mismo hasta que tengas 6 rombos.
Fais la même chose jusqu'à avoir 6 losanges.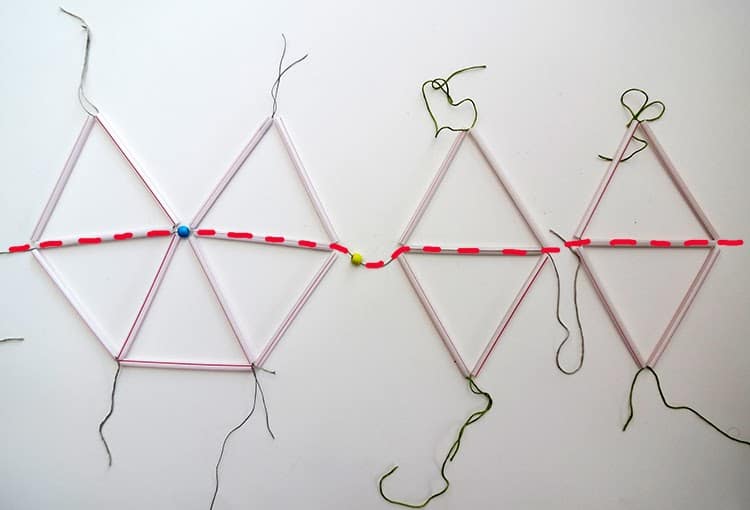 Cut a large piece of thread and pull it through straws in the center of lozenge, add a bead between each diamond (it will look better).
Cortas un pedazo grande de hilo y lo pasas a través de las pajas que estan al centros de los rombos, añade una cuenta entre cada rombo (se vera mas bonito).
Coupe un grand morceau de fil et passe le dans les pailles au centre des losanges, ajoute une perle entre chaque losange (c'est plus joli).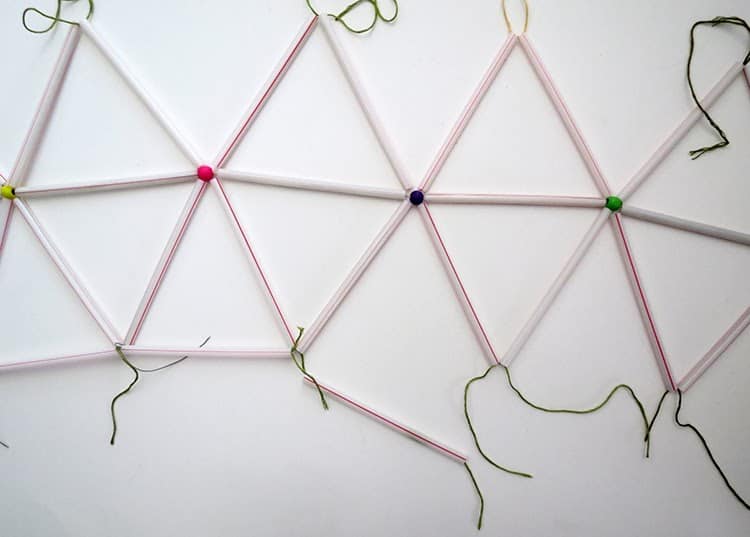 Attach, with knots, a straw to the tip of each lozenge.
Fije, con nudos, una paja a la punta de cada rombo.
Attache, avec des nœuds, une paille à la pointe de chaque losange.

This is what you should have right now. Now you must give volume to the lampshade. You'll tie the ends together, just attach "a" with "a" and "b" with "b" (look at the photo).
Esto es lo que debes tener. Ahora tienes que dar volumen a la pantalla. Vas a atar los extremos, es decir, "a" con "a" y "b" con "b" (mirar la foto).
Voila ce que tu dois avoir en ce moment. Maintenant il faut donner le volume à l'abat-jour. tu vas attacher les extrémités ensemble, c'est à dire "a" avec "a" et "b" avec "b" (regarde sur la photo).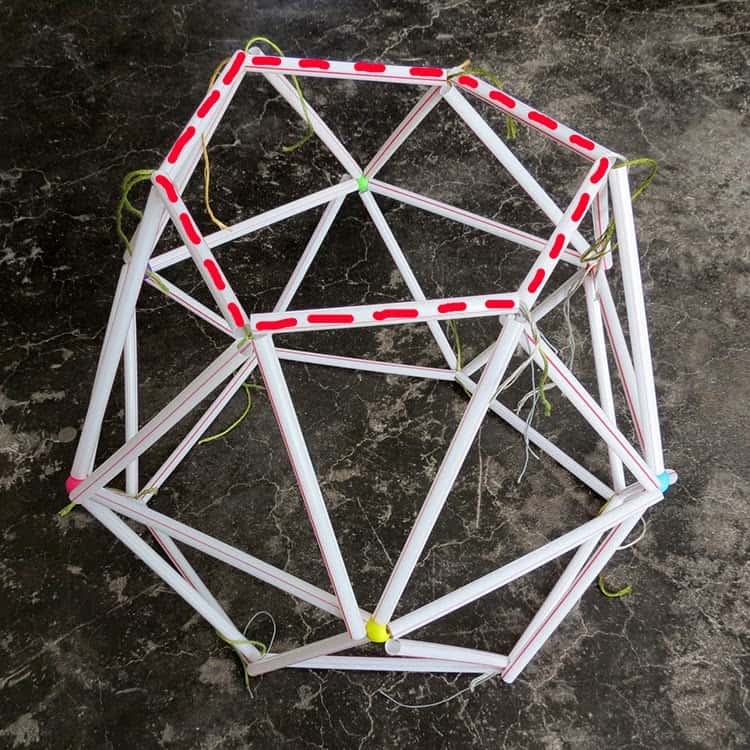 You must finish the top of the lampshade. Between each tip of lozenge you will attach a straw of 3′ long (6 pieces in total).
Debes terminar la parte superior de la pantalla. Entre cada punta de rombo tienes que amarrar una paja de 8 cm de largo (6 piezas en total).
Il faut terminer la partie supérieure de l'abat-jour. Entre chaque pointe de losange, tu vas attacher une paille de 8 cm de long (6 morceaux au total).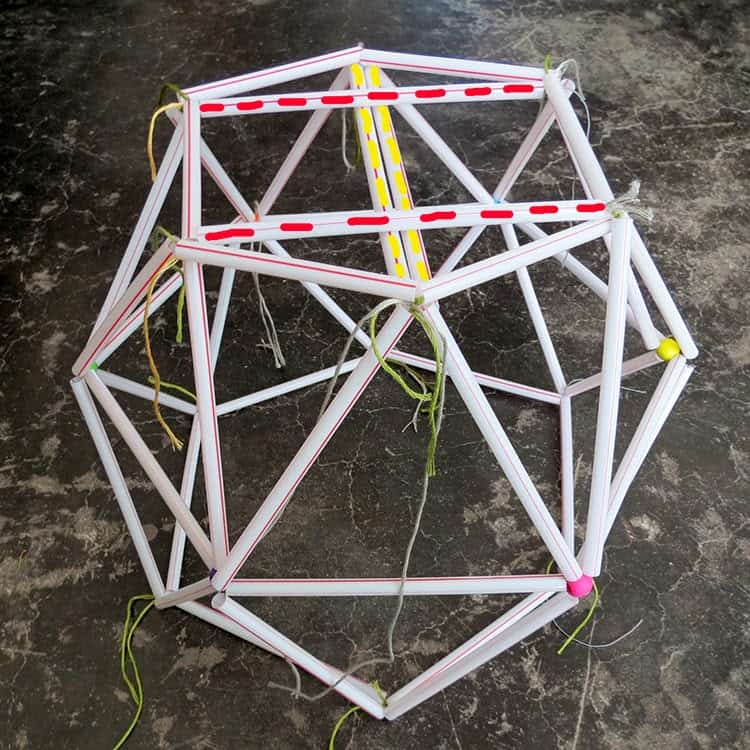 You must finish by rigidify the structure, added pieces of straw as shown in the picture. I have no measurements to give, because I've cut it to fit the structure. The lamp will slip between the two straws highlighted in yellow.
Debe terminar por refuerzar de la estructura, añadiendo trozos de paja, como se muestra en la imagen. No tengo medidas a dar, porque las he cortada a la vista. La lámpara se deslice entre las dos pajitas resaltadas en amarillo.
Il faut terminer par rigidifier la structure, ajoute des morceaux de pailles comme indiqué sur la photo. J'ai pas de mesures à donner, car je les ai coupées à l'œil. La lampe viendra se glisser entre les deux pailles surlignées en jaune.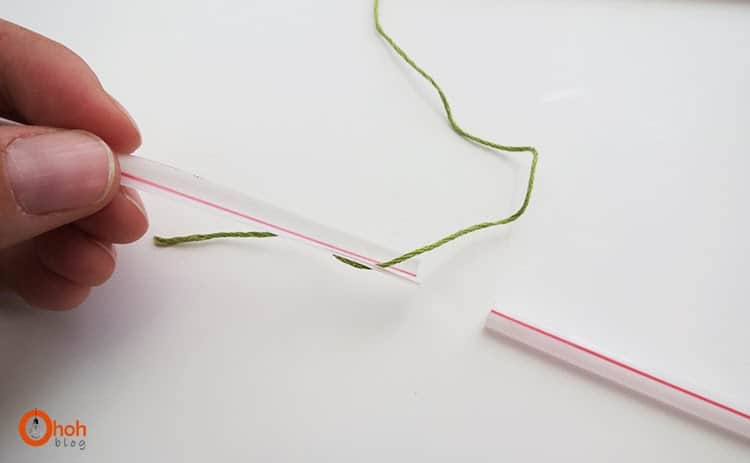 TIP: To pass threads through straws, I used a piece of straw, cut lengthwise with a small slot to slide the thread in it.
TIP: Para pasar los hilos a traves de las pajas, utilicé un pedazo de paja, cortada a lo largo y con una pequeña ranura para deslizar el hilo.
TRUC: Pour passer les fils au travers des pailles, j'ai employé un morceau de paille, coupé dans la longueur avec une petite encoche pour glisser le fil.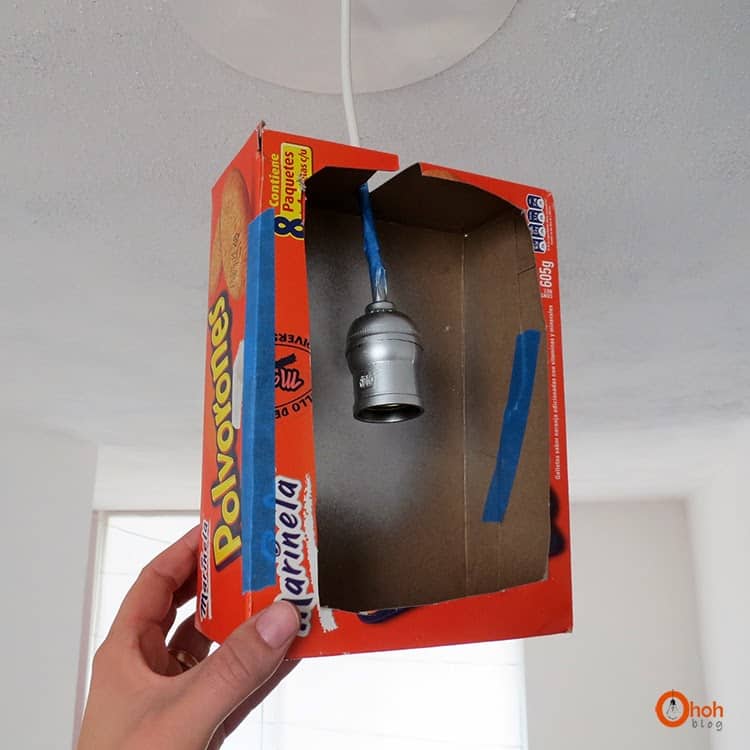 I spray painted the straws and the plug socket. As I didn't want to disassemble the lamp, I used a cardboard box (easy way to not put paint everywhere).
He pintado con aerosol las pajas y el enchufe. Como no quería desmontar la lámpara, he utilizado una caja de cartón (me salvo de poner pintura en todas partes).
J'ai peint avec un spray les pailles et le soquet. Comme j'avais pas envie de démonter la lampe, j'ai employé une boite en carton (histoire de ne pas mettre de la peinture partout).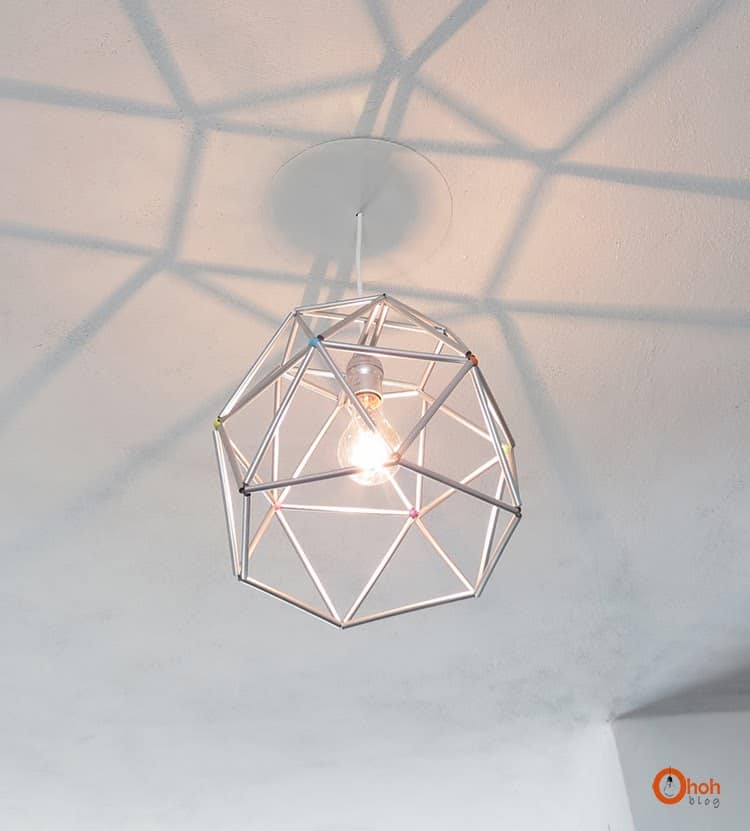 And voila! I also love the shadow it makes!
Y voilá! Me encanta la sombra que hace la pantalla!
Et voilà! J'adore les ombres que fait la lampe!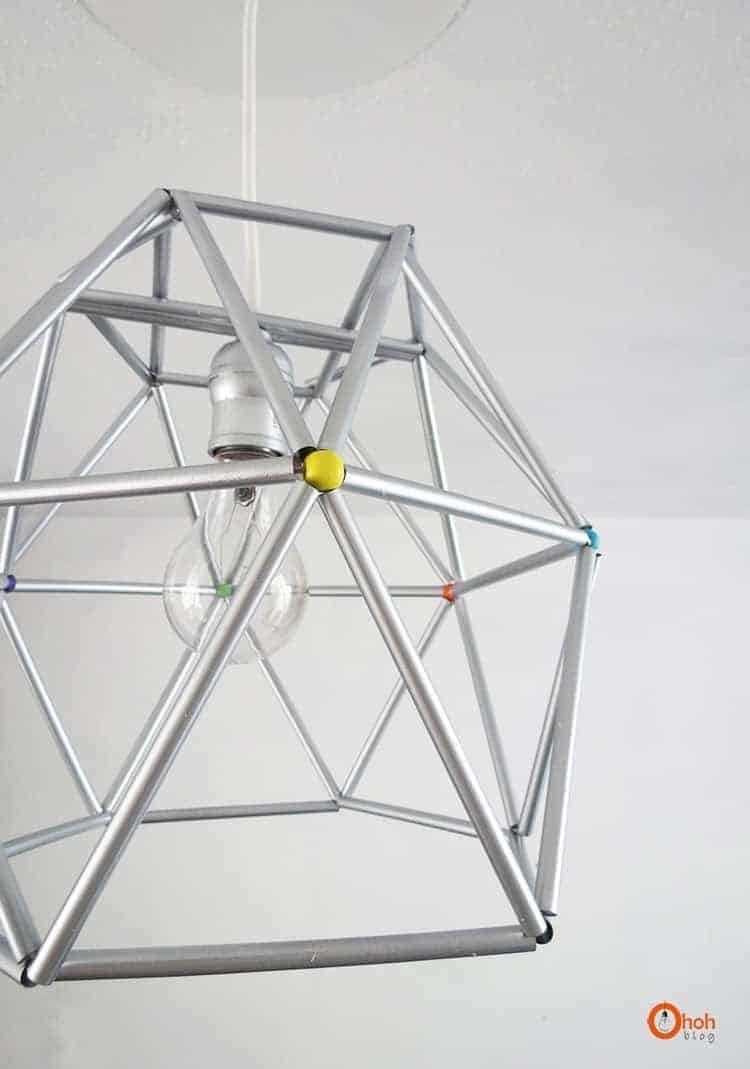 More diy lamphades / mas ideas de pantallas / d'autres idées de lampes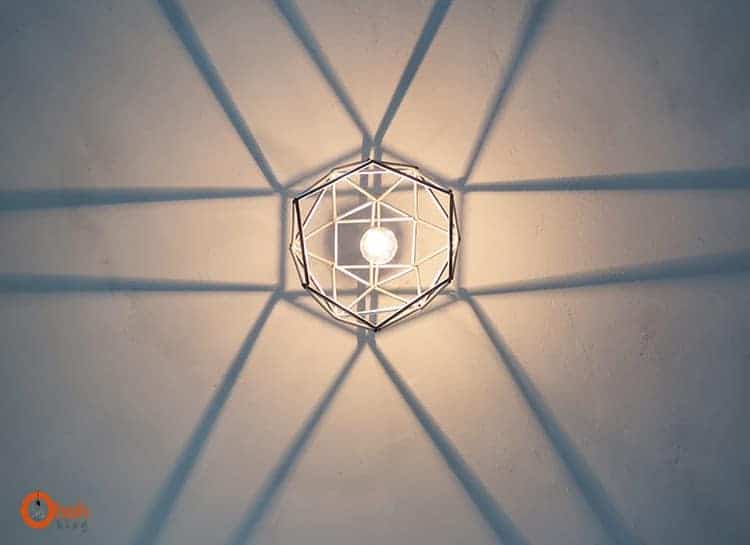 Don't forget to take part at the giveaway to win a scrapbooking DIY BOX!
No olvidas de participar al giveaway para ganar una caja DIY de scrapbooking!
N'oublie pas de participer au giveaway pour gagner une boite DIY de scrapbooking!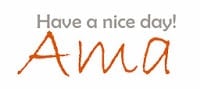 Amaryllis