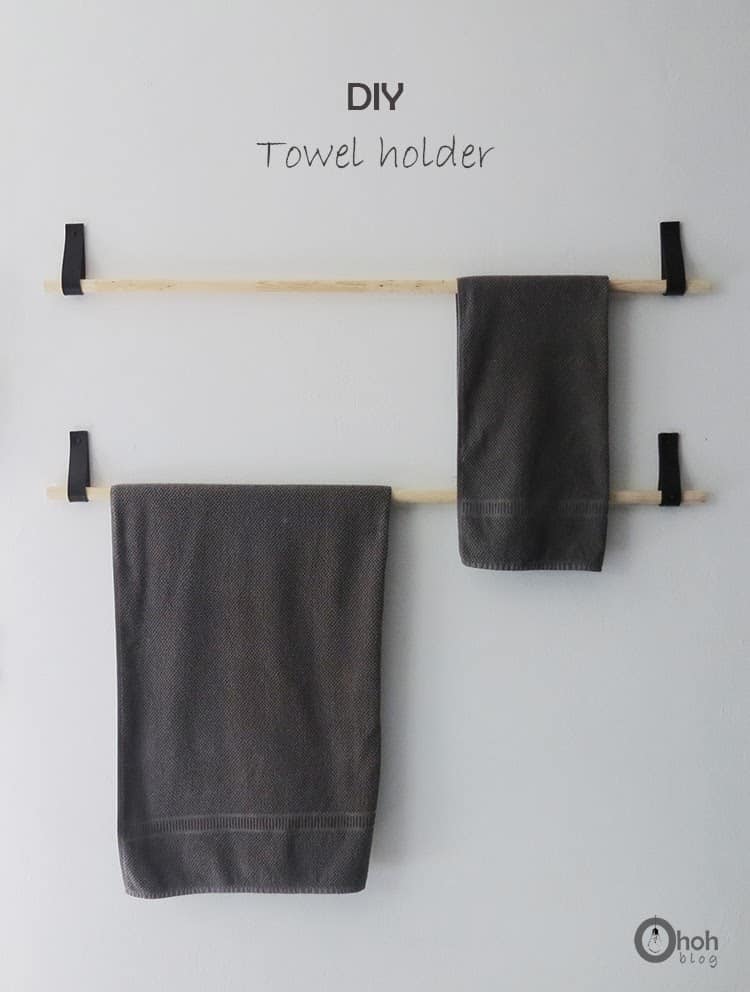 With five of us using the bathroom, we needed some extra space to hang towels. I found this idea on Bloesem Living, Irene made ​​accessories displays for her shop using dowels and leather straps. It's the perfect solution for a towel holder too. What I did instead of using new leather, I recycled a belt.
Con cinco personas usando en el baño, necesitábamos espacio adicion al para colgar las toallas. Encontré esta idea en Bloesem Living, Irene hizo exhibiciones de accesorios para su tienda con palos y correas de cuero. Es la solución perfecta para colgar toallas. Lo que hice en lugar de usar cuero nuevo, reciclé un cinturón.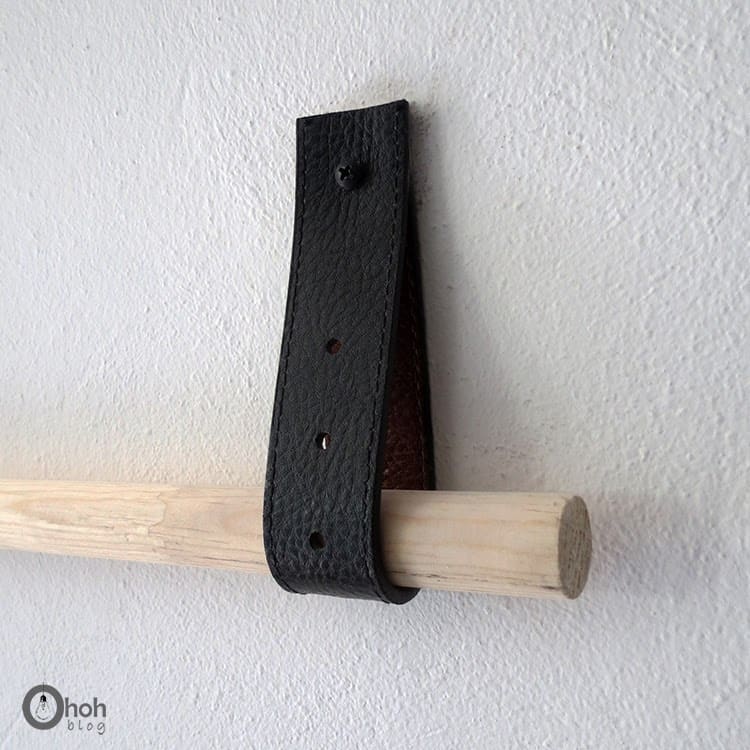 How to make DIY towels holder
Material you will need to make your towels bars:
Two wooden dowels (1′ diameter)
an old leather belt
screws
a sew
a drill
Materials que vas a necesitar: dos palos (2,5 cm de diámetro), un cinturón de cuero viejo, tornillos y taquetes, una segueta y un taladro.
Tu vas avoir besoin de: deux bâtons (2.5 cm de diamètre), une vieille ceinture en cuir, des vis et chevilles, une scie et une perceuse.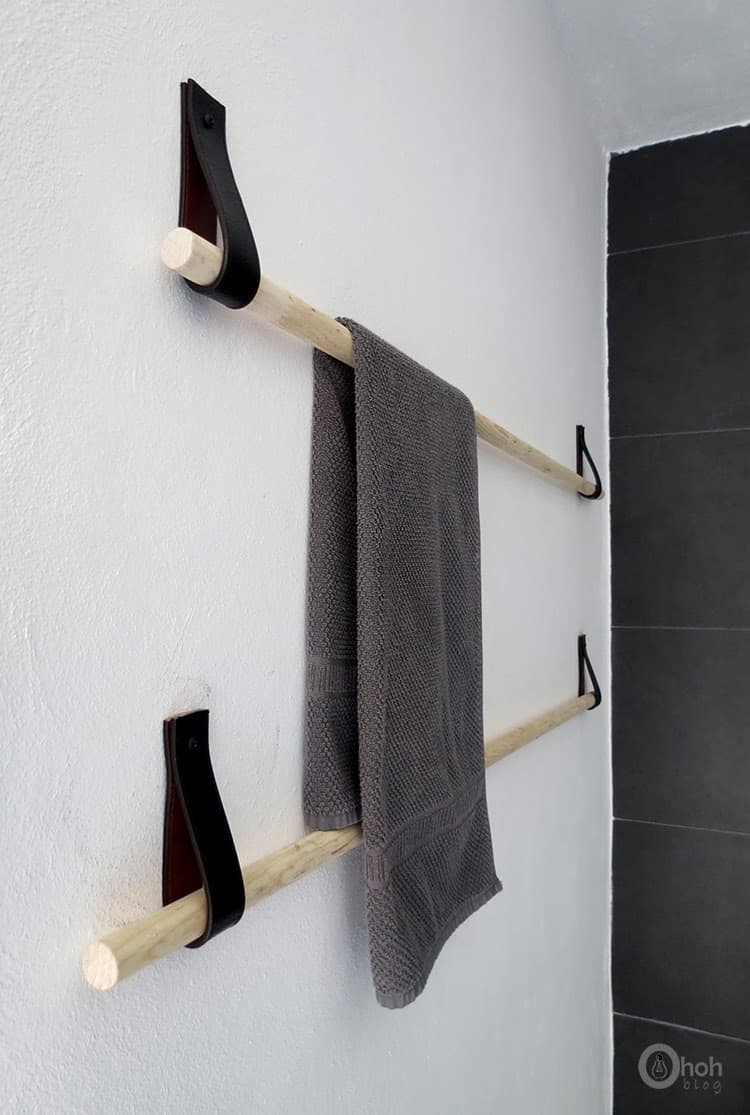 Cut the belt in (4) equal straps and make a hole at each end (to pass a screw). Make two holes in the wall at the same height and at a distance equal to the length of the dowels minus 8′. Insert plugs and tighten the leather strap on the wall. Slide the dowels into the belt loops and finished! I thought of gluing the wood dowels inside the leather straps, but it works fine without.
Corta el cinturón en (4) tiras iguales y haz un agujero en cada extremo (para pasar un tornillo). Haga dos agujeros en la pared a la misma altura y a una distancia igual a la longitud del palo menos 20 cm . Introduzca los taquetes y atornilla las tiras en la pared. Deslice los palos, y listo! Había pensado pegar los palos dentro de las correas de cuero, pero funciona bien sin nada.
Coupe la ceinture en (4) lanières égales et fait un trou à chaque extrémité (pour pouvoir passer une vis). Faire deux trous dans le mur à la même hauteur et à une distance égale à la longueur du bâton moins 20 cm. Mettre les chevilles et visser les lanières de cuir dans le mur. Glisser les bâtons, et terminé! J'avais pensé coller les bâtons à l'intérieur des lanières de cuir, mais ça fonctionne bien sans.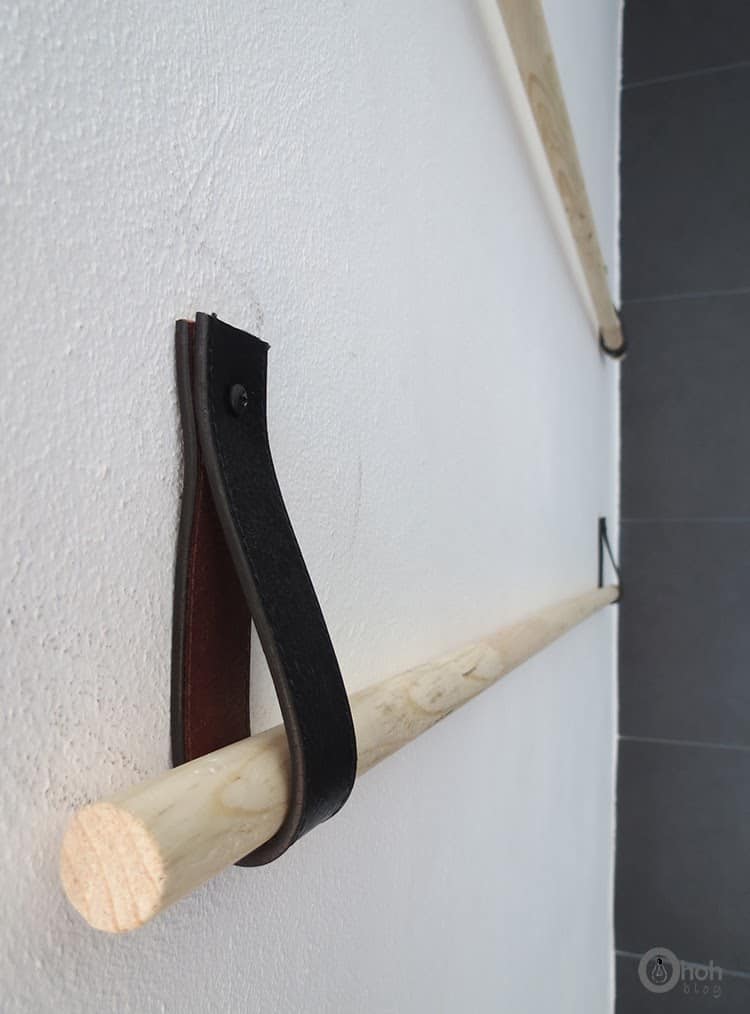 And done! It's a super easy and cheap DIY to make. Would you give a try? Don't hesitate to share your make in the comments.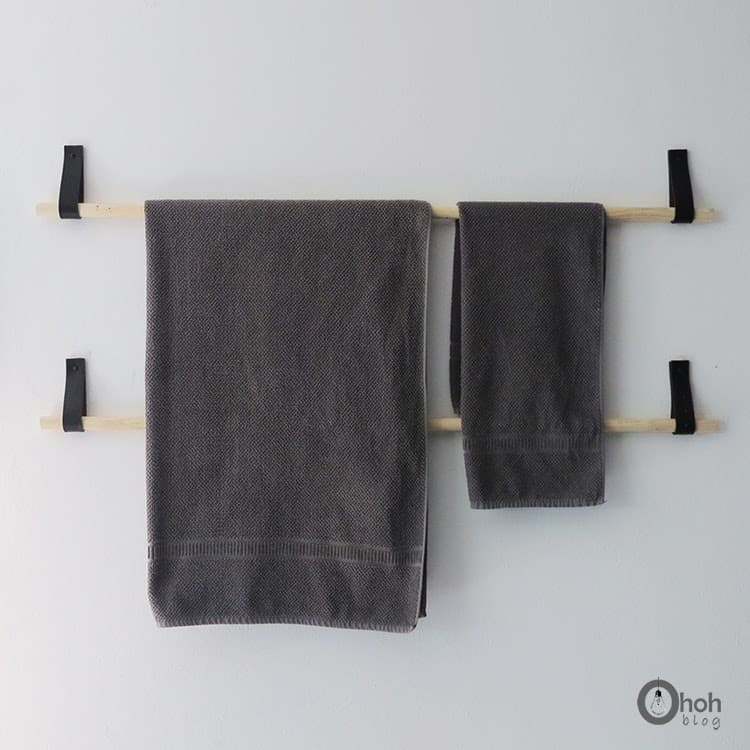 You will find all the tutorials featured in the video on my "Best DIY" page.
Amaryllis