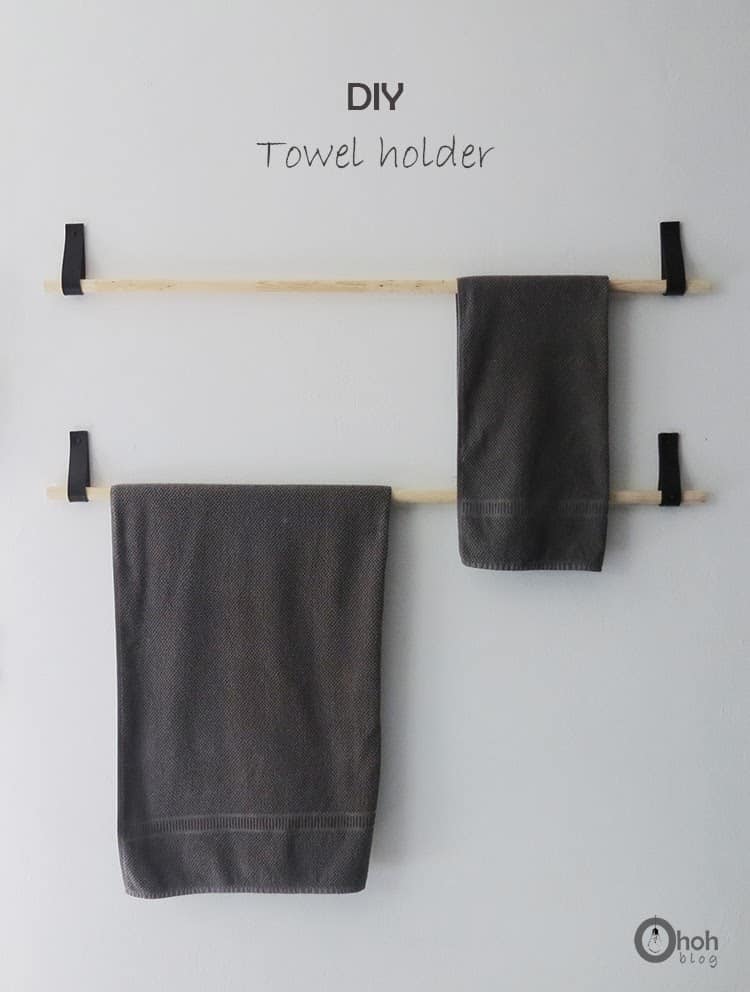 Sorry for not having posted last week, I had a trouble with my computer. With some delay, here's how to do a towel holder. I found the idea on Bloesem Living, Irene made ​​accessories displays for her shop Bloesem creative space. Instead of using new leather, I recycled a belt.
Lo siento por no haber publicado la semana pasada, tuve un problema con mi compu. Con un poco de retraso, te explico como hacer un toallero. Encontré la idea en Bloesem Living, Irene hizo mostradores para accesorios para su tienda y taller Bloesem creative space. En lugar de usar piel nueva, reciclé un cinturón.
Désolée de ne pas avoir posté la semaine dernière, j'ai eu un soucis avec mon ordi. Avec un peu de retard, voici comment faire un porte essuie. J'ai trouvé l'idée sur Bloesem Living, Irene a fait des présentoirs pour les accessoires de son magasin et atelier Bloesem creative space. Au lieu de cuir neuf, j'ai recyclé une vieille ceinture (on ne se refait pas).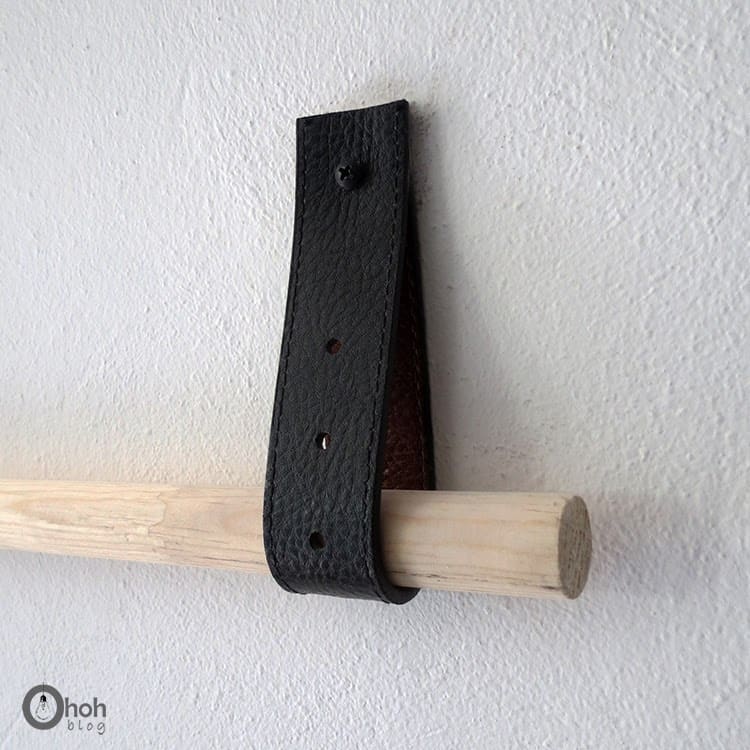 You gonna need: two sticks (1′ diameter), an old leather belt, screws and dowels, drill.
Vas a necesitar: dos palos (2,5 cm de diámetro), un cinturón de cuero viejo, tornillos y taquetes, taladro.
Tu vas avoir besoin de: deux bâtons (2.5 cm de diamètre), une vieille ceinture en cuir, des vis et chevilles, une perceuse.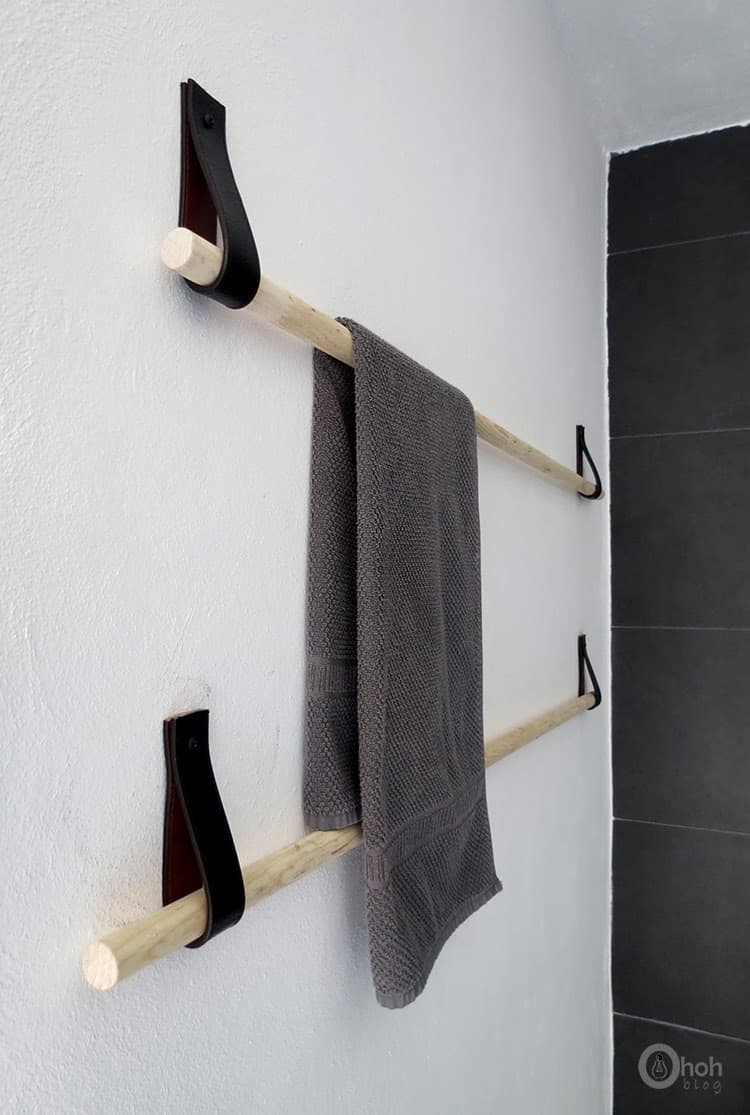 Cut the belt in (4) equal straps and make a hole at each end (to pass a screw). Make two holes in the wall at the same height and at a distance equal to the length of the stick minus 8′. Insert plugs and tighten the leather strap in the wall. Slide the sticks, and finished! I thought of gluing sticks inside leather straps, but it works fine without.
Corta el cinturón en (4) tiras iguales y haz un agujero en cada extremo (para pasar un tornillo). Haga dos agujeros en la pared a la misma altura y a una distancia igual a la longitud del palo menos 20 cm . Introduzca los taquetes y atornilla las tiras en la pared. Deslice los palos, y listo! Había pensado pegar los palos dentro de las correas de cuero, pero funciona bien sin nada.
Coupe la ceinture en (4) lanières égales et fait un trou à chaque extrémité (pour pouvoir passer une vis). Faire deux trous dans le mur à la même hauteur et à une distance égale à la longueur du bâton moins 20 cm. Mettre les chevilles et visser les lanières de cuir dans le mur. Glisser les bâtons, et terminé! J'avais pensé coller les bâtons à l'intérieur des lanières de cuir, mais ça fonctionne bien sans.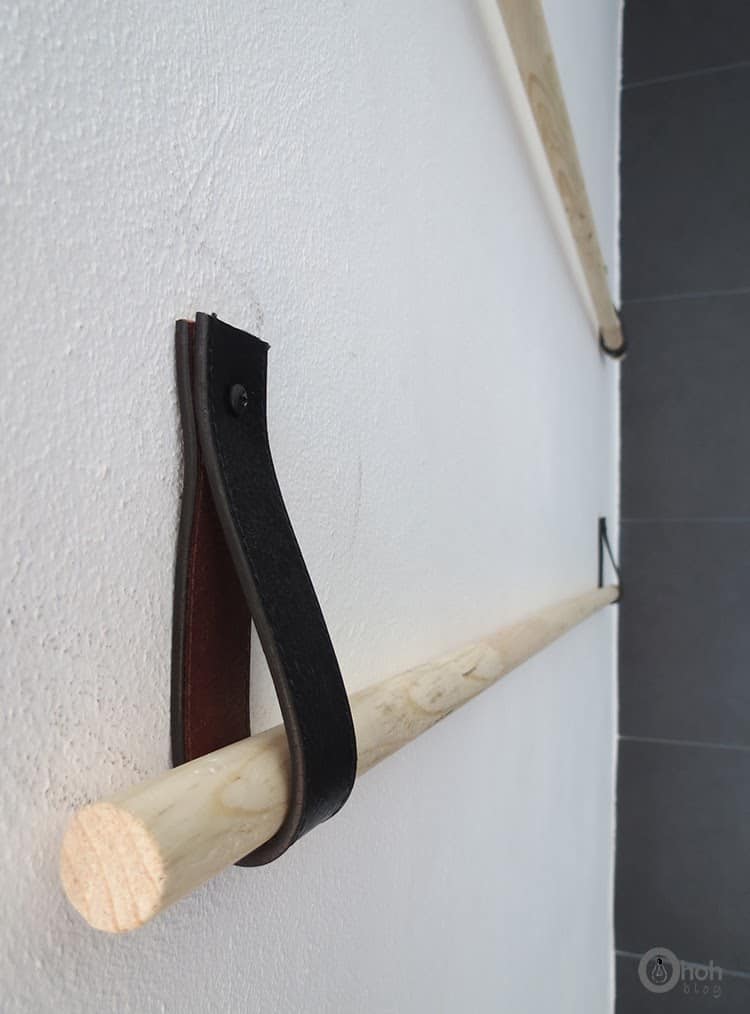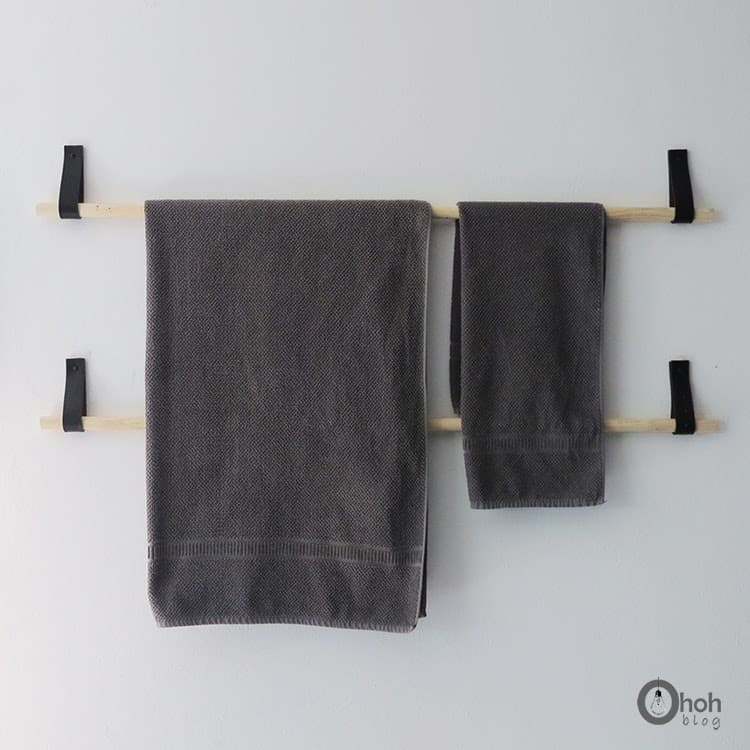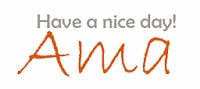 Amaryllis