Denim is such a versatile cloth piece, we all own at least a few pairs. In my case, it's my daily mom uniform. After a time they always get used and start to have holes…but there s still plenty of good fabric to rescue.
Would you rather throw away your old denim or reuse them? For a while, I stacked my family's old denim in a corner of my closet, but I had to find a solution to recycle them. So I came up with the idea of using denim strips to weave a basket. It's quite easy to make even if the weaving process takes some time. If you have more denim to recycle, you can also try to make a DIY rug with old denim

[ This post probably contains affiliates links, our full disclosure policy is really boring, but you can read it HERE ]
* * *
Un pantalon de mezclia es una pieza vestir muy versátil, todos tenemos al menos unos pares en nuestro amario. En mi caso es mi uniforme diario de mamá. Después de un tiempo, se desgastan y comienzan a tener agujeros … pero todavía hay un montón de buena tela para rescatar.
¿Prefieres tirar tu viejo denim o reutilizarlo? Por un tiempo, apilé los viejos denim de mi familia en un rincón de mi armario, pero tuve que encontrar una solucion para reciclarlos. Así que se me ocurrió la idea de usar tiras de mezclilla para tejer una canasta. Es bastante fácil de hacer incluso si el proceso de tejido toma algo de tiempo.
* * *
Le jeans est un vêtement tellement polyvalent que nous en possédons tous au moins quelques paires. Dans mon cas, c'est mon uniforme quotidien de maman. Après un certain temps, ils s'usent et commencent à avoir des trous … mais il reste encore beaucoup de tissu en bon état.
Préfére-tu jeter tes vieux jeans ou les réutiliser? Pendant un moment, j'ai rangé les vieux jeans de ma famille dans un coin de mon placard, mais il fallait que je trouve une solution pour les recycler. J'ai donc eu l'idée d'utiliser des bandes de jeans pour tisser un panier. C'est assez facile à faire même si le processus de tissage prend du temps.
RELATED: Recycled DIY Denim Rug
RELATED: Turn a cardboard box into a pretty storage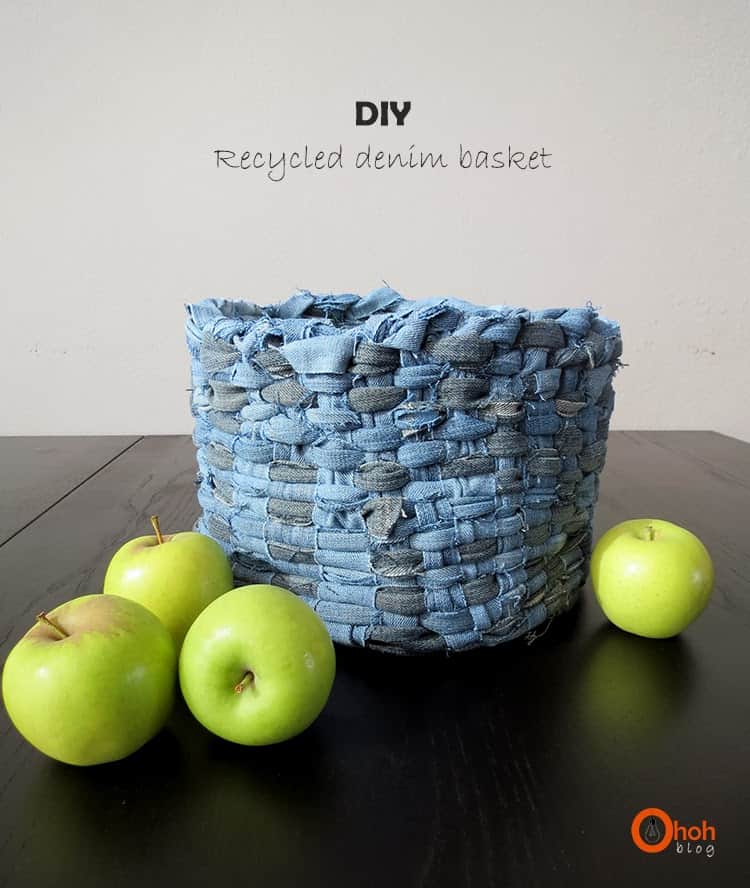 DIY recycled denim basket
Material you will need to make your basket:
* * *
Material que vas a necesitar para hacer tu canasta:
Pantalones de mezclia usados

un par de tijeras

una máquina de coser,

un recipiente para servir de modelo a tu cesta (he usado una cubeta).
* * *
Materiel dont tu auras besoin pour faire ton panier:
Vieux pantalons en jeans
une paire de ciseaux
une machine à coudre
un récipient pour servir de modèle à ton panier (j'ai employé un seau).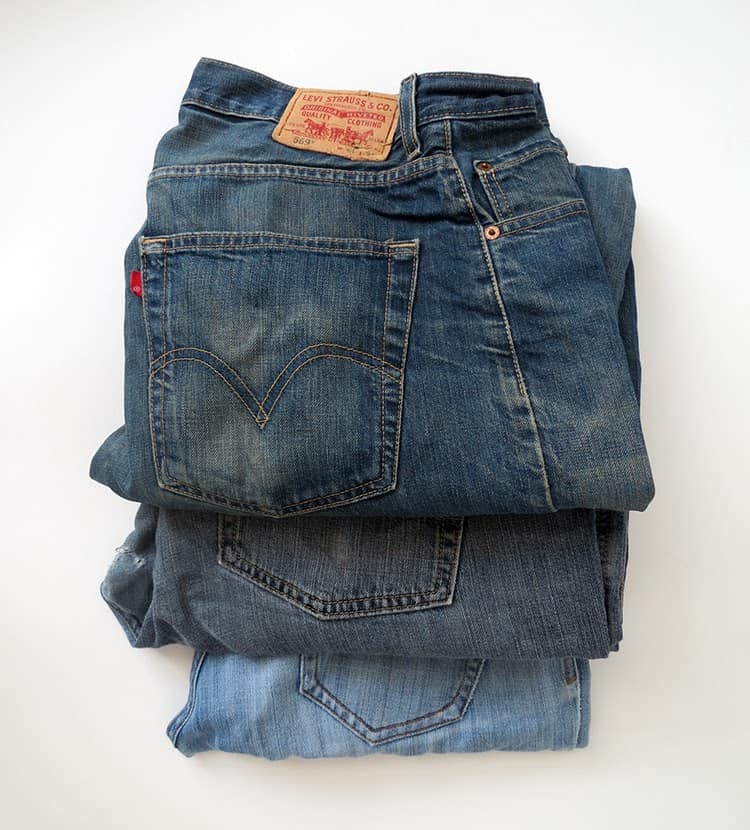 Cut strips of denim +/- 1″ wide and sew them end to end to make a long "ribbon". This ribbon is what you will use to weave your basket.
Tienes que cortar tiras de tejido de +/- 2,5 cm de ancho y coser las juntas, para hacer un largo"liston". Este liston es lo que vas a usar para tejer tu canasta.

Coupe des bandes de tissus de +/- 2.5 cm de large et couds les bout à bout pour faire un long "ruban". C'est ce ruban que tu vas employer pour tisser ton panier.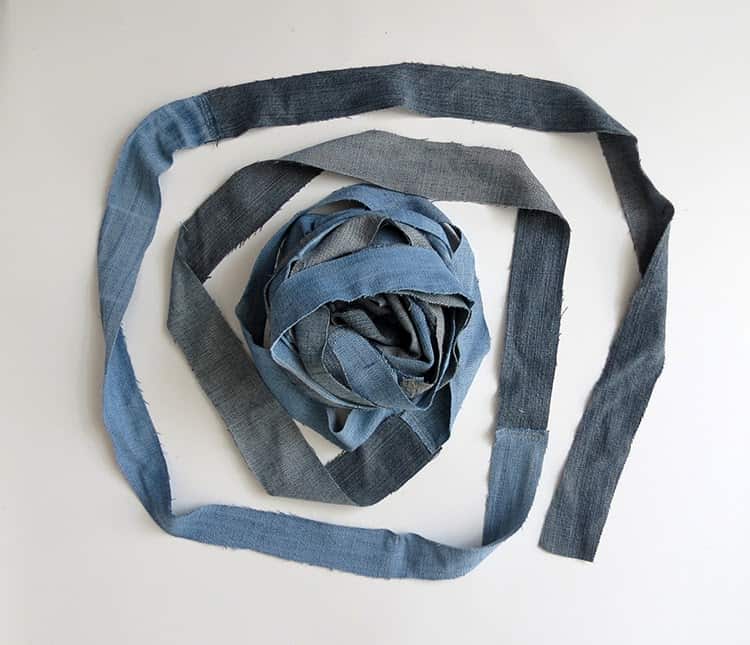 You also need strips to make the base of your basket. The number of strips to make the base depend on your basket size, the bigger your basket is the more strips you will need. My basket is quite big and I used 20 stripes. Place a few strips next to each other, tie them in the center with a strip and spread them on a flat surface to make a " * " shape.
También necesitas tiras para hacer la base de tu cesta. La cantidad de tiras para hacer la base depende del tamaño de tu canasta, cuanto más grande sea tu cesta, más tiras necesitarás. Mi canasta es bastante grande y usé 20 tiras. Coloques las tiras juntas y átelas en el centro haciendo un nudo can una tira, ponlas sobre una superficie plana y despliegelas para formar una forma de "*".
Tu as également besoin de bandes pour faire la base de ton panier. Le nombre de bandes pour faire la base dépende de la taille du panier, plus ton panier est grand, plus tu auras besoin de bandes. Mon panier est assez grand et j'ai utilisé 20 bandes. Places quelques bandes les unes à côté des autres, attaches-les au milieu en fesant un noeud avec une bande de tissu. Places les ensuite sur une surface plane pour former un "*".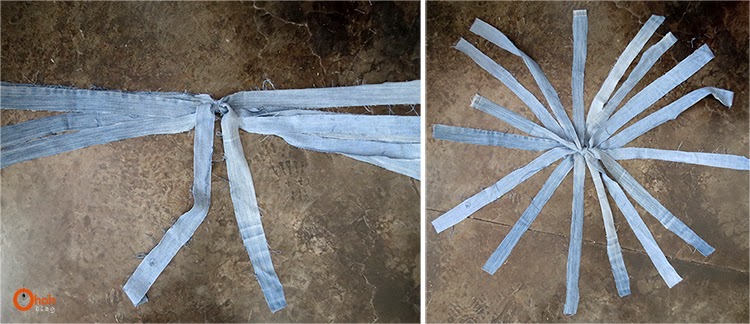 Take your denim ribbon and tie with a knot with one end in the center of the base and start to weave. You pass the ribbon around the strips. Once above, once below, once above, once below….
Tomas tu cinta de mezclilla y ata la con un nudo en el centro de la base y comienzas a tejer. Pasas la cinta alrededor de las tiras. Una vez arriba, una vez abajo, una vez arriba, una vez abajo …
Prends ton ruban et attaches le avec un nœud au centre de ta base et commences à tisser. Tu passes le ruban autour des bandes. Un fois au dessus, une fois en dessous, un fois au dessus, une fois en dessous….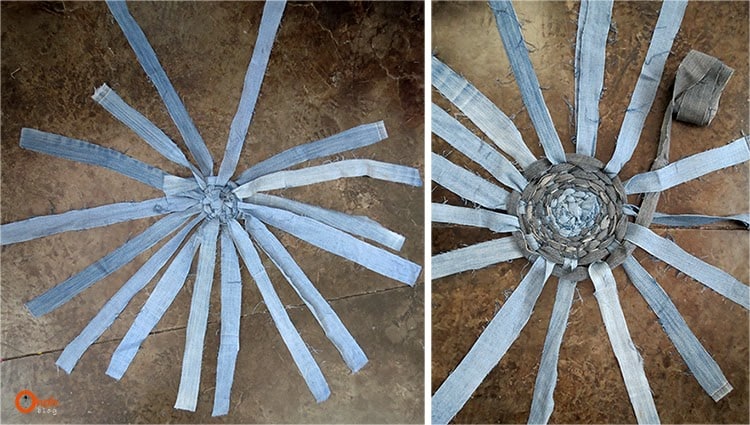 You weave until you have the size that you desire for the base of your basket. You must occasionally pull the strips to adjust weaving. Place your weaved base on your container model (bucket, bowl …). And you can continue to weave the sides of your basket. Depending on the size, you may have to add strips of fabric on the side to have a weaving tight enough so the side of your basket is rigid enough to stand on itself.
Tejes hasta que tengas el tamaño que deseas para la base de tu cesta. De vez en cuando debes jalar las tiras para ajustar el tejido. Coloquas tu base tejida sobre el contenedor que usas de modelo (cubo, tazón …). Puedes seguir tejiendo los lados de tu cesta. Dependiendo del tamaño, es posible que tenga que agregar tiras de tela en el costado para tener un tejido lo suficientemente ajustado para que los lados de su canasta sean lo suficientemente rígidos para sostenerse solo.
Tu tisses jusqu'à ce que tu aie la taille souhaitée pour la base de ton panier. De temps en temps, tires sur les bandes pour ajuster le tissu. Ty place la base sur le recipient que tu vas utiliser comme modèle (seau, bol …). Tu peux continuer à tisser les côtés deton panier. Selon la taille, tu dois peut-être ajouter des bandes de tissu sur le côté pour obtenir un tissage suffisamment serré pour que les côtés du panier soient suffisamment raides pour tenir seuls.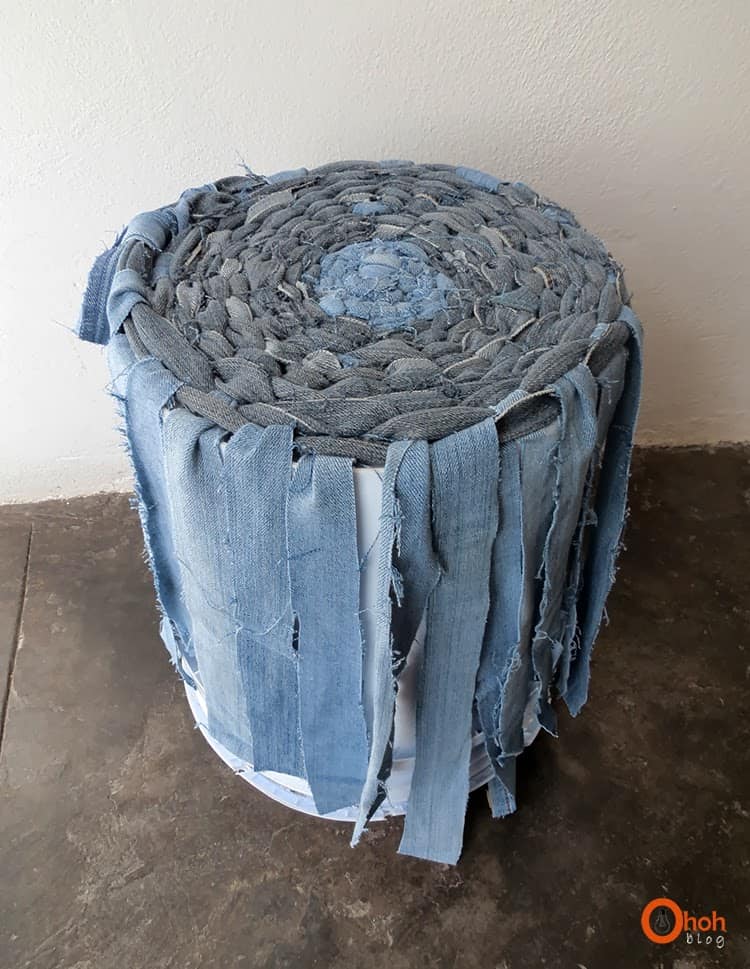 Once you have completed weaving, you have to finish the edge of the basket. You attach the strips of fabric together by tying knots.
Una vez que hayas acabado de tejer, tienes que terminar el borde de la cesta. Vas a amarrar las tiras de tela con nudos.
Une fois que tu as terminé de tisser, il faut finir le bord du panier. Tu vas attacher les bandes de tissus ensemble en faisant des nœuds.

Your basket is almost done. You've got to cut the extra stips and fold them inside the basket. You can either sew or glue them.
Tu cesta está casi terminada. Tienes que recortar las tiras de tejido ya doblarlas dentro de la canasta. Puede coserlas o pegarlas.
Ton panier est presque fini. Il te reste a couper les bouts de tissus qui dépasses et à les plier à l'intérieur du panier. Tu peux soit les coudre, soit les coller.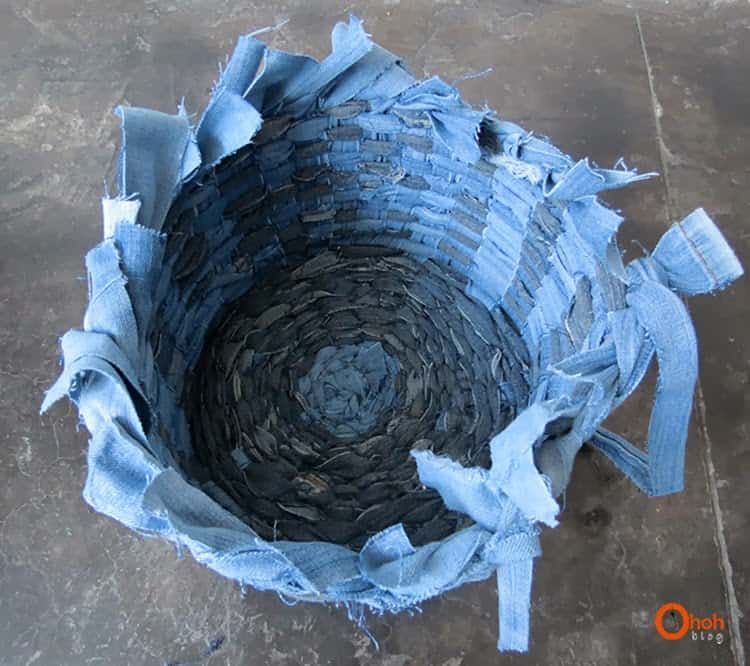 Voila, not too bad for used denim! If you wonder, I used two pairs of denim to make this basket. I would love to see what you make so don't hesitate to share it in the comment! If you like this craft, you will love this DIY recycled felt basket too.
Voila, no está mal para un par de pantalones usados! He utilizado dos pares de pantalones para hacer esta canasta. Me encanta ve lo que haces, no dudes en compartir lo en los commentarios!

Voila, pas trop mal pour des vieux pantalons! J'ai employé deux jeans pour faire ce panier. J'adore voir ce que tu fais avec mes tutorial, n'hesites pas a partager dans les commentaires.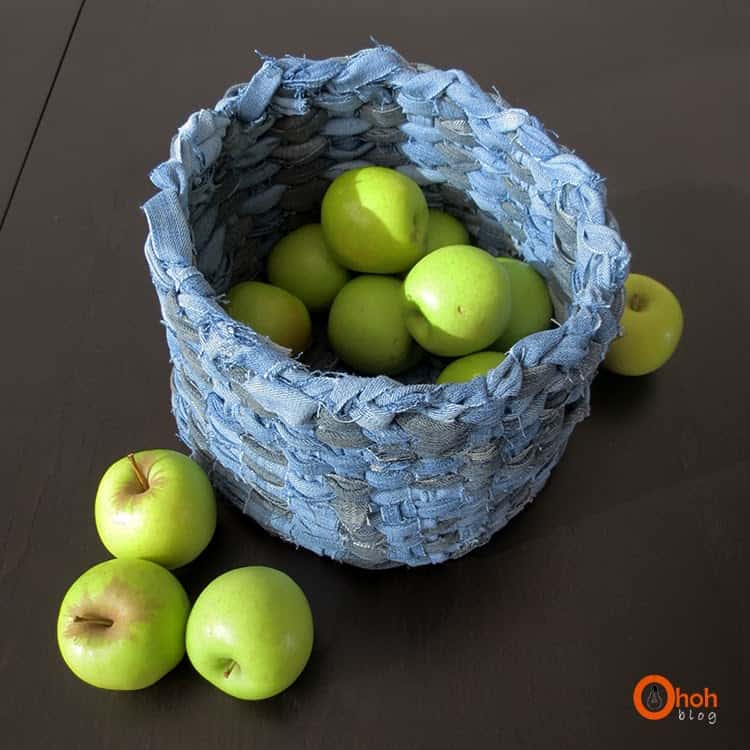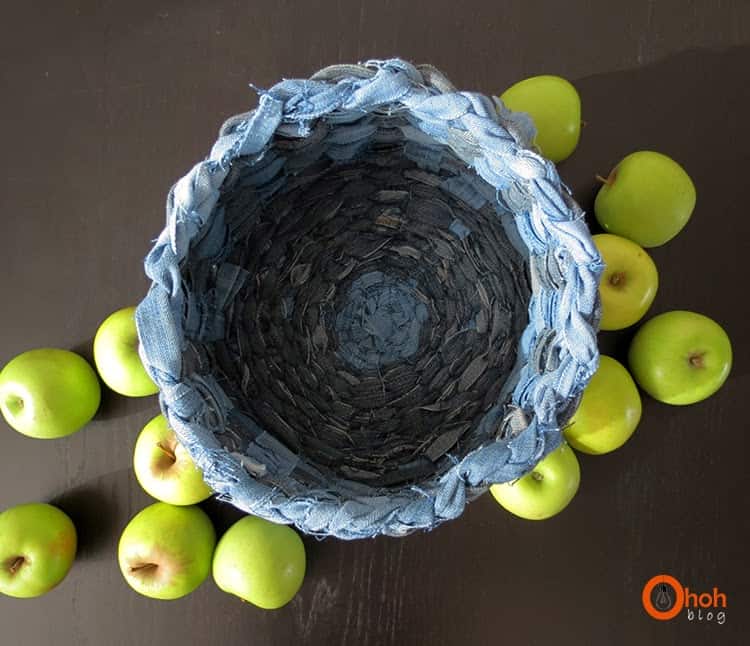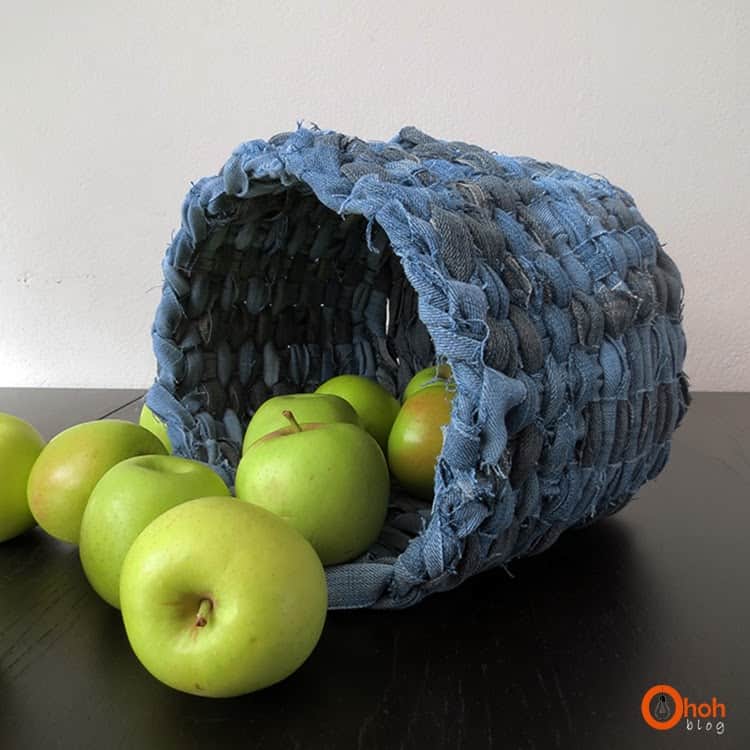 Want to remember it? Save this DIY denim basket in your favorite Pinterest board.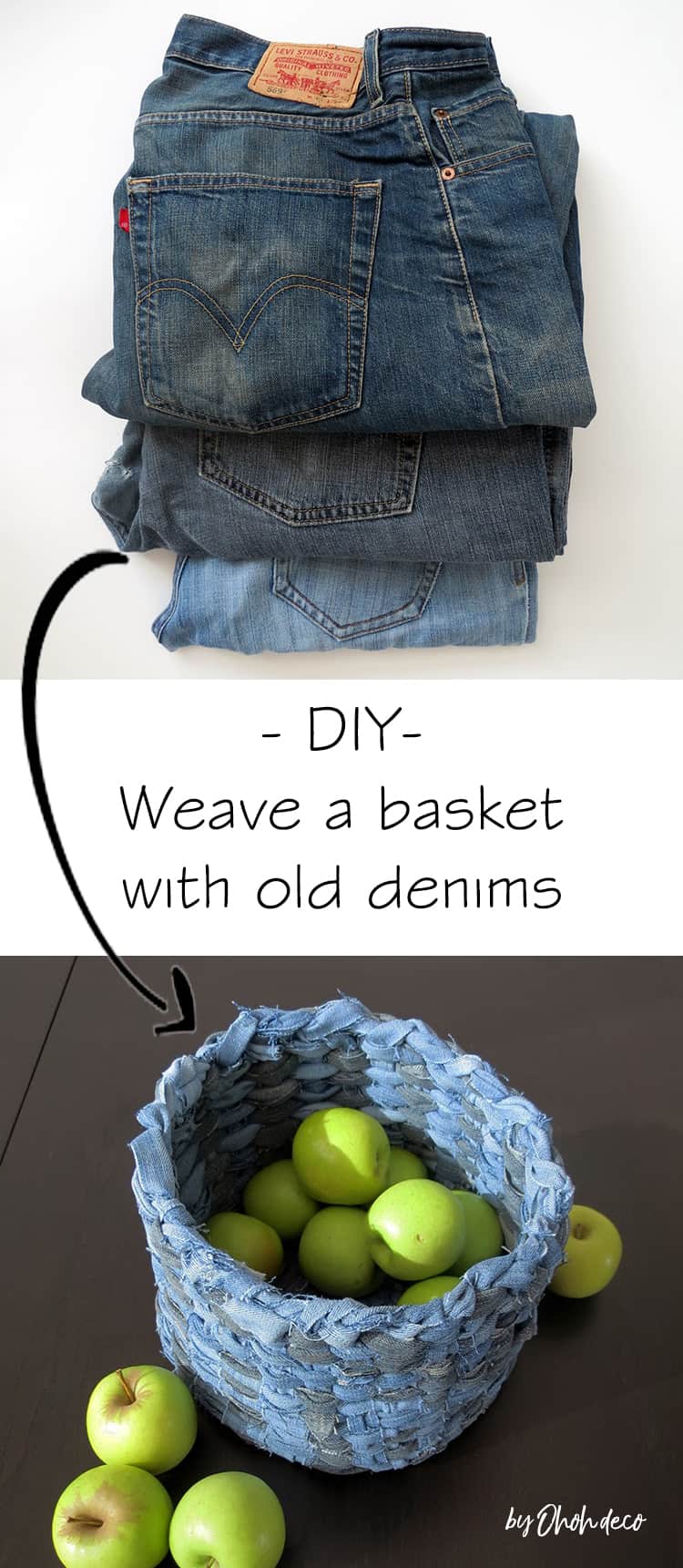 You will find all the tutorials featured in the video on my "Best DIY" page.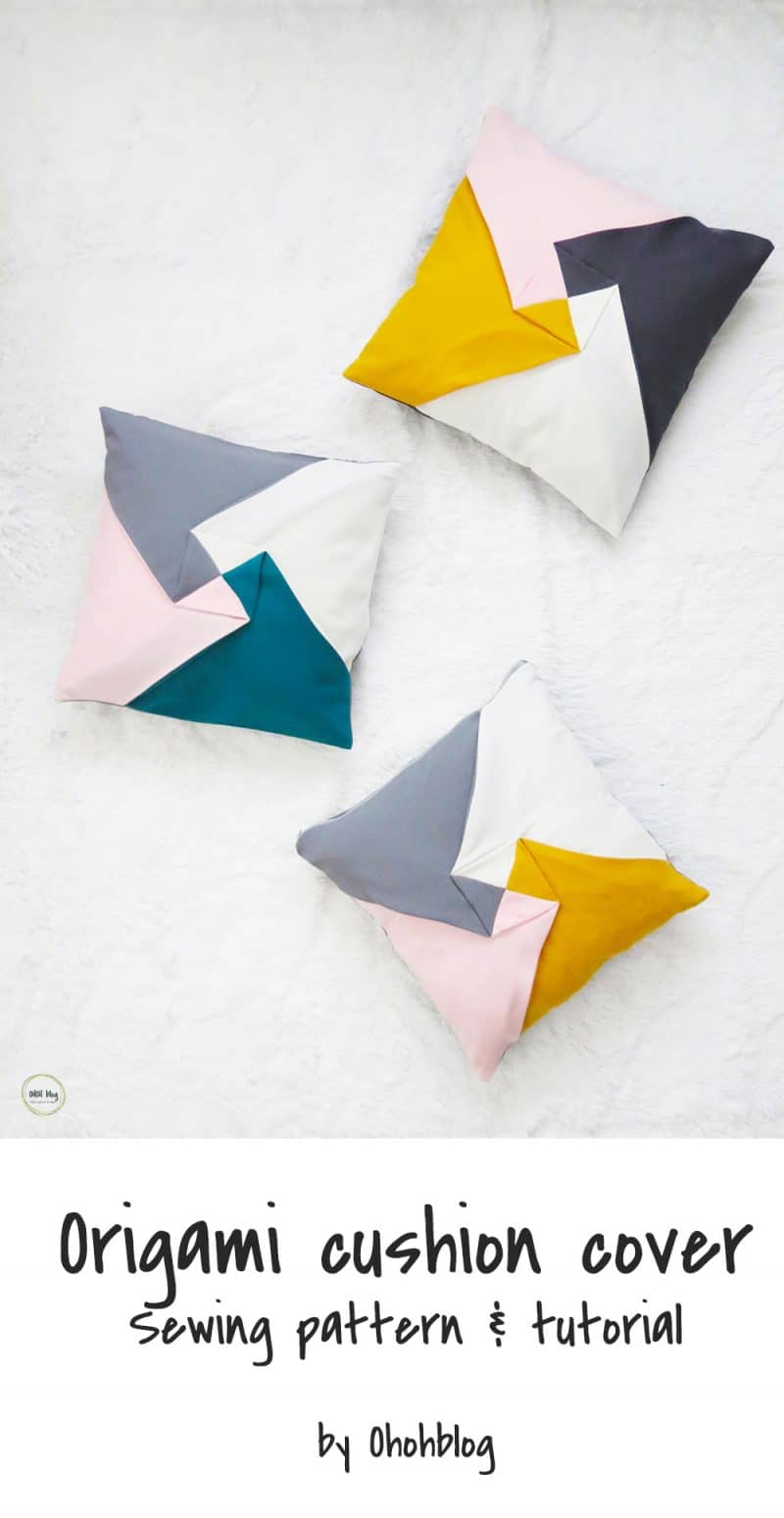 Amaryllis