Once the Christmas decor is set up, comes the time to wrap presents. I like to make them pretty but I also look for easy and affordable options.
As much as I like store-bought gift bags I find them quite pricey. Making homemade gift bags is a great and easy way to wrap presents.
You can use any nice wrapping paper, colored sheets, or simple brown paper.
You can make your bags in any size and it's perfect to wrap oddly shaped items.
I made these paper bags for Christmas but they are perfect for any occasion: birthday, Mother's day…it's the perfect hack to wrap any present in no time!
[ This post probably contains affiliates links, our full disclosure policy is really boring, but you can read it HERE ]
It takes just a few minutes to make a pretty bag. Folding the bottom of the bag seems a little difficult at first sight, but once you get the trick it's very simple.
Ready to learn how to make a DIY paper bag?
You can watch the quick "how-to" video and read the tutorial below. I hope you will enjoy it.
How to Make a Gift Bag out of paper
Materials you will need to make a DIY gift bag:
Scissors
Scotch tape
Gift tag (If you already are a member, click HERE to download your free gnome tags)
If you like it, the Christmas gnome gift tags printable are available in my FREE resource library along with a bunch of other great prints and patterns. All you need to do is fill out the form and check your inbox for a welcome email with the password in. Click here to get in >>>> FREE LIBRARY ACCESS
To make your homemade gift bag you can use brown paper, colored sheets, or wrapping paper. I love the
colors of this set, plus it's printed on both sides
so your bag will look pretty inside and out. Don't hesitate to use recycled paper for an environment-friendly gift wrap.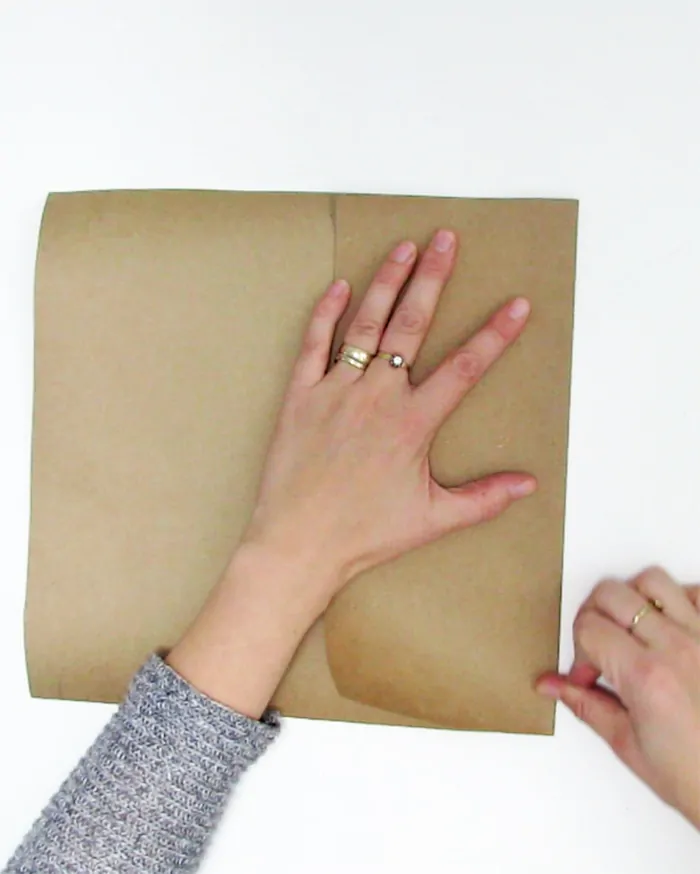 Step 1
Cut a rectangle of paper big enough to cover your item, approximately twice the size of the finished bag. Place your paper on a flat surface, nice side down.
Fold the right and left sides down to the middle until they overlap a little. Tape or glue them together.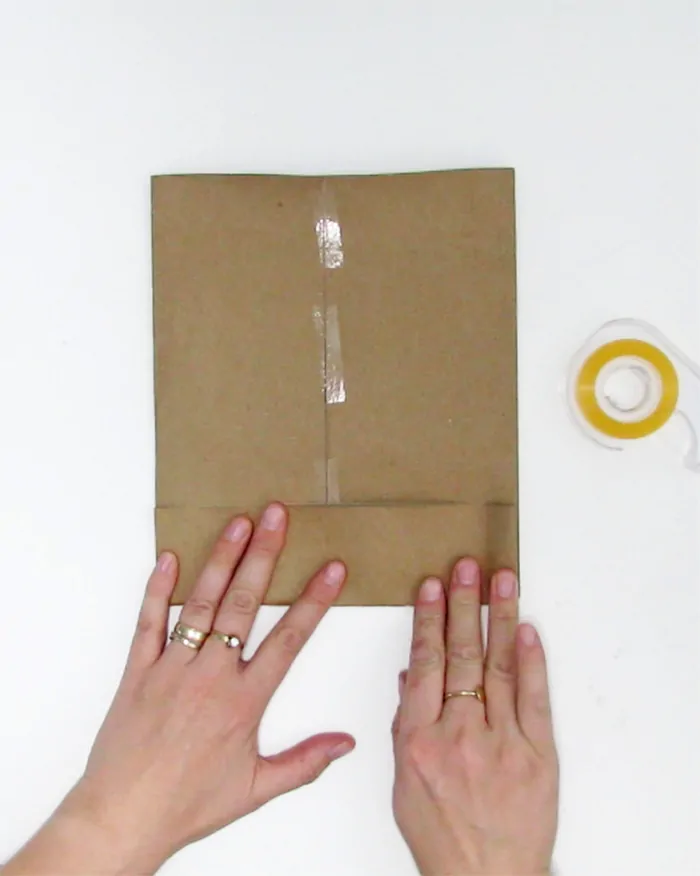 Step 2
Make a fold with the bottom of your gift bag. Press it and unfold.
Step 3
Open the bottom fold and flatten each corner to make triangular shapes. Press the paper to well mark the folds.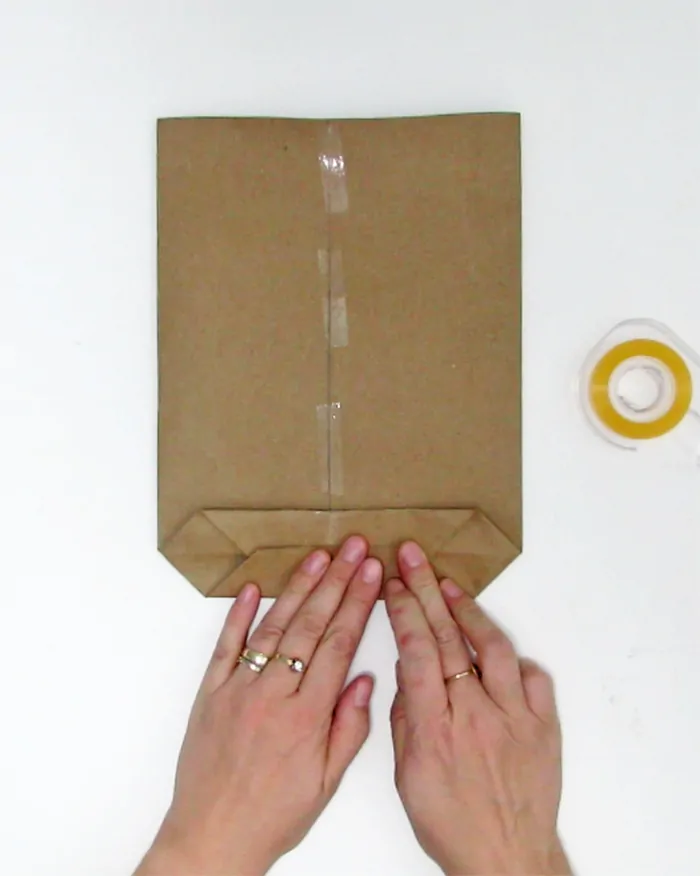 Step 4
Fold each side of the bottom toward the middle, they have to overlap some, and tape them in place.
And that it, you just made your gift bag.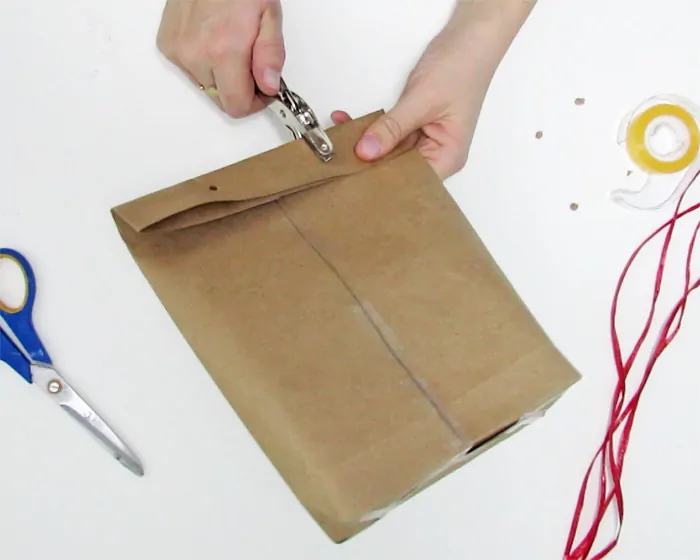 Step 5
Place your present into the bag and close it making a fold on top. You can just tape the flap or if you like a nice finish, punch two holes and pass a ribbon through.
Make a knot, add a gift tag, and maybe a gift topper, and done! You just finished your DIY paper gift bag.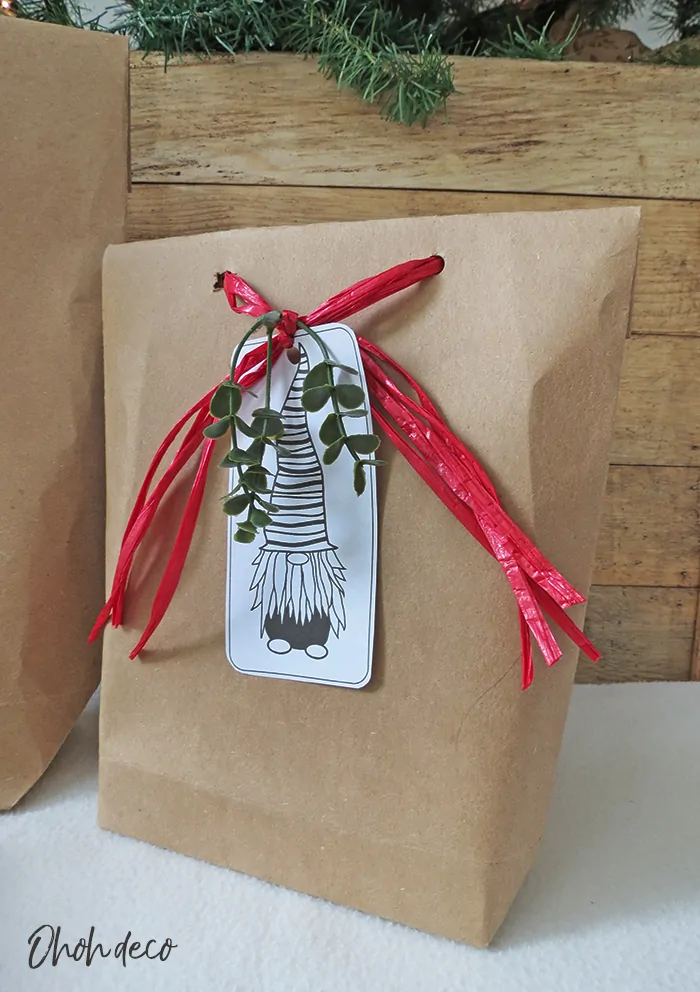 This gift wrap is super easy to make, once you get the trick of how to fold the bottom it will take just a few minutes to make.
I like that's budget-friendly and that you can make gift bags in any size for a fraction of the cost of the one you can find in the store.
It's also the perfect solution for oddly shaped items, that are hard or impossible to wrap properly.
You are now ready to make nice good looking wrapping presents, no matter the size or the shape of the item. Have fun wrapping!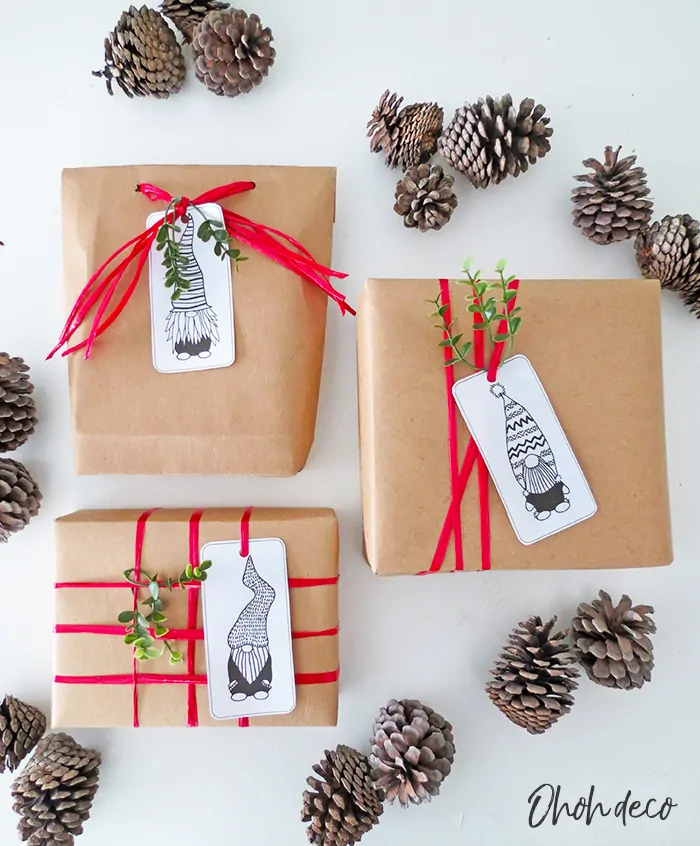 I like when the presents are part of our Christmas decor. So I use the same wrapping paper, coordinated ribbons, and of course gift tags.
This year I made some gnome tags. They are available as a FREE print in my library. I made 4 different gnomes, I hope you will enjoy using them for your Christmas presents.
I love to see what you make, so don't hesitate to share your creations on social media using #ohohdecodiy or leaving me a comment below.
Have fun wrapping your presents.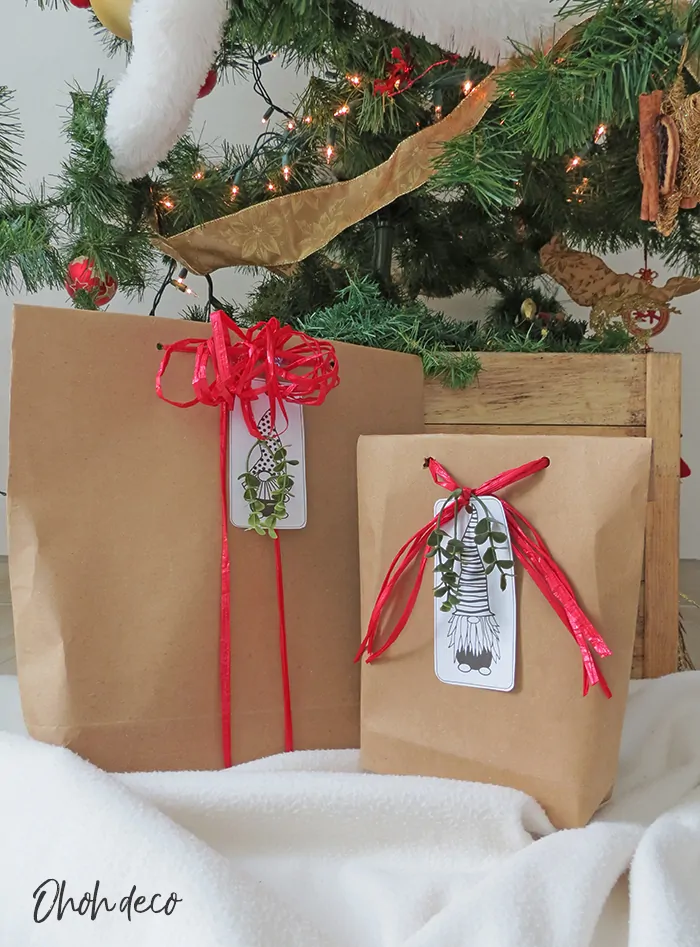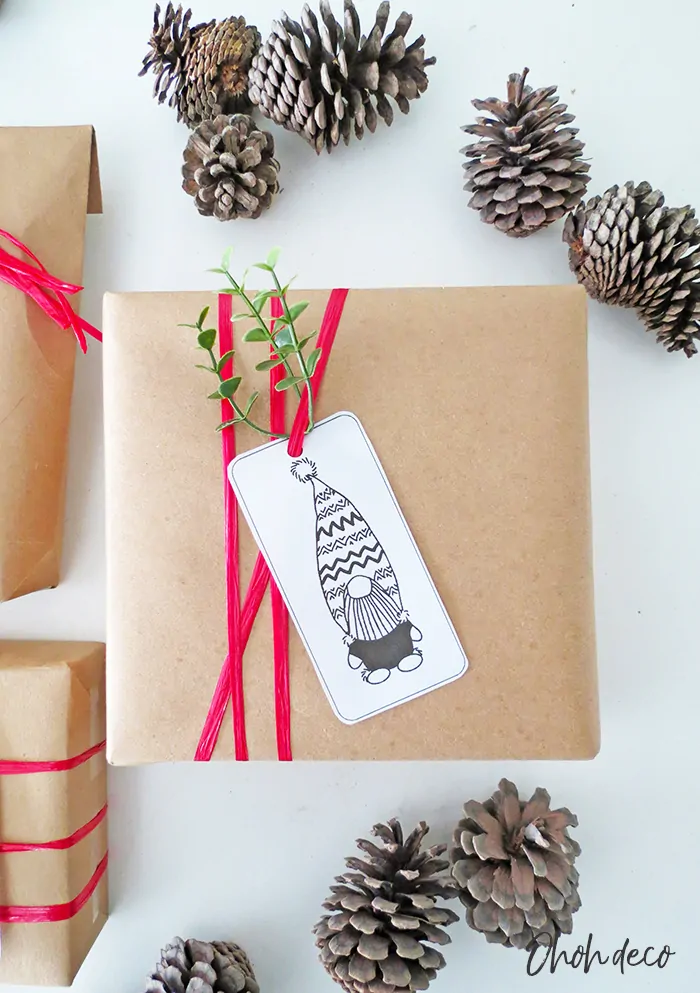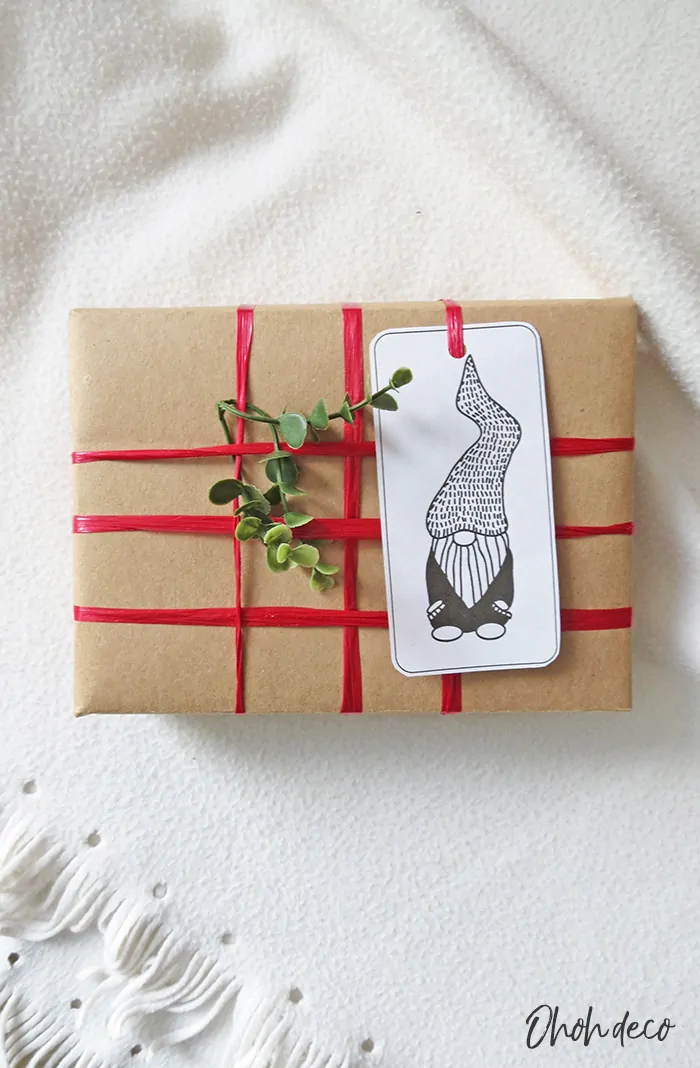 Want to remember it? Save this Easy DIY paper gift bag on your favorite Pinterest board.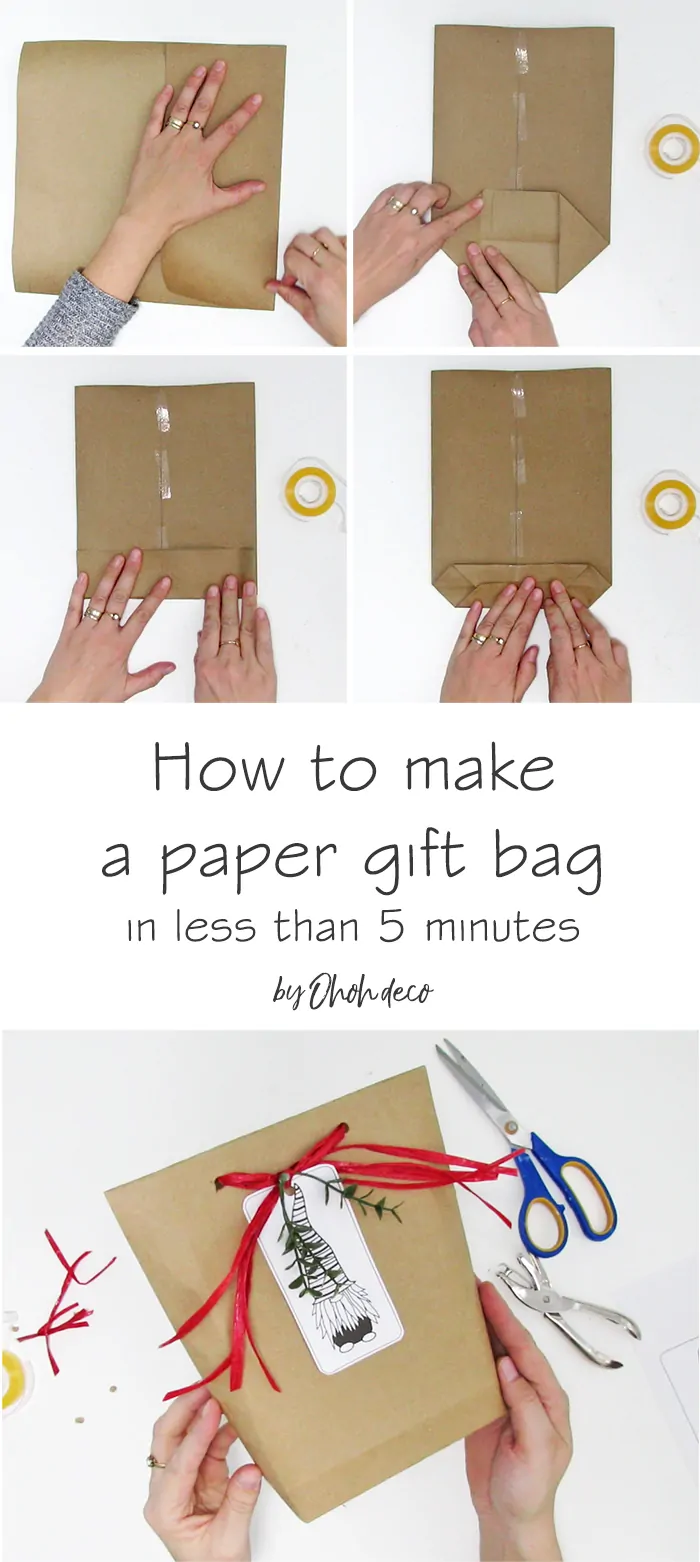 You will find all the tutorials featured in the video on my "Best DIY" page.
Amaryllis