Using recycled materials is the best way to craft: you save money and help contaminate less. I try to buy products that aren't packed in plastic. The ideal would be to have everything in bulk, but most of the grocery stores don't offer that option.
Glass jars are great containers to reuse. You can use them as storage bins. And if you want to make them look pretty you can customize the jar lids following my easy tutorial. Don't you think they look cute? I display them on my spice rack.
[ This post probably contains affiliates links, our full disclosure policy is really boring, but you can read it HERE ]
Another option is give the jar a little hack to use it as a flower vase or a candle holder. Can you believe a few beads and tassels turns this peppers container into a cute decorative item? Scroll down for the tutorial and make yours.
* * *
Usar materiales reciclados es la mejor manera de hace manualidades: ahorras dinero y ayudas al media ambiente. Intento comprar productos que no están empacados en plástico. Lo ideal sería tener todo a granel, pero la mayoría de los supers no ofrecen esa opción.
Los frascos de vidrio son buenos recipientes para ser reutilizados. Puede usarlos como contenedores de almacenamiento. Y si deseas que se vean bonitos, puedes personalizar las tapas de los frascos de vidrio siguiendo mi paso a paso. ¿No crees que se ven lindos? Los tengo en mi estante con las especias.
Otra opción es darle una pequeña mejora a la jarra y usarla como jarrón de flores o como candelero. ¿Puedes creer que unas cuentas de madera y unas borlas convertieron este envase de pimientos en un lindo elemento decorativo? Desliza hacia abajo para ver el paso a paso y hacer el tuyo.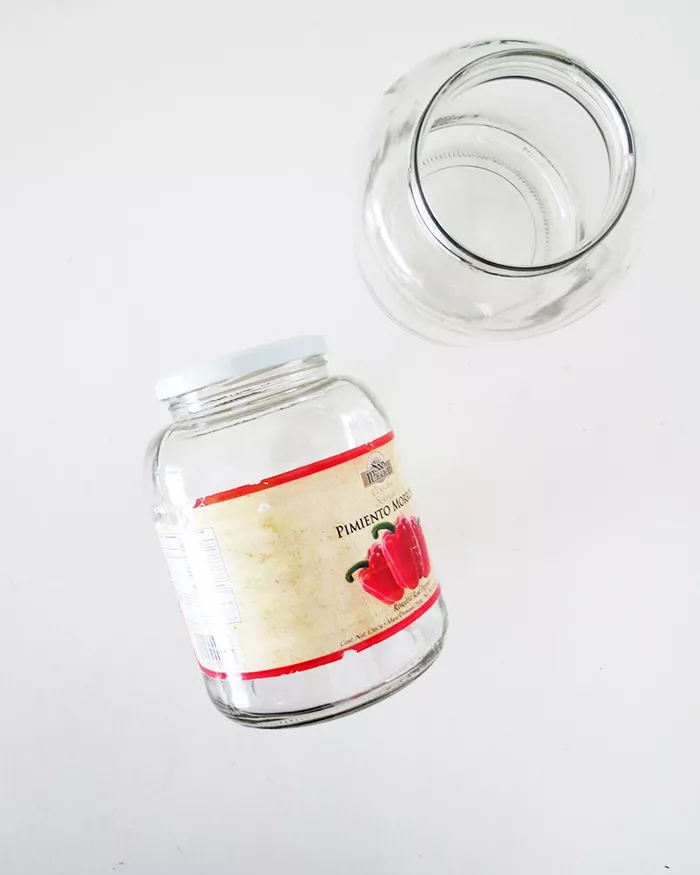 Recycled Glass Jar as Flower vase or Candle holder
Materials you will need to make this craft:
* * *
Material que necesitarás para realizar esta manualidad:

Un frasco de vidrio




Cuentas de madera




Cuerdita




Borlas




tijeras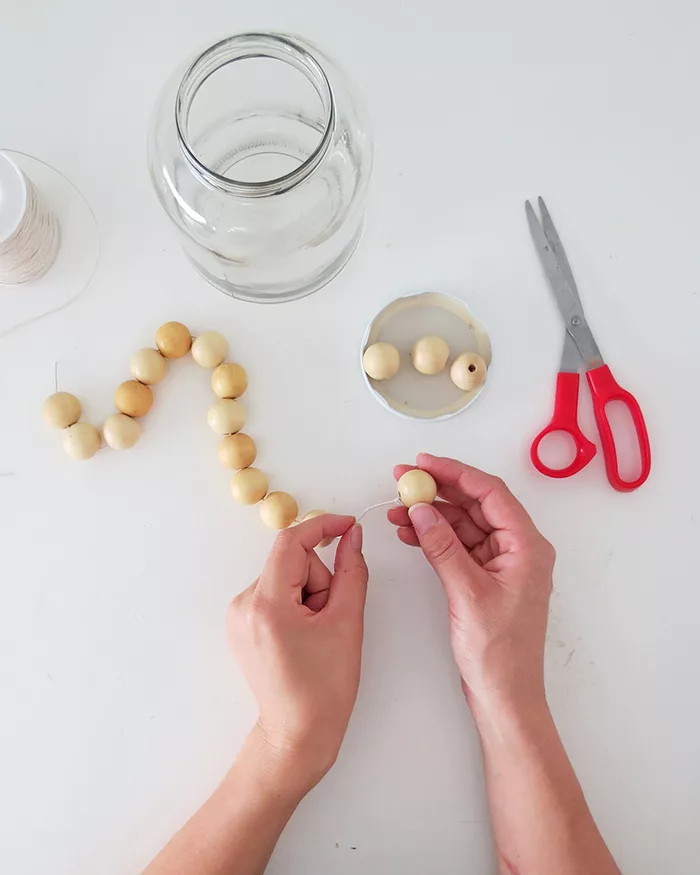 Cut a piece of twine rope and slide the beads on it to create a ring that you will place around the jar neck.
The size of the wooden beads will depend of the jar dimension. My jar is about 6 inches tall to 5 inches width and I used beads of 1 inch for the top and beads of 1/3 and 1/2 inches to make the scalloped shape.
If you can, try with different bead sizes and choose the ones that fit best your jar.
* * *
Cortes un trozo de cuerda y deslices las cuentas para crear un anillo que colocarás alrededor del cuello del frasco.
El tamaño de las cuentas de madera dependerá de la dimensión del frasco. Mi frasco mide aproximadamente 16 cm de alto a 12 cm de ancho y usé cuentas de 2.5 cm para la parte superior y cuentas de 1 cm y 1.5 cm para hacer la forma festoneada.
Si puedes, intenta con diferentes tamaños de cuentas y elijes las que mejor se adapten a tu frasco.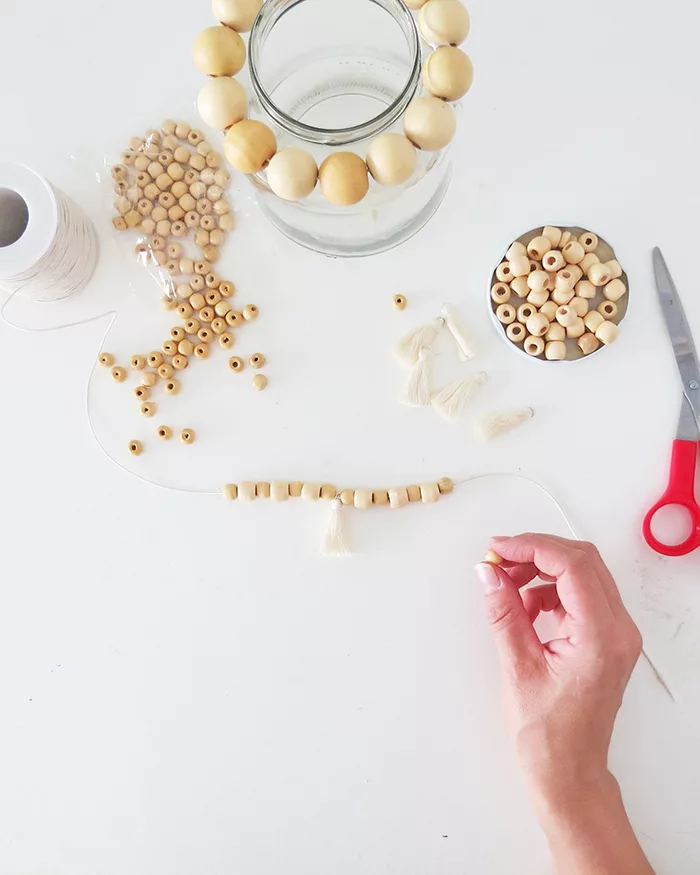 Let's now create the scalloped shape that falls around the jar. Cut a piece of rope a pass small and medium beads on it. You can alternate beads size or choose to use only one kind, don't forget to insert a tassel in the middle.
The length of the bead string may vary depending on your jar size. For information, mine was 6 inches long.
* * *
Ahora tienes que crear la forma festoneada que cae alrededor del frasco. Cortas un trozo de cuerda y pasas pequeñas y medianas cuentas. Puedes alternar los tamaños de cuentas o elegir un solo tipo, no olvides insertar una borla en el medio.
La longitud de tu cadena de cuentas puede variar dependiendo del tamaño de tu frasco. Para tu información, la mía es de 16 cm de largo.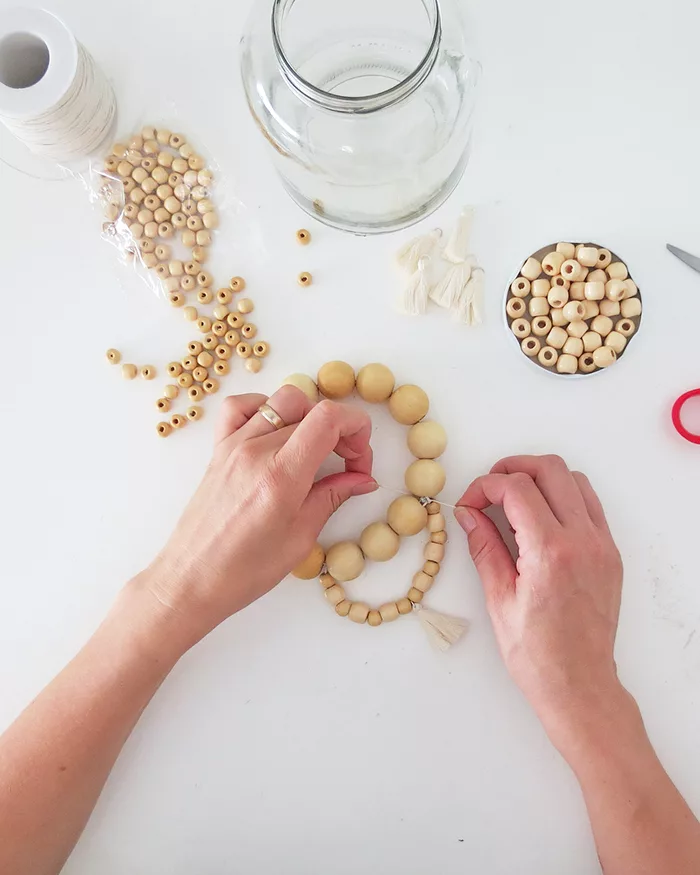 Attach the small beads string on the ring with knots. Make a few identical beads string to cover all the jar. Try to knot the strings in a balanced way on the ring, so they fall nicely around the jar.
* * *
Amaras la pequeña cadena de cuentas sobre el anillo de cuentas gruesas con nudos. Haz varias cadenitas más para cubrir todo el frasco. Trates de añadir las cadenitas de forma equilibrada alrededor del frasco.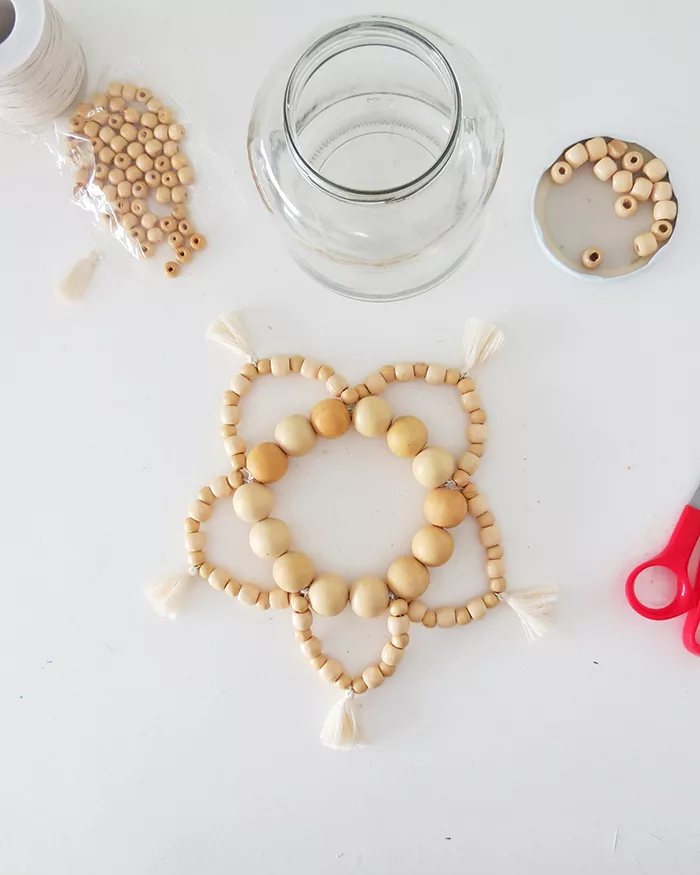 You must end up with a beaded flower like this one above. Again, depending on the jar size your flower may have 4, 5 or 6 petals. It's perfectly fine, do it the best way you can to fit your jar.
* * *
Debes terminar teniendo una flor de cuentas como esta arriba. Nuevamente, dependiendo del tamaño del frasco, tu flor puede tener 4, 5 o 6 pétalos. Está perfectamente bien, hazla de la mejor manera que puedas para que se adaptarte a tu frasco.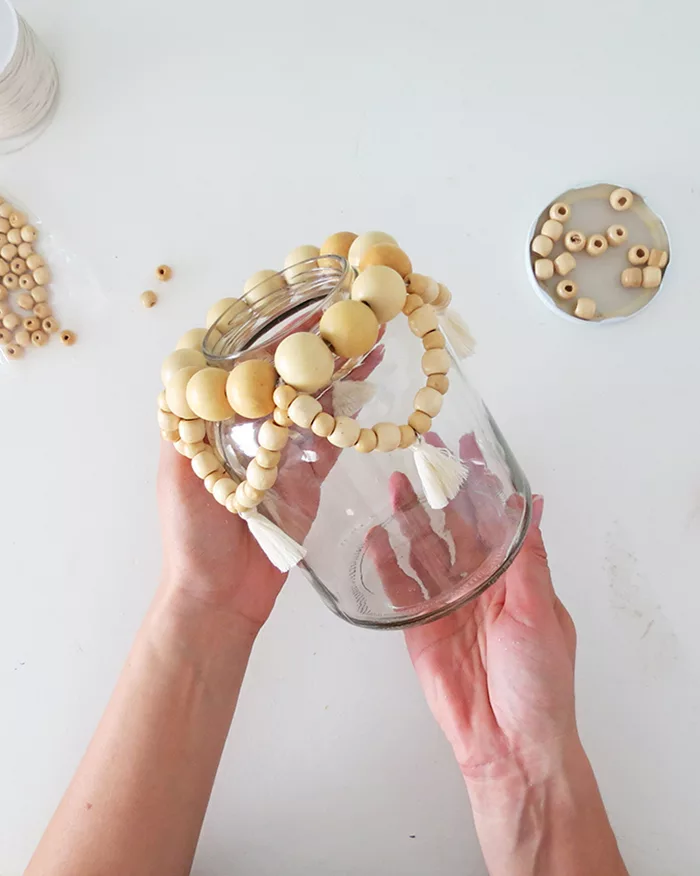 Place the bead flower on the jar neck and done! You can add some dot of silicone glue if you want to hold the beads in place. I choose not because, in my opinion, it's easier to remove the beads when cleaning.
You can have a look at my video below for more details about this DIY.
* * *
Coloques la flor de cuentas en el cuello del frasco y listo! Puedes agregar un poco de pegamento de silicon si deseas mantener las cuentas en su lugar. No lo hice porque, en mi opinión, es más fácil quitar las cuentas al momento de limpiar.
Puedes ver el video aqui debajo si necesitas mas detailes sobre este paso a paso.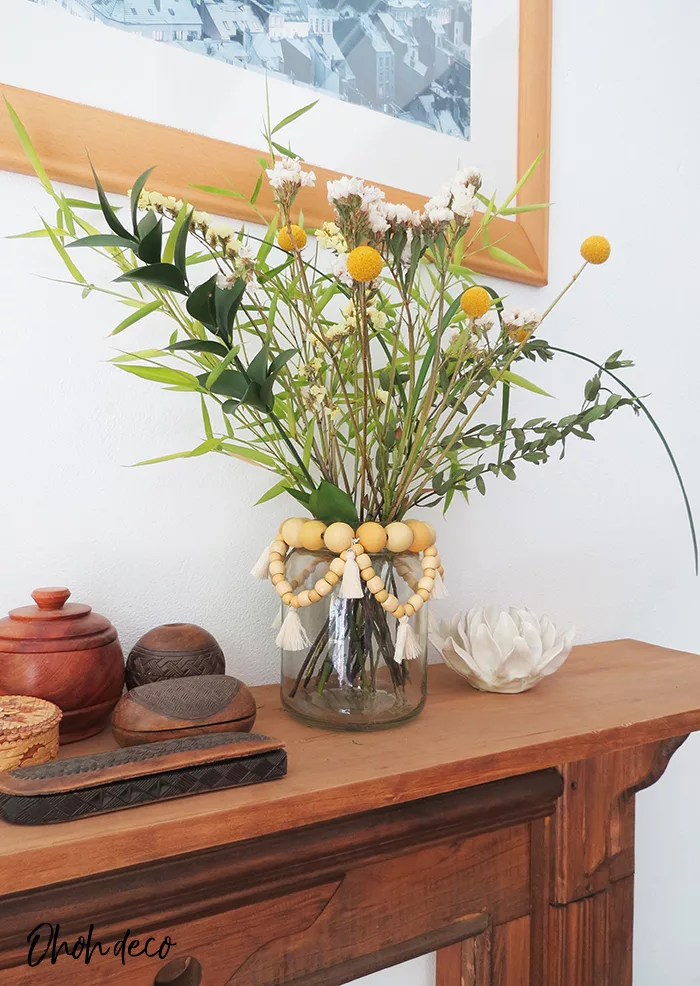 My first idea was to make a vase, I like to have flowers around the house and I love to put them in different containers. When I was making the DIY it crosses my mind that it would make a pretty nice candle holder too. So I tried.
What do you think? Do you prefer the vase or the candle holder?
* * *
Mi primera idea fue hacer un jarrón, porque me gusta tener flores alrededor de la casa y me encanta ponerlas en recipientes diferentes. Cuando estaba haciendo el paso a paso, me vino a la mente que también sería un lindo porta velas.

¿Entonces, qué opinas? ¿Prefieres el jarrón o el candelero?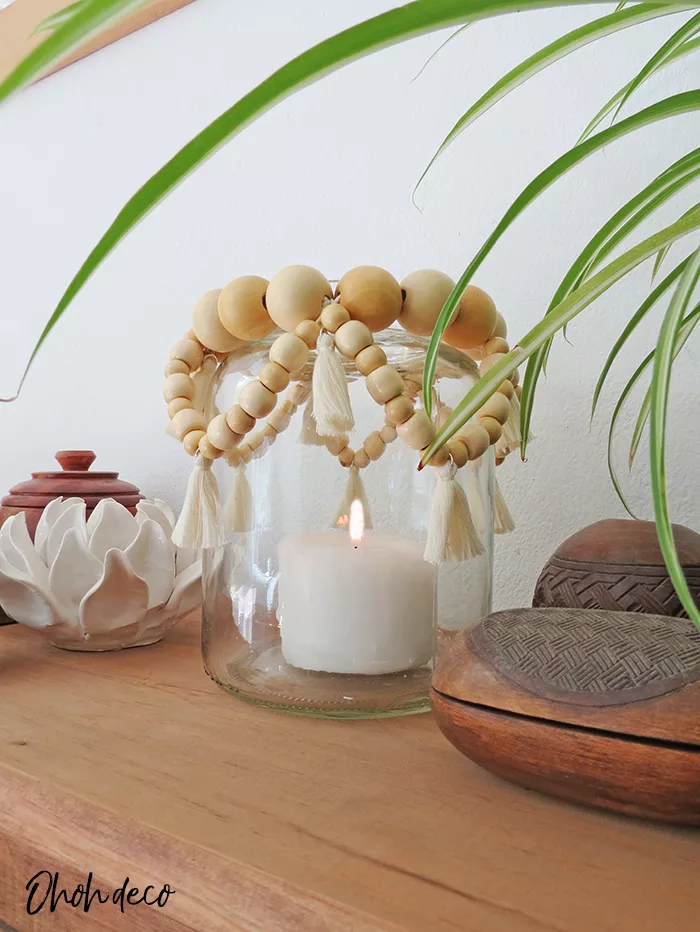 If you like recycled crafts as much as I do I'm pretty sure you will like this idea of recycling a jar into a soap dispenser, or this DIY vase made with old glass.
And if after these crafts you still have more glass jars to upcycle you may find extra inspiration here 50 ways to repurpose and reuse glass jars.
Do you have any great recycled craft you want to share? Leave your ideas in comments, I love to hear for you and see your crafts!
* * *
¿Tienes alguna idea de reciclaje que quieras compartir? Deja sus ideas en los comentarios, me encanta saber de ti y ver tus manualidades.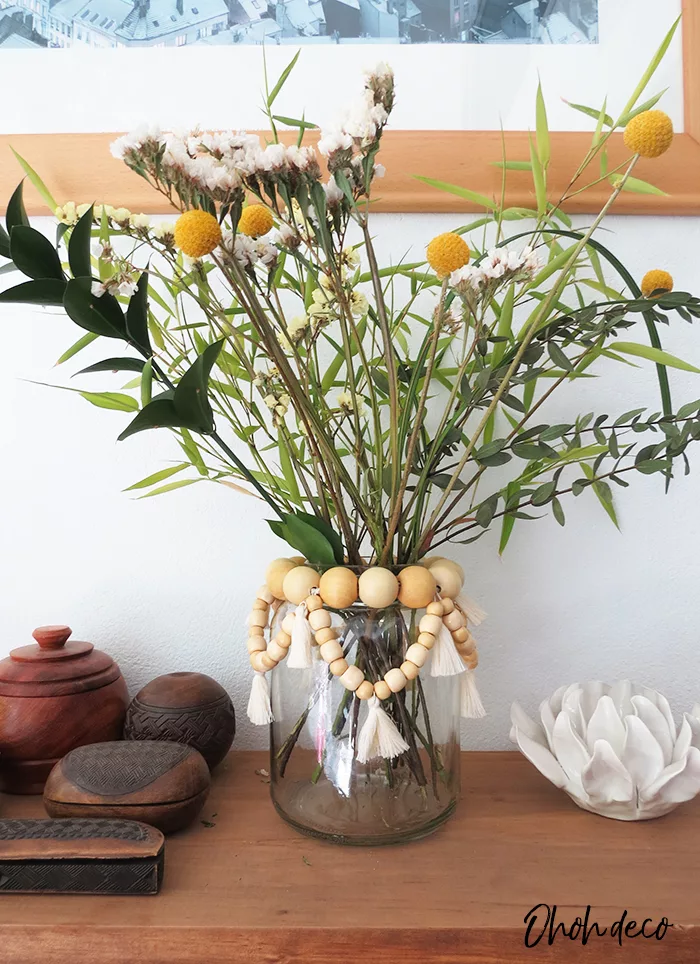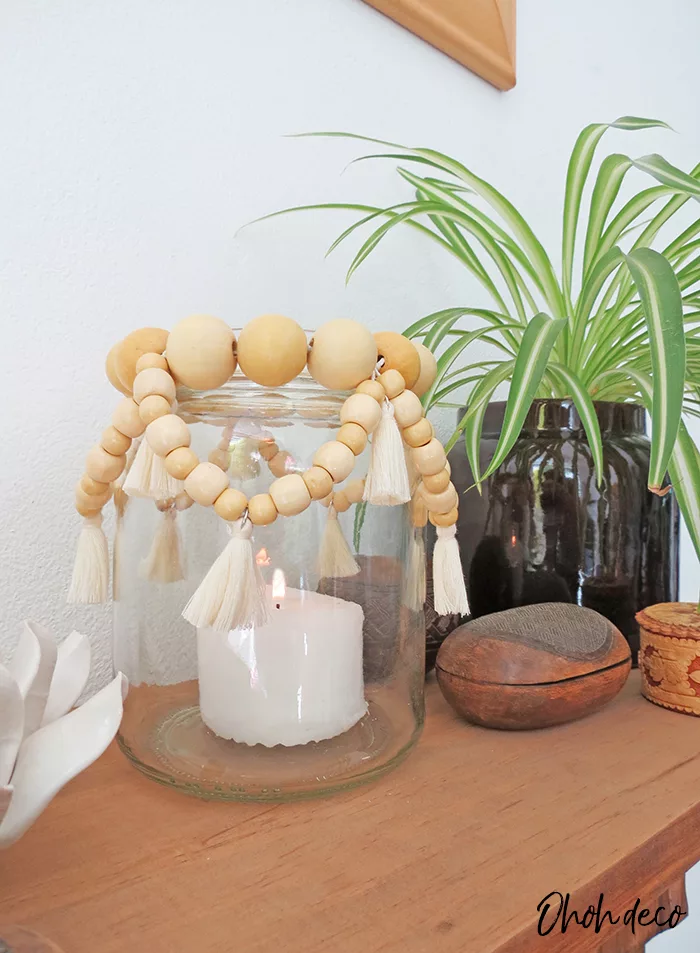 Want to remember this? Save this Recycled glass jar flower vase into your favorite Pinterest board.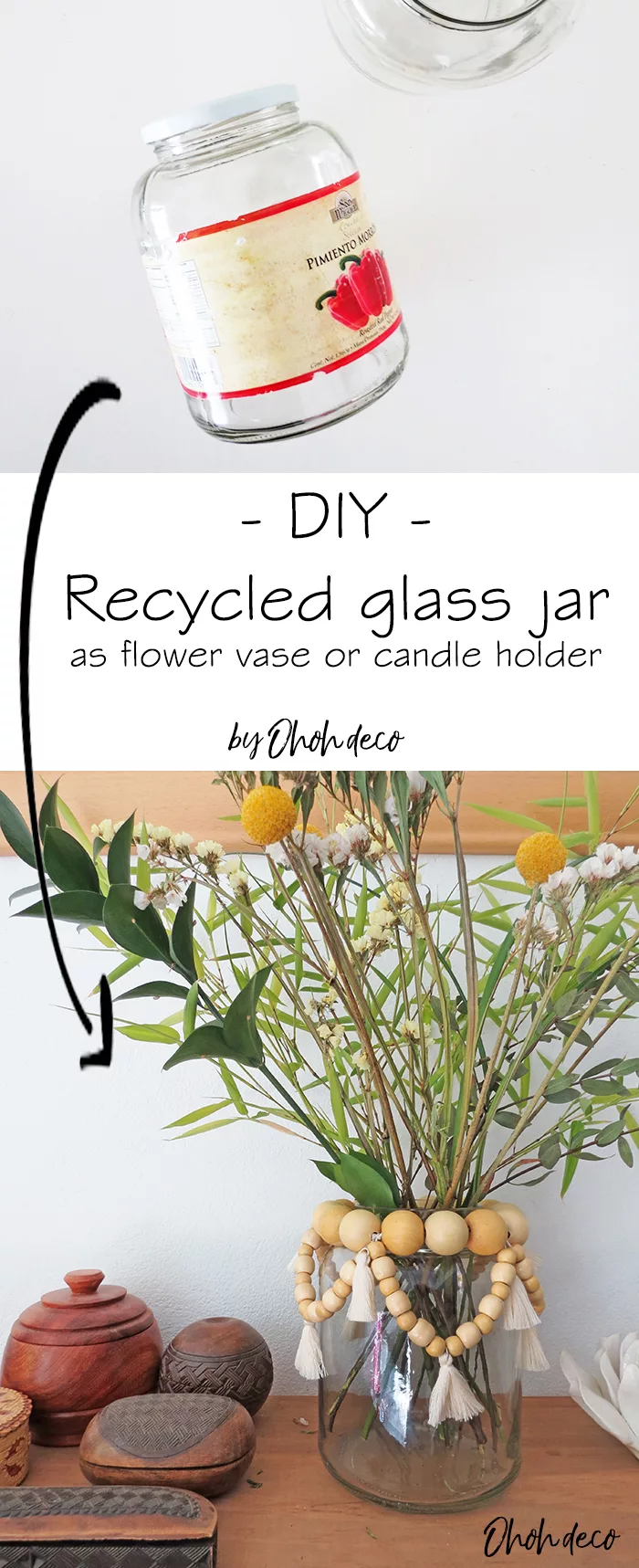 Or maybe you prefer the Candle holder version?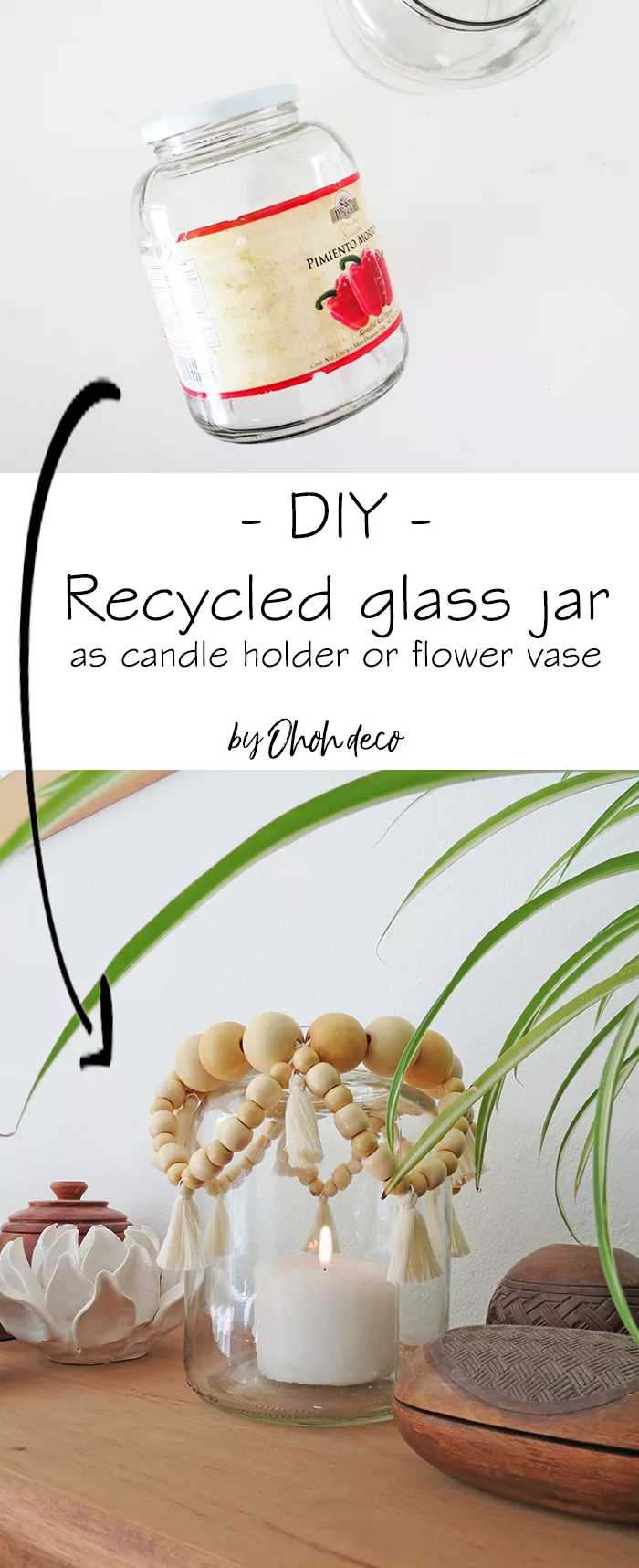 You will find all the tutorials featured in the video on my "Best DIY" page.
Amaryllis