My kid's holidays just start, and I'm already planning back to school. Don't misunderstand me, I'm quite happy with these days without schedules and seeing my kids playing together without (too much) arguing. So the holidays are going pretty well.
The truth is I like to do things on time, and I hate to go shopping a few days before back to school (almost as much as I dislike last-minute Christmas shopping). Plus, I find it nice to craft a few things for their new school year.
[ This post probably contains affiliates links, our full disclosure policy is really boring, but you can read it HERE ]
A few years ago I sewed them lunch bags, which they are still using. This year I wanted to make a pencil case. I sewed it with faux leather fabric, the same I used to make the no-sew DIY baskets I have in my craft room. I added an elastic strap on the case to hold it around a notebook, which I think is quite practical.
I know my daughter will love to use it to carry pencils and pens along with her drawing book. It's a very simple sewing tutorial, perfect for a beginner, scroll down and I show you how to make this case with an elastic strap.
You can also watch the video at the bottom of this article. Ready? Let's start sewing!
RELATED: How to sew a pouch in 30 minutes
RELATED: Easy to make desk organizer caddy
* * *
Las vacaciones de mis hijos acaban de comenzar, y ya estoy planeando el regreso a clases. No me mal interpretes, estoy muy contenta pasar los días sin horarios y ver a mis hijos jugar juntos sin (casi) discutir. Así que las vacaciones van bastante bien.
Lo cierto es que me gusta hacer las cosas con tiempo, y odio ir de compras unos días antes de volver a la escuela (casi tanto como me disgustan las compras navideñas de última hora). Además, me parece bonito crear algunas cosas para su nuevo año escolar.
Hace unos años les cosí unas loncheras, y todavía las están usando. Este año quise hacer una lapicera. La cosí con tela de imitación piel, la misma que usé para hacer las cestas sin costuras que tengo en mi cuarto de manualidades. Agregué una correa elástica al estuche para sostenerlo alrededor de un cuaderno, lo cual creo que es bastante práctico.
Sé que a mi hija le encantará usarla para llevar lápices y bolígrafos junto con su cuaderno de dibujo. Es un paso a paso de costura muy simple, perfecto para principiantes, desliza hacia abajo y te muestro cómo hacer esta lapicera con elastico. También puede ver el video al final del artículo. Listo? ¡Empezamos a coser!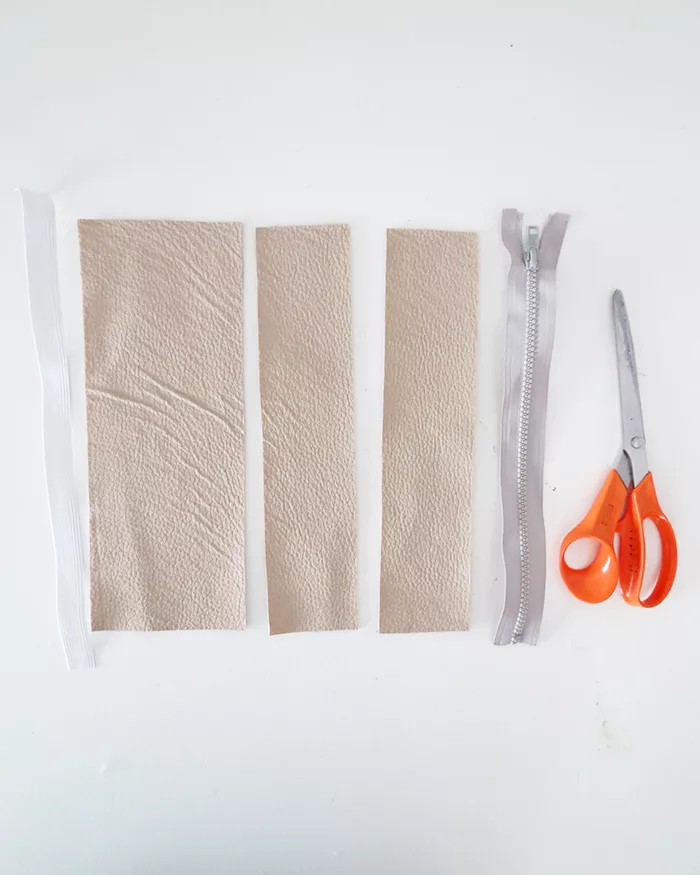 How to sew a Leather Pencil Case
Materials you will need to make a case with an elastic strap:
A zipper (9 1/2 in)
Some elastic band (3/4 in. width)
matching threat
Scissors
Ruler
A sewing machine
A leather needle (if your faux leather fabric is thick)
Some faux leather fabric just looks like plastic…that's not the one we want to sew with. If it helps,
this one has a nice texture
and comes in different colors.
I like to work with faux leather, it's a quite resistant fabric and to comes is fun colors, which is perfect for this kid's pencil case. Note the tutorial will work with any other fabric you have on hand, you will just have to serger the edges of the pieces before sewing them together.
Start by cutting 3 rectangles into the faux leather fabric, one piece for the back of 10 x 4 in, and two pieces for the front of 10 x 2 in. Cut also a piece of elastic of 12 inches long to make the strap.
* * *
Material que necesitarás para hacer una funda con una correa elástica:

Tela de piel sintética




Una cremallera (24 cm)




Un elástico

(2 cm de

ancho)




Hilo




tijeras




regla




Una maquina de coser



Me gusta trabajar con piel sintética, es una tela bastante resistente y existe en colores divertidos, que es perfecto para este projecto de lápicera. Tengas en cuenta que el tutorial funcionará con cualquier otra tela un poco gruesa que tengas a mano, solo tendrás que terminar los bordes de las piezas con puntos zigzags antes de coserlas juntas.
Comiences por cortar 3 rectángulos en la tela de piel sintética, una pieza para la parte posterior de 26 x 10 cm y dos piezas para la parte delantera de 26 x 5 cm. Cortas también una pieza de elástico de 31 cm de largo para hacer la correa.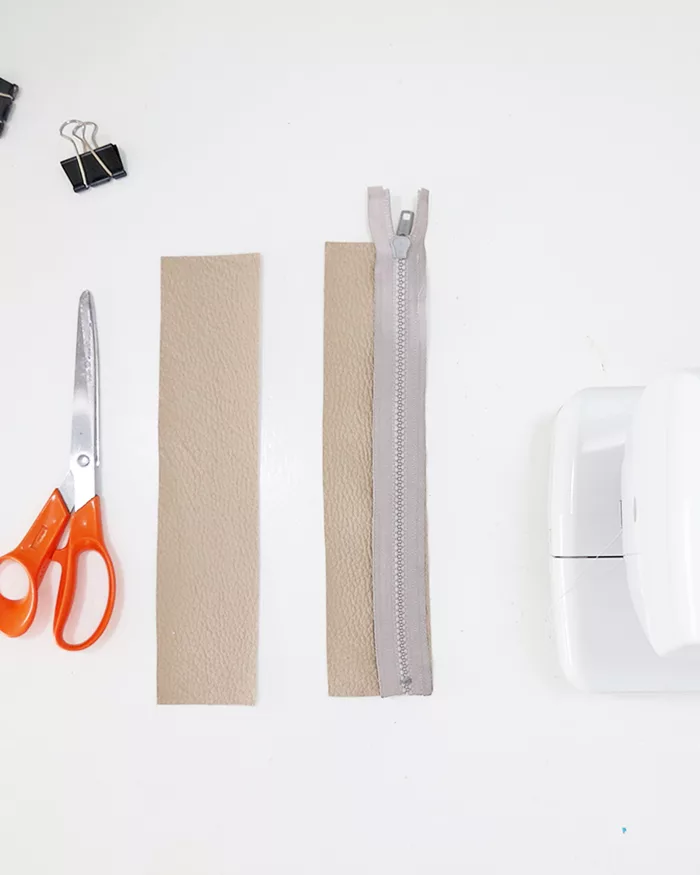 Take one of the small rectangles, place it right side up and align it, wrong side up, with one of the zipper edges. Hold both with clips and sew along. If possible try to avoid pins when sewing faux leather as the holes will remain visible.
* * *
Toma uno de los rectángulo pequeños, colóqualo recto hacia arriba y alinéelo con elborde de la cremallera. La cremallera tiene qu estar al revers, es decir que el cierre esta junto a la tela. Sostenga ambos con clips y coser a lo largo. Si es posible, intenta evitar usar alfileres al coser vinipiel ya que los agujeros permanecerán visibles.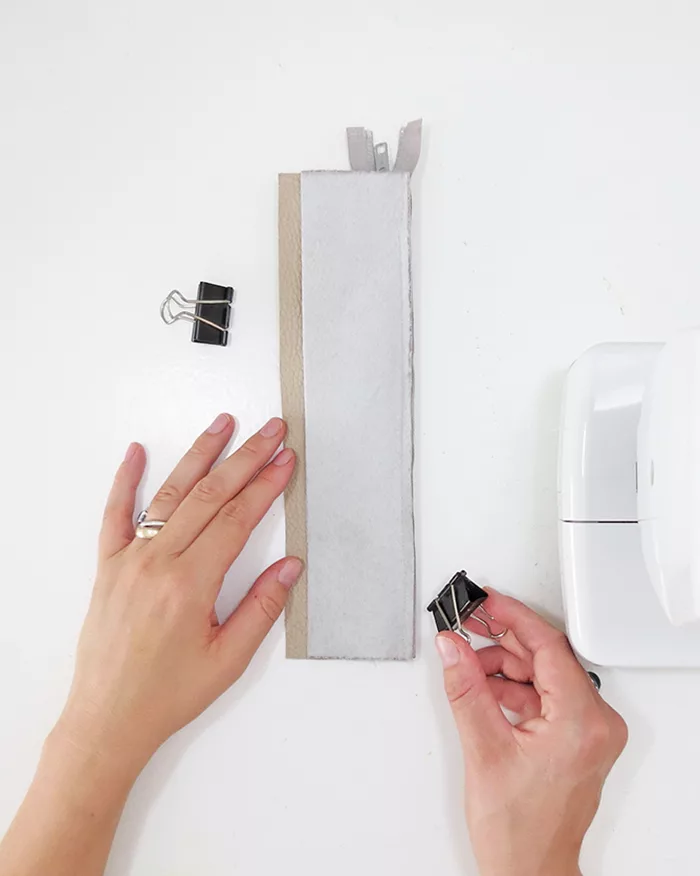 Place the fabric and the zipper on a flat surface right side facing up. Take the second small rectangle and align it with the no sewn zipper edge, right sides must face each other. Old with clips and sew along the zipper.
* * *
Coloqua la tela y la cremallera en una superficie plana con el lado recto hacia arriba. Toma el segundo rectángulo pequeño y alinéelo con el borde libre de la cremallera, los lados rectos de los rectangulos deben estar uno frente al otro. Pon los clips y cose a lo largo de la cremallera.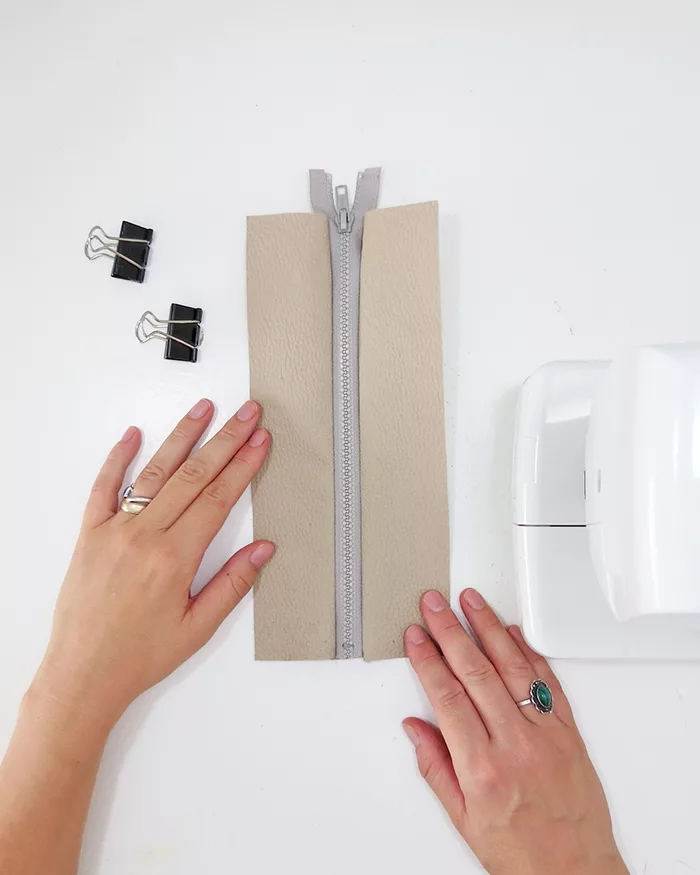 The front of your pencil case is done. As you want it remaining flat, you will have to make a top stitch all along each side of the zipper.
* * *
La parte frontal de tu caja estuche está lista. Como quieras que permanezca plana, tendrás que hacer otra costura en cada lado de la cremallera.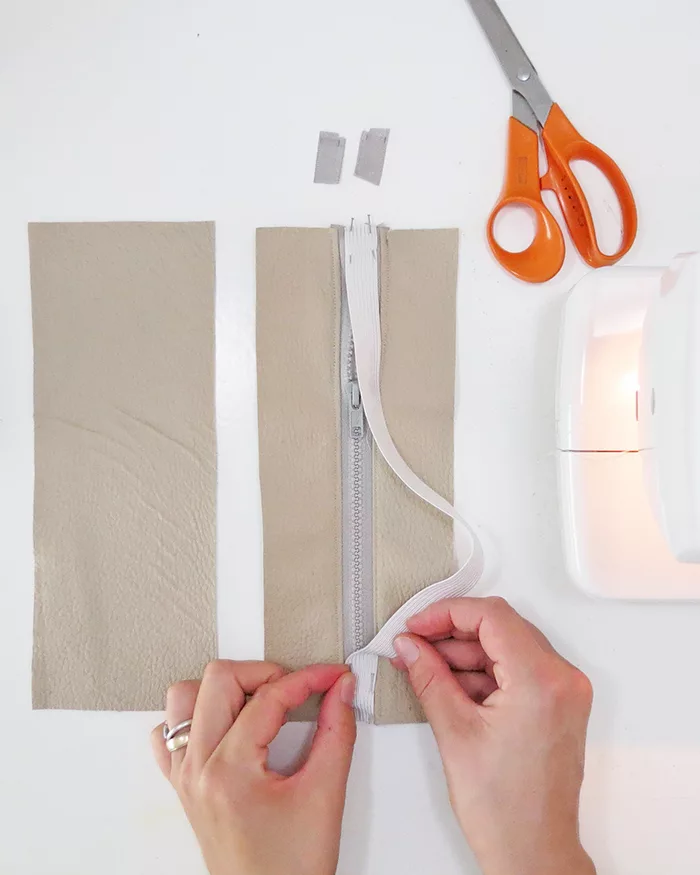 Take the elastic, align each end with the zipper ends and pin them together. The elastic measures 12 in. and is a little longer than your case, so it is normal if it bends.
* * *

Toma el elástico, alinea cada extremo con los extremos de la cremallera y fíjelos con alfileres. El elástico mide 31 cm y es un poco más largo que la lapicera, por lo que es normal si esta algo doblado.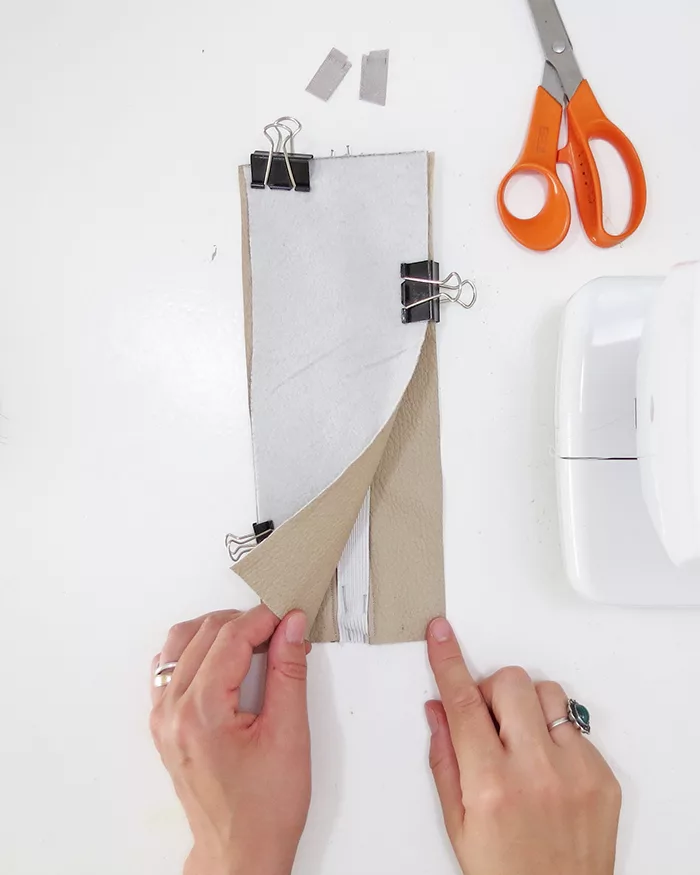 Place the big rectangle on top, the wrong side out at hold with clips. Sew on the four sides. Before sewing don't forget to open the zipper a little so you can turn the case right side out.
* * *
Coloquas el rectángulo grande sobre el frente de to estuche, con el reverso hacia afuera, en lo sujetas con clips. Haz una costura sobre los cuatro lados. Antes de coser, que no se te olvida de abrir un poco la cremallera para que pueda girar el estuche hacia afuera.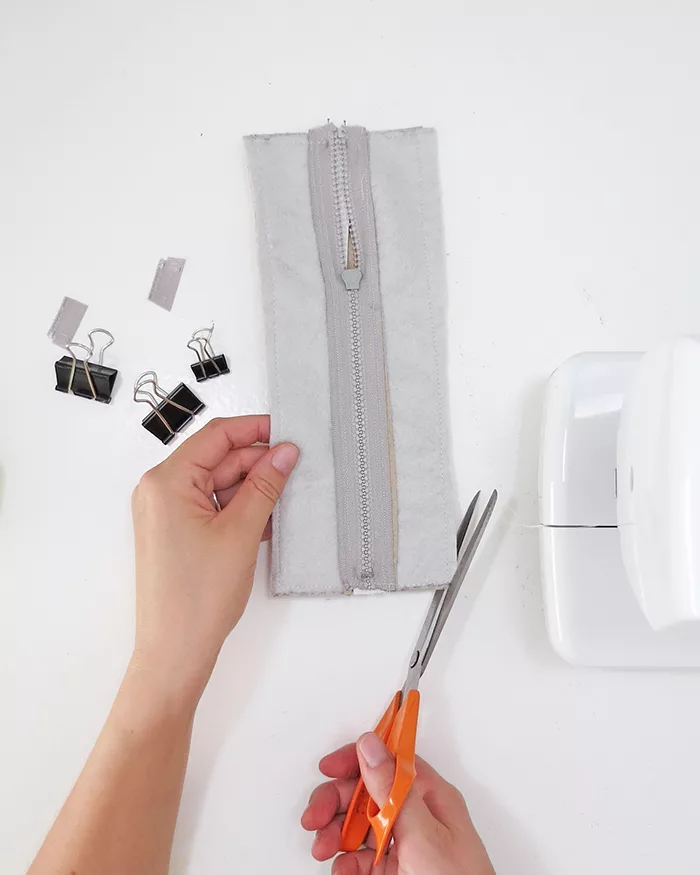 Almost done, trim the corner and flip the case right side out. I like to iron the seams once I finish sewing, it gives a better finish. I was very careful with this fabric. I put the iron on low and place a cloth between the faux leather and the iron, I didn't want to melt the fabric.
* * *
Casi terminado, recortes las esquinas y gire el estuche hacia afuera. Me gusta planchar las costuras una vez que termino de coser, da un mejor acabado. Tuve mucho cuidado con esta tela. Puse la plancha al mínimo y coloqué un paño entre la piel sintética y la plancha, no quería derretir la tela.
Follow Ohoh deco on Youtube and be the first to find out about the new DIY.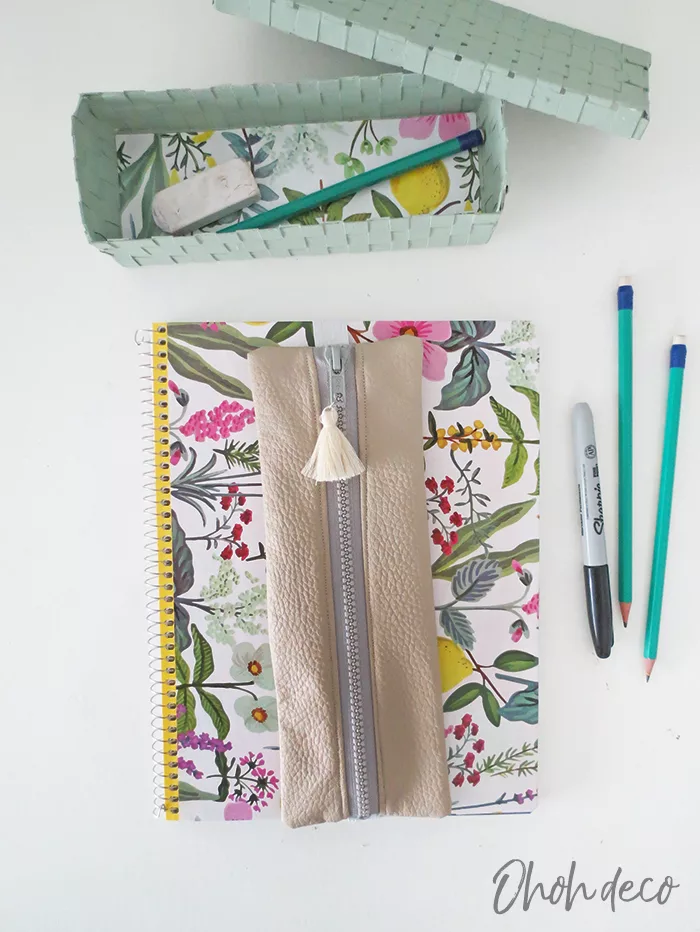 And done! To make it cuter, I added a tassel on the zipper. I like the strap that can go around a notebook, so practical. So tell me, What do you think of this leather pencil case? Would you make one? For your kids or yourself?
If you are looking for more leathercraft, what better than sewing a matching leather tote bag.
The reason why I used faux leather is that even if I have a good sewing machine, I'm not sure it will hold sewing through the thicknesses of genuine leather. If it's your first time working with faux leather, you may like to have a look at those useful tips How to sew faux leather
* * *
¡Y listo! Y para terminar, agregué una borla en la cremallera. Me gusta la correa para poder sostener la lapicera alrededor de una libreta, muy práctico. Así que dime, ¿Qué te parece esta lapicera de piel sintetica? ¿Harías una? ¿Para tus hijos o para ti?
Looking for more sewing ideas?
You will find all the tutorials featured in this video on my Best off-page.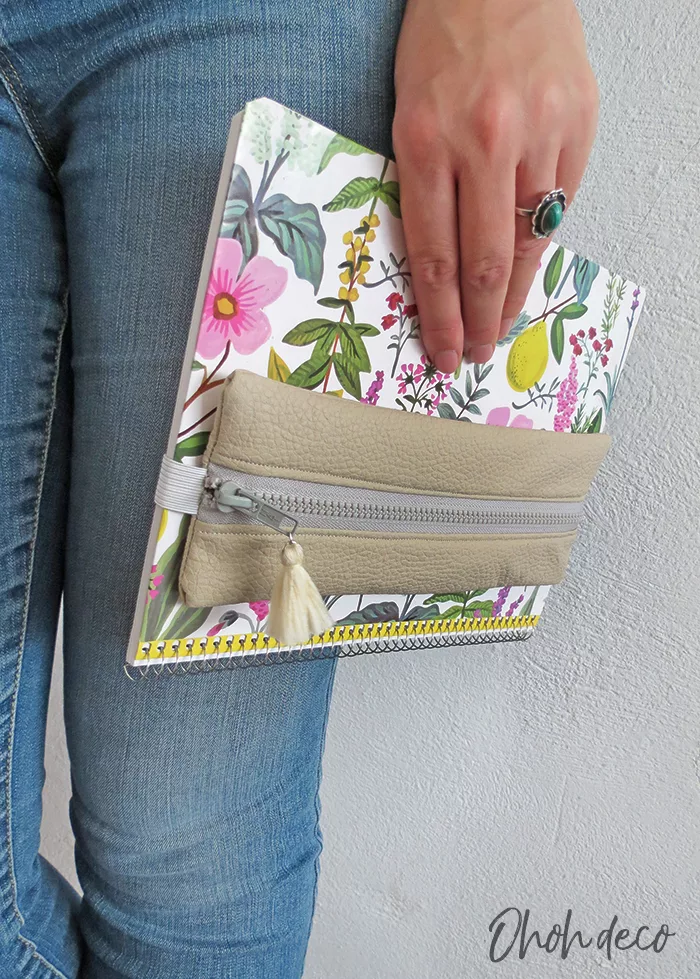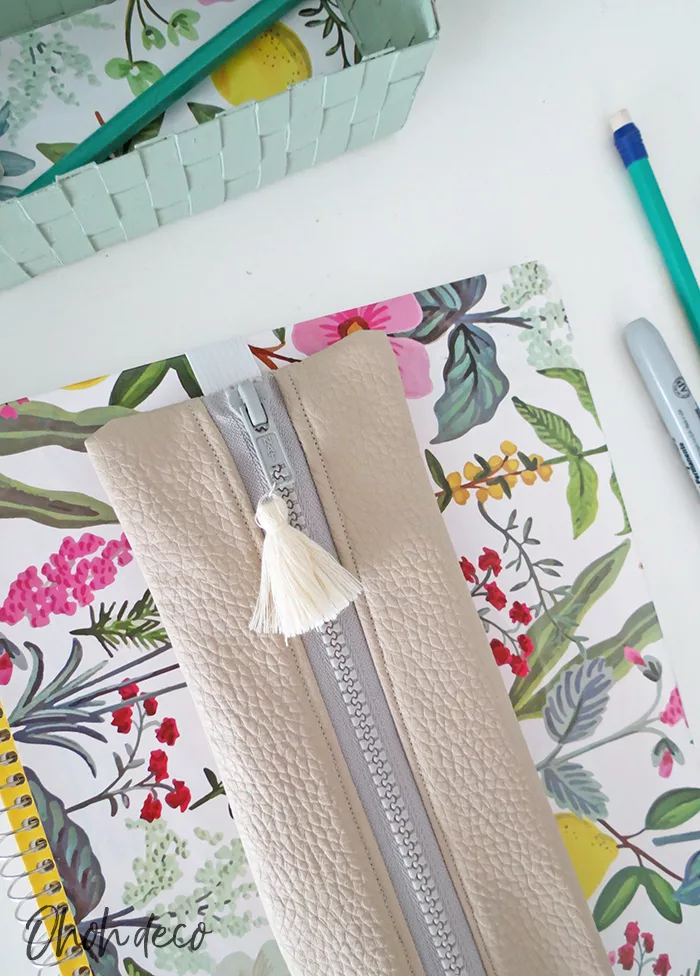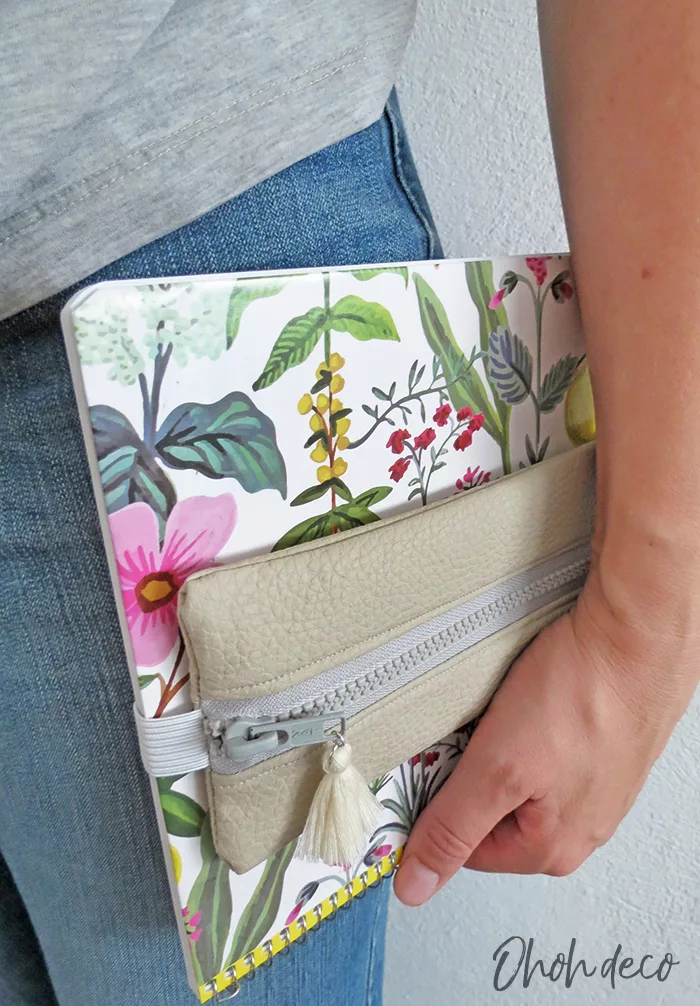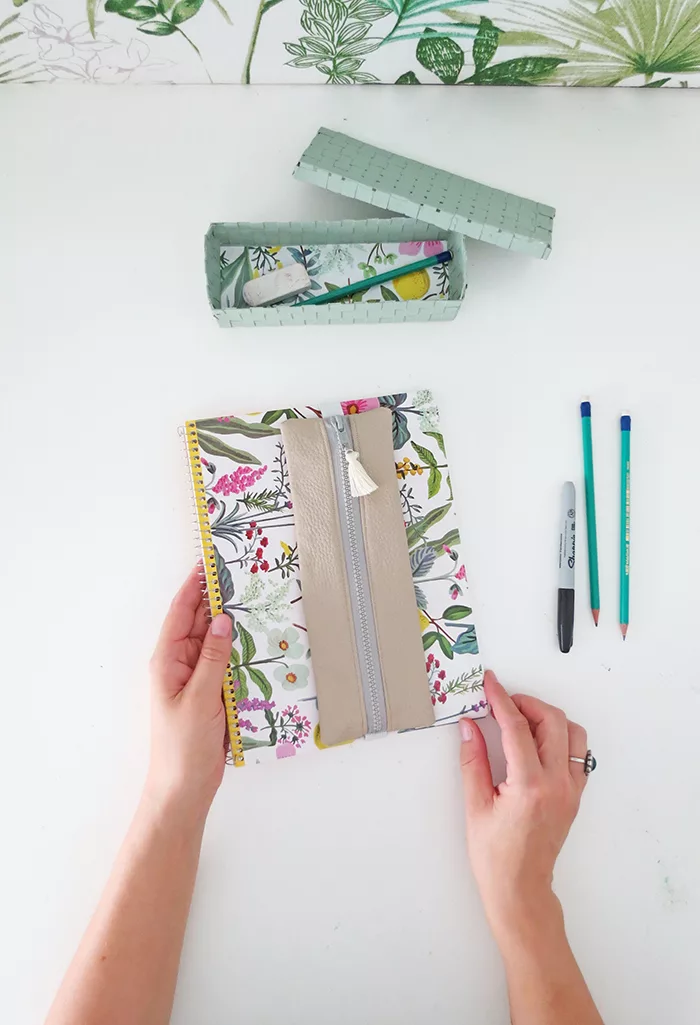 Want to remember this? Pin this DIY leather pencil case in your favorite Pinterest board.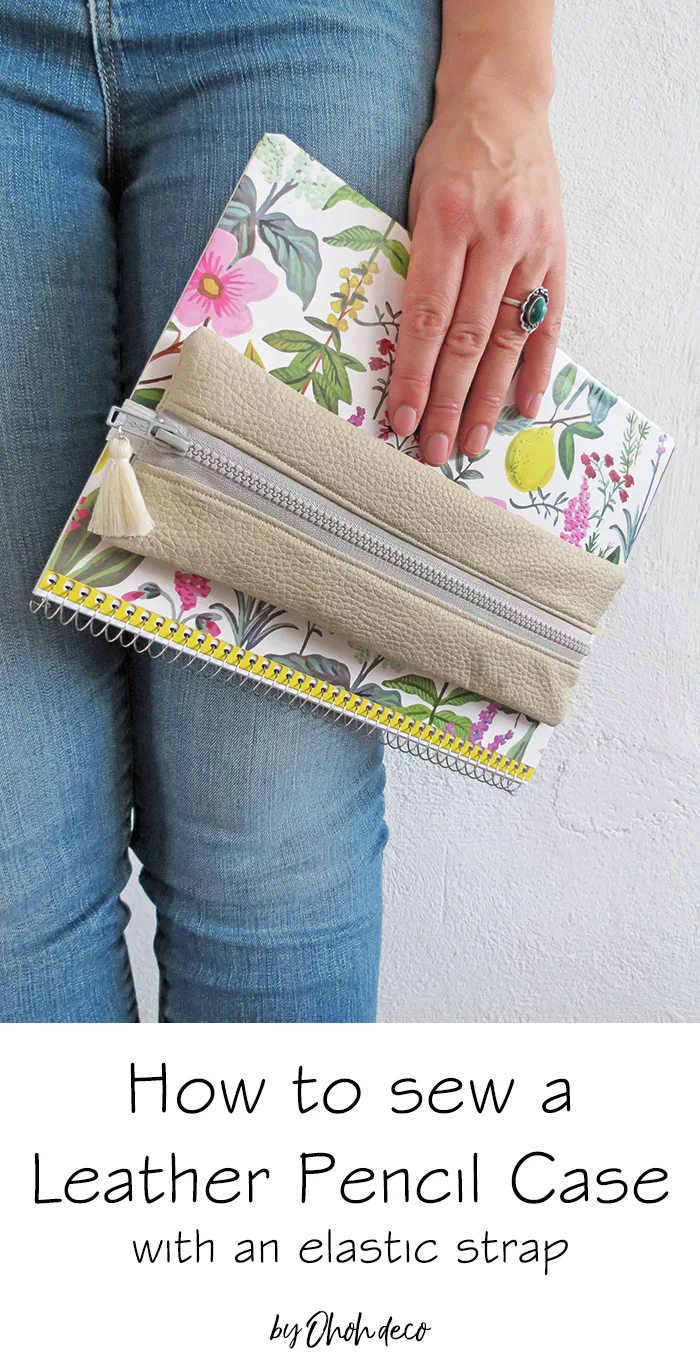 You will find all the tutorials featured in the video on my "Best DIY" page.
Amaryllis