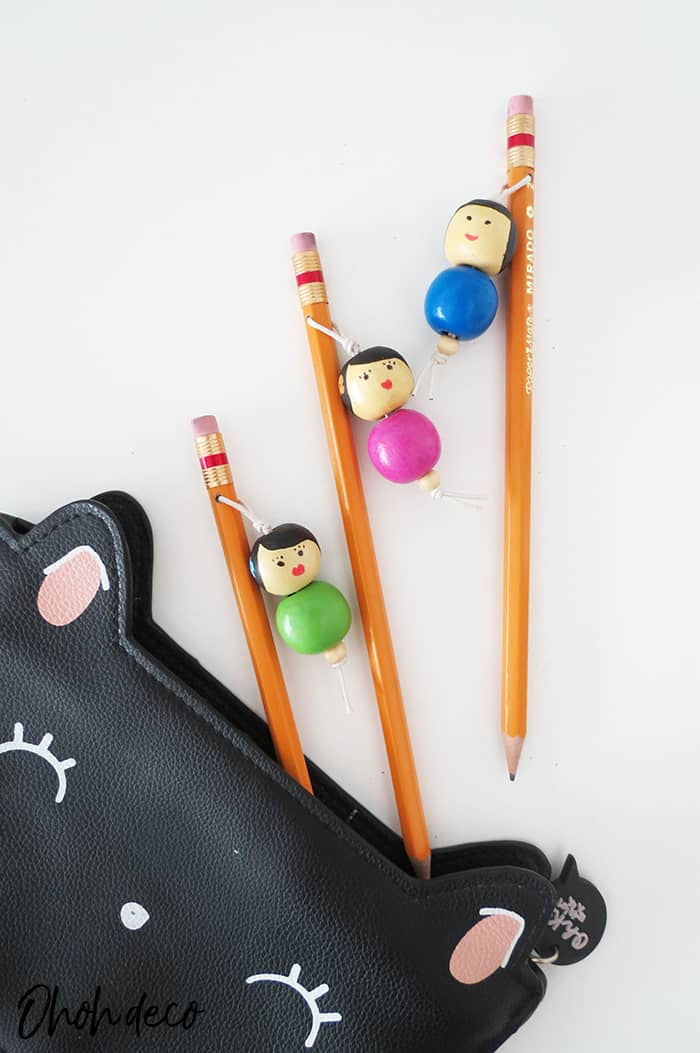 I've been eying wooden beads dolls on Pinterest for a while and can help myself to find them so damn cute. I've seen them as keyholders, or purse charm. Today I came out with another idea, we will give beads dolls a twist and use them as a pencil topper.
[ This post probably contains affiliates links, our full disclosure policy is really boring, but you can read it HERE ]
I know there are still a few holidays weeks left before the kids get back to school. But I like to plan ahead and I wanted to cheer them up a little when they will be back in the classroom.
What better than a fun pencil topper? Even if these are technically more pencil charms than pencil toppers…well, what matters is that they are pretty and super simple to make.
Scroll down for the material list and the step by step tutorial to make these cute beaded dolls. I also made a short video, if you like watching the DIY better!
RELATED: Easy desk organizer caddy
RELATED: How to sew a leather pencil case
* * *
He estado viendo muñecas hechas de cuentas de madera en Pinterest desde hace tiempo y estan tan lindas. Las he visto como llavero, o como decoracion de bolsa. Hoy se me ocurrió otra idea; las usaremos como adorno para lápiz.
Sé que todavía faltan algunas semanas de vacaciones antes de que los niños vuelvan a la escuela. Pero me gusta planear con anticipación y quería animarlos un poco cuando regresen a su salon de clase.
¿Qué mejor que un divertido lápiz? Son muy bonitos y super fáciles de hacer.
Desliza hacia abajo para ver la lista de materiales y el paso a paso. También hice un video corto, si te gusta mas ver el paso a paso.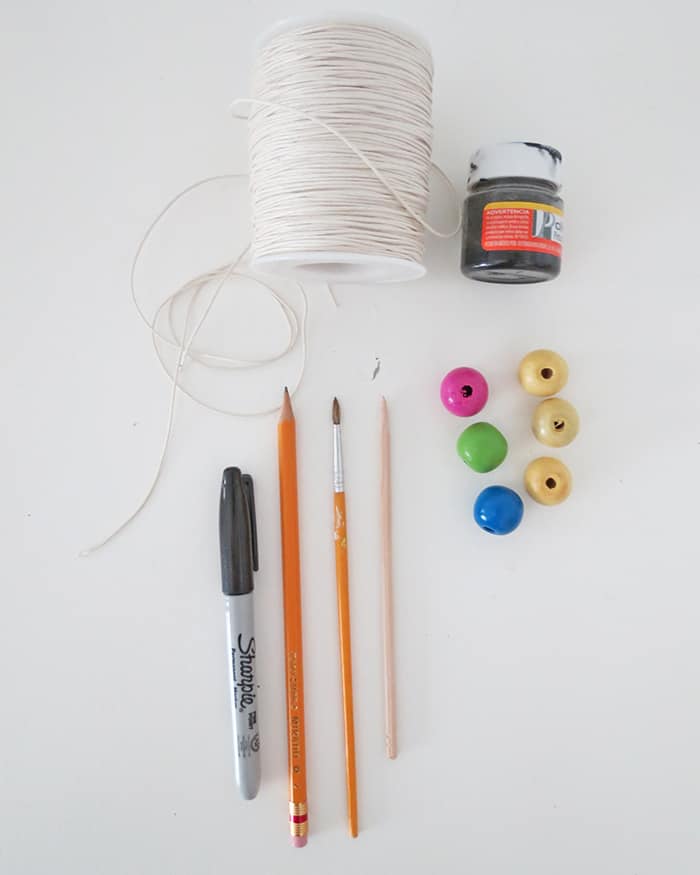 DIY Beads Dolls Pencil Toppers
Supplies you will need to make this craft:
* * *
Material que necesitarás:

Cuentas de madera




Cuerda delgada




Pintura acrilica




Un plumon negro




Un taladro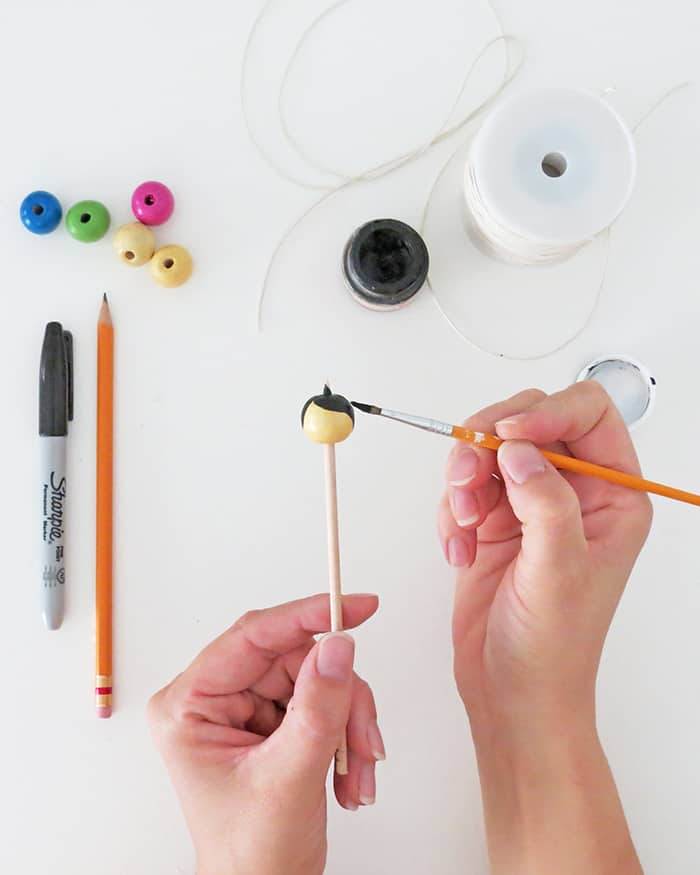 You will use a natural wood bead to make the doll face. To easily paint, stick the bead on a craft dowel. Paint the hair. You can add some cute details, like a flower. If you don't feel confident by painting right away on the bead, you can first draw the shape with a pencil.
Tip: If you want to make this craft even easier you can use
these beads
* * *
Usas de preferencia una cuenta de madera natural para hacer que la carita. Para pintar la fácilmente, empujas la cuenta sobre un palito. Pintas primero el pelo, puedes agregar algunos detalles lindos, como una flor. Si no te sientes segura al pintar de inmediato en la cuenta, puedes primero dibujar la forma con un lápiz.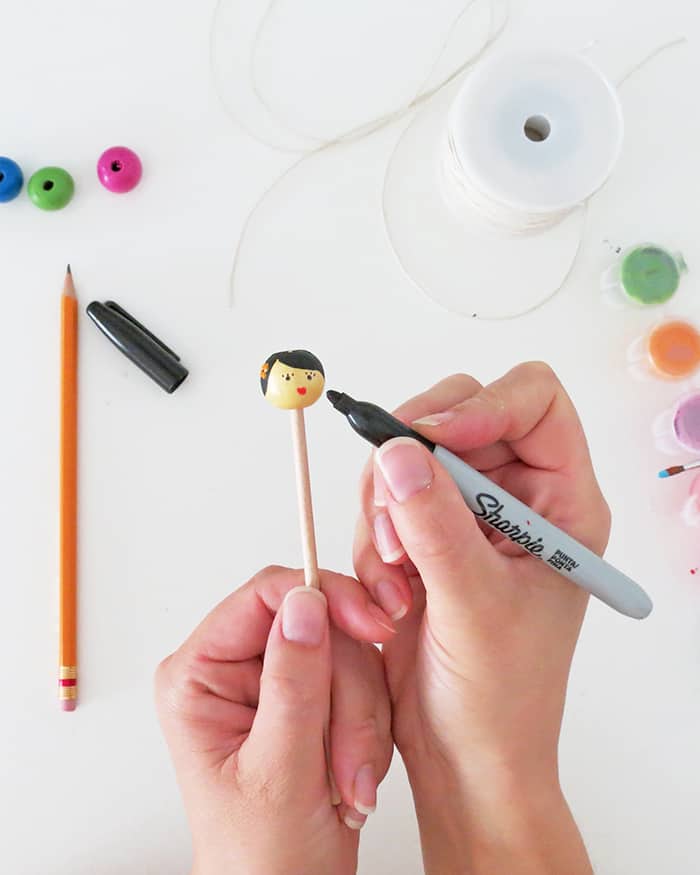 Use a sharpie to make the face detail: two big dots for the eyes and small dots around to make the eyelashes. To make the mouth, just painted two red dots next to each other. You can also draw it with a red or pink sharpie if you prefer.
* * *
Usas un plumon para dibujar los detalles de la cara: dos puntos grandes para los ojos y puntos pequeños alrededor para hacer las pestañas. Para hacer la boca, pintas dos puntos rojos uno al lado del otro. También puedes dibujarla con un plumon rojo o rosa si prefieres.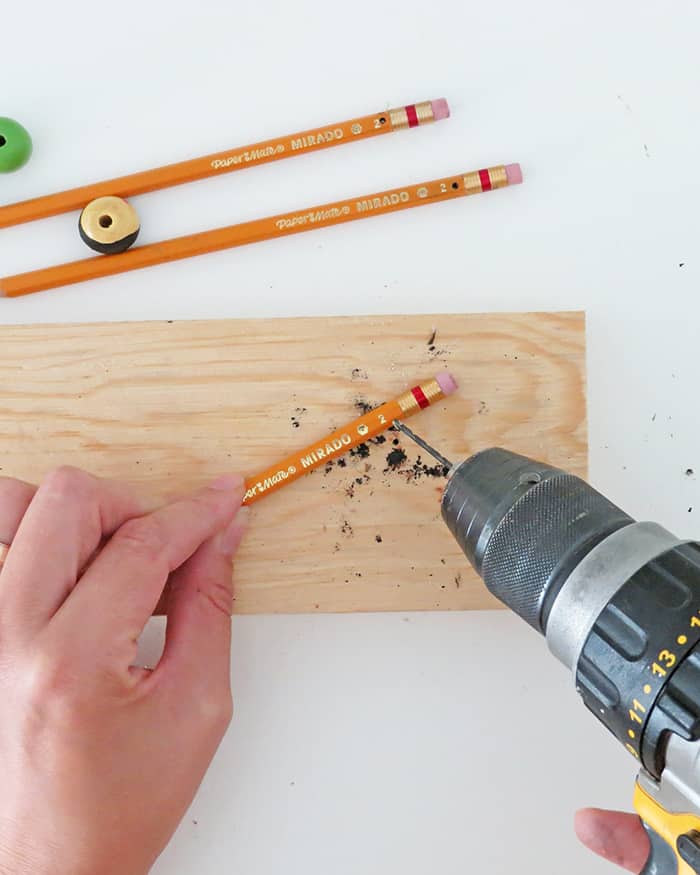 Drill a small hole across the pencil. I made these pencils charms for my kids and wanted them to hold in place as long as possible, it's why I used the drill.
Another option if you don't have a drill on hand is to wrap the cord around the pencil, make a knot and add a little silicon glue to avoid the doll from slipping.
* * *
Con un taladro perforas un pequeño agujero en el lápiz. Hice estos muñequitos de cuentas para mis hijos y quería amararlos de la manera mas duradera posible, por eso usé el taladro.
Otra opción si no tiene un taladro a la mano es enrollar el cordón alrededor del lápiz, hacer un nudo y agregar un poco de pegamento de silicona para evitar que la muñeca se resbale.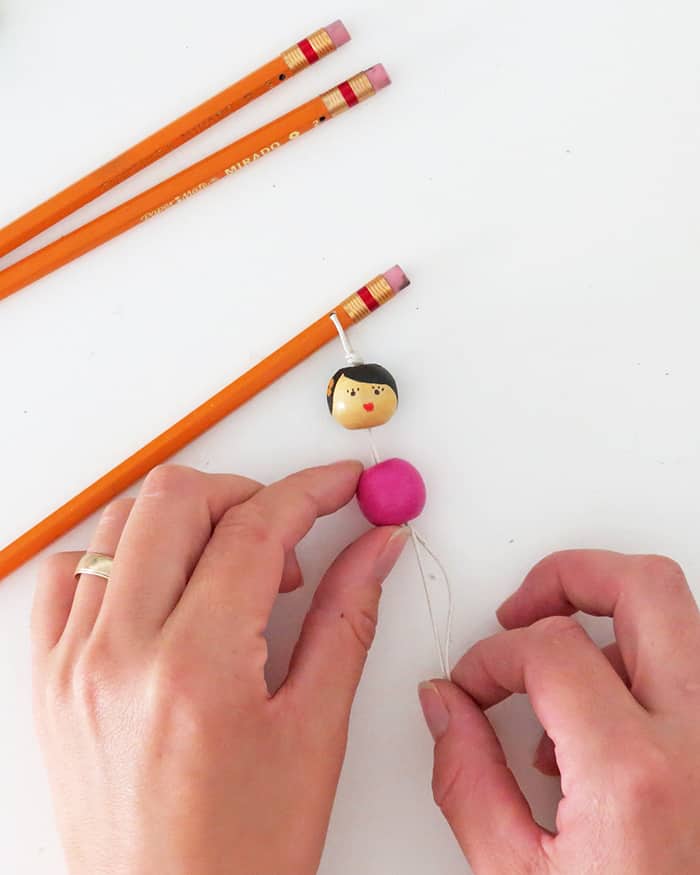 Cut a piece of cord and pass it through the pencil hole. Make a knot to hold both sides of the cord together. Pass the beads through both cords ends. First the face, them the body and a small wood bead to finish. Make a knot to hold the doll together and cut the extra cord length.
* * *
Cortas un trozo de cordón y pasa la a través del agujero. Haz un nudo para sujetar ambos lados juntos. Pasas las cuentas a través de ambos extremos de la cuerda. Primero la cara, luego el cuerpo y una pequeña cuenta de madera para terminar. Haz un nudo para sujetar la muñeca y cortas el cordón que sobra.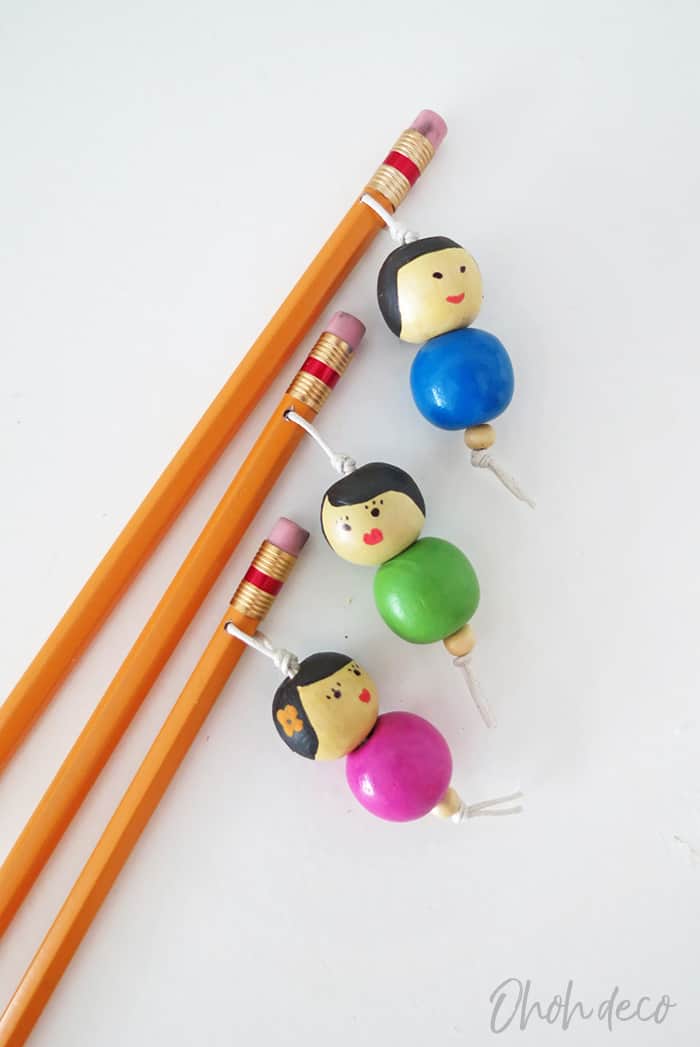 And done! You just made some super easy and super cute pencil toppers! It takes like 15 minutes to make, drying paint time included. I limited my self to three, but once you start it's so easy to make more, and it's fun to create different faces and hair for each doll.
I used colored wooden beads to make the doll bodies but you can choose to paint them and create different outfits for each doll, extra fun guarantee!
To customize each pencil topper, I wrote my kid's names on each doll's body. They are very happy to have a personalized pencil to go back to school…And with the name on it, they may not lose it as fast as usual. Well, chances they find it back are higher anyway.
* * *
¡Y listo! ¡Acabas de hacer unos lápices super fáciles y lindos! Se hacen en solo unos 15 minutos, tiempo de secado para la pintura incluido. Me limité a tres, son muy fácil de hacer y es divertido crear diferentes caras y pelos para cada muñeca.
Usé cuentas de madera de colores para hacer los cuerpos, pero puedes elegir pintarlas y crear un atuendo diferente para cada muñeca, ¡Otra manera de crear muñequitas originales!
Para personalizar cada lápiz, escribí el nombre de mis hijos sobre el cuerpo de cada muñeca. Están muy contentos de tener un lápiz personalizado para volver a la escuela … Y con su nombre espero que no los perderan tan rápido… Bueno, las posibilidades de que lo encuentren de vuelta son más altas de todos modos.
Follow Ohoh deco on Youtube and be the first to find out about the new DIY.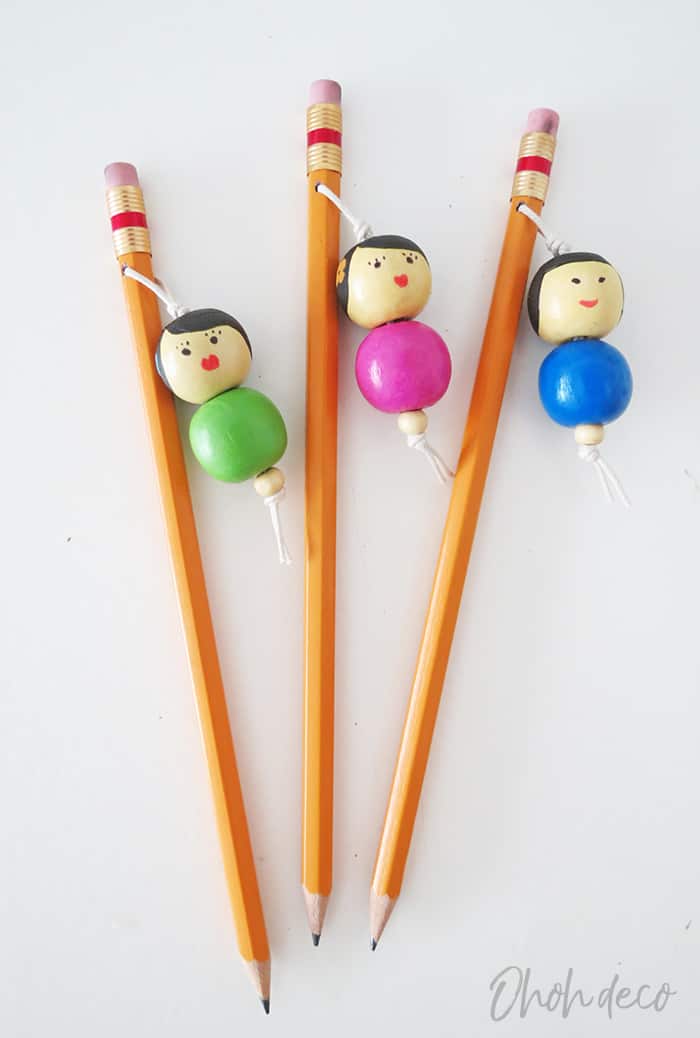 What do you think of this quick back to school craft? Do you like it? Did you see I made a "boy" doll for my son?
I have some other great crafts ideas for kids that you may want to try, like a recycled pencil holder or this idea to mend pants holes (I hate mending too, but this one is fun to make).
I found a very nice round-up article that shares more pencil toppers ideas, you may enjoy it too: Pencil topper craft ideas
* * *
¿Qué piensas de esta simple manualidad para el regreso a clases? ¿Te gusta? ¿Viste que hice un muñeco "niño" para mi hijo?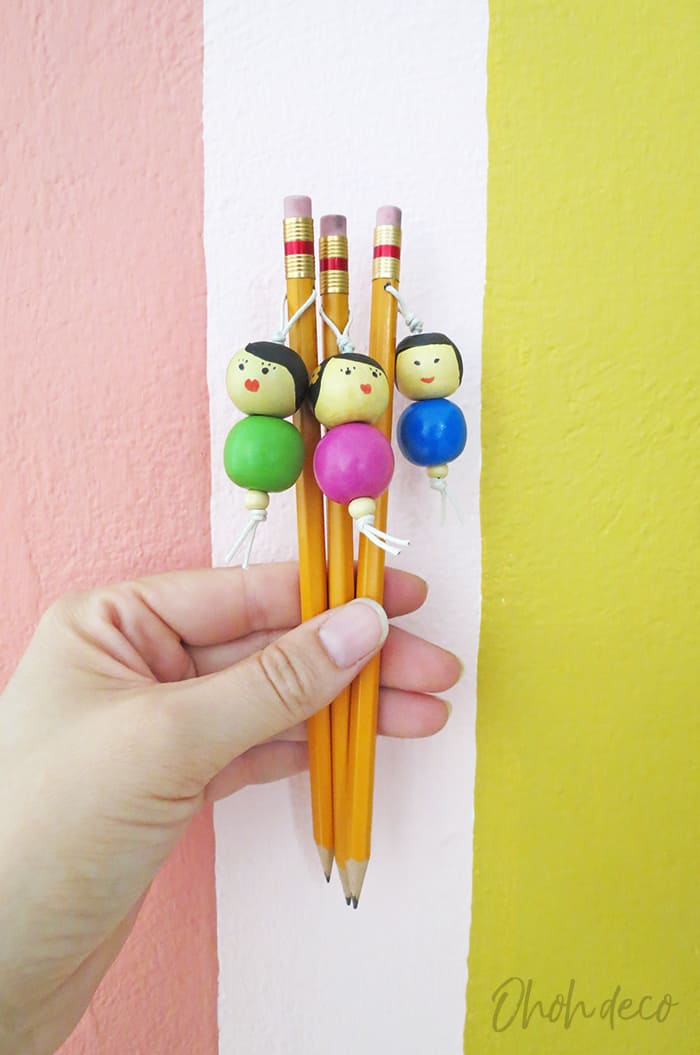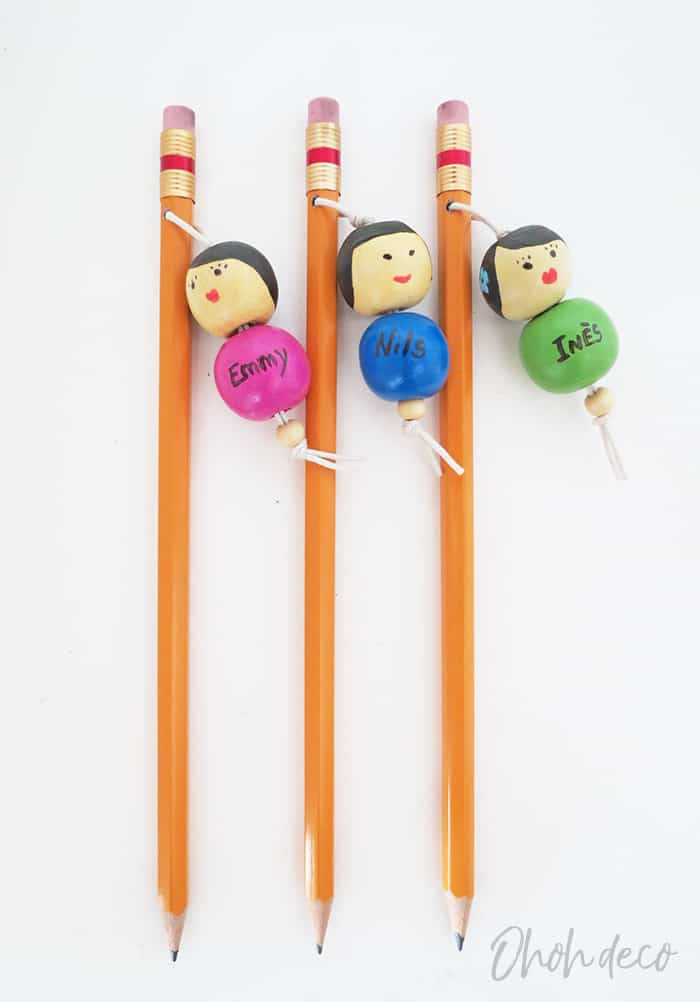 Want to remember this? Save these beads dolls pencil toppers in your favorite Pinterest board.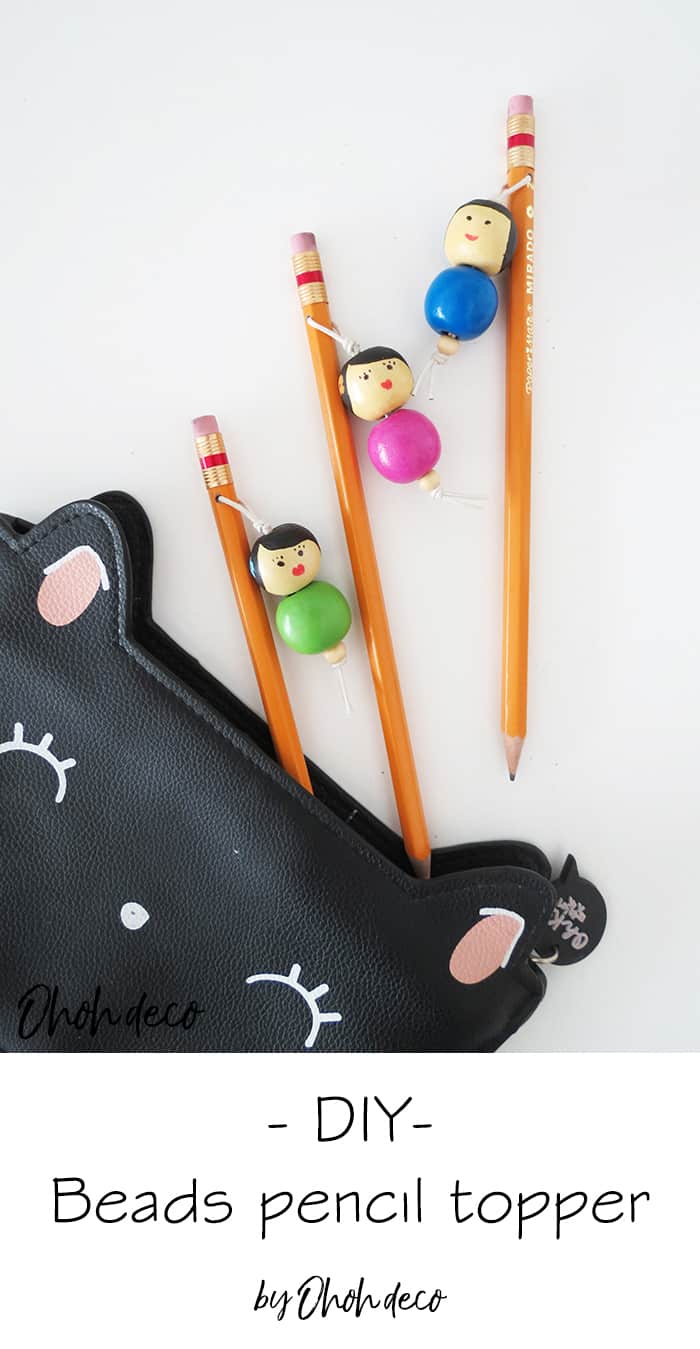 Amaryllis