Back to school is just around the corner…or not. It's very likely that kids will keep doing homeschooling, so a little organization is required.
This DIY desk organizer is super easy and cheap to make. It's practical, thanks to its handle you can use it everywhere and move it around the house easily. You can use it to organize your desk, to store crafts supplies or sewing material.
[ This post probably contains affiliates links, our full disclosure policy is really boring, but you can read it HERE ]
The office desk organizer is made out of recycled materials. Did you ever think milk cartons could look that pretty?
Watch the video and follow the tutorial below to make a DIY desk organizer caddy. I also give you some tips to simplify this DIY and make it easy to do for kids.
RELATED: How to sew a leather pencil case
RELATED: DIY recycled pencil box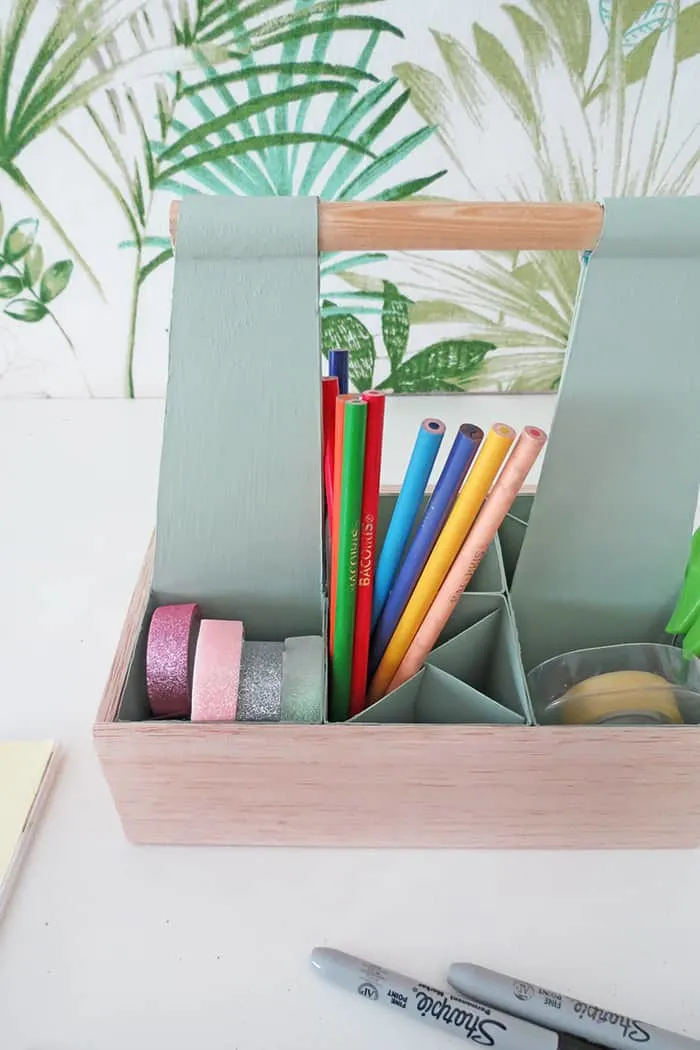 How to make a DIY desk organizer
Materials you will need for this project
6 milk or juice carton (clean and dry)
A piece of dowel (1/2 in.- 1 cm)
A glue gun
A ruler and a square
A pair of scissors
The paint is optional in this project but it makes your desk organizer look much nicer. The inside of milk cartons is cover by a slick grey layer, I suggest you
use this kind of paint
for good adherence.
Follow Ohoh deco on Youtube and be the first to find out about the new DIY.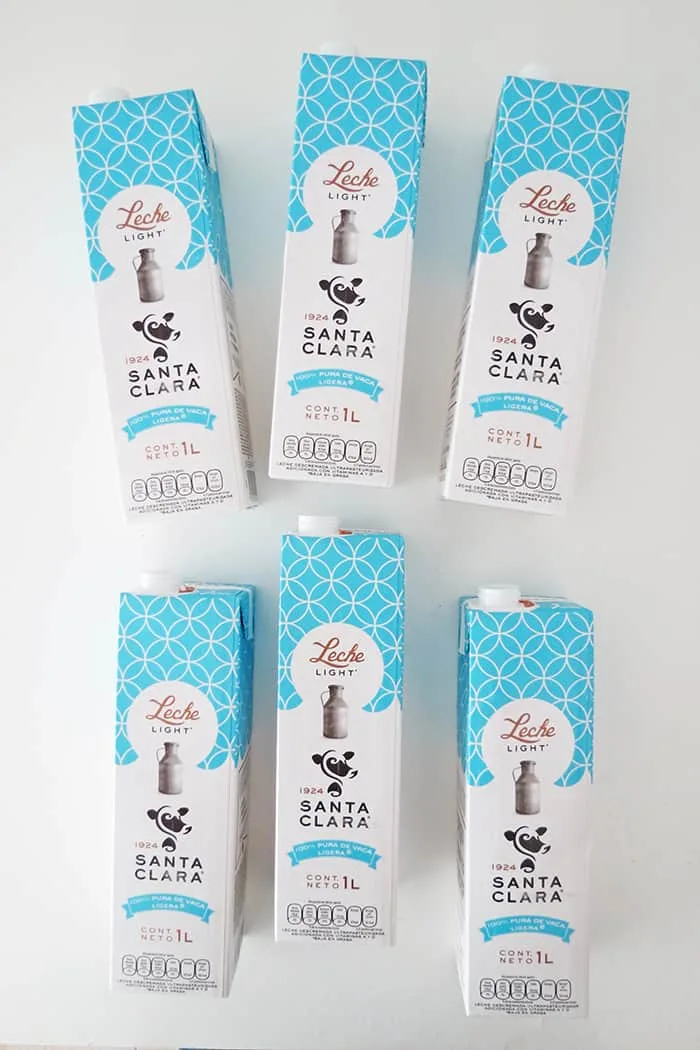 Let's start crafting this homemade desk organizer. First collect 6 milk cartons, clean, and dry them. I worked with square base cartons. You can make your DIY desktop organizer with rectangular ones too, just use 6 containers that have the same size.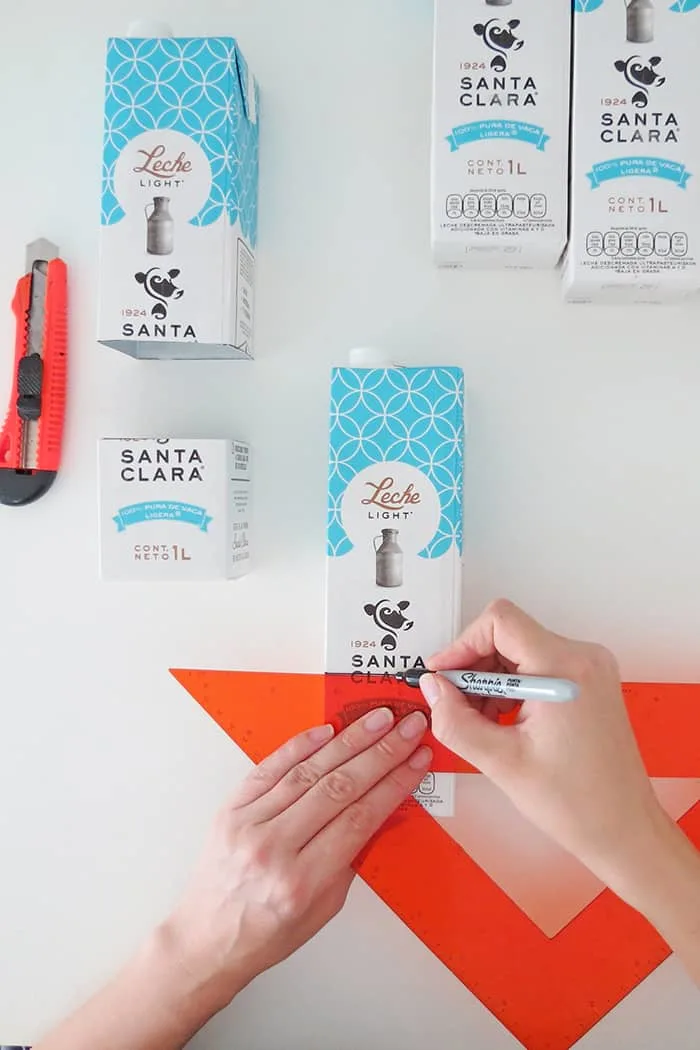 Measure 3 inches (7,5 cm) from the bottom and trace a line on all four sides. Cut following the line. Repeat this step with a second milk carton.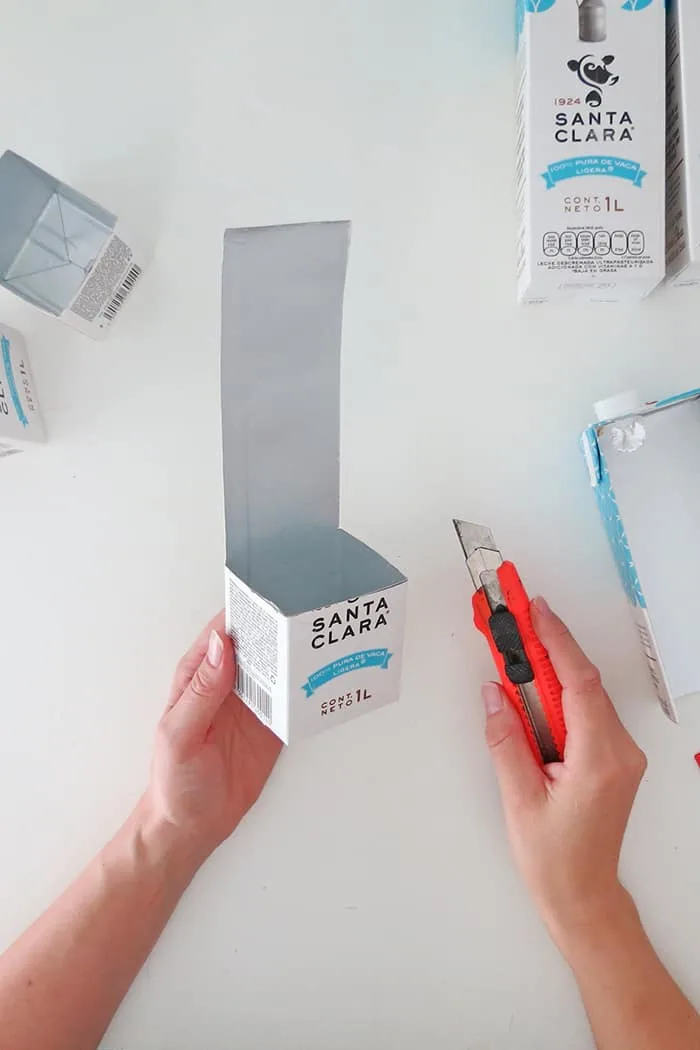 Take the third carton and again draw a line on all four sides at 3 in. (7,5cm) from the bottom. Cut 3 sides of the carton following the line. Cut the fourth side of the box following the edges. You must end with a small container with a long flap on one side.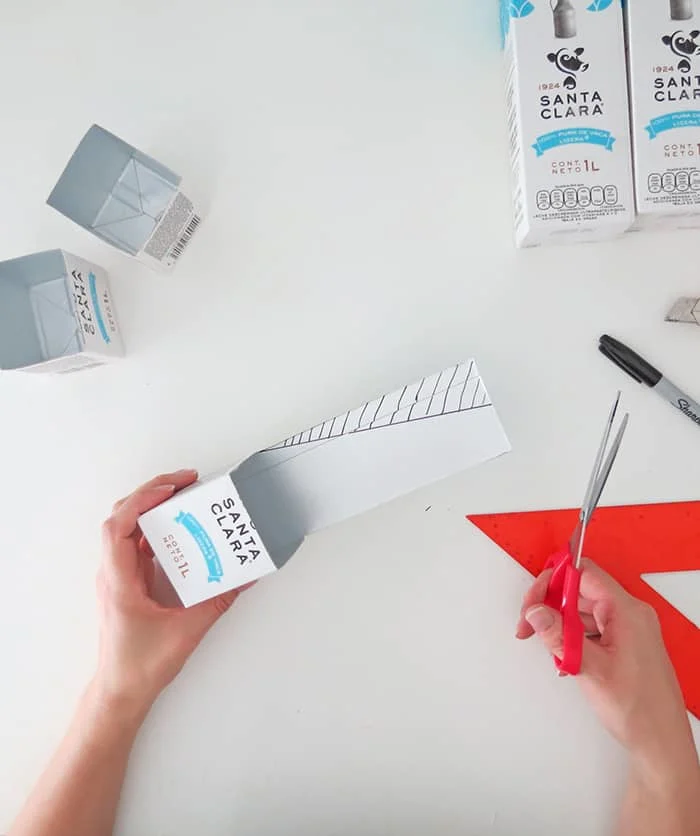 Take the top edge of the flap and measure to mark the center. Trace a line between the center mark and the box top edge. Cut along the line.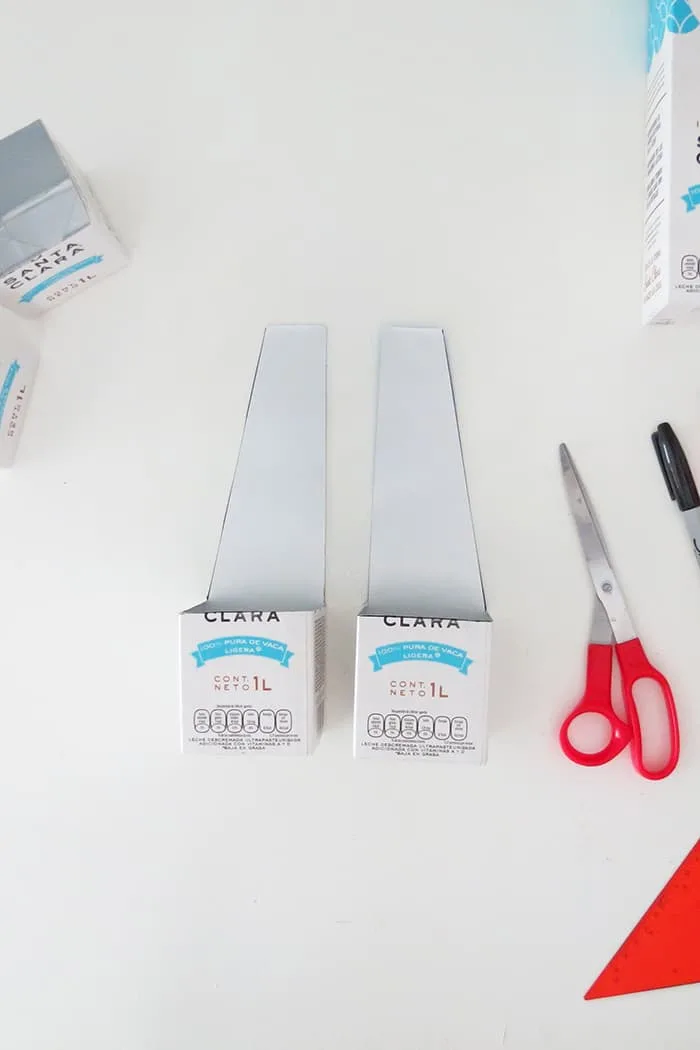 Repeat the previous step to make a second box with a flap. The diagonal on the flap must be opposite at the first one, like in a mirror.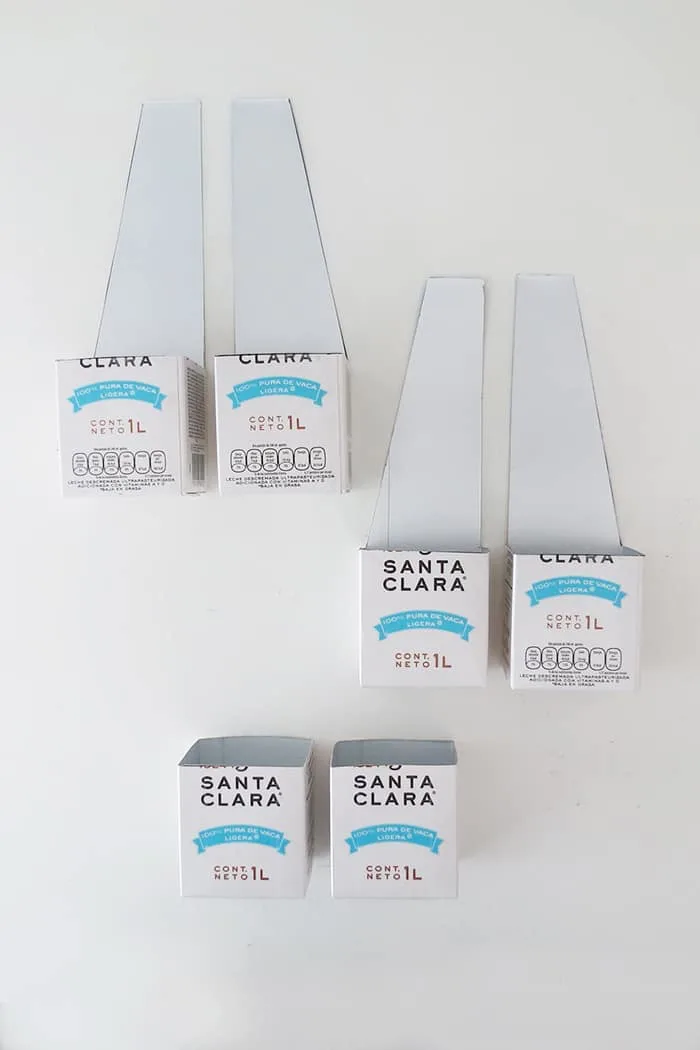 Make two more boxes with flaps, identical at the previous ones. This is what you must have at this point: 2 simple boxes, 4 boxes with flaps (2 with the diagonal on the right, and 2 with the diagonal on the left). Let's continue making this simple desk organizer.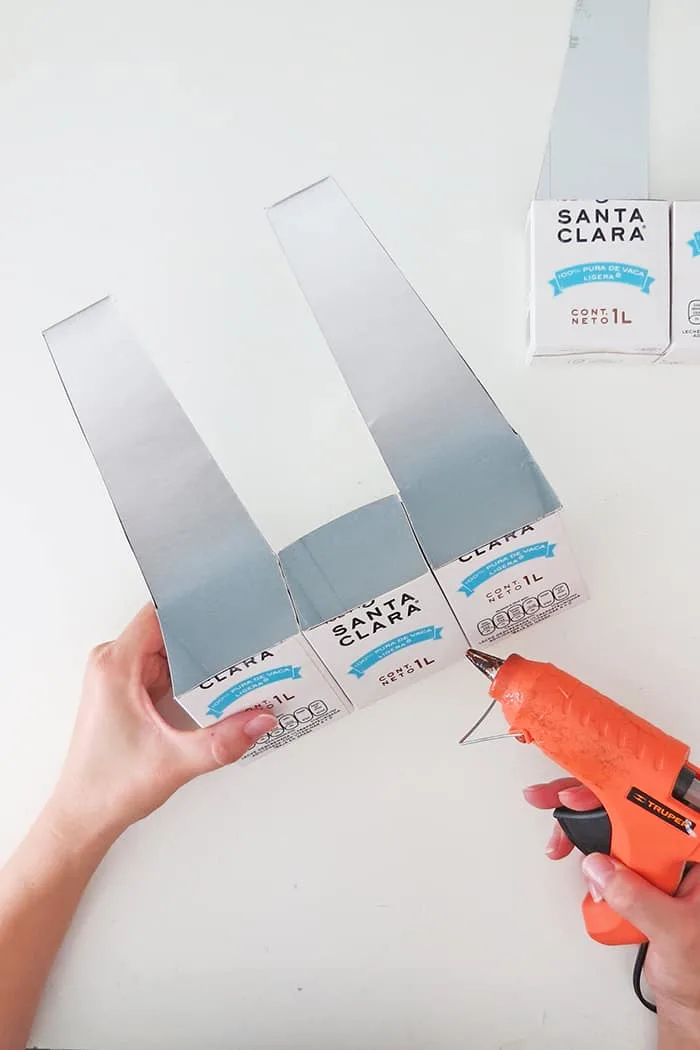 Time to assemble the DIY organizer. Place the boxes next to each other and add some glue on the sides. Press the sides together to ensure good adherence.
You can see the boxes order on the picture, it's first a box with flap (diagonal to the right), then a simple box and to finish a box with flap (diagonal to the left).
Do it twice, to have two rows of boxes glued together.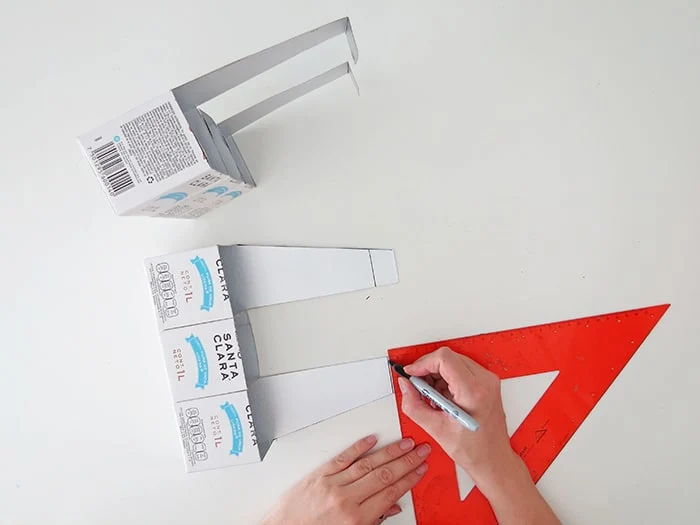 To place the handle on your DIY organizer, you need to fold the flap. Measure 1 in. (2.5cm) form the top of the flap, trace a line a fold following it. Repeat for each one of the four flaps.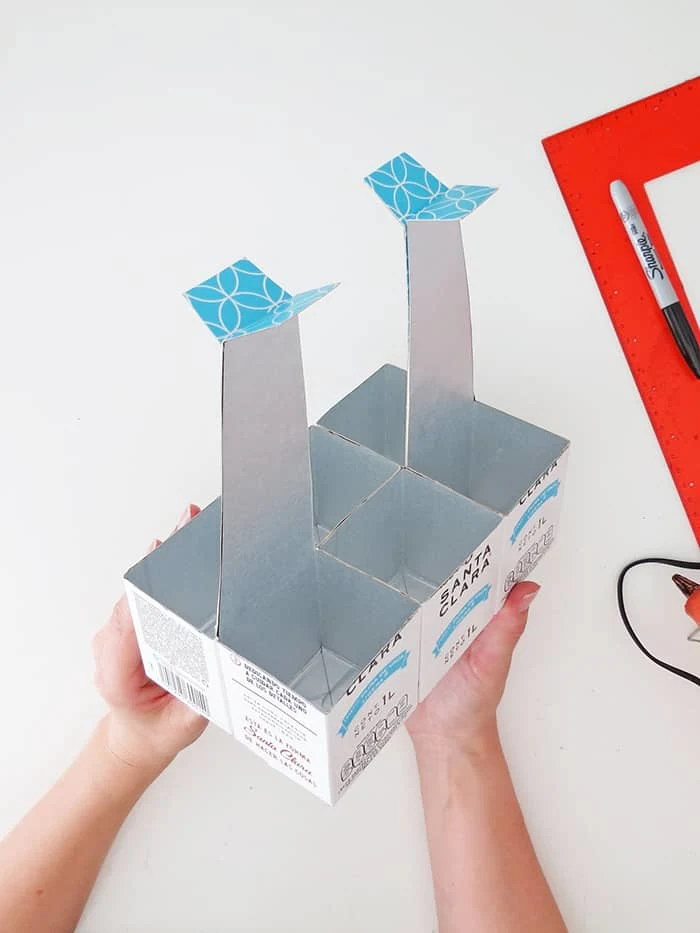 Glue the two rows of boxes together. Add the glue on the flap sides. Press both pieces together to ensure good adherence.
Don't glue the top of the flaps you have folded. You will need them to add the handle.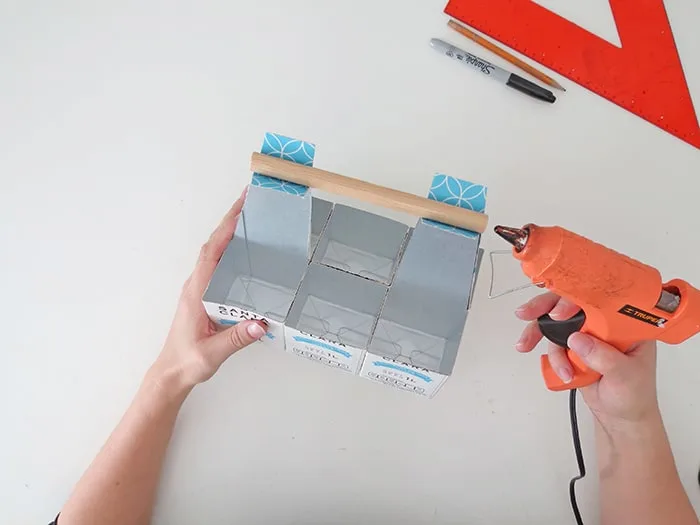 Cut a 1/2 in. (1cm) dowel to fit into the flaps. Sand the edges and glue the dowel into the flaps to make the handle.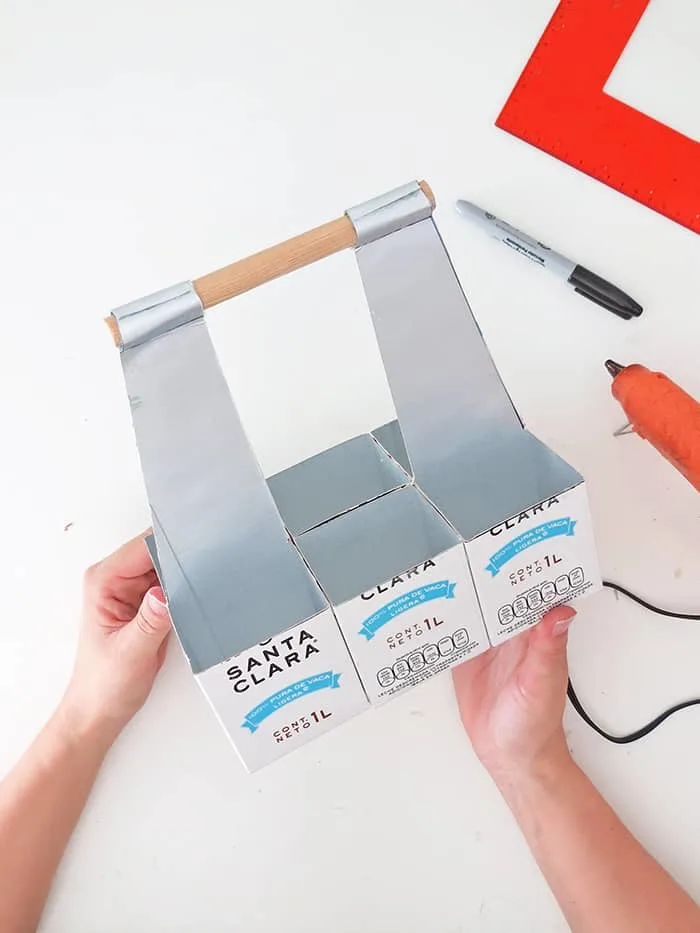 Add some more glue and wrap the end of the flaps around the dowel, so it will hold nicely the desk organizer handle.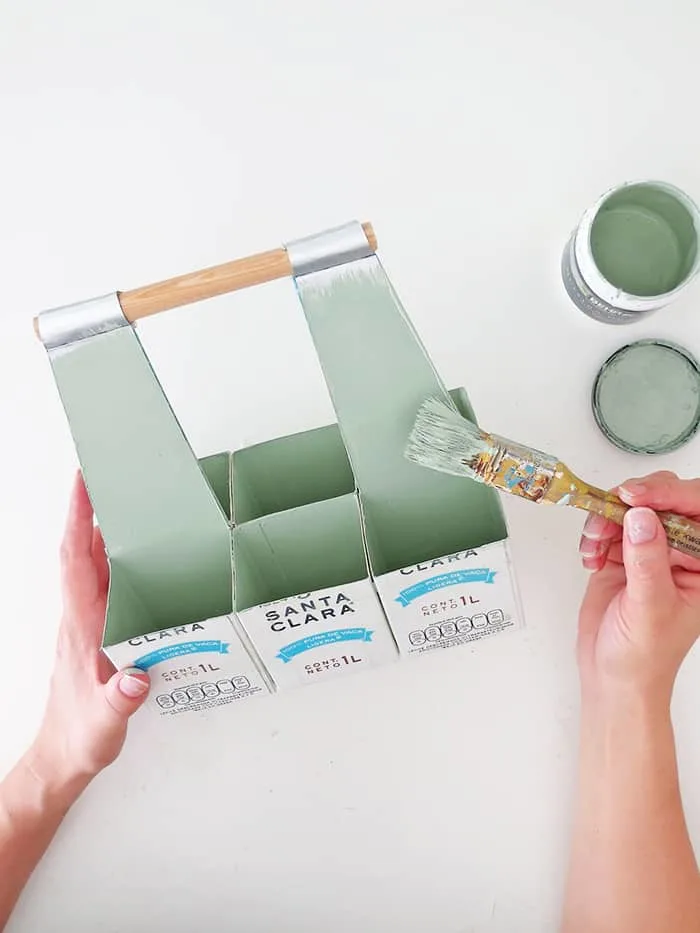 Paint the inside of the organizer caddy. I used my favorite paint. I should have put a coat of primer before.
The inside of milk cartons is cover by a slick grey layer, so I noticed some scratches in the paint. This kind of paint seems like a better option for this project.
Note that this painting step is optional, you can choose to let the desk caddy as it, with the silver coat visible. If you make this craft with kids, that will be the easiest solution.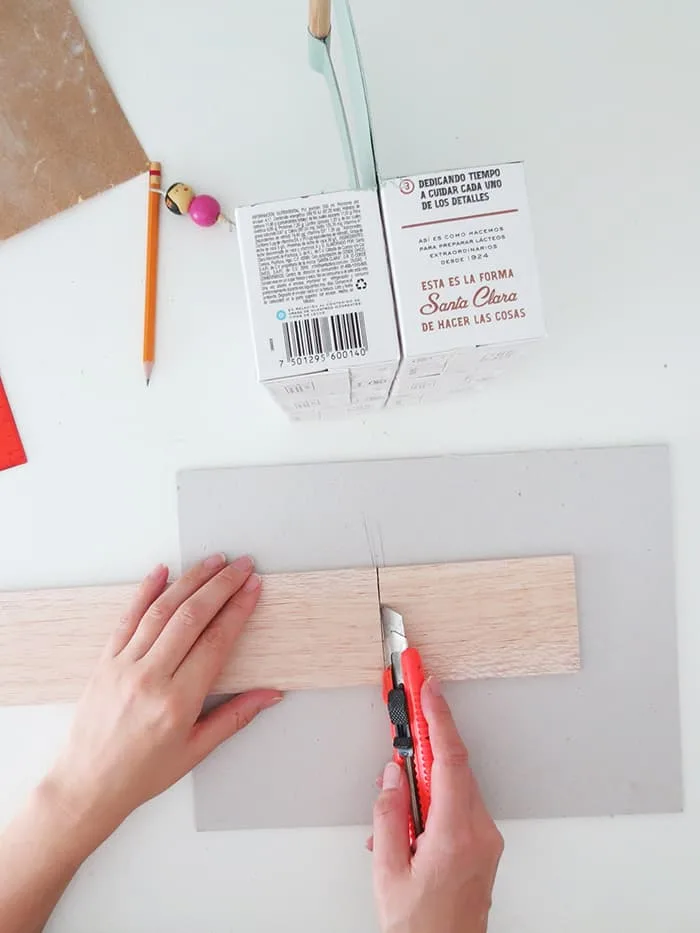 Let's turn these milk cartons into a pretty wooden desk organizer by covering the sides with some balsa wood. Take a piece of 3in (7,5cm) width, and cut it at the small side dimension. Sand the edges.
Balsa wood is commonly used to make models. It's lightweight and easy to cut with a utility knife. You can sand it and stain it if you like. You can buy it
by piece in art supplies stores or in a bundle HERE (this is the exact balsa dimension I used and I only needed one sheet)
The wood looks great and I love how it turns out, it definitely makes this easy desk organizer look fancier.
Another good option will be to cover the sides with cute cardstock. There are so many pretty patterns, it's hard to choose (maybe this one?).
Using cardstock instead of balsa is a great option if you want to make this cute DIY organizer with the kiddos. Cardstock is cheaper and overall easier to cut.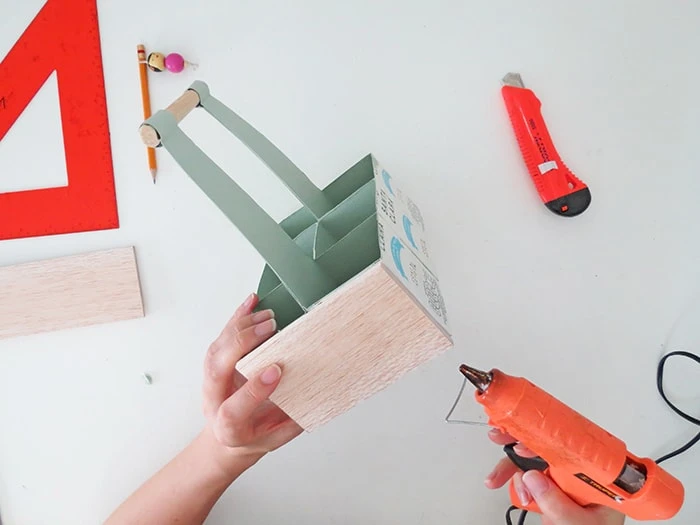 Apply some glue on the desk organizer side and glue the wood on it. Cut a second piece of wood to cover the other small side.
Continue the same way to then cover the two long sides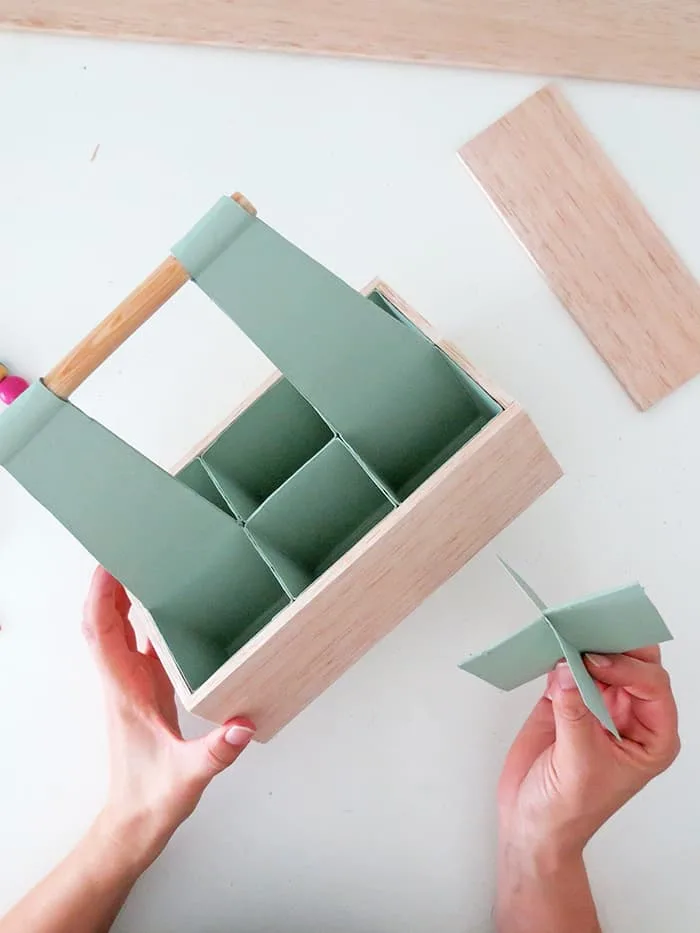 At this point, your desk or craft organizer is finished. If you like to store some small items in it you can cut two pieces of cardboard, and slot them to make a cross shape. Slide the cross shape in one of the compartments of the desk organizer to divide it.

RELATED: DIY beads dolls pencil toppers
RELATED: The DIY storages you need for your office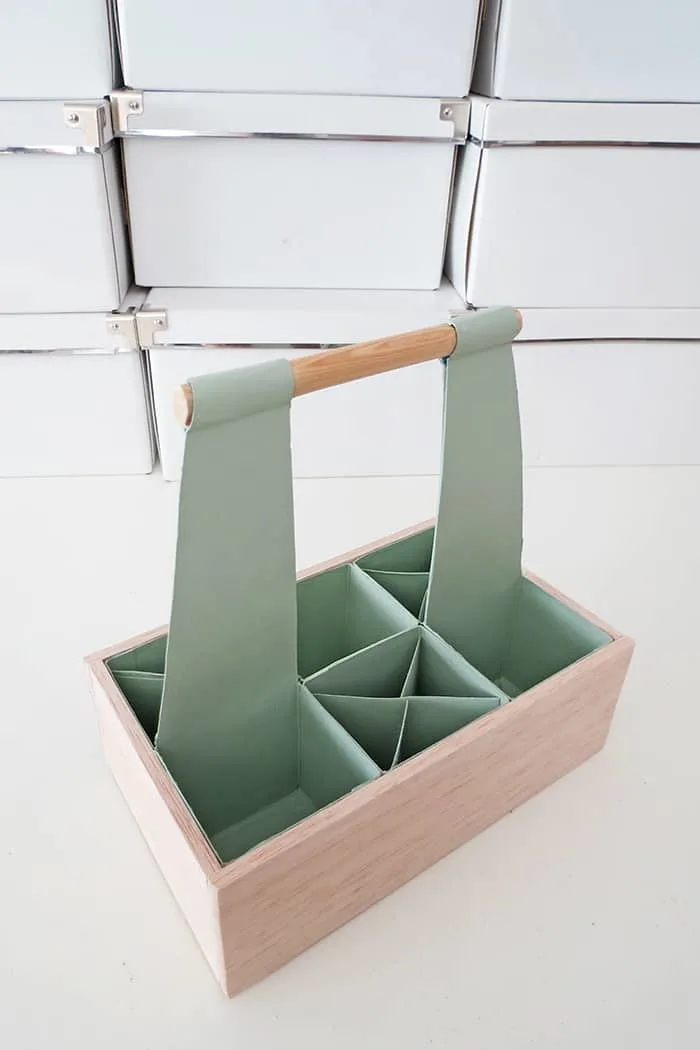 And done! You just made a cute desk caddy to organize your desk. It's super easy to make and perfect if you are on a budget.
As you can imagine you can also use it as craft caddy and sewing supplies caddy…it's super practical to organize all the supplies. You will probably need to make more than one!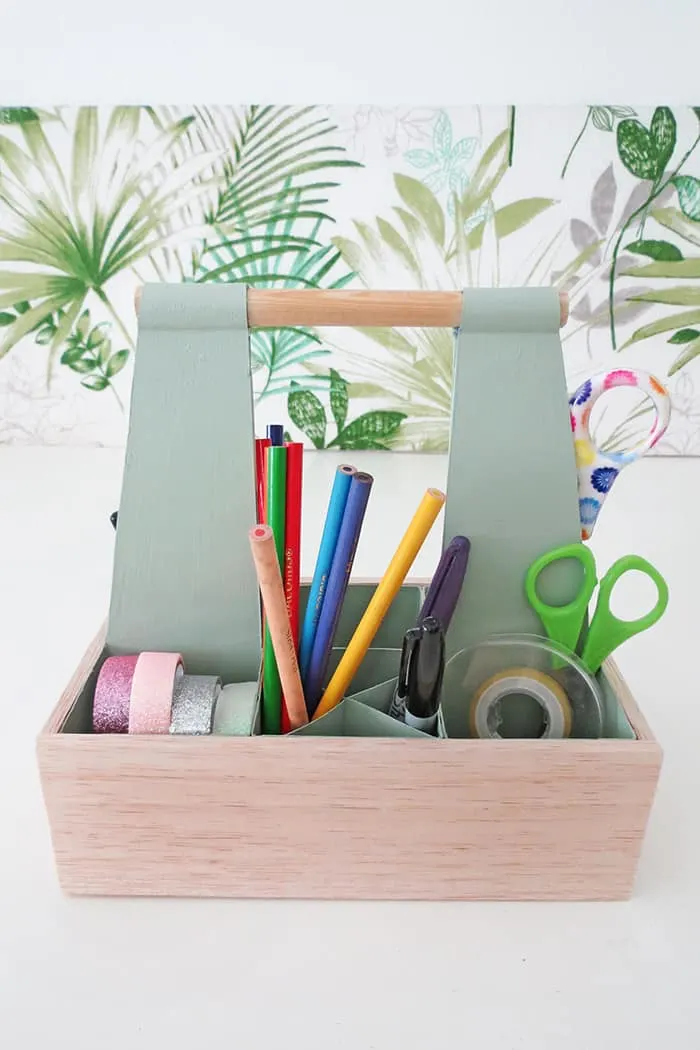 As we have to homeschool our kids, this DIY organizer will help them keep their school supplies organized.
My kids do their homework on the dining room table, so it will be really easy to put everything away once they have to finish them.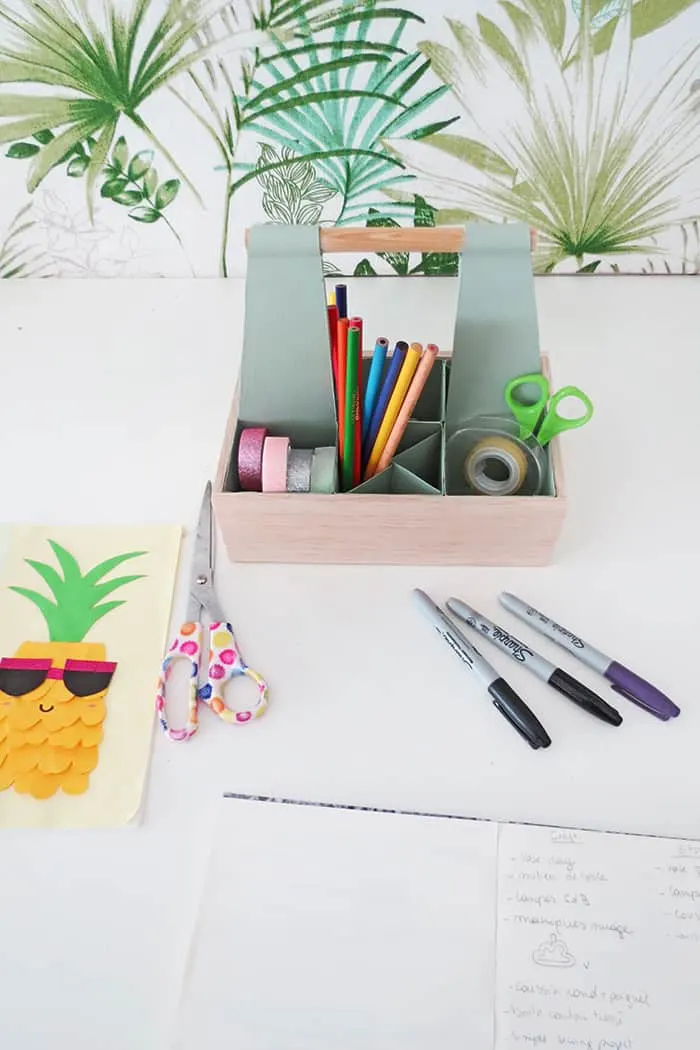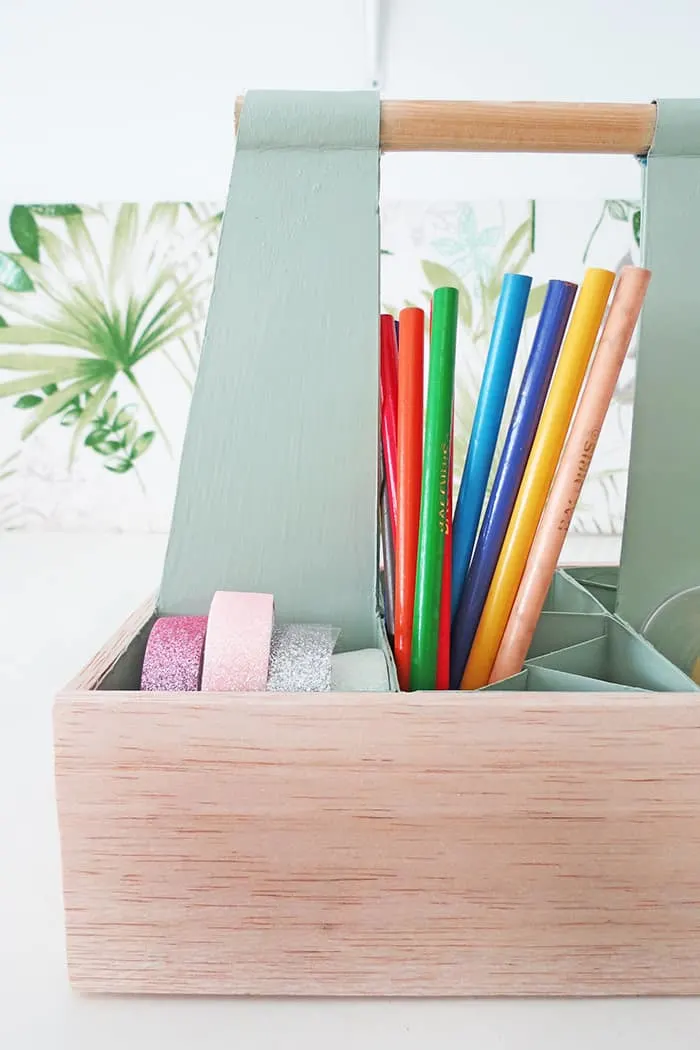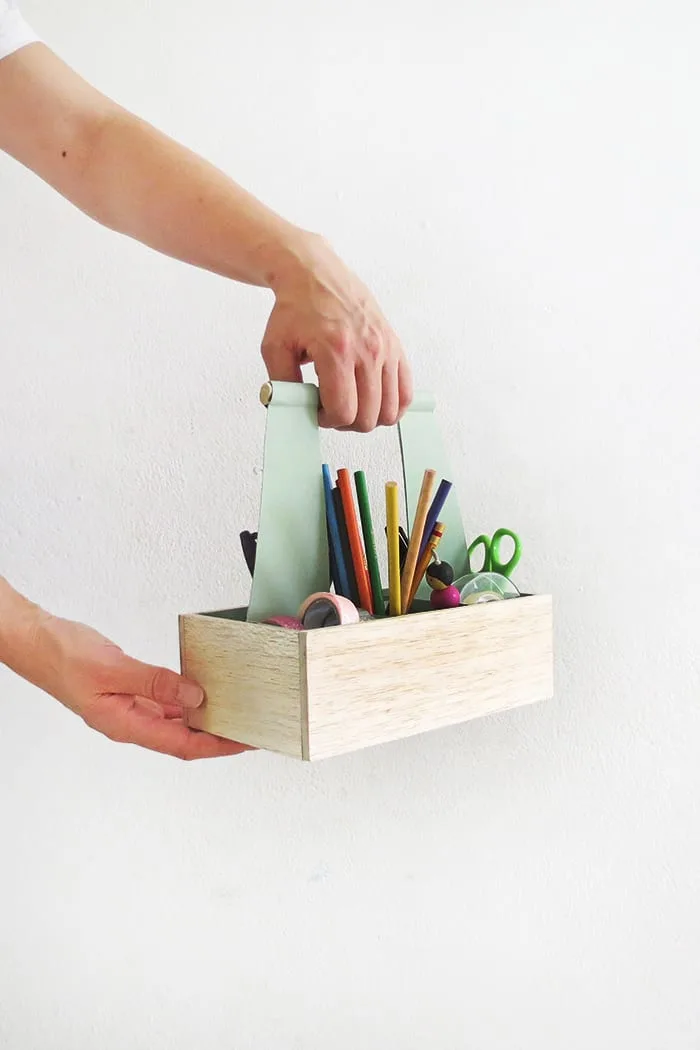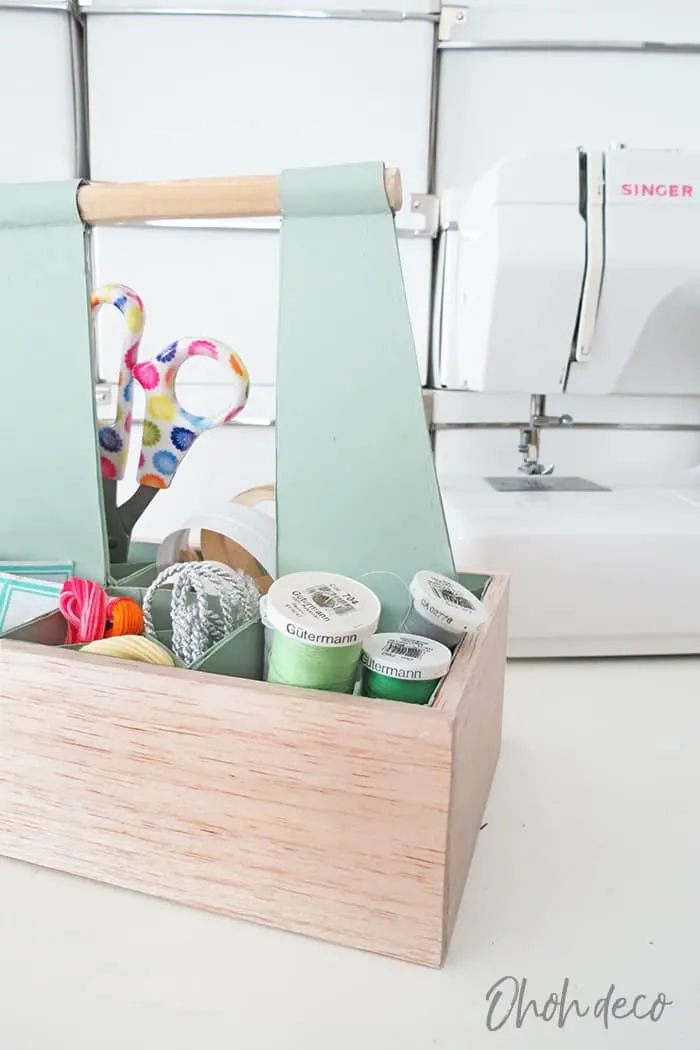 As you can see it works great as a DIY sewing caddy too.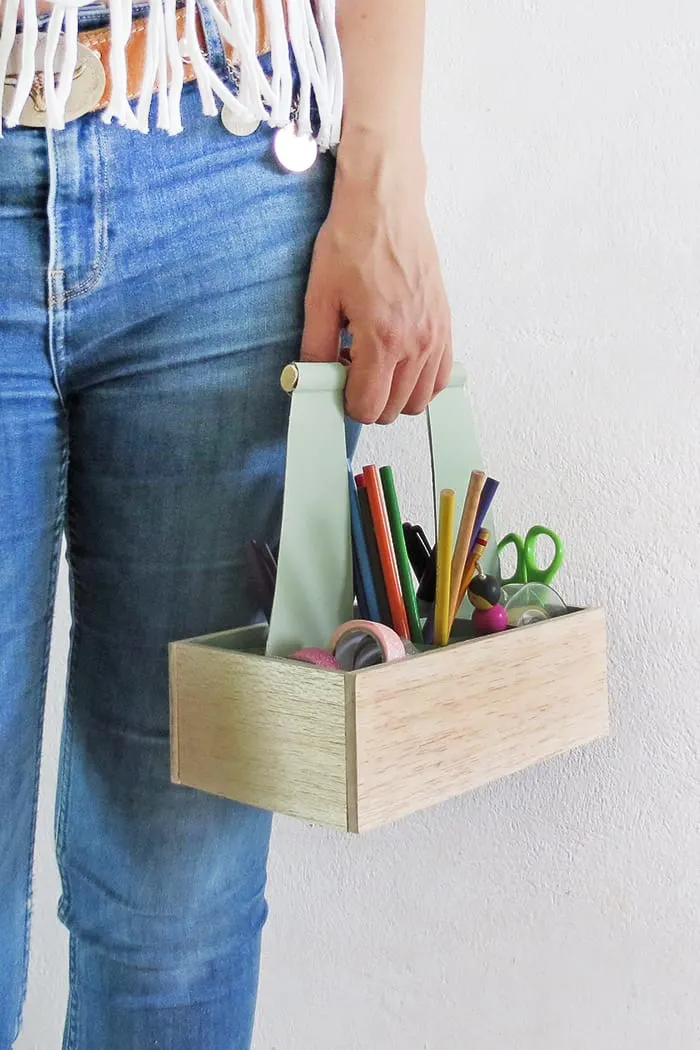 Want to remember it? Save this DIY desk organizer caddy in your favorite Pinterest board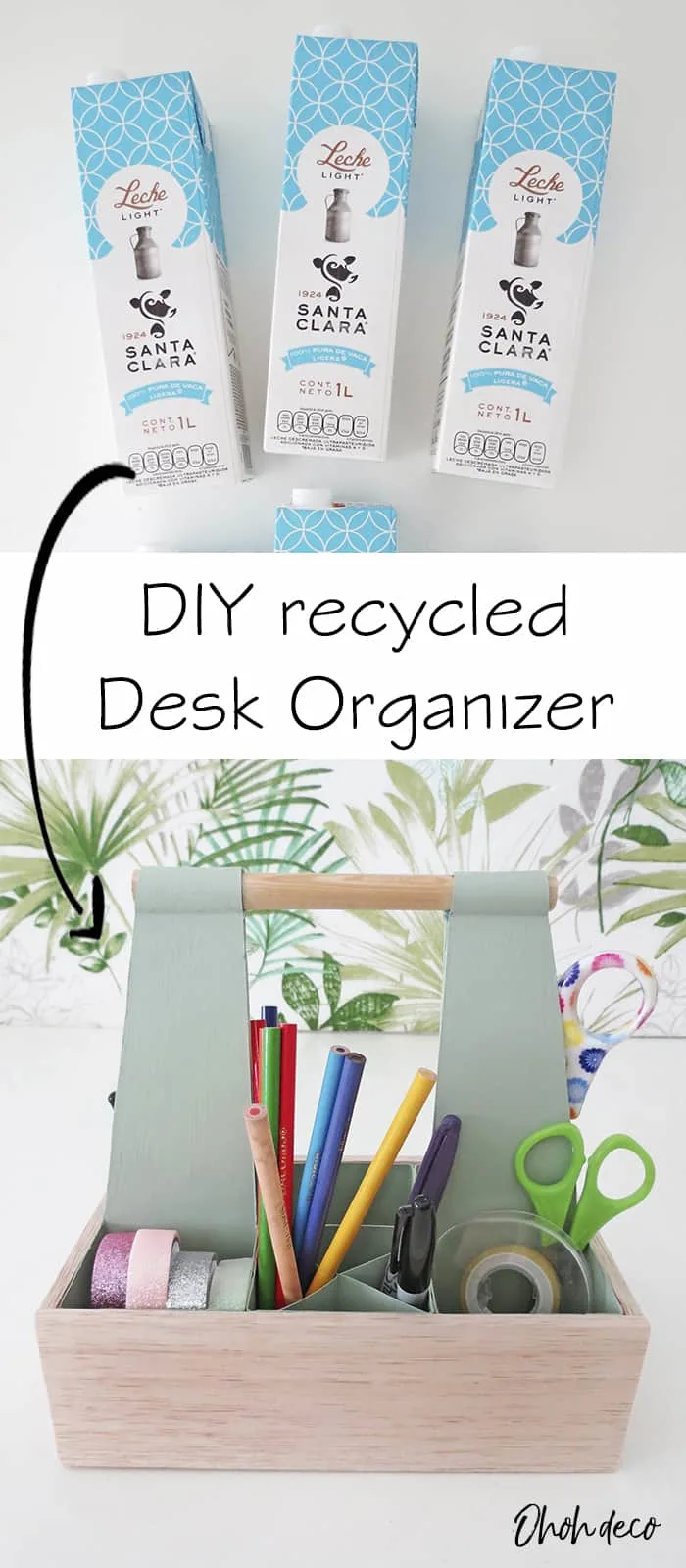 You will find all the tutorials featured in the video on my "Best DIY" page.
Amaryllis