Having access to lots of natural light is probably one of the most important concerns for a homeowner. Even if you're not fond of being woken up by direct sun rays, it's always easier to block off the sunlight than to bring it into a room where you've installed tiny windows. If you're still making plans for your dream house, or are considering a renovation in the near future, this article is for you. It can also be helpful if you are about to sell and you find yourself needing some home staging in Melbourne. We'll go through several ways that can help you bring more light into your home.
The first step to getting enough light into your room is having clean, large enough windows that are not blocked by trees or weeds. Of course, there are a lot of hacks (which we're going to go through as well) you can use to reflect the light and direct it towards the ceiling, floor, or dark corners. However, they might not be of much use if your windows are tiny, cloudy, and there's a huge tree that hasn't been trimmed for ages right in front of them. So, first things first:
If you're still planning your house, opt for the largest windows you can afford (both budget- and design-wise.) If you're going for a cottage-style house with a backyard, it might be worth installing some conservatories instead, to let even more natural light in. Some rooms like the bathroom and storage spaces can be tricky because you might need a bit more privacy than usual. A good solution is to place short wide windows right under the ceiling. Or, if you opt for full-sized windows in the bathroom, you can go with frosted glass for extra privacy.
If you're renovating, you might not be up for remodeling the wall just to get bigger windows. In this case, there are still a couple of things you can do. For instance, when was the last time you gave them a good cleaning inside and out? Might be quite a while ago, since cleaning the windows is quite a tedious activity that isn't the first thing you think of when doing your Saturday chores. All that to say, give those windows some love. Get some all-purpose cleaning solution and scrub the frames (wood cleaner works too if you have wooden frames), and wipe down the glasses with some glass cleaner. You might have to do that a couple of times to ensure there's no sediment left, especially on the outside.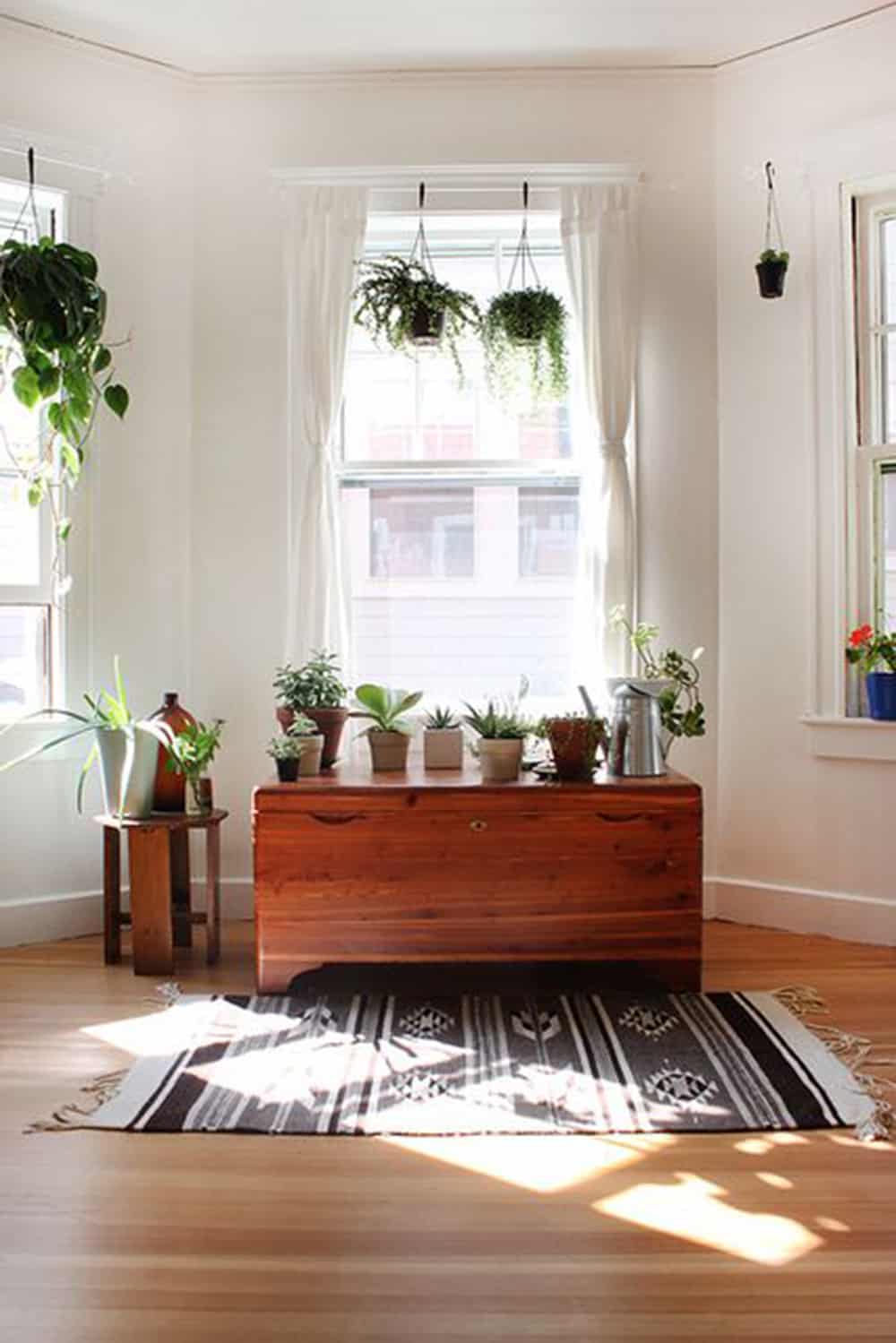 Another thing you can do is check if there's anything straight-up blocking the sunlight from reaching your room. This can be a tree, climbing vine, or even tall bushes. If you can, it might be worth trimming down some of the overgrowths that are blocking light from entering your room.
Everyone knows the mirror trick – you can reflect the light and brighten up the whole room just by placing a full-sized mirror on the wall opposite to the window. However, that might not be possible in all rooms. If that's the case, you might want to use two big mirrors and have them face each other.
Use bright colors in your interior – whites, creams, ivory, champagne, whatever floats your boat. Repainting the walls a lighter color is not as much of a hassle as tearing them down to get bigger windows, yet it will still help brighten up your home. Besides, mere decor objects can reflect light and make the room seem brighter and more spacious. Try getting inspiration from Scandinavian homes and play with glass, shiny metals, and polished wood to add glimmer to your room.
Don't forget the floors, especially if you have glass doors or conservatories. Tiles and stone are amazing light reflectors, especially if you opt for light colors and high-shine polishing. However, these are not as commonly used as wood flooring, which can be a little tricky when it comes to lots of natural light. Wood flooring and parquet are generally pretty sturdy, but constant exposure to direct sunlight can cause discoloration. All that to say, if there's a floor portion that is always under direct sunlight, you might want to cover it up with a rug. If the damage is already done, there isn't much you can do but, yet again, cover it up, or get new floors. That might sound like quite a project, but Wood Flooring Specialist will definitely inspire you.
Last but not least, you might want to check your blinds and curtains. Get rid of heavy fabrics and deep colors, and replace them with linen or cotton curtains in natural hues. Don't forget to clean your blinds regularly – you might not even realize how much natural light they leave out when they're dusty!
As you can see, there are countless ways to bring more natural light into your house. Whether you go all out and get bigger windows per se, or you play around with colors, reflection, and textures, your home will start feeling much more spacious when you let the light in.

+++ This guest post contain sponsored links, more about our privacy policy HERE +++
Amaryllis