Our new house was built in the early 1950s. It is in very good condition, but the decoration is not to our taste and therefore needs to be redone.
I started by redoing the hallway, which is quite large, 10m2, but is very dark.
If you are facing the same problem as me, I will give you some ideas for brighten in dark hallway. I hope it will help you get the most out of your entry.
Thereafter, I show you what I did at home to lighten our dark hallway.
[ This post probably contains affiliate links, our full disclosure policy is boring, but you can read it HERE ]
How do you brighten a dark hallway?
Walking down a dark hallway can be intimidating, especially when it doesn't have the right kind of lighting or decor.
If you're looking for a way to brighten up your hallway without completely renovating it, then you're in luck!
With some simple changes, you can turn a dreary hallway into a cheerful and inviting space.
1. Paint the door
Painting the inside of the front door a light color is an easy way to brighten a dark hallway. It can obviously be a shade of white, but do not hesitate to add color, a light shade or a pastel tone will be perfect.
If your hallway has several doors, you can also paint them in the same tone, it will create harmony and bring clarity.
2. Bring the light from other rooms
This solution involves a little more work. If you have the possibility, add an interior window that will allow you to recover natural light from a neighboring room.
If building an interior window is not an option, you can also consider changing a solid door to a glass door.
The adjacent room will remain sound and heat-insulated, but natural light will reach your hallway.
3. Light colors
Choose light colors for walls, floors and ceilings.
Don't limit yourself to white, you can play with different colors but prefer pastel and light tones.
I will talk more about color below.
4. Declutter and organizer
It seems obvious but clutter gives an oppressive impression and visually reduces the size of a room.
So prefer a closet instead of a coat rack to store jackets.
If space permits, do not hesitate to add a shoe cabinet, a storage bench, or a chest of drawers to store hats and caps. Choose functional furniture in light tones.
The best, if the budget allows it, is obviously to create a custom built-in storage unit.
5. Use mirrors
Apart from the practical aspect of having a mirror in the entrance hall, it also helps to reflect light.
You can choose to hang a large mirror or a set of matching small mirrors.
Place them facing the light source or the lightest wall so that it reflects the light as much as possible.
RELATED: Boho Mirror, the easy DIY
What color is best for a dark hallway?
When it comes to decorating, the style of a hallway often sets the tone for any room it leads to.
For dark hallways, choosing a color that brightens up the space while still making it feel cozy is key.
There are several different options that can make your hallway look sophisticated and inviting. We'll explore what color is best for a dark hallway.
1. White paint
Feel free to paint the walls white. You can choose different variations of white, my favorite is basic white, I mean raw white paint without any color pigments.
Basic white is the brightest, and if you combine it with a pastel door or a wallpaper it will reflect the color of the surrounding decoration.
Plus, white paint is very easy to maintain.
If you have kids and pets, just brush over the stains and the wall will be clean and spotless.
If you use the same brand of paint, there will be no tone difference, which is generally not the case when you use a paint with added pigments.
2. Pastel colors
Pastel colors are the best option to bring color to a hallway without darkening the decoration.
Match it with white, you can for example create a two toned wall, the door, or one of the walls.
3. Wallpapers
Do not hesitate to integrate wallpaper into your decoration.
Florales and greeneries patterns that refer to the exterior generally bring an impression of space and freshness.
Adding natural elements to the decor is a roundabout way to bring the outdoors into the home, even without a window or a view.
4. Ceiling
A white ceiling is the best way to reflect light.
Pair it with a nice ceiling light and you'll get the most out of the lighting.
I talk more detail about lighting further down in the article.
5. Floor
Choose a light and warm floor, like light wood or French limestone.
If the floor is dark and you can't change it, try incorporating a rug runner or a large graphic doormat.
Choose it in a light color. Vinyl mats are great as they come in a large number of patterns and are super easy to clean.
RELATED: How to wallpaper – The easy way
What is the best lighting for a dark hallway?
Are you having trouble lighting up a dark hallway in your home?
You may not be aware of the various lighting options available that can help brighten up your hallway and make it look more welcoming.
Find below the different lighting options that can help you achieve the best look for your hallway.
1. Ceiling light
There is probably a light point on the ceiling, take advantage of this by multiplying the lighting sources.
Chose hanging a ceiling light with multiple bulbs, like a chandelier or a ceiling spotlights.
Prefer LED bulbs to not weigh down your electricity bill.
2. Wall lamp
You can also add light sources on the walls by hanging sconces.
You can place several along the wall to punctuate the hallway or hang them on either side of the door.
Thanks to the rechargeable bulbs you can even do it at a lower cost and without electrical work.
3. Table or desk lamp
To create a cozy atmosphere in the entrance hall you can put a table lamp on a piece of furniture or a console table.
You can use the lamp as a "nightlight" and leave it on most of the time so that the hallway is never completely dark.
RELATED: 18 ways to make a DIY lighting
Dark Hallway before and after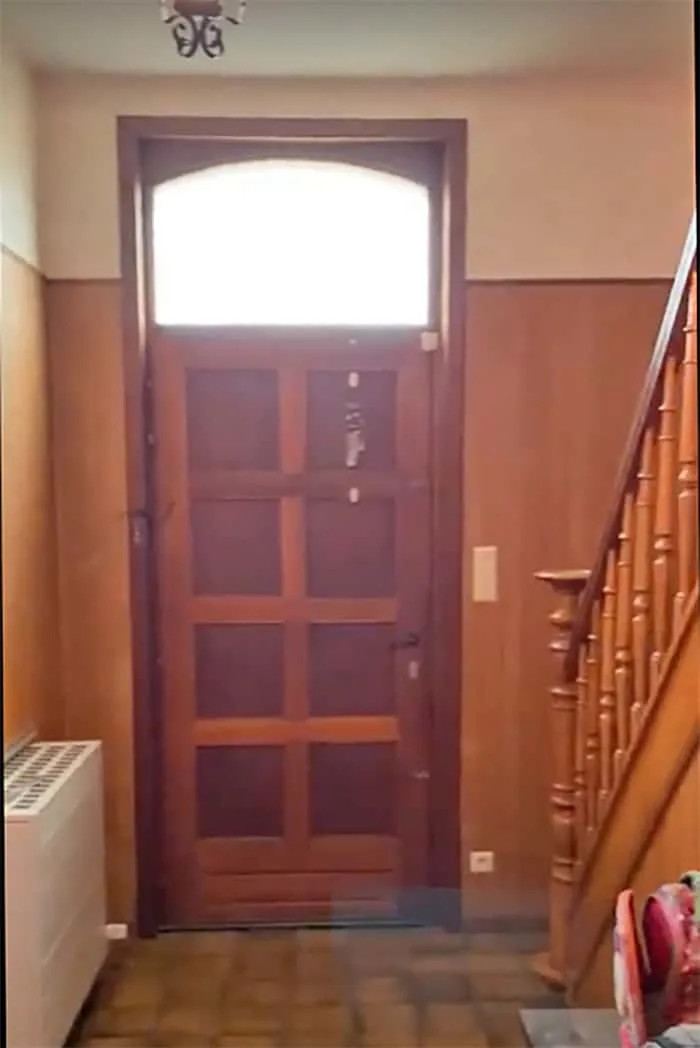 Time to show you our hallway makeover.
The problem with our entrance is that it is very dark.
Natural light comes from a small window above the front door and the semi-glazed door which brings in light from the dining room.
The walls are covered with wooden paneling and the floor is in dark brown tiles. The entry door is dark wood and the interiors doors are grey and beige.
On the ceiling there is only one lamp with a yellow glass.
The good things are that the paneling is of good quality and well placed. The ceiling is white and the wooden staircase is in very good condition and nicely varnished.
The old doors are very pretty and give the house a lovely vintage touch.
Watch my video on how I decorate our dark hallway :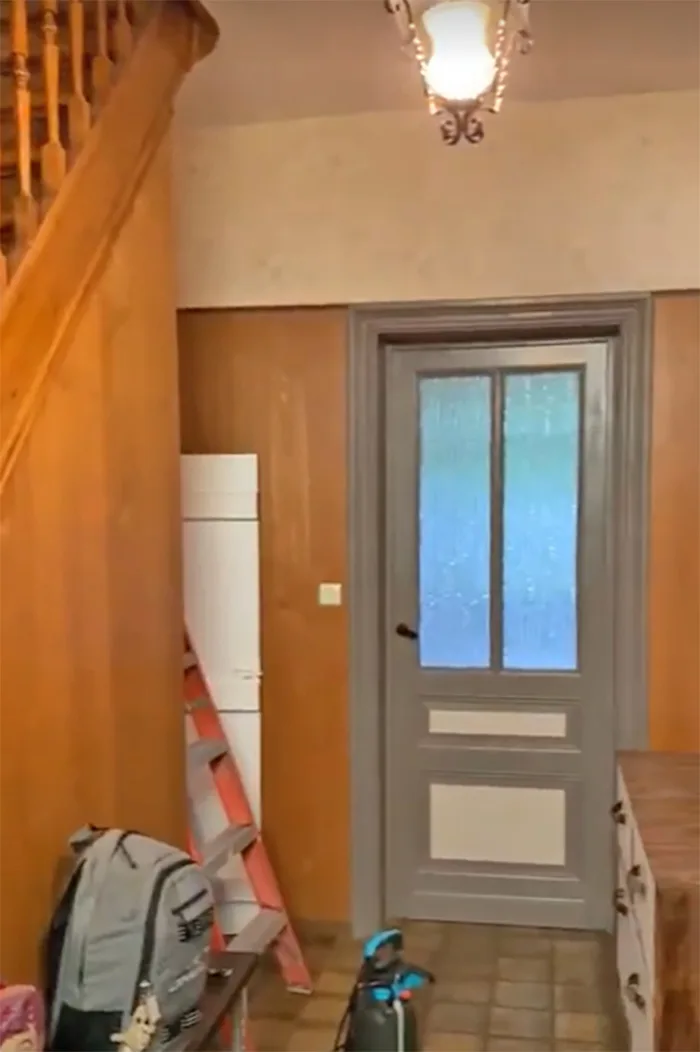 Here are the things I did to redecorate our entrance and make it brighter:
Paint the panels white
Remove the beige wallpaper and place a new one, more colorful and modern.
Paint all doors white (there are 5)
Change the lamp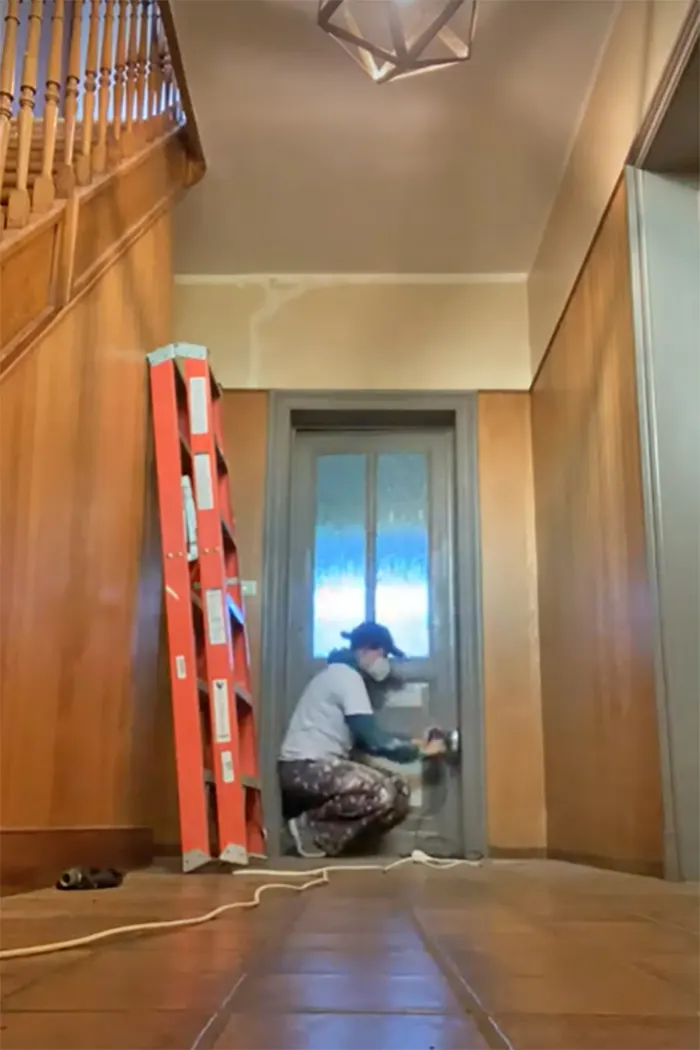 Lots of sanding was needed before starting to decorate the piece. I had to sand the doors and the paneling…it took forever.
Sanding is not something I like to do.
The previous owner told us that when they bought the house the stair was painted. He stripped, sanded and varnished all the staircase… so luckily I didn't have to.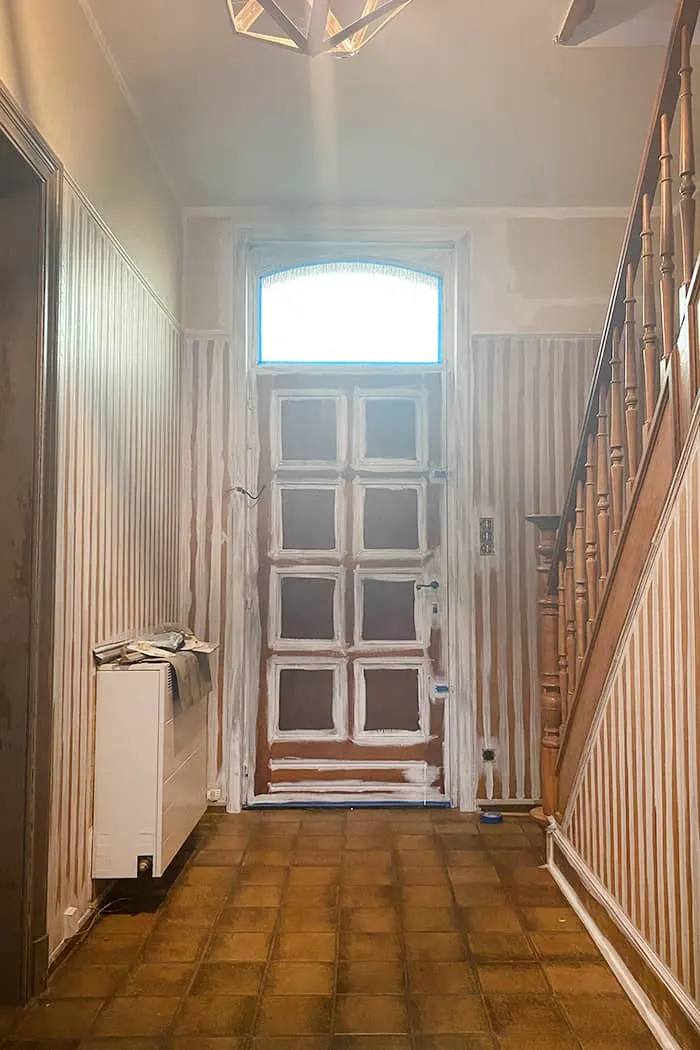 Once the sanding was finished, I could start painting.
Because of the panels, it took time. I started to paint all the grooves with a round brush and then I painted the flat face of the paneling with a small roller. I applied two coats.
At one point the hallway looked like the inside of a gingerbread house, fun.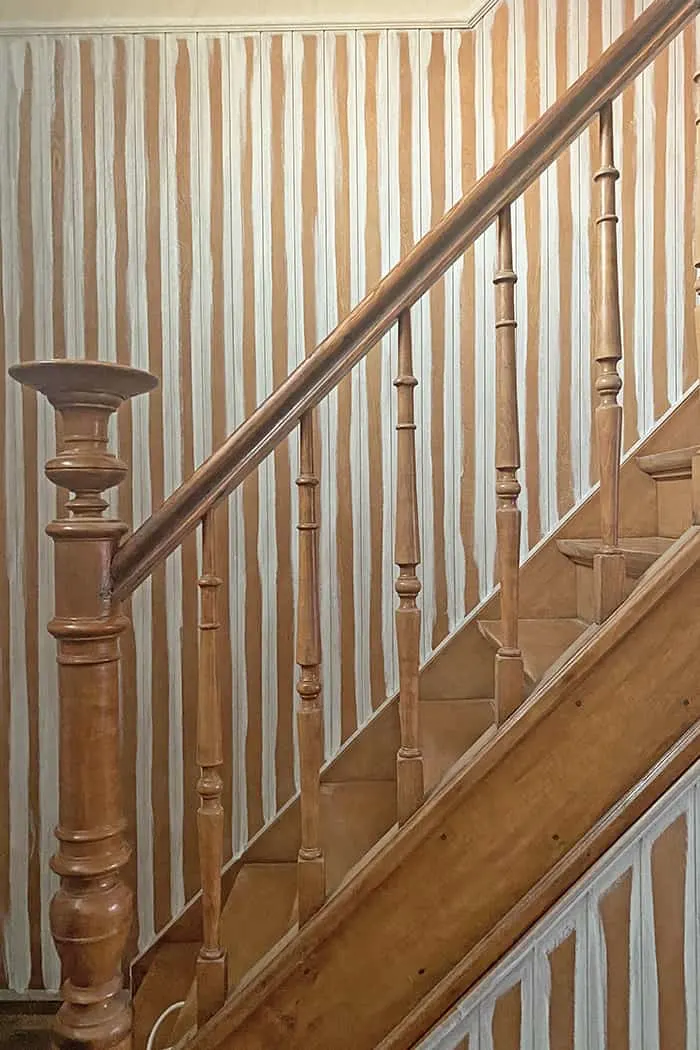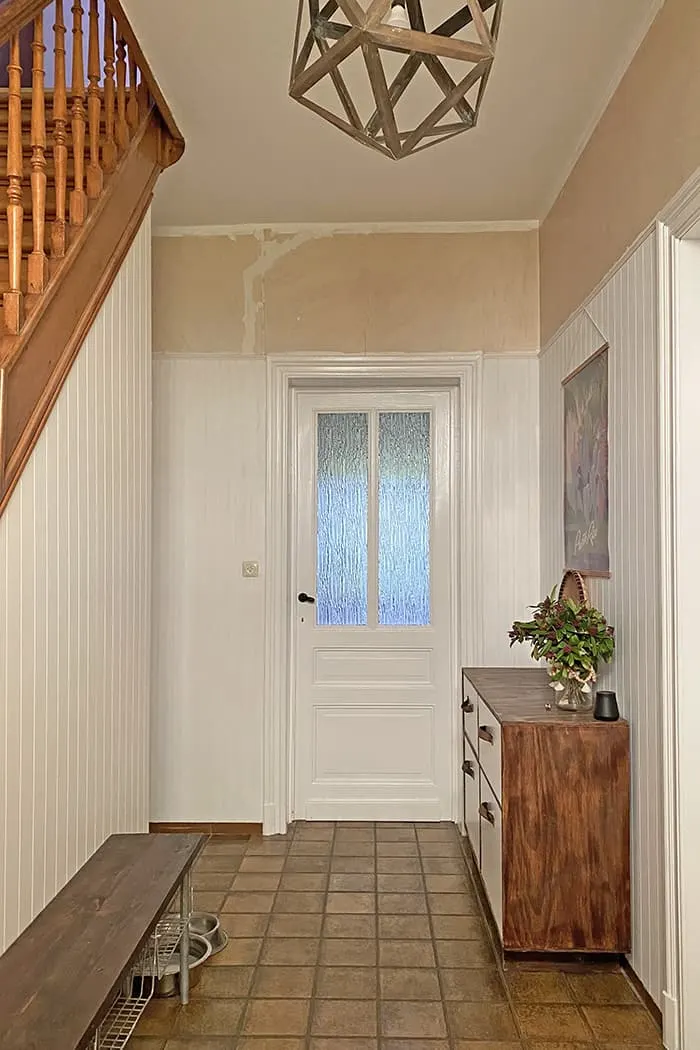 After removing the wallpaper, I saw that the first owners (in the 1950s) painted all the walls with a faux marble finish. you can see it above the paneling.
Not to my taste, but at least the walls are perfectly smooth and easy to strip.
The last step was to choose the wallpaper.
It took me a long time to find you, I wanted something colorful and with cactus, to remind us of our years living in Mexico.
I fell in love with this spoonflower wallpaper at first sight.
The surprising was that my husband immediately approved of my idea…he is also a fan of this pattern.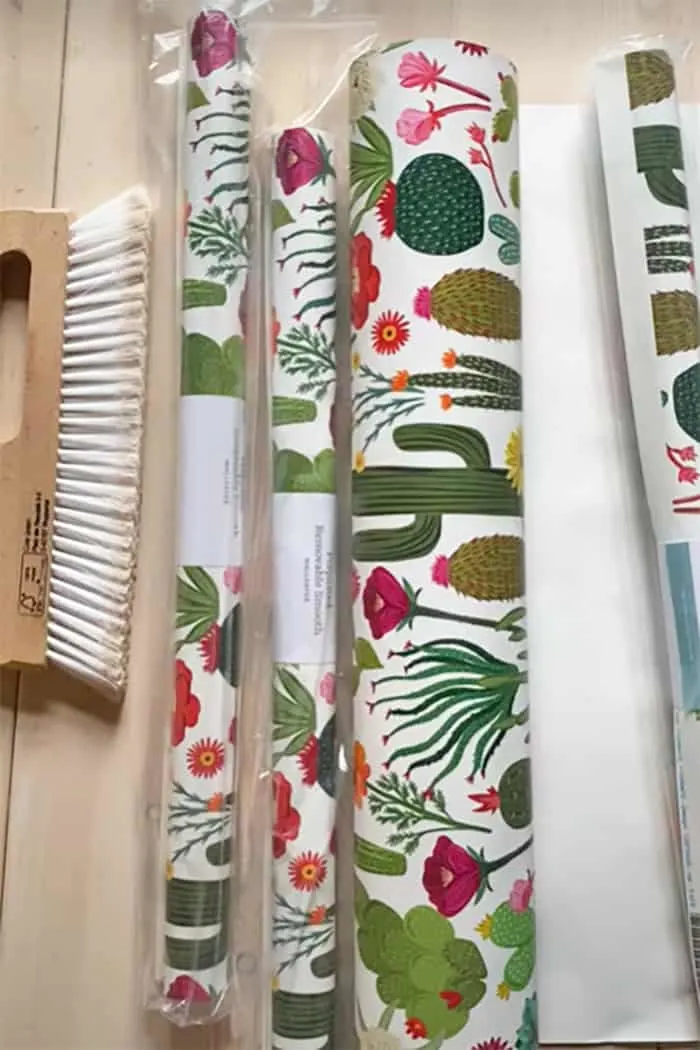 The paper was relatively easy to hang, even though the ceilings are high.
It took me more or less 3 weeks to do the entrance hall and the night hall upstairs, which I will show you next time.
I told myself when we moved in that the entrance hall would probably be the last room that I would decorate and finally it was the first that I completely finished.
Nobody live in a hallway, but we pass by very often… and each time I cross it I am very happy to have redone the space and to have it modernized.
There are still things to do,of course, the brown floor is quite ugly. I don't know if we will ever change it, but I plan to put a runner rug or a vinyl mat.
The door will probably be changed soon to improve the insulation. I'm thinking of choosing a model with a window to bring in more light.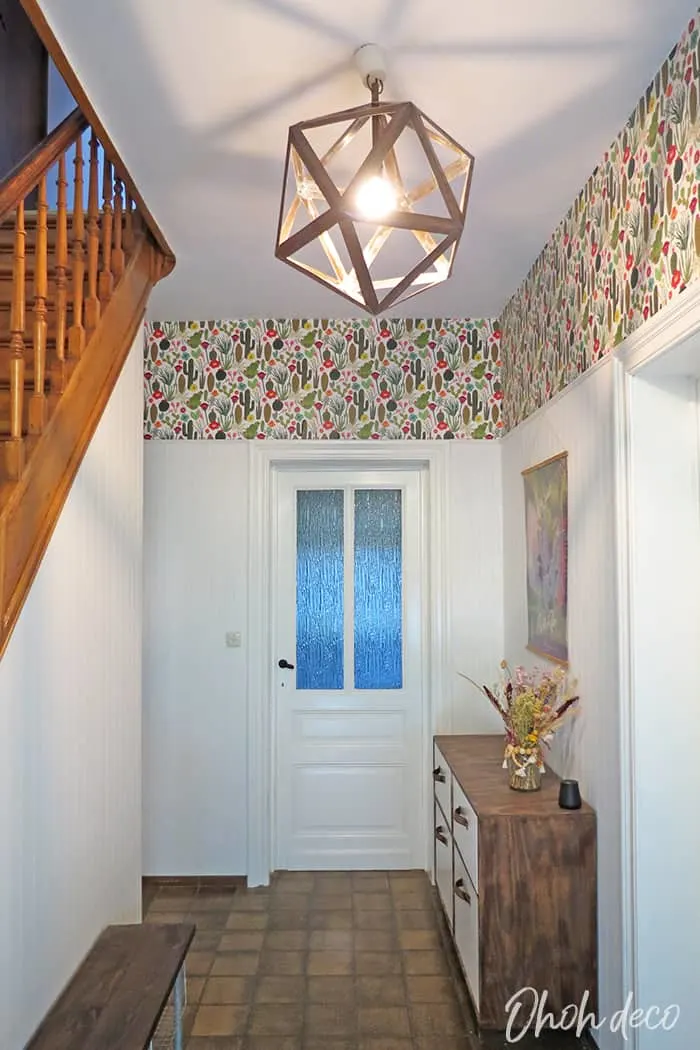 I share more pictures below.
Don't hesitate to leave me a comment to tell me what you think.
RELATED: A DIY entrance Makeover
RELATED: Shoe storage ideas: 21 easy DIY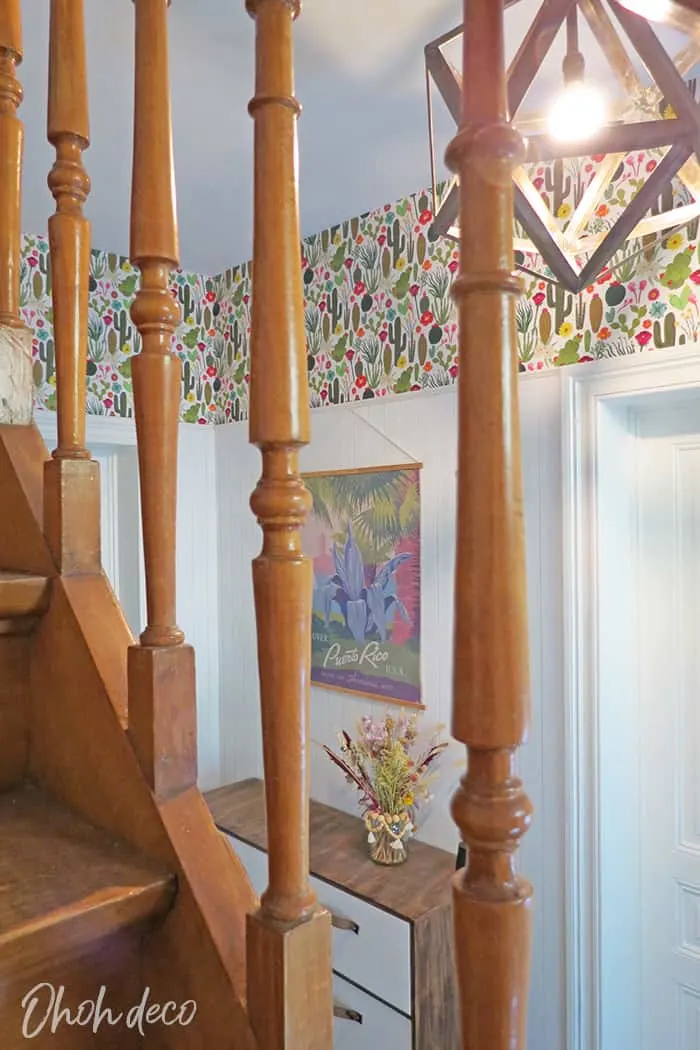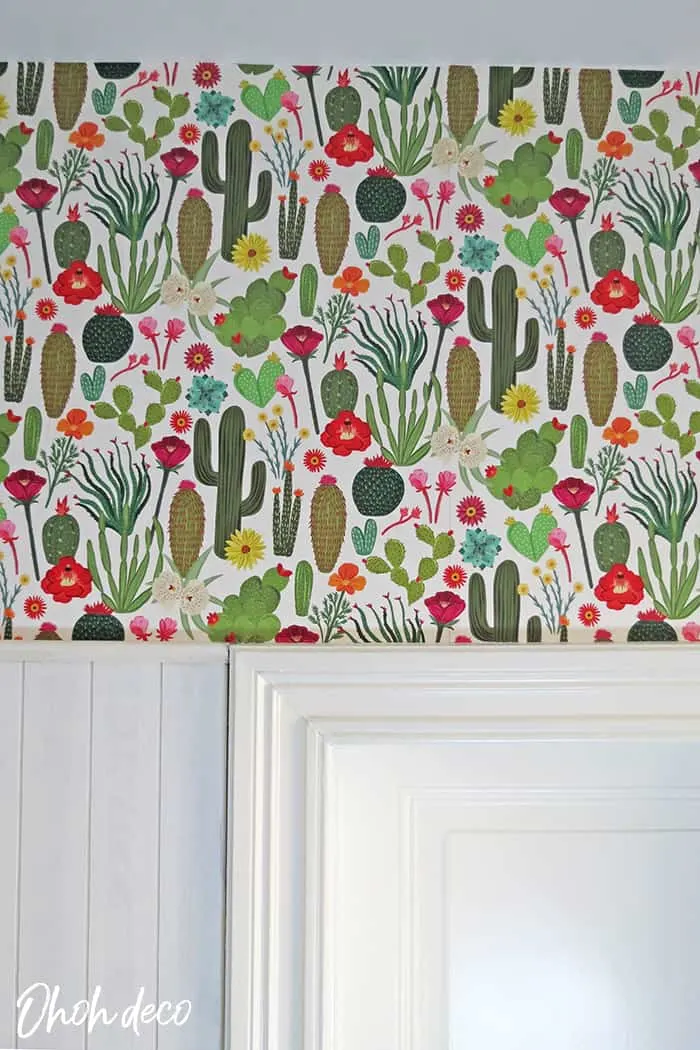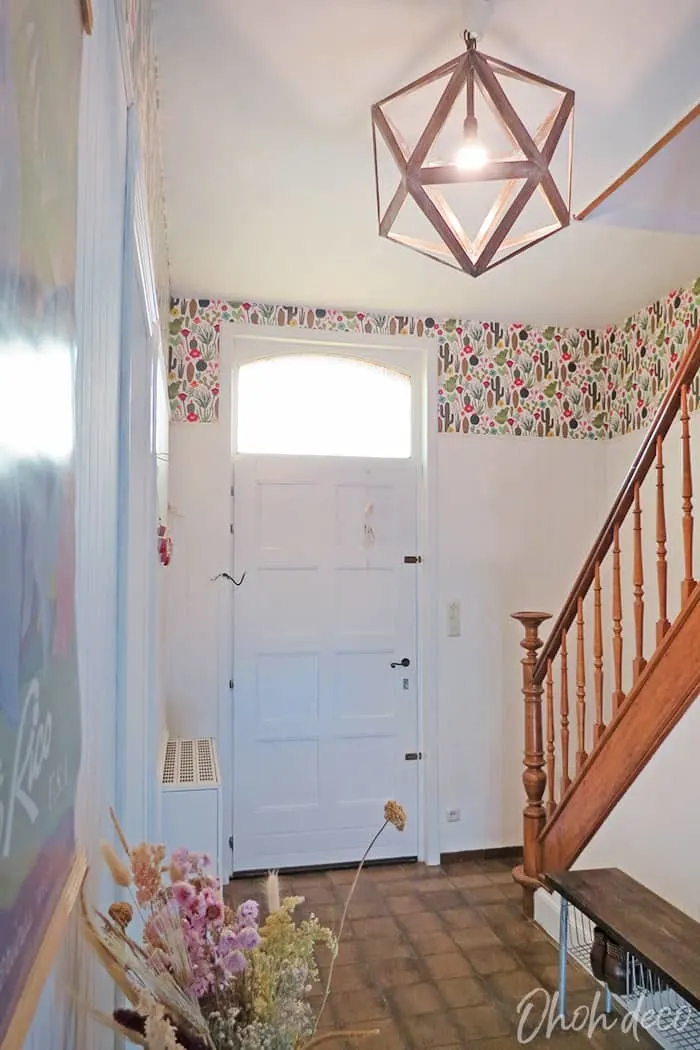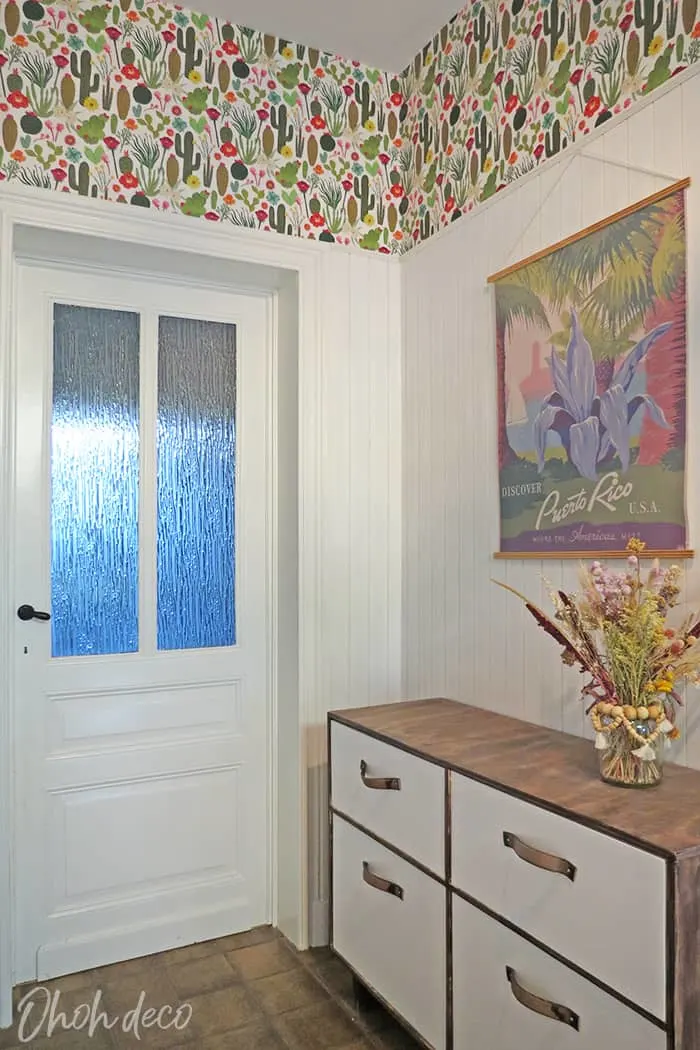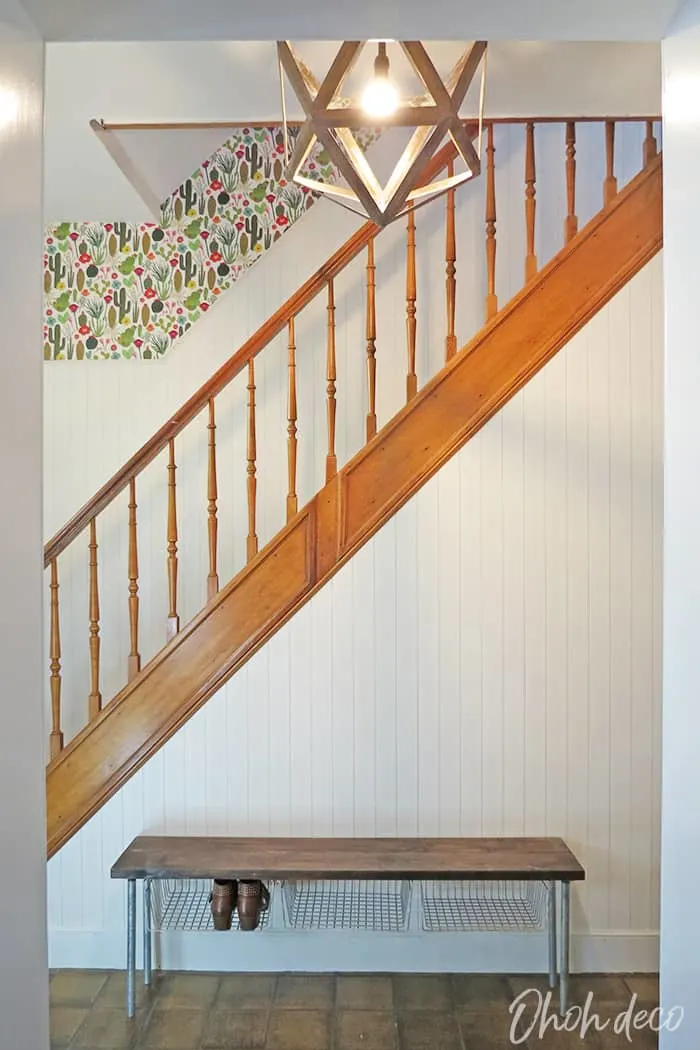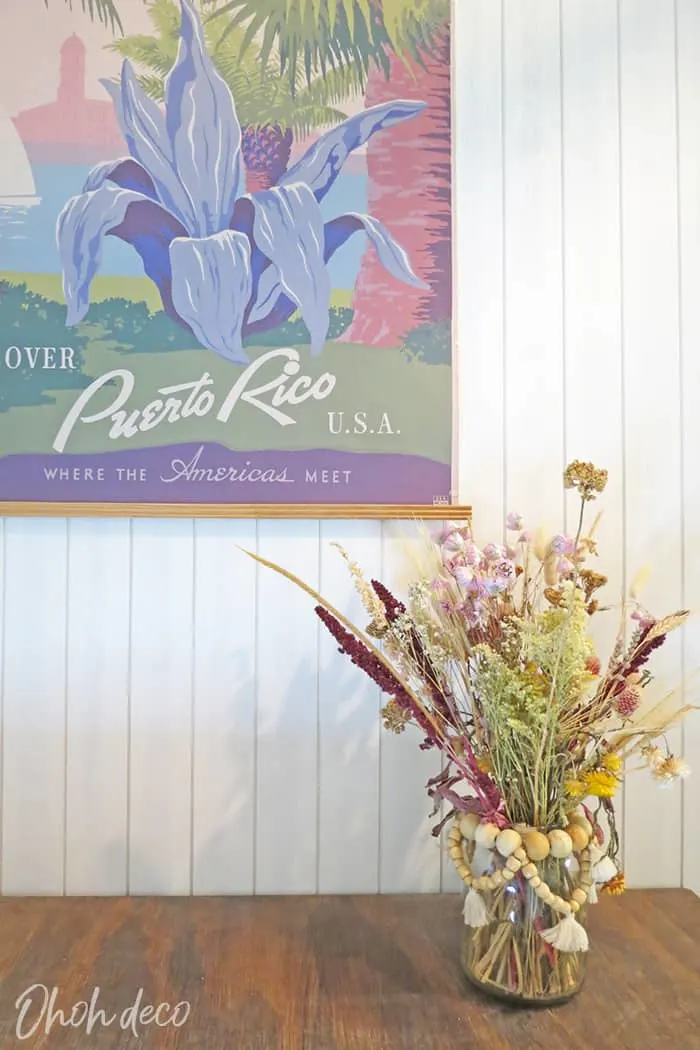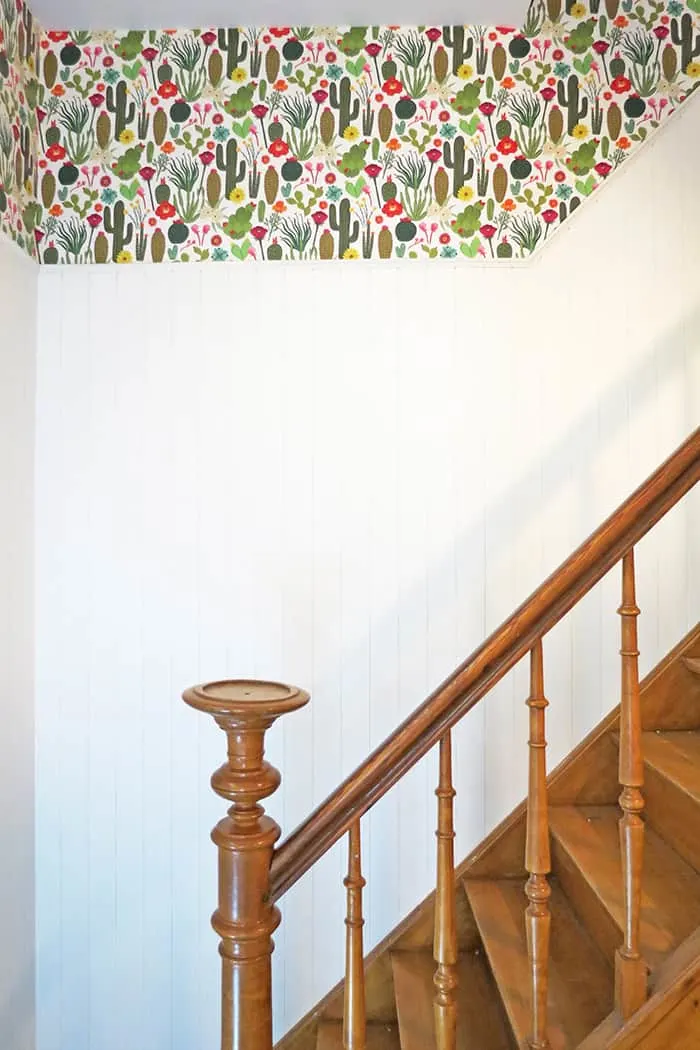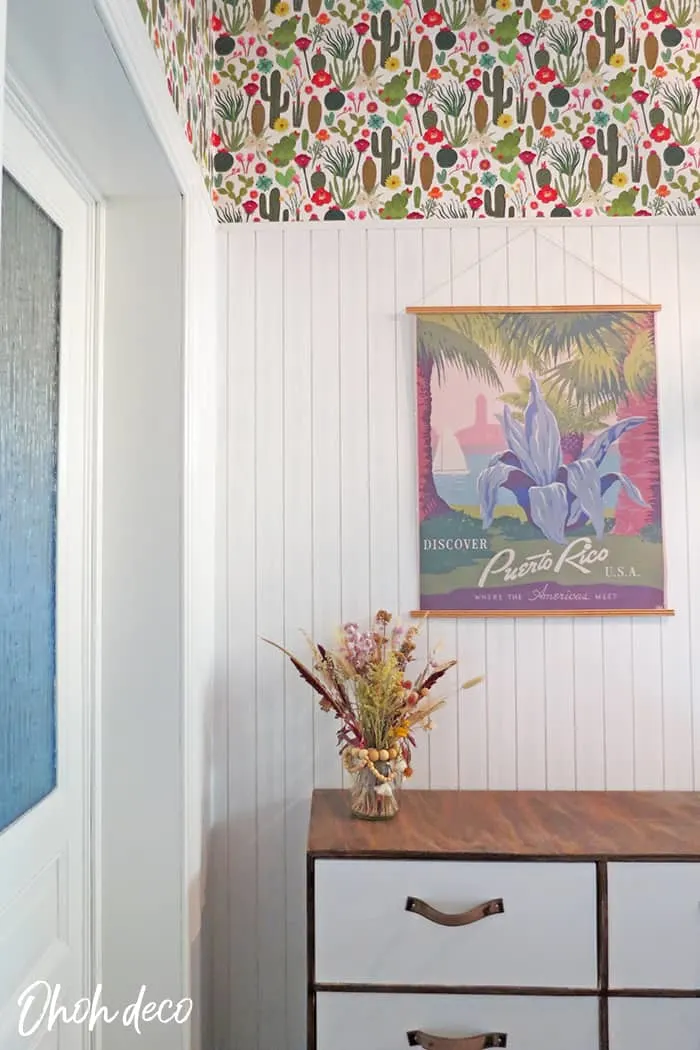 Want to remember it? Save this Dark hallway ideas and makeover on your favorite Pinterest board.

Like to see more ideas? Visit my Best DIY page!
Amaryllis