Shoe organizing can be a real headache if there is little space or no specific storage.
Whether you're a shoe lover or a member of a large family keeping your shoes tidy and in pairs makes everyday life much easier.

Below I share some great DIY ideas for creating different shoe storage according to the different spaces of the house. You will find ideas to make:

Wall shoe storages
Shoe racks
Under-bed shoe storage
Shoe cubbies
Shoe benches
I hope these cool ideas will help you organize shoes and keep your house tidy.
I know we don't always have time for a DIY project, so I also added links for similar products that you can shop online. Choose the option that suits you best. In the end, what matters is to be happy with the improvements we make in our house.

5 good looking shoe storage you can buy online for less than 20 dollars
RELATED: DIY storage boxes and baskets
RELATED: How to recycle a cardboard box into a pretty storage
Wall shoe storage ideas
If you live in a small space you can take advantage of the space on the walls to add extra storage. A small column shelf is perfect for storing shoes.
Hanging shoe organizer optimize the space and allow you to create extra storage space to keep you favorite shoes organized.
You can also try some more creative solutions, like using coat hooks or a peg rack to hang shoes. These are easy and economical solutions to improve shoe organization.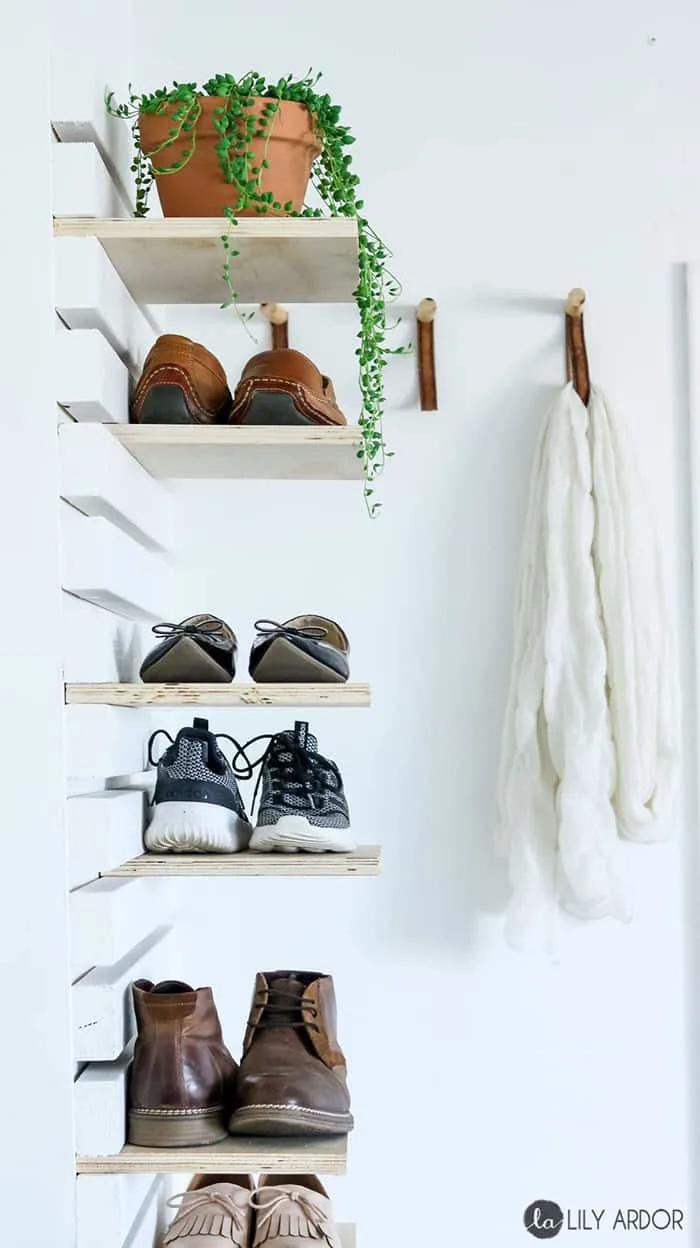 Tutorial for the DIY wall mounted shoe rack
No time to DIY? Shop it HERE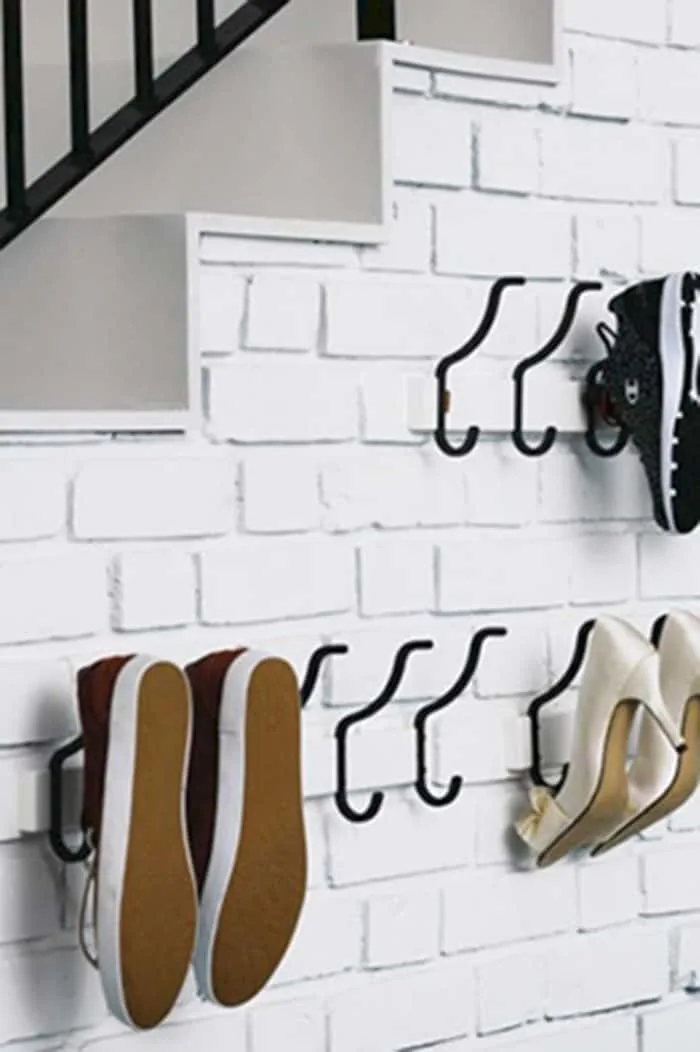 I couldn't find the source for this picture. But it's quite simple, you hang one or several coat racks on the wall at a few feet of the floor.
It's an easy and practical way to keep shoes out of the way in a small entryway.
Need the supplies for this DIY? Shop them HERE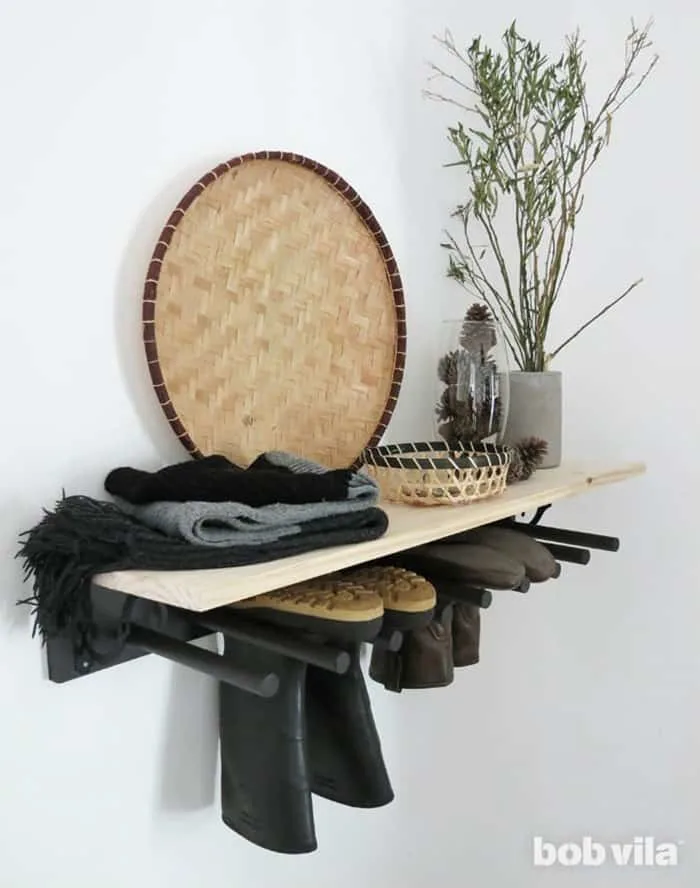 I made this DIY shoe rack for Bob Vila. Super easy to build and useful to dry boots.
It's the kind of shoe storage you can hang on a mudroom or a garage.
Follow the instruction and the the tutorial to make this DIY Boot rack.
No time to DIY? Shop it HERE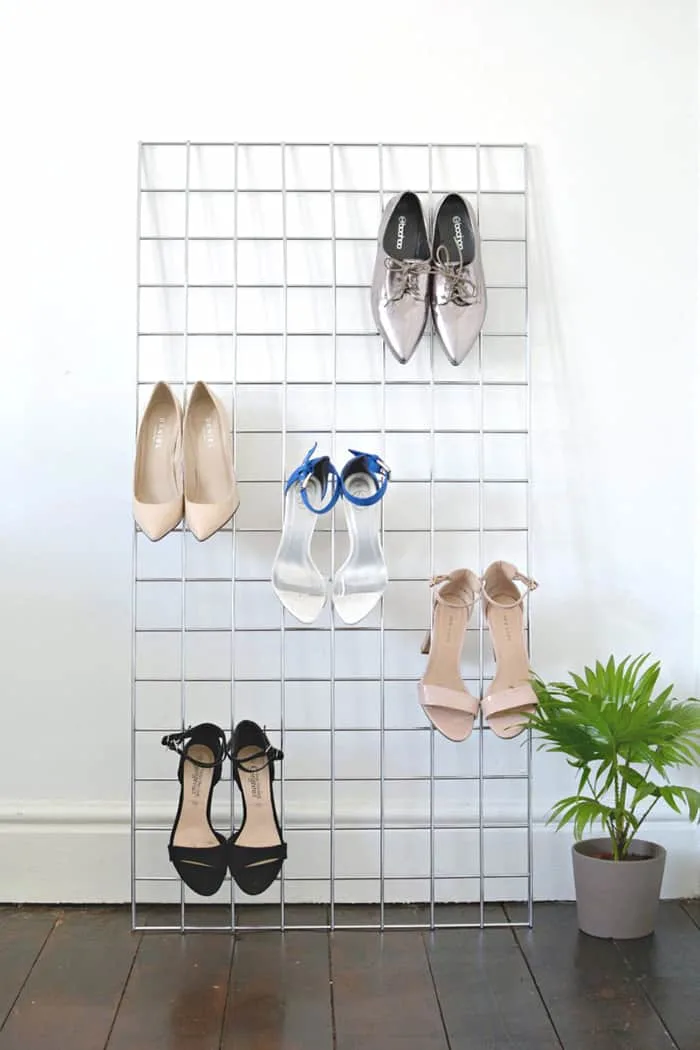 If you like to wear high heels, this shoe storage idea is for you.
What a great way to display and organize your favorite shoes. Have a look at this clever tutorial for DIY High heels shoe storage
Need the supplies for this DIY? Shop it HERE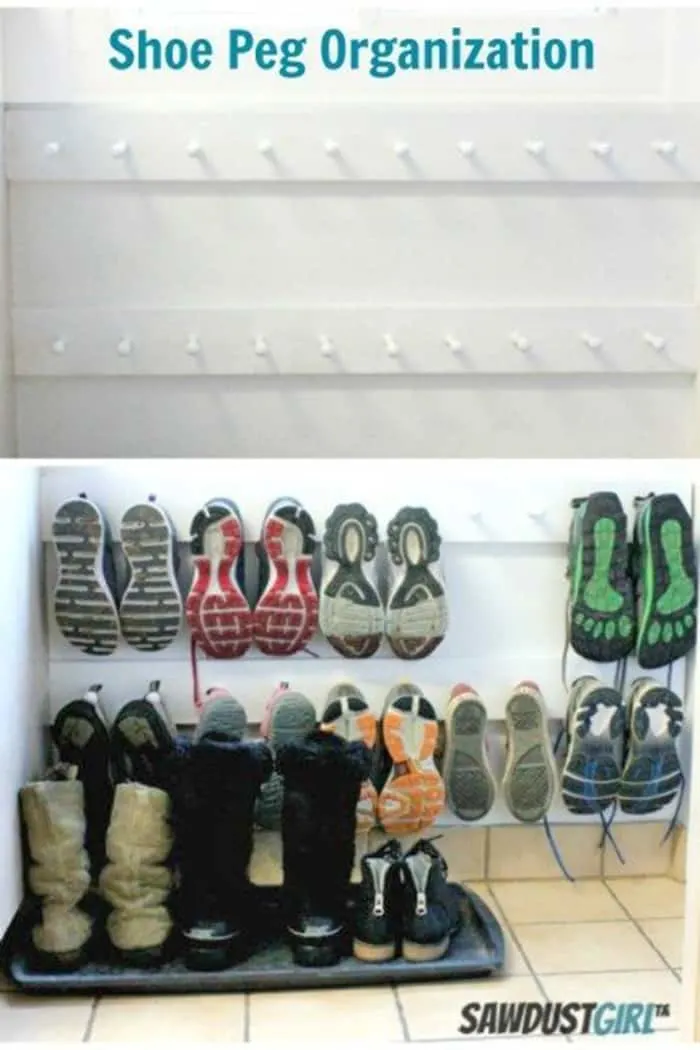 This Easy shoe organization project is what every family need. Easy to build and easy to use. The kinds can easily hang them shoes on and all the mess stay away from the floor.
You can make a small one to hang a few pairs in the entryway, and a full rack to keep the shoes organized in the garage or the mudroom.
Need the supplies for this DIY? Shop them HERE
DIY Shoe rack
Keep your shoes on hand and organized with a shoe rack. They are easy to use and take up little space.
They can fit inside a closet , on the floor or in a wall. If you don't have one, you can easily build a DIY shoe rack.
You can adapt it to match the size of your shoe collection.
Shoe rack help you create additional shoe storage space in a mud room or a garage.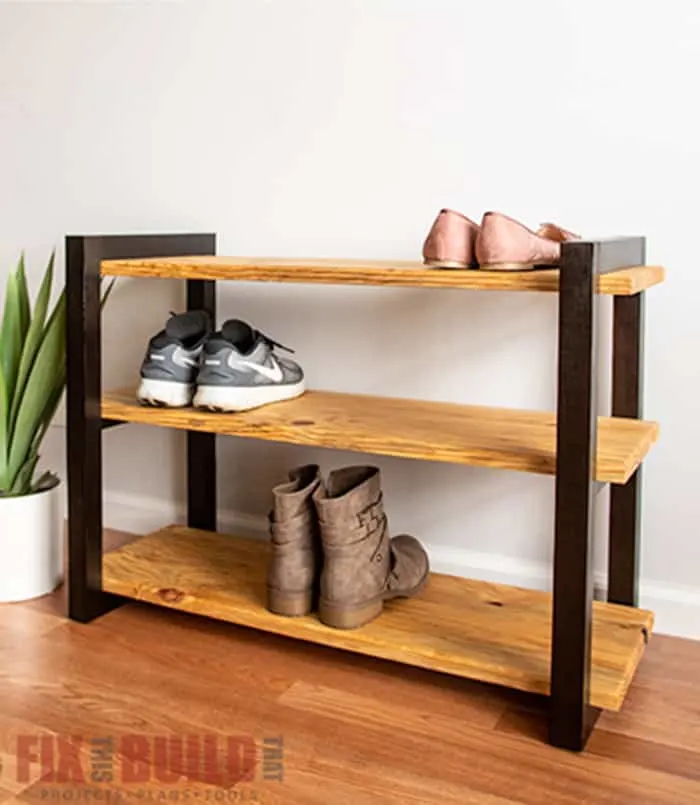 Free plan to build a DIY shoe rack
No time to DIY? Shop it HERE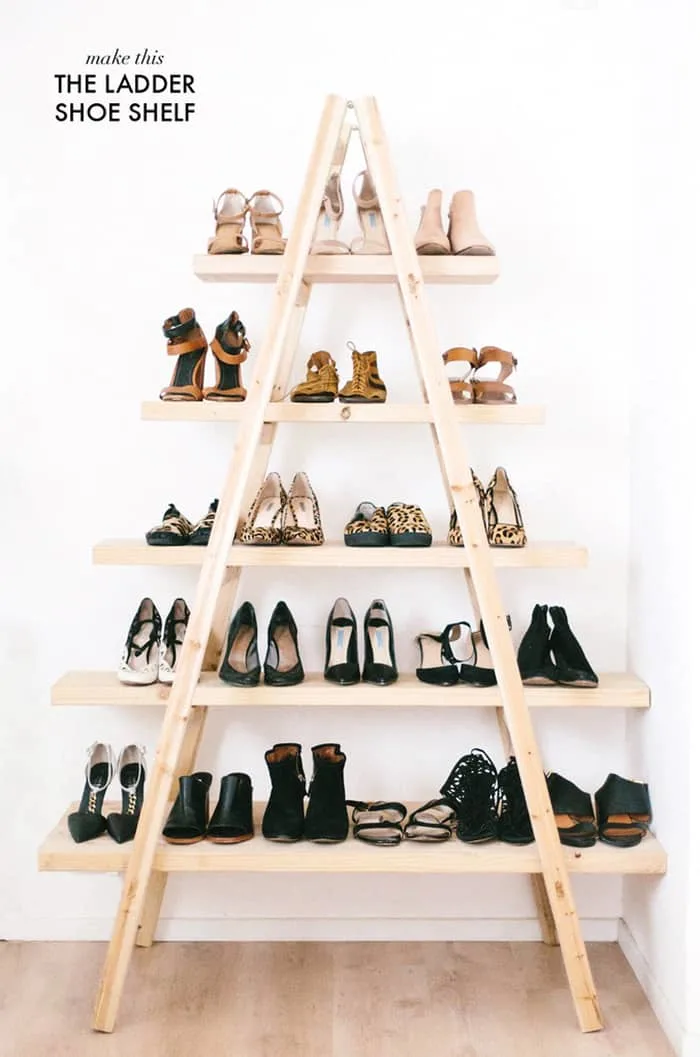 Don´t hesitate to display your prettier shoes on a shelf or a ladder, have a look at this tutorial to make the DIY ladder shoe shelf.
No time to DIY? Shop it HERE
This small shelf is made with only a few planks and allows you to store a good amount of shoes.
The best about making DIY is you can create storage that fits in any unused space of your house.
It also makes housekeeping easier, simply wipe the shelf down and keep it neat and tidy.
If you want to be even more creative, try different shelf styles and color combinations. You can even use this tutorial to make a DIY ladder shelf shoe storage.
No time to DIY? Shop it HERE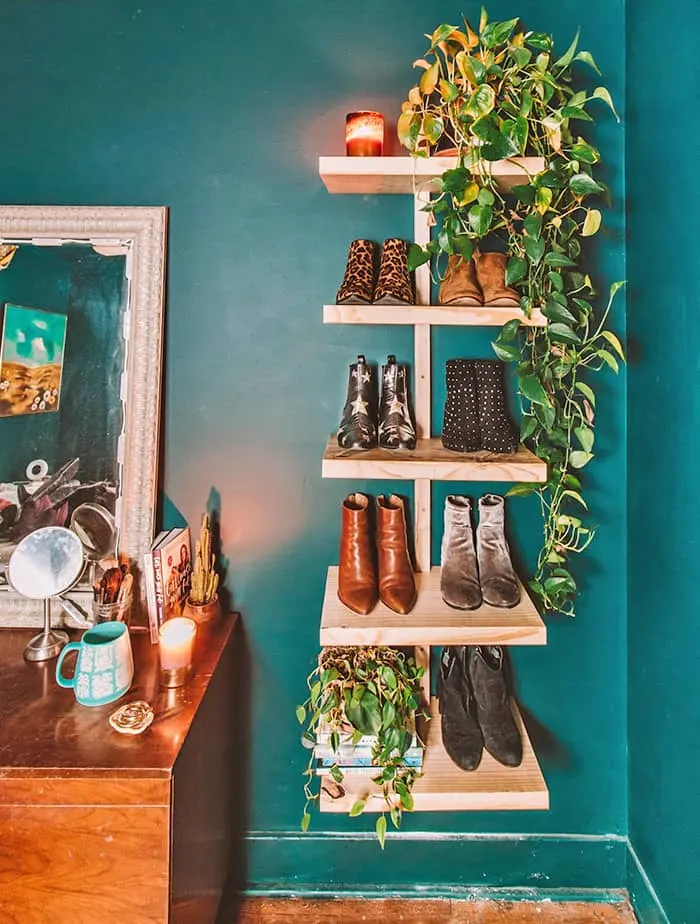 Another great idea to organize your shoes and keep them out of the floor is to use wall hanging shoe organizer, a good example of this is this DIY wood shelf organizer.
This is a great way to keep your shoe organized and ready to wear.
No time to DIY? Shop it HERE
Shoe storage under bed
Another good way to find extra space to store your shoes is to use the "waisted spaces" like the gap under the furniture or the bed.
Building a wooden drawer to slide under your bed is quite simple and allows you to store a lot of shoes while keeping them easily accessible.
Put the drawer on wheels so it's easy to pull out and easy to clean under.
You can customize the drawer front to match your bedroom decoration.
Remember that with this DIY idea any under furniture space can potentially become an extra shoe storage space…can you see the potential?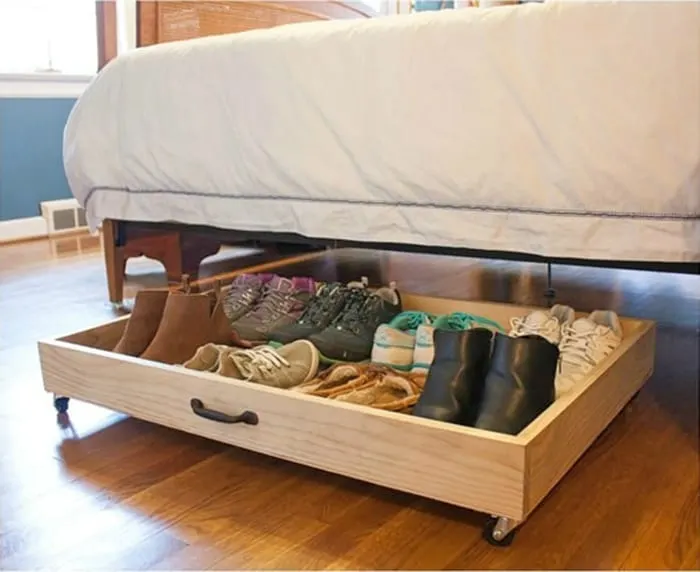 Have a look at this easy tutorial to build a simple under bed drawer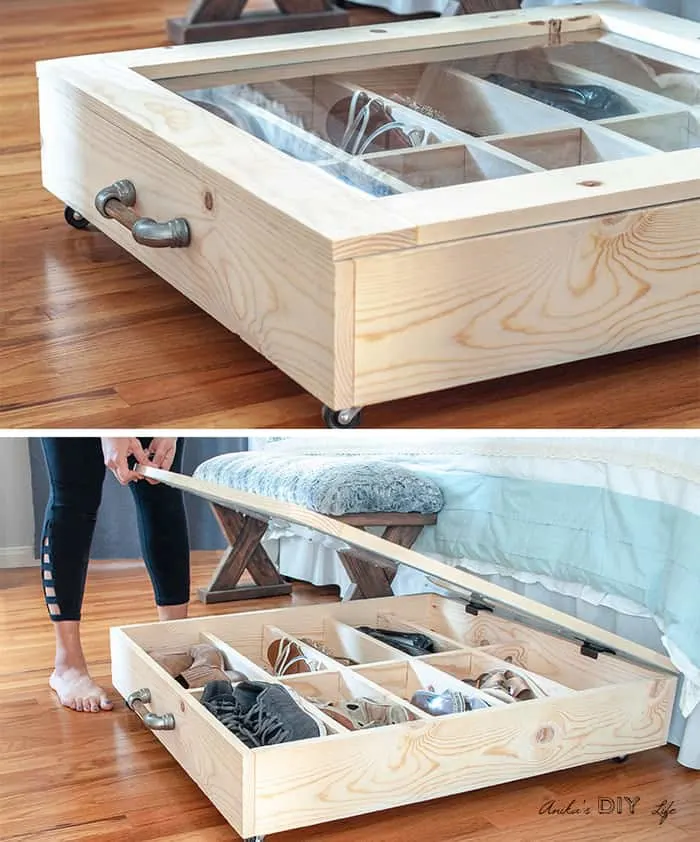 Check this tutorial to DIY an under bed shoe organizer with lid, perfect to keep your favorite shoes away from dust.
No time to DIY? Shop it HERE
Shoe Cubby
If you have a large family, using shoe cubby for shoe storage is a good option. The shoes are stored in pairs (and hopefully stay together … which avoids wasting time looking for the lost shoe).
Plus you can easily label the cubbies, so each person has its space to keep the shoes.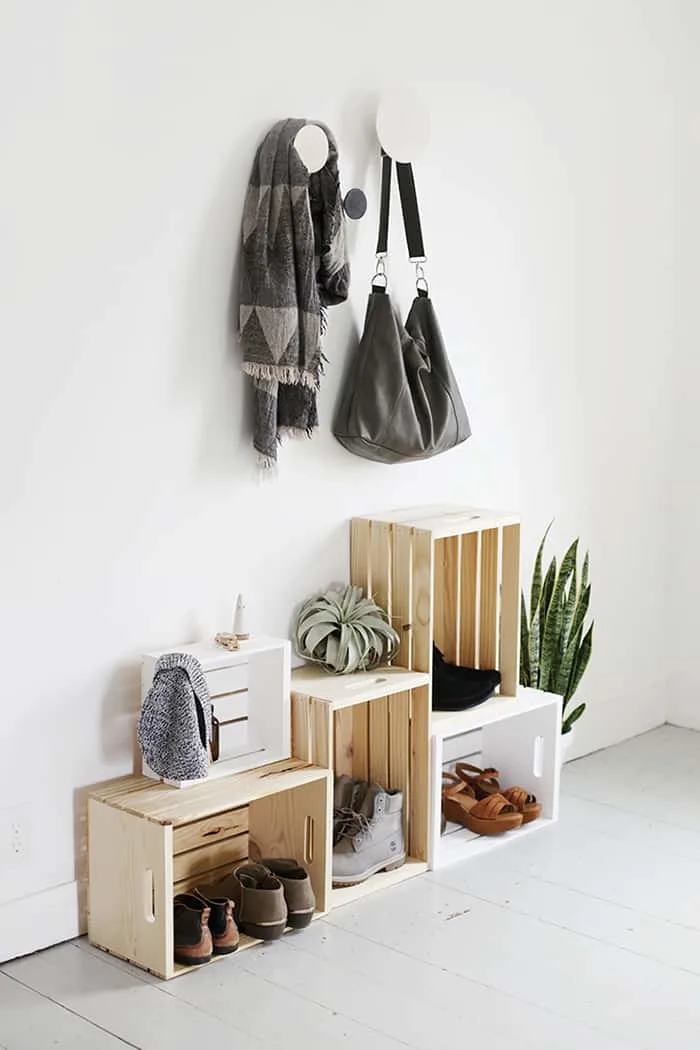 I like this simple and clever DIY crate shoe storage.
You can make this shoe storage in 5 minutes just assembling some crates. You can screw the boxes together if you want something more permanent.
A great thing with this DIY shoe organizer is that´s evolutive, if you need more storage space, just add a few crate.
Need the supplies for this DIY? Shop them HERE
RELATED: DIY Crates storage unit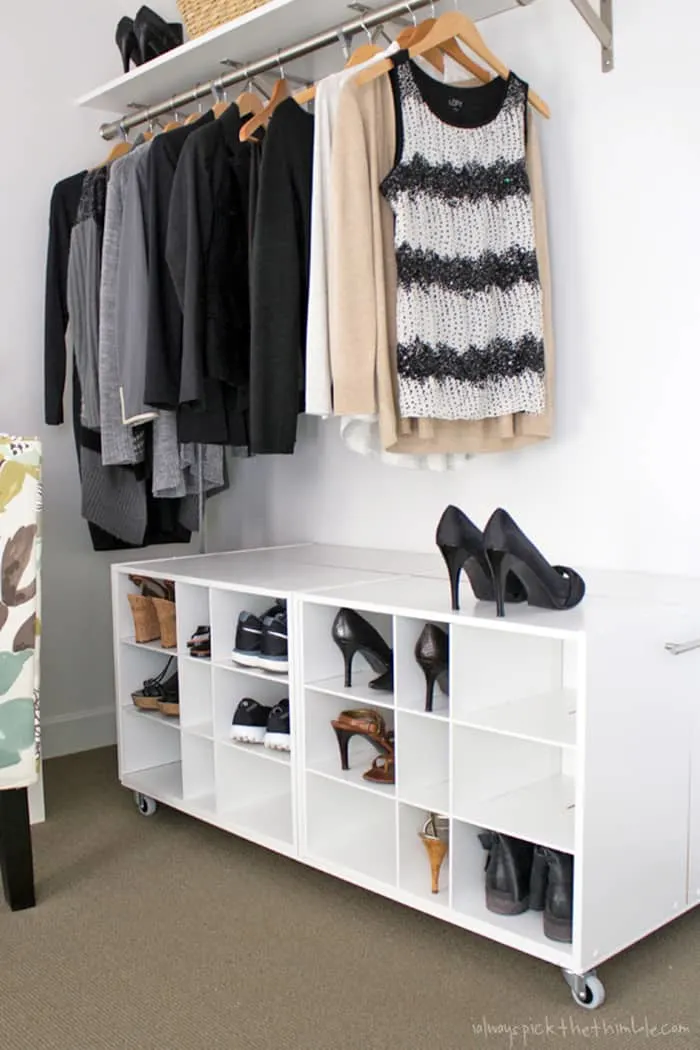 Don´t hesitate to use the bottom of the closet to storage your shoes.
Here goes a smart idea to duplicate your shoe storage, look at the tutorial for the DIY shoe organizer trolley
Need the supplies for this DIY? Shop them HERE and HERE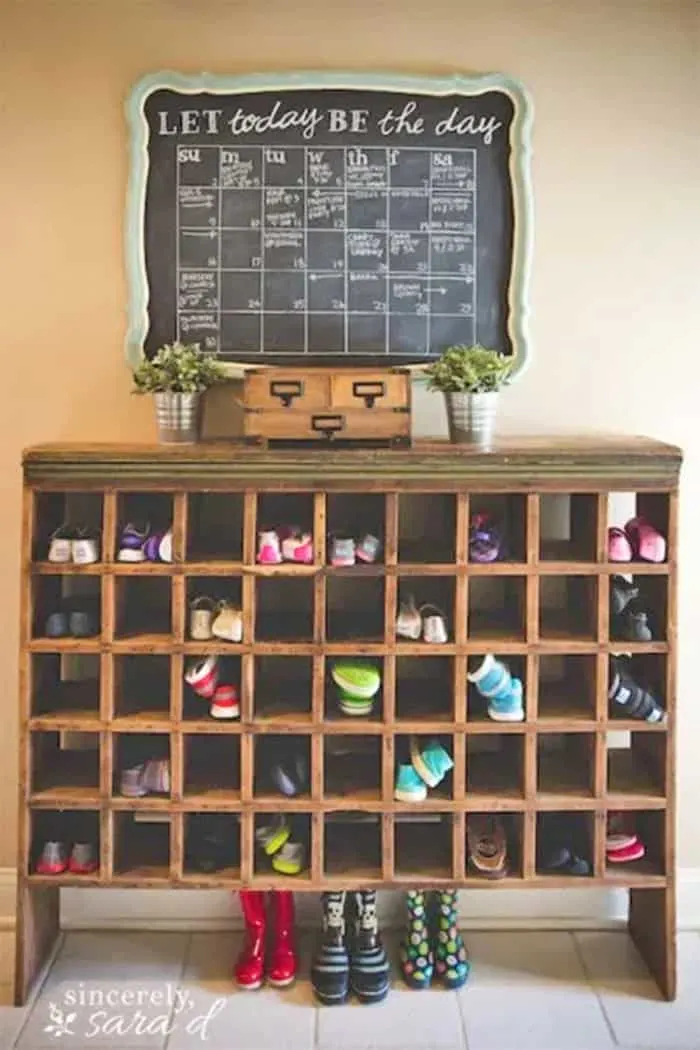 This Large DIY shoe cubby is the perfect storage solution for a large family.
No time to DIY? Shop it HERE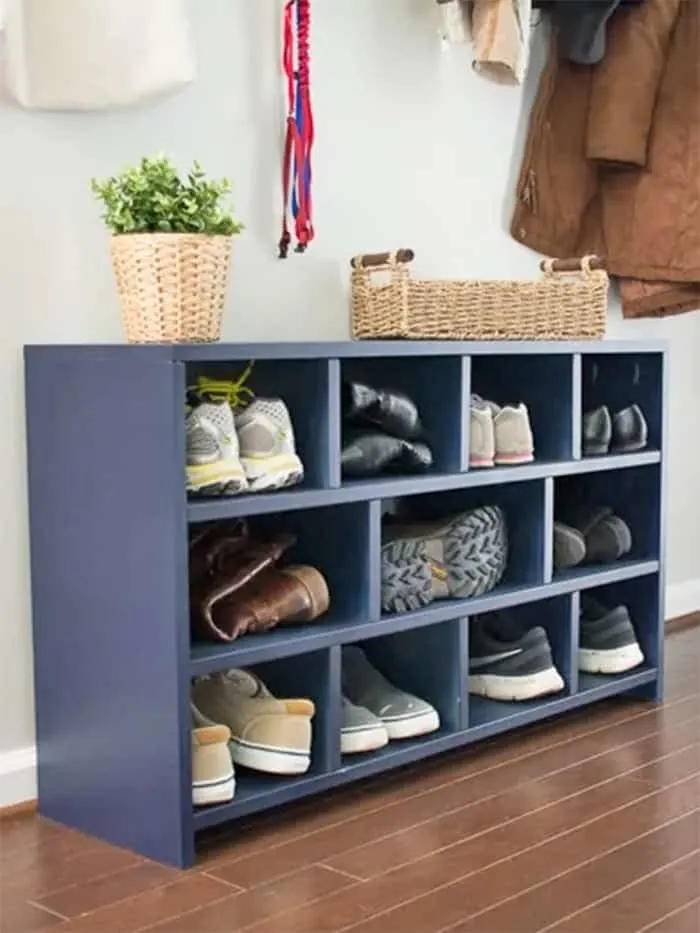 This DIY shoe cubby is compact, convenient and add a nice touch of color in an entryway.
No time to DIY? Shop it HERE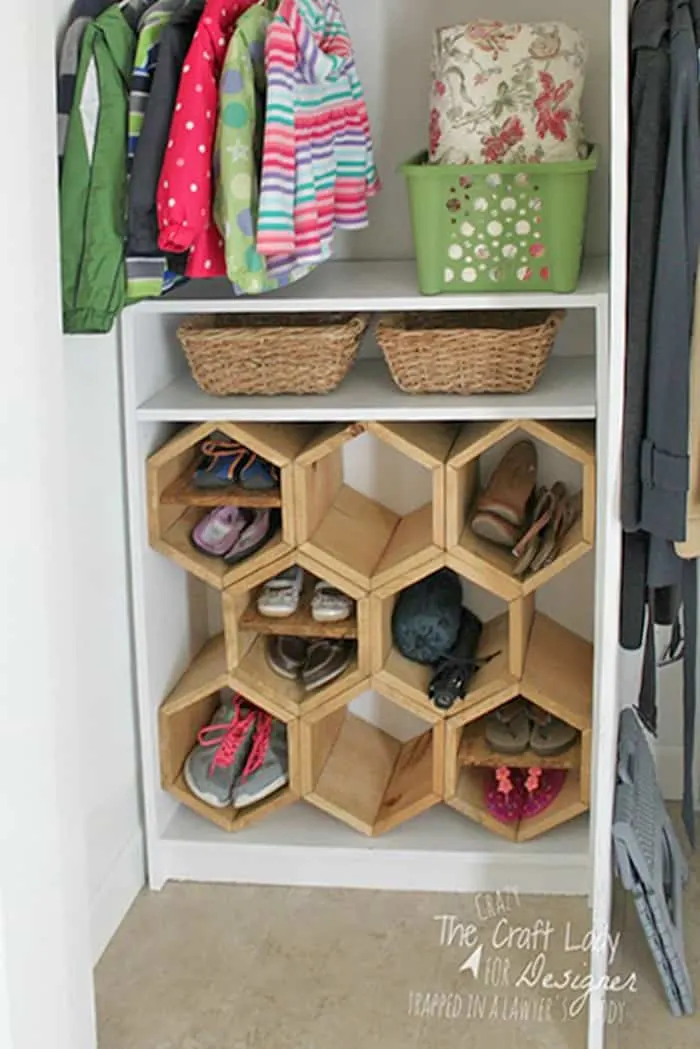 Want to add a pop of originally to your closet, try to build this DIY honeycomb shoe organizer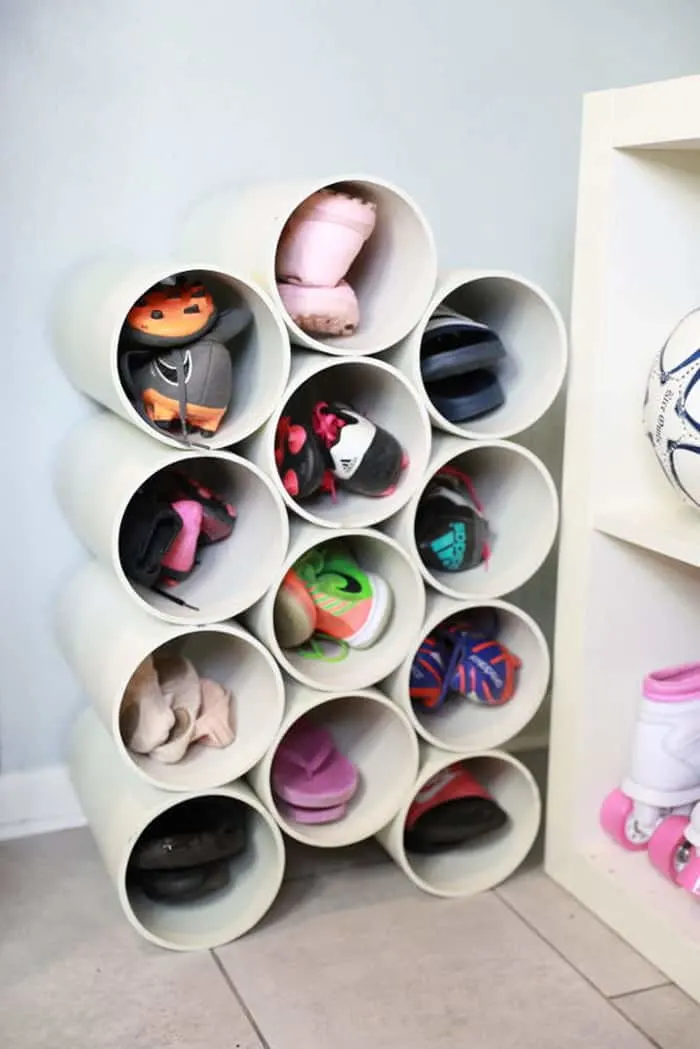 Using PVC pipe is a clever way to make a convenient shoe cubby. You can adapt the storage dimension to your space and even enlarge it in the future if needed.
Read how to make a PVC pipe shoe organizer (tip: you can also do it with cardboard mailing tubes)
Need the supplies for this DIY? Shop them HERE or HERE
RELATED: DIY Circular wall shelves
Shoe Cabinet
Small space can be tricky to organize, you need to take advantage of very inches to optimize storage.
Using a shoe cabinet is a great option. It keeps the shoes visually away and as it´s quite narrow you can place it in every nook, like a narrow hallway or behind a door.
This entryway shoe storage is a very practical solution you can use almost everywhere in the house.
as it uses little space and hides the shoes away.
Need the supplies for this idea? Shop them HERE
Shoe bench
Having a bench in your hallway is a great decorative element, but above all, it is a super useful piece of furniture for this space.
You can sit there to put on your shoes. Kids can drop them school bags and backpacks on it.
Add it´s the perfect spot to add baskets or crates to store shoes.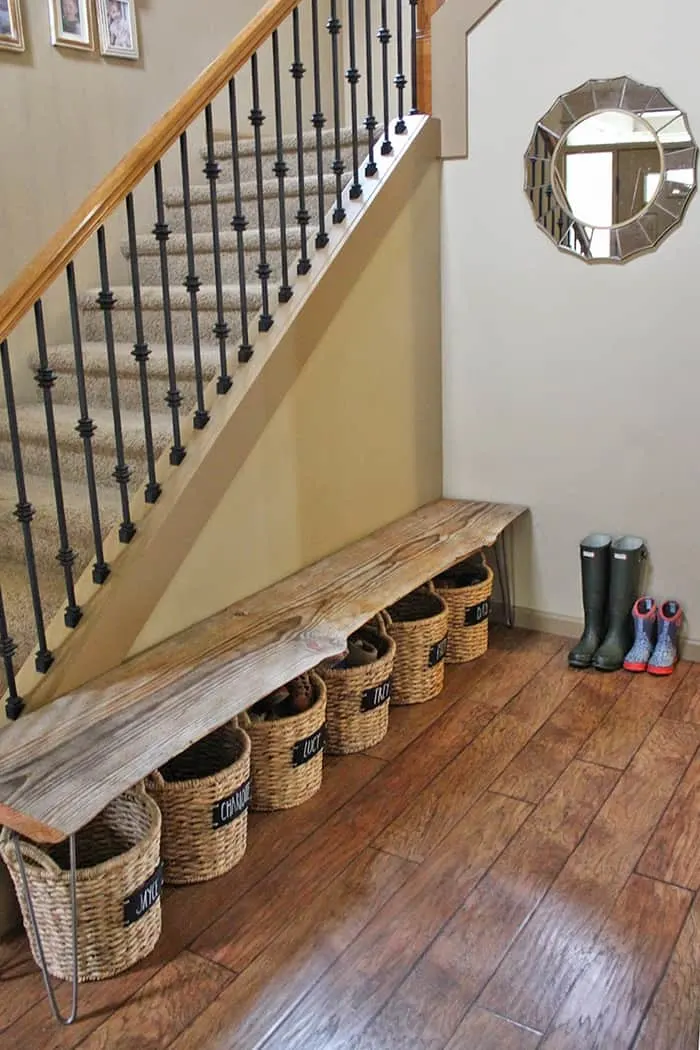 Look at this DIY bench with shoe storage.
Every family member has a labeled basket to keep their shoes. When the basket is full, just carry it away to put things back in place.
No time to DIY? Shop them HERE and HERE
RELATED: How to make a rope basket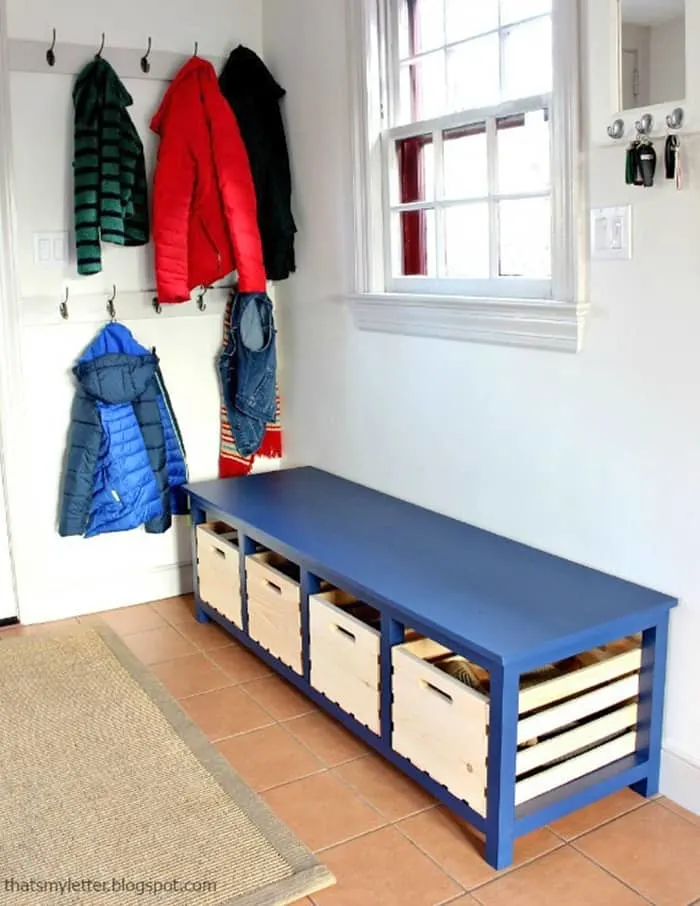 Same kind of convenient shoe storage here, using crates instead of baskets. Have a look at the tutorial for the DIY shoe storage bench
No time to DIY? Shop it HERE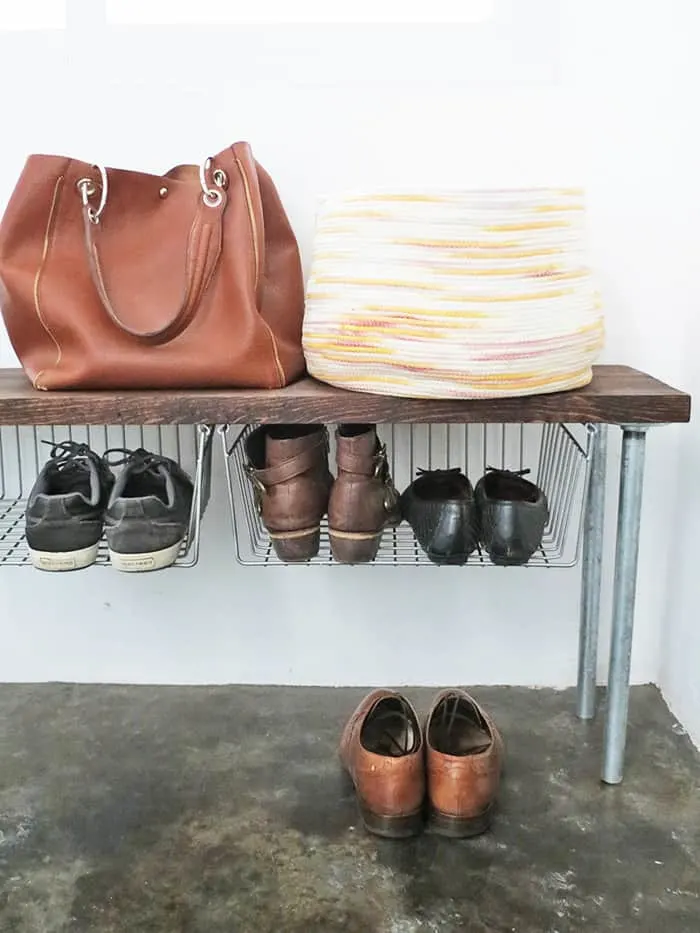 If you only want to keep a few pair of shoes in the entryway, this bench with hanging basket is perfect.
Keep the shoes out of the way, a nice place to sit and easy to clean under.
How to make a bench with hanging storage baskets
No time to DIY? Shop them, you can and combine this item with these ones.
When you are done organizing your shoes, keep some shoeboxes to make one or more of these cool crafts.
Want to remember it? Save these 21 DIY shoe storage ideas in your favorite Pinterest Board.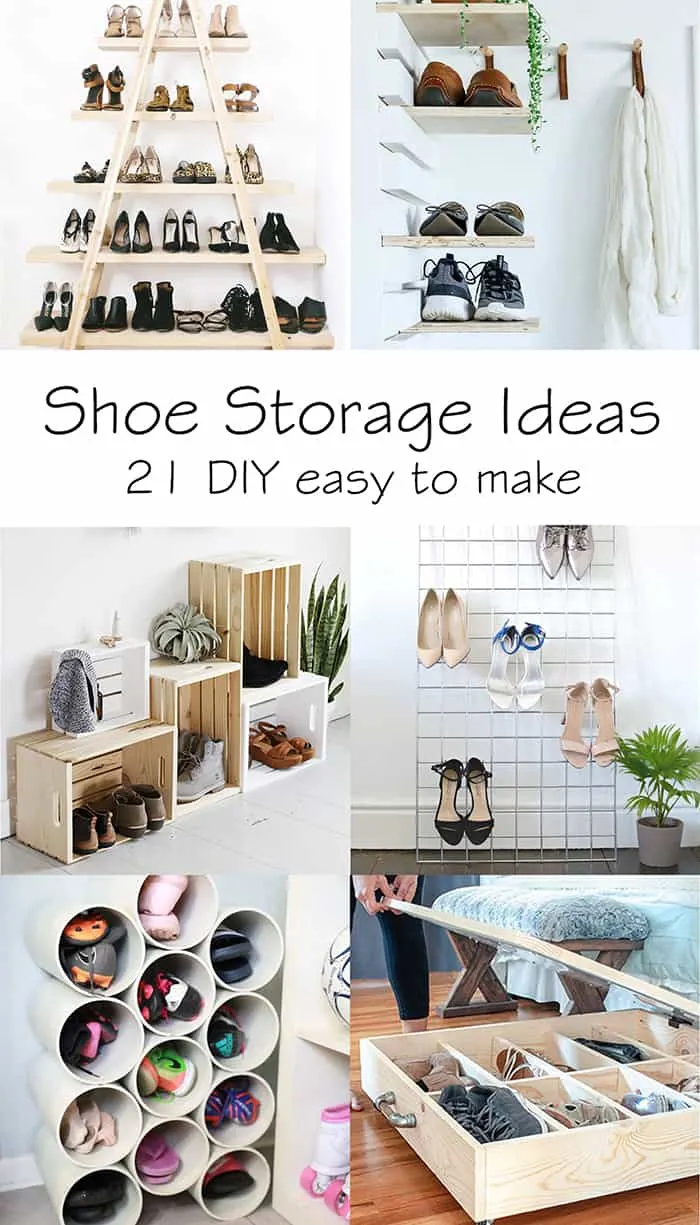 You will find all the tutorials featured in the video on my "Best DIY" page.
Amaryllis