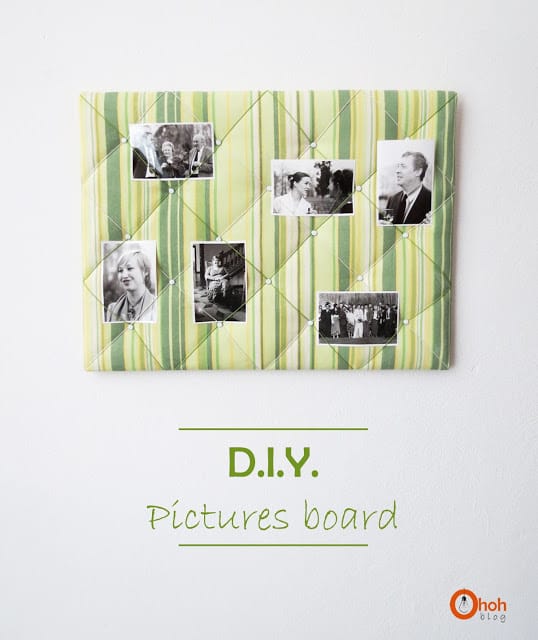 There are already a few weeks that my nephew was born, but as he came a little earlier than expected, I hadn't time to make something of him … this is now done with this pictures board. A nice decorative touch for his bedroom.
Hay un par de semanas que nació mi sobrino, pero como llegó un pocito antes de lo esperado, no había tenido tiempo de hacer algo… hasta hacerle este cuadro para fotos. Un toque decorativo para su habitación.
Il y a déjà quelques semaines qu'est né mon neveu, mais comme il est arrivé un petit peu plus tôt que prévu, je n'avais pas encore eu le temps de lui bricoler quelque chose…j'ai rattrapé mon retard avec ce panneau photo. Un chouette petite touche déco pour sa chambre.

[AdSense-A]
You gonna need: White cardboard, foam board, fabric, batting, colored cords, round head paper fasteners, glue and scissors.
Cut cardboards to desired size and glue the batting on the foam board. Trim the batting to the foam board dimension.
Van a necesitar: Cartón blanco, cartón pluma (o tabla de espuma), tela, guata, cuerditas de colores, broches para papel, pegamento y tijeras.
Recorten los cartones al tamaño deseado y pega la guata en el cartón pluma. Recortar la para que quede de la misma dimensión del carton.
Matériel nécessaire: Carton blanc, carton plume, tissu, ouatine, cordelettes de couleurs, attaches parisiennes, colle et ciseaux.
Couper les cartons aux dimensions voulues et coller la ouatine sur le carton plume. Recouper la ouatine au dimension du carton.

Place the fabric on the batting, and glue it on the back of the foam board. Pull the fabric tight.
Coloque la tela sobre la guata, y pegarla en la parte posterior del cartón. Mantenga tensa la tela.
Mettre le tissu sur la ouatine, et le coller au dos du carton plume. Bien tendre le tissu.

I spray painted the paper fasteners. Perforate the fabric and cardboard to place paper fasteners. Carful, you must accurately measure the distance between fasteners, you must be able to drag a photo between them.
Pinté los broches para papel de blanco. Perforar la tela y el cartón para colocar los broches. Atención, debe medirse con precisión la distancia entre los broches, tienen que poder colocar una foto entre ellos.
J'ai peint les attaches parisienne en blanc. Perforer le tissu et le carton pour placer les attaches parisienne. Attention, il faut bien mesurer la distance entre les attaches, on doit pouvoir y glisser une photo.

[AdSense-B]
Place the ropes by wrapping them around each fastener. Fix them in the cardboard's back by doing a knot around fasteners "legs".
Coloque las cuerdas envolviendo las alrededor de cada broche. Fije las en la parte trasera del cartón haciendo un nudo alrededor de las "patas" de los broches.
Placer les cordes en les enroulant autour de chaque attache. Fixer les au dos du carton en faisant un nœud autour des "jambes" des attaches.

To hang the board on the wall, perforate the withe cardboard with two paper fastener and ties a rope between them. Glue the cardboard on the back of the foam board, and you are done.
Para colgar el cuadro en la pared, perforar el carton blanco con dos broches y amarrar una cuerda entre los dos. Pegue el cartón en la parte posterior del tablero de la espuma, y ya acabaron.
Pour pouvoir accrocher le mémo au mur, perforer le carton blanc avec deux attaches parisienne et tendre une corde entre les deux. Coller le carton au dos du carton plume, et c'est terminé.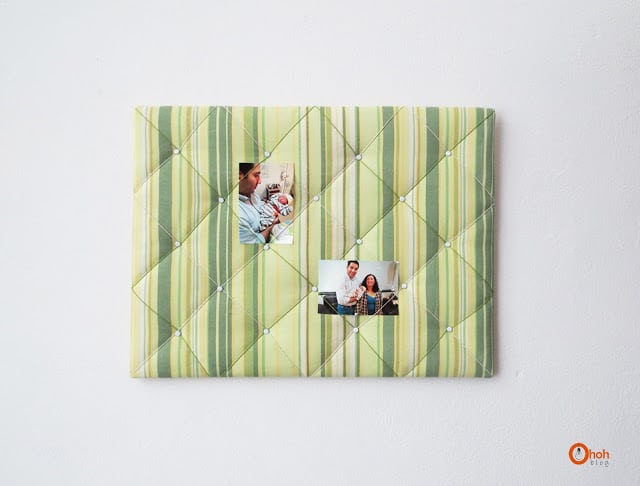 Of course you can choose a fabric that matches with your decor!
Por supuesto, tienen que elegir una tela que combina con su decoración!
Vous pouvez évidemment choisir un tissu qui va avec votre déco!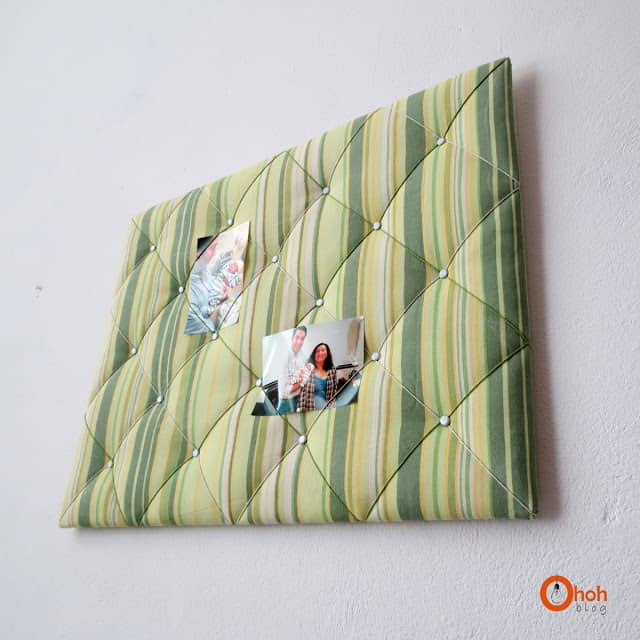 Made with Kollabora supplies: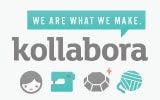 [AdSense-C]
Amaryllis