This year's advent calendar is finally ready. I scratched my mind to make something more environmentally friendly and came up with the idea of recycling baby glass jar.
[ This post probably contains affiliates links, our full disclosure policy is really boring, but you can read it HERE ]
I build a house using scrap wood, placed some inclined shelves inside so the jars roll to the bottom. To make it even funnier for the kids I glued some elves on each lid.
Each day you take out your jar, open the lid to find your surprise, and the jars into the house roll down turning the little elves upside down. It's easy to fill up the jars with candies or small toys, so it makes a perfect reusable Christmas calendar that you will enjoy for years.

The elves printable is available for free in my online library. I will explain how to build a wooden house with only a few tools.
I have to tell you that my carpentry work is far from perfect but the house holds together. If you don't want to mess up with woodwork you can upgrade a wood box, like a wine box, and just glue the shelves in it.
RELATED: Paper star advent calendar
RELATED: How to make a gingerbread village with Cardboard
* * *
Mi calendario del adviento está finalmente listo. Estuve pensando en una manera de hacer algo más amigable con el medio ambiente, y se me ocurrió la idea de reciclar unos frasco de vidrio para bebés. Construye una casa con madera,y agregue algunos estantes inclinados para que los frascos rueden hacia el fondo. Para hacerlo aún más divertido para los niños pegué duendes en cada tapa.
Cada día, sacas tu frasco, abres la tapa para encontrar tu sorpresa y los frascos de la casa ruedan hacia abajo dando la vuelta a los pequeños duendes. Es fácil llenar los frascos con caramelos o juguetes pequeños, para que puedas usar este calendario de adviento durante años.
Los duendes están disponibles de forma gratuita en mi biblioteca en línea. Aquí abajo te explico cómo construir la casa de madera. Usé sólo unas pocas herramientas. Tengo que admitir que mi trabajo de carpintería está lejos de ser perfecto, pero la casita esta solida. Si no quiere meterte trabajando con madera, puedes reciclar una caja de madera, como una caja de vino, y simplemente pegar los estantes adentro.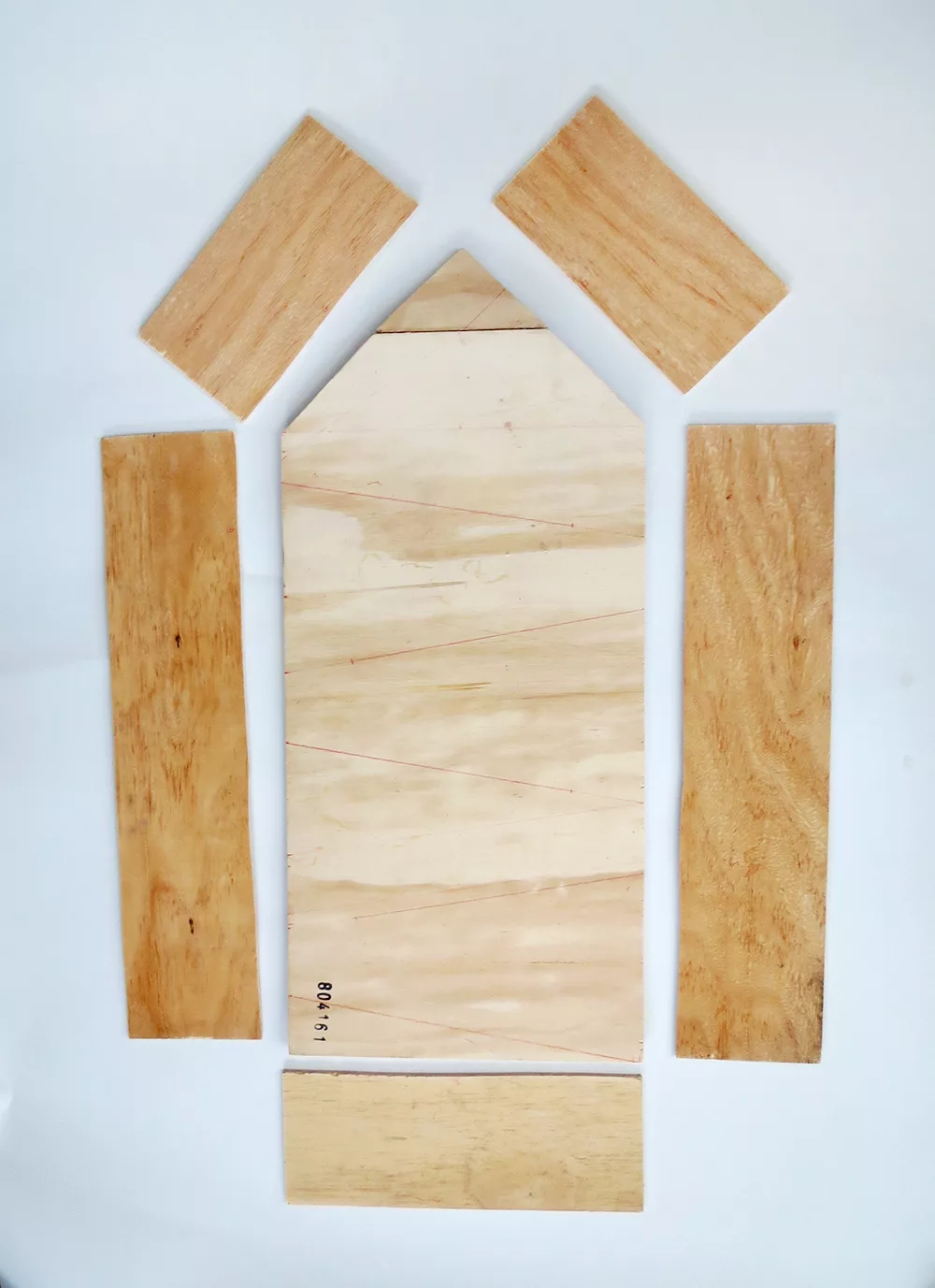 DIY Elves advent calendar
Supplies you will need to make your countdown Christmas calendar:
The elves printables are available in my FREE resource library along with a bunch of other great prints and patterns. All you need to do is fill out the form and check your inbox for a welcome email with the password in. Click here to get in >>>> FREE LIBRARY ACCESS
Start by cutting the wood pieces following the sketch below. The house is made to be filled with Gerber glass jar (the ones how are 3 3/4 in. high). You can use whatever jar you have around as long as they all are the same, but you will probably need to adapt the house dimension.
I made the house with 6 mm plywood. I glue and staple the sides to the back and between each other. I suggest you sand the edges of the piece before building the house.
To paint the elves' house I used home decor acrylic paint. I think it holds better than crafting paint. I applied two coats. As you need little paint for this project the best is to
purchase samples
.
* * *
Materiales que necesitaras para hacer tu calendario de navidad:
24 frascos vacios de comida para bebe

La plantilla de los elfos (Si ya eras miembro, haz clic AQUÍ para acceder directamente)

Triplay 6mm

Un serrucho o sierra eléctrica

Una engrapadora

Pegamento para madera

Tijeras

Pegamento en barra

Pintura (blanca y negra)
La plantilla de los elfos está disponible en mi biblioteca de recursos GRATUITOS junto con un montón de otras impresiones y patrones geniales. Todo lo que necesitas hacer es completar el formulario y revisar tu correo donde recibiras un email de bienvenida con la contraseña. Haz clic aquí para ingresar >>>> ACCESO GRATUITO A LA BIBLIOTECA
Comiences por cortar las piezas de madera siguiendo el bosquejo aquí debajo. La casa está hecha para llenarse con jarra de vidrio de Gerber (las de 9.5cm de alto). Puede usar cualquier frasco que tengas a la mano, mientras todos sean iguales. Probablemente necesitarás adaptar la dimensión de la casa. Hice la casa con triplay de 6 mm. Pegue y engrape los lados al fondo y entre ellos. Te sugiero que lijas los bordes de las piezas antes de construir la casa.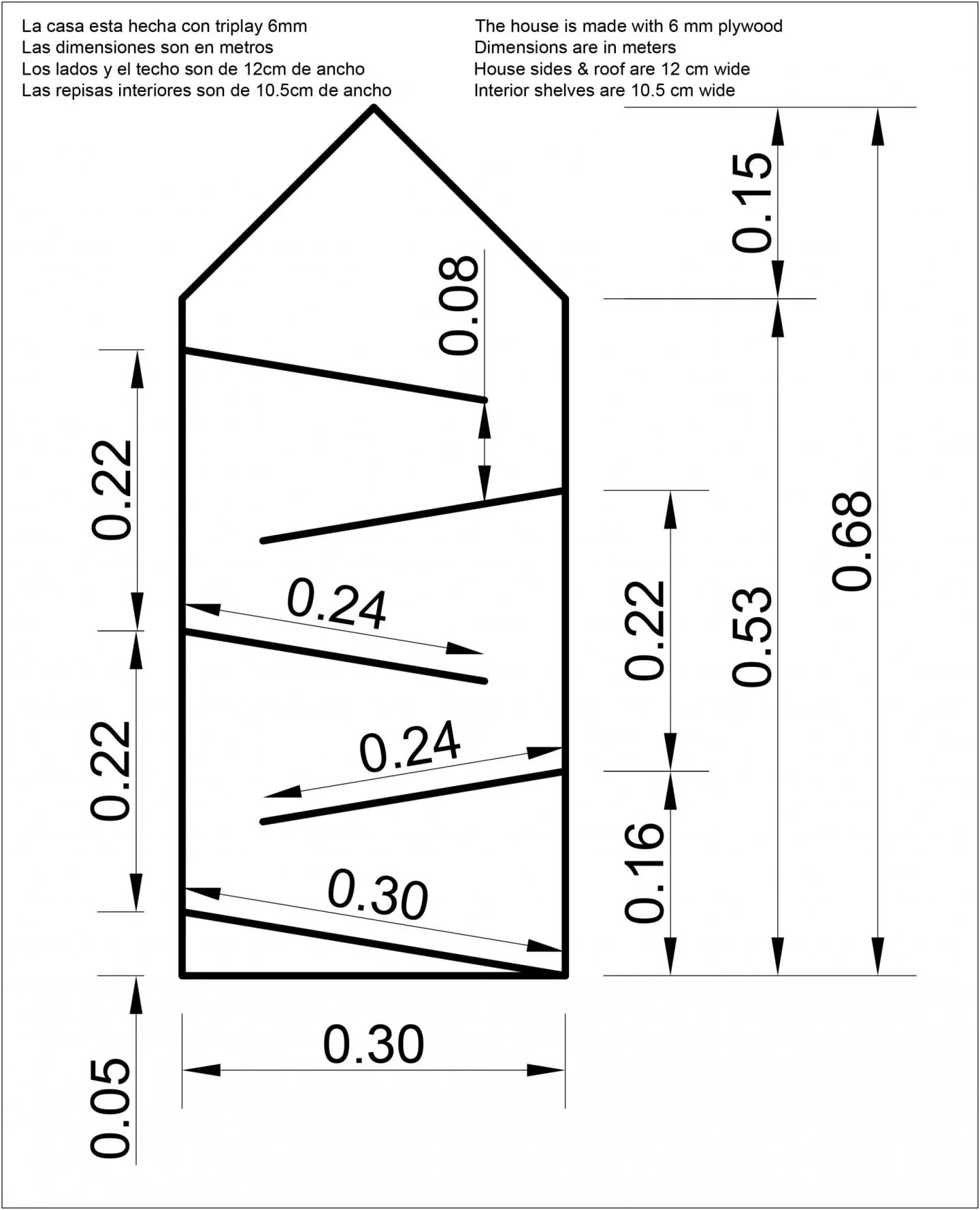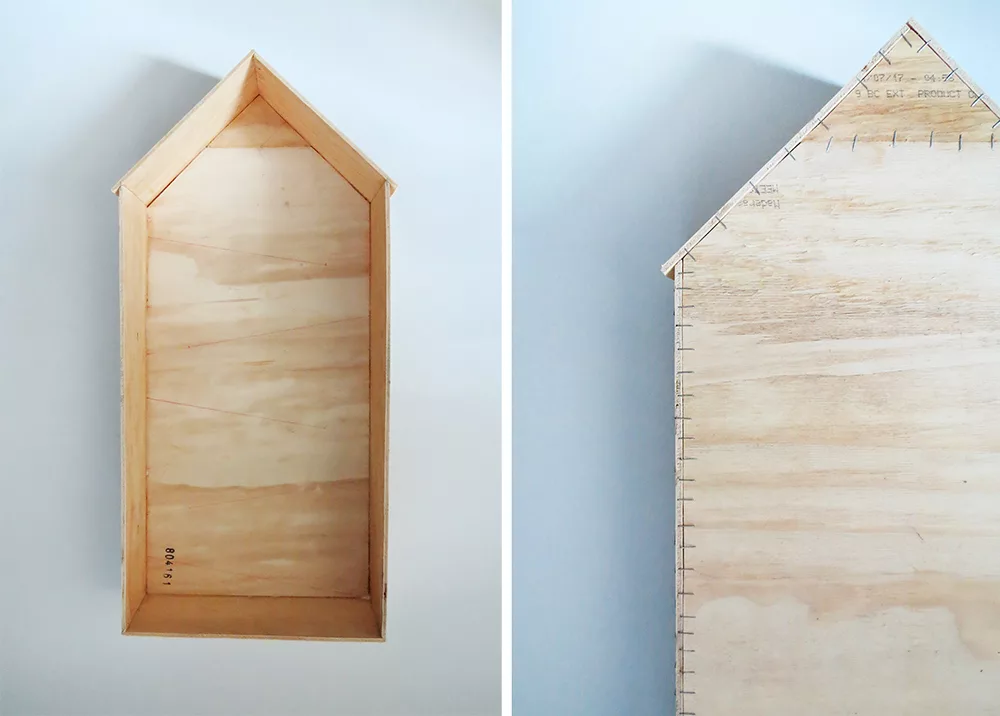 I let the glue dry before placing the shelves inside. I put you a pic of the back, as you can see it's not a very good carpentry work, but the staples are an easy way to hold the wood pieces together.
I glue the inside shelves with the back and the side of the house. I put some heavy books on top of them to ensure good adherence while the glue dry. The inclination of the shelves and measurements are indicated in the sketch here above.
* * *
Deje que el pegamento se seque antes de colocar los estantes en el interior. Te pongo una foto de la parte de atrás, como puedes ver, no es el mejor trabajo de carpintería, pero las grapas son fáciles de usar para unir las piezas de madera.0
Pegue los estantes interiores con el fondo y el lado de la casa. Puse algunos libros pesados encima de ellas para asegurar una buena adherencia mientras se secaba el pegamento. La inclinación de los estantes y las medidas estan indicadas en el boceto de arriba.
To ensure that the jar won't roll away, I glue some wood trim on the shelve edges. I just cut the trim as the same dimension as the shelf, and align it with the lower edge.
The trim of the bottom shelf needs to be 2 1/2 inches shorter than the shelf so you can easily take the jar out of the house to grab your surprise.
* * *
Para asegurar me que el frasco no se caiga, pegue una moldura de madera en los bordes de los estantes. Cortas la moldura a la misma dimensión que el estante y lo alineas con el borde inferior.
El largo de la moldura del estante inferior debe ser 6 cm más corto que el estante para que pueda sacar fácilmente el frasco de la casa y agarrar tu sorpresa.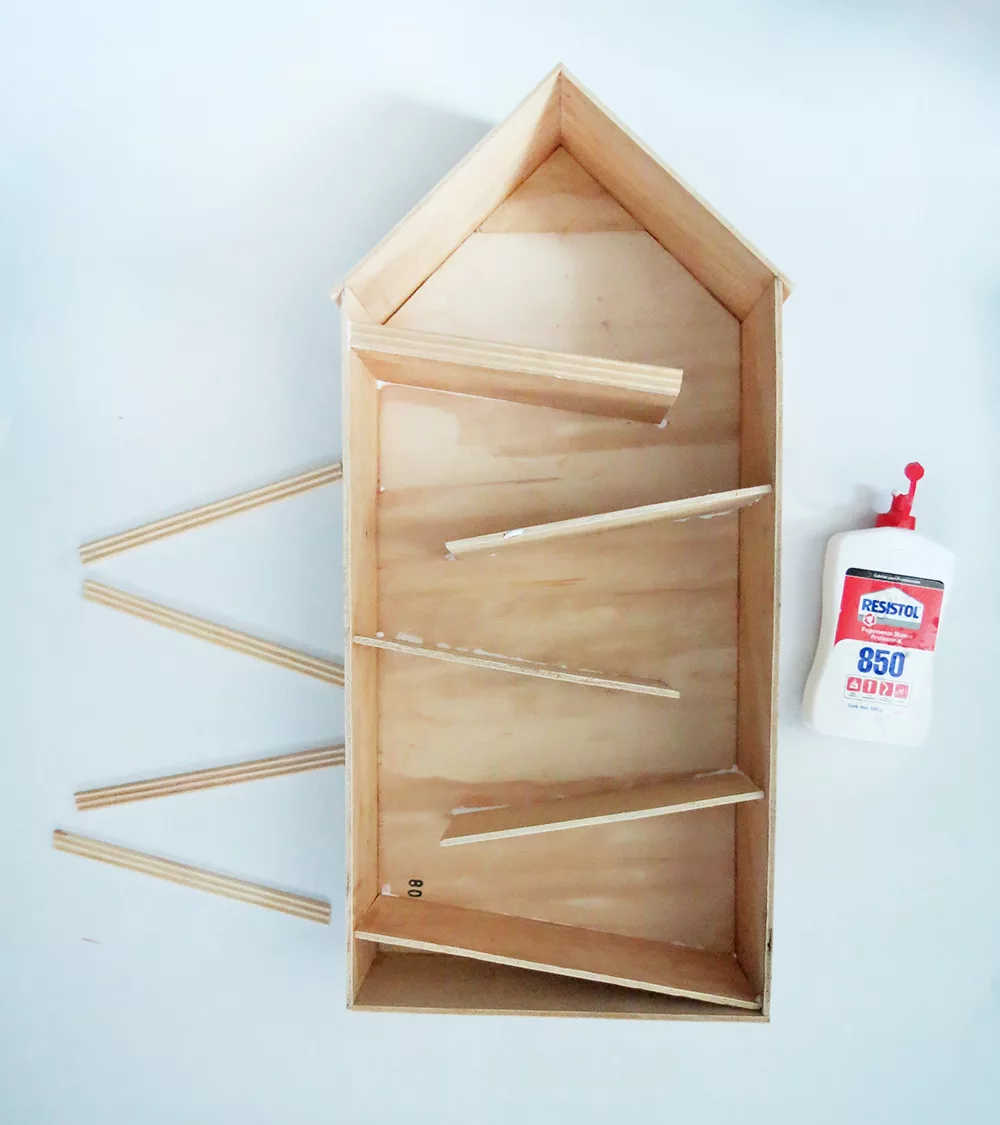 Once the glue was dry I painted the house.
First, because the elves will pop out more on a white background.
And second, because the paint will hide a little the imperfections of the woodwork. So the inside of the house is white and the outside black.
* * *
Una vez seco el pegamento pinté la casa. Primero porque los duendes sobresalen más en un fondo blanco. Y segundo porque la pintura oculta un poco las imperfecciones del trabajo de madera.
Así que el interior de la casa es blanco y el exterior negro.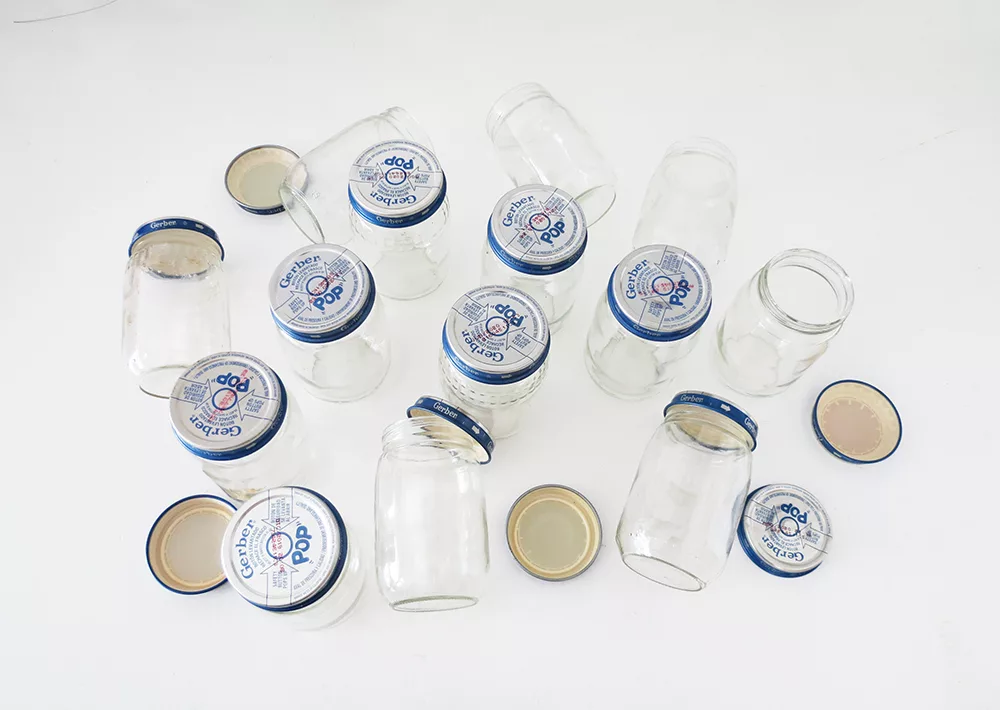 During the past months, I collected 24 baby jars. I remove the labels and the glue, clean a dry them.
They are ready to be turned into a fun advent calendar.
* * *
Durante los últimos meses he guardado 24 frascos para bebés. Quite las etiquetas y el pegamento, las limpie y seque. Están listos para convertirse en un divertido calendario de adviento.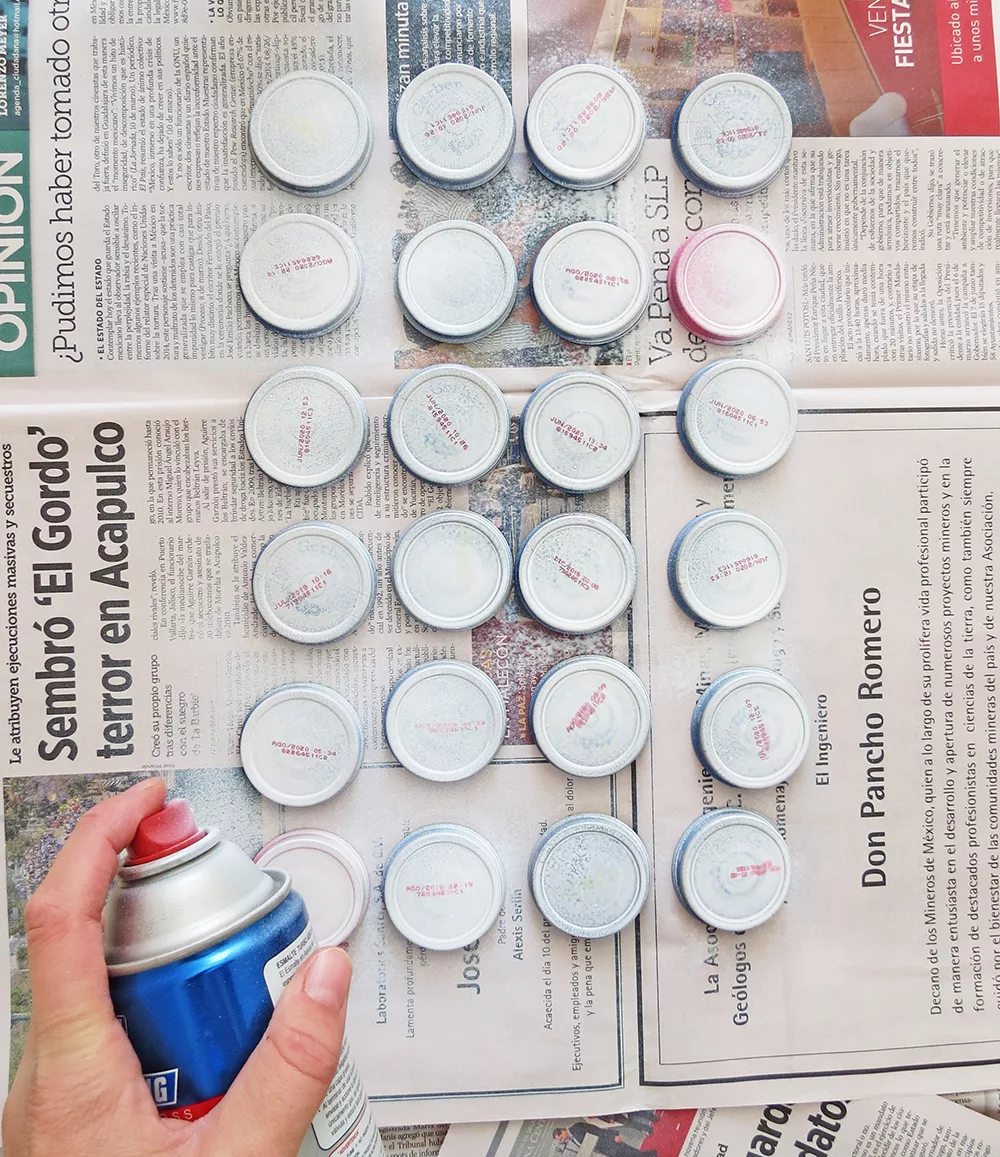 I wanted to be sure the label won't show so I spray painted the lids white. I applied like three coats to have a nice finish.
* * *
Quería asegurarme de que el rotulo no se vea, así que pinté las tapas con un espay blanco. Apliqué como tres capas para tener un bonito acabado.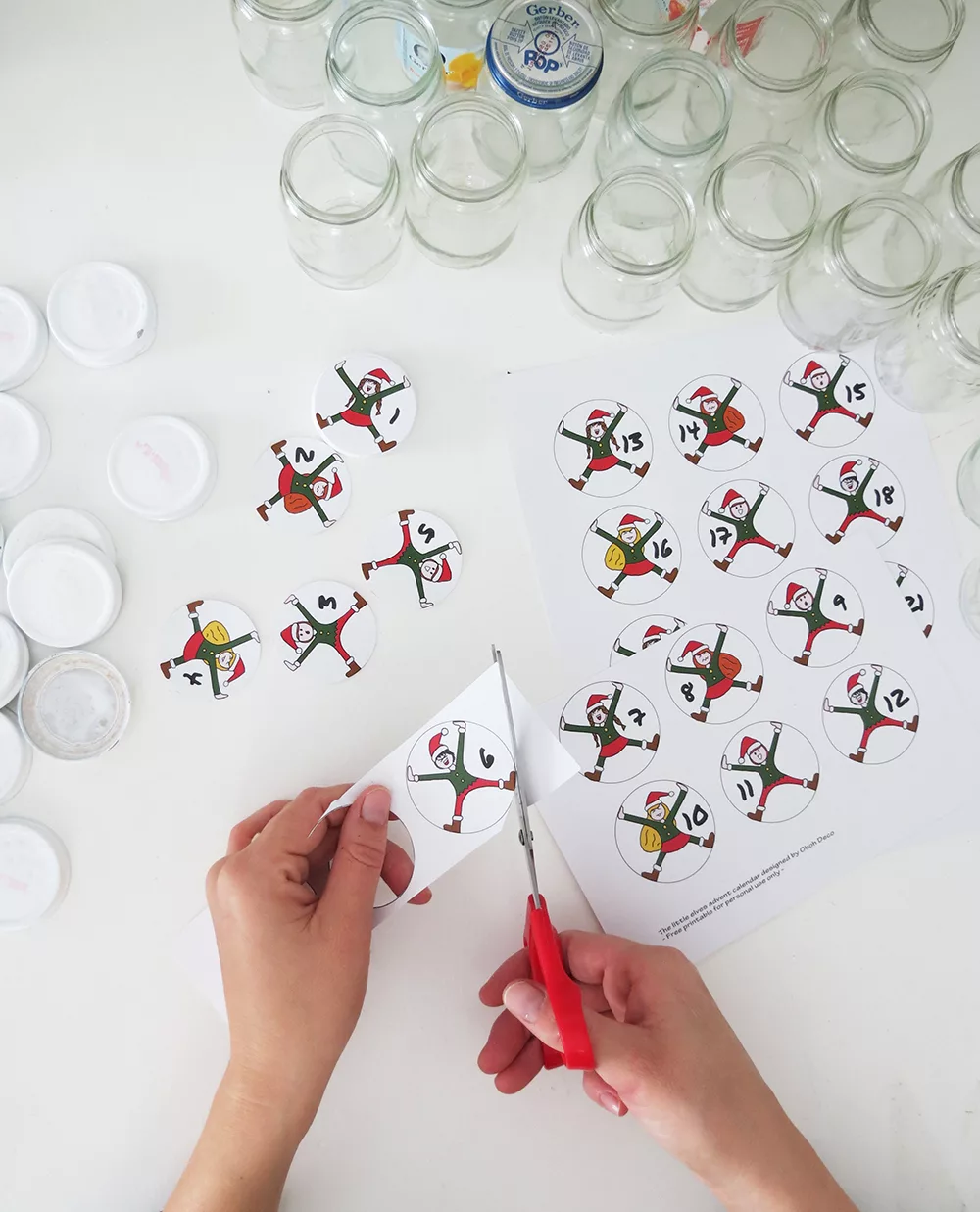 The elves printable is available for free on my online library. You can click HERE to get subscribe and you will receive your password to log into the library and download the printable.
Once you have printed the two elves sheets, cut following the circle shape and glue an elf on each lid.
* * *
Los duendes para imprimir están disponibles de forma gratuita en mi biblioteca en línea. Puedes hacer clic AQUI para suscribir y recibirás tu contraseña para iniciar sesión en la biblioteca y descargar el PDF. Una vez que hayas impreso las dos hojas de duendes, corta los siguiendo la forma del círculo y pegua un duende en cada tapa.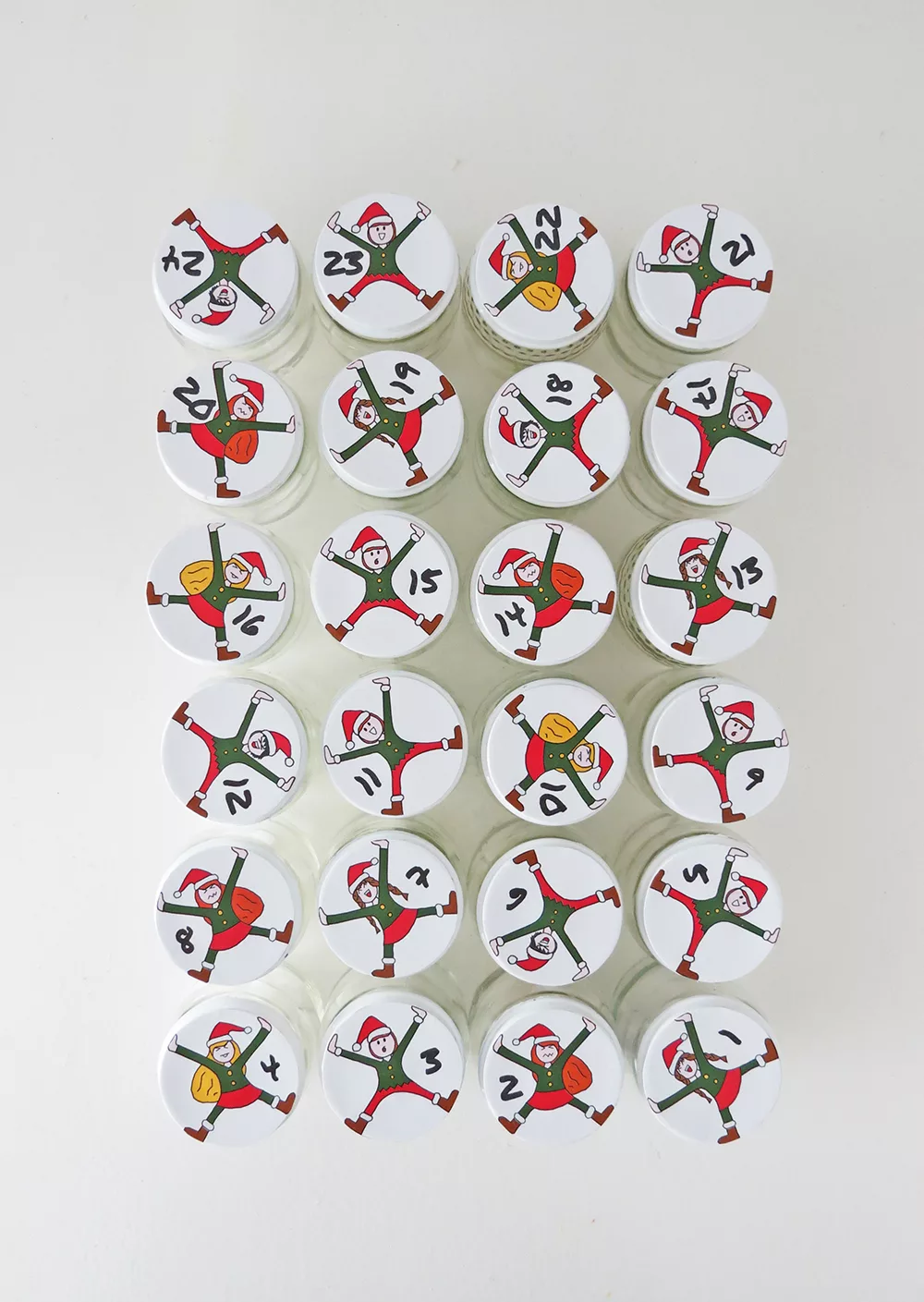 Wrap your candy or little surprise in a sheet of silk paper and put it into the jar. Close the lid and display the elves jar into the house in ascending order starting by number 1.
And done! Wait until December first to start opening the first jar.
Once you take a jar out of the house, the following jars will roll down to the bottom! Have fun with your elves advent calendar!
* * *
Envuelva un caramelo o una pequeña sorpresa en una hoja de papel de seda y póngala en el frasco. Cierra la tapa y pon los frascos-duendes en la casa en orden ascendente empezando por el número 1.
¡Y listo! Espera hasta el primero de diciembre para comenzar a abrir el primer frasco. Una vez que saques un frasco de la casa, los siguientes frascos bajarán rodando. ¡Diviértete con el calendario de adviento de los duendes!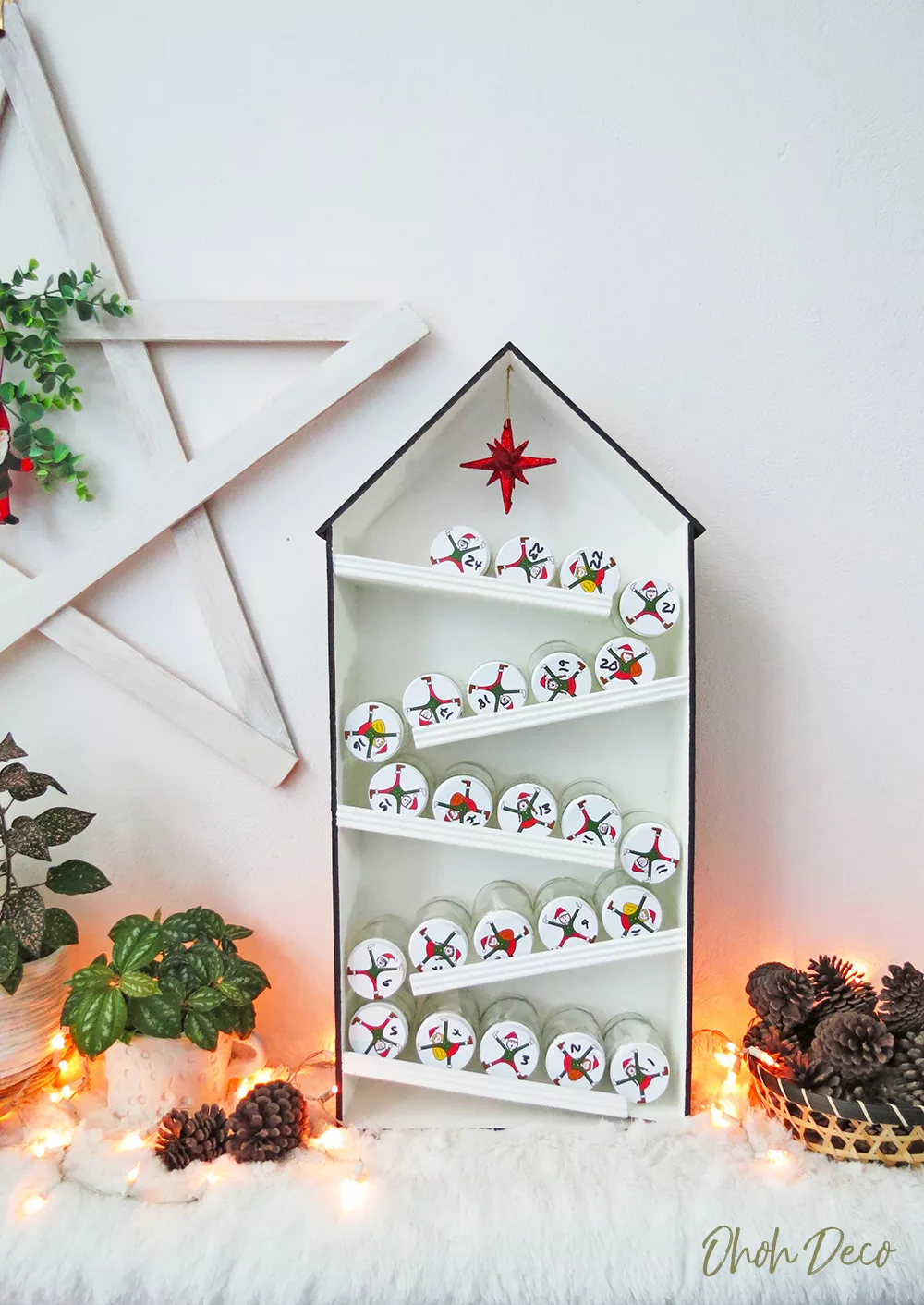 What do you think of this fun advent calendar? My kids love it… and they argue every morning to know who can open the jar (they still have to learn a lot about Christmas spirit…). If you are looking for more DIY Christmas calendars ideas, I have a few more craft tutorials you may like:
I like the little elves, they give Christmas a fairy touch, I may add some more as ornaments. What do you think? Is it a good idea or a little too much?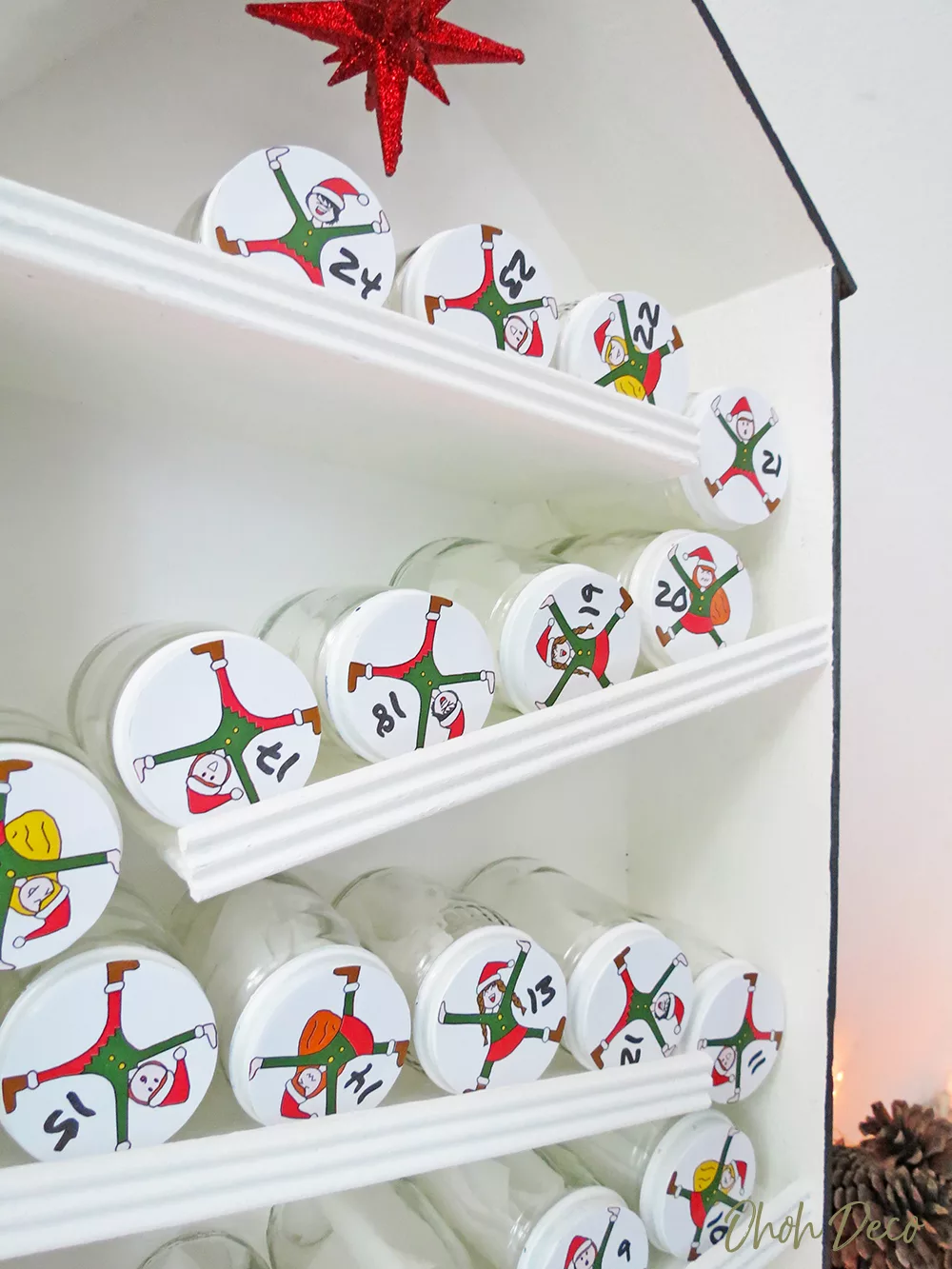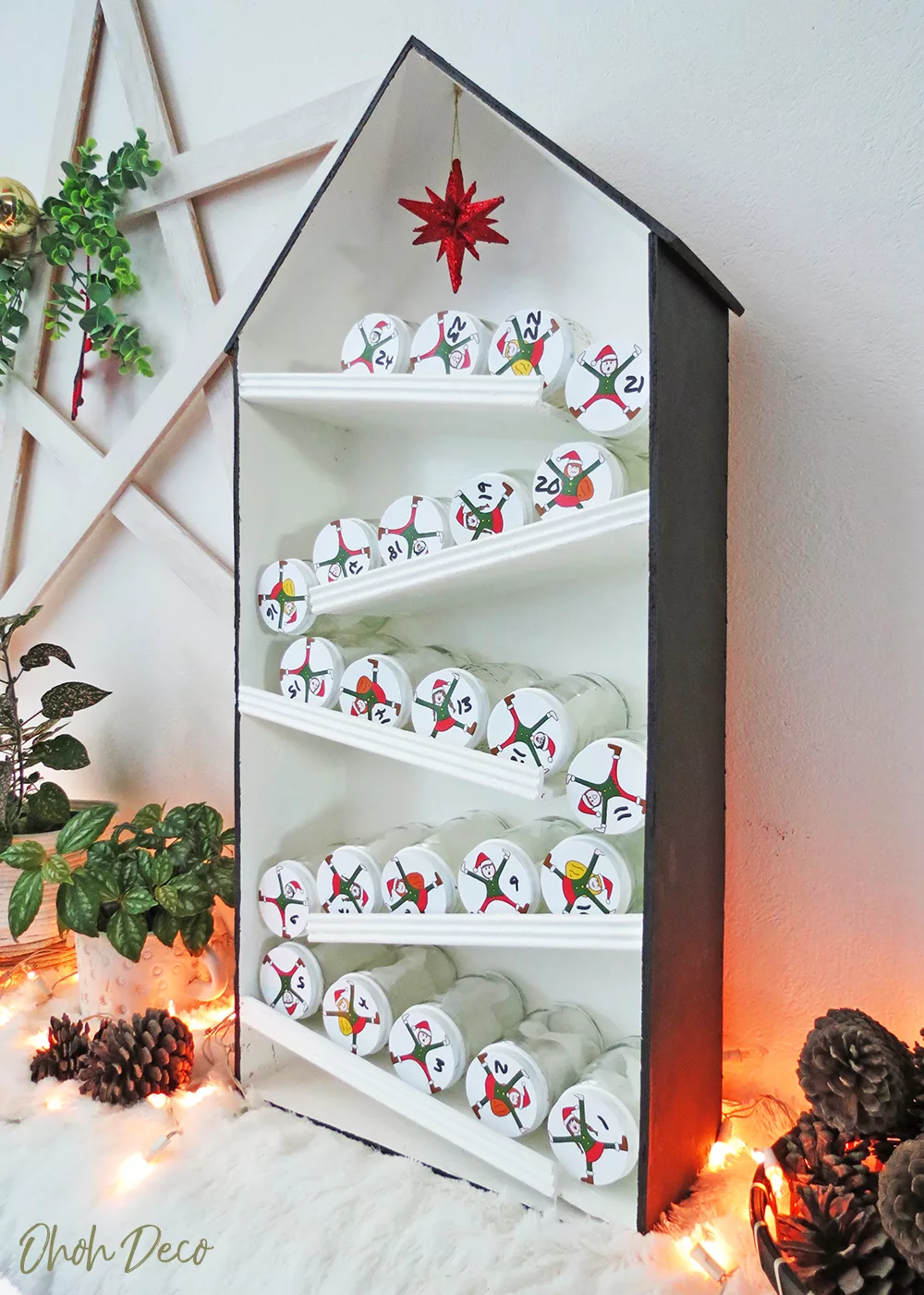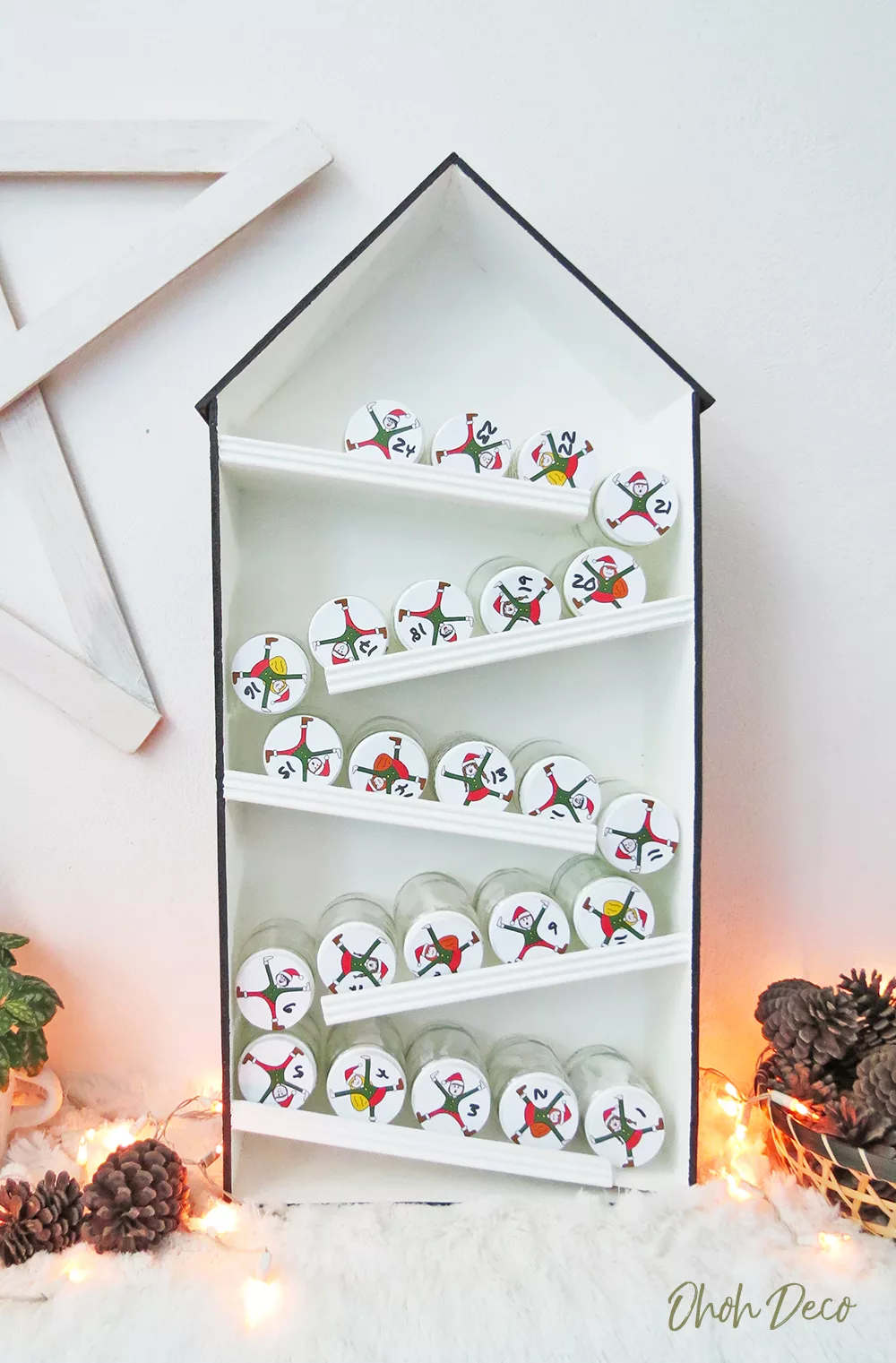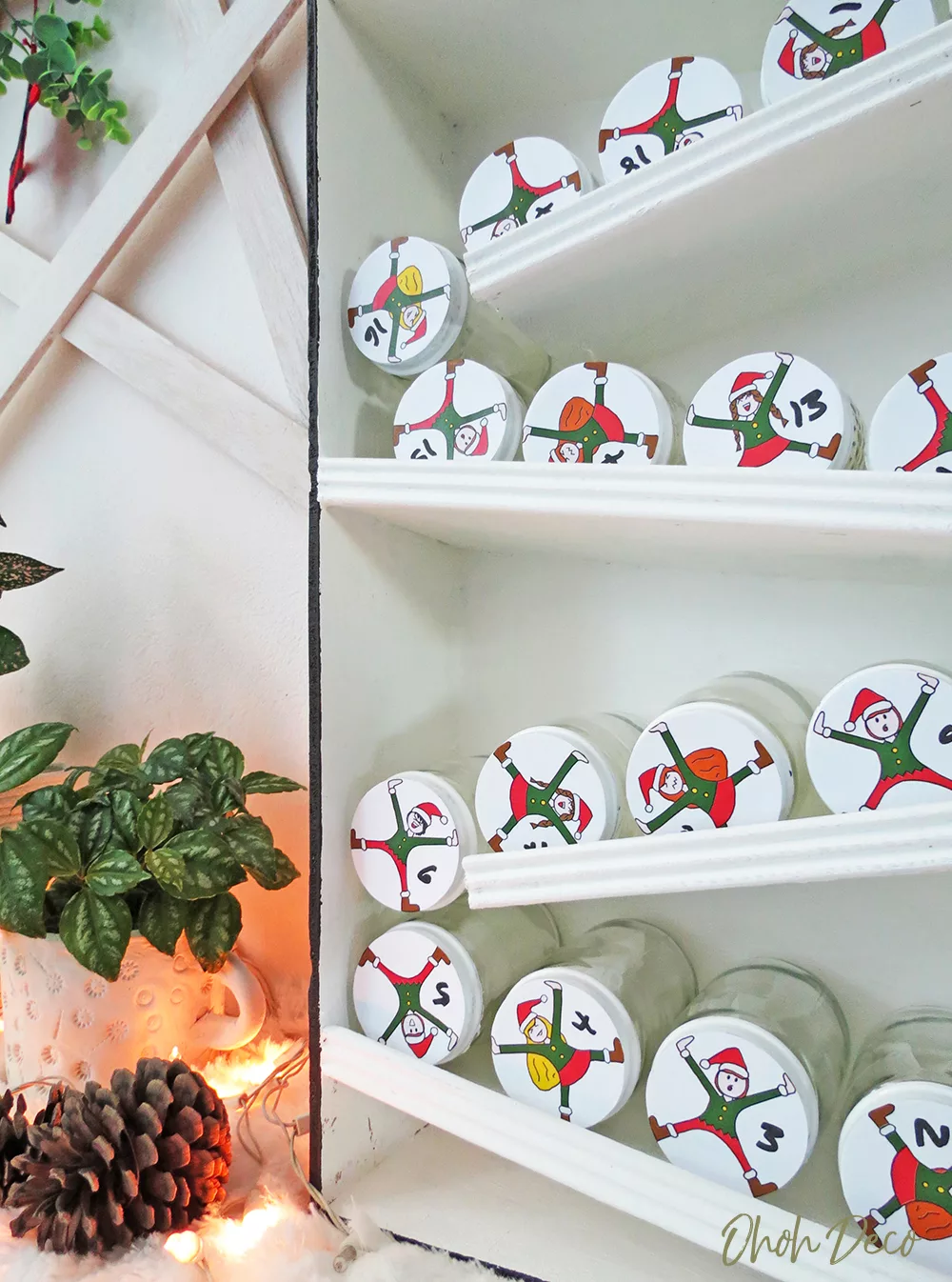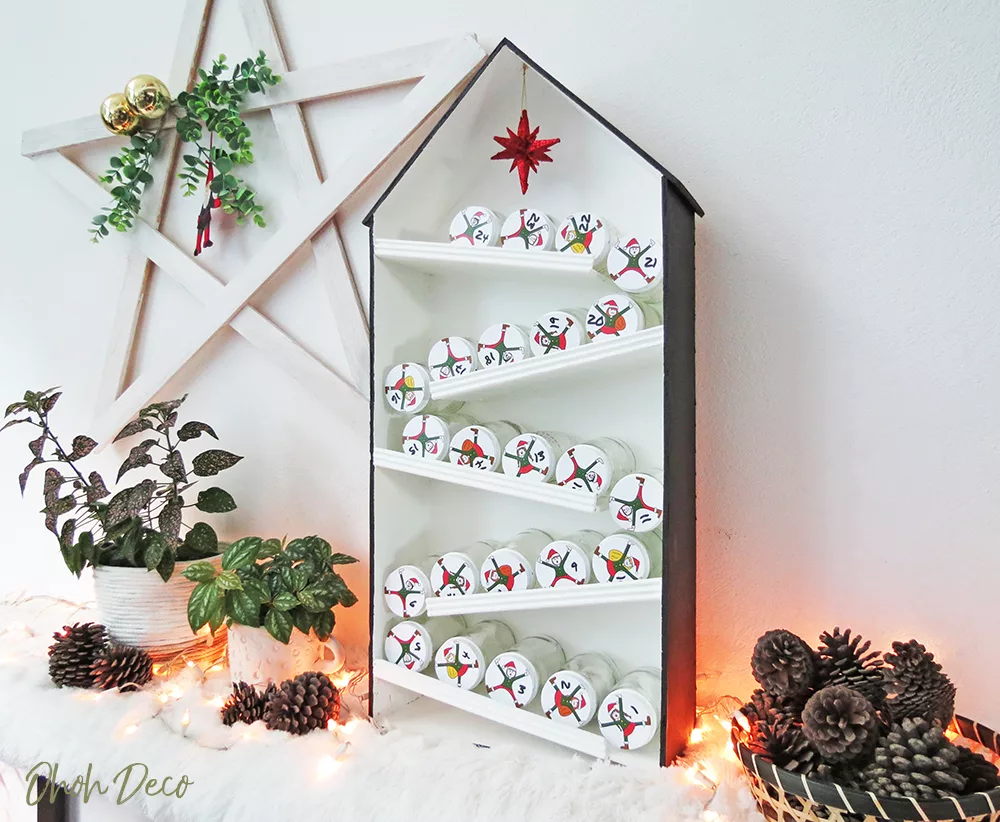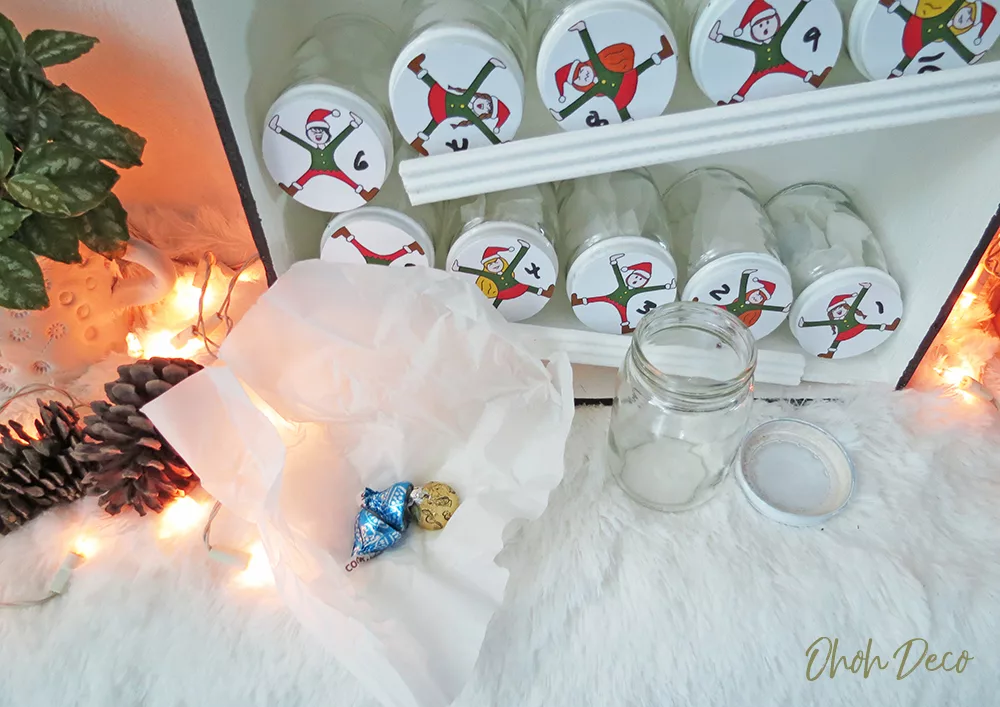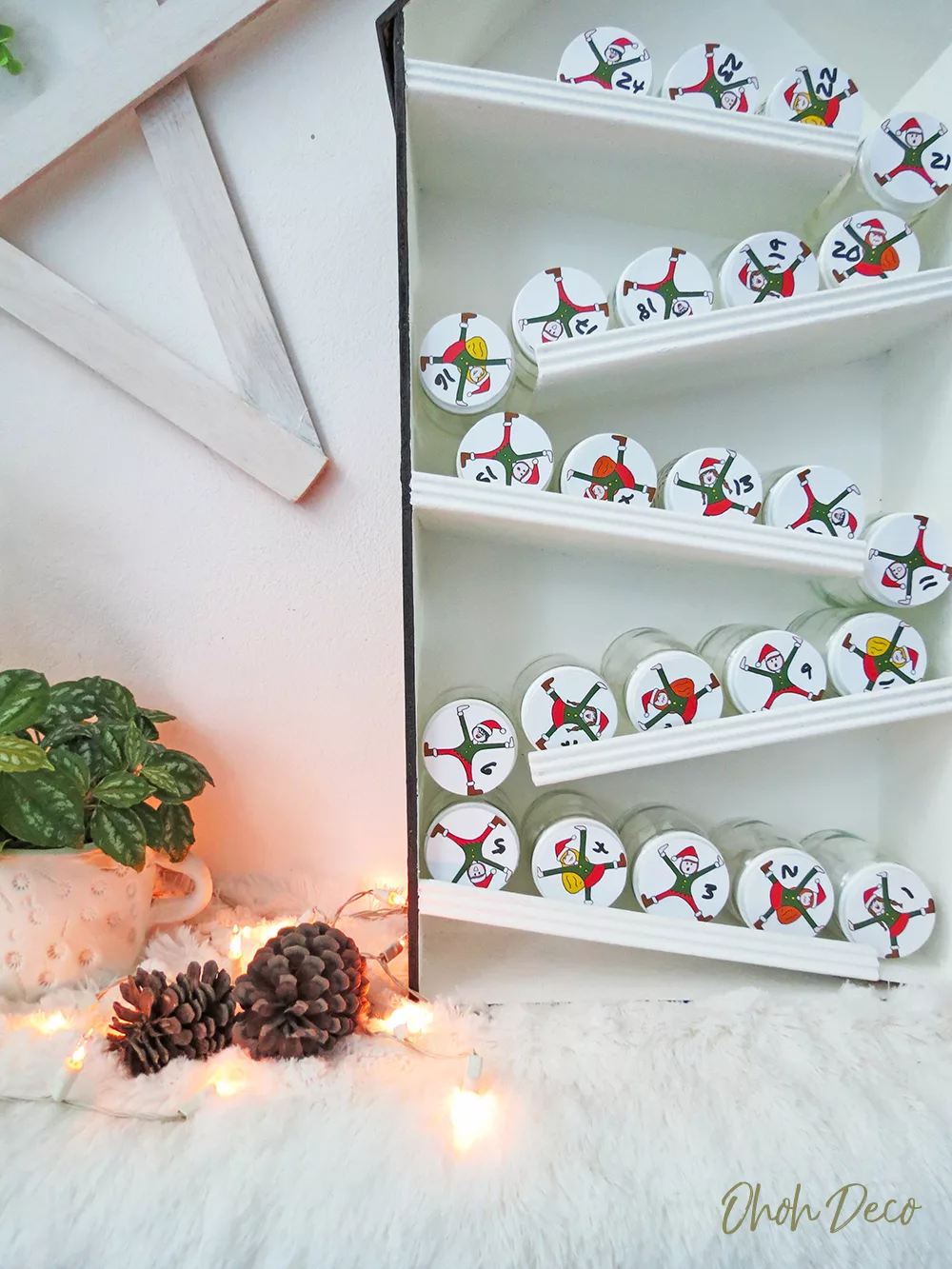 Want to remember it? Save this Elves house advent calendar in your favorite Pinterest board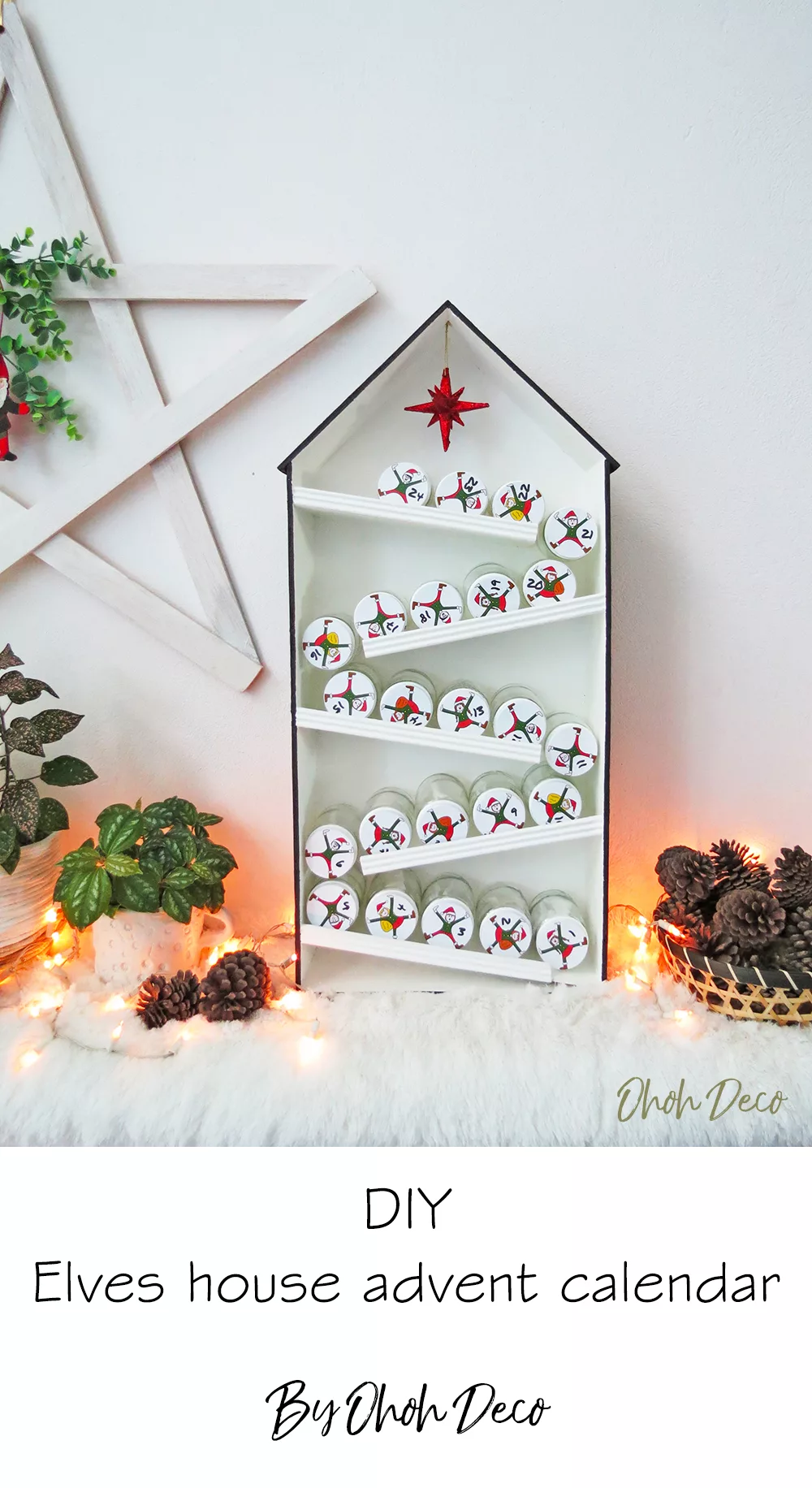 You will find all the tutorials featured in the video on my "Best DIY" page.
You will find the template to make your DIY Elves calendar into my library. It's FREE and open to anyone. All you need is the password to get in. Just fill out the form below and check your inbox for a welcome email with the password in.
Amaryllis