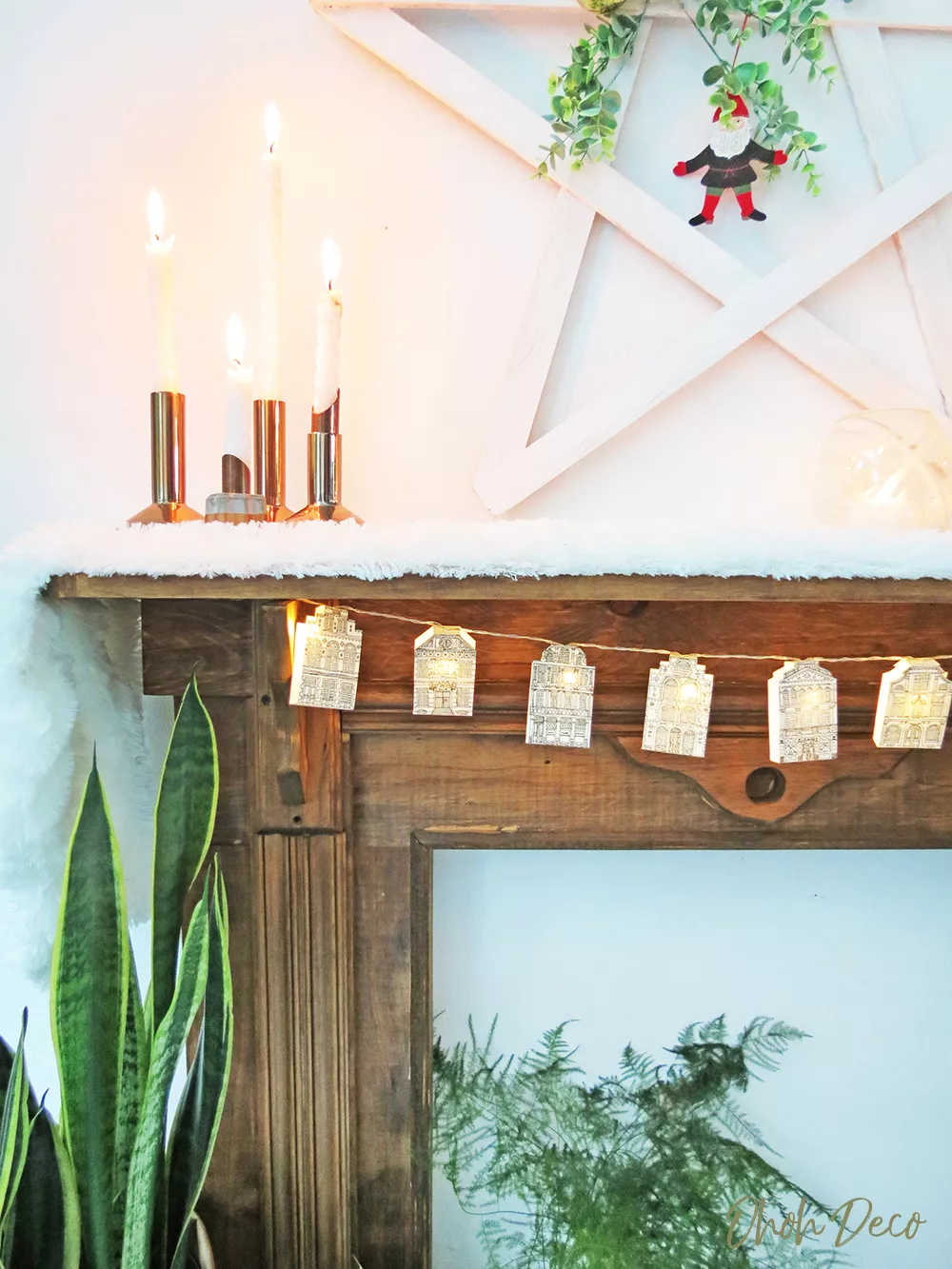 Paper crafts are the best. They are easy to make a budget-friendly. Today I propose you to customize a cord light with paper houses.
The Christmas tree is not decorated yet, but I keep working on our Christmas decor. You really liked the sugar skull printable garland I made to customize a cord light. It's a fun and easy craft to make, so I work on this idea to create a declination of it.
This time I was inspired by the Brussels grand place and Brugge buildings. I love looking at these houses and see all the architectural details that decorate the facades. I guess somehow I'm missing my country, so this little cord light garland will add a Belgian touch to our decor.
* * *
El árbol de Navidad aún no está puesto, pero sigo trabajando en nuestra decoración navideña. Les gustaron mucho las calaveras de azúcar que hice para personalizar un cordón de luz. Es un bricolaje divertido y fácil de hacer, así que trabaje con esta idea para crear una declinación de la misma.
Esta vez me inspiré en la gran plaza de Bruselas y en los edificios de Brujas. Me encanta mirar estas casas y ver todos los detalles arquitectónicos que decoran las fachadas. Supongo que extraño un poco mi país, por lo que esta pequeña guirnalda de luces agregará un toque belga a nuestra decoración.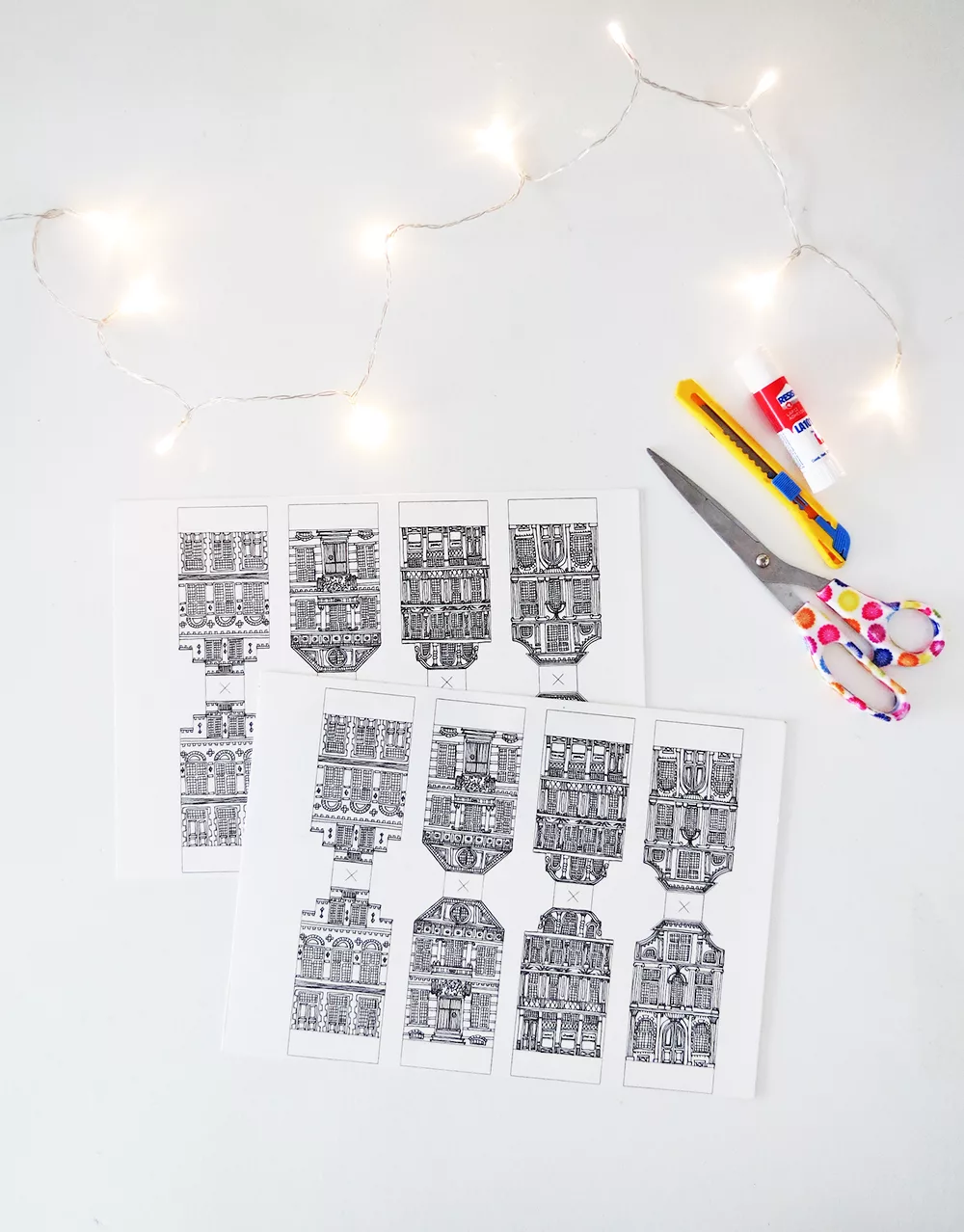 The house print is available in my shop, I made 6 different house design, the bricks ones are inspired by Brugge and the other from the Brussels Grand Place. You can print the houses on regular letter size paper. I suggest to use paper thicker than the regular plain one, bond or cardstock paper will work great.
Besides the prints, you will also need a LED cord light, a pair of scissors, a cutter, and some glue.
The PDF is an instant download, that's mean that as soon as you purchase it you will be able to download, print the house shapes and start making your little house cord light garland.

Los PDF de las casas está disponible en mi tienda, hice 6 diseños diferentes de la casa, los ladrillos están inspirados de Brujas y los demas de la Grand Place de Bruselas.
Puedes imprimir las casas sobre papel tamaño carta. Te sugiero que utilices un papel más grueso que el papel normal, el papel bond o cartulina funcionará muy bien.
Además de las impresiones, también necesitarás una guirnalda luces LED, unas tijeras, un cutter y un poco de pegamento.
El PDF es una descarga instantánea, lo que significa que, tan pronto como lo adquieras, podrás descargar, imprimir las casas y comenzar a hacer tu guirnalda de luces.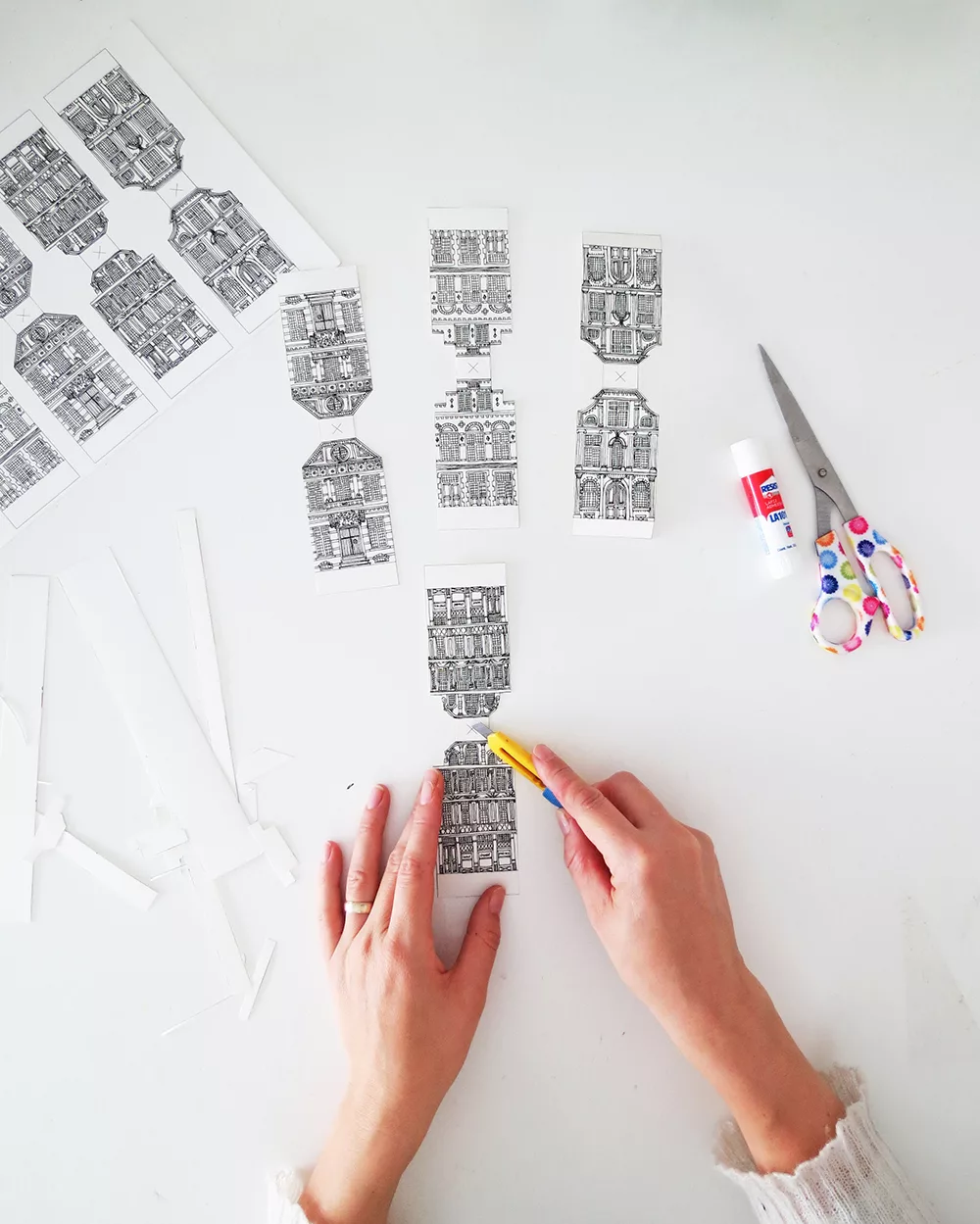 Once you have downloaded the PDF, start to print the houses. You have 6 different house designs, distributed on two sheets, each sheet has 4 houses. So count the number of LED lights on your cord light and print as many houses as you need.
Cut following the shape, each house has two facades with flaps at each end and a center piece with a cross mark. Use a cutter to cut out the cross mark, this will allow you to pass the LED light thought the paper house.

* * *
Una vez que hayas descargado el PDF, puedes comenzar a imprimir las casas. Tiene 6 diseños de casas diferentes, distribuidos en dos hojas, cada hoja tiene 4 casas. Así que cuente el número de luces LED en tu guirnalda e imprima tantas casas como lo necesitas.
Cortas siguiendo la forma, cada casa tiene dos fachadas con solapas en cada extremo y una pieza central con una marca en cruz. Puedes usar un cutter para cortar la marca en cruz, esto te permitirá pasar la luz LED por la casita de papel.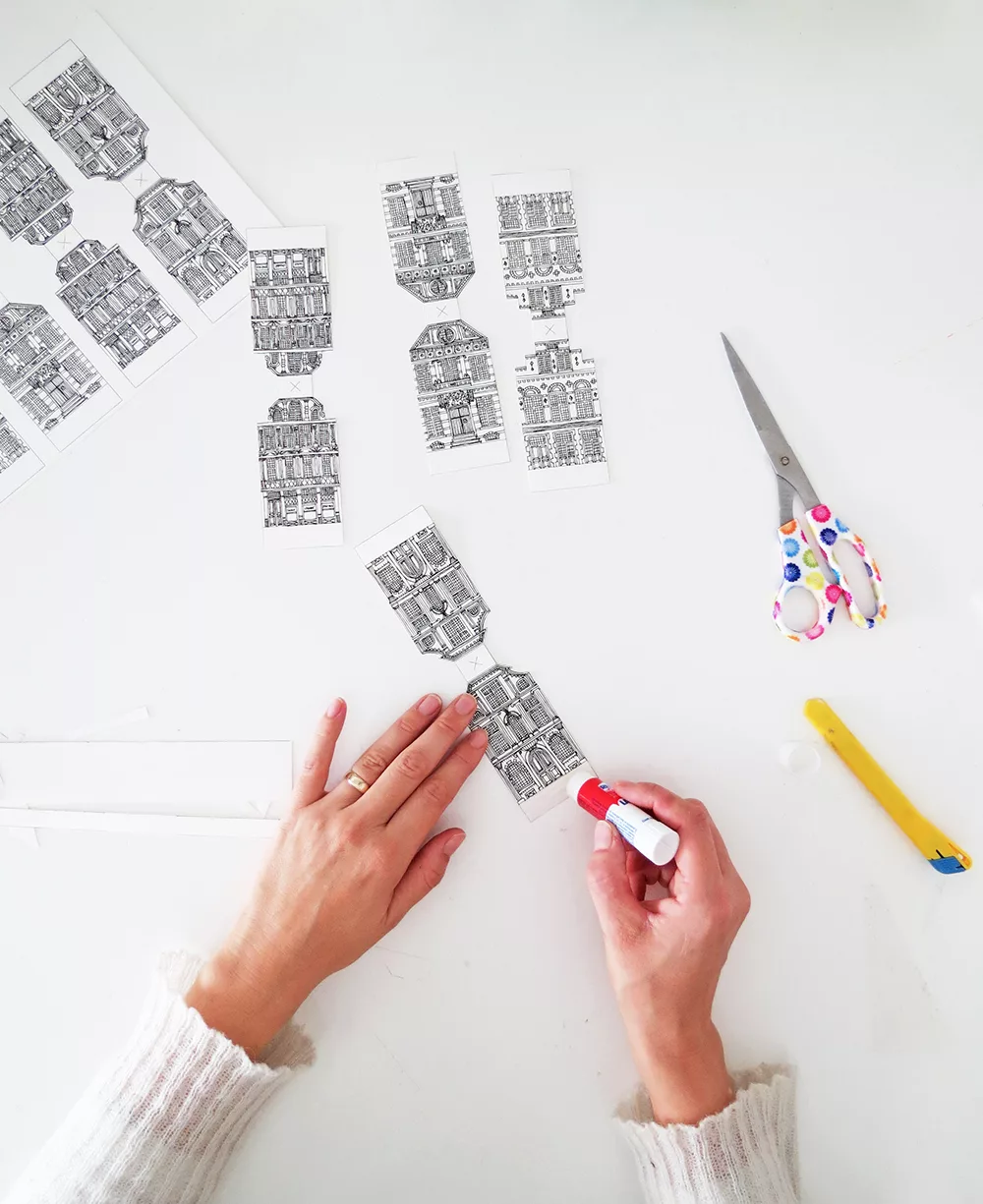 Fold the house following the lines. You will have two folds on each side of the cross mark, next to the house roof. You also have to fold the flaps. Put some glue on one flap and glue them together.
* * *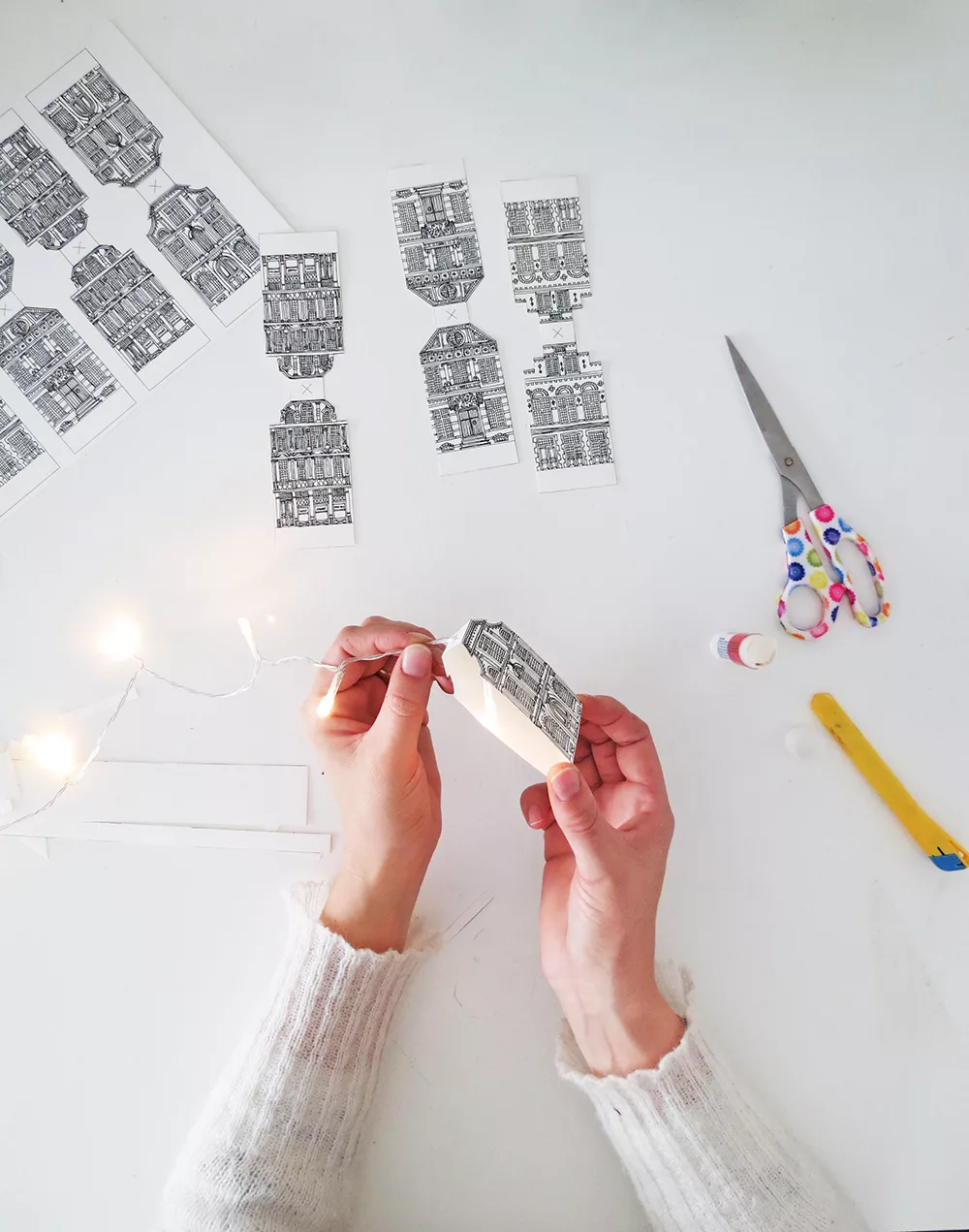 Pass the LED light thought the small cross opening you made on top of the house and done. Repeat to have a paper house to cover each light of your cord garland.

* * *
Pasas la luz LED por la pequeña abertura en cruz que hiciste en la parte superior de la casa y listo. Repita para tener una casita de papel para cubrir cada luz de tu guirnalda.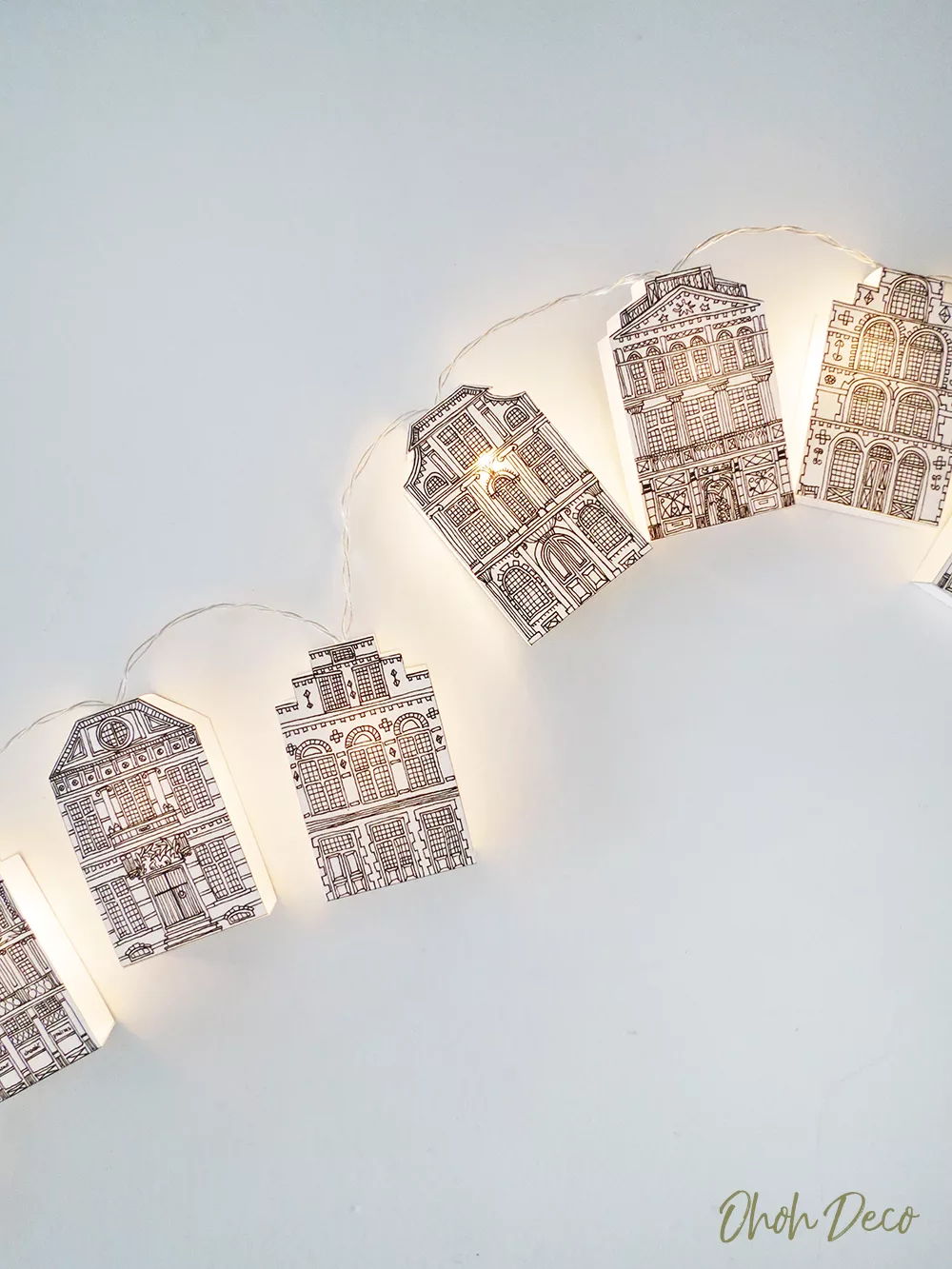 I let the houses black and white because I like them that way, but feel free to color them or print them on colored paper. As it's Christmas time I hang them on my DIY "faux" fireplace.
Don't you think these paper houses will look cute all year long? I'm sure I will keep them around and display them in a different way when wintertime is over. Do you have any idea of where you would like to hang them?

* * *
Deje las casitas en blanco y negro porque me gustan de esa manera, pero siéntete libre de colorearlas o imprimirlas sobre papel de color.
Como es Navidad, los he colgadas en mi DIY "falsa" chimenea, pero creo que esta guirnalda de papel se verá linda durante todo el año. Estoy segura de que colgare las casitas de otra manera cuando termine el invierno. ¿Tienes alguna idea de dónde te gustaría colgarlas?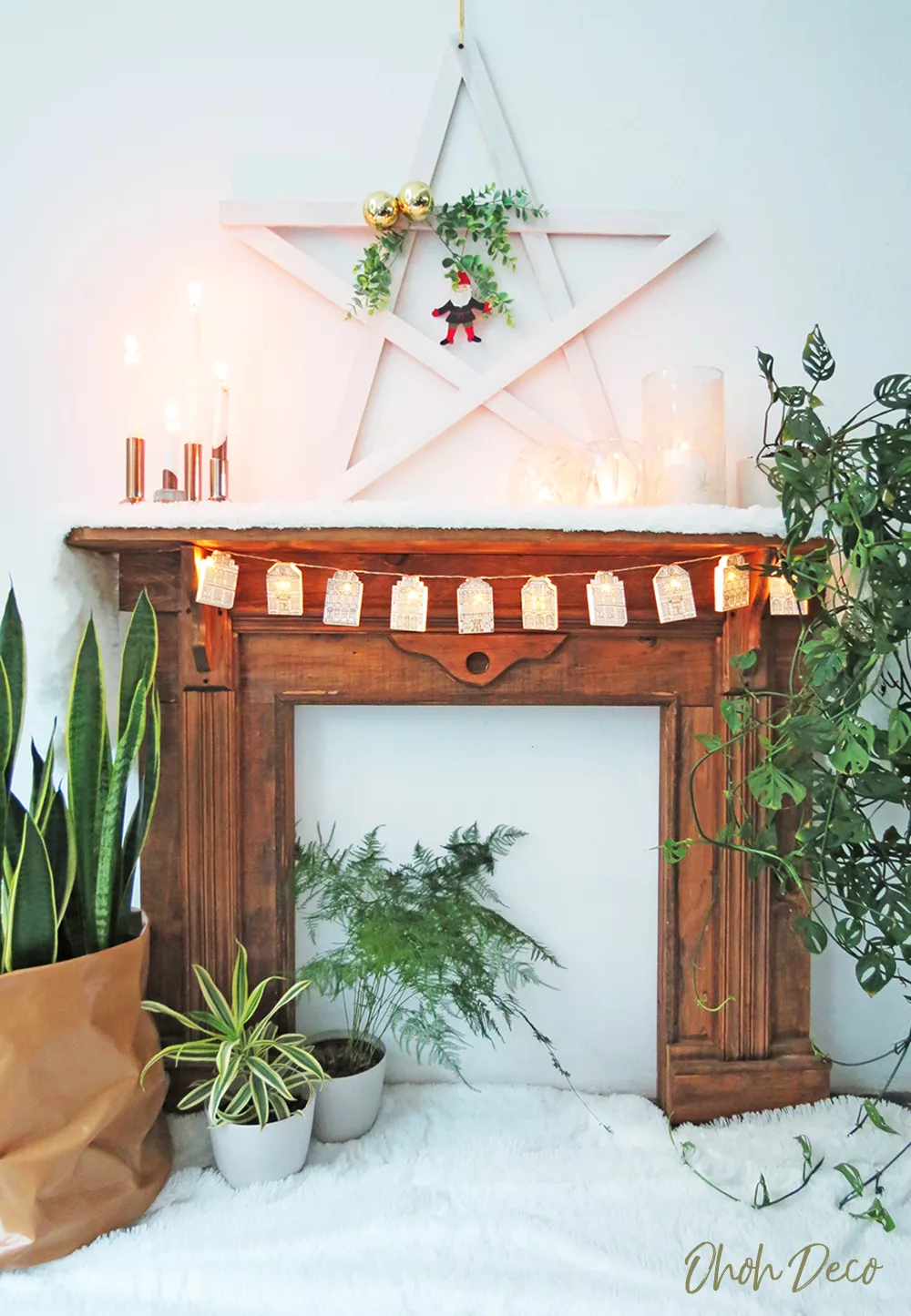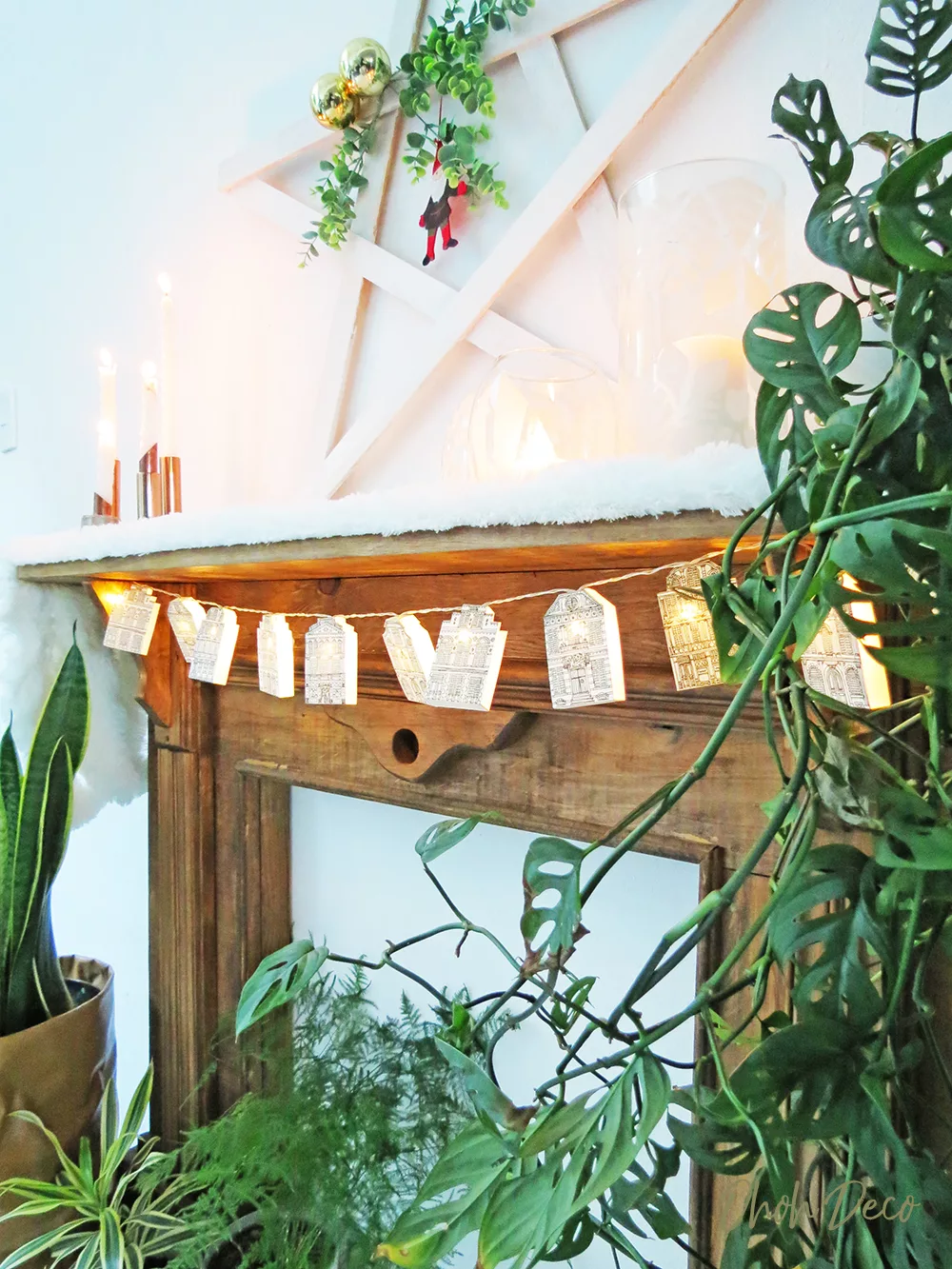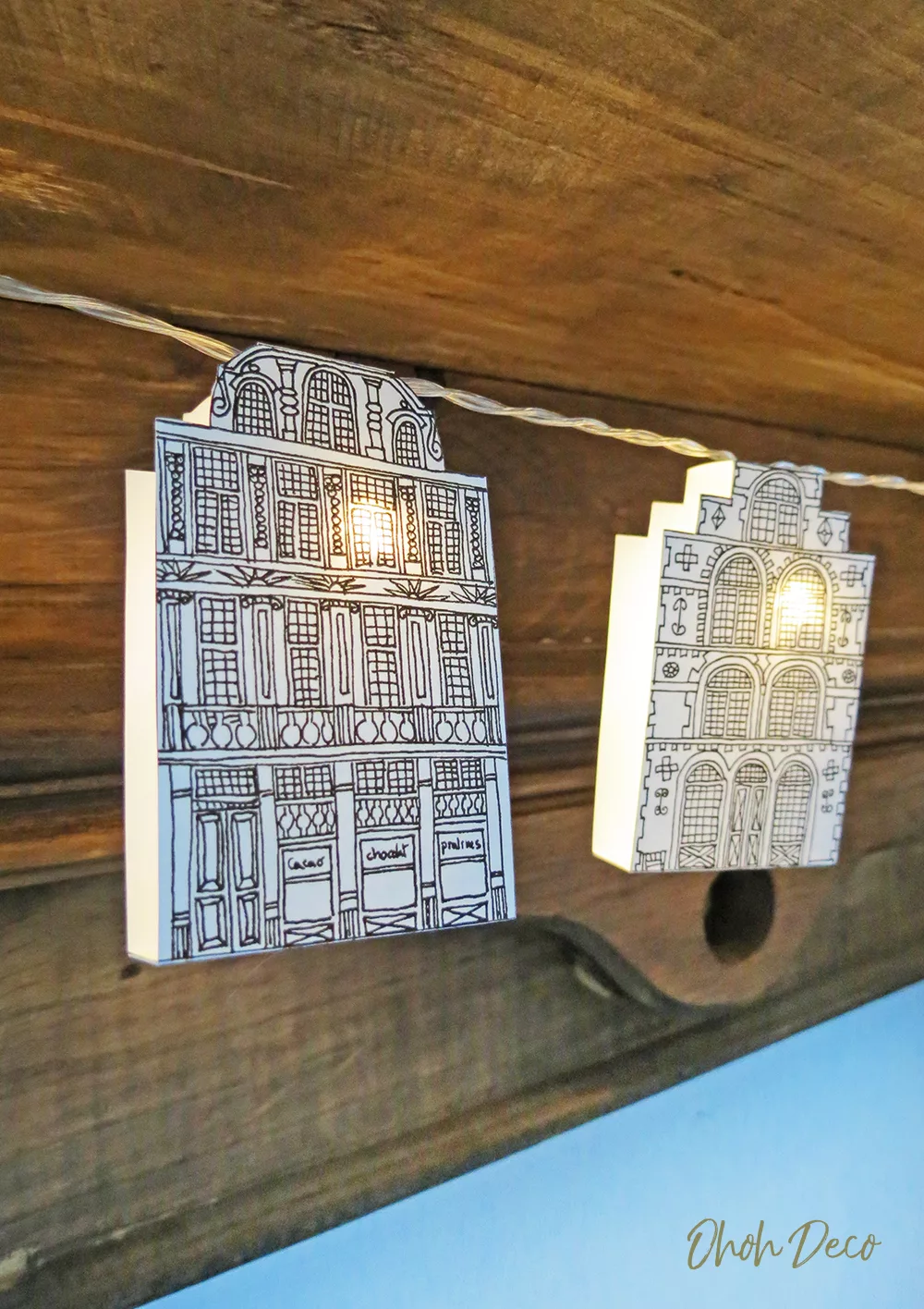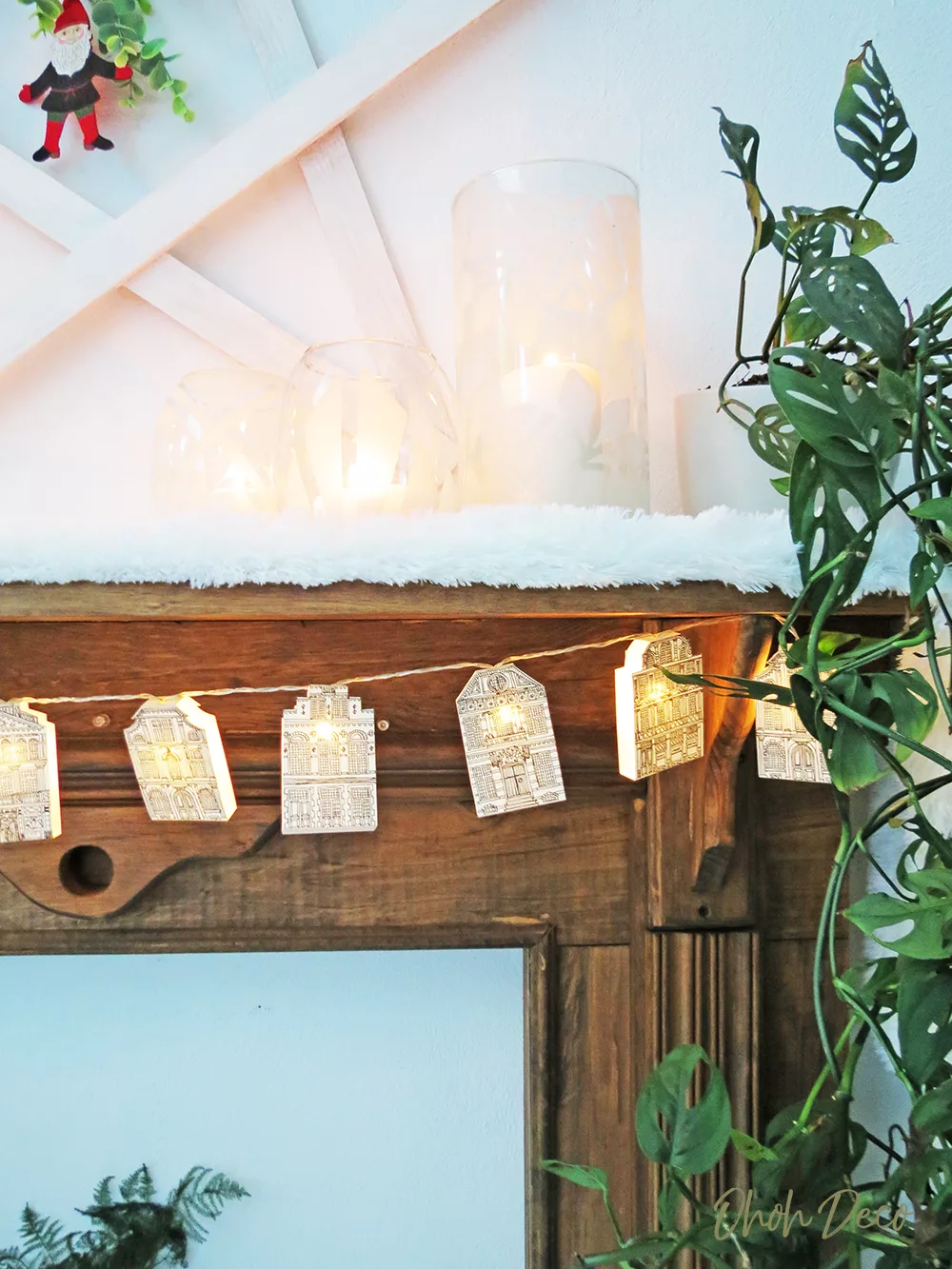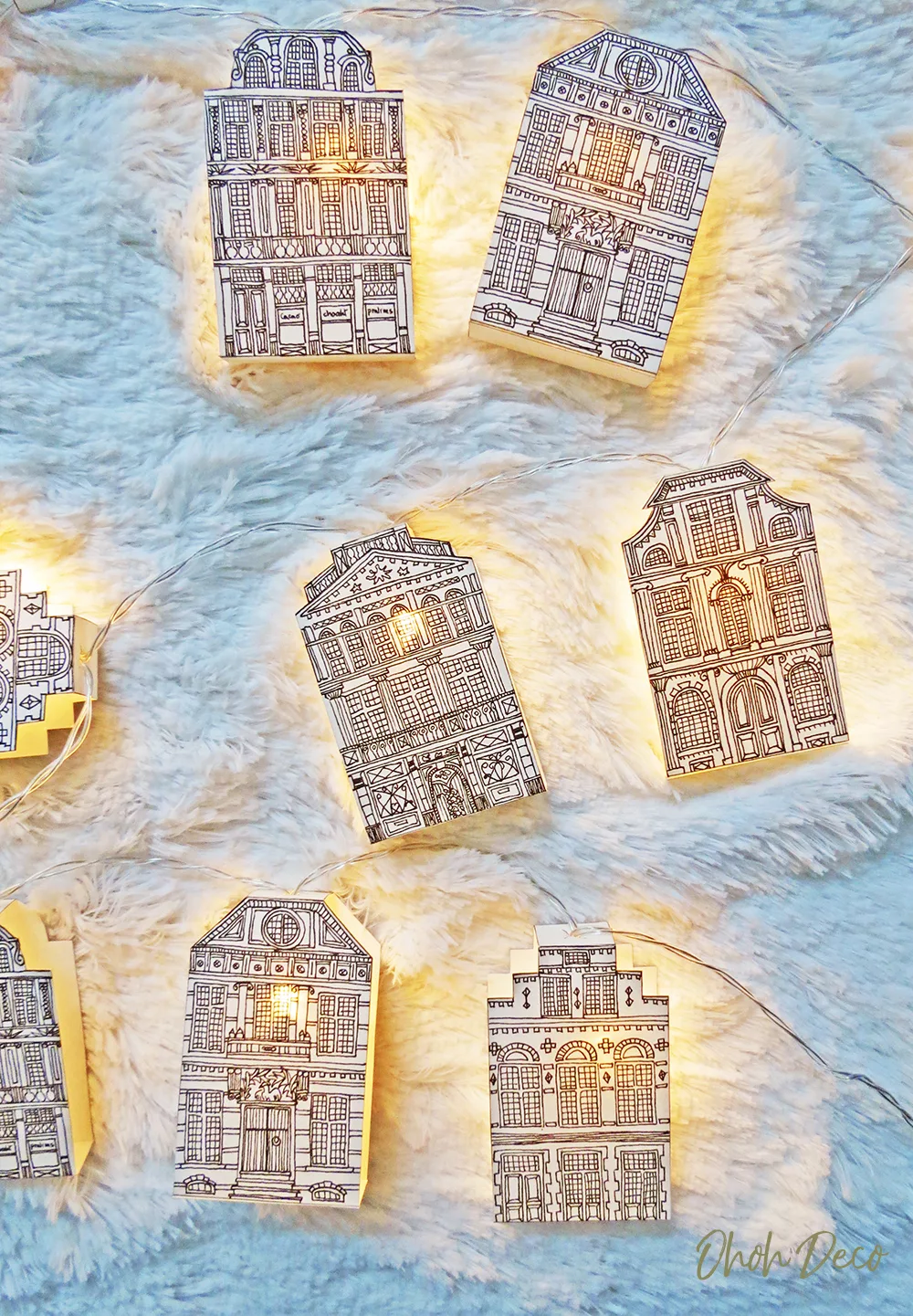 Get your print to make your cute houses cord light.

Consigue tu PDF para hacer tu guirnalda de casitas.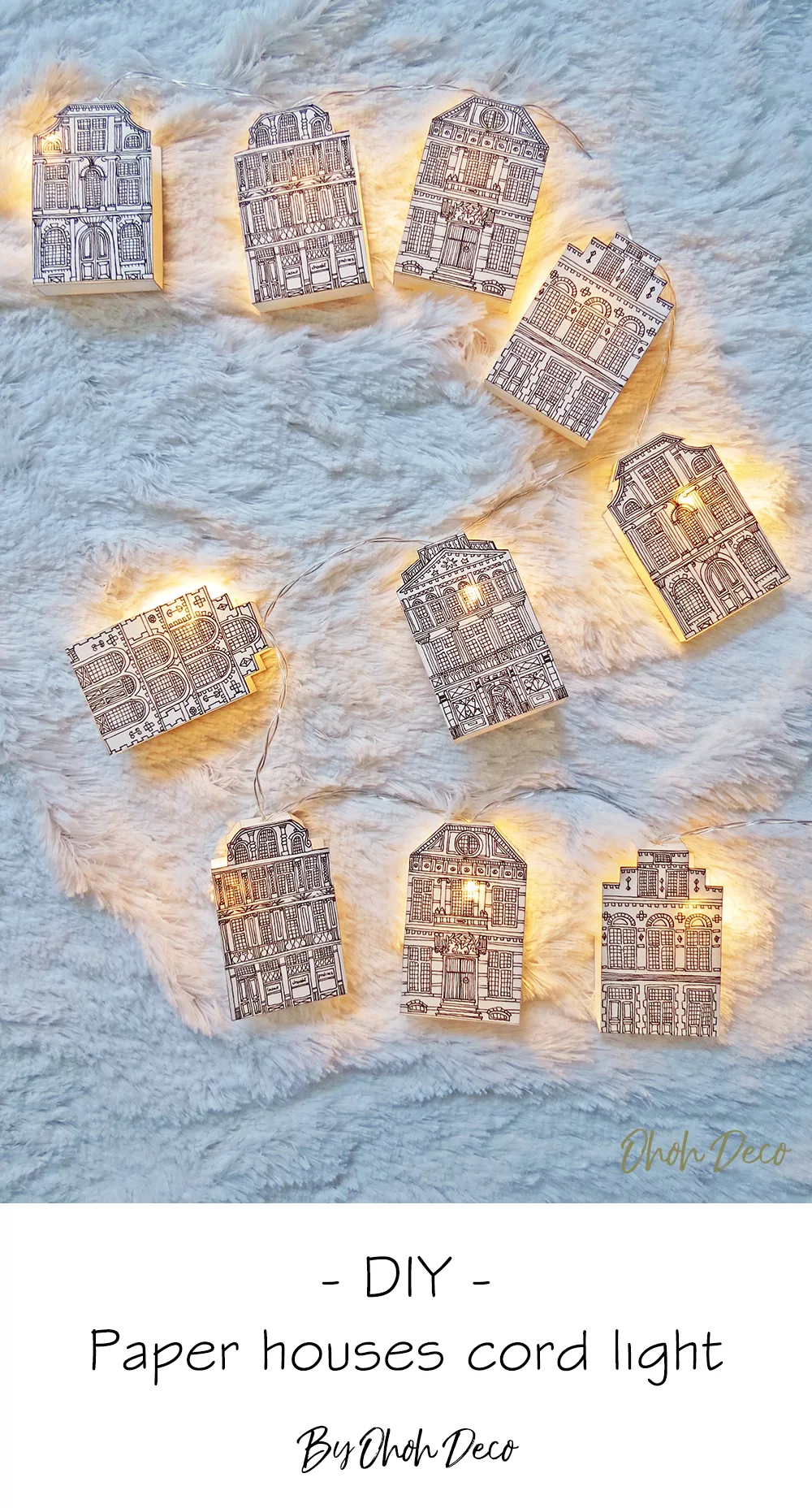 You will find all the tutorials featured in the video on my "Best DIY" page.
Amaryllis