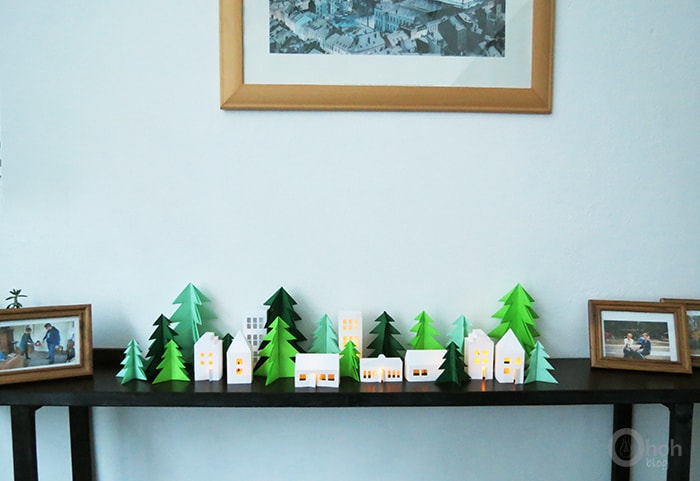 I finally complete the paper decor. If you missed it, I made those little paper houses where you can put a LED tealight inside.
I still love the houses shapes, but I wanted to give the decor a winter vibe. So adding some pine tree sounds like a good solution.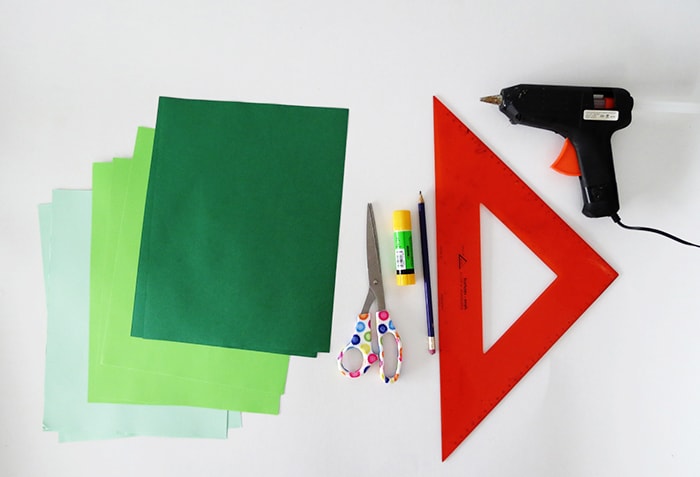 Materials you will need: The house template, different shades of green paper, scissors, a ruler, a pencil, a glue stick, and a glue gun.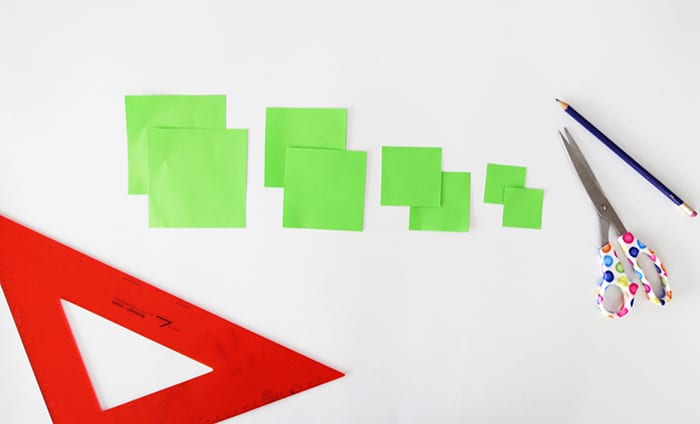 For each tree, you will need 8 paper squares of 4 different dimensions. Here go the dimensions I used to make the medium size tree, but feel free to adapt them: 2 squares of 4x4in., 2 squares of 3 1/4in., 2 squares of 2in., and 2 of 1 1/2in.
To give you an idea, with these dimensions you will end up with a 6in. tree.
Draw all the squares on the paper and cut them out.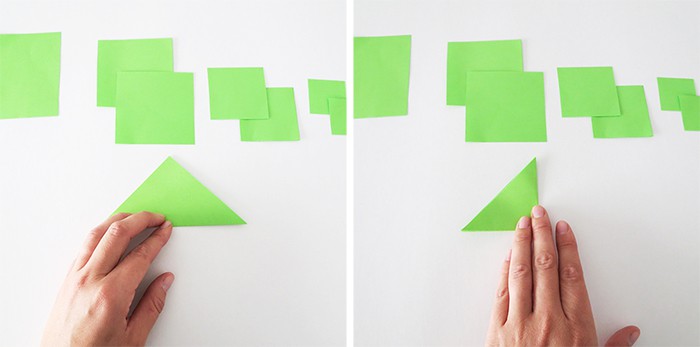 You need to fold each square. Fold the first time along the diagonal to have a triangle, and then a second time.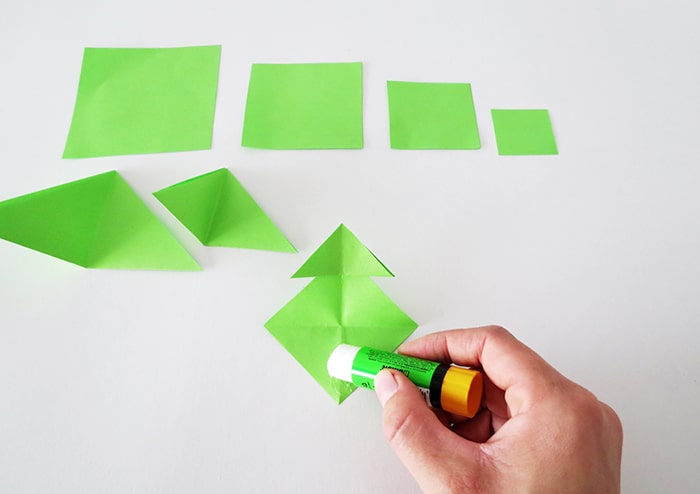 When all the pieces are folded, you can glue them to each other. Start with the smaller triangle, open it, and put glue inside, and fold it again.
Open the second triangle, put some glue in the middle, and on both tips. Slip the smaller triangle into it and glue them.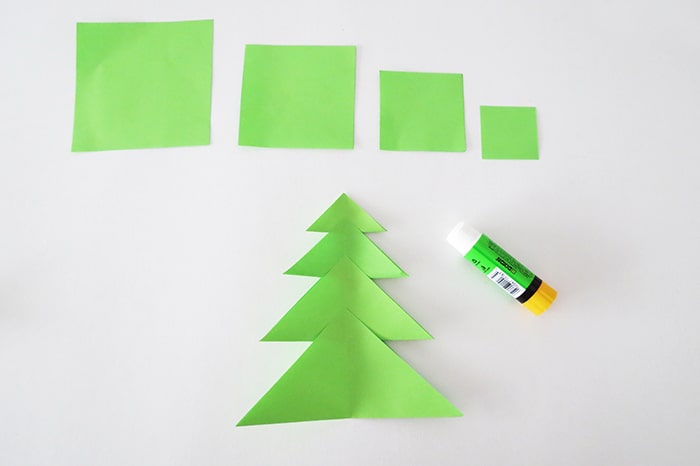 Keep gluing until the tree is done. The centerfold in each triangle will help you to glue the tree straight.
Repeat the same process to make the second tree. Try to put glue only in the center of the pieces. That way the tree "branches" will keep some volume.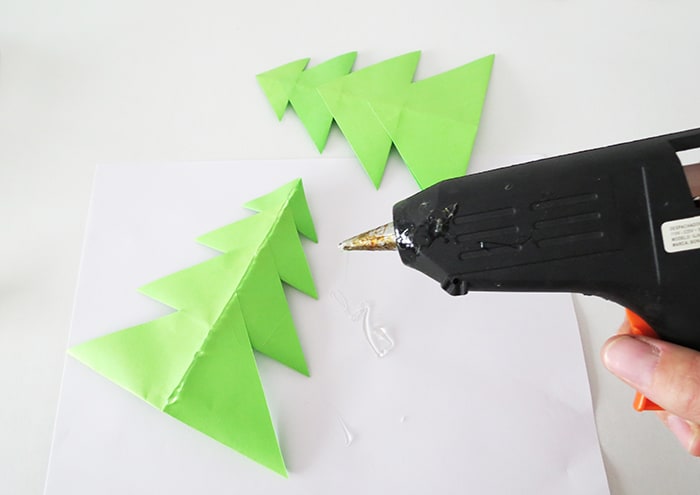 On the back of the fold put some hot glue and fix both trees together. When the glue is dry, unfold the tree parts to have it stand.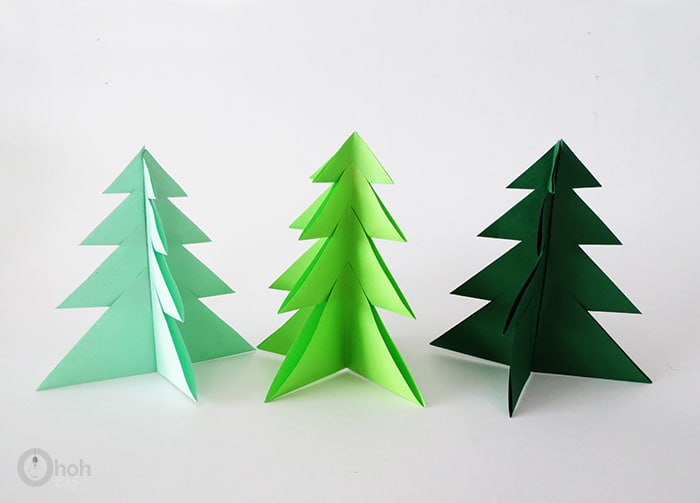 And done! I put them with the paper houses and we have a sweet Christmas decor. I love this little winter town. You can have a look at the paper houses post HERE.

Don't you think the paper decor is the best for the holiday season? They are so easy to make and budget-friendly. I have a few more easy Christmas crafts that you will enjoy as The cardboard gingerbread village, the little houses cord light, and the paper Christmas angels.
Have a look and don't forget to share your creations in comments or via email at amaohoh(at)gmail(dot)com. I love to see what you make!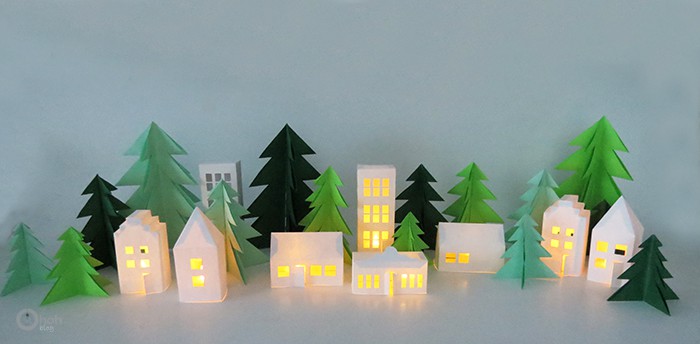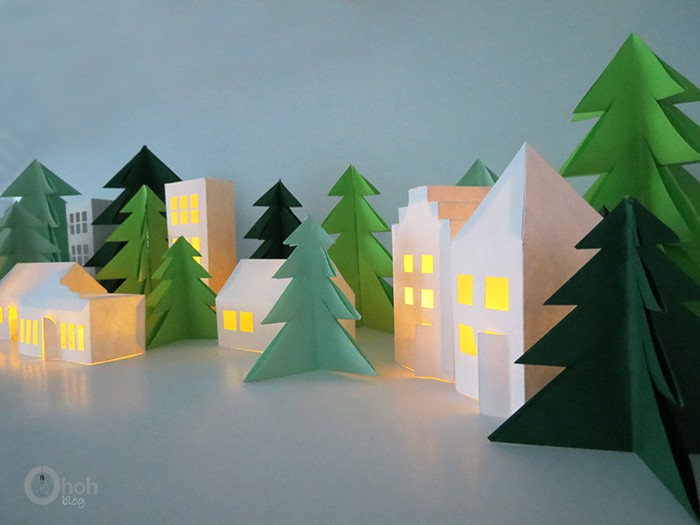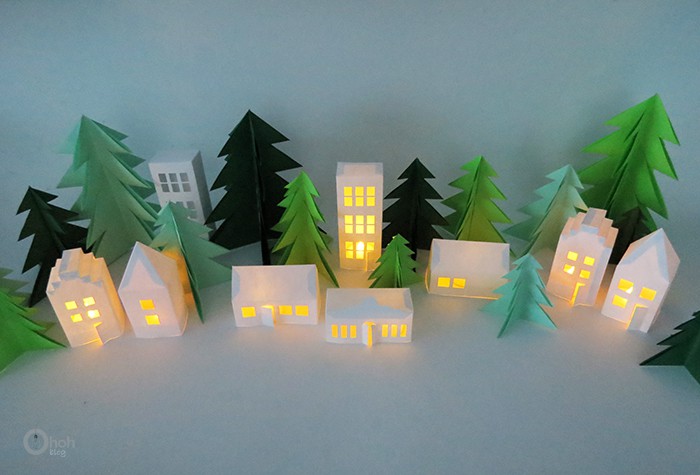 I set the decor on a console table in our living room. I wish we had a chimney, they would have made a terrific mantel decor.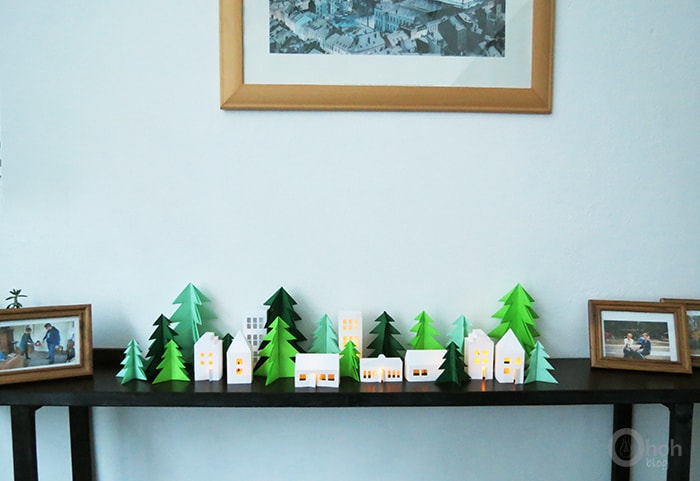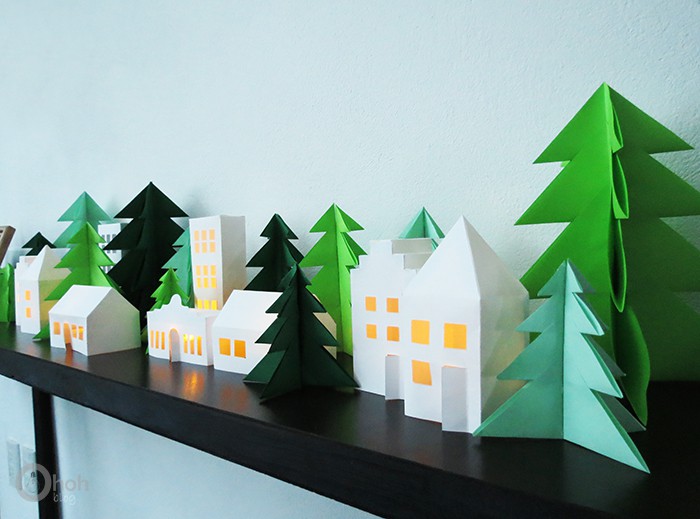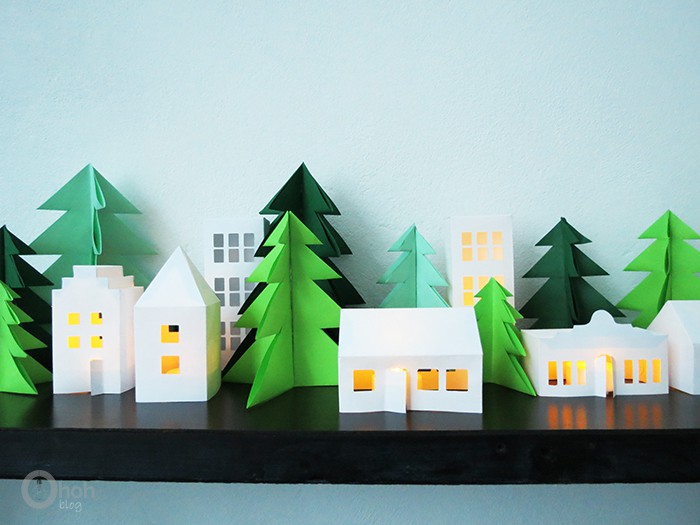 My daughter put some animal toys to play hide and seek on our little paper decor!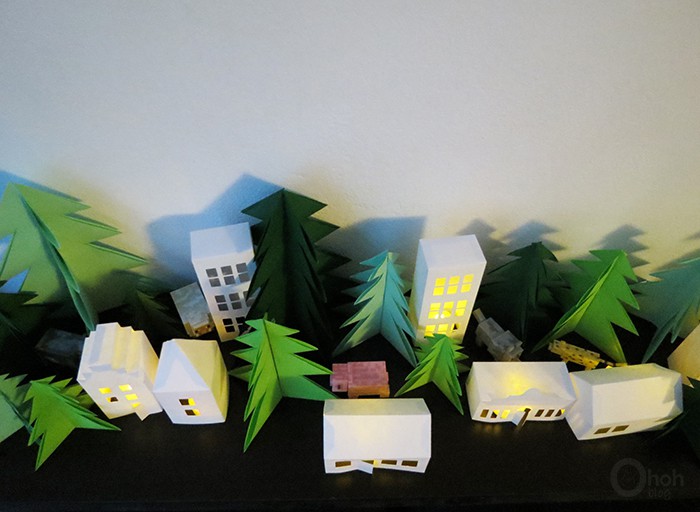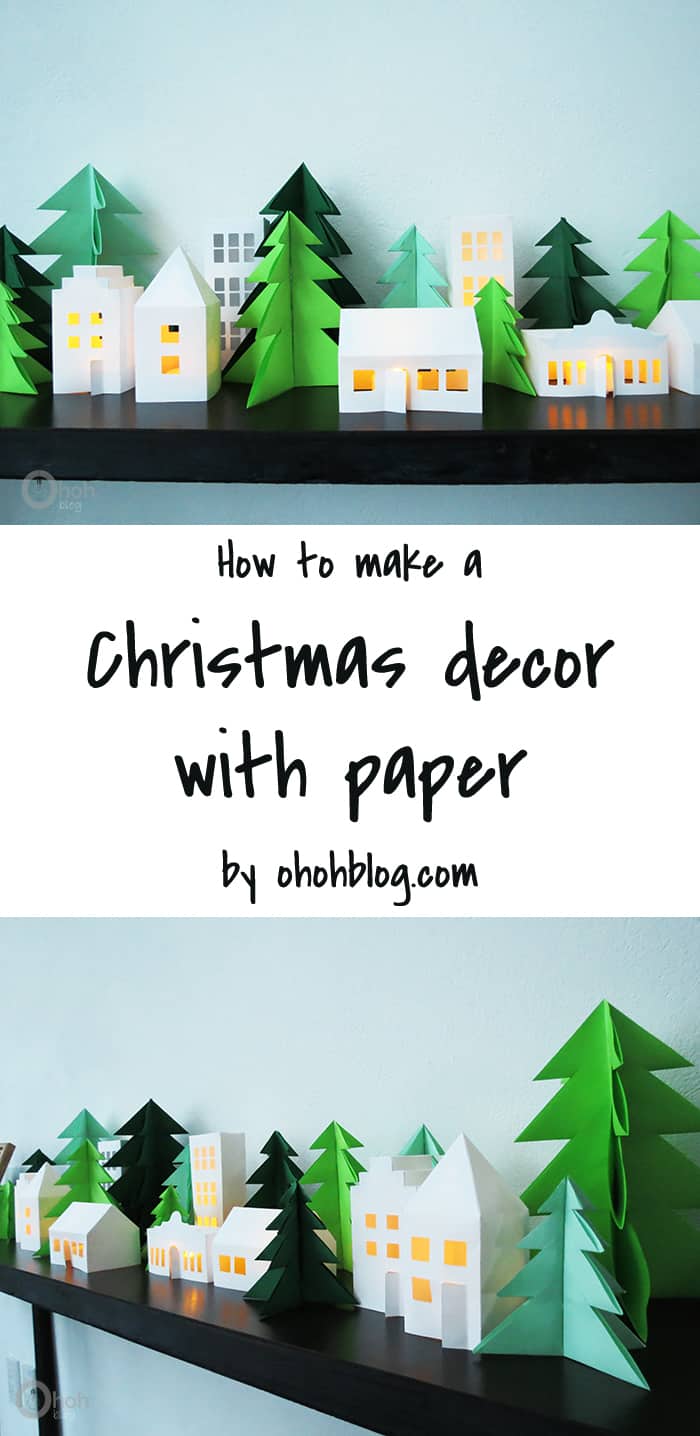 Amaryllis