This heart-shaped wreath will brighten your decor this season. It's the perfect decoration for Valentine's day or Mother's day.
You can hang it on your front door or, inside on a wall or on a window.
This easy to make DIY heart wreath is also perfect for a wedding decoration.
[ This post probably contains affiliates links, our full disclosure policy is really boring, but you can read it HERE ]
You know I like simple crafts, the heart shape is made with a wire cloth hanger, super easy.
I used eucalyptus branches, DIY paper flowers, and a few Gypsophila flowers to make the wreath.
I like how the heart wreath turns out with a nice spring feeling.
RELATED: 10 minutes DIY Spring Wreath
RELATED: Winter wreath you'll want to keep all year long
How to make a heart shaped wreath
Supplies you will need to make a heart-shaped wreath with eucalyptus:
The FREE flower template is available in my resource library along with a bunch of other great prints and patterns.
All you need to do is fill out the form and check your inbox for a welcome email with the password in. Click here to get in >>>> FREE LIBRARY ACCESS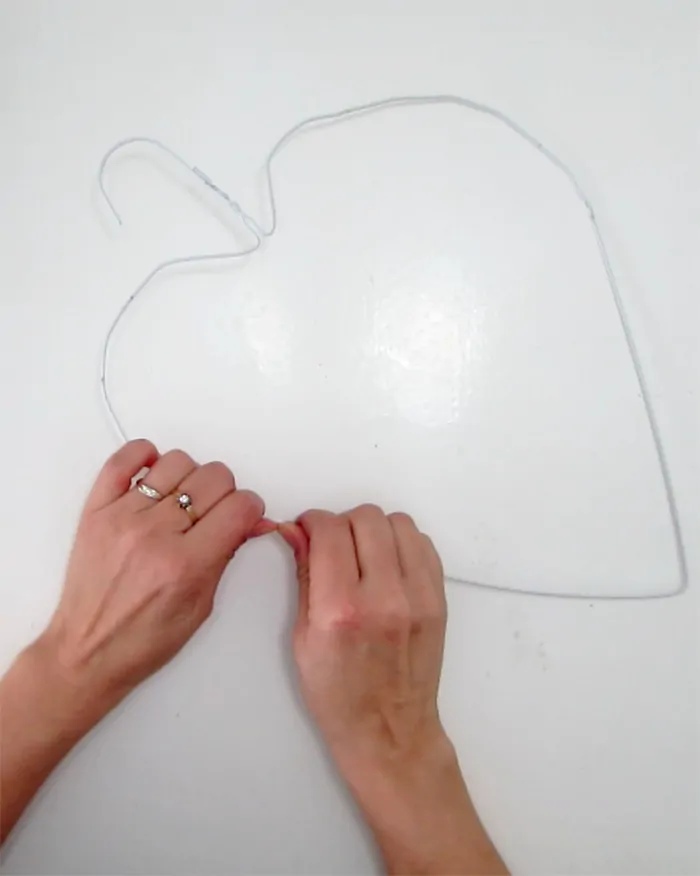 Fold the wire cloth hanger to give it a heart shape. Start by making the tip heart with the lower part of the hanger, then rounded each side of the hook.
I only used my hands and it works fine, but you can also use pliers.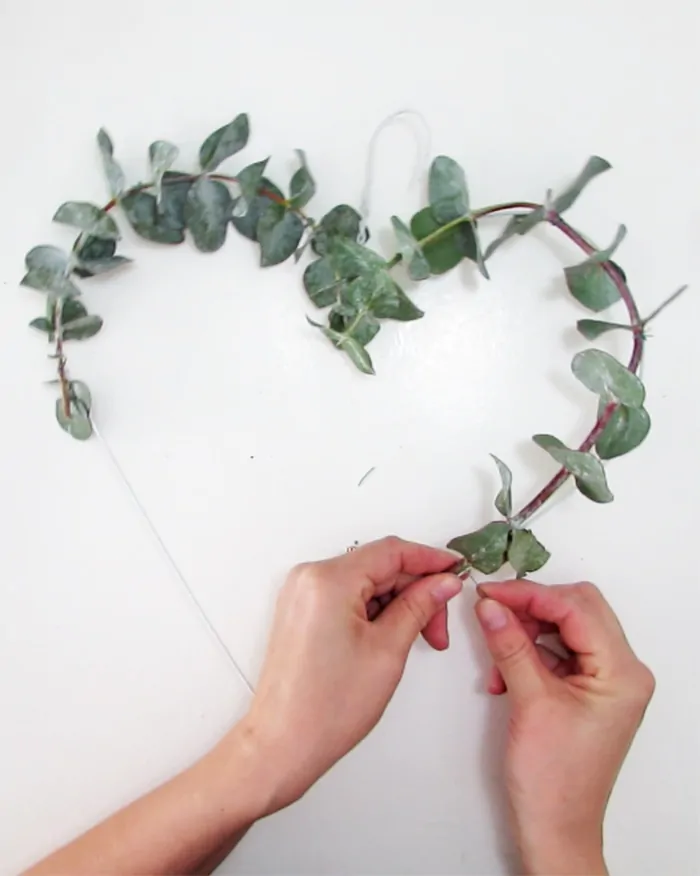 Attach the eucalyptus branches on the heart shape by wrapping small pieces of wire around. You can overlay multiple branches for a better result.
How cute does the valentine heart wreath look already? Now let's add some flowers.
I made them with paper, but you can also add some dried or artificial flowers.
Grab The FREE flower template in my resource library (Click here to get in >>>> FREE LIBRARY ACCESS) and print on a colored sheet of your choice.
I choose pink and white, but any pastel color will work great to make these paper flowers.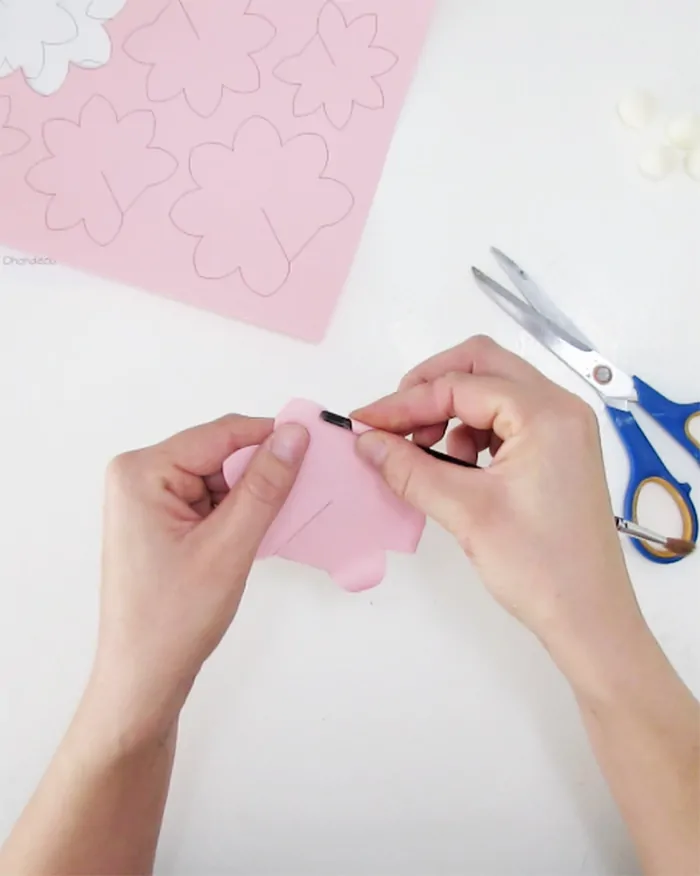 The flower is made in three parts. Cut the largest corolla following the line. Wrap the petals around a paintbrush or a small dowel.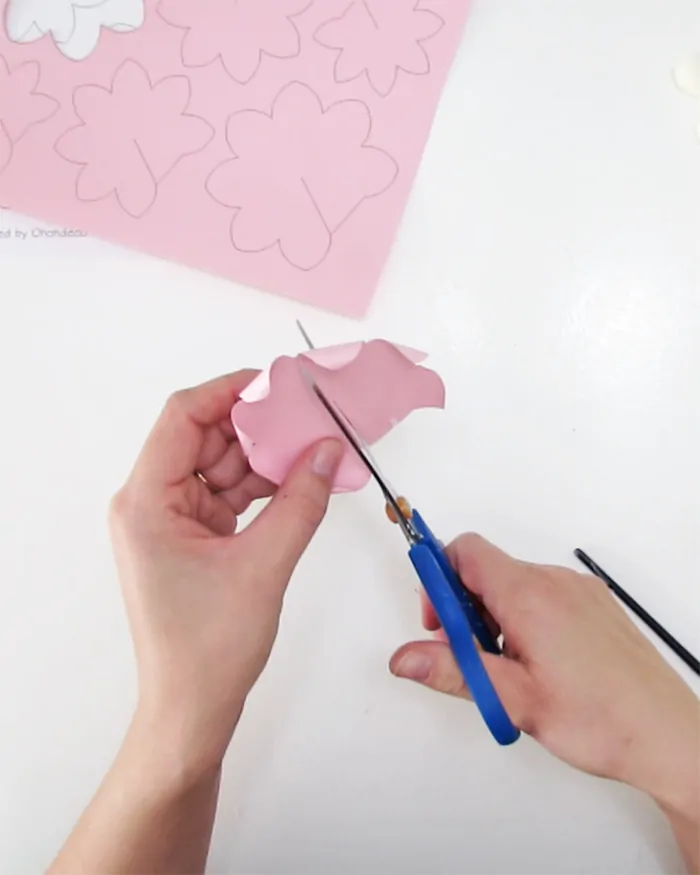 Glue the flap on the center of the flower. Repeat the same steps to make the other two corollas that will form the flower.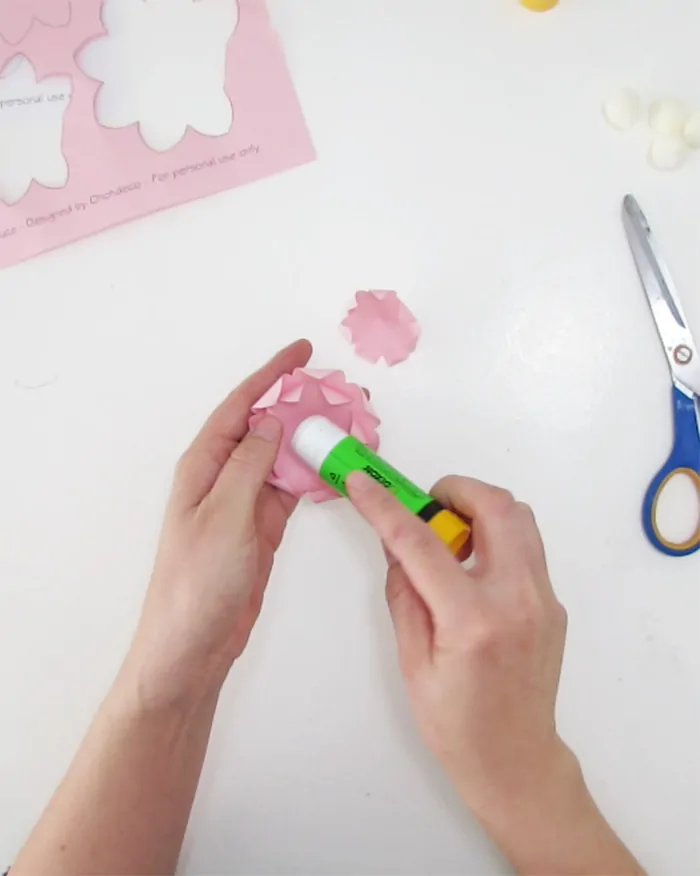 Take the three corollas and glue them together by putting a little glue in the center between each.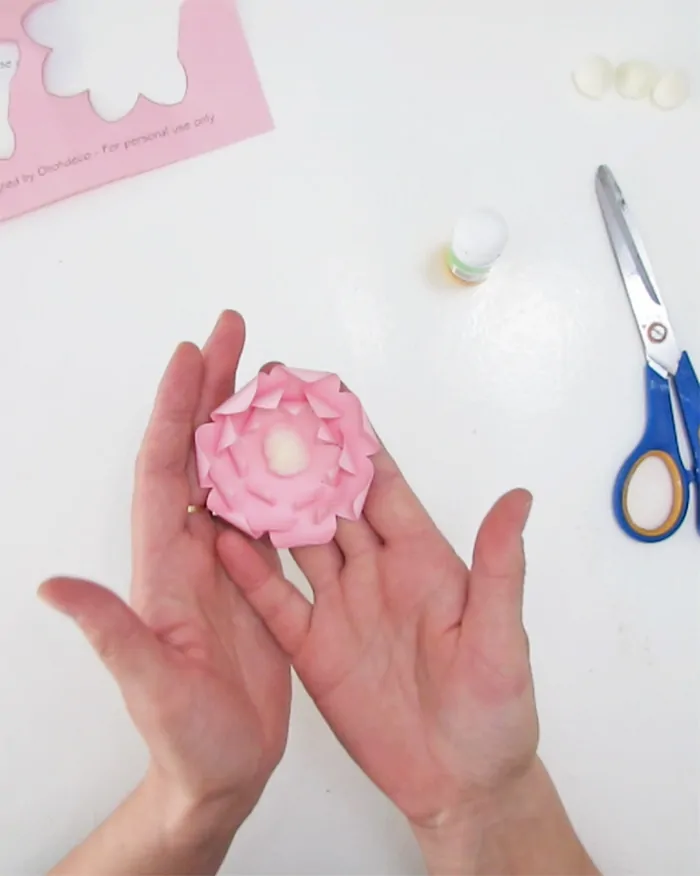 Glue a pom poms to make the flower center.
As you will notice in the last pictures, I changes my mind and decided to use wooden beards to make the flower center. Choose what works best for you.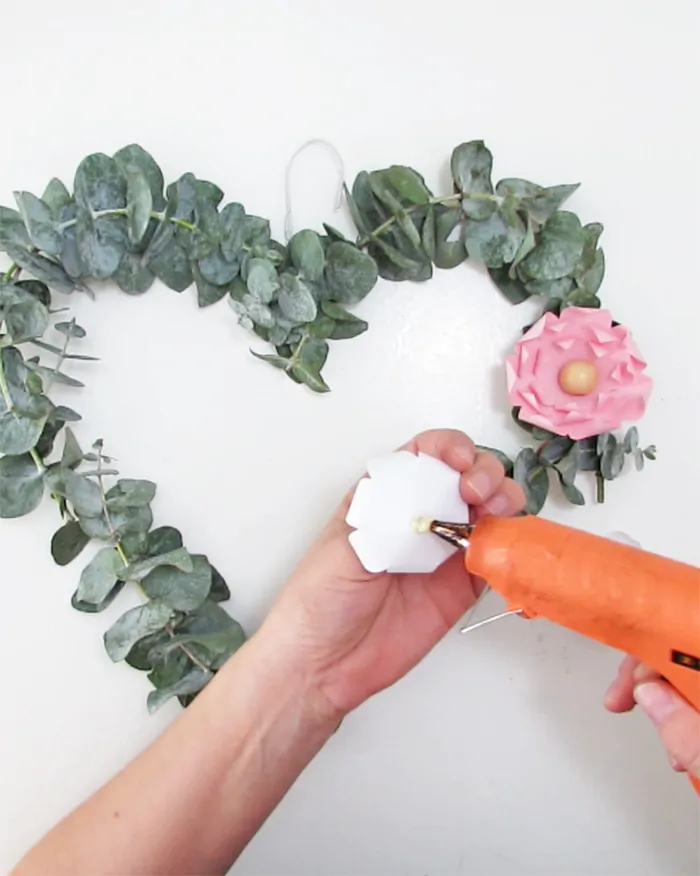 Use a glue gun to fix the flowers on the wreath. I made three paper flowers and added some Gypsophila flowers to complete the wreath.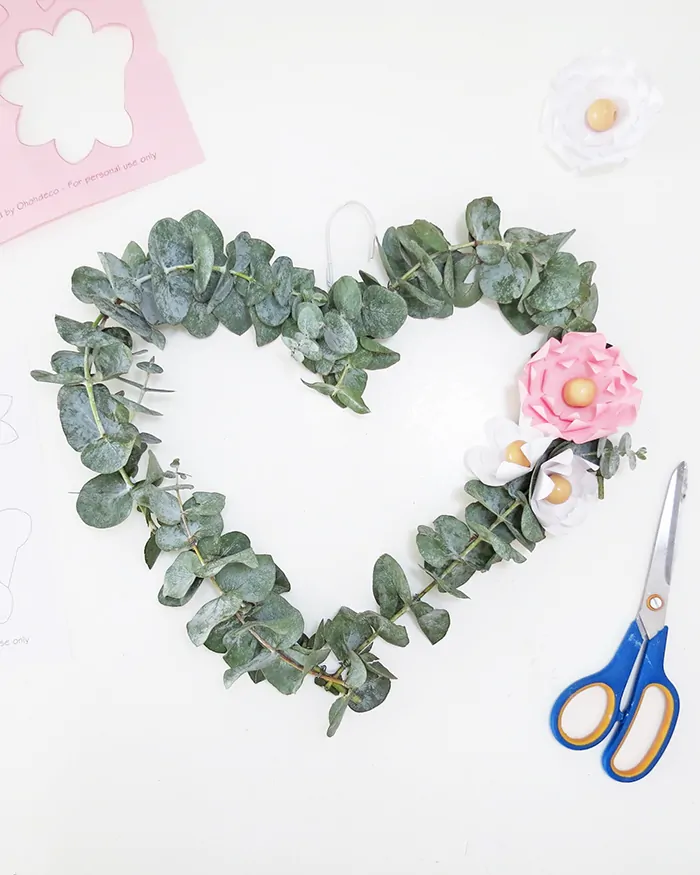 Done! You can use the cloth hanger hook to hang the wreath where you want. The eucalyptus branches will dry but will still look nice during weeks.
You can also watch how to make a heart shaped wreath on video
Follow Ohoh deco on Youtube and be the first to find out about the new DIY and crafts ideas.
RELATED: How to make an Easter Bunny Wreath
RELATED: How to make tropical paper flowers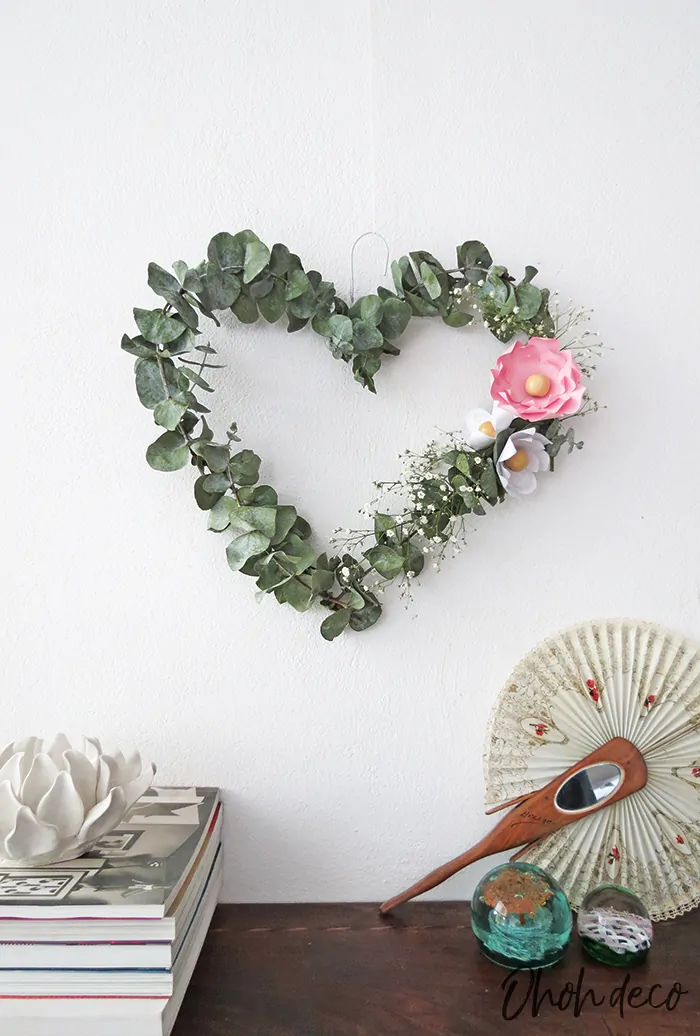 I love how this heart-shaped wreath turns out, it's a cute spring decor. It was very easy to make and I only used a few supplies.
What do you think? Would you like to make a heart wreath? What decorations will you add? A ribbon? More flowers?
I love to see your creations, so please, share your wreath with me at amaryllis(at)ohohdeco(dot)com or leave me a comment below! Have fun crafting!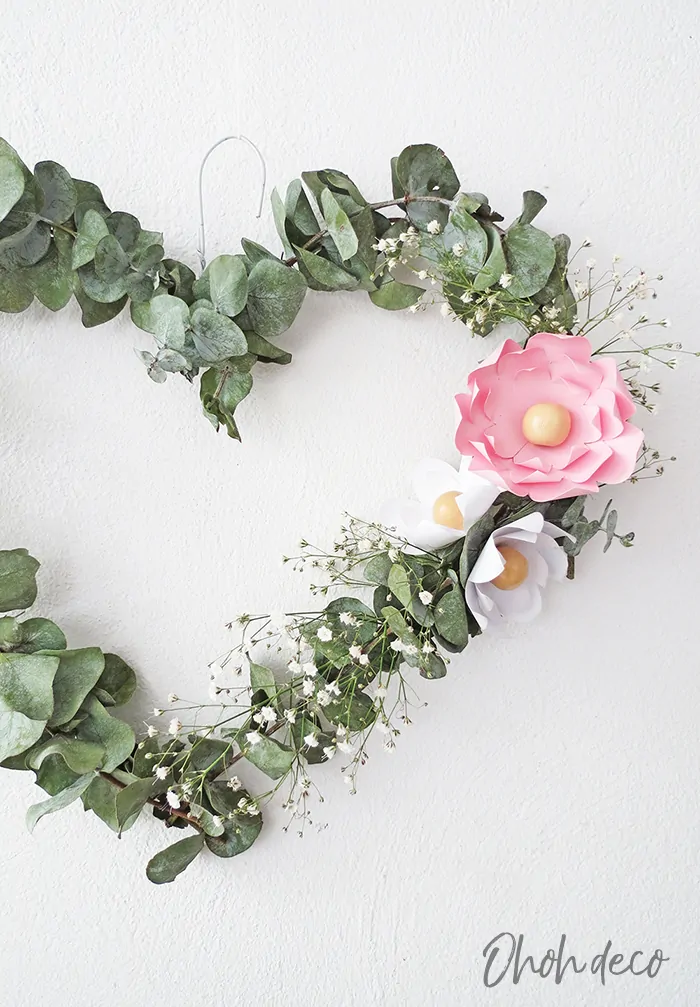 Want to remember it? Save this DIY Heart shaped wreath in your favorite Pinterest board.
You will find all the tutorials featured in the video on
my "Best DIY" page
.
Amaryllis