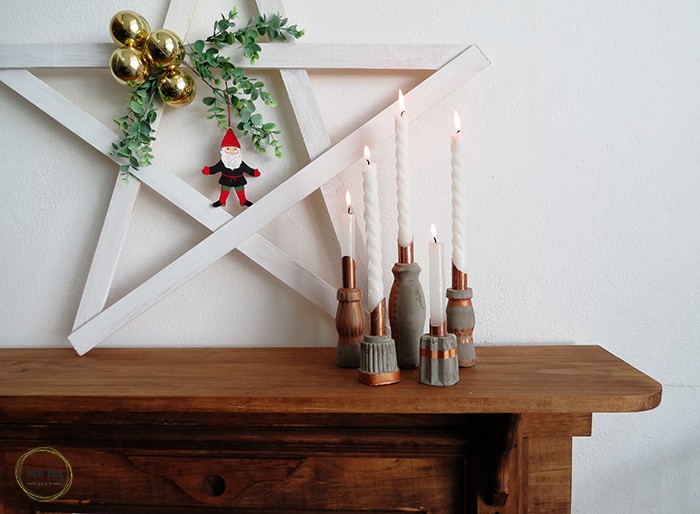 I wanted to add something on top of my homemade faux-fireplace. I like candles, they look nice and provide warm lighting. Plus, candles always make things look a little more festive.
So it was the perfect excuse to craft some new and easy candle holders.
I found a super-easy way to make homemade concrete candle holders molds using plastic containers. I took some yogurt and jello containers to make the shape of the small ones. They look greats and turn better than I expected.
I made the taller candle holder with small bottles of yogurt. Even if they all look great together, I feel that the shape of the tall one is a little dull and not very interesting.
I would like to have your opinion about that. What do you think? Any suggestion of some other nice shaped container we can use for this project?
[ This post probably contains affiliates links, our full disclosure policy is really boring, but you can read it HERE ]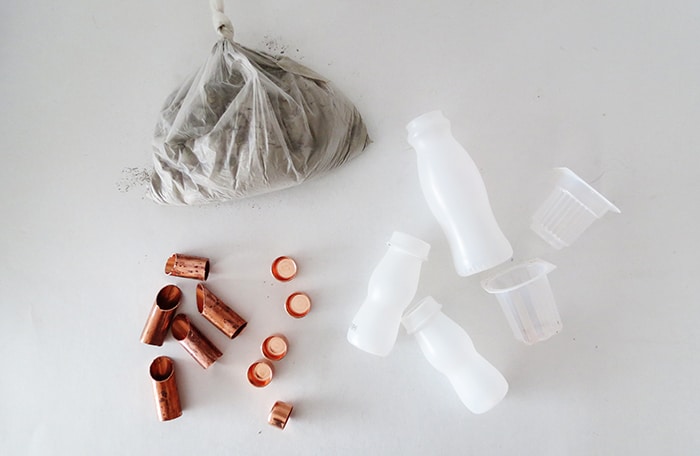 How to make DIY concrete candle holders
Materials you will need for this project:
small plastic containers
glue
candles
Any concrete will work to make these candles holders. But if you have to purchase some
I suggest this one
. It's great for craft projects and comes in small bags.
RELATED: DIY flower vase with concrete
RELATED: DIY concrete ornaments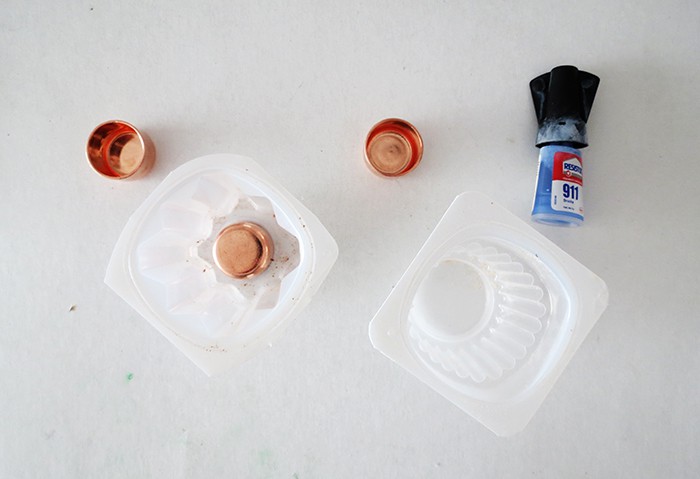 For the small containers, fix the copper caps on the bottom using glue. The cap opening must be placed against the container bottom.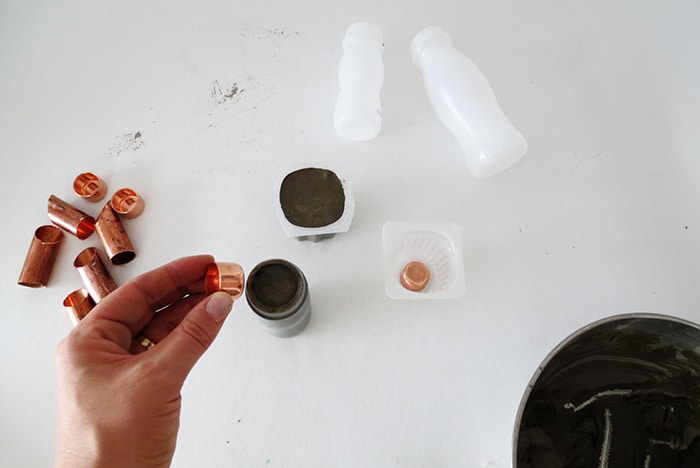 Fill the containers with concrete, give some pats on the container bottom to take out the air bubbles.
If you work with bottles, fill them with concrete then push a cap into the concrete, opening up. Hold the copper cap in place with some tape.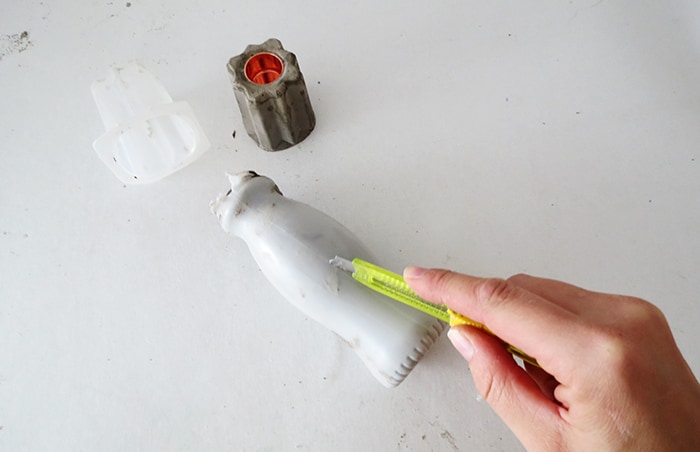 Wait 24 hours for the concrete to cure. If you have any doubts about the dying time, refer to the package instructions.
Once the concrete is dry take the container off. You may need to make small cuts with a cutter to easily remove the bottles and containers.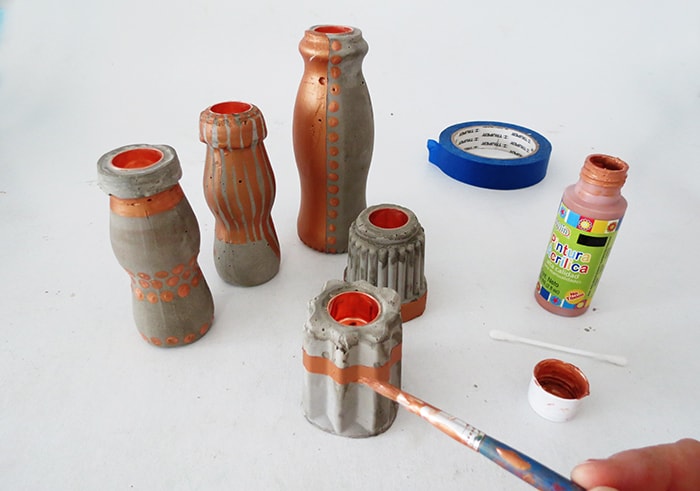 Paint some geometric shapes on the candle holders. You can help yourself with masking tape to paint straight lines.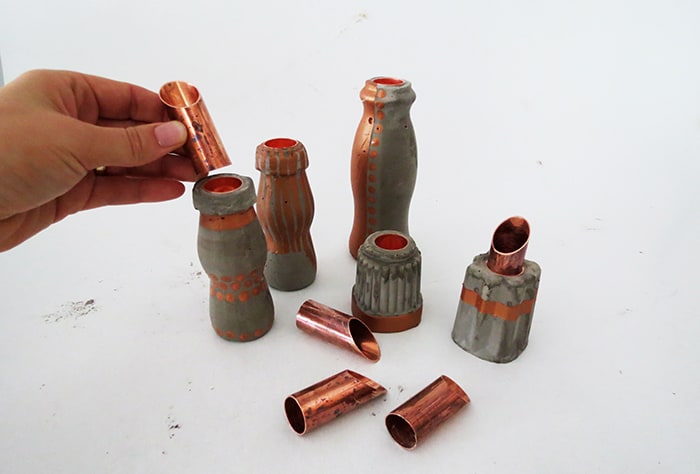 Cut the copper pipes in pieces of 2 inches long. One edge straight and the other sidelong. Sand the edges and remove the red label on the pipe. Place the pipe into the copper caps and done. You just have to add candles!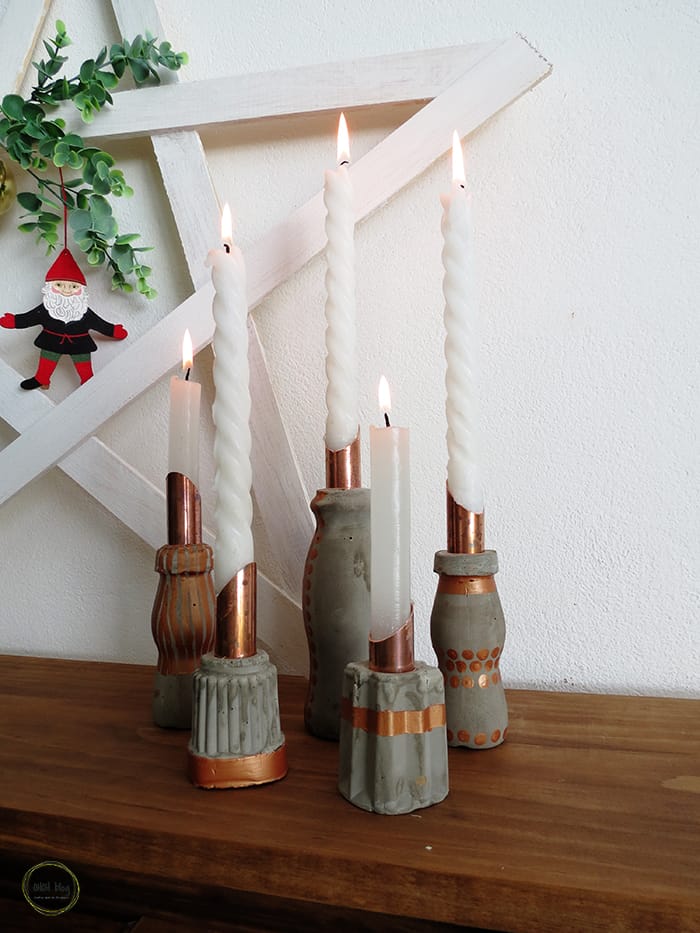 Light up the candles and enjoy your new decoration.
RELATED: How to make a concrete vase
RELATED: DIY Scandinavian Christmas ornaments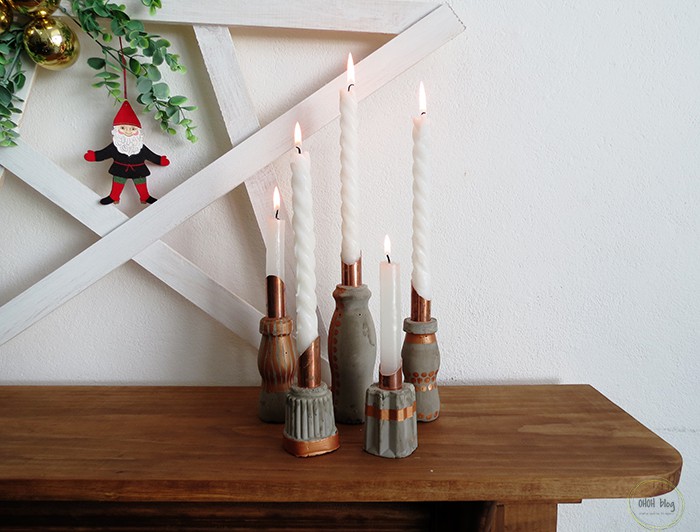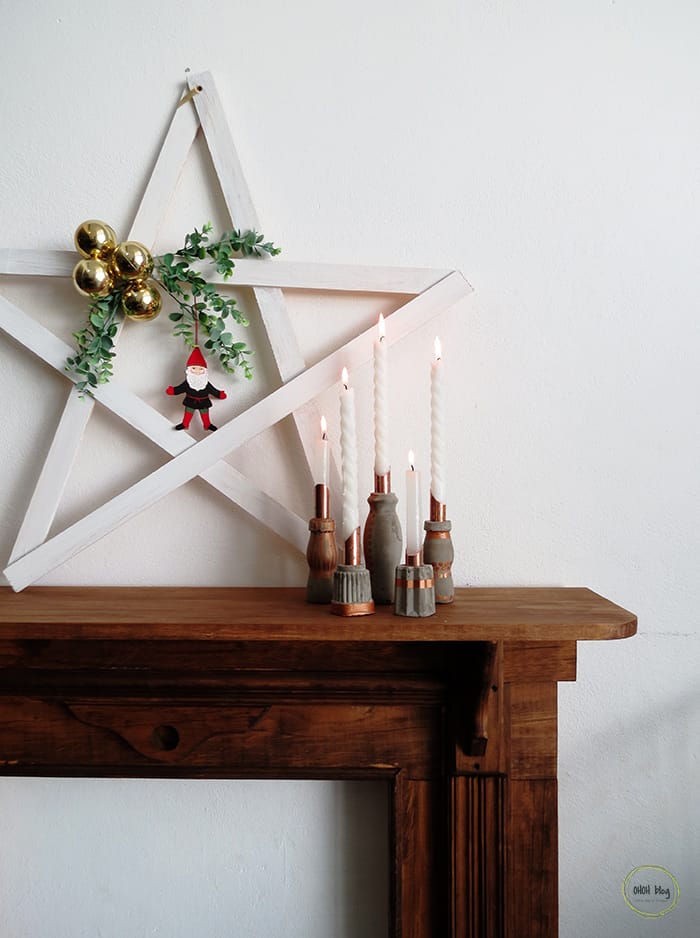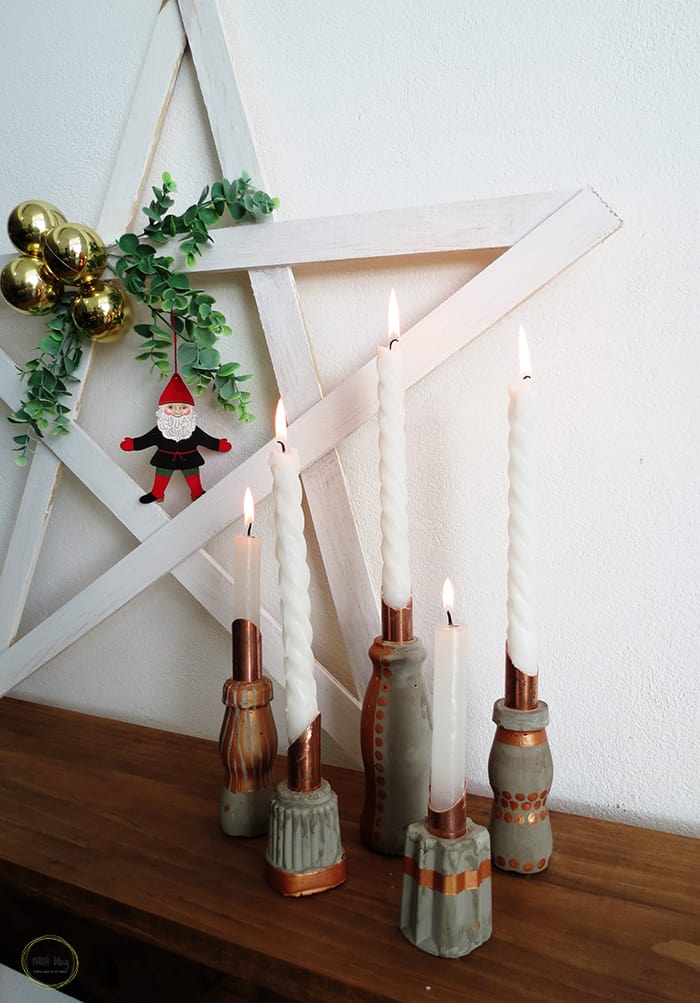 Want to remember it? Save these easy DIY concrete candle holders in your favorite Pinterest board.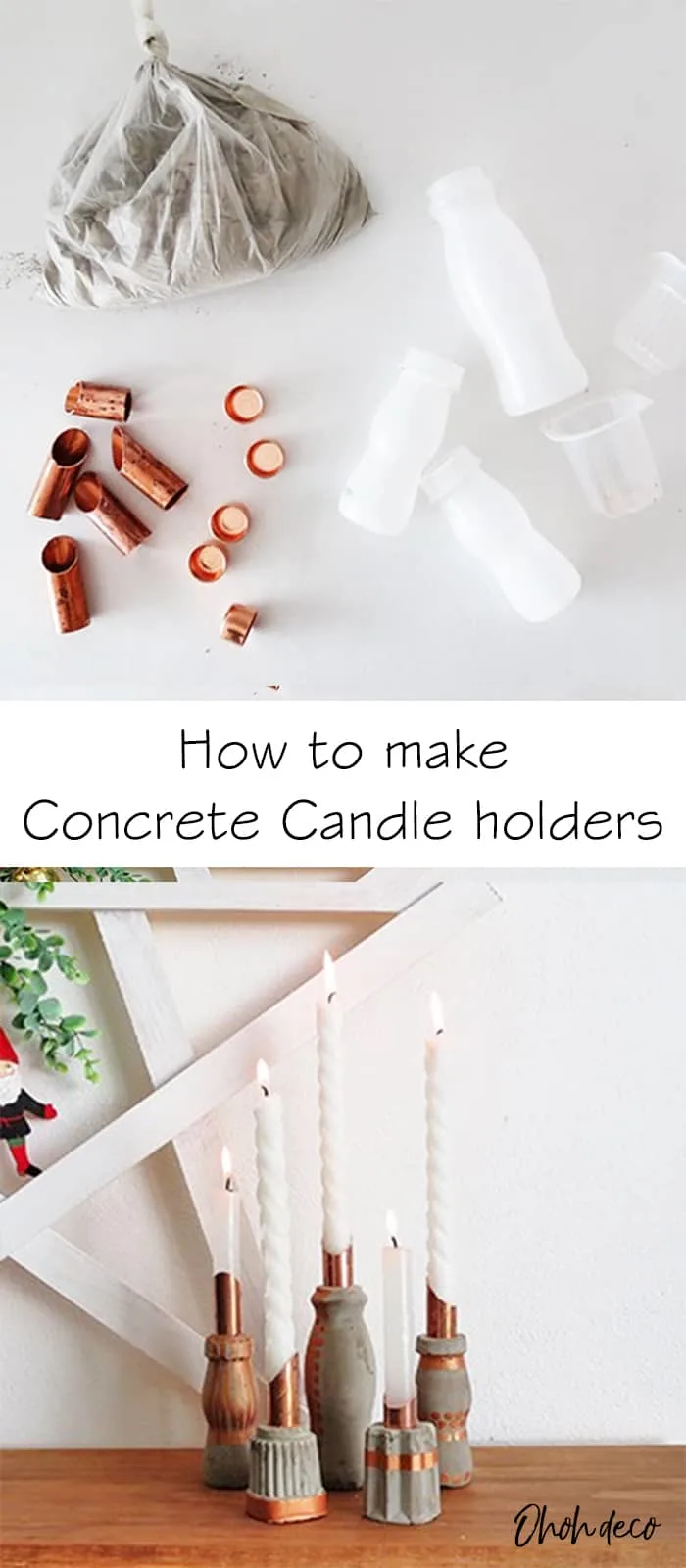 You will find all the tutorials featured in the video on my "Best DIY" page.
Amaryllis