When spring arrives I feel the need to gardening and work in the backyard…but as we have two big dogs and they destroyed all the plants and trees I had in the garden, I keep my greens inside!
[ This post probably contains affiliates links, our full disclosure policy is really boring, but you can read it HERE ]
Spring is the perfect time to change pots and of course to buy some new plants! Which means I need more pretty planters. I'm always on the look for affordable options so DIY is a great solution.
And being honest with you, I think that building planters if one of my favorite items to DIY. You can work with a lot of different materials (wood, concrete, clay…) and it is also a great craft to recycle unused containers and household items.
I gathered 70 DIY tutorials to inspire you to create awesome planters. I divided the post into 7 different sections to make it easy for you to find the kind of planter you need and want to make.
You will find 10 tutorials under each of these topics, you can read the full article or scroll down to your favorite section. Have fun DIY-ing!
If you want to know my top three DIY planters are: the concrete planter, the 3D planter, and the copper hanging planter. I added them to my to-do list. Tell me, which are your favorites?
RELATED: 21 DIY indoor herbs garden
RELATED: Recycled tin can planters
Photo above by DIY in PDX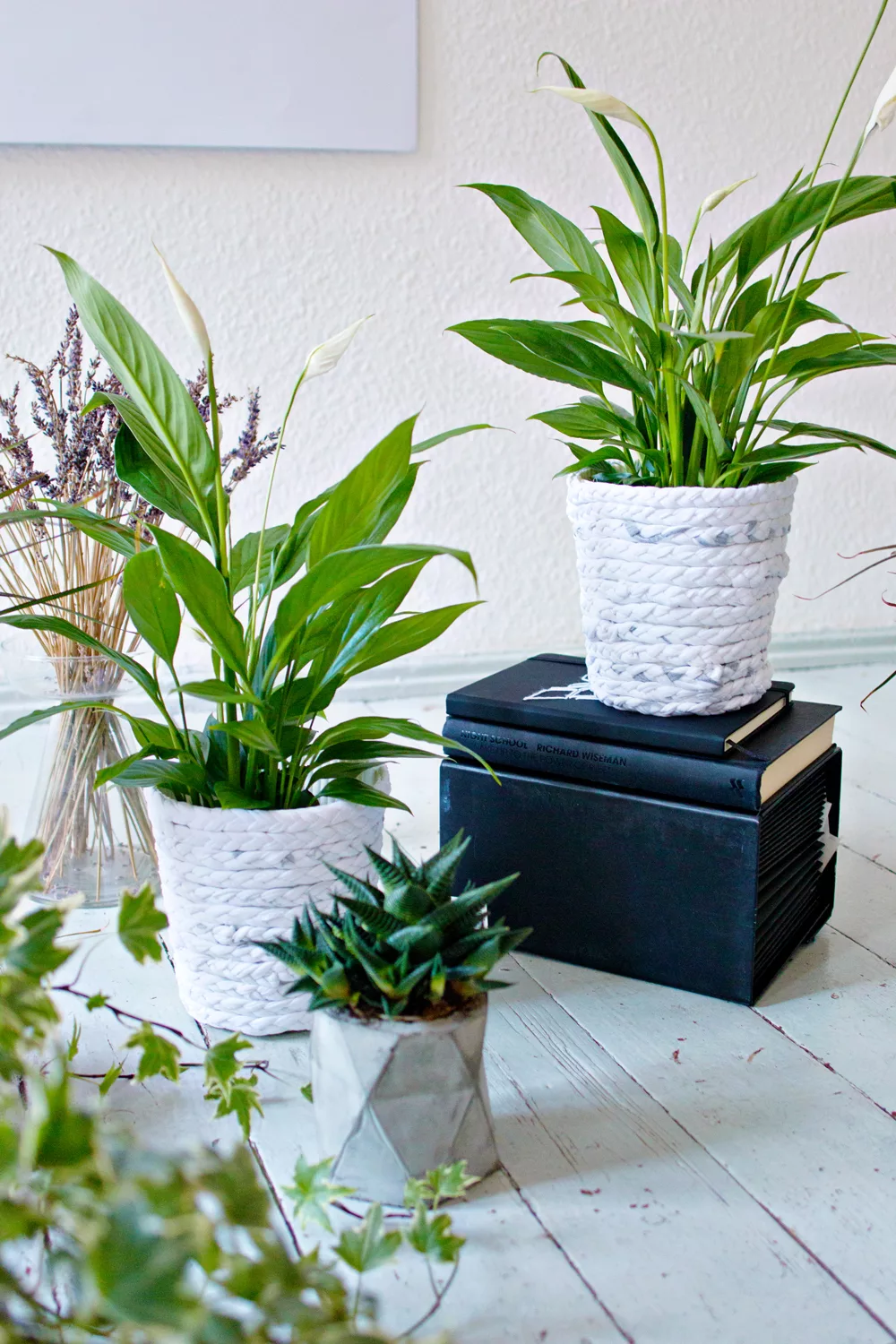 Picture by Lana Red Studio
DIY indoor planters

There is a wide variety of plants and flowers that you can use indoor. Your choice will depend on your tastes, the brightness of the room, and your gardening skills. Having pretty pots to display your plants is an integral part of decoration and a great way to add color and texture to a room.
Dive into the DIY below to find creative ideas and make some pretty planters for your home.
2. How to weave a basket planter
5. DIY geometric concrete planter
10. Make a planter with a plastic bottle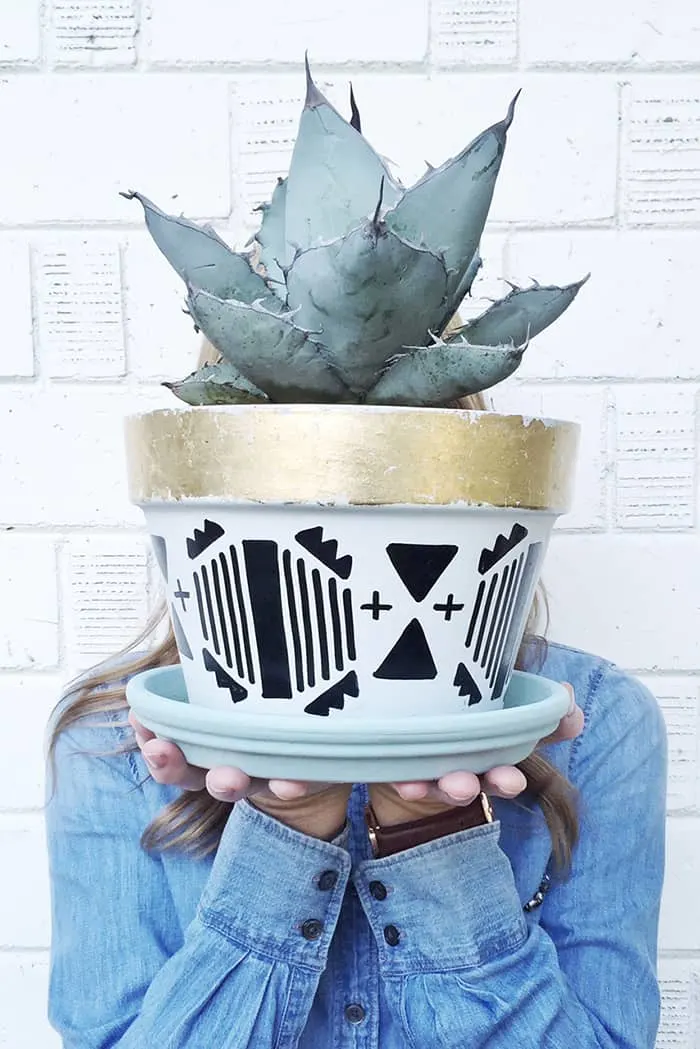 Picture by Love and Specs
Planter hacks

In this section, you will find quick and easy ideas to customize planters. We don't always have time to get involved in long DIY. So I gathered some great ideas to hack terracotta or plastic planters and give them a unique touch. Quick and easy DIY are the best, don't you agree?

11. Make a leather-covered planter
12. Customize a terra cotta planter
13. How to make a plaster spiky planter
14. Memphis inspired painted planters
16. Braided planter
20. DIY 3D planter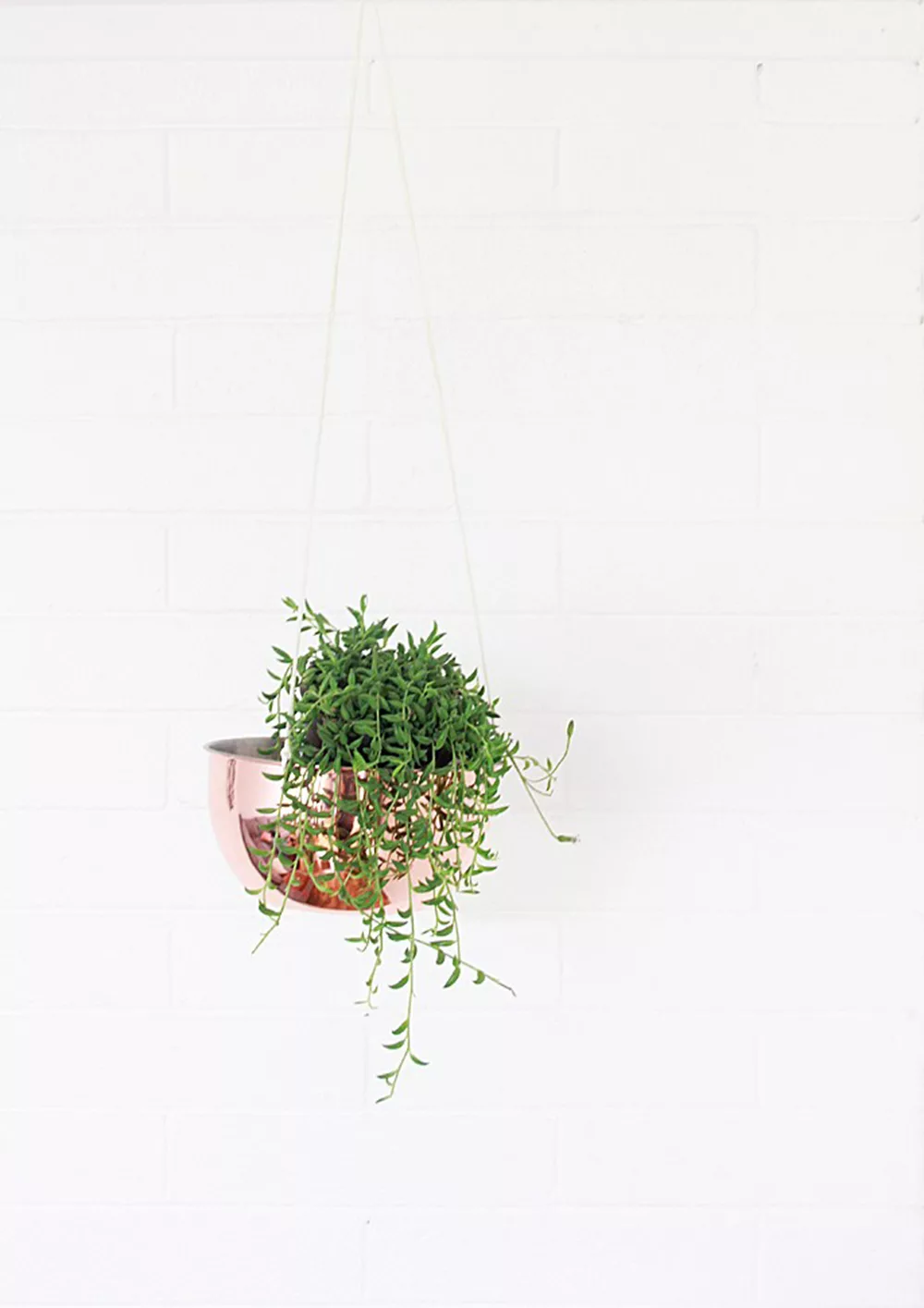 Picture by A Bubbly life
How to make plant hangers
Using plant hangers is a nice way to add plants where you usually wouldn't allow too. An awkward corner or a small section of wall are the perfect places to hang greens. Plant hangers are super easy to make. You can just tie rope, weave some macrame, or sew scrap fabric. Find how below.

23. DIY diamond hanging planter
25. House shaped wall hanging planter
26. Make a plant hanger with ceramic bowls
27. Simple hanging planter basket
28. How to make a plant hanger with scrap fabric
29. Disco ball hanging planter
30.DIY hanging leather planter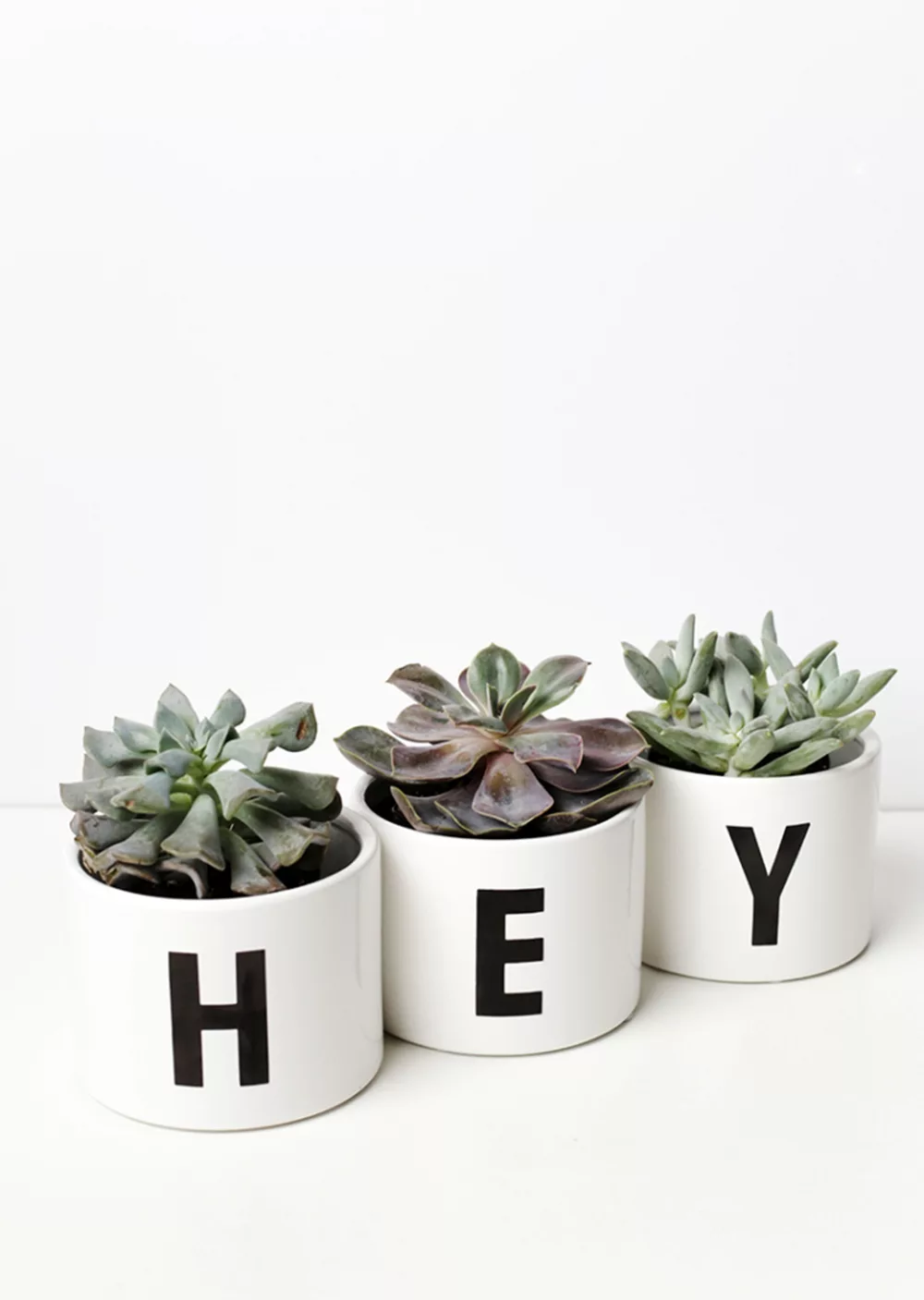 Picture by The Merrythought
DIY small planters
Small planters are perfect for succulents, cacti, and for plant propagation. It's also a nice gift idea. You can put together a few assorted planters with small plants, and it will be even better if you can personalize them with a DIY. Let's give a try!

34. How to make a mini succulent planter
35. DIY mini upcycled planters
40. Tiny upcycled plant hanger
Picture by A Bubbly Life
Plant holder DIY

The first place to display plant is the window sill, but if you have a little plant addiction or like large plants, you will soon run out of space. A great alternative is using a plant stand. It's is a great way to show your plants and to makes life easier for cleaning.
42. Turn tomato cages into a plant stand
46. DIY wood and copper plant stand
48. DIY vertical basket plant display
49. How to build a mid-century plant stand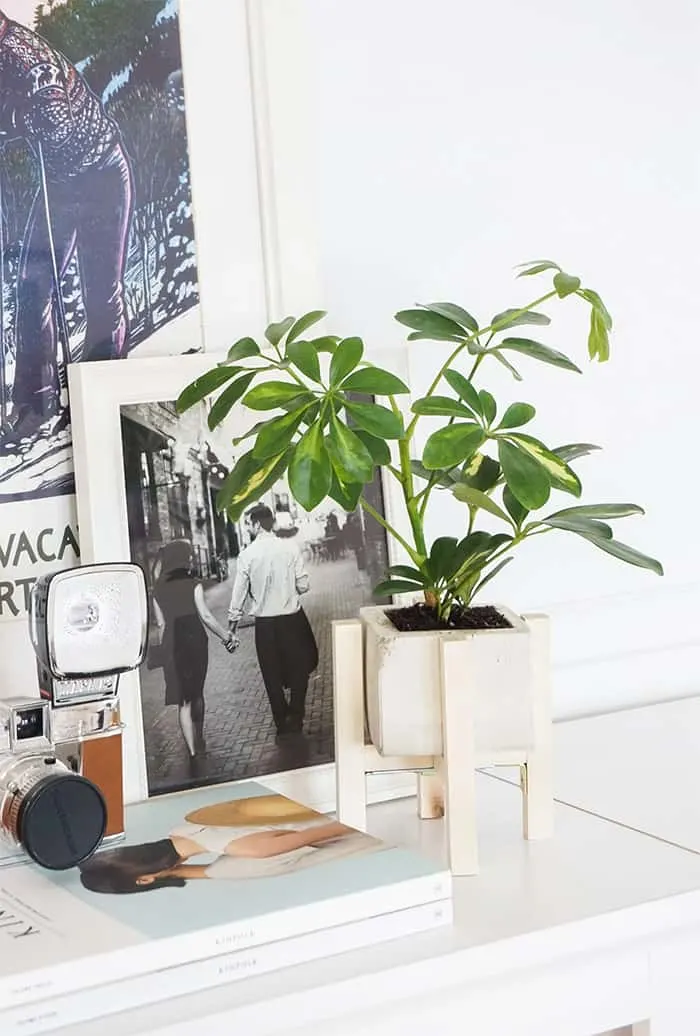 Picture by Francois et Moi
DIY concrete planters
Concrete is a great material to build planters: it's water-resistant and cheap. You can create a mold of almost any shape and pour concrete in to create a unique planter. You will find below the best ideas to make geometric, hand-shaped, self-watering, head-shaped, or boxed planters. Have fun making your cement planter.
51. Concrete planter and wood stand
53. DIY head planters from concrete
54. Geometric concrete planter
55. Modern concrete planter DIY (made with sprinkler guards)
56. DIY concrete hand planters
57. How to make a large concrete planter
58. Self-watering concrete planter
59. Outdoor concrete planter with wood base
60. DIY outdoor planter with cement pavers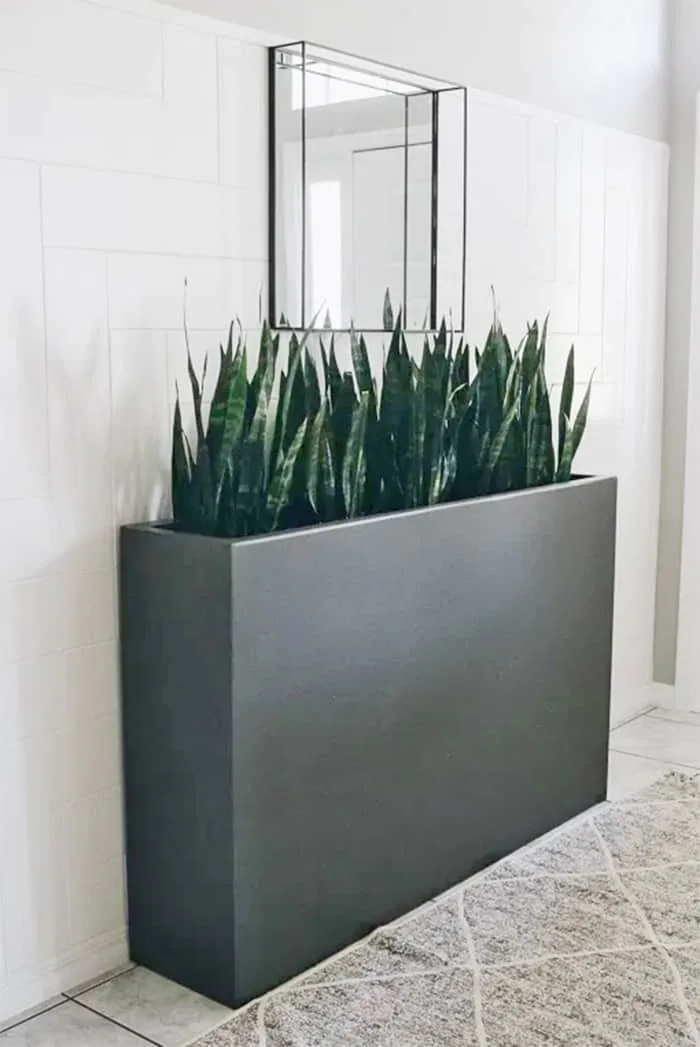 Picture by Within the Grove
DIY Large planters
Large planters are perfect to grow a tree and to use outside. Due to their size, they can be relatively expensive, building a large planter is, therefore, a good and cheap option. You will find several ideas that include woodworking, concrete, and trash can hacks.

61. How to build a large planter box
64. Ombre planter
65. How to build a large plywood planter
67. Make beautiful and simple wooden planter boxes
68. How to build large cedar outdoor planters
69. Tall planter made with trash cans
Want to remember it? Save these 70 fabulous DIY planter ideas in your favorite Pinterest board.


You will find all the tutorials featured in the video on my "Best DIY" page.
Amaryllis