I can't believe summer is almost over! I hope you enjoy it as much as I did. I was so happy to get back home after our holidays and seeing that almost all my plants survived…just one mini cactus didn't make it!
I'm waiting for the kids to get back to school so I can plan a trip to the plant nursery. Meanwhile, I sew some pretty plant hangers. These are really easy to make and it's a fun project to use your scrap fabrics. I had some white cotton left from the baby gate, so I use a sharpie to customize them and make some graphic fabric planters.
I like that, with this idea, you can hang plants everywhere. You just need to put a nail (or an adhesive plastic hook) on the wall and hang the fabric bag to display your plant. Now I have a lot of new places where I can hang my plants. Tell me, where would you like to use it?
Sewing a DIY plant hanger
The material you will need to sew your fabric plant hanger:
A rectangle of fabric of 24 x 12 inches
1 1/2 yard of rope
matching thread
some pins
A sewing machine
A plastic planter
* * *
¡No puedo creer que el verano casi haya terminado! Espero que lo han disfrutado tanto como yo. Estaba tan feliz de volver a casa después de nuestras vacaciones y ver que casi todas mis plantas sobrevivieron … ¡solo un mini cactus no lo logró!
Estoy esperando a que mis niños regresen a clase para poder planear una vuelta al vivero. Mientras tanto cosi unas bonitas suspensiones para mis plantas. Estos son realmente fáciles de hacer y es un proyecto divertido para utilizar tus telas de desecho.
Tenía un poco de algodón blanco que me quedaba después de coser la puerta para bebé, así que use un marcador para personalizarlos y hacer algunas macetas de tela gráfica.
Material que necesitarás para coser una suspensión de tela:
Un rectángulo de tela de 62 x 30 cm

1 y medio de cuerda

hilo

algunos alfileres

Una máquina de coser

Una maceta de plástico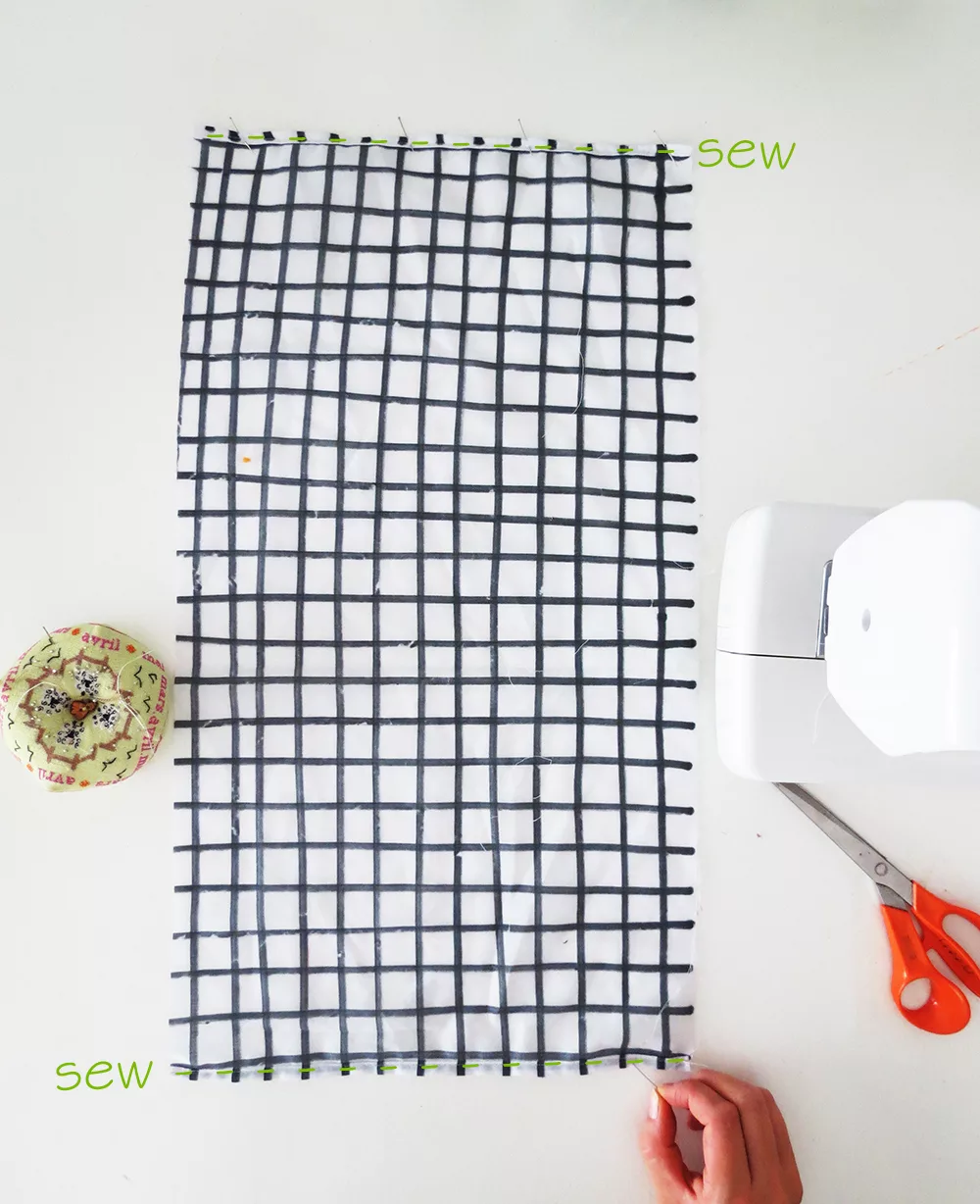 First sew the edges of the small sides. Make a double fold, pin and sew along the edges. To avoid the fabric from fraying, you can make a zigzag seam along the long sides.
* * *
Primero tienes que coser los bordes de los lados pequeños. Haz un pliegue doble, fijarlo con alfileres y cose a lo largo de los bordes. Para evitar que la tela se desgaste, puede hacer una costura en zigzag en los lados largos.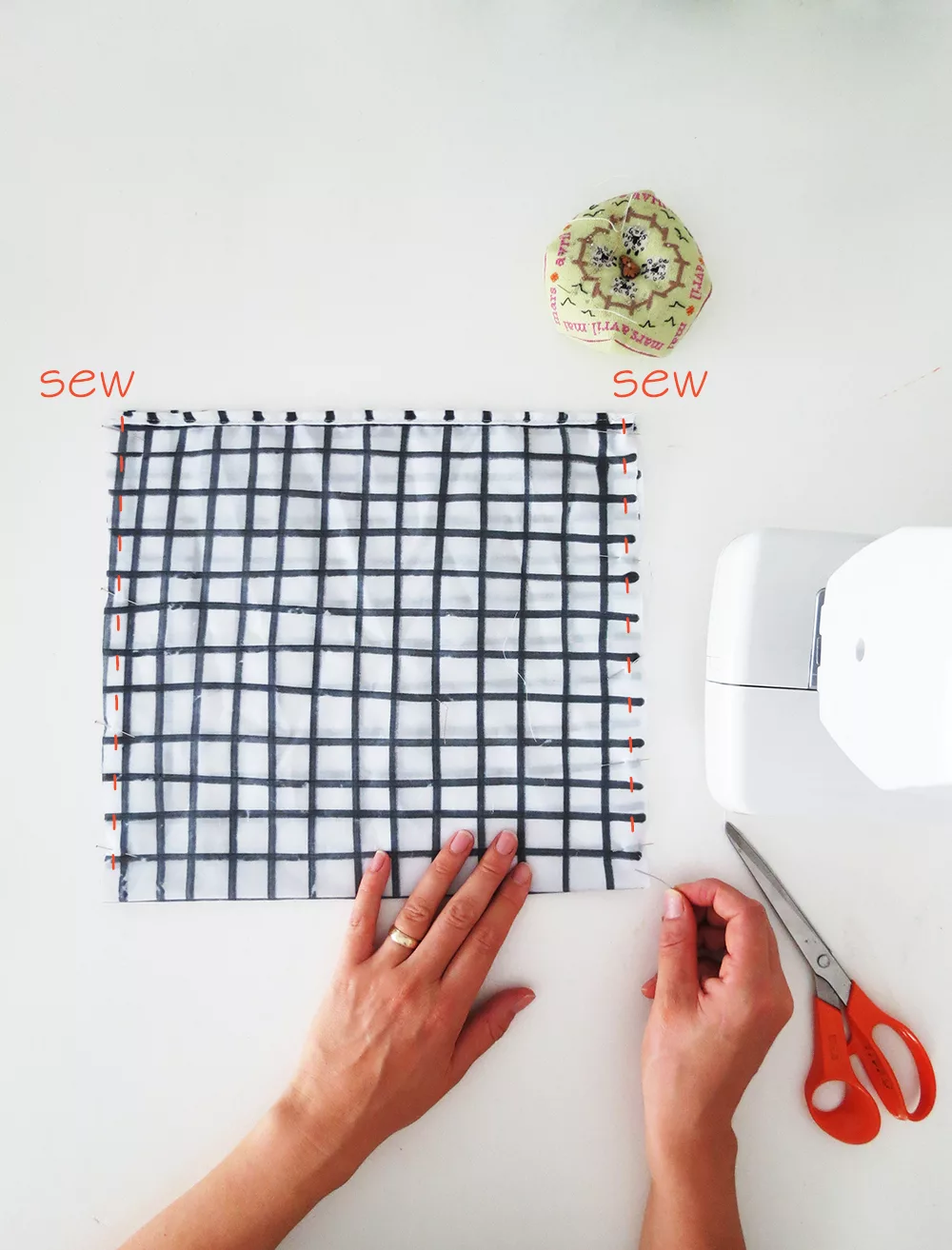 To make the bag, fold the fabric in the middle, the wrong side out. Check that small sides are on top of each other, pin the sides and sew. You have to stop the seam 1/2 before the fold on each side, that way you will be able to pass the rope out of the bag and make a knot.
* * *
Para hacer la bolsa, pliegues la tela en su centro, con la tela al revers. Verifiques que los lados pequeños estén uno encima del otro, fije los con alfileres y cosa. Tienes que parar la costura 1 cm antes del doblez en cada lado, de esa manera podrás pasar la cuerda por fuera de la bolsa y hacer un nudo.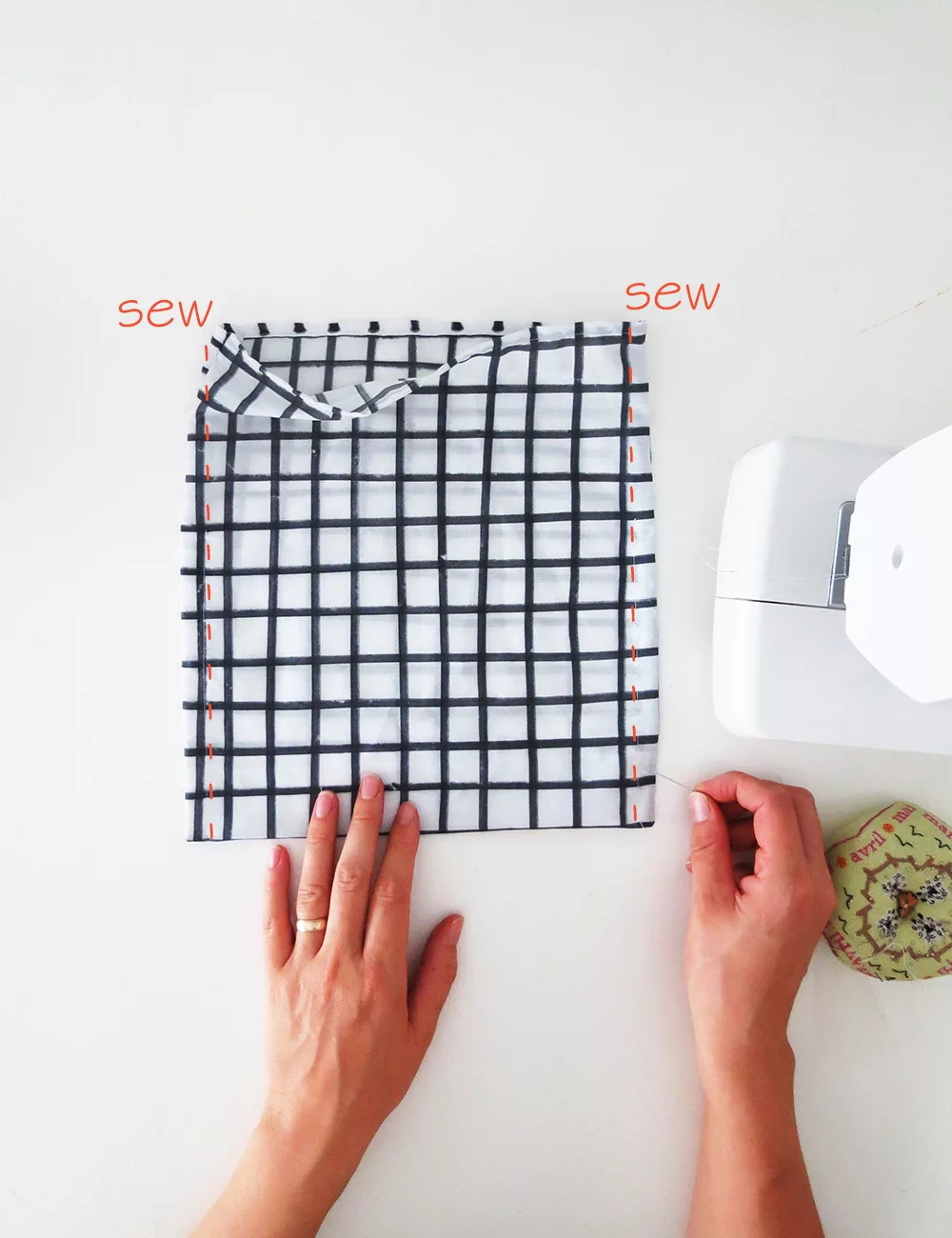 Turn the bag to have the right side out, iron to flattened the seams. Make a second seam on each side, at 1/2 inch from the edge, to make a channel to pass the drawstring. This time you can sew until the fold.
* * *
Gire la bolsa para tener la tela por fuera, plancha para aplanar las costuras. Haga una segunda costura en cada lado, a 1,5 cm del borde, para hacer un canal donde puedas pasar la cuerda. Esta vez puedes coser hasta el doblez.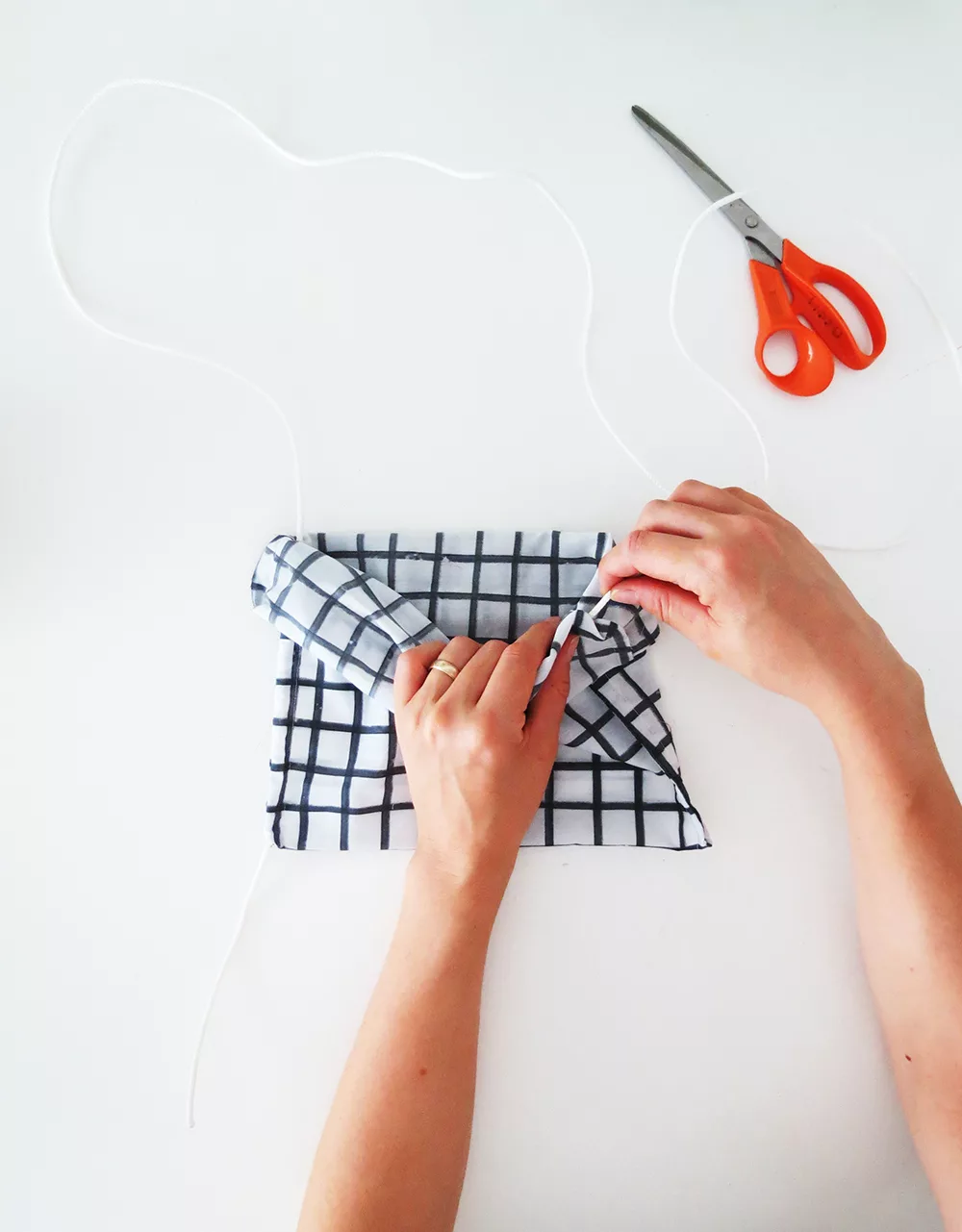 Take the rope and pass one end on each side of the bag.
* * *
Toma la cuerda y pasa un extremo en cada lado de la bolsa.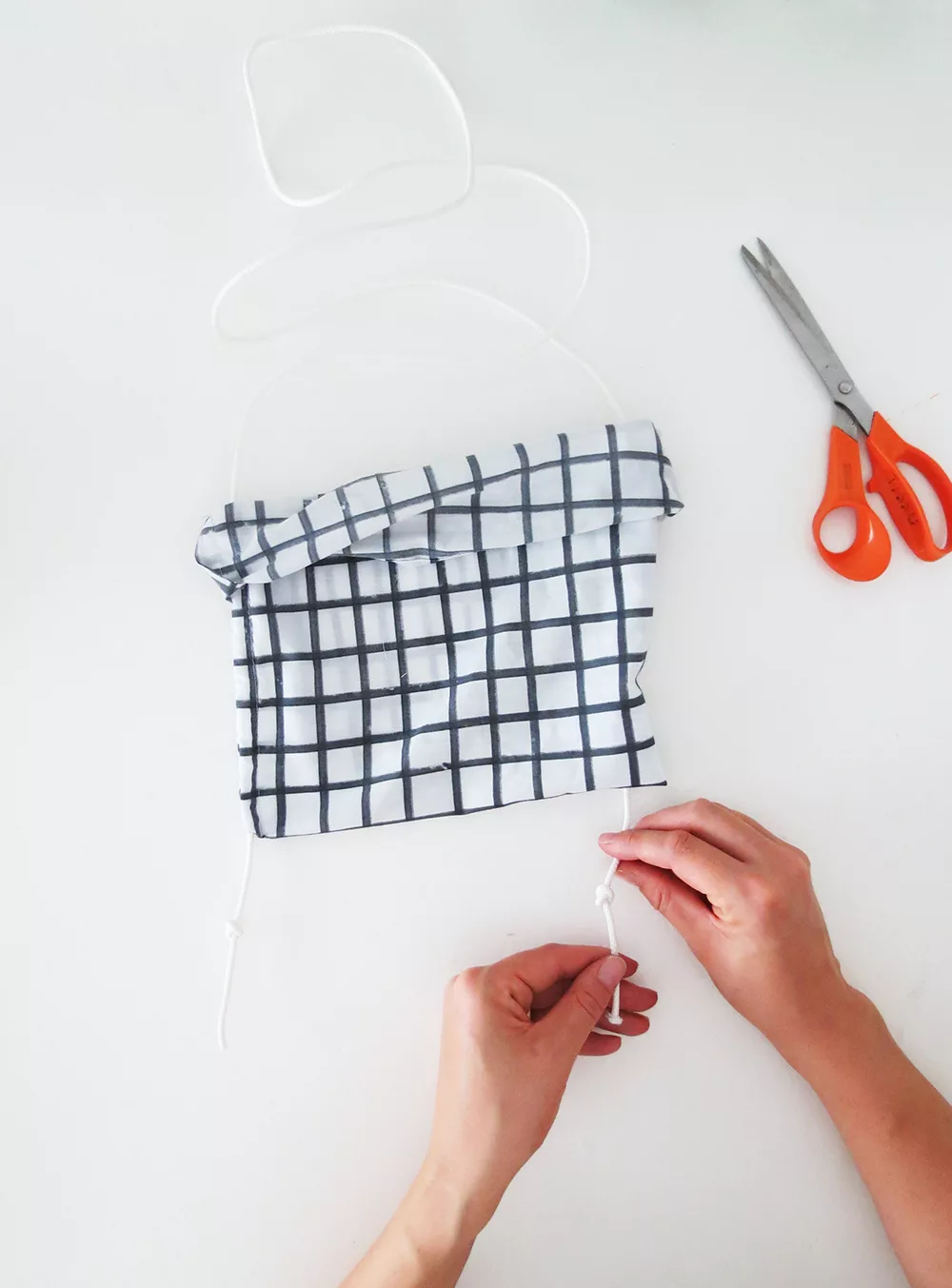 Secure the rope with a knot on each end. I also made a few extra hand stitches to fix the rope with the bag…just to be sure that even if the knot breaks up my plant does not end on the ground.
* * *
Aseguras la cuerda con un nudo en cada extremo. También hice algunas puntadas a mano para fijar la cuerda con la bolsa … solo para asegurarme de que incluso si el nudo se rompe, mi planta no termina en el suelo.
And done! I just put a nail on the wall to hang my fabric planters. You can also screw a hook in your ceiling, or hang them at the end of a curtain rod. As they are very lightweight, you can almost place them everywhere you like!
How cool is that? We now have a good reason to buy some more plants.
I love to see your creations, so don't hesitate to share your sewing projects in comments. Have fun sewing!
* * *
¡Y listo! Solo puse un clavo en la pared y colgué mis macetas de tela. También puedes atornillar un gancho en el techo o colgarlas al final de una barra de cortina. Como son muy livianas, ¡casi puedes colocarlas donde quieras!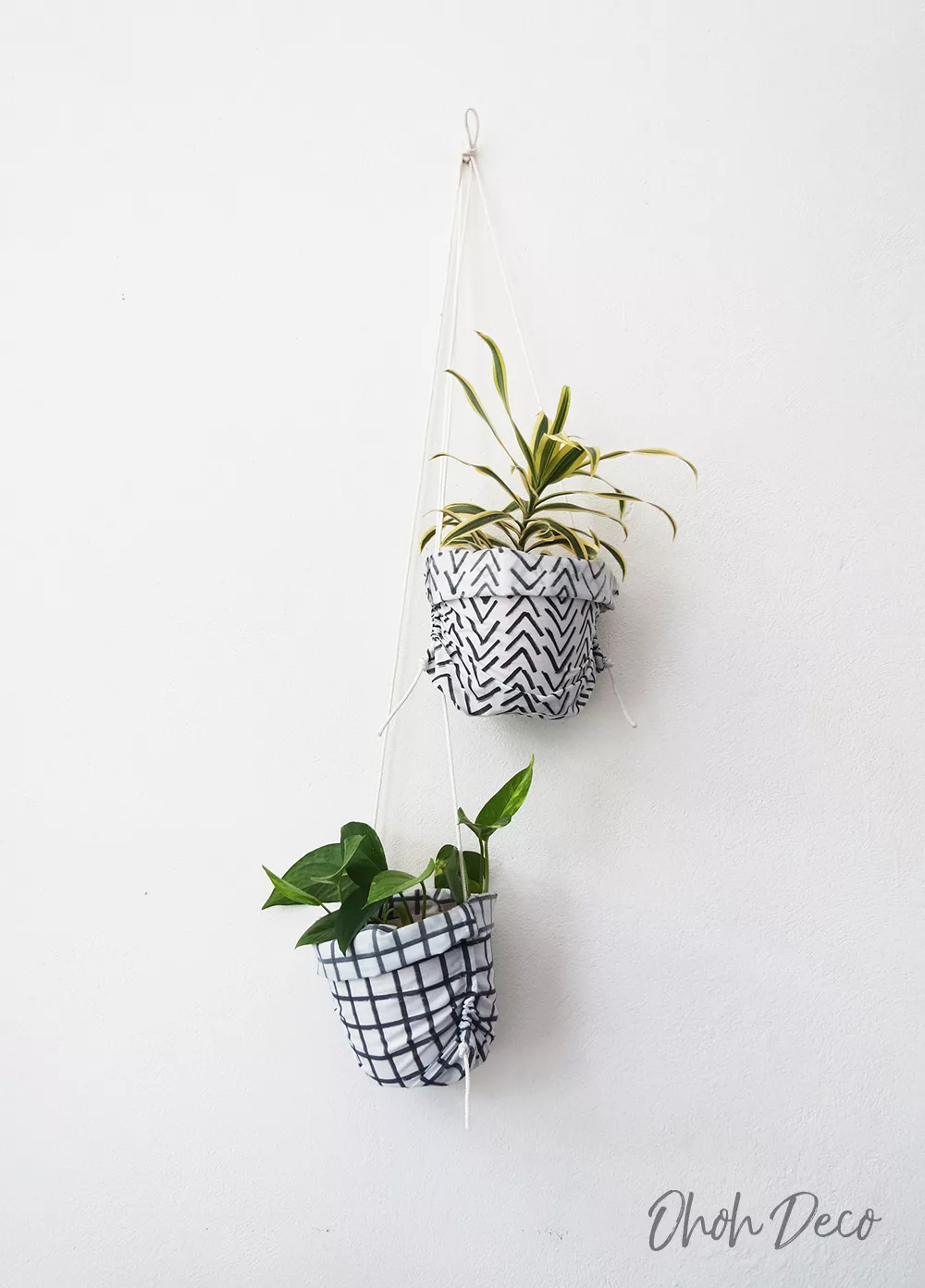 Looking for more sewing ideas?
You will find all the tutorials featured in this video on my Best off-page.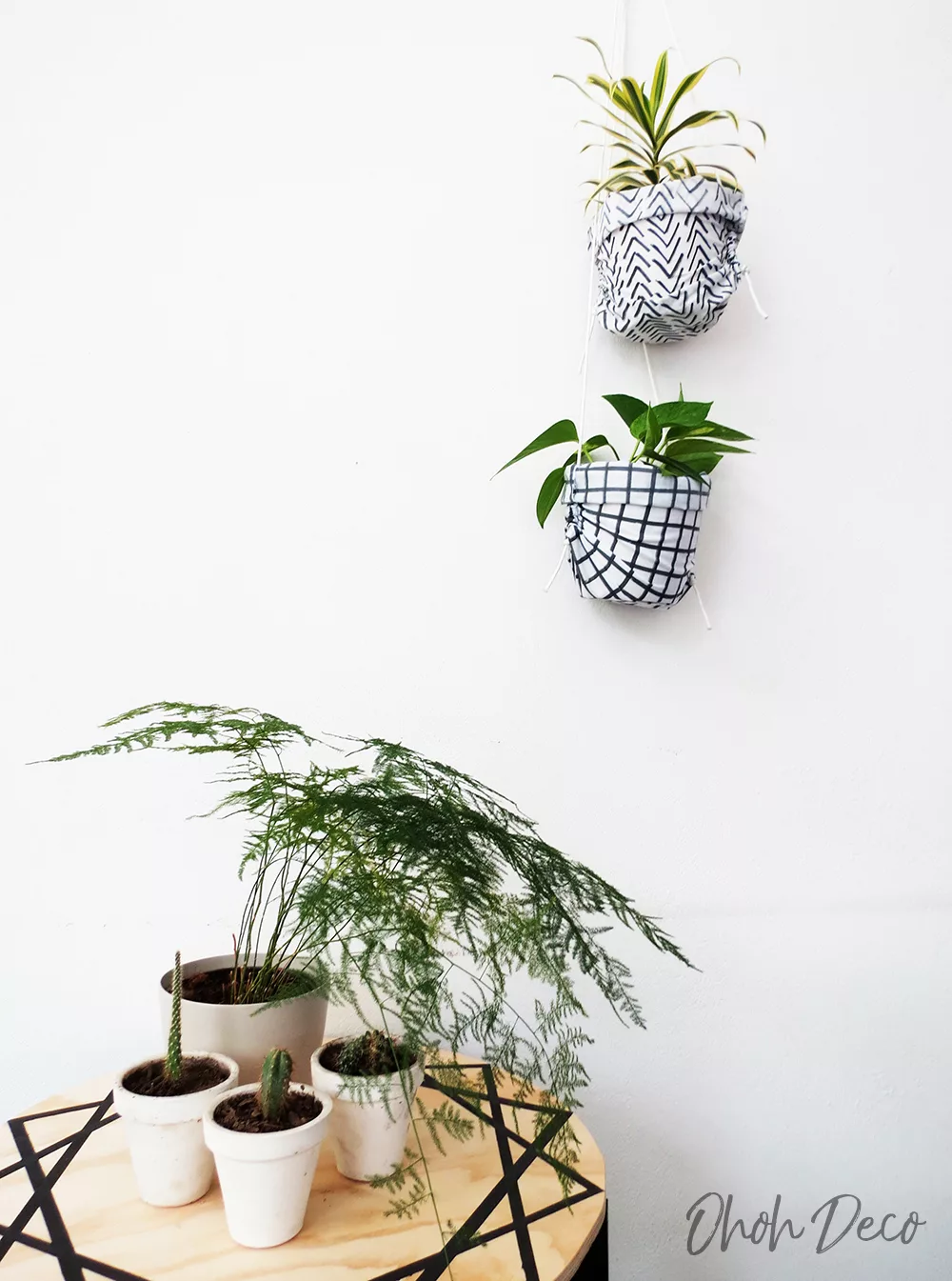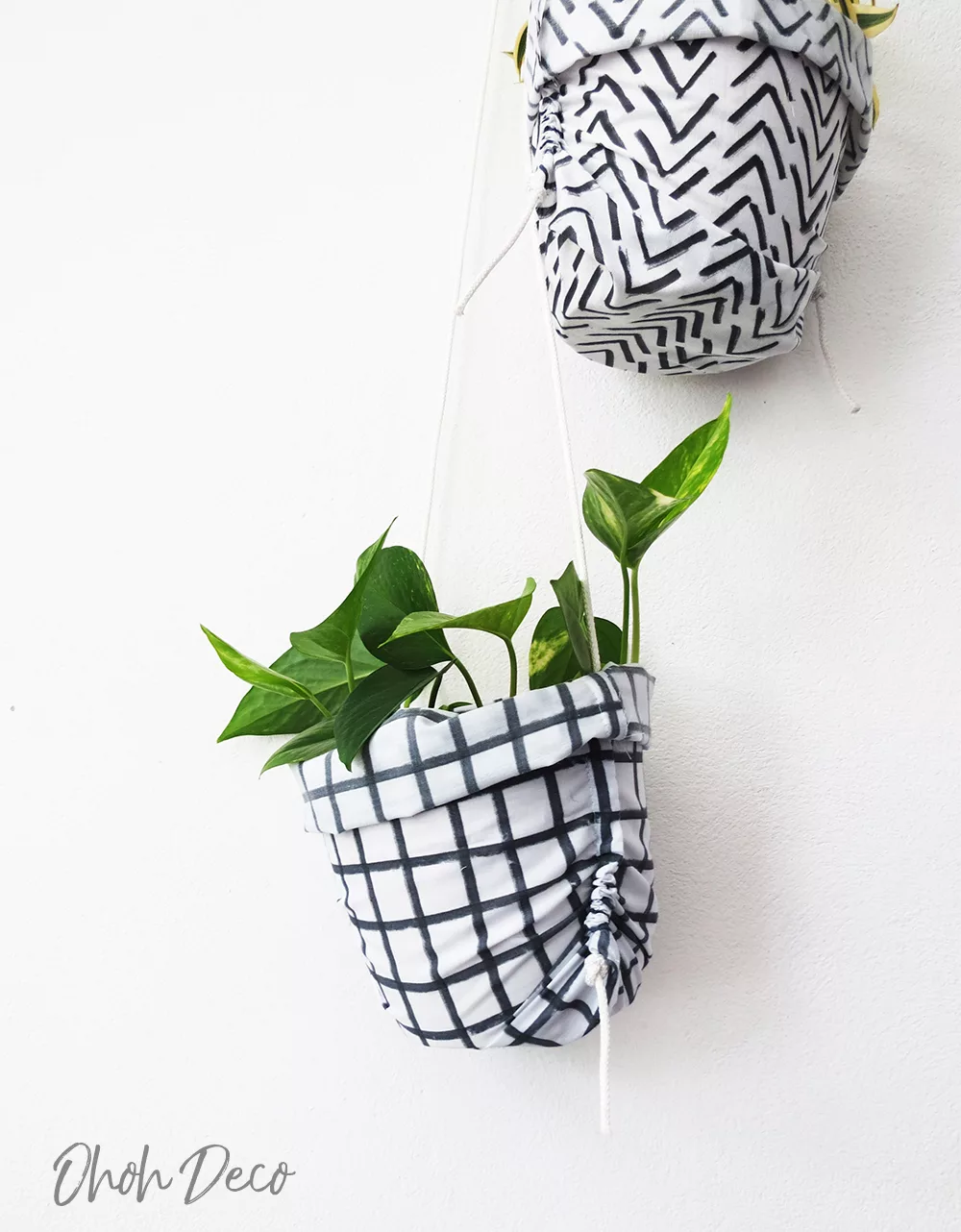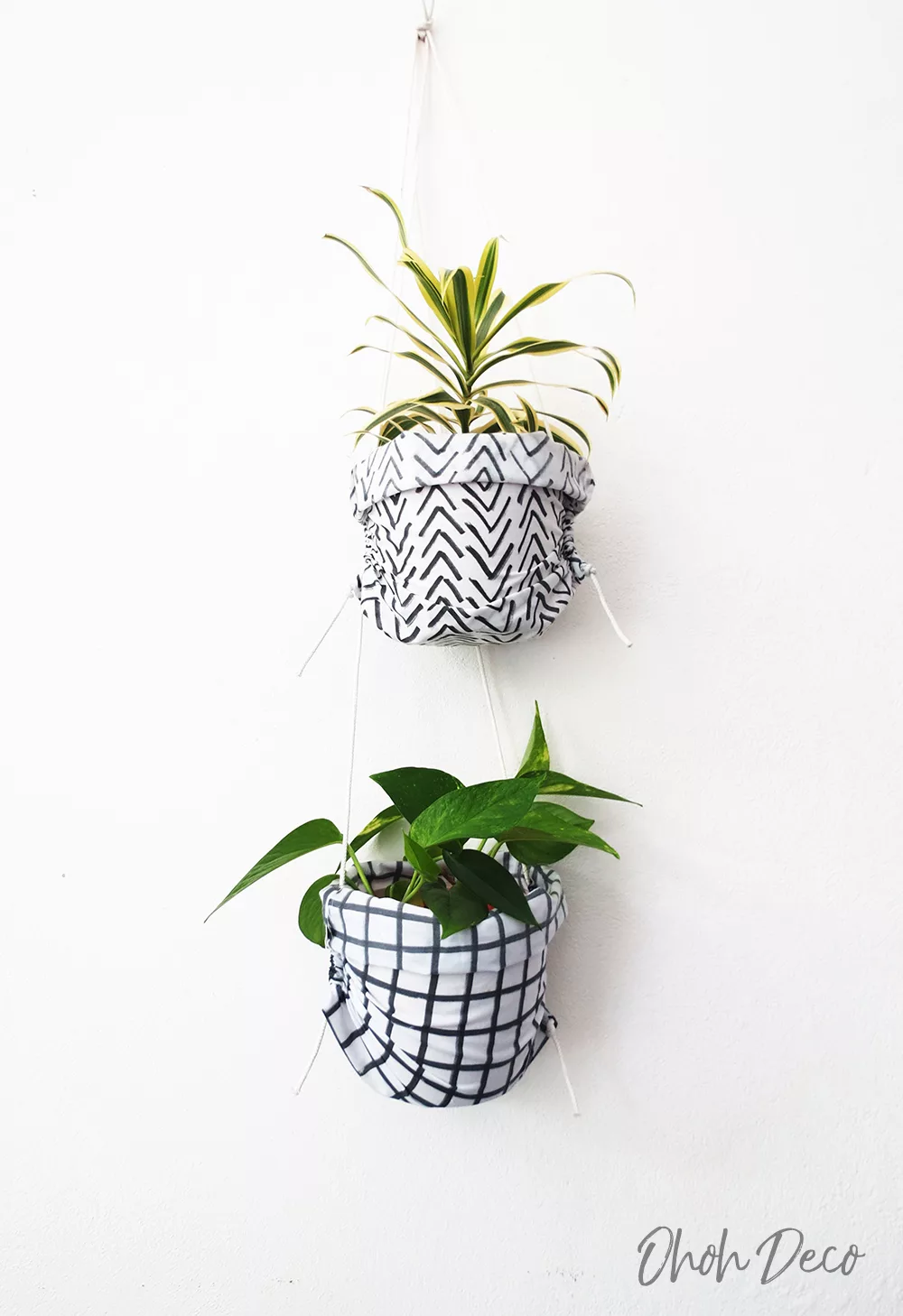 Want to remember it? Save this DIY fabric plant hanger in your favorite Pinterest board.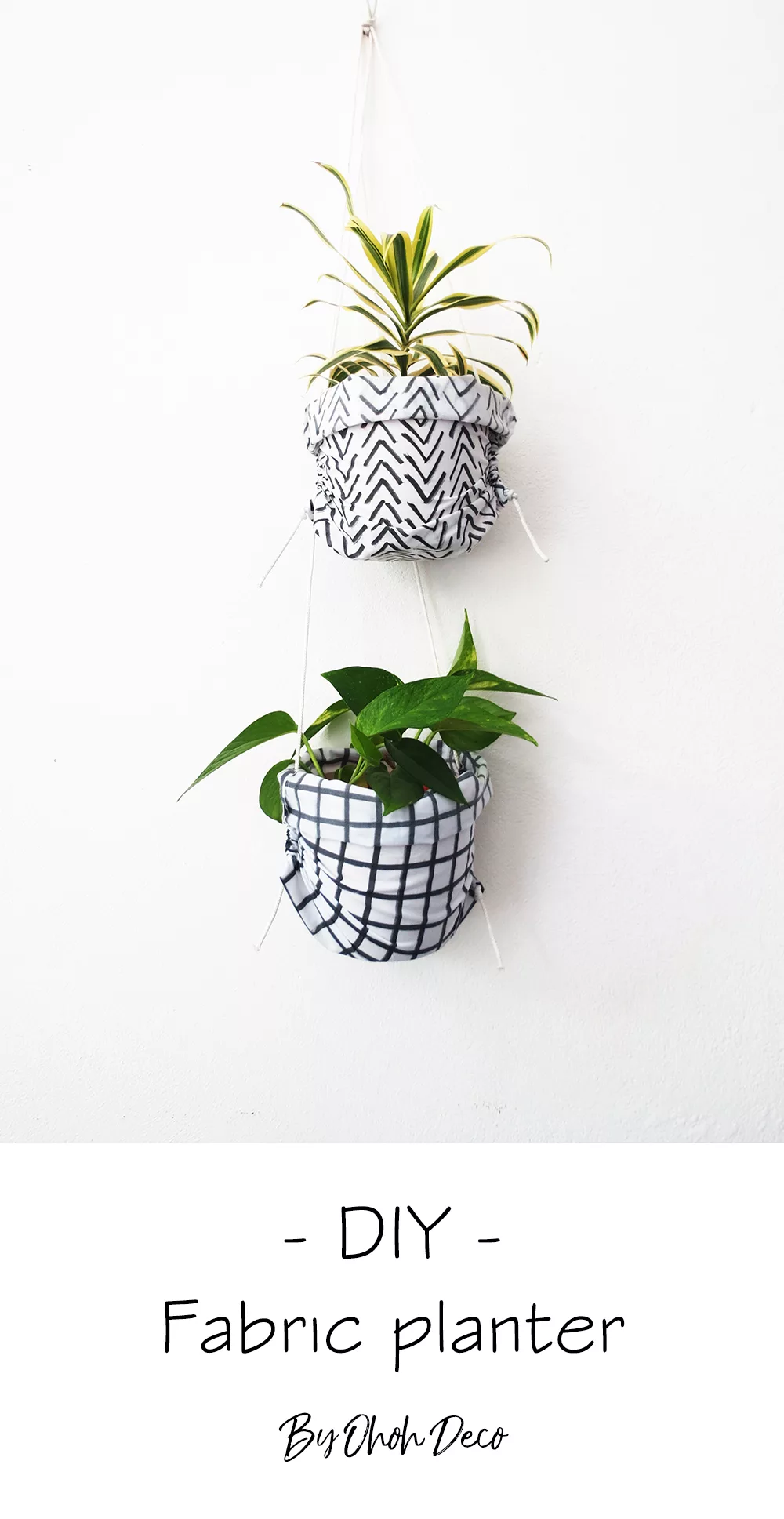 Amaryllis