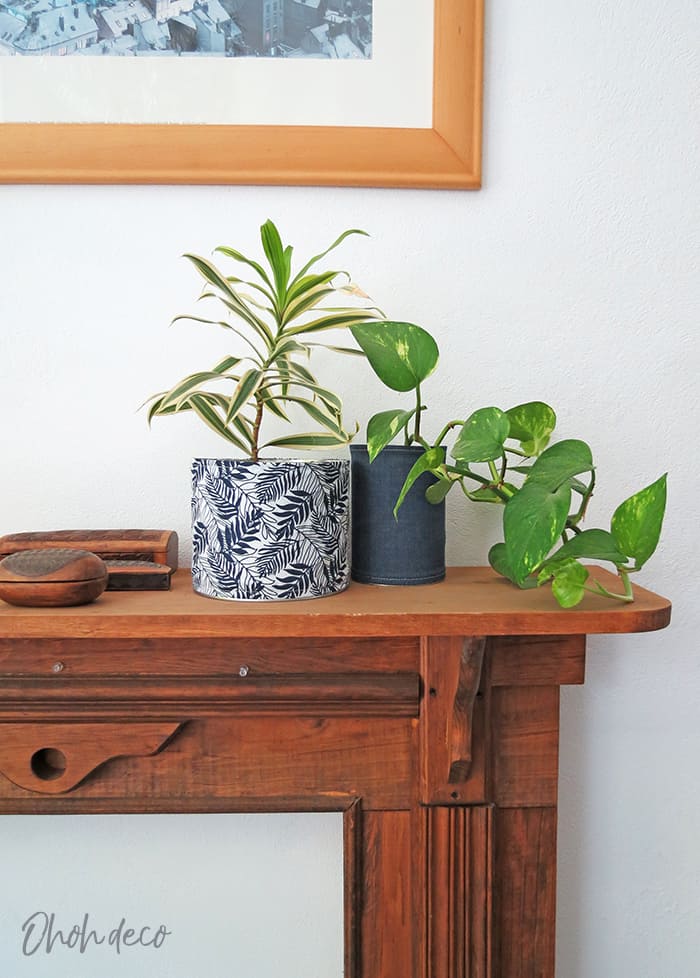 I like to make small improvements to my house all the time. I think is fun to change the decor a little, even if it's just with a new plant or a pillow. Don't you agree with me? As you know, I like to make simple and affordable upgrade, this craft is no exception.
I'm sure you already have all the supplies home to upcycle a tin can into planter. I use to keep milk and coffee cans, they have a lid and are quite practical to store small items. I also have more scarp fabric that I will ever use. And basically it's all you need to make this DIY, pretty easy no? The only item I needed to buy was some velcro straps.
* * *
Me gusta hacer pequeñas mejoras en mi casa todo el tiempo. Creo que es divertido cambiar un poco la decoración, aunque solo sea con una nueva planta o un cojín. ¿No estás de acuerdo conmigo? Como sabes, me gusta hacer proyectos simple y asequible como este.
Estoy segura de que ya tienes todos los suministros en casa para convertir una lata en maceta. Siempre guardo las latas de leche y café, tienen una tapa y son muy prácticas para almacenar artículos pequeños. También me sobran los recortes de telas. Y básicamente es todo lo que necesitas para hacer este proyecto, bastante fácil, ¿no? El único artículo compre fueron las tiras de velcro.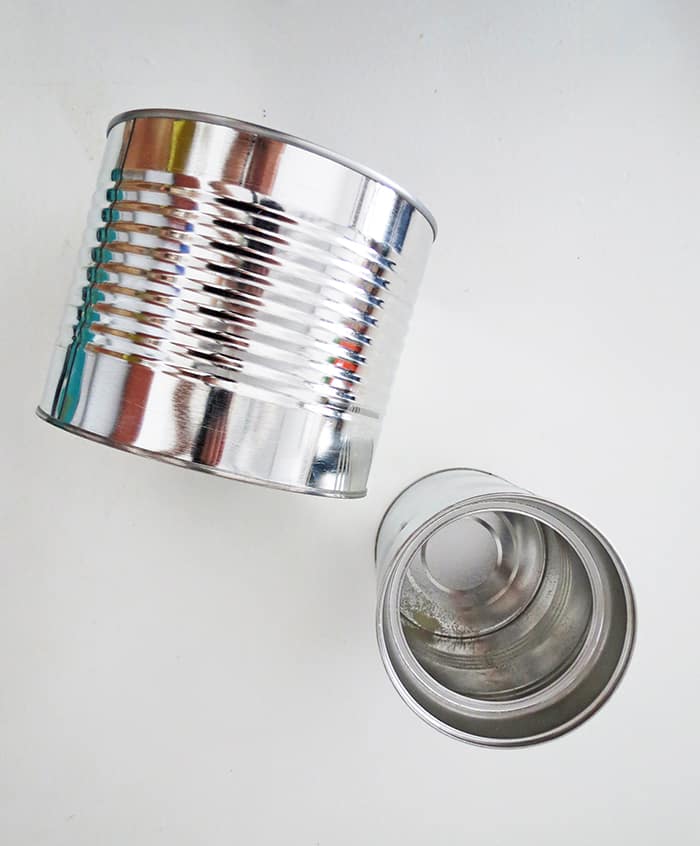 Recycled tin cans planters
Materials you will need:
Tin can (any size)
Scrap fabric
Thread
Velcro strap
Sewing machine
Pins
A pair of scissors
Ruler
* * *
Materiales que necesitarás para hace una jardinera de lata reciclada:
Lata (cualquier tamaño)

Recortes de tela

Hilo

Tiras de velcro




Máquina de coser




Alfileres




Un par de tijeras




un metro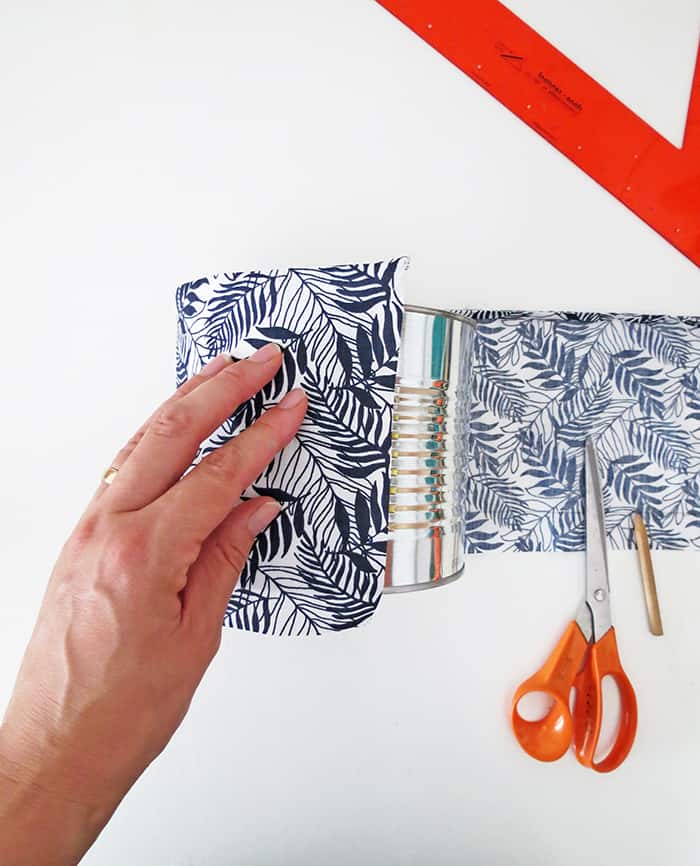 Cut a strip of fabric to cover the can. You can roll the can over the fabric or take the dimension with a ruler. The fabric must be 2 inches wider than the can and 3 inches longer that the can perimeter.
* * *
Cortas una tira de tela para cubrir la lata. Puede rodar la lata sobre la tela o tomar la dimensión con una regla. La tela debe ser 5 cm más ancha que la lata y 7 cm más larga que el perímetro de la lata.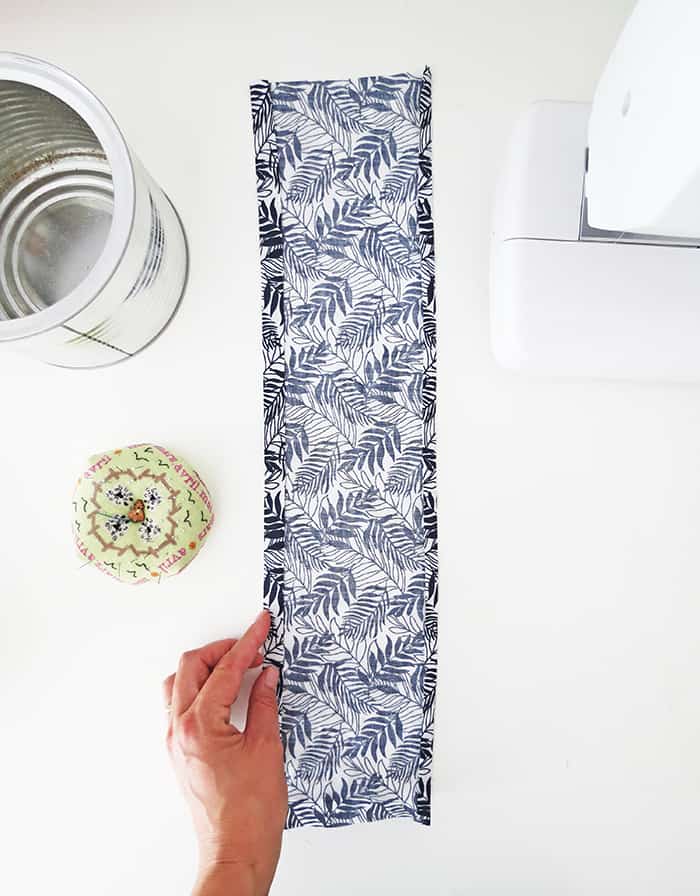 Make a double fold hem on the two long sides. Make a first fold and iron, then fold again and iron. Add a few pins to hold the double fold, and place the fabric around the can to verify that it fits well. You can adjust the folds if not when you are happy with the fabric high stitch along the sides.
* * *
Haz un dobladillo doble en los dos lados largos. Haz un primer pliegue y plancha, luego dobla otra vez y plancha. Pones algunas alfileres para sostener el doblez doble y coloques la tela alrededor de la lata para verificar que se ajuste bien. Puedes ajustar los pliegues si no lo está, cuando estas satisfecha con la tela, puedes coser cada lado.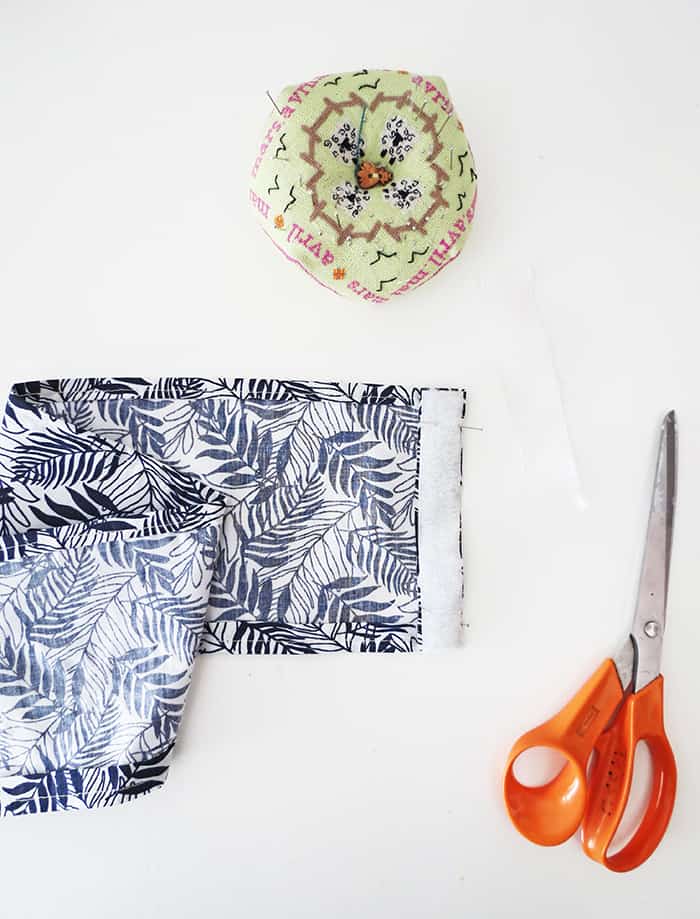 To hold the fabric around the tin can, sew a piece of velcro strap on each end. Fold the fabric end, pin the strap and sew.
* * *
Para sostener la tela alrededor de la lata, tienes que coser un pedazo de tira de velcro en cada extremo. Dobla el extremo de la tela, sujeta la tira y cose.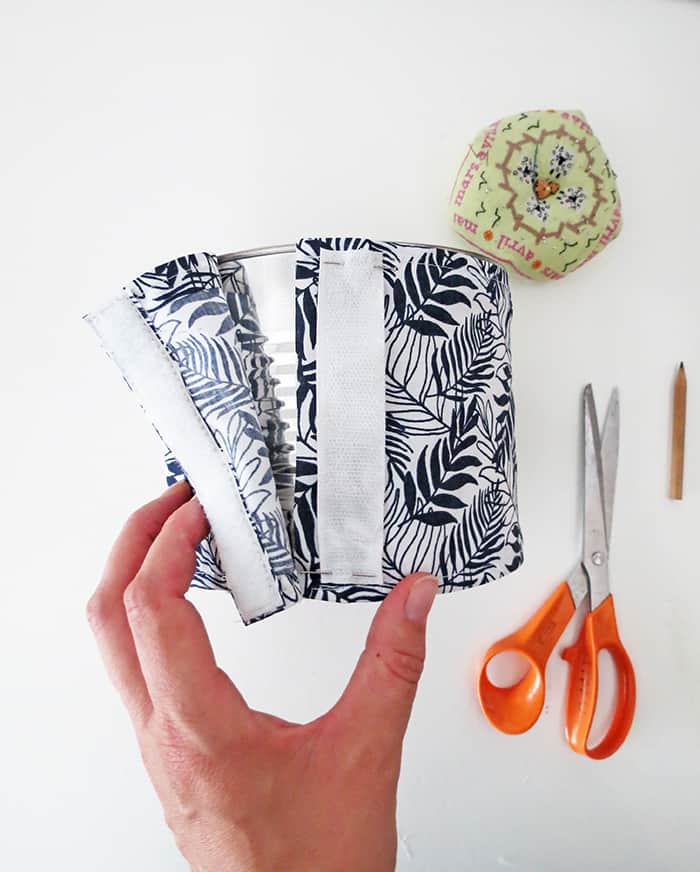 Place the fabric around the can and mark the emplacement of the second velcro strap on the fabric. Make a fold, pin the strap with the fabric and sew. Remember that one velcro strap is sewn on the fabric right side and the other on the fabric wrong side.
* * *
Coloques la tela alrededor de la lata y marquas la ubicación de la segunda tira de velcro en la tela. Haz un pliegue, sujetar la tira con alfileres y puedes coser. Recuerdas que una tirade velcro está cosida en el lado recto de la tela y la otra en el verso.
And done! You just have turn a tin can into a nice DIY planter. I like that you can use every fabric you want and create a planter with the perfect print and color to match your decor.
If you wonder, I used velcro strap instead of gluing the fabric on the can because I wanted the fabric to be removable. Why? Every once in a while I shower my plants to remove the dust. The small ones go in the kitchen sink and the bigger ones outside with the garden hose. I did not want the fabric to get wet or dirty if soil fell on it. I also repot my plants when they have grown, and it's always a mess (maybe it's just me, but I have a very hard time not to spread soil allover) and again I don't want to spoil the fabric. It's so easy to take the fabric off. I can dirt everything with water and soil, then just dry the can with a cloth and replace the fabric.

* * *
¡Y hecho! Acabas de convertir una lata en una bonita jardinera. Me gusta que puedas usar todos los tejidos que desee y crear una jardinera con el diseno y el color perfectos que combina con tu interior.
Si te preguntas, utilicé tiras velcro para pegar la tela en la lata porque quería que la tela fuera removible. ¿Por qué? De vez en cuando ducho mis plantas para quitarles el polvo. Las pequeñas se "banan" en el fregadero de la cocina y las más grandes afuera con la manguera de jardín. No quería que la tela se mojara o se ensuciara si la tierra caía sobre ella. También replanteo mis plantas cuando han crecidas, y siempre es un desastre (tal vez sea solo yo, pero me cuesta mucho no esparcir tierra por todos lados) y una vez más no quiero estropear mi jardinera. Es muy fácil quitar la tela, luego puedo ensuciar toda con tierra y agua, luego solo hay que secar la lata con un paño y volver a colocar la tela.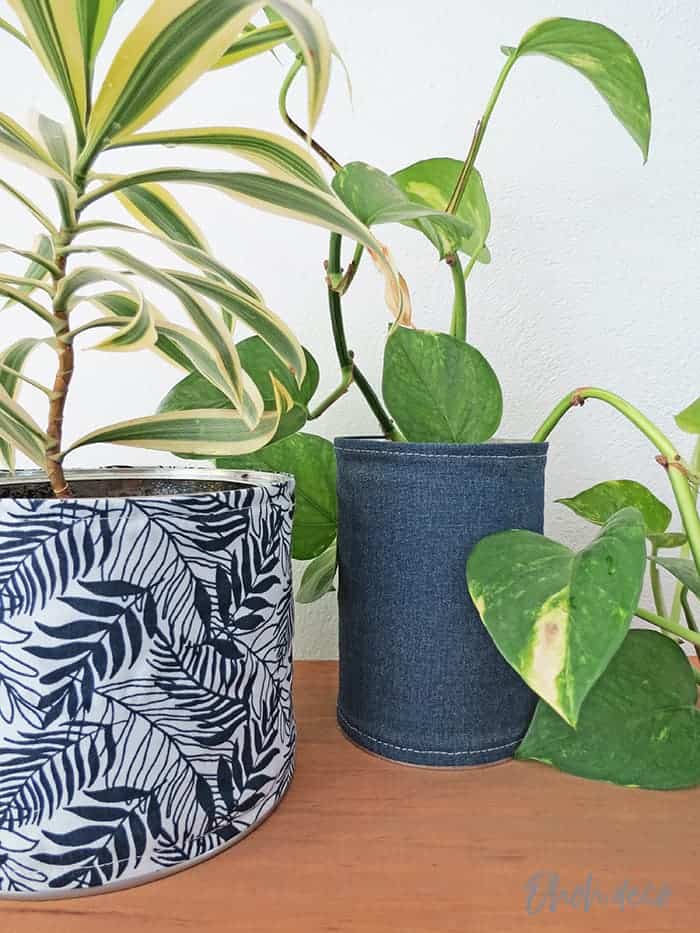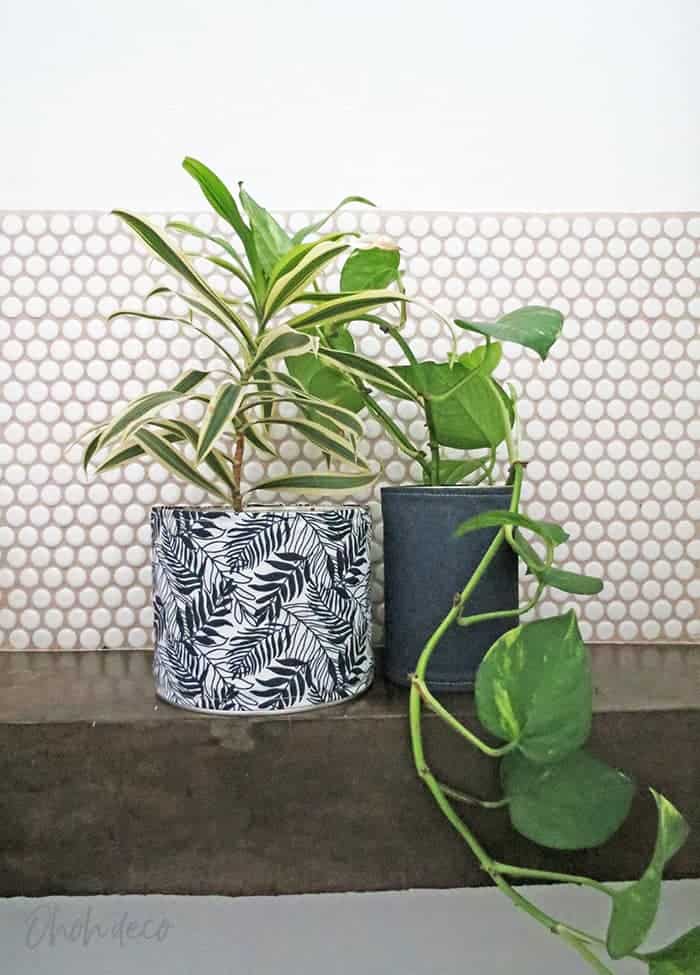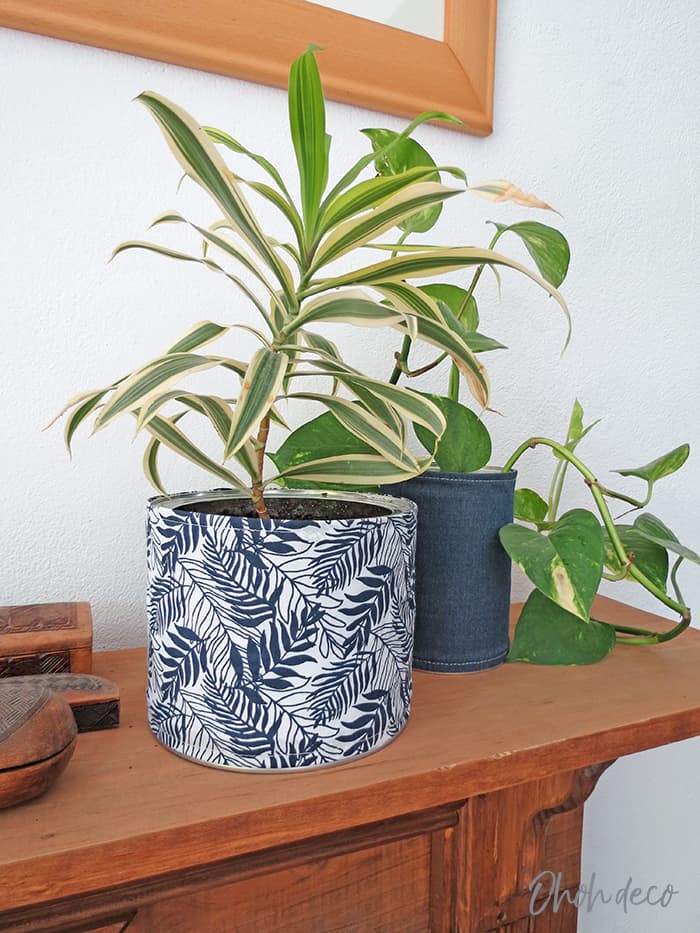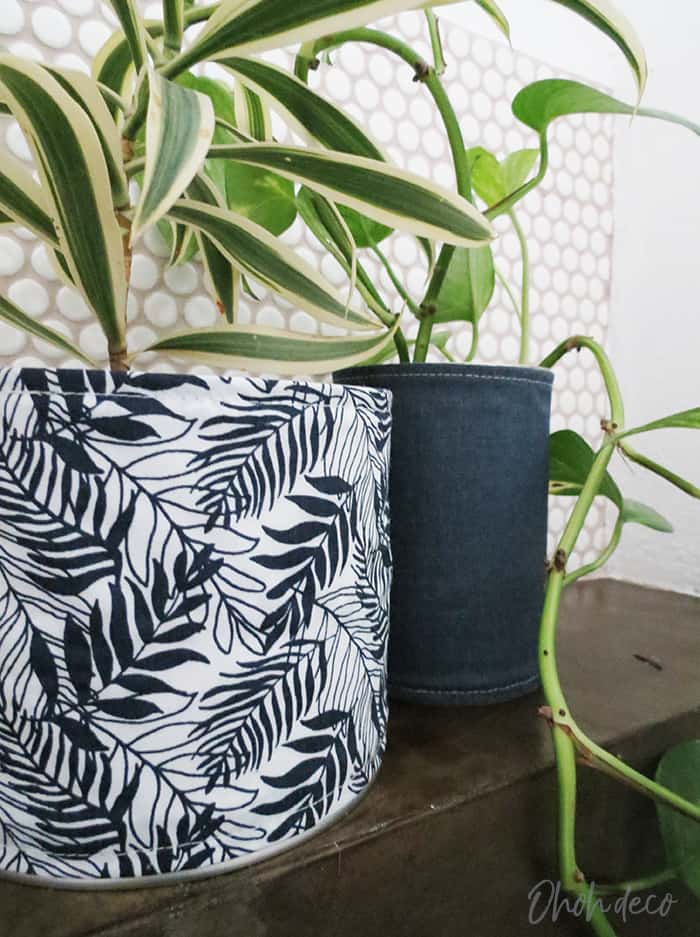 Pin it now, do it later!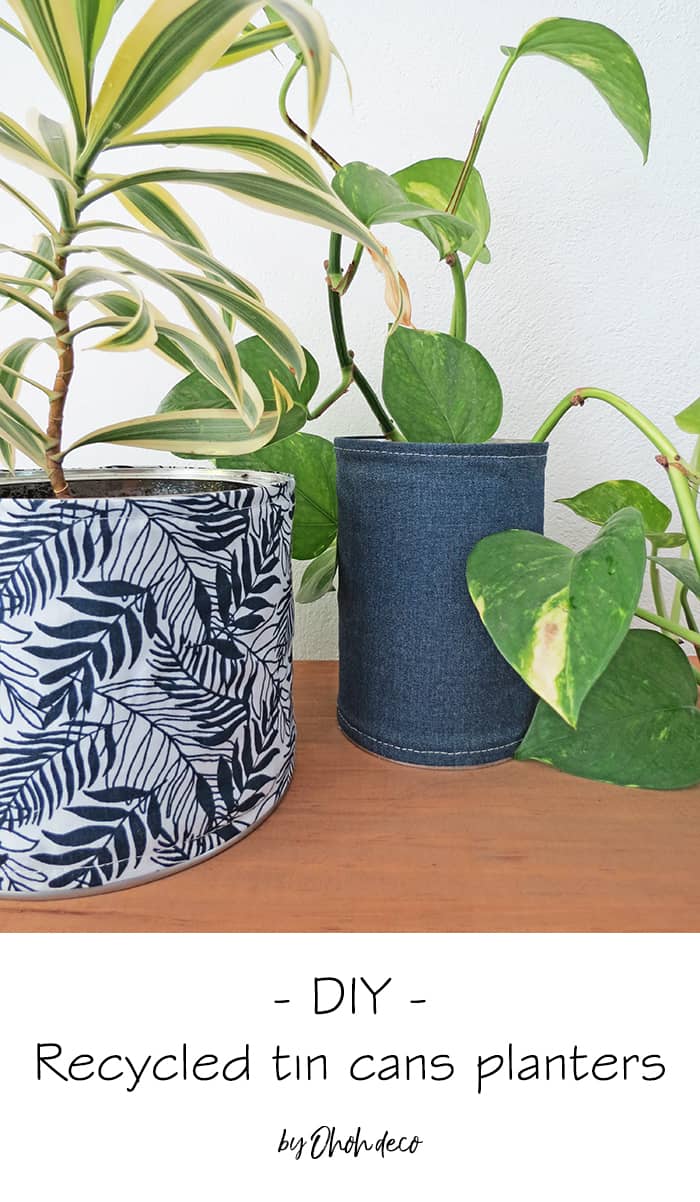 You will find all the tutorials featured in the video on my "Best DIY" page.
Amaryllis