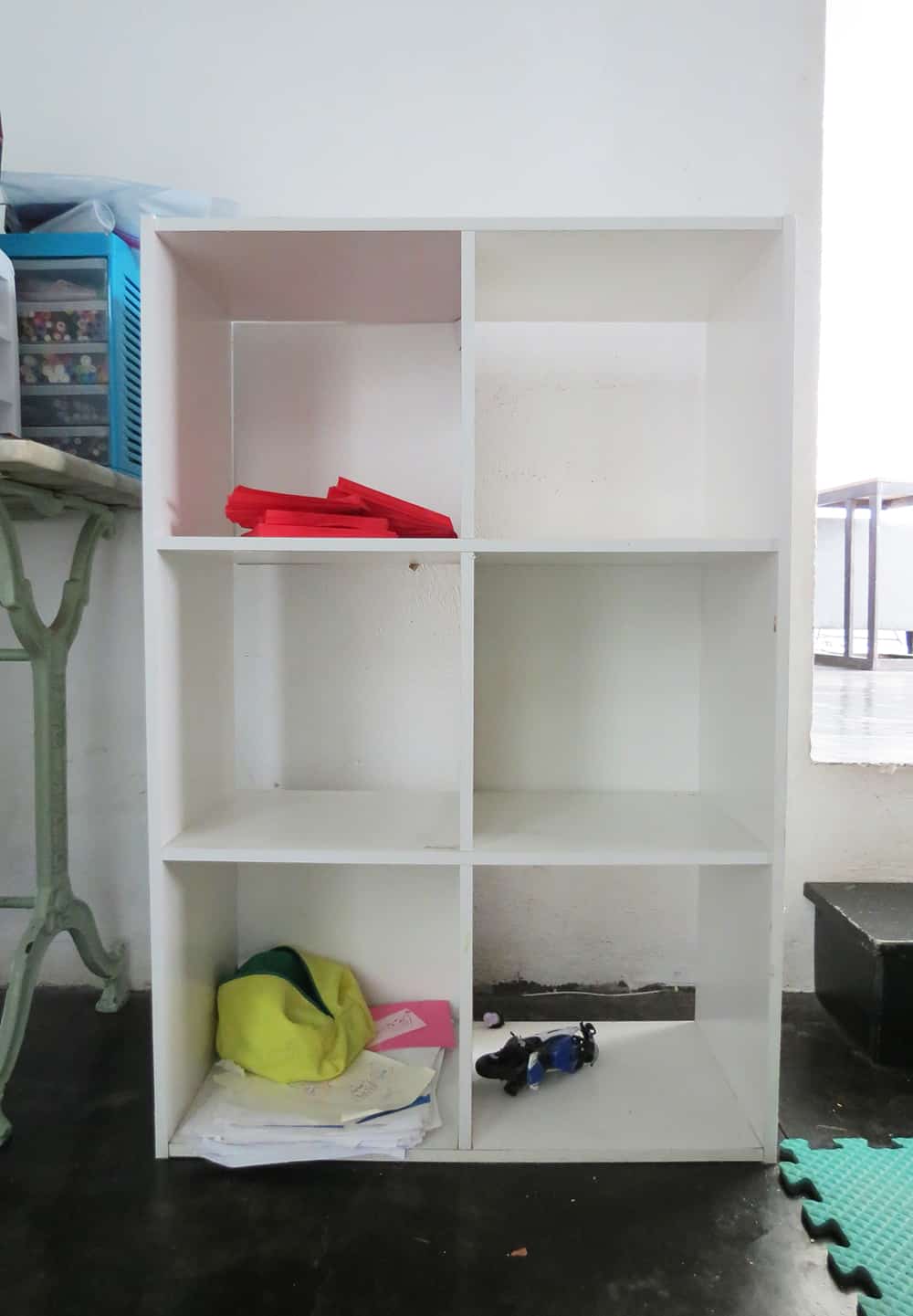 One of my goals for this the year is redo the playroom. I've started a few weeks ago and I have been sharing the process on my Instagram (you can follow me HERE if you want the last update). As you can imagine with three kids it's a little slow…but it's going ahead. I have painted a rainbow on one wall, placed some shelving and upgraded the plastic drawers. My daughter likes to draw a lot, so she has a table in a corner of the playroom and needed some extra storage for her drawing supplies. The kids used this shelf unit has a bookshelf, and as you can imagine it has already be strained. But I still wanted to keep it, because it's a convenient storage and also because I prefer to renovate or upgrade what I have rather than throwing away and buying new. It's a quite simple upgrade to make, you won't need any fancy tools. I used scrap wood so it cost me nothing, which is pretty pleasant too!
* * *

Una de mis metas para este año es rehacer la sala de juegos. Comencé hace unas semanas y he estado compartiendo el proceso en mi Instagram (puedes seguirme AQUÍ si quieres estar al tanto). Como puedes imaginar, con tres niños es un poco lento … pero sigue adelante. Pinté un arco iris en una pared, coloqué algunas repisas y actualicé los cajones de plástico. A mi hija le gusta dibujar mucho, así que tiene una mesa en un rincón de la sala de juegos y necesita un espacio de almacenamiento adicional para sus útiles de dibujo. Los niños utilizaron este mueble como librero y, como puedes imaginar, ya se ha maltratado. Pero aún quería quedarme lo, porque es un almacenamiento conveniente y también porque prefiero renovar lo que tengo en lugar de tirar y comprar cosas nuevas. Es una renovación bastante simple de hacer, solo necesitas unas cuantas herramientas. Usé recortes de madera de proyectos pasados, así que no me costó nada, ¡Me encantan los proyectos super económicos!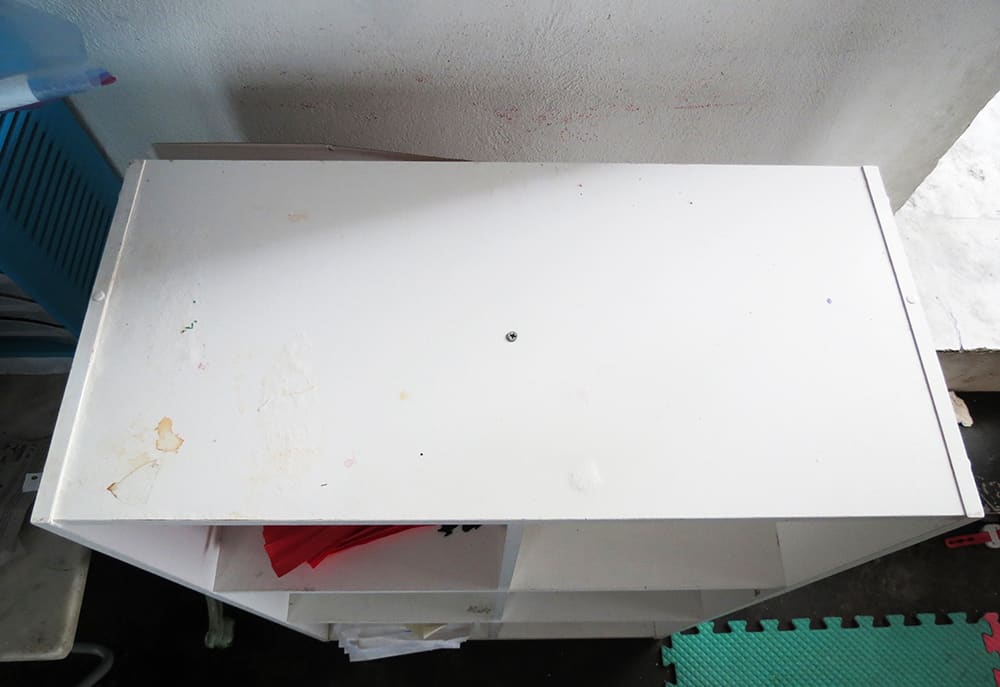 As you can see it's a quite simple shelf unit, I'm pretty sure most of you have one similar home. Mine has scratches on top and stickers on the side…but it's still sturdy and therefor rescatable. What I did was adding some legs, put a new backdrop and add a wood top. I detail you every step below. I used a few simple tools: a drill, a mitre box and a saw, sanding paper, wood glue, and some pressure clamps.
* * *
Como puedes ver, es una estantería bastante simple, es probable de que tengas una similar en casa. El mueble tiene rasguños en la parte superior y calcomanías en el costado … pero aún es robusto y, por lo tanto, se puede rescatar. Lo que hice fue agregar patas, poner un nuevo fondo y agregar una bandeja de madera. Te detalle cada paso abajo. Utilicé algunas herramientas simples: un taladro, una caja de ingletes y una sierra, papel para lijar, pegamento para madera y algunas abrazaderas de presión.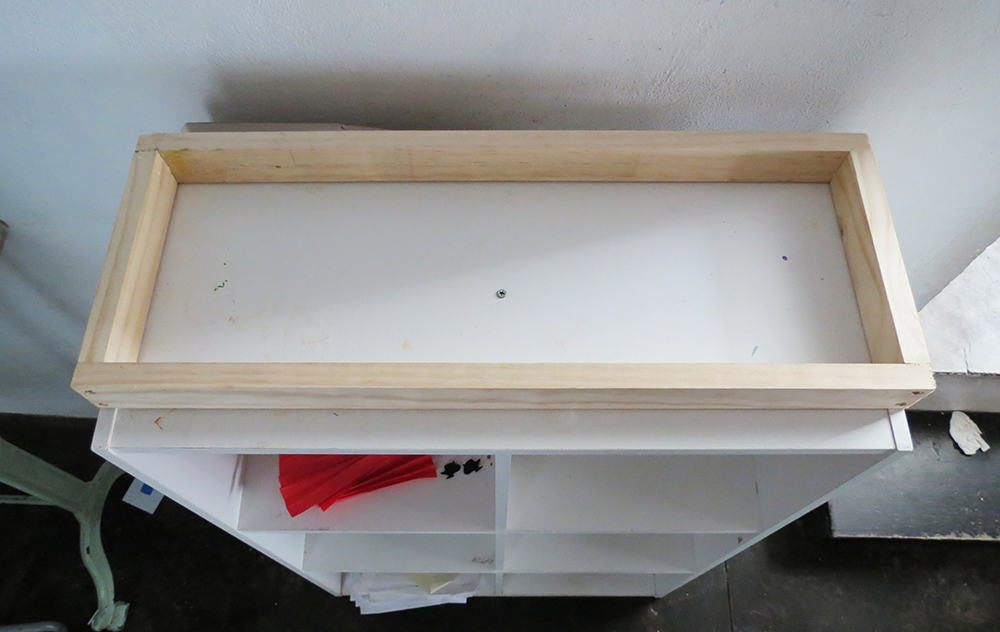 To add the legs, I created a frame using 2 x 1 wood trim. The frame is the same lenght as the shelf unit and the depth is one inch shorter than the shelf. I made my frame narrower and the distance between the legs is a little too short.… so don't do like me and make your frame just 1 inch less deep than your shelf. I cutted the wood trim with the mitre box and use dowels and glue to fix them together.
* * *
Para agregar las patas, creé un marco usando molduras de madera de 4 x 2 cm. El marco tiene la misma longitud que el estante y la profundidad es 2 cm más corta que el mueble. Hice mi marco muy estrecho y la distancia entre las piernas es demasiado corta … así que no hagas lo mismo y haz que tu marco sea solo 2 cm menos que tu estante. Corté la madera con la caja de ingletes y usé taquetes y pegamento para unirlos.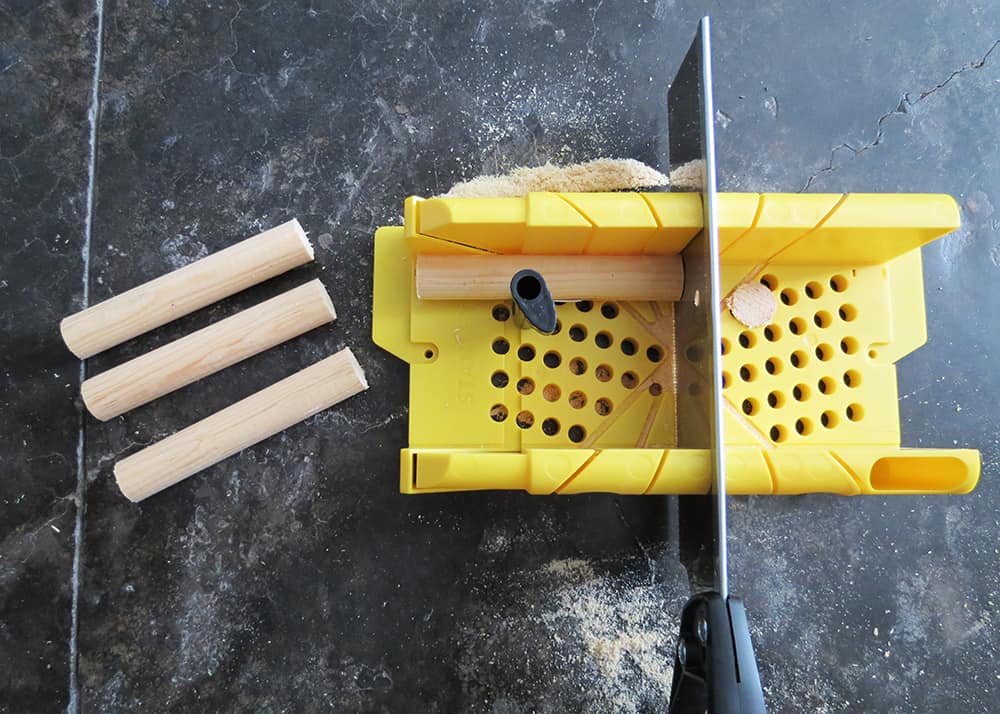 [AdSense-A]
To make the legs, I cut 4 pieces of dowels of 1 inch diameter. Each legs is 6 inches long.
* * *
Para hacer las patas, corté 4 piezas de bastón de 2 cm de diámetro. Cada pieza mide 15 cm de largo.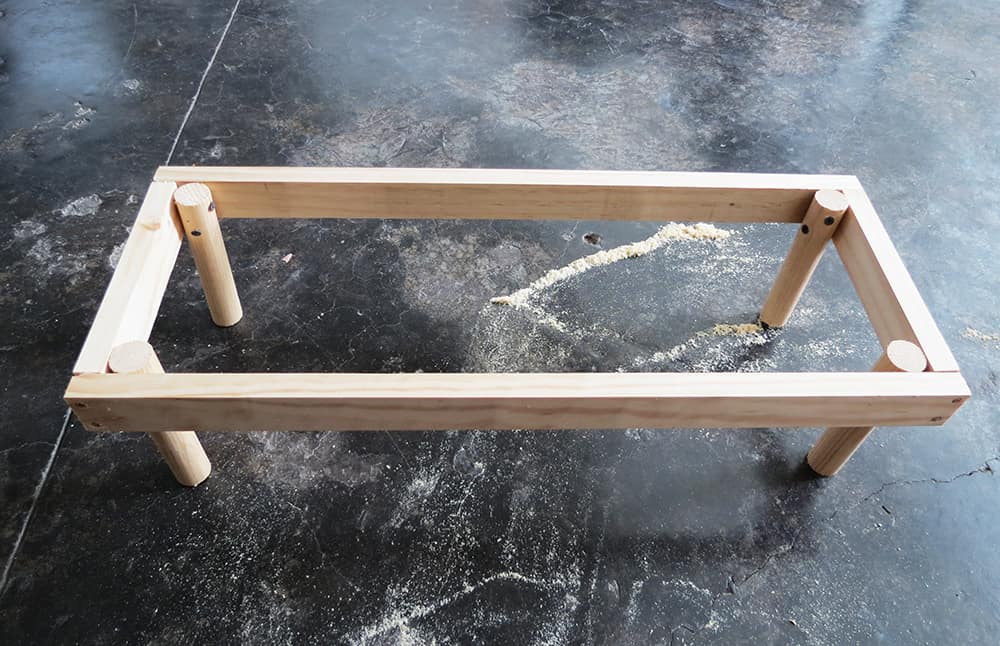 I fixed a legs in each corner of the frame using two screws. To avoid the dowel to crack, I drilled first a tiny hole in it and then put the screw in. The screws must be placed perpendicularly to each other, so each leg is fixed on two different side of the frame.
Then I add glue on top of the frame, placed the shelf unit on it, and hold both with clamps and some heavy books on top. I waited for the glue to dry and done, the shelf unit has now legs!
* * *
Fijé una pata en cada esquina del marco con dos pijas. Para evitar que se rompa la clavija, primero perforé un pequeño orificio y luego coloqué el tornillo. Las pijas deben colocarse perpendicularmente entre sí, por lo que cada pata se fija en dos lados diferentes del marco.
Luego coloque pegamento en la parte superior del marco, puse la estantería encima y mantuve todo con abrazaderas y algunos libros pesados encima. Esperé a que el pegamento se secara y listo, ¡la estantería ahora tiene patas!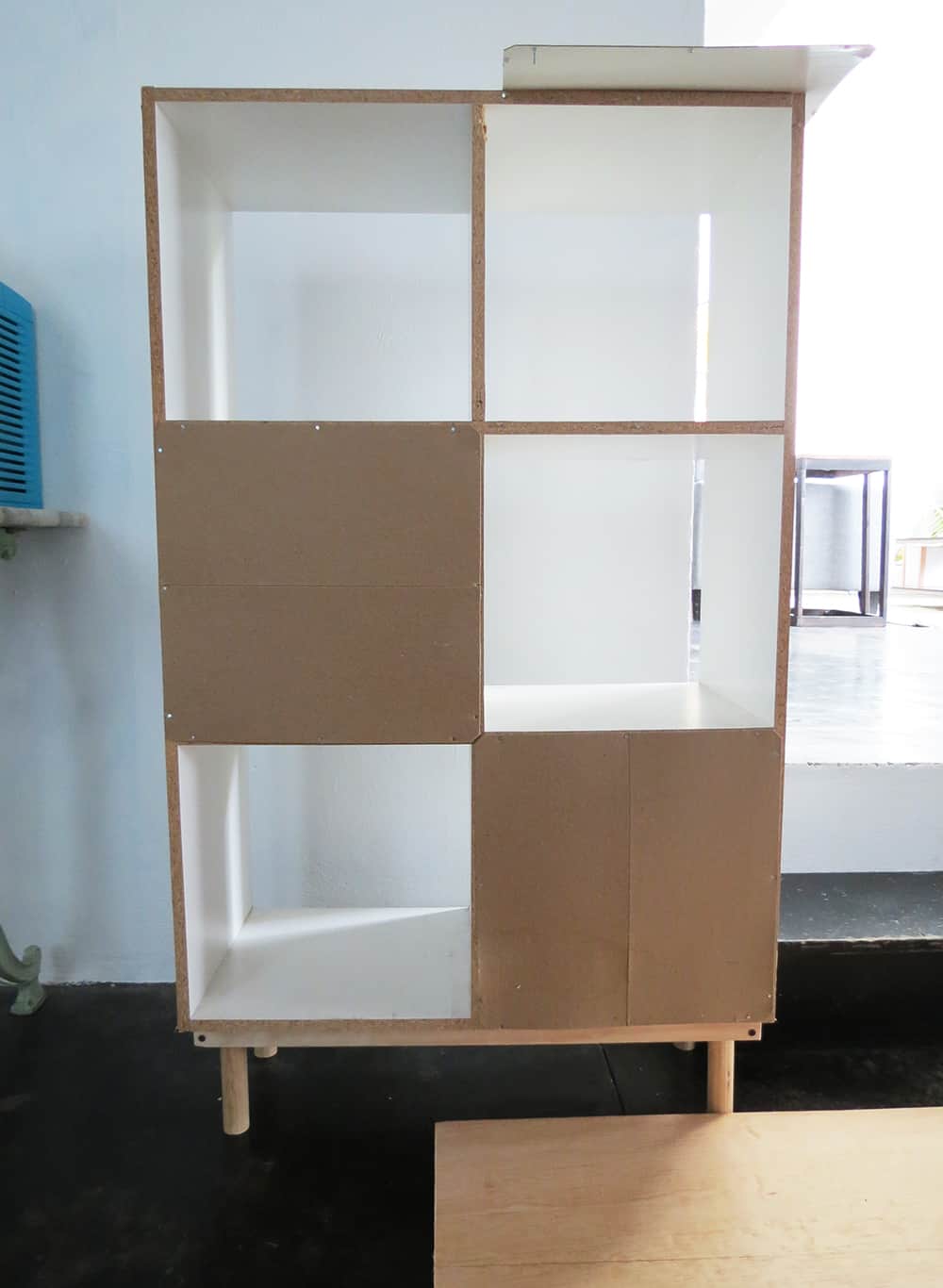 I removed the cardboard on back and replace it by a piece of 6mm plywood the same size as the shelf back. I used a jigsaw to cut it, but you can ask your hardware store to make the cut for you. I lay the shelf on the floor, back facing up, put glue on every edge and place the plywood on top. Again I used heavy books to press the plywood with the shelf while the glue dried.
* * *
Saqué el cartón de fondo del estante. Corté un trozo de madera contrachapada de 6 mm del mismo tamaño que el estante. Usé una sierra caladora, pero puedes pedir en la tienda que hagan el corte para ti. Coloque el estante en el piso, con el fondo hacia arriba, puse pegamento en cada borde y coloque el contrachapado encima. Otra vez utilicé libros pesados para presionar el contrachapado con el estante mientras se secaba el pegamento.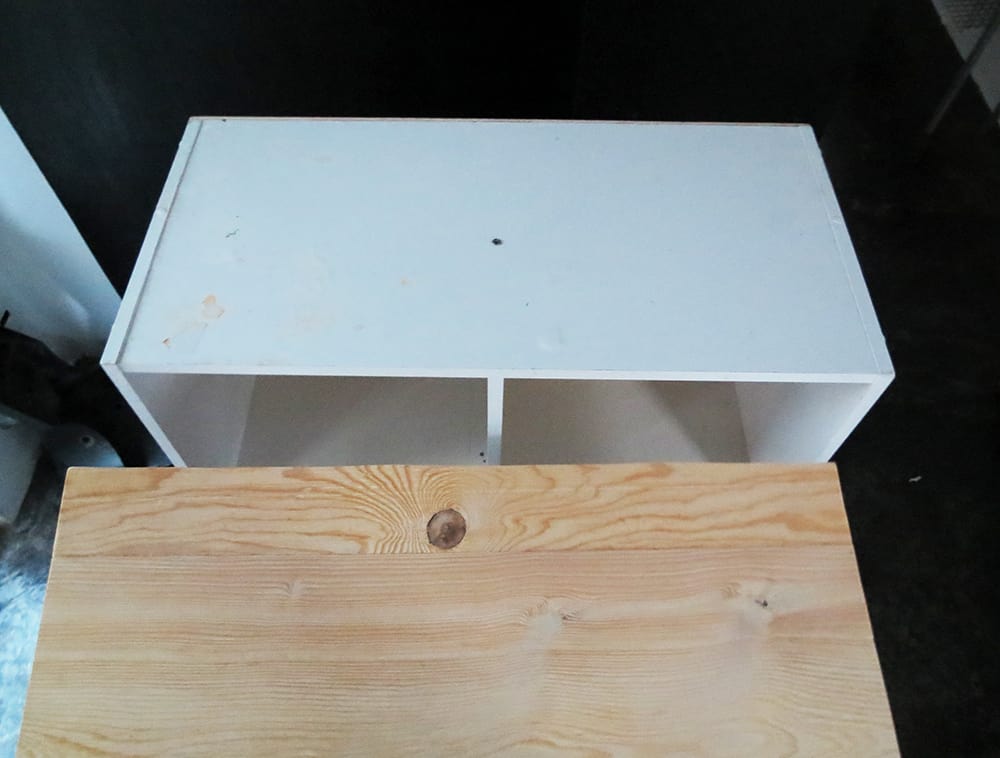 [AdSense-B]
To make the wood top, I assemble two lumbers edge to edge using dowels and glue. I have cut the wood top 1 inch wider and 1/2 inch deeper than the shelf. I sanded it and applied two coats of acrylic varnish. Then I glue it on top of the shelf…using my heavy books again (I will consider this DIY as my weekly workout ;).
* * *
Para hacer la bandeja superior con madera, arme dos tablas borde a borde usando taquetes y pegamento. Corté la tabla de madera 2cm más ancha y 1cm más profunda que el estante. La lijé y apliqué dos capas de barniz acrílico. Luego la pegue en la parte superior del estante … usando mis libros pesados otra vez (consideraré este DIY como mi entrenamiento semanal;).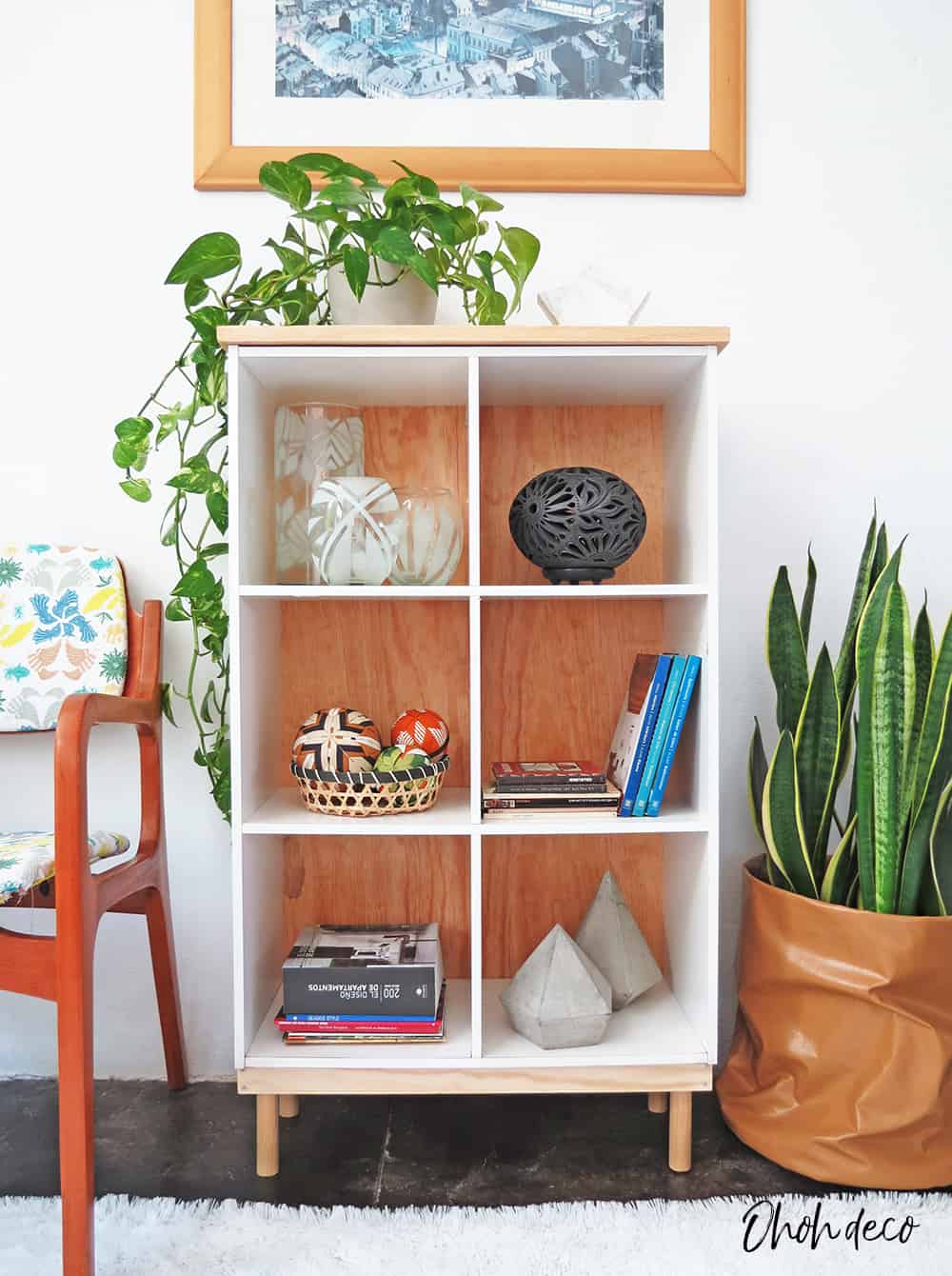 And done! The boring shelf unit converted into a nice display. It put it in my living room while I finish the playroom makeover…I really like it, so it may stay there for awhile! I choose to leave the legs, back and top in wood natural color, but you can stain it or paint it to match you decor. So tell me, what do you think of this furniture makeover?
* * *
¡Y hecho! El mueble aburrido se convirtió en una bonita repisa. Lo puse en mi sala de estar mientras termino de trabajar en la sala de juegos … ¡Me gusta mucho, así que puede que permanezca ahí por un tiempo! Elijé dejar las patas, el fondo y la parte superior en madera color natural, pero puedes teñirlas o pintarlas para que combinen con tu decoración. Entonces, dime, ¿Qué piensas de esta renovación?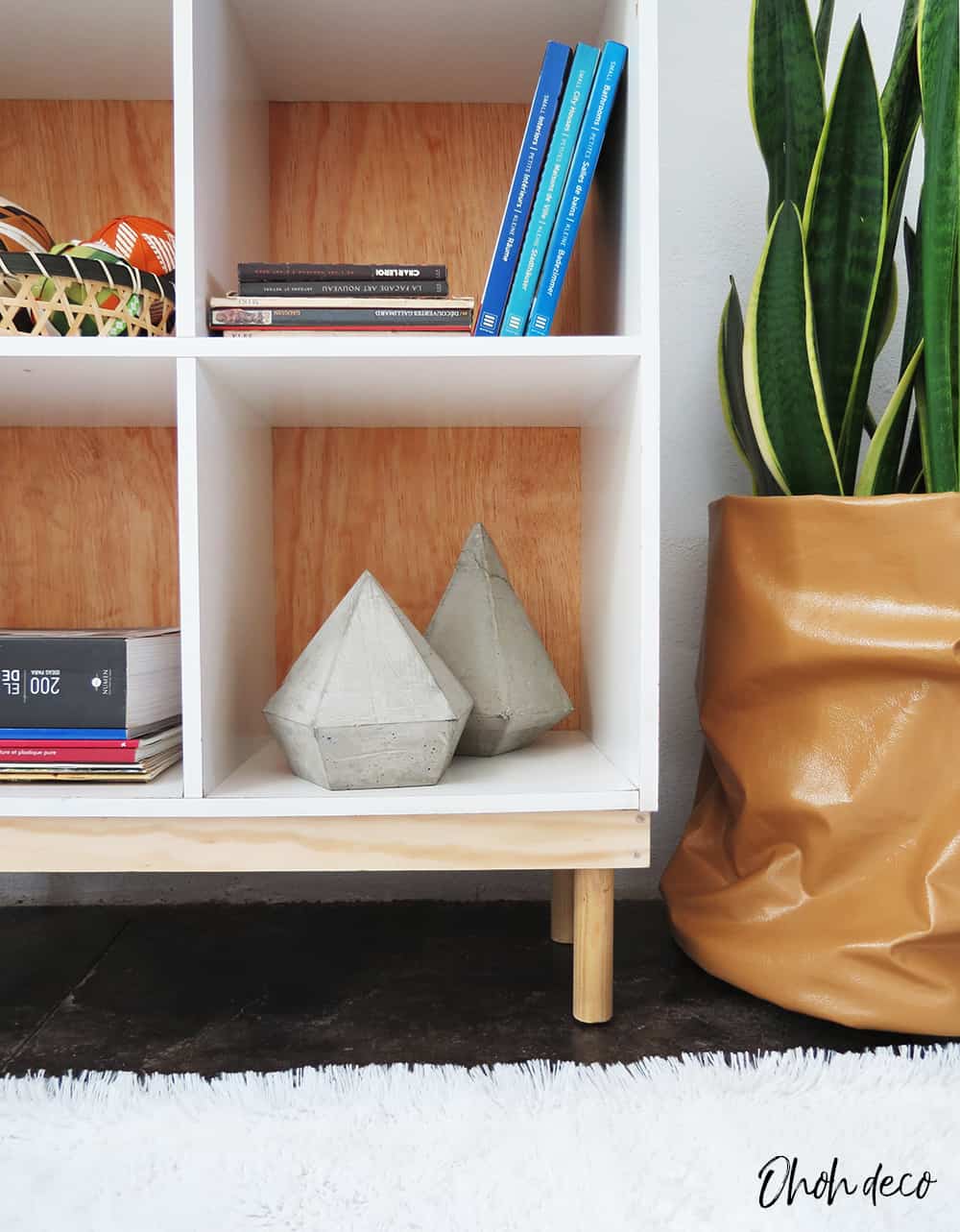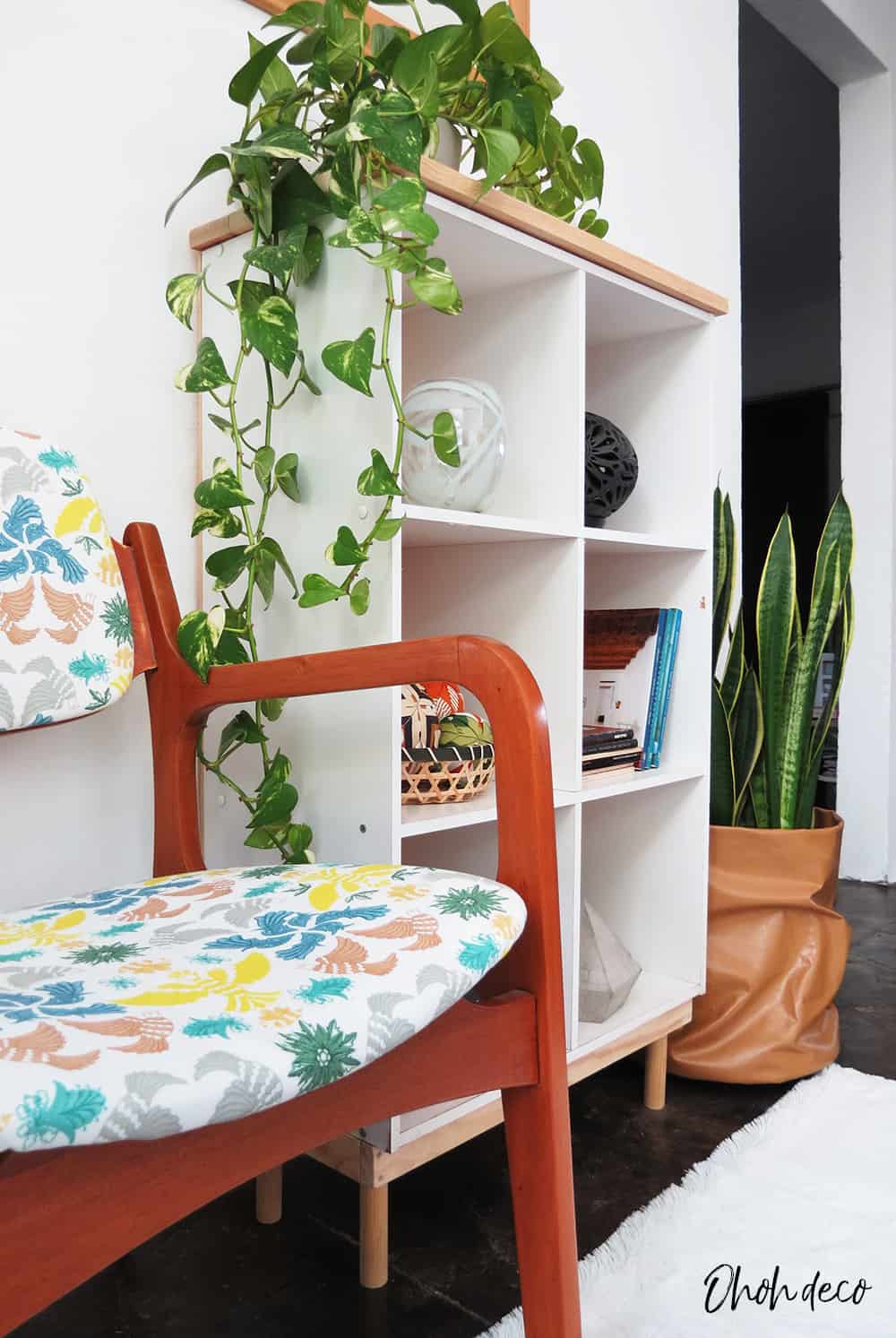 [AdSense-A]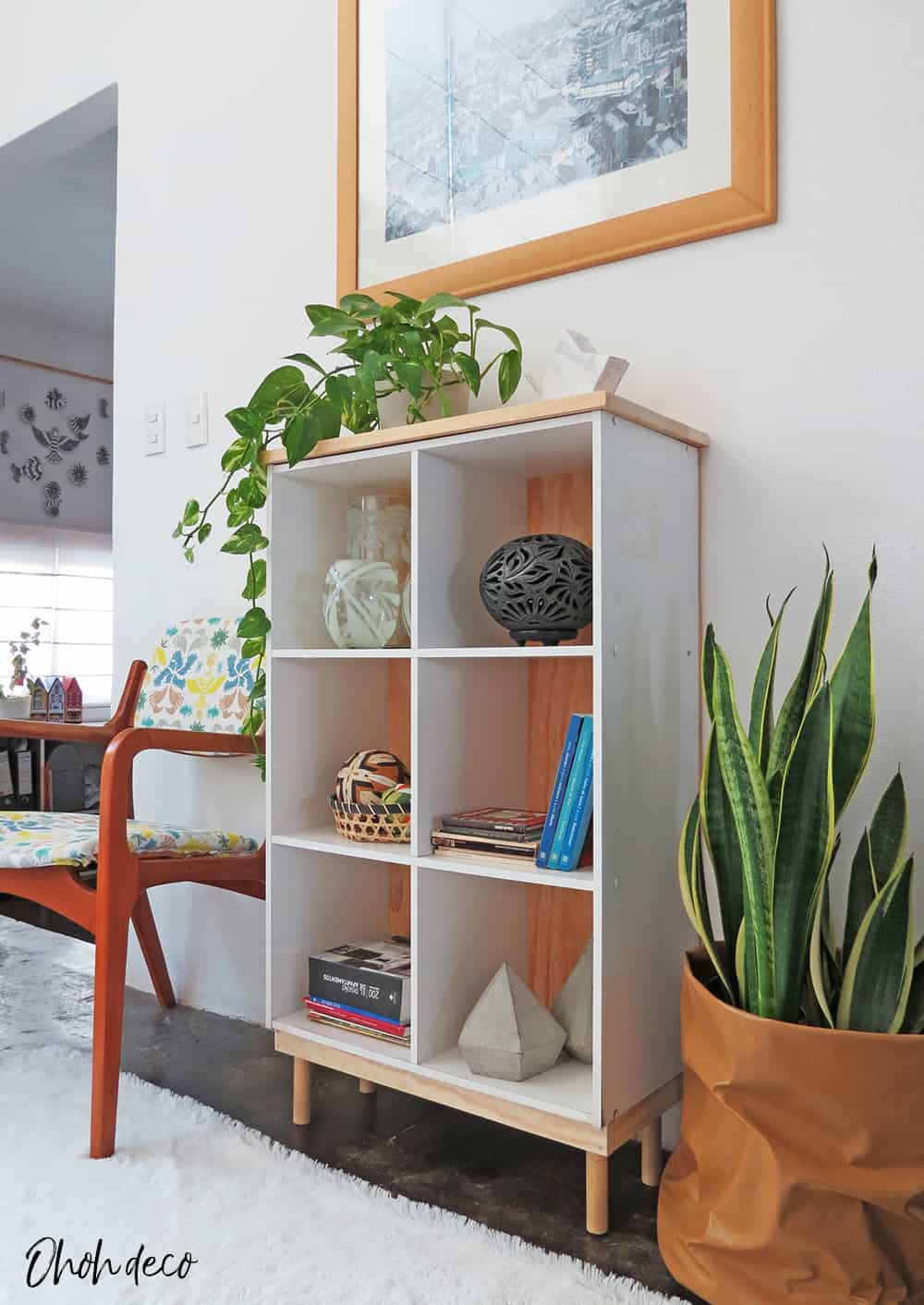 Can you spotted all the DIY in this pic? I help you: The etched glass, the concrete book holders, the rolling planter, the star box and the fabric globes.
* * *
¿Puedes localizar todos los DIY en esta foto? Te ayudo: el cristal grabado, los porta libros de cemento, la maceta rodante, la caja de estrella y los globos de tela.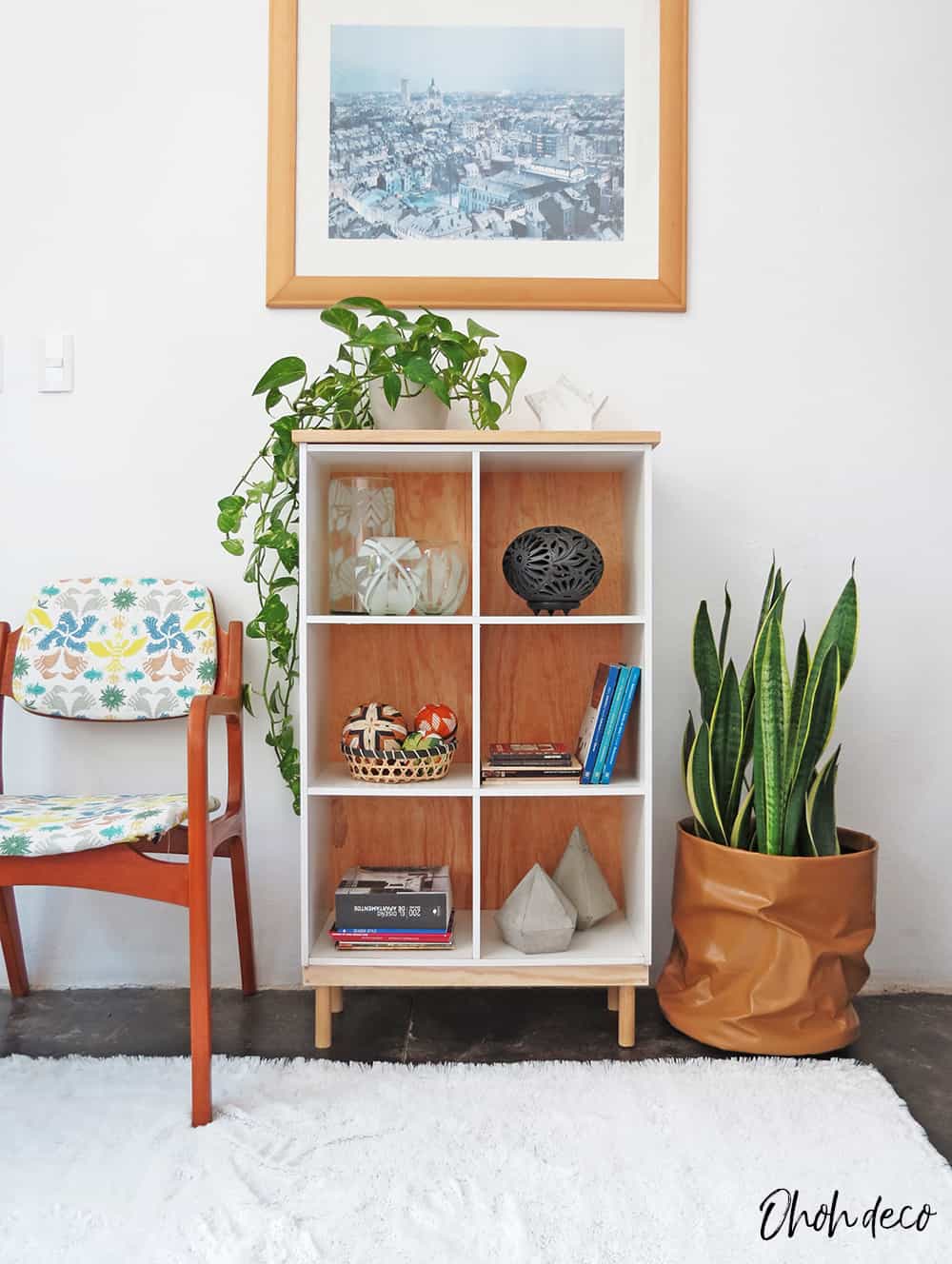 [AdSense-B]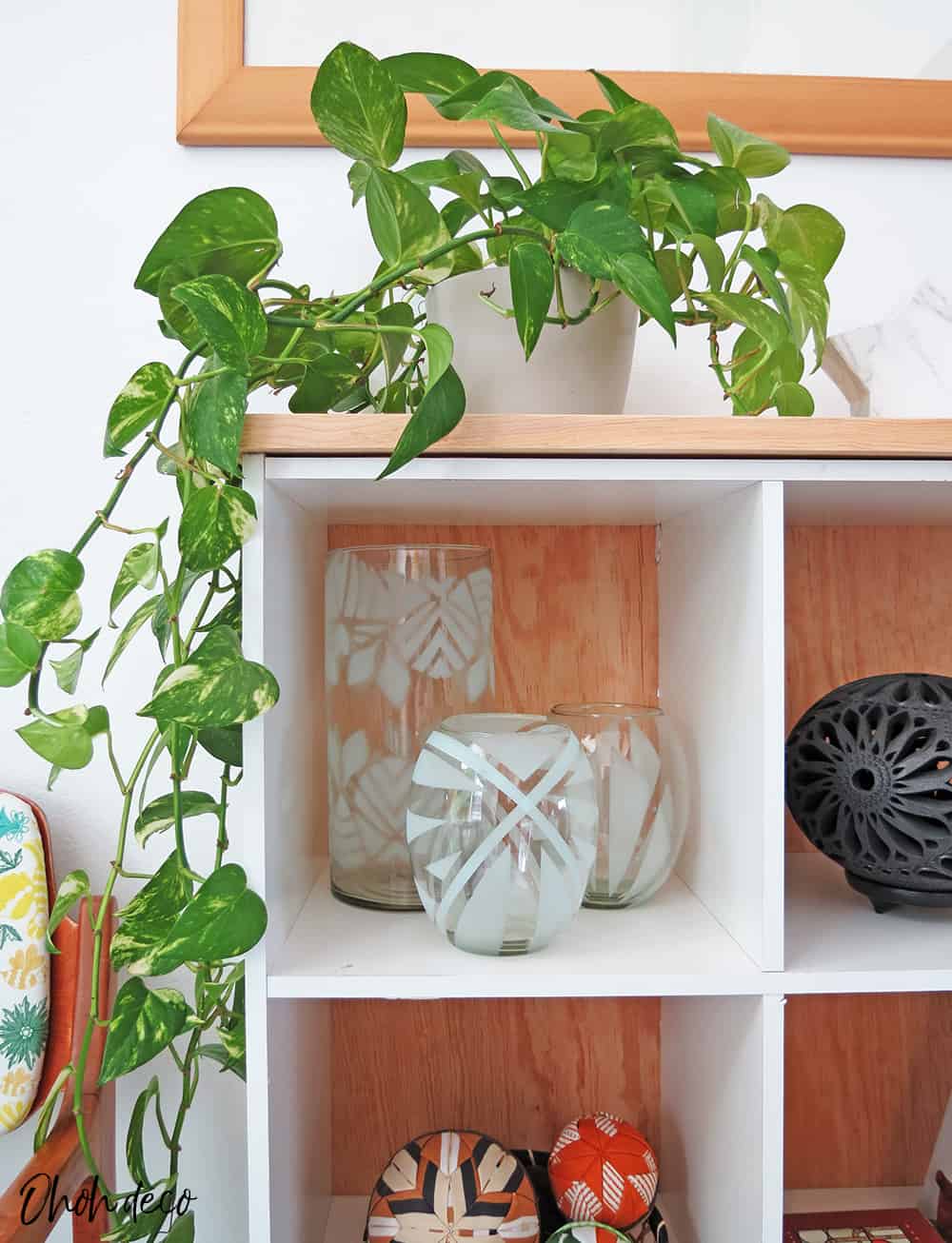 Pin it for later!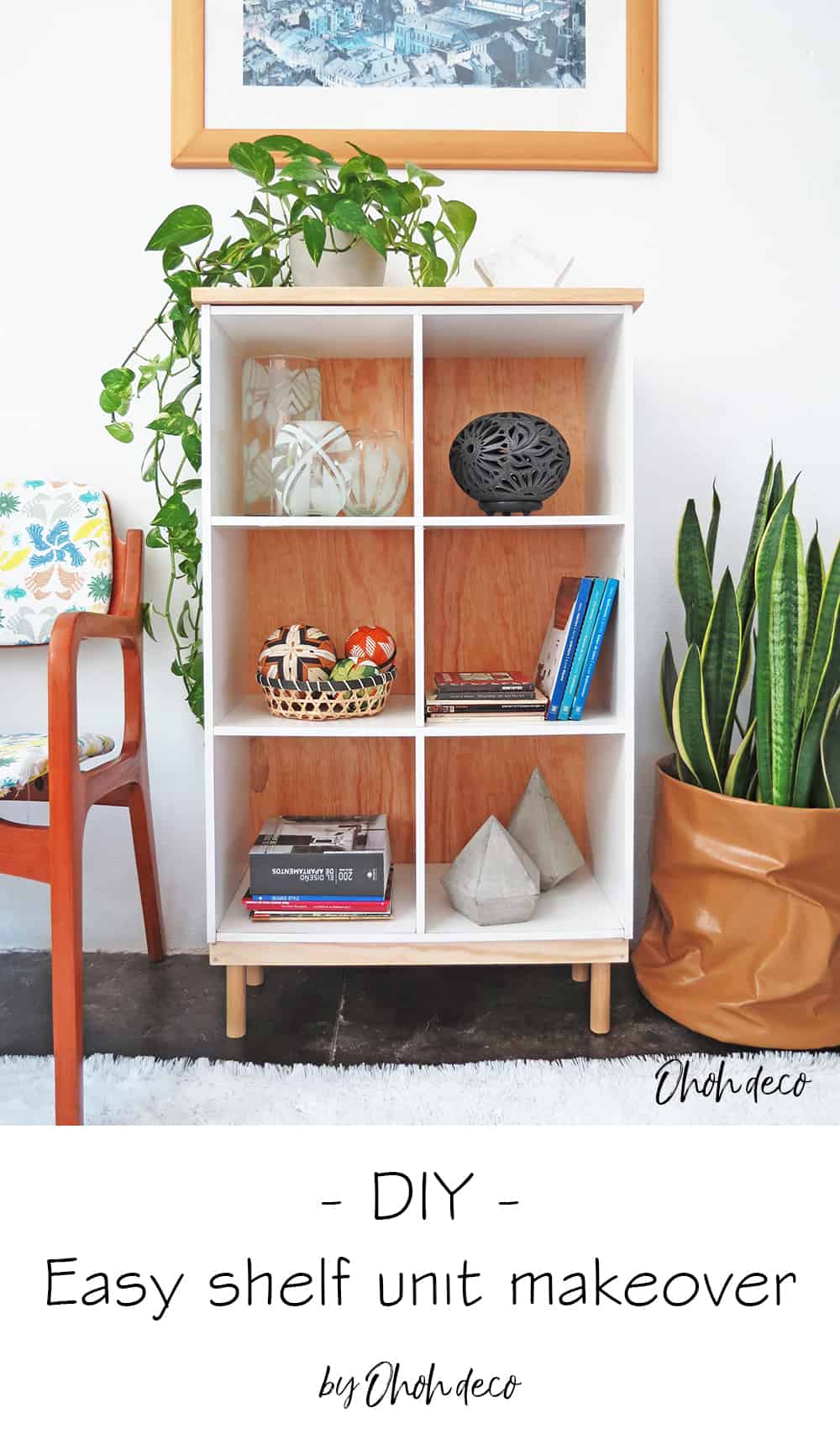 [AdSense-C]
Amaryllis