Something I want to change this year is being more daring. In life in general but also in my decoration choices. Trying new things, innovate, eventually fail and try again! I just feel a need to get out of the routine and takes some risk. We agree that big changes always begin with a small step, so I decided to add color to some of the walls in the house. Which is a big change for me!
A few years ago, after a bad experience with a horrible red wall in our living room, I took the decision that every wall will be white. I like white, but I just feel it's playing safe. The first painting project I had in mind was the wall behind our bed, I have been thinking about it for a while. So when Pure Form Brands reach me out to know if I wanted to try them ergonomic brushes, I just feel it was the push I was waiting for! So, I start pinning bedroom colors and getting some paint samples.
* * *
Unas de mis metas este año es ser más atrevida. En la vida en general pero también en mis proyectos de decoración. Probar cosas nuevas, innovar, tal vez fallar y volver a intentarlo. Simplemente siento la necesidad de salir de la rutina y de arriesgarme un poco. Estamos de acuerdo en que los grandes cambios siempre comienzan con un pequeño paso, así que decidí agregar color a algunas de las paredes de la casa. Es un gran paso para mí! Hace unos años, después de una mala experiencia con una horrible pared roja en nuestra sala de estar, tomé la decisión de que todas las paredes serían blancas. Me gusta, pero siento que le falta algo . El primer proyecto de pintura que tenía en mente era la pared detrás de nuestra cama, lo he estado pensando desde hace un tiempo. Así que cuando Pure Form Brands me contactó para saber si quería probar sus pinceles ergonómicos, simplemente sentí que era el impulso que estaba esperando! Empiece a buscar inspiraciones de colores para dormitorios y fue por unas muestras de pintura.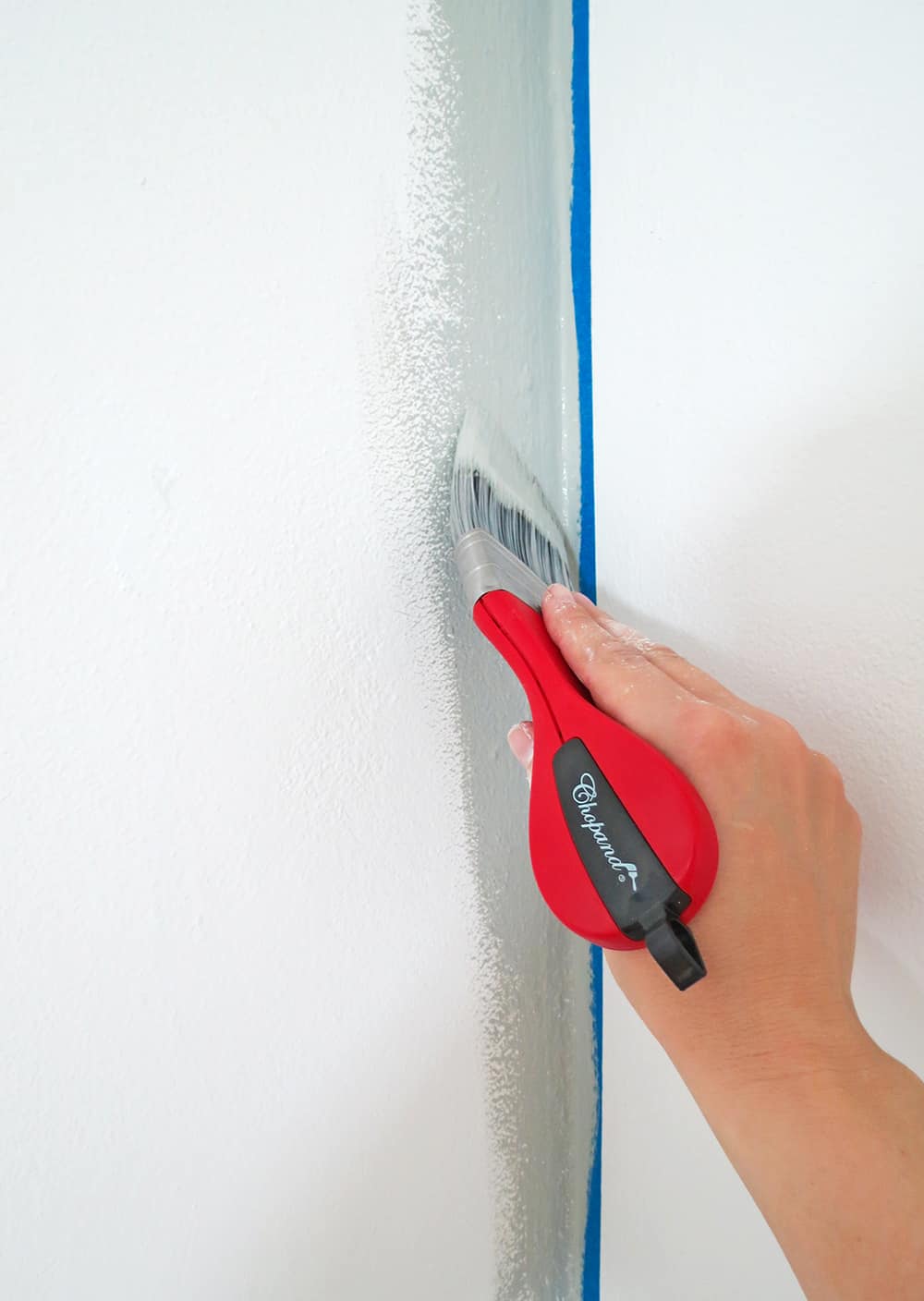 I moved the furniture away, placed some masking tape to delimitate the painting area and I was ready to try these fun brushes. When you first see the shape it's a little surprising, but once you take it in hand, the shape is made in such a way that the handle fits perfectly to your hand. You have a better grip than with a regular brush. Other things that I liked is the soft bristles that bend nicely to paint the corners. Another good point, essential for me, it's that the brushes are well crafted and not a single bristle came out. If you had ever paint something with a brush that lost hair…you know what I mean and the nightmare it can be!
I didn't paint all wall with the brushes, I also used a painting roller, but I did try them on a few square meters and they are really comfortable to use. When working (painting, drilling or using any other tool) I always have blisters that appear on the side of my thumb. This time, since the position of my hand was ergonomic, I had no injuries. Which is pretty cool! Conclusion, these brushes are a very good tool and I will definitely continue to use them for my upcoming painting projects! Pure Form Grip-Free paintbrush will launch a Kickstarter campaign in the next days, so you can subscribe to the newsletter to be the first aware and take advantage of the launching prices.
* * *

Alejé los muebles, coloqué cinta masking para delimitar el área a pintar y estaba lista para probar estas divertidas brochas. La forma es un poco sorprendente al principio, pero una vez que tomas el pincel en la mano, la forma fue hecha de tal manera que el mango se ajusta perfectamente a tu mano. Tienes un mejor agarre que con un brocha de forma regular. Otras cosas que me gusta son las cerdas suaves que se doblan muy bien cuando hay que pintar las esquinas. Otro punto positivo, esencial para mí, es que los pinceles están bien hechos y no se desprendió ni una sola cerda. Si alguna vez pintaste algo con un pincel que suelta pelo … ya sabes de que hablo y de la pesadilla que puede ser! No pinté toda la pared con las brochas, tambien use un rodillo, pero las probé sobre unos cuantos metros cuadrados y son muy cómodas de usar. Al trabajar (pintar, taladrar o usar cualquier otra herramienta) siempre tengo ampollas que aparecen en el lado de mi pulgar. Esta vez, como la posición de mi mano era ergonómica, no tuve lesiones. Lo cual es muy bueno! Conclusión, estos pinceles son una buena herramienta y definitivamente continuaré usándolos para mis proximos proyectos. La brocha Grip-Free de Pure Form lanzara su campaña kickstarter en los próximos días, por lo que puedes suscribir al boletín informativo para ser dentro de los primeros en enterarse y aprovechar los precios de lanzamiento.
Our bedroom doesn't have much natural light, so I didn't want a dark color. First, I thought about putting a mint green, but when I tried the samples on the wall it just didn't work with the headboard and the bedside tables.
My husband chooses a light gray with a subtle touch of green … I was not convinced at first, but I decided to follow his choice (after having a discussion in Home Depot because we didn't agree on the color, obviously) and I'm very glad I did it!
I love the color and it fits perfectly in the room. What do you think? I still have to find something to hang above the headboard, but meanwhile, I'm happy with the colored wall! I can't believe that a simple layer of paint can change the room's mood so much.
* * *
Nuestra recamara no tiene mucha luz natural, así que no quería un color muy oscuro. Primero pense poner un verde menta, pero cuando probé las muestras en la pared simplemente no combinaba con la cabecera y las mesitas de noche. Mi esposo escogió un gris claro con un toque de verde muy sutil … No me convencío al principio, pero decidí seguir su elección (bueno después de tener una discusión en Home Depot porque no estábamos de acuerdo con el color, obvio) y estoy muy contenta de haberlo hecho! Me encanta el color y encaja perfectamente en la habitación. ¿Qué piensas? Todavía tengo que encontrar algo para colgar arriba de la cabecera, pero mientras, estoy feliz con la pared de color! Y no puedo creer que una simple capa de pintura pueda cambiar tanto el ambiente del cuarto.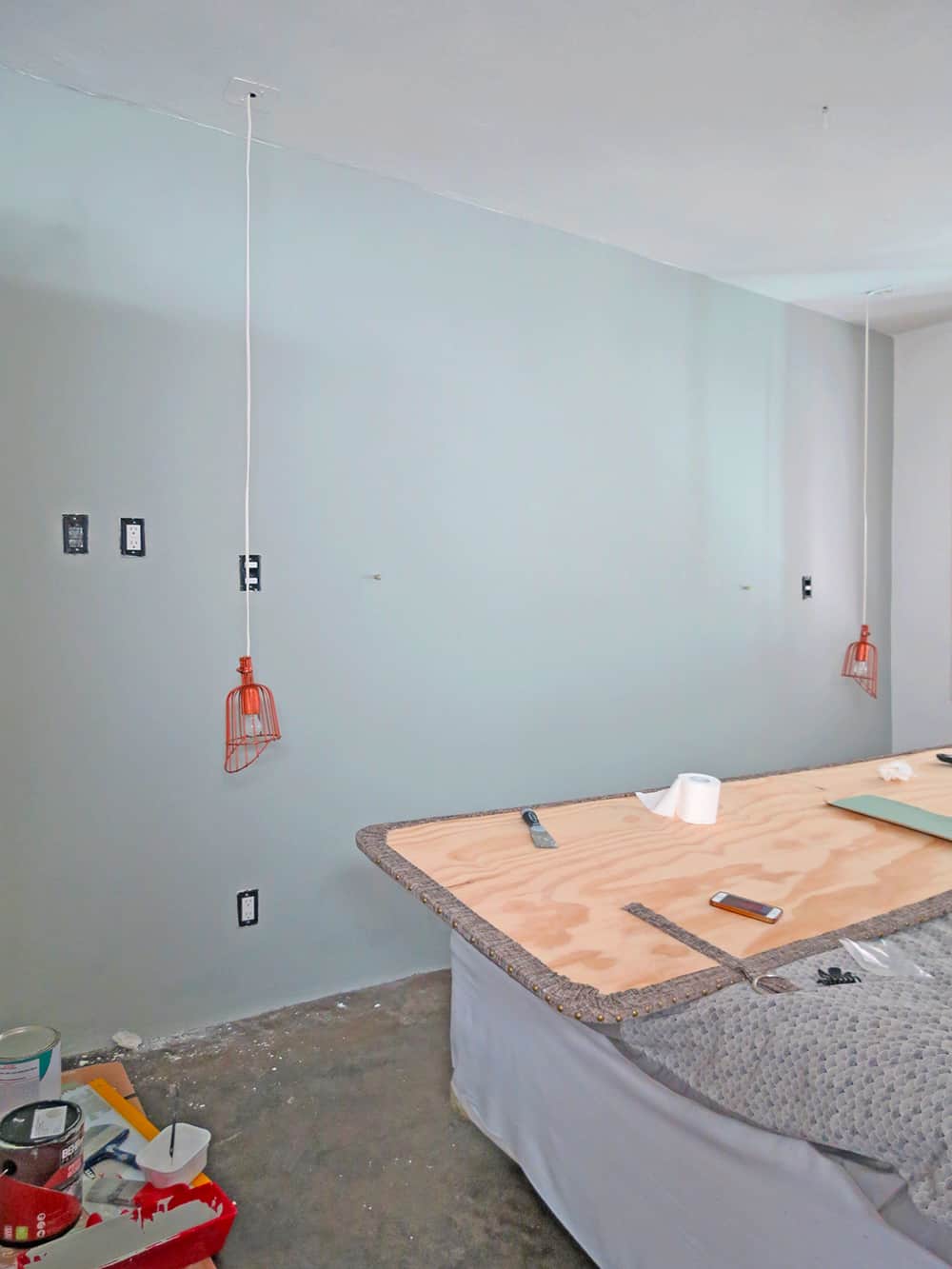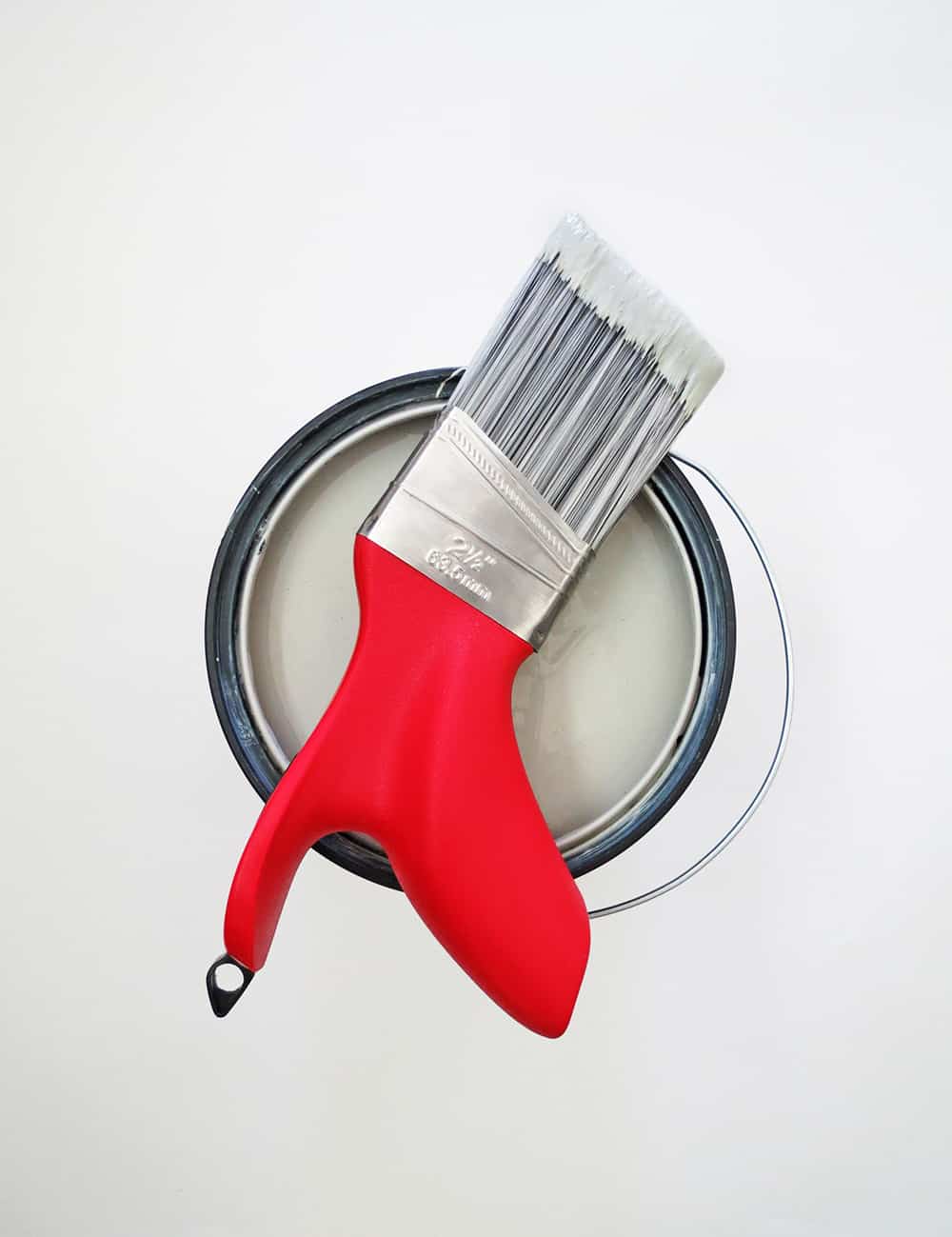 I also changed the bed side lighting. You already have seen the cage lamp in the bed sheets customization post, but I didn't shared the tutorial yet! I made them with fruit picker baskets. So easy, I'm sure you will like this 30 minutes DIY! Scroll down to have a look at the step by step.
* * *
También cambié las lamparas laterales de la cama. Ya has visto las lámparas de la jaula en el articulo donde personalice las sábanas, ¡Pero aún no te habia compartido el paso a paso! Las hice con cestas recogedoras de frutas. Es super fácil de hacer y estoy segura de que te gustará este DIY de 30 minutos! Desliza hacia abajo para encontrar el paso a paso.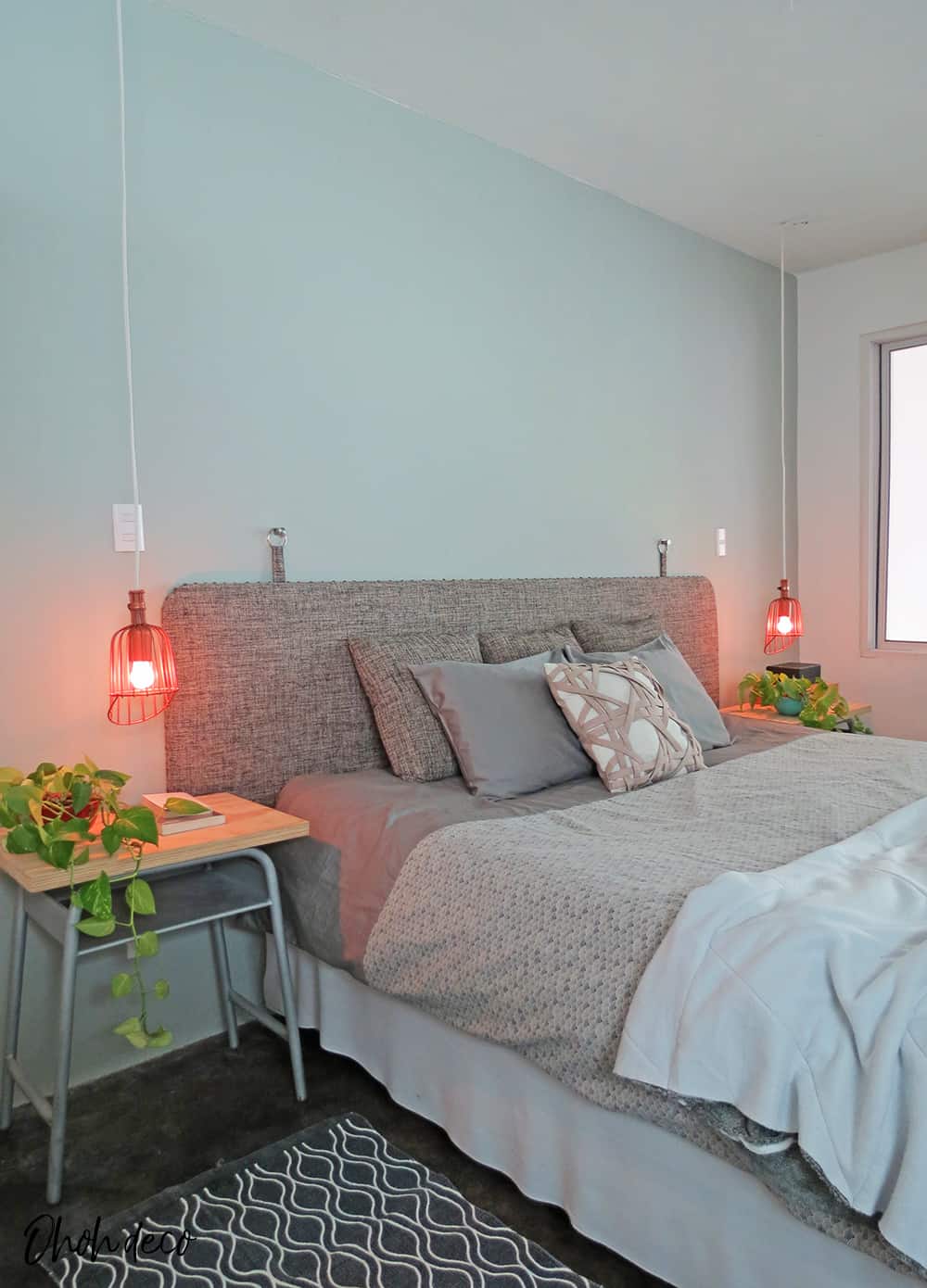 In case you don't remember, the bedroom looks like this before * * * Por si no lo recuerdas, el dormitorio se veia así antes: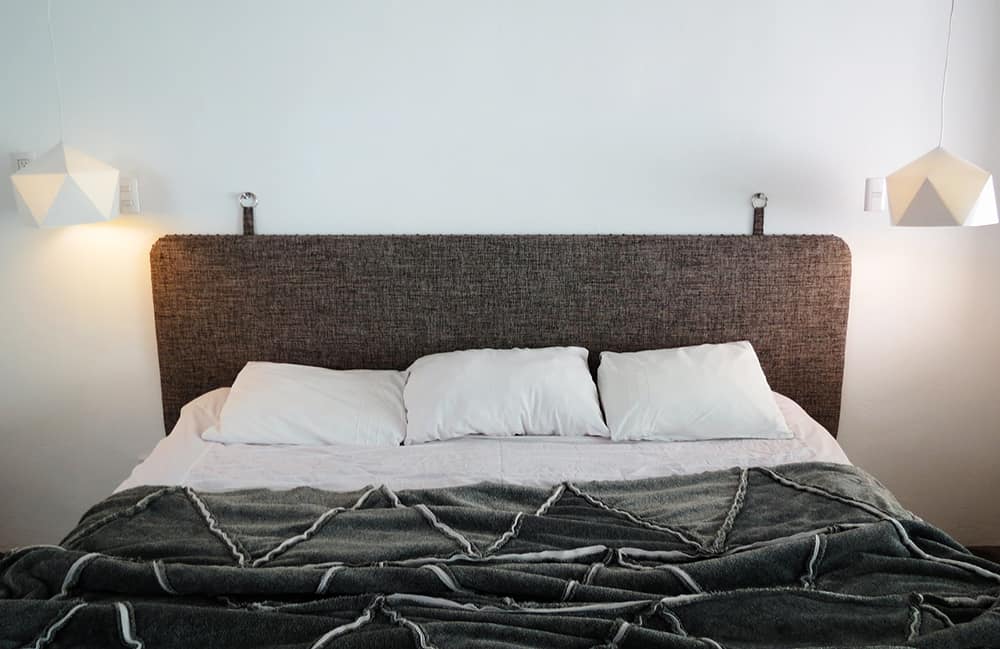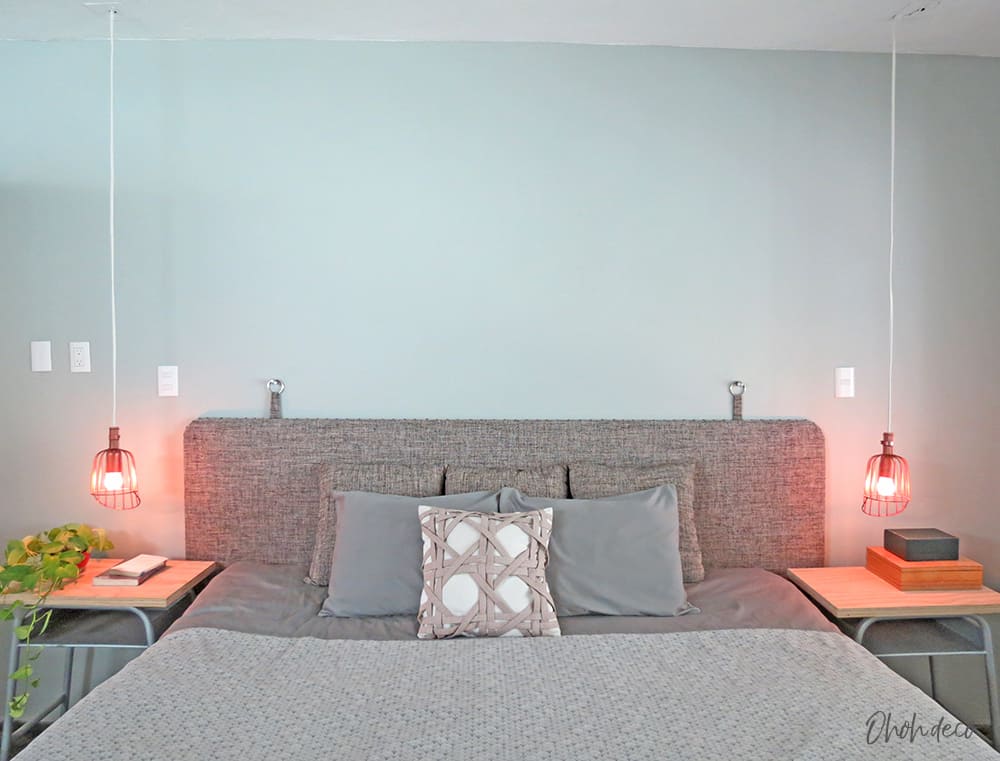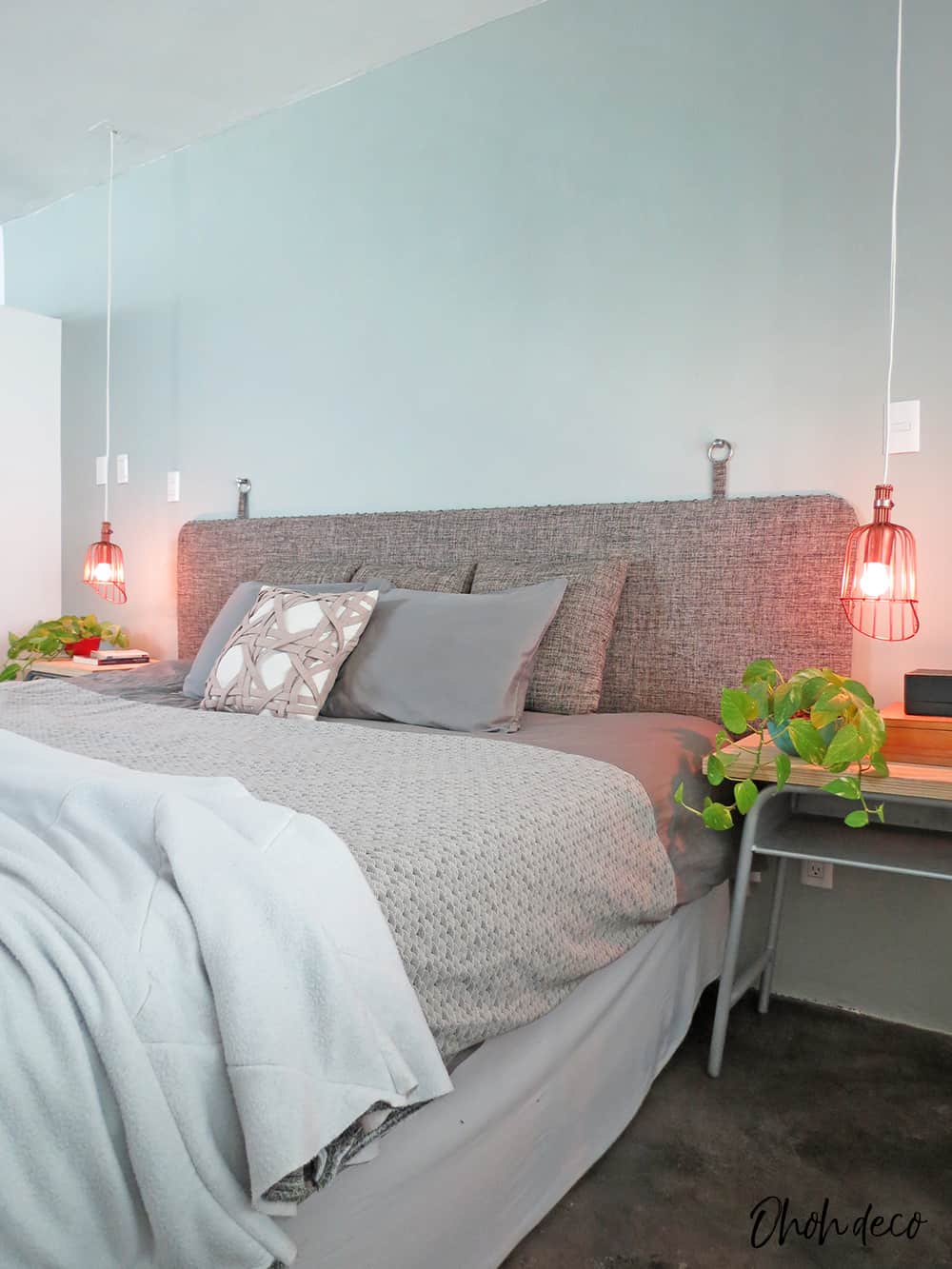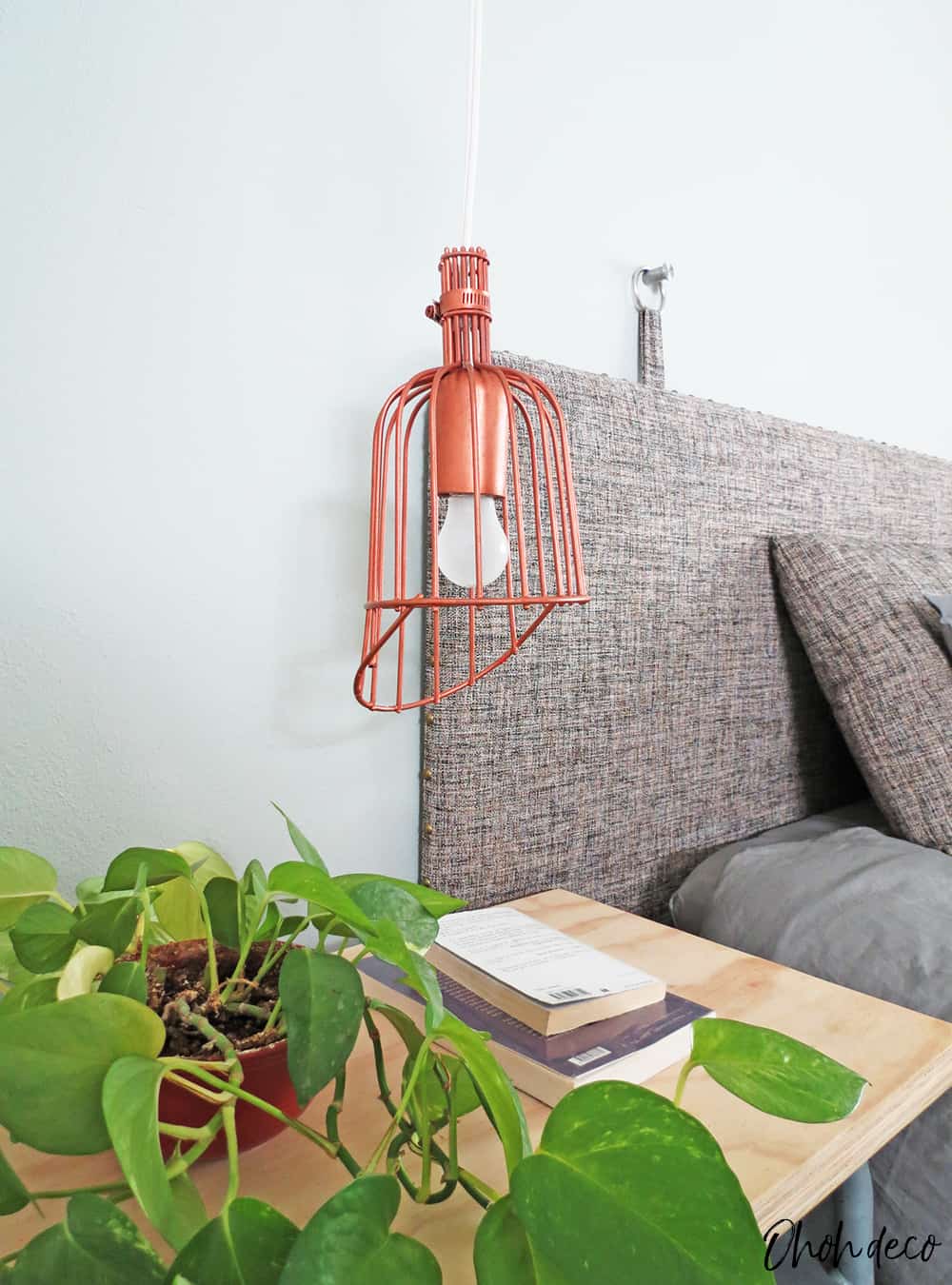 How to make a DIY lamp Cage

And now the light tutorial! Here goes the material you will need to make a DIY cage lamp:
A metal fruit picker basket
Cutting pliers
Screwdriver
A lamp kit (socket and wire)
A hose clamp (it normally came with the basket)

A spray paint (the color you like)
A light bulb
¡Y ahora el paso a paso para hacer la lampara! Aquí va el material que necesitarás para hacer una lámpara jaula:
Una canasta recolectora de frutas de metal

Alicates para cortar

Destornillador

Un kit de lámpara (

casquillo

y cable)

Una abrazadera de manguera (normalmente viene con la canasta)

Una pintura en aerosol (el color que desee)

Una bombilla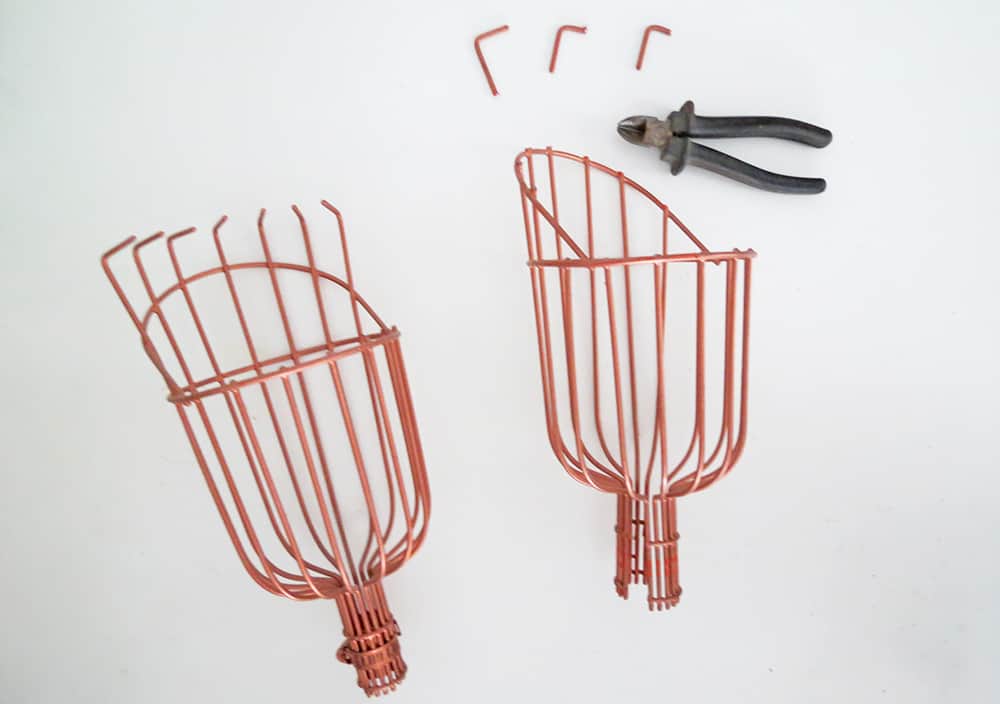 Using pliers, cut out the bent wires that serve to pick fruits. Then spay paint the basket, the hose clamp and the socket the same color. I choose copper and apply 3 coats, turning the objects to make sure the paint covers everything.
* * *
Con unos alicates, corta el alambre doblado que sirve para recoger las frutas. Luego, pintas la canasta, la abrazadera y el casquillo del mismo color. Elije un color cobre y aplique 3 capas, girando los objetos para asegurarme de que la pintura cubra todo.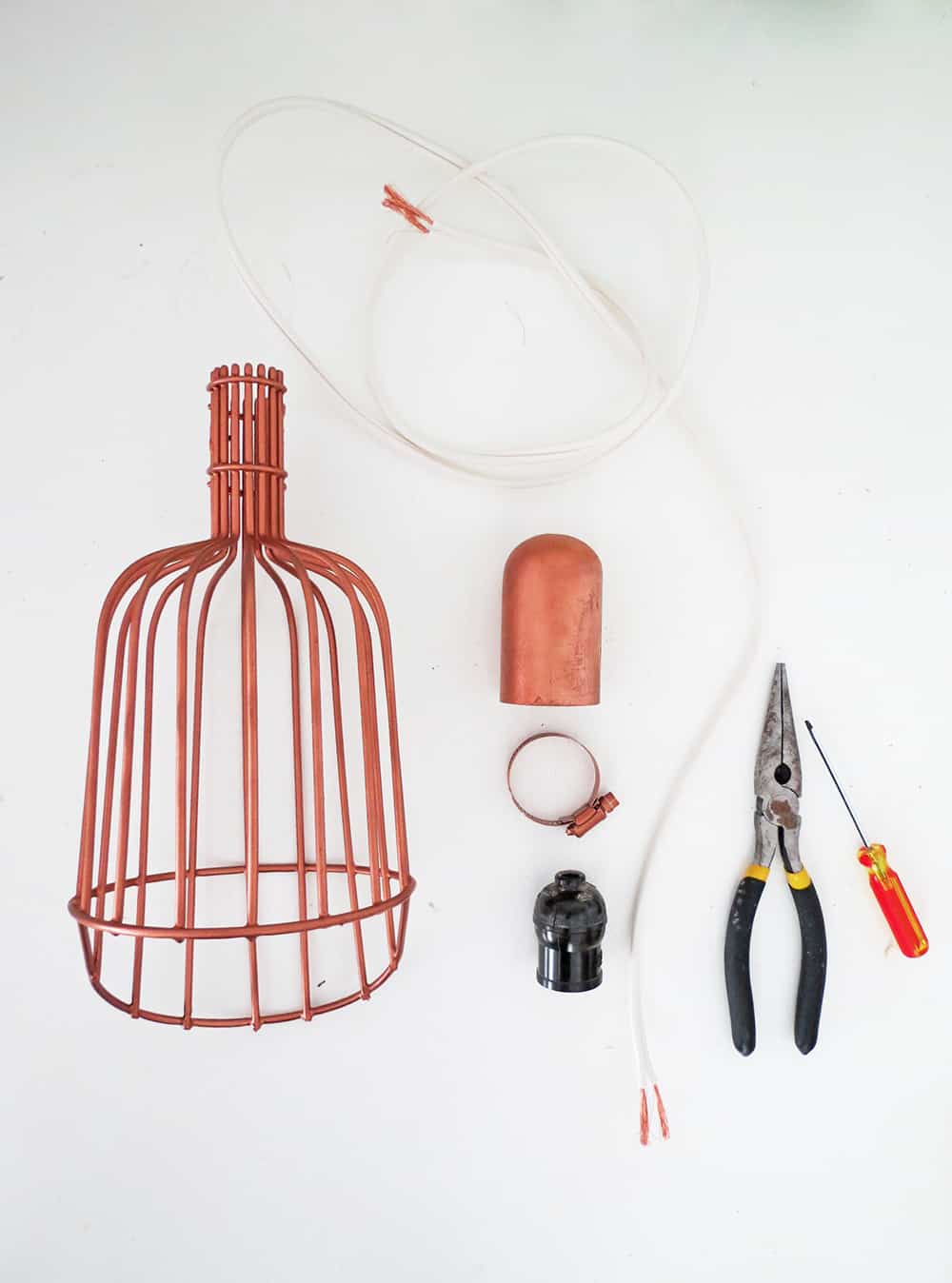 I connected the socket with the wire. If you don't have any electricity knowledge, ask for help! And don't forget to turn power off, I don't want anything to happen to you my friend. I used a wooden socket cap (painted copper) to cover the socket but you can choose to spray paint the socket if you like!
* * *
Conecté el casquillo con el cable. Si no tienes conocimientos de electricidad, busca ayuda! Y no olvides cortar la luz antes de empezar, no quiero que te pase algo amiga. Usé una tapa de madera (pintada color cobre) para cubrir el casquillo, pero puedes elegir pintar el casquillo con el aerosol si lo deseas!
Slide the socket into the basket, close with the hose clamp, place the bulb and done! At first, I put a transparent bulb of 100 watts into the cages. It was cool because it makes nice shadows on the wall, but the light was too dazzling. We almost went blind every time we turned on the lights (which made us wake up quickly in the morning, seeing the positive side).
So, I changed them for some opaque 30 watts bulb, it's a soft and pleasant light, and it still shines enough to read my book at night! What do you think? I hope you like it as much as I do!
* * *
Deslizas el casquillo en la cesta, cierras con la abrazadera, coloques la bombilla y listo! Al principio puse unas bombillas transparentes de 100 watts en las jaulas. Fue genial porque hacian bonitas sombras en la pared, pero la luz era demasiado deslumbrante. Casi nos quedábamos ciegos cada vez que encendíamos las luces (lo que nos hacia despertar rápidamente por la mañana, viendo el lado positivo). Total que los cambie por unos focos opacos de 30 watts, es una luz suave y agradable, y todavía alumbra lo suficiente para poder leer mi libro por la noche ! Que opinas? Espero que te guste tanto como a mi!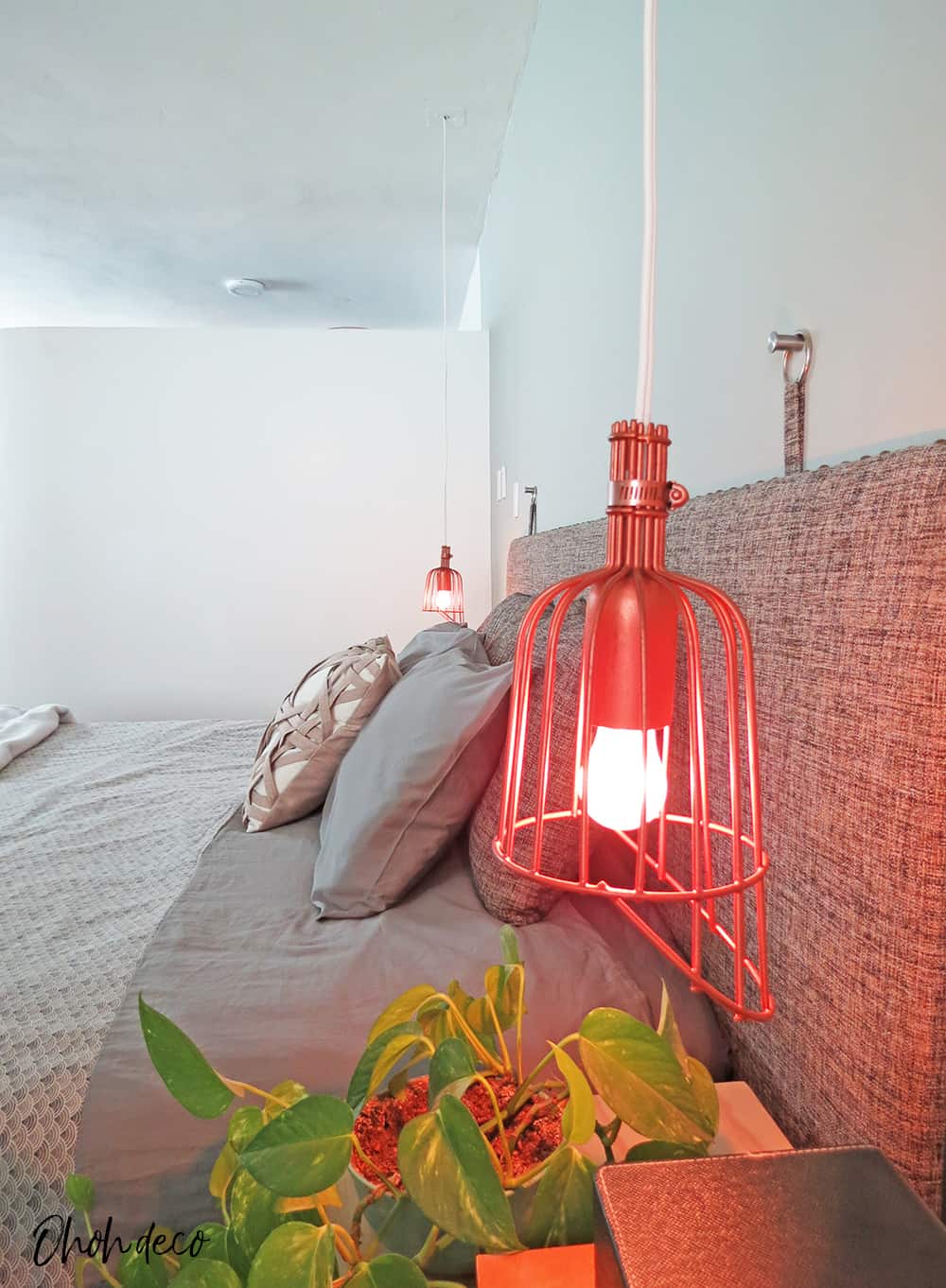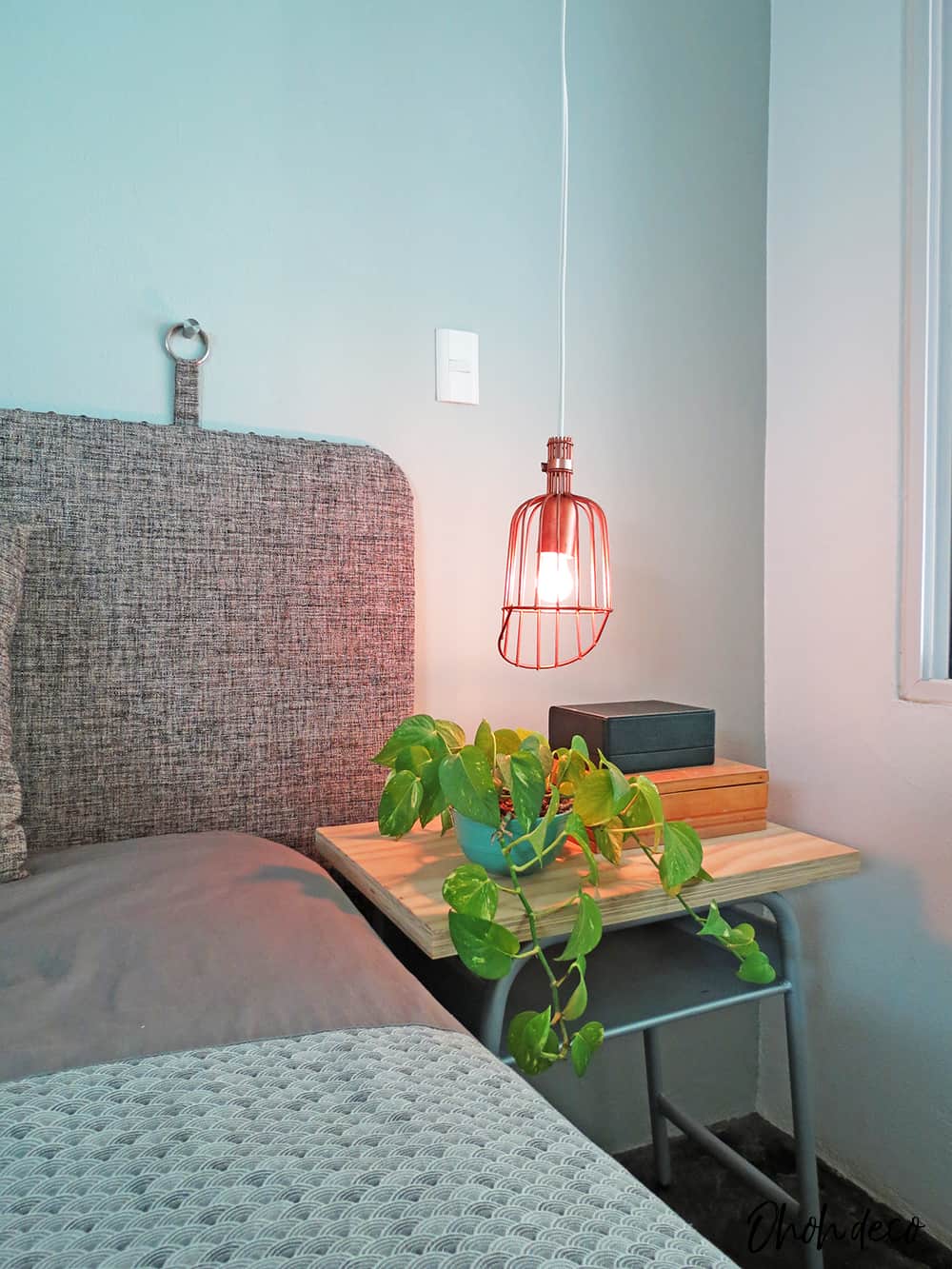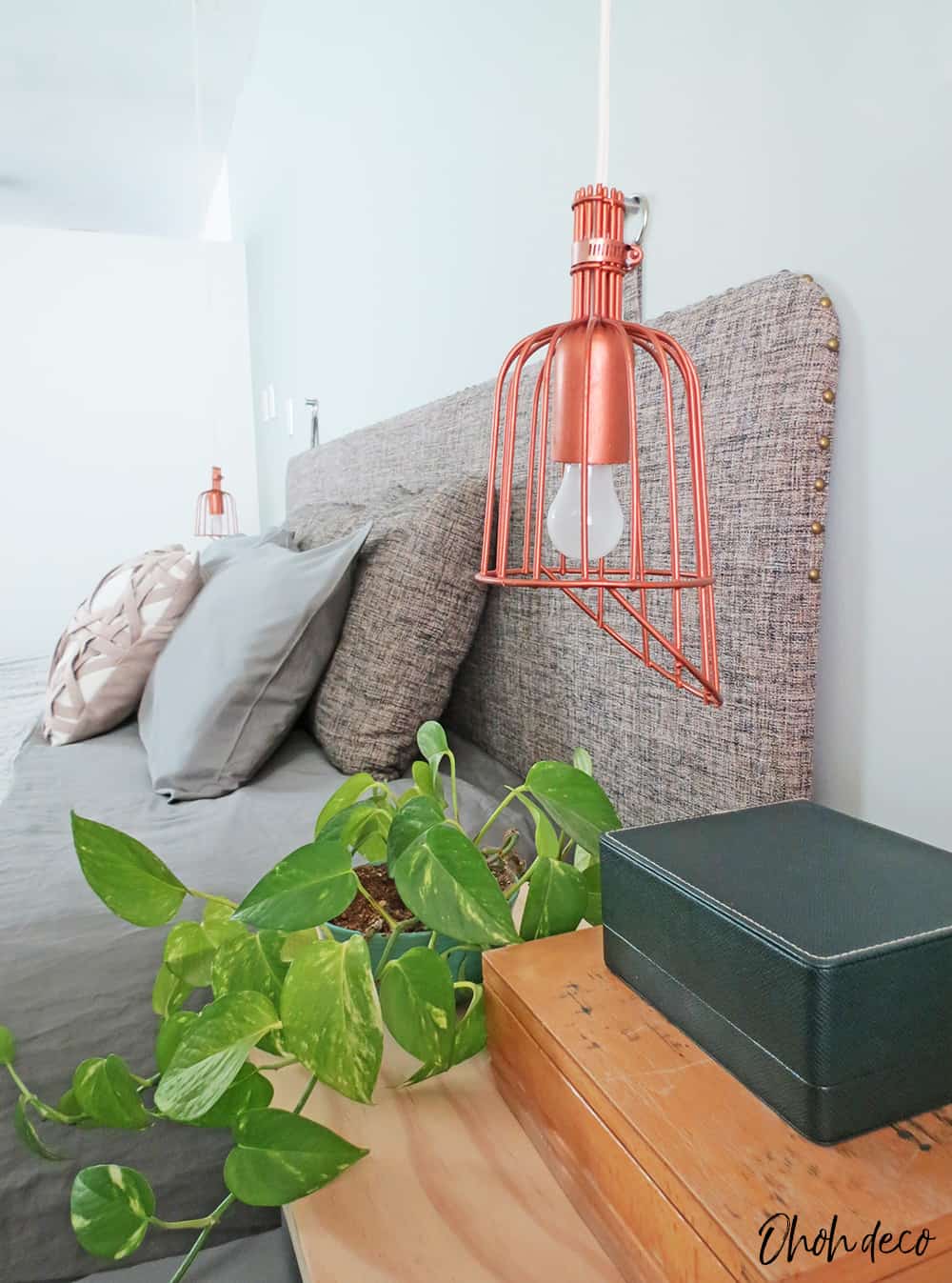 Want to remember this? Save this DIY lamp cage in your favorite Pinterest Board.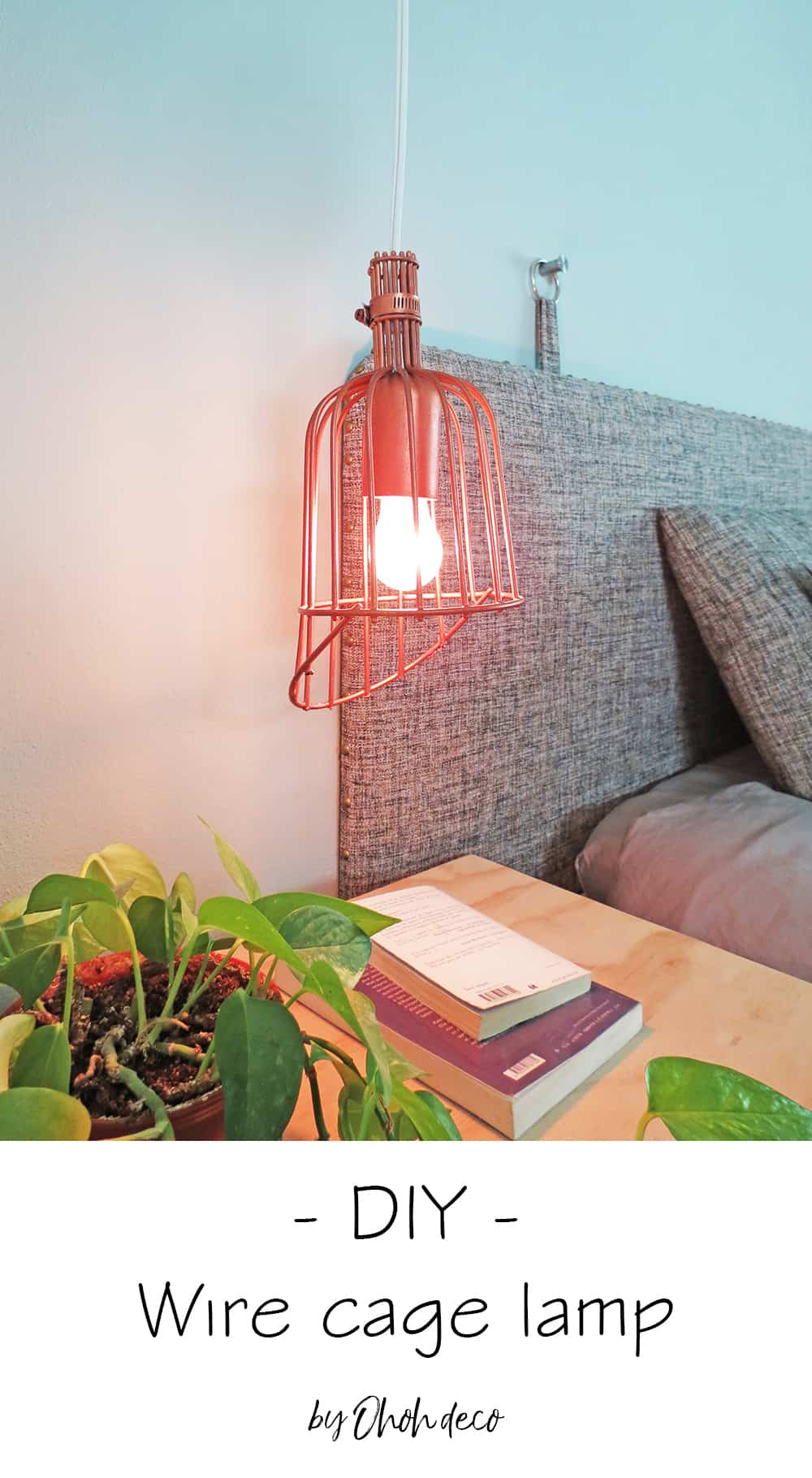 * * * Thanks to Pure Form Brands for making this sponsored post possible by supplying me with brushes. * * *
Amaryllis