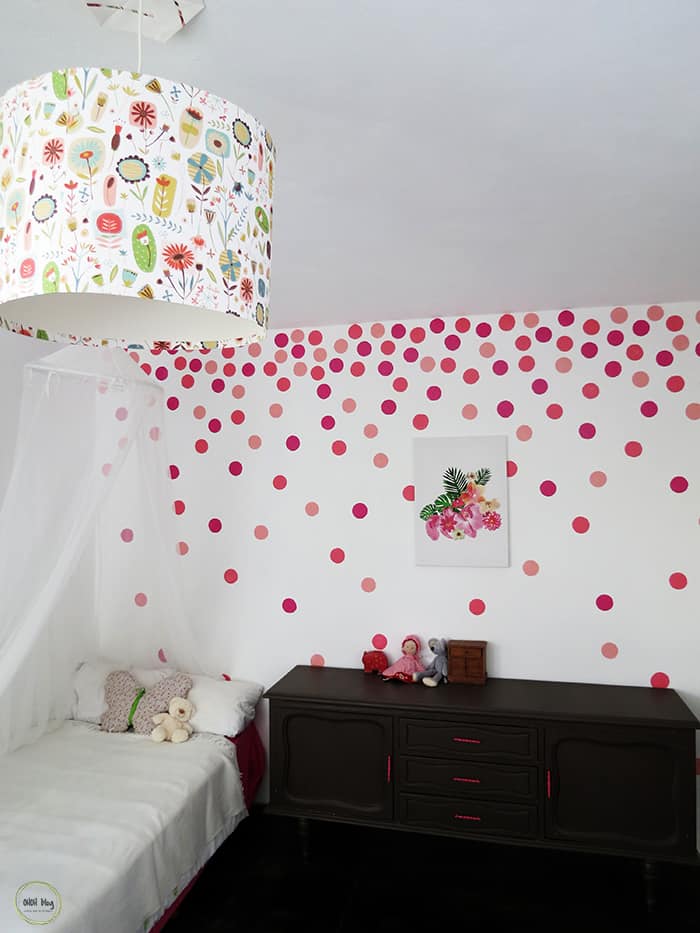 Since I stencil the entry wall with the Otomi pattern (all the details are in my previous article How to stencil a wall), my daughter was begging me to do something in her bedroom. "Because it's all white, mum, and it's not nice!" She suggested a few crazy things, I went for something simple: a polka dot wall. As far as there is pink involved she is happy, so she agreed on my idea.
I wanted a quick way to make polka dots on the wall, so I came up with the idea of using a sponge as a dot stamp. I always find it hard to pick the right paint color for your space. I end up choosing three different pink shade to give some vibe to the wall.
I started painting the dots on top of the wall next to the ceiling . I painted them more tightly above and more spaced on the bottom of the wall. It looks a little like confetti that falls from the ceiling. Also as the dresser and the bed are along this wall I didn't paint many dots on the lower part of the wall as they will be covered by the furniture.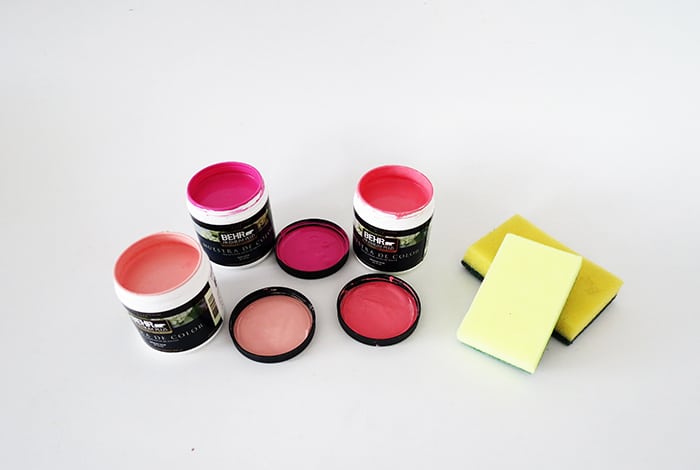 How to paint a polka dots wall
Materials you will need:
Paint (you can work with different shade)
Kitchen sponges (one for every color)
Cutter
Scissors
Pen
Small plates or containers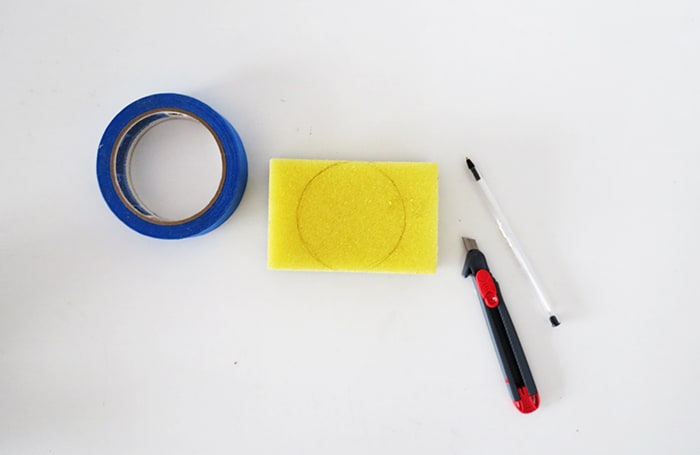 First make your stamps. Use a round shape to draw a circle on the sponge. The center of the masking tape was just perfect, but any circular container will work.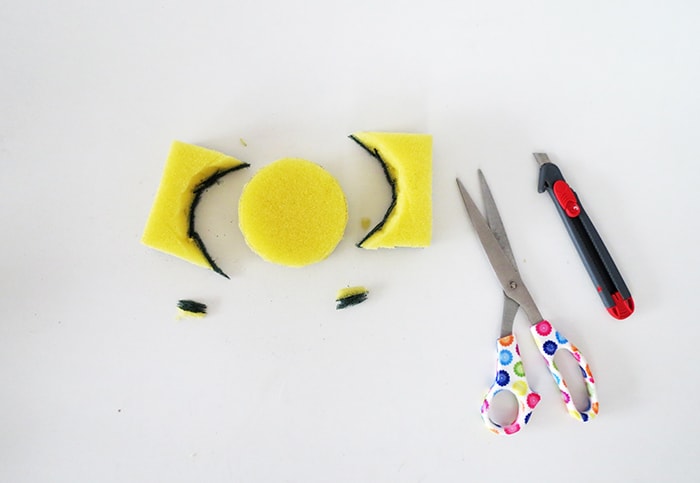 Use a utility knife or scissors to give the sponge a circle shape. Make as many circular spongse as color you will use to create your polka dot wall.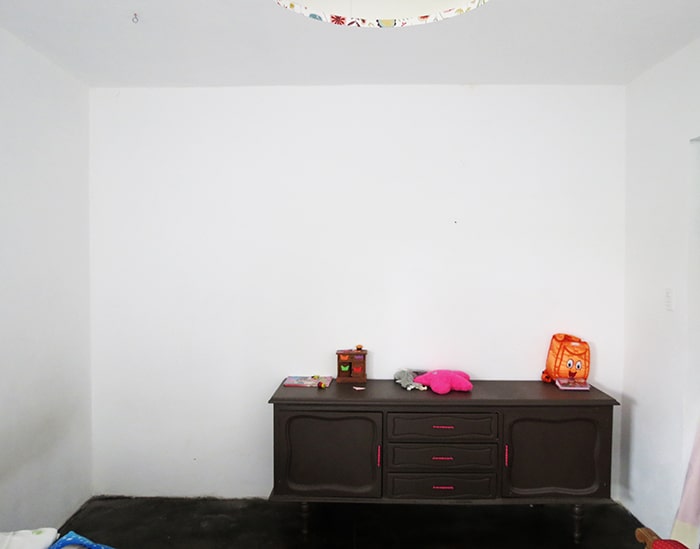 Let's start stamping polka dots on the wall! Start next to the ceiling.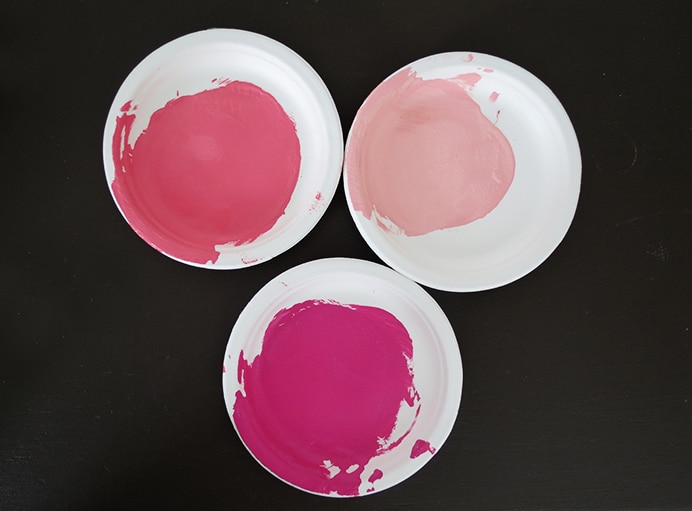 The three shades of pink I used are from Behr: Sweet Tart M160-3, Hot gossip P150-4 and Beauty Queen P120-5.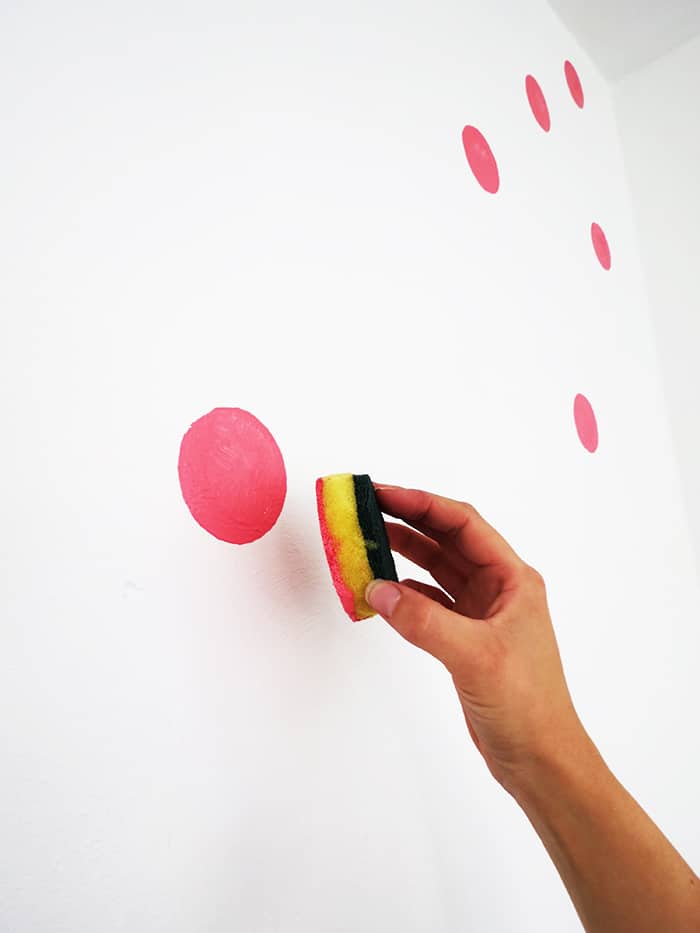 Put some paint into disposable plates, dip the sponge in it and applies the sponge on the wall. You just need a little paint on the sponge, you can removes paint excess on the edge of the plate if needed.
It works better if, once the sponge is on the wall, you turn it on itself a little. That way the paint is better applied.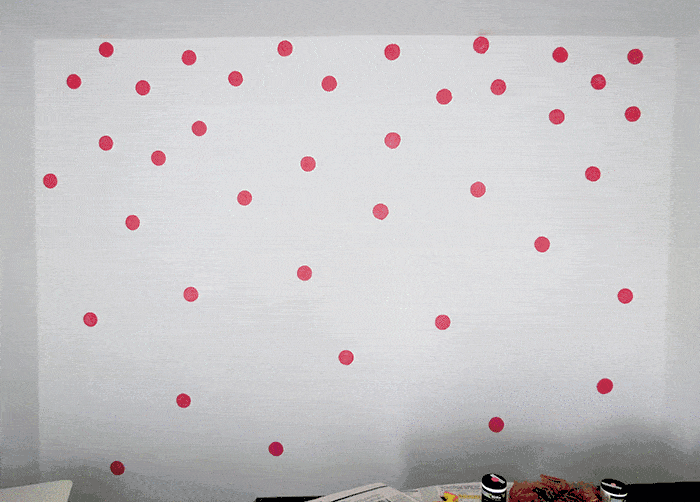 To make a random pattern, applies one color at the time and paint more dots on the upper part of wall. Once in awhile look at the entire wall and adds dots where it seems necessary.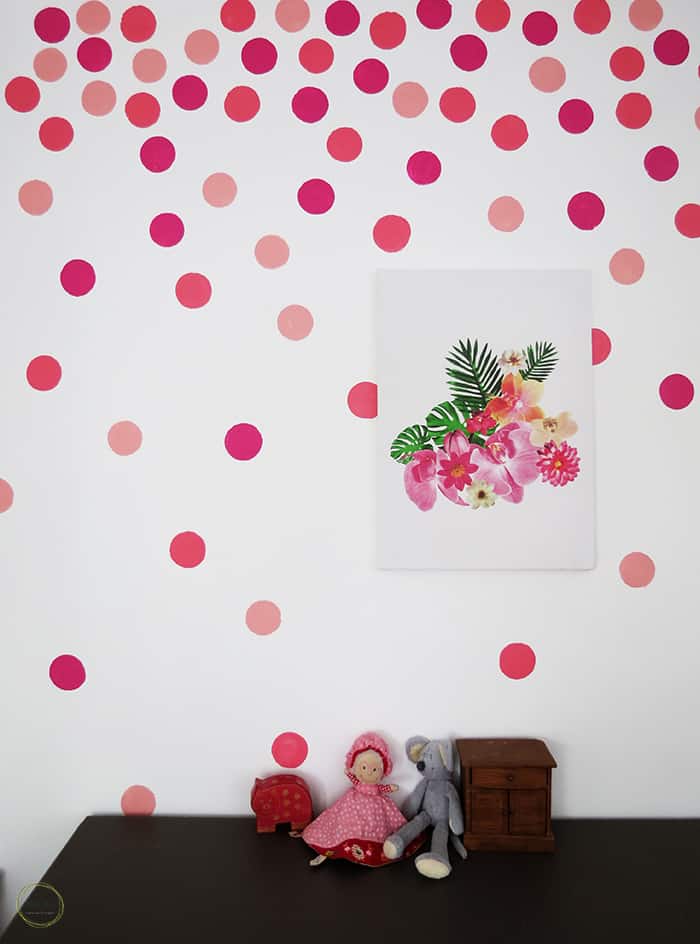 And tadaaaaaam!!! It was the surprise when she came back from school, she likes it and wanted to kick her brother out of the bedroom…because "it's only for princess". Of course, he didn't agrees and they still sleep in the same bedroom.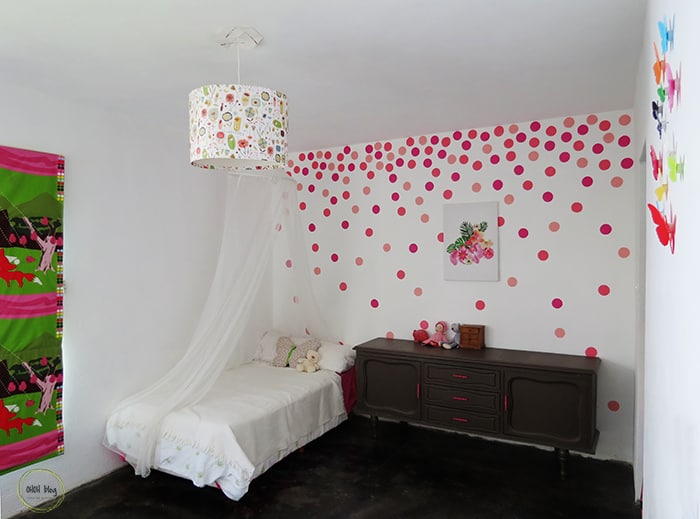 They are a few more DIY in this room, so if you like to have a look at how was the dresser before I paint it read my dresser makeover post. The lampshade was made with a piece of cardboard and a plastic bottle, all the details are here: DIY lampshade. The flower frame on the wall was a tea towel…too pretty to dry dishes so I hung it on the wall. If you want to use nice fabric as wall decor, come to see this DIY How to use fabric as wall art.
I only painted one wall of the room and it took me about 2 hours to complete. It's a very simple and quick decor upgrade. What do you think about this idea? Where would you paint a polka dot wall in your house?
e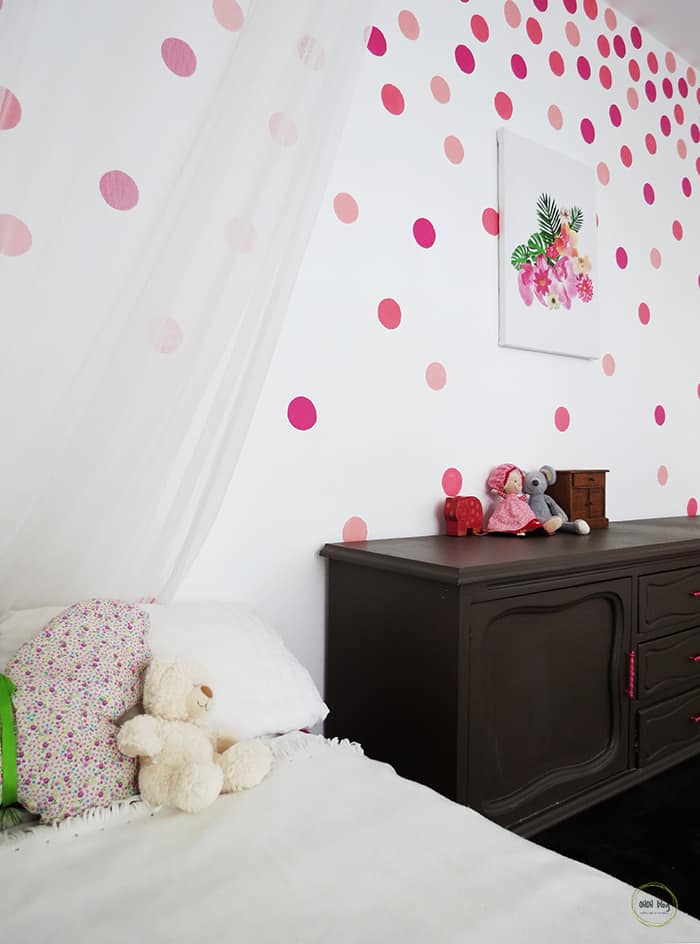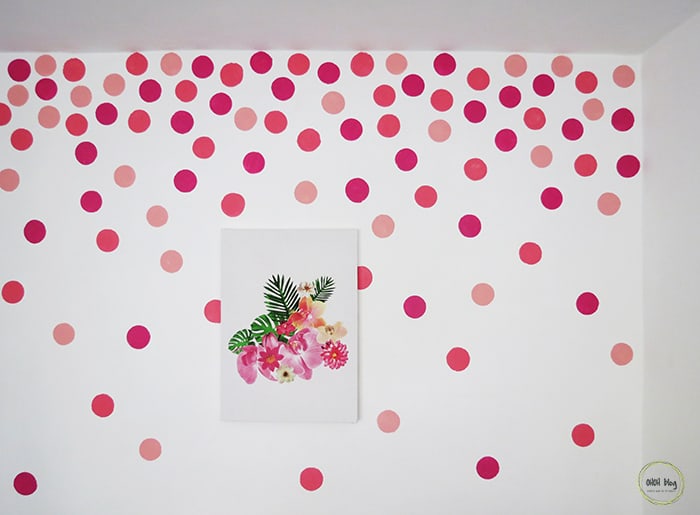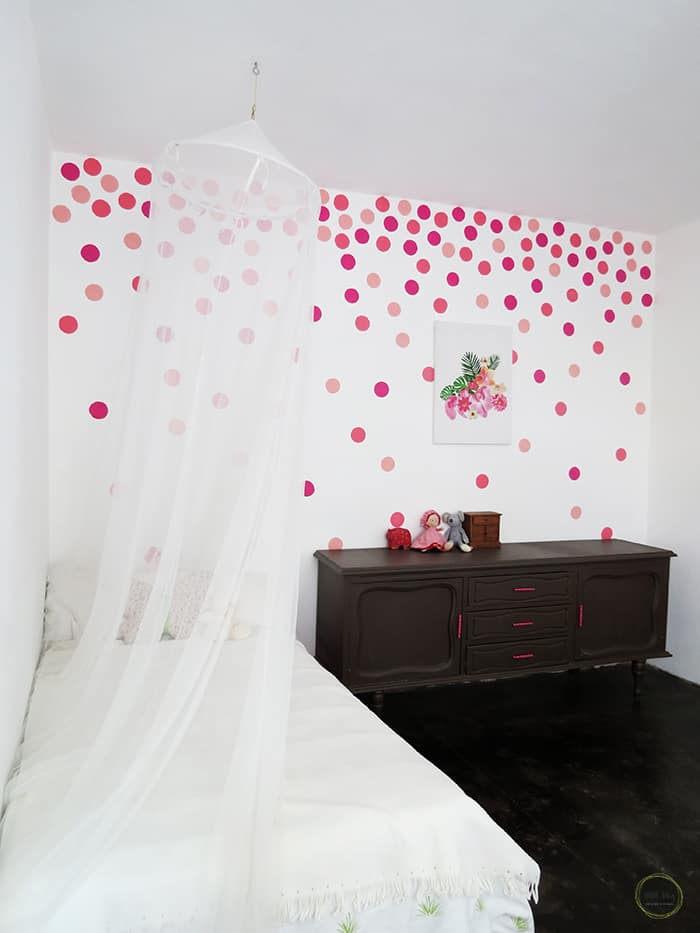 Want to remember it? Save this DIY polka dots wall in your favorite Pinterest board.
Look this nice wall with blue polka dots, thanks for sharing Franziska!
You will find all the tutorials featured in the video on my "Best DIY" page. Amaryllis