Are you tired of the same old Halloween parties with predictable decorations and lackluster table settings? It's time to crank up the fright factor and surprise your guests with spine-chilling tablecloth ideas that will leave them trembling in their seats.
In this article, we'll unveil five terrifyingly trendy Halloween tablecloth ideas that will transform your event into a haunted wonderland. From creepy spider webs that spin a tangled web of terror to wicked witch designs that cast a spell on your guests, you'll have everything you need to create a truly unforgettable atmosphere.
So grab your cauldron and broomstick, and let's dive into the world of hauntingly fabulous table linens that will wow your Halloween guests like never before.
[ This post probably contains affiliate links, our full disclosure policy is boring, but you can read it HERE ]
RELATED: DIY Outdoor Halloween Decorations – 66 easy ideas
RELATED: 27 Spooky and Cute Halloween Decor Ideas for Your Home
1. Creepy Spider Webs: Spin a Tangled Web of Terror
When it comes to Halloween tablecloth ideas that evoke a sense of spine-tingling terror, nothing quite compares to the allure of creepy spider webs. These intricate designs not only capture the essence of the season but also add a unique touch of fright to your table setting. Imagine your guests' faces as they sit down to a meal surrounded by an eerie web, wondering if they will become entangled in its sinister embrace.
Spider webs are a timeless symbol of Halloween, representing the mystical and macabre. With a spider web tablecloth, you can bring that same ominous energy into your own home. Whether you choose a traditional black and white design or opt for a more modern twist with neon-colored webs, these table linens will not only enhance the ambiance but also spark conversations among your guests.
To really take your spider web theme to the next level, consider adding plastic spiders or cobwebs to your table setting. Scatter them strategically across the cloth or drape them over the edges for an extra touch of creepiness. Your guests won't be able to resist the urge to glance over their shoulders, wondering if a real spider might be lurking nearby.
When it comes to pairing your spider web tablecloth with other Halloween decorations, the possibilities are endless. From eerie candlesticks and ghoulish centerpieces to spooky place cards and bone-chilling napkin rings, you can create a cohesive and hauntingly beautiful atmosphere that will have your guests talking for years to come.
So, this Halloween, don't be afraid to spin a tangled web of terror with a creepy spider web tablecloth. It's a surefire way to set the stage for a hauntingly fabulous event that will leave your guests trembling in their seats.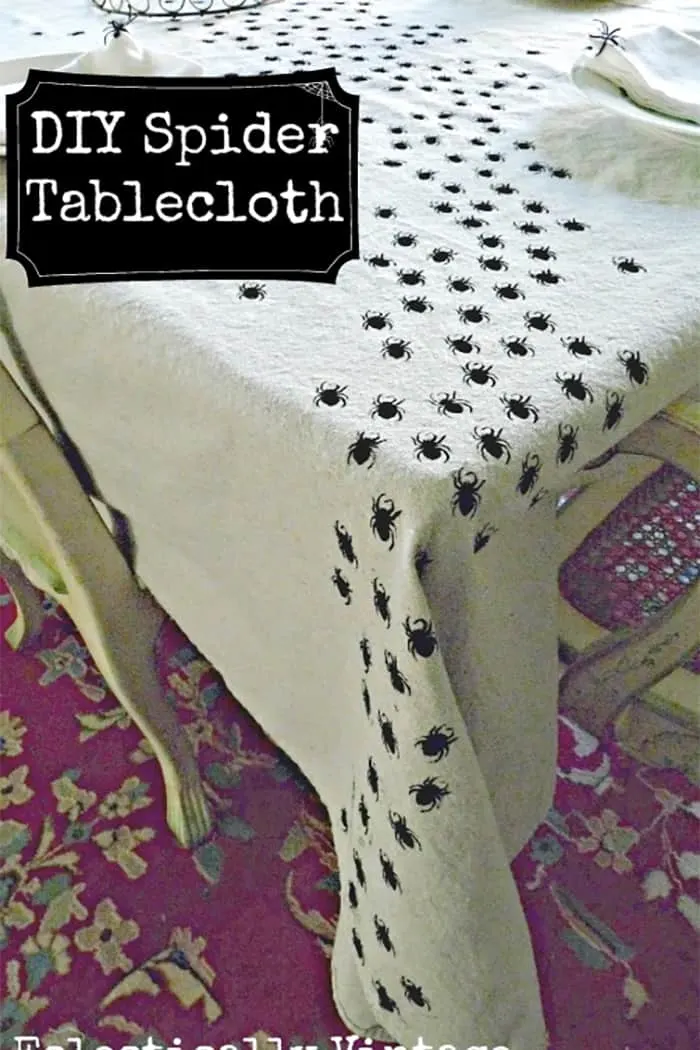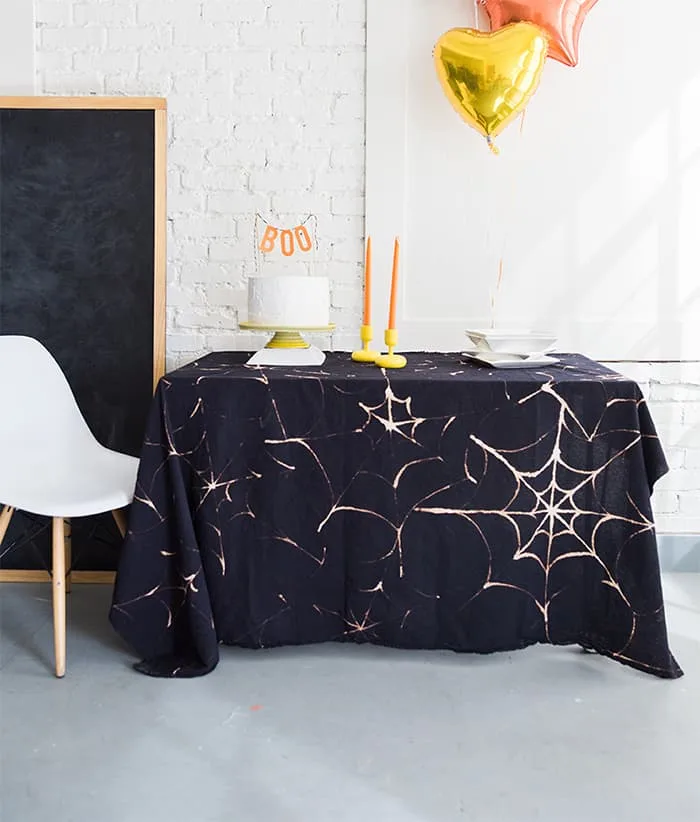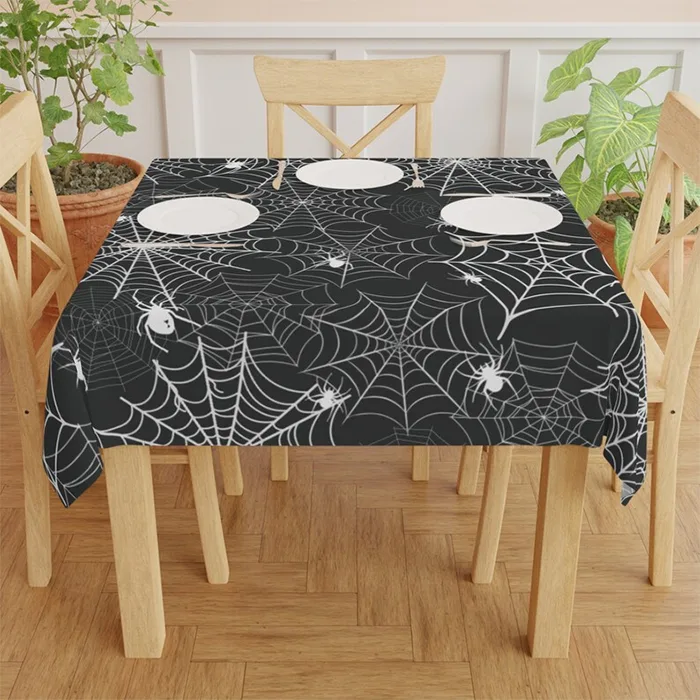 Halloween spiderweb tablecloth
Spiderweb round Halloween tablecloth
RELATED: 35 Easy Halloween sewing projects ideas
RELATED: Fitted table cover, the easy DIY
2. Eerie Graveyard Motifs: Bring the Spirit of the Dead to Your Table
If you're looking to take your Halloween tablecloth game to the next level, why not embrace the eerie graveyard motifs and bring the spirit of the dead to your table? This haunting theme is perfect for those who want to create an atmosphere that is both spine-chilling and visually stunning.
To achieve this look, start by choosing a tablecloth that captures the essence of a graveyard. Look for designs that feature tombstones, creepy trees, or even ghostly apparitions. With the right tablecloth as your foundation, you can then build upon this theme with a variety of spooky decorations.
Add some flickering candlesticks to your table, reminiscent of the eerie glow that can be seen in a moonlit graveyard. Opt for black or silver candles to maintain the eerie ambiance. You can also incorporate ghoulish centerpieces, such as miniature tombstones or skeletal hands reaching out from a bed of black roses.
To further enhance the graveyard theme, consider using place cards that resemble tombstones. Write each guest's name on the card in a ghostly font and place them at their designated seats. This small touch adds an extra element of macabre to your table setting.
Complete the eerie graveyard motif with bone-chilling napkin rings. Look for options that resemble tiny skeletons or skeletal hands. These details may seem small, but they go a long way in creating a cohesive and hauntingly beautiful atmosphere.
With your table set in an eerie graveyard theme, you'll be able to wow your guests and transport them to a world of the supernatural. The combination of the spooky tablecloth, eerie candlesticks, ghoulish centerpieces, tombstone place cards, and bone-chilling napkin rings will create an unforgettable experience that will have your guests talking for years to come.
Now, if you're ready to take your Halloween tablecloth ideas to the next level, let's explore how you can transform your table into a frightening manor with haunted house patterns.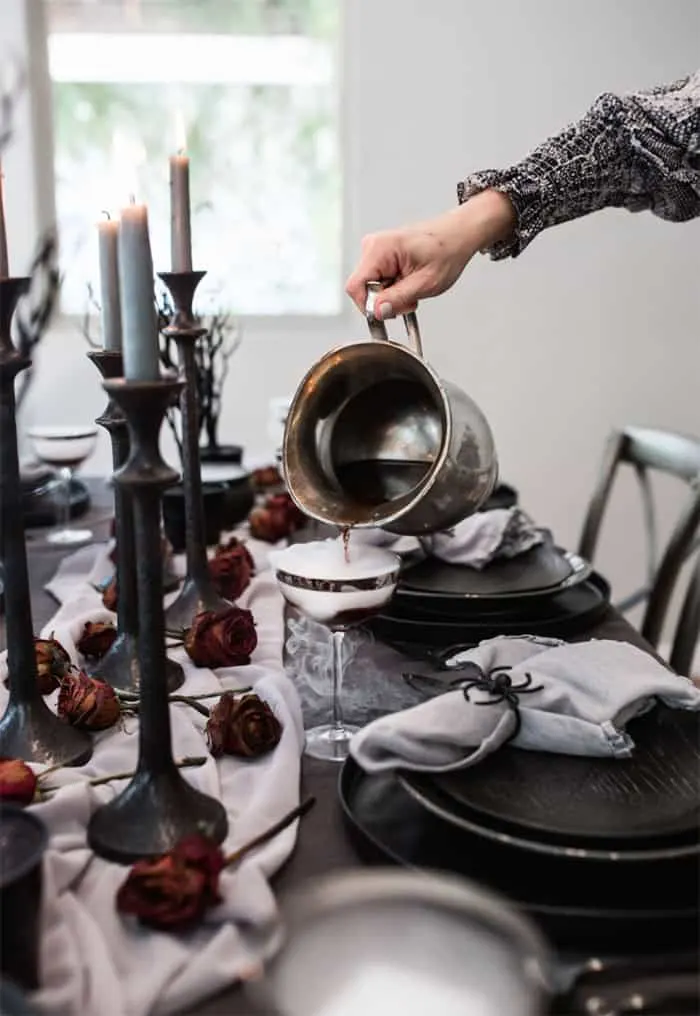 Halloween graveyard table idea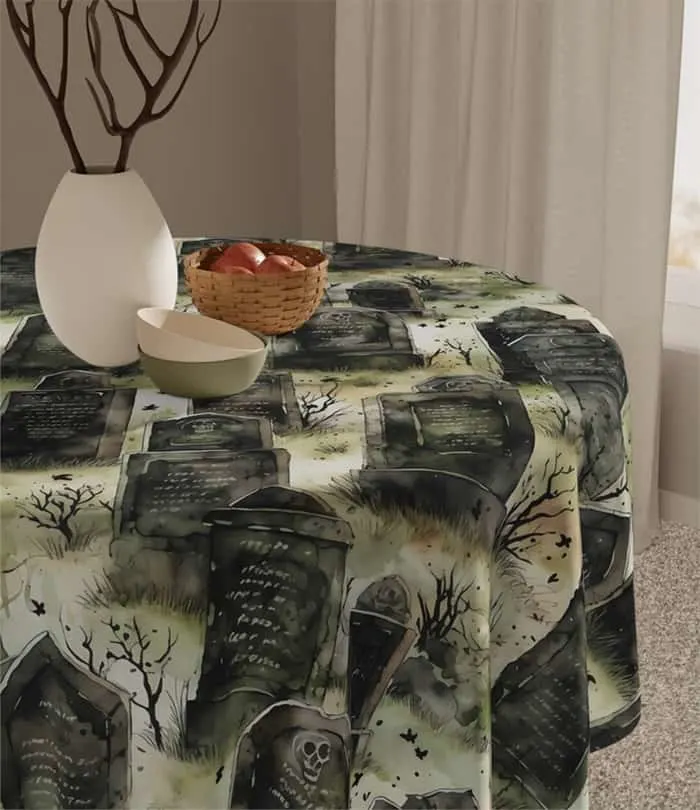 Halloween tombstone tablecloth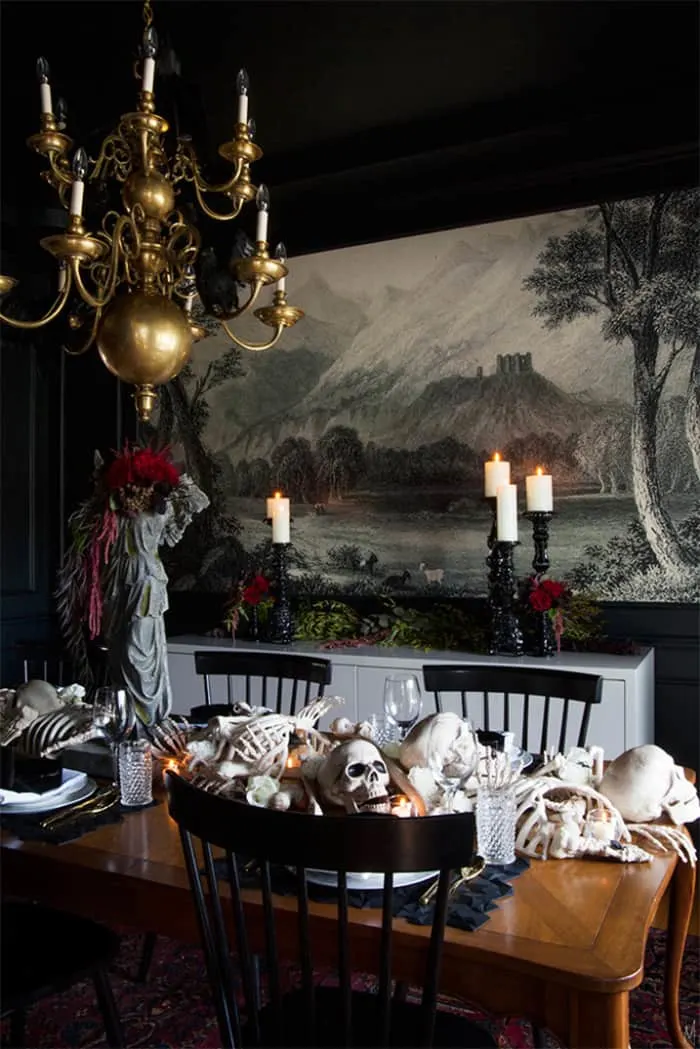 Halloween graveyard skeleton table setting inspiration
Spooky portraits Halloween tablecloth
3. Haunted House Patterns: Transform Your Table into a Frightening Manor
Now, if you're ready to take your Halloween tablecloth ideas to the next level, let's explore how you can transform your table into a frightening manor with haunted house patterns. Imagine your dining area cloaked in an air of mystery as your guests sit down to a table adorned with tablecloths featuring hauntingly beautiful illustrations of abandoned mansions, broken windows, and ghostly shadows lurking in the dark corners. These intricate patterns will make your table come alive with the spirit of Halloween, setting the stage for a chillingly delightful evening.
The haunted house patterns on your tablecloth can be as elaborate or subtle as you desire. You can opt for a design that covers the entire cloth, creating an immersive atmosphere that engulfs your guests in the world of the supernatural. Or, if you prefer a more understated approach, you can choose a tablecloth with smaller haunted house motifs scattered strategically, adding an element of intrigue to your table without overwhelming the overall aesthetic.
To enhance the spine-chilling effect of the haunted house patterns, consider incorporating other eerie elements into your table setting. Black lace table runners resembling spiderwebs can be layered over the tablecloth, creating a sense of mystery and enchantment. Ghostly white candles flickering in antique candelabras will cast eerie shadows on your haunted house patterns, heightening the sinister ambiance.
When guests take their seats, they'll feel as if they've stepped into a macabre mansion, where danger lurks behind every door and secrets whisper through the air. The haunted house patterns on your tablecloth will spark their imagination and ignite conversations about ghostly encounters and haunted tales.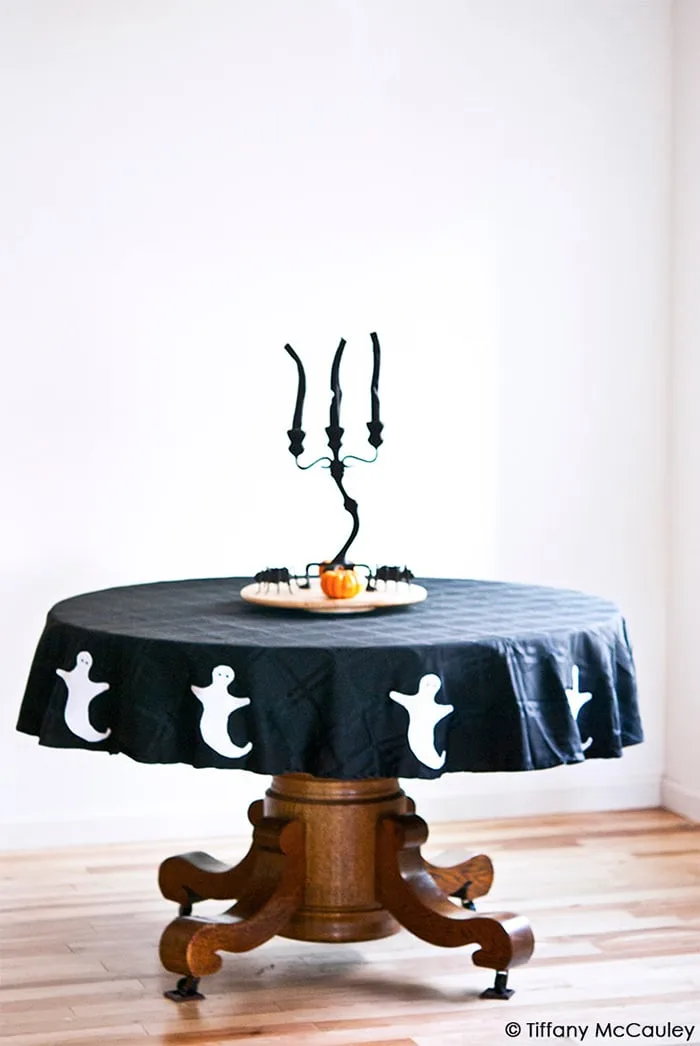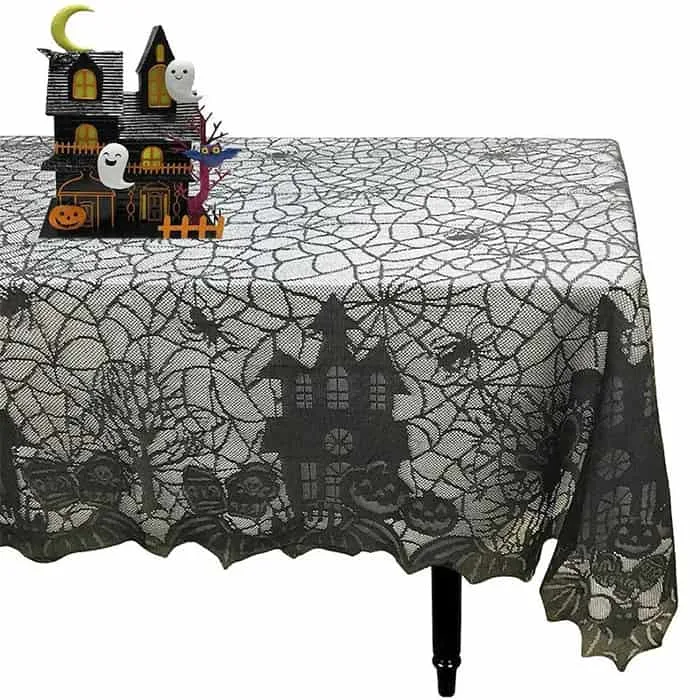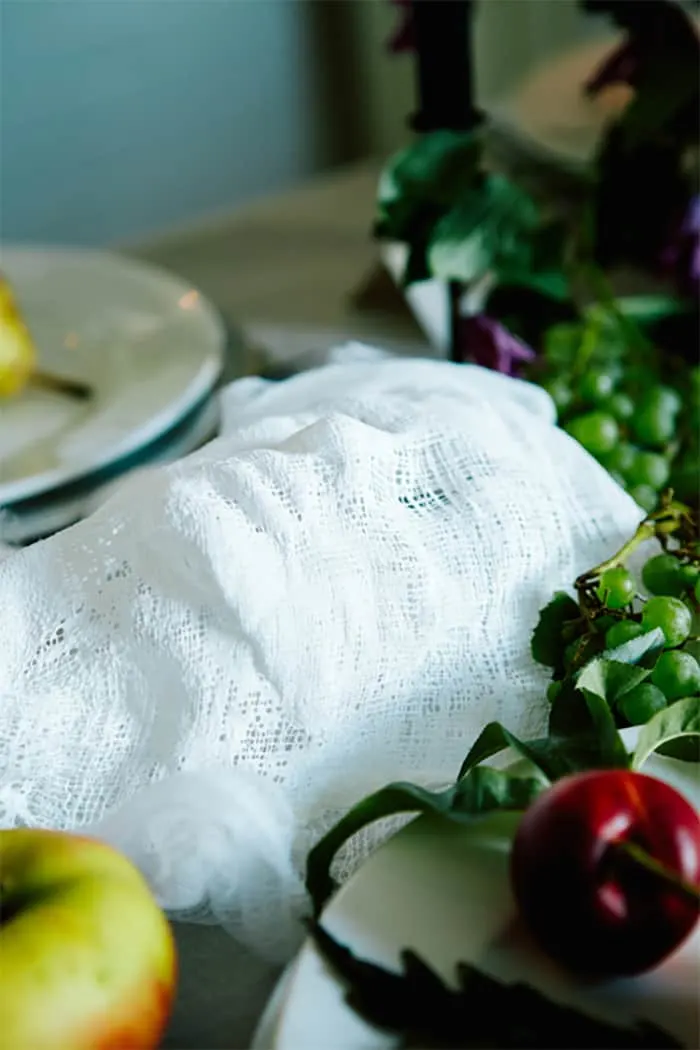 Haunted house Halloween vinyl tablecloth
4. Pumpkin Patch Prints: Embrace the Classic Symbol of Halloween
As the haunted house patterns bring a haunting allure to your Halloween table, it's time to embrace the classic symbol of Halloween: the pumpkin. The warm glow of pumpkin-themed decor will add a touch of familiarity and nostalgia to your spooky setting. From pumpkin-shaped placemats to pumpkin-printed napkins, there are countless ways to incorporate this timeless icon into your tablecloth design.
By infusing your table with pumpkin accents, you'll transport your guests to a magical pumpkin patch, where the air is filled with the aroma of cinnamon and nutmeg, and the gentle rustle of leaves adds a whimsical touch. The pumpkin patch prints on your tablecloth will evoke memories of childhood pumpkin carving adventures and pumpkin spice lattes sipped on chilly autumn afternoons.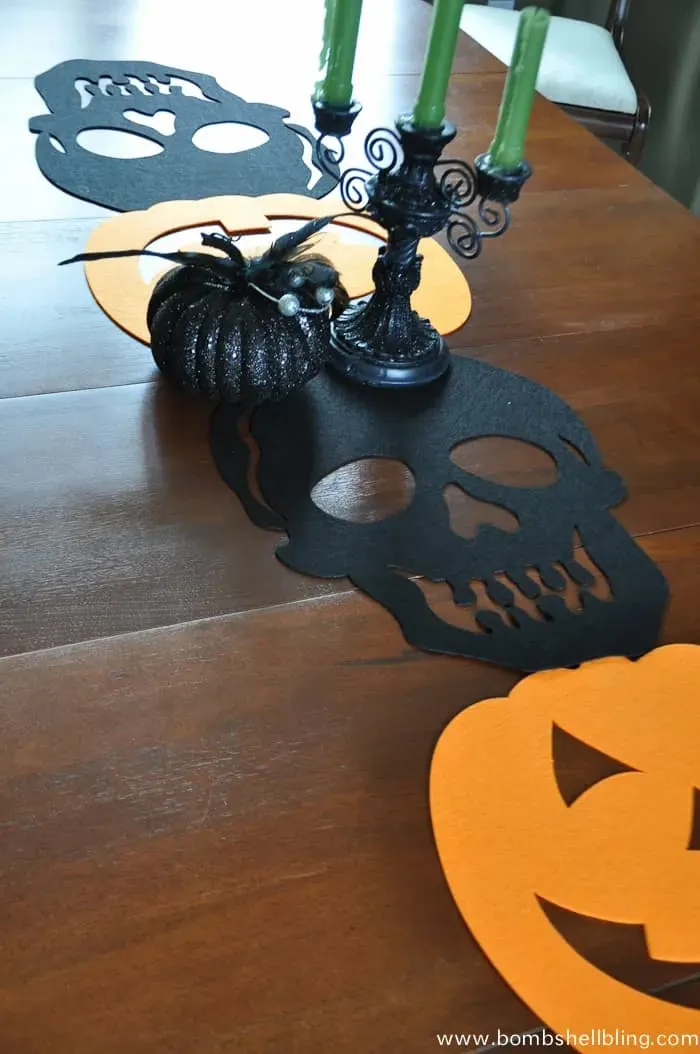 DIY easy Halloween table runner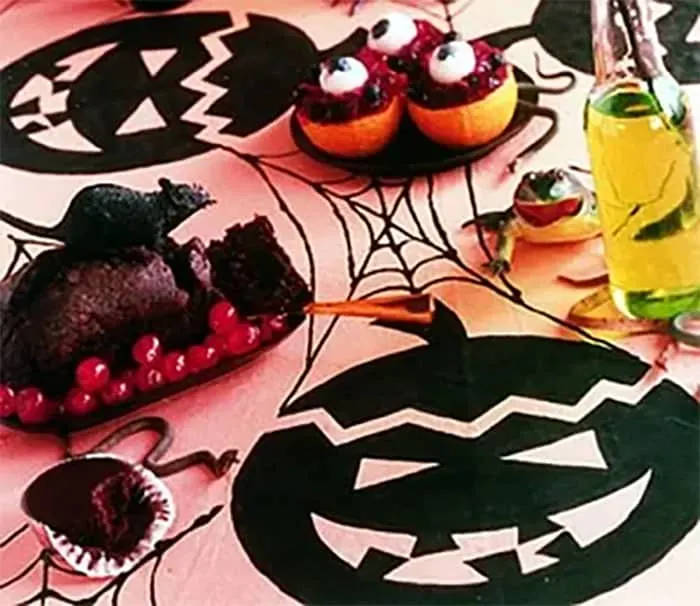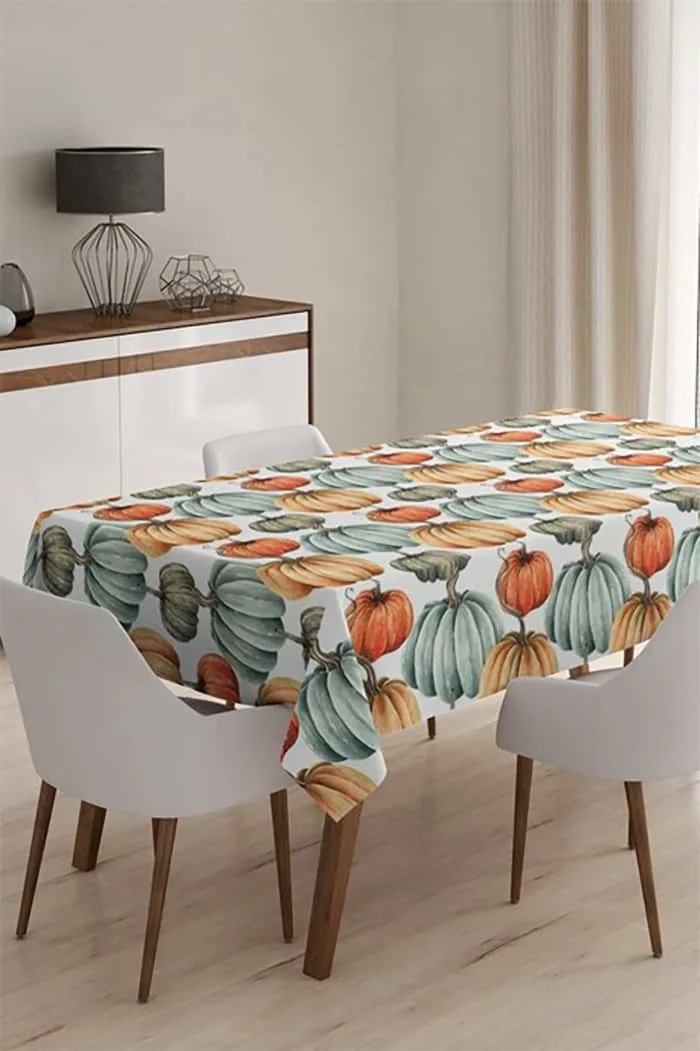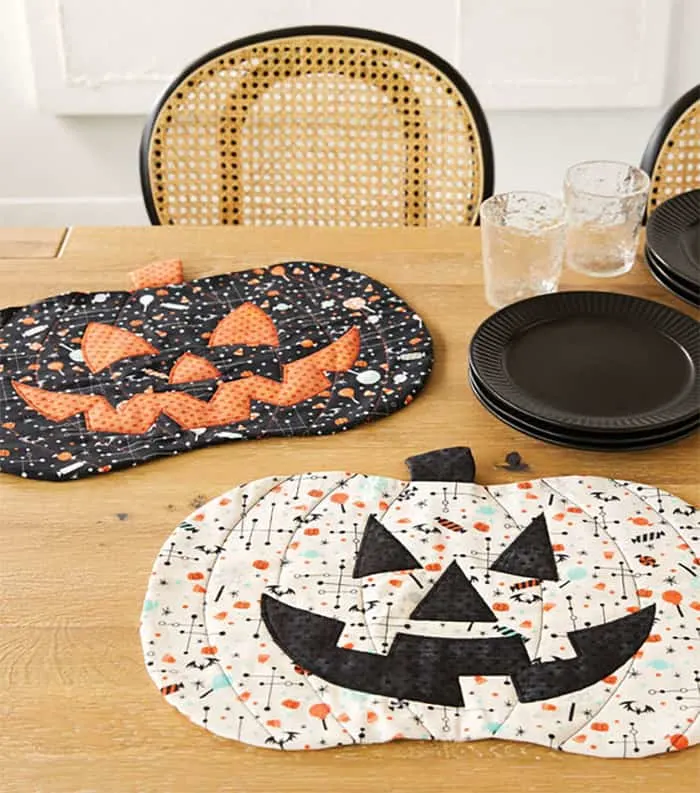 5. Wicked Witch Designs: Cast a Spell on Your Guests
Halloween is the perfect time to embrace all things witchy and mysterious, and your tablecloth can play a starring role in creating a bewitching atmosphere for your Halloween soirée.
To add an intriguing touch of sorcery to your table, consider incorporating witch-inspired elements into your tablecloth design. Imagine a table runner adorned with cauldron motifs, reminiscent of the bubbling potions and spells cast by witches in folklore. This simple addition will instantly create a sense of intrigue and mystery among your guests.
For a more subtle yet enchanting touch, opt for tablecloths with spellbook-inspired prints. These intricate designs, featuring faded texts and mysterious symbols, will transport your guests to a world of ancient magic and forgotten spells. Coupled with dark, moody colors like black or deep purple, your tablecloth will exude an air of spellbinding elegance.
To complete the witchy vibe, consider adding accessories like enchanted broomstick napkin holders or potion bottle place cards. These small but impactful details will tie your theme together and ensure that every aspect of your tablecloth design contributes to the overall atmosphere of sorcery and enchantment.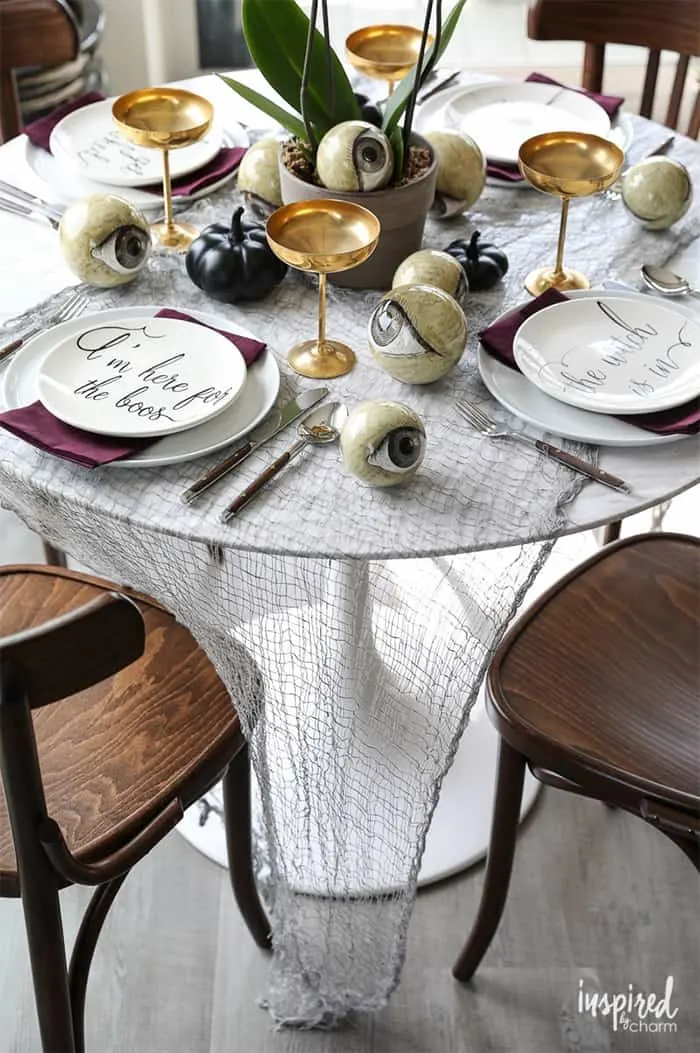 Wicked Halloween table setting idea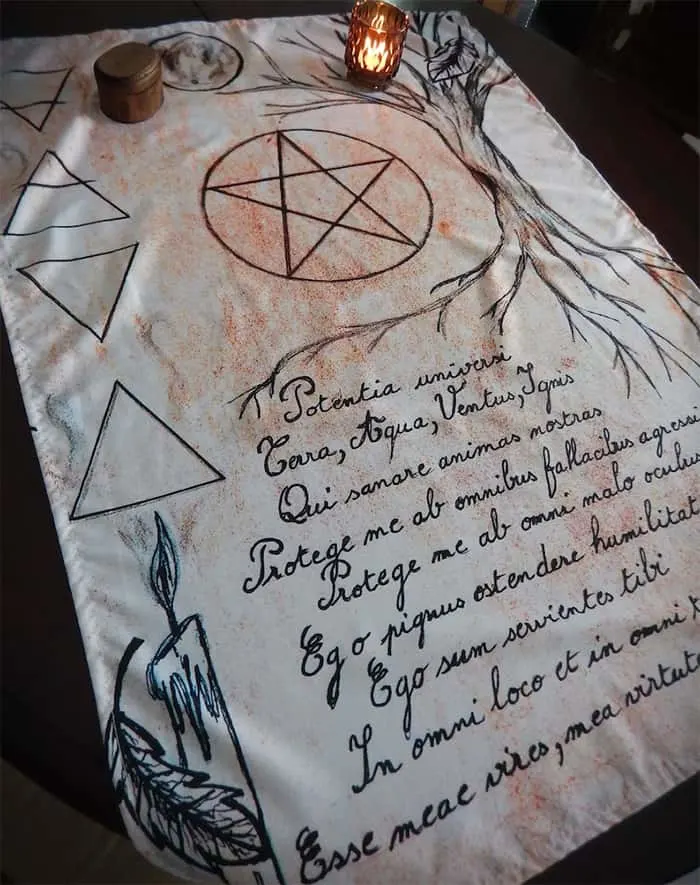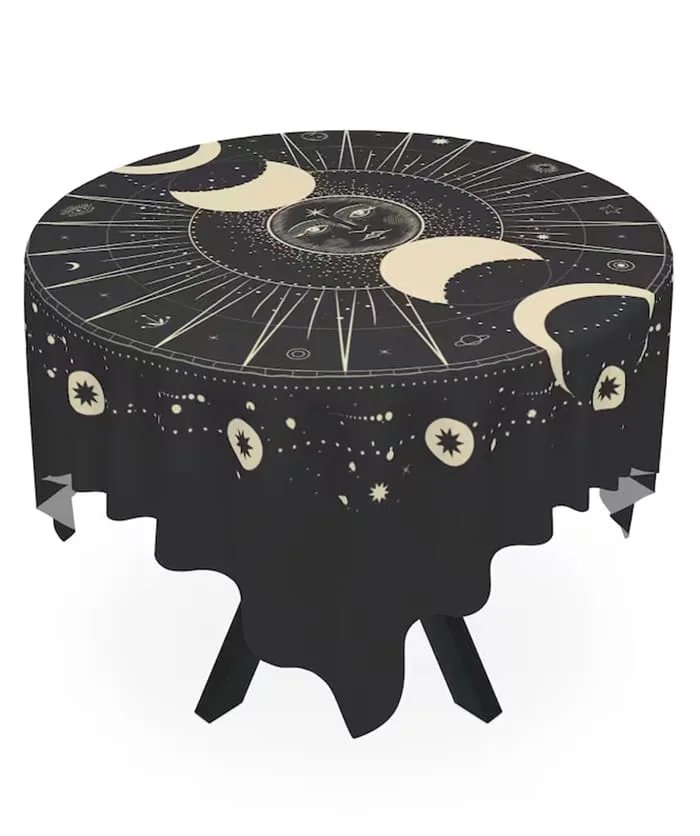 In conclusion, these five terrifyingly trendy Halloween tablecloth ideas are sure to impress and spook your guests at your upcoming Halloween party. From the creepy spider webs to the eerie graveyard motifs, these cutting-edge tablecloth choices will transform your table into a frightening masterpiece.
Remember if you have some basic sewing skill you can sew your own tablecloth with the fabric of your choice. There is an endless choice of Halloween fabrics that will match perfectly with the theme of your table setting.
Don't settle for ordinary table linens when you can embrace the classic symbols of Halloween and cast a spell on your guests with wicked witch designs. With these tablecloth ideas in hand, it's time to start planning your spooky soirée and create an unforgettable atmosphere. So, get ready to make this Halloween a truly memorable experience for everyone. As the saying goes, "The devil is in the details," and your tablecloth choices will surely leave a lasting impression. So, go ahead and unleash your creativity – your guests will be wowed by these Halloween-themed designs.
Want to remember it? Save these 5 Halloween tablecloth ideas on your favorite Pinterest board.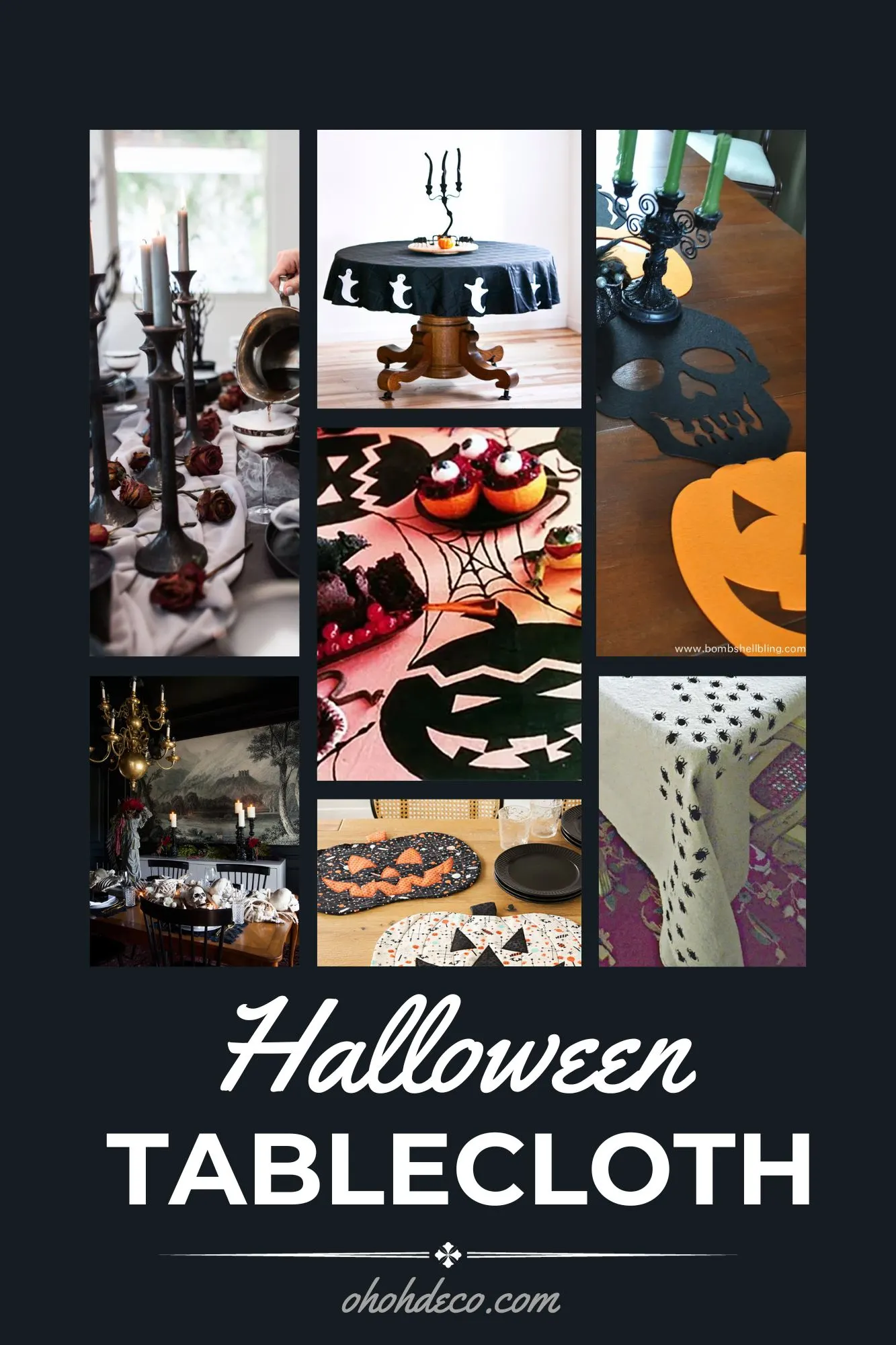 Amaryllis