Get ready to be captivated by a world where elegance and darkness collide in the most breathtaking way possible. In this article, we will explore a realm of Day of the Dead costume ideas that will leave you absolutely spellbound. Whether you aspire to embody the grace of a Victorian calavera or embrace the allure of a Floral Sugar Skull, these costume ideas are bound to leave both your friends and strangers breathless with admiration.
[ This post probably contains affiliate links, our full disclosure policy is boring, but you can read it HERE ]
So, prepare to make an unforgettable statement with your striking appearance and immerse yourself in the beauty, traditions, and creativity of this mesmerizing Mexican celebration. Are you ready to take your breath away?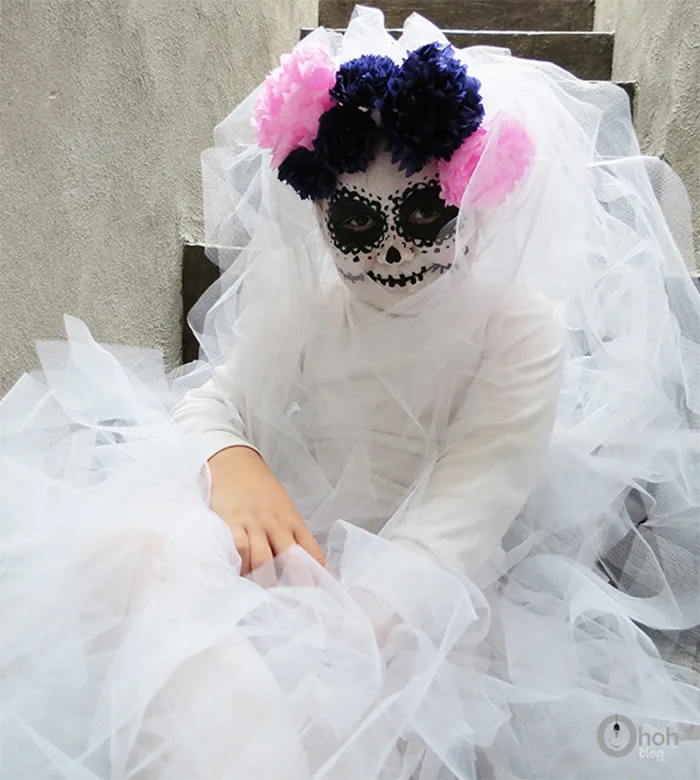 Easy sugar skull costume for girl
What should I wear to a day of the dead Party?
When attending a Day of the Dead party, it's not just about the costume itself, but also about embracing the essence of this ancient tradition. To truly immerse yourself in the celebration, it's important to carefully consider what you wear. Each costume idea we explore in the following sections offers a unique opportunity to bring the spirit of the Day of the Dead to life through your attire.
Victorian Calavera costume idea
Floral Sugar Skull inspiration
The iconic Catrina
Day of the dead Makeup
With these costume ideas as your guide, you have the power to create an unforgettable look that will leave everyone mesmerized. Get ready to embark on a journey that will take your breath away!
RELATED: How to make DIY papel picado
RELATED: Sugar skull Garland
Victorian Calavera: Elegance in Death
With the freedom to create a stunning Day of the Dead costume, why not imbue it with a touch of Victorian elegance? The Victorian Calavera combines the beauty of the past with the mystique of death, resulting in a truly breathtaking ensemble. As you channel the spirit of a bygone era, imagine yourself as a refined figure gracefully dancing between the worlds of the living and the dead.
To achieve the Victorian Calavera look, consider incorporating ornate lace and ruffled fabrics into your costume. Adorn yourself with delicate jewelry, such as cameo brooches and vintage lockets, to add an air of sophistication. Choose a dress or suit in muted shades of black, gray, or deep purple to capture the somber elegance of this era. Remember, it's in the details where true beauty lies.
Now, let's move on to the makeup. Start by creating a flawless base with a pale foundation, giving your complexion an ethereal glow. Use a combination of dark, smoky eye makeup and intricately drawn black eyeliner to emphasize your eyes, giving them a mesmerizing intensity. Add a touch of vintage-inspired rouge to your cheeks, enhancing the natural contours of your face and lending a hint of color to your otherwise pale visage.
Finally, the pièce de résistance: the Victorian-inspired sugar skull design. Take your time to paint delicate, filigree-like details on your face, using a combination of black, white, and metallic silver makeup. Incorporate intricate floral patterns, reminiscent of the Victorian obsession with botany, to further enhance the elegance and grace of your costume. As you apply each stroke, feel yourself transforming into a living embodiment of art and history.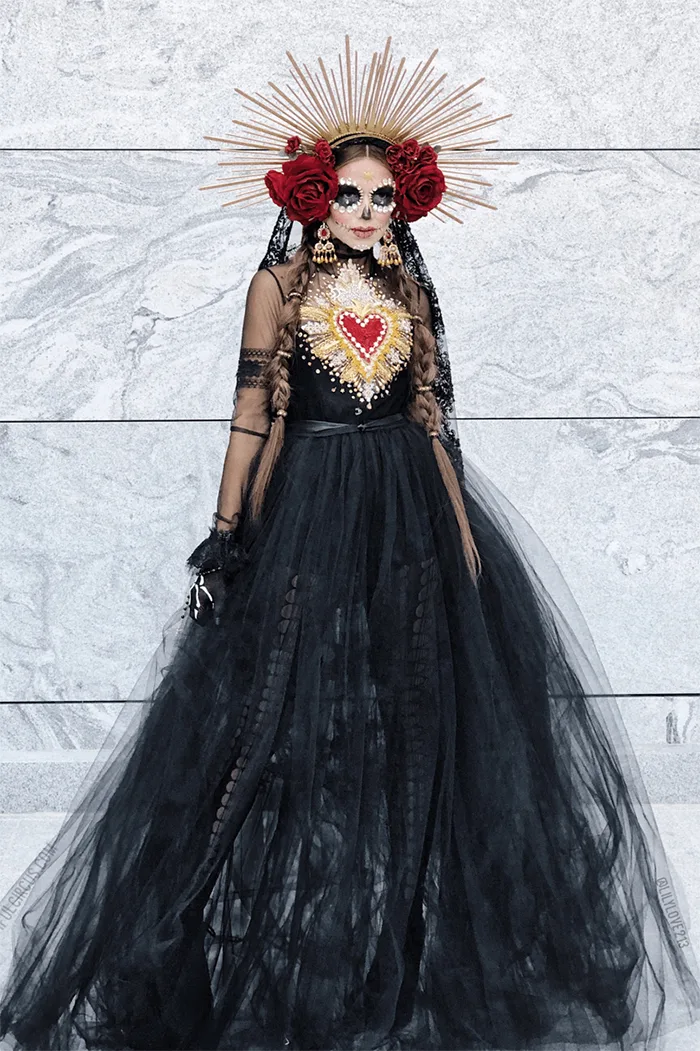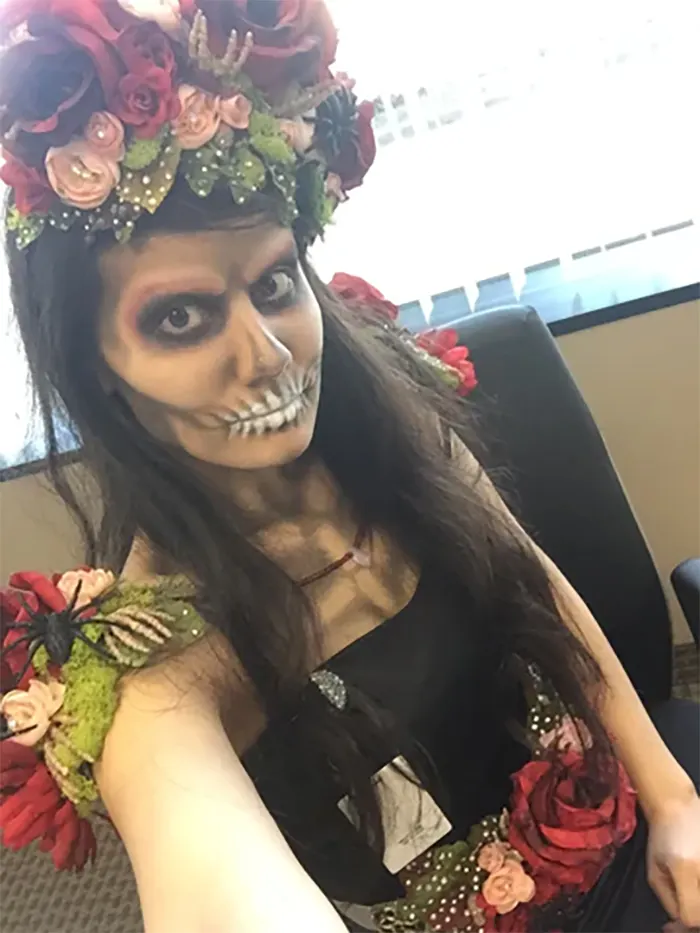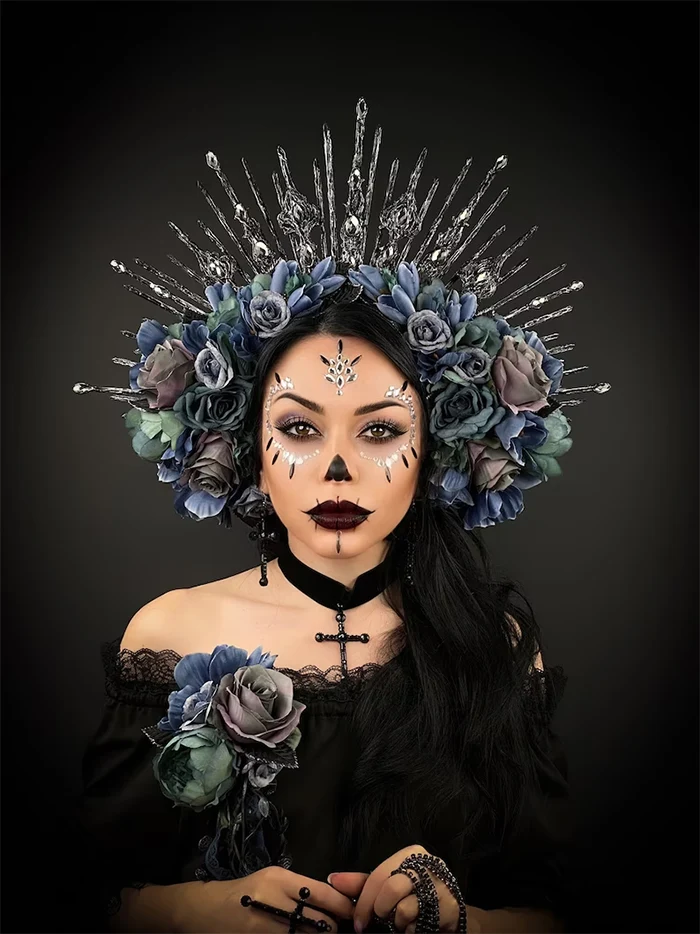 Floral Sugar Skull: A Burst of Color
The Floral Sugar Skull costume is a true burst of color that pays homage to the rich traditions of Day of the Dead. This vibrant and striking ensemble is a celebration of life and death, blending the beauty of flowers with the haunting allure of a sugar skull.
To capture the essence of the Floral Sugar Skull, start with a white base for your face, much like the Skeletal Jester. Then, get ready to embrace an explosion of vivid colors. Using face paints or makeup, create intricate flower designs around your eyes and cheeks. Experiment with different floral patterns, from roses to marigolds, to bring a sense of vibrancy and life to your look.
To complete the Floral Sugar Skull ensemble, don't forget to enhance the floral theme throughout your entire outfit. Consider incorporating floral accessories, such as a headpiece or a bouquet of artificial flowers, to add an extra touch of whimsy and visual interest.
As you step into the world of the Floral Sugar Skull, you become a walking masterpiece that embodies the beauty and transience of life. With each petal and stroke of color, you pay tribute to the vibrant energy that thrives amidst the darkness. Prepare to captivate everyone you encounter with this enchanting blend of life and death.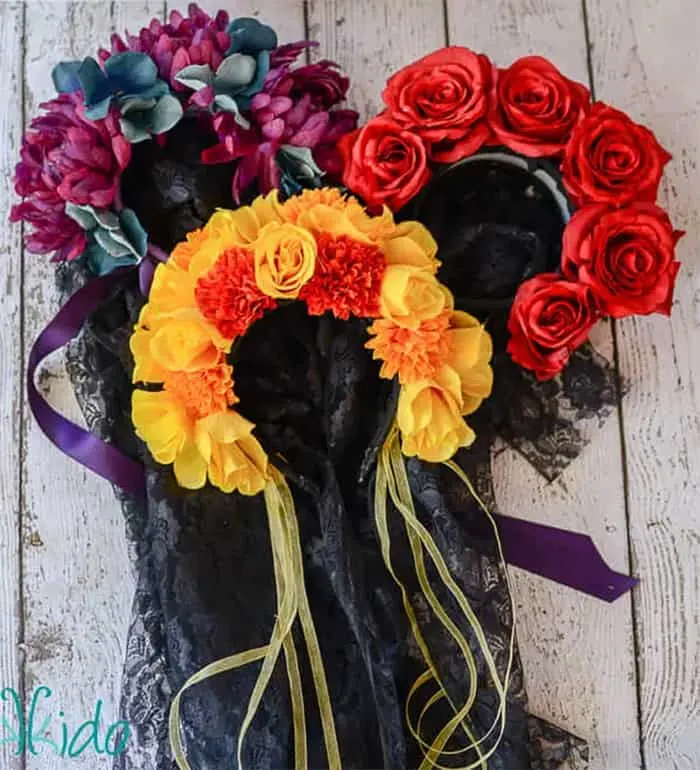 Day of the dead diy flower headpiece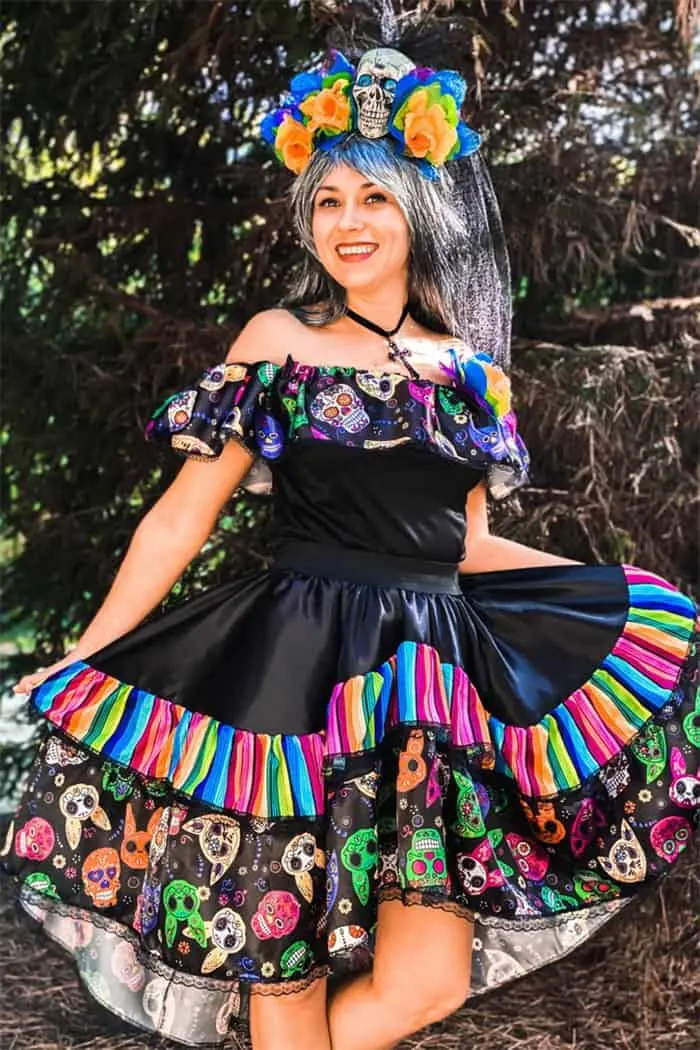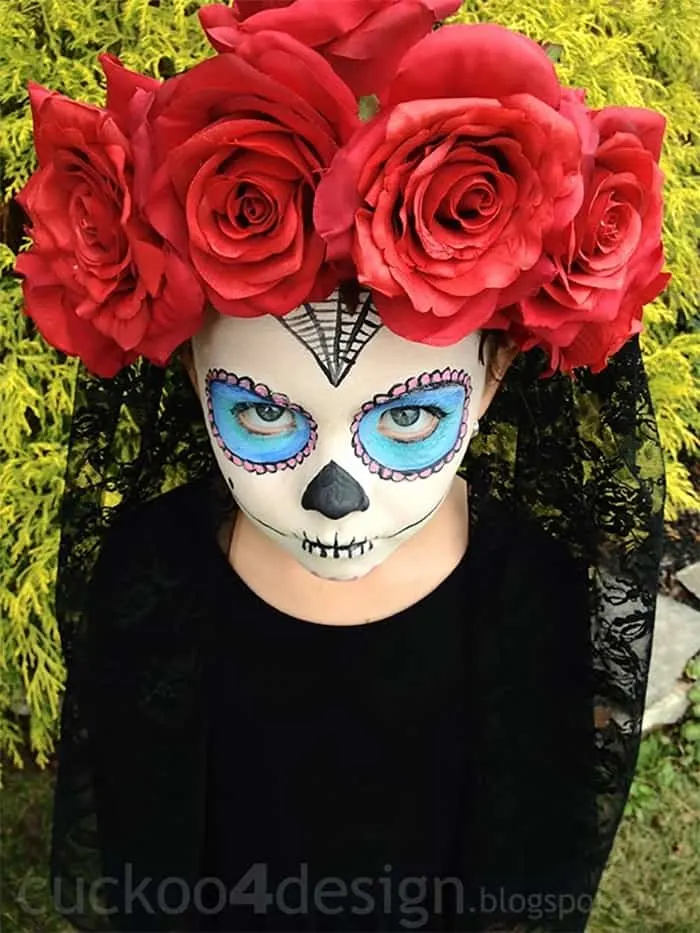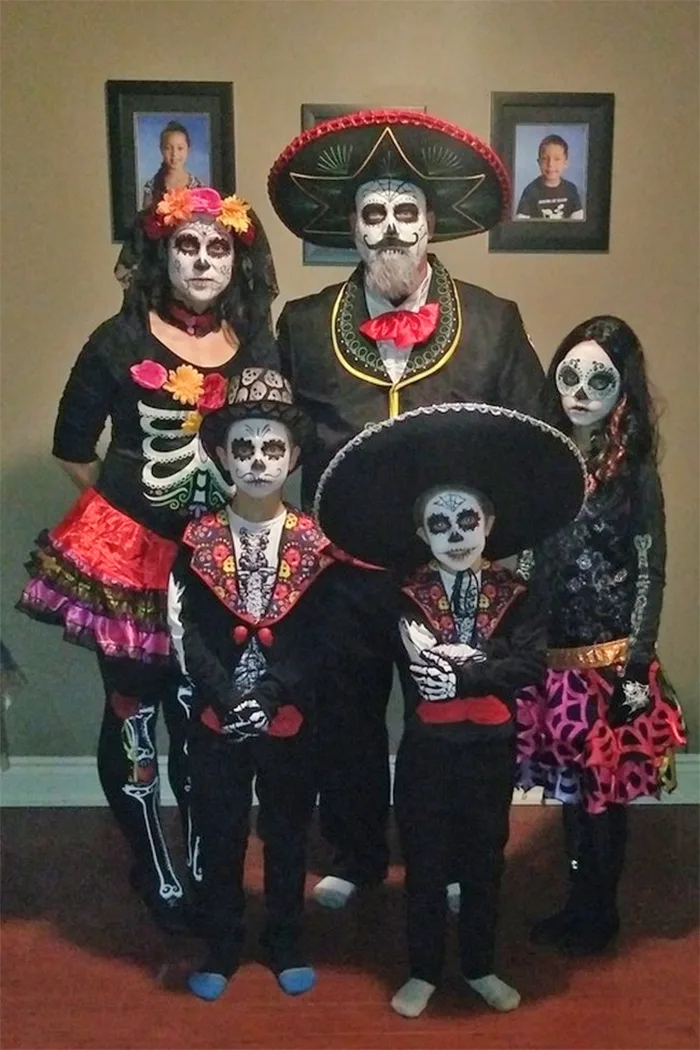 Day of the dead family costume inspiration (photo: Costume works)
Costume for HER – Mariachi costume for Him – Day of the dead costume for boy and girl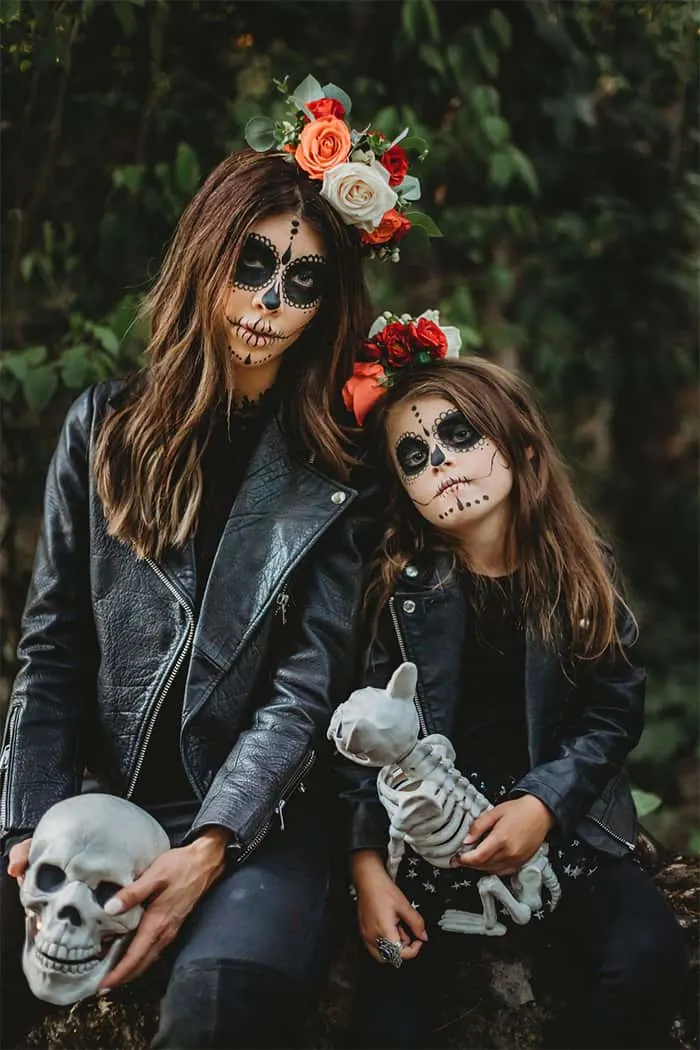 Modern sugar skull costume inspiration
RELATED: 35 Easy Halloween sewing projects ideas
La Catrina: The Iconic Lady of Death
Now, with the Floral Sugar Skull's burst of color serving as a visual feast, we move on to explore another iconic costume: La Catrina, the elegant Lady of Death. Inspired by José Guadalupe Posada's famous etching from the early 20th century, this classic Day of the Dead character has become a symbol of Mexican culture and a beloved representation of the holiday.
La Catrina, also known as the "Dapper Skeleton" or the "Elegant Skull," is a striking figure that embodies elegance, grace, and a hint of macabre allure. Adorned in a magnificently detailed, floor-length gown, she captivates the eye with her exquisite patterns, intricate lace, and delicate embroidery. Her hat, often adorned with feathers and flowers, adds to her air of sophistication, while her skull-like face, painted in a combination of black and white, serves as a reminder of the inevitable cycle of life and death.
Wearing a La Catrina costume allows you to channel the spirit of this iconic figure, evoking a sense of reverence for those who have passed and an appreciation for the beauty found in mortality. As you embody La Catrina, you honor the tradition of celebrating both life and death on the Day of the Dead.

Now that you're familiar with the essence of La Catrina and her elegant portrayal of death, let's delve into the art of Day of the Dead makeup, where you can bring the spirit of this iconic character to life through your own unique interpretation.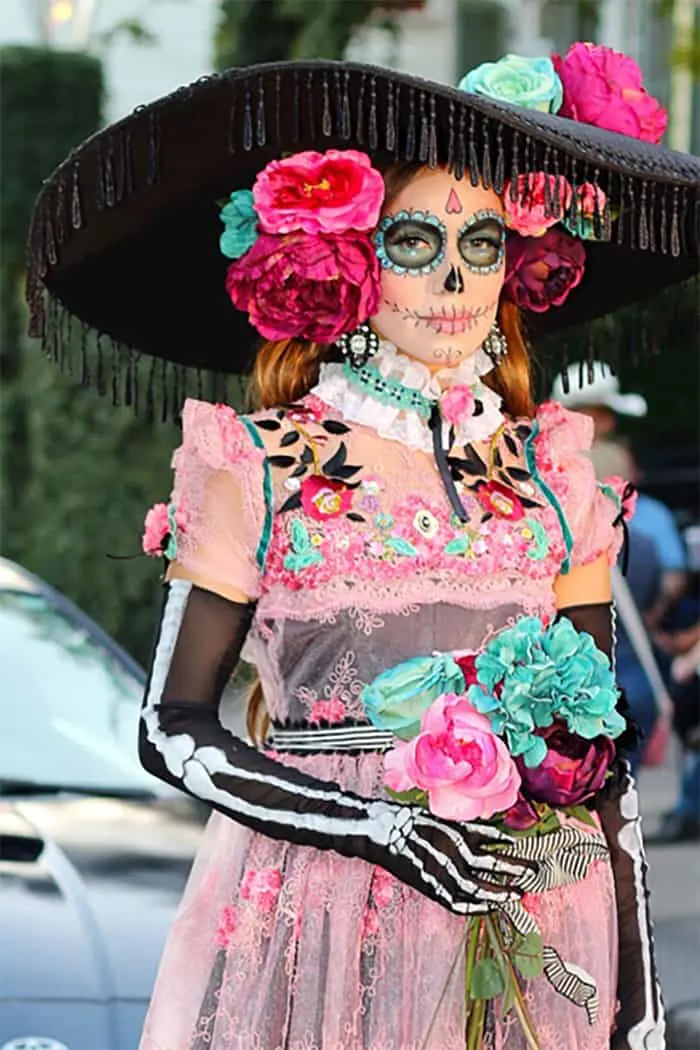 Catrina costume for Day of the dead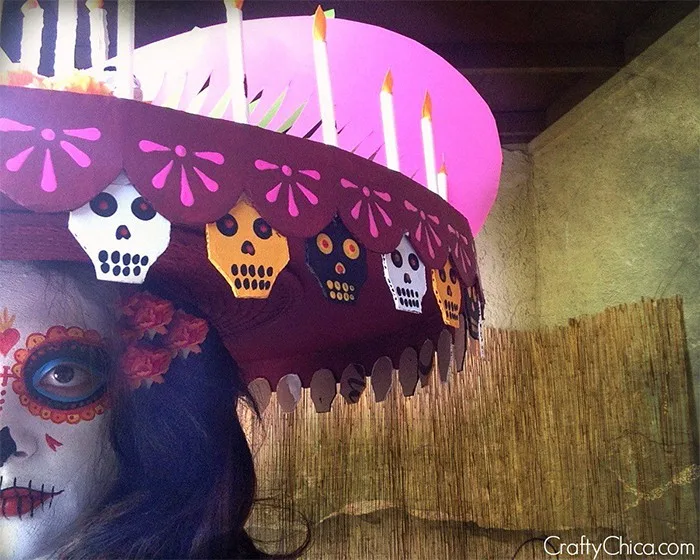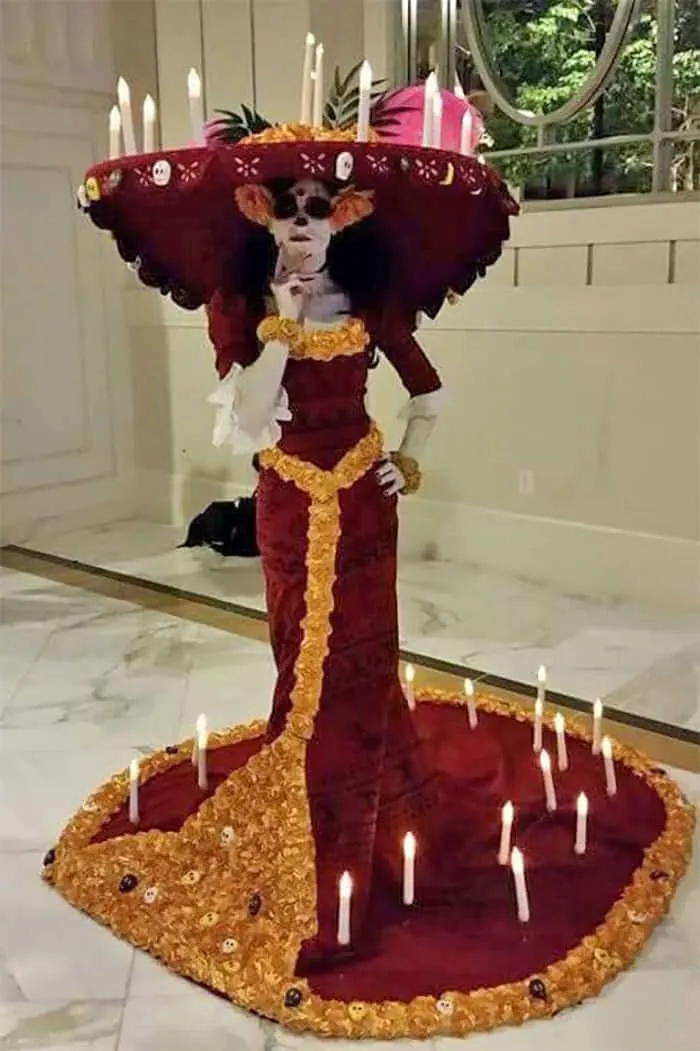 Day of the dead Makeup
Day of the Dead makeup is an integral part of the celebration, allowing individuals to transform themselves into beautifully adorned calacas or skeletons. This art form intricately combines colorful designs and intricate patterns, highlighting both life and death in a striking manner. With a few essential techniques and a touch of creativity, you can create a captivating Day of the Dead look that will truly take your breath away.
The key to a stunning Day of the Dead makeup is the use of bold colors. Traditionally, vibrant hues such as deep blues, purples, yellows, and greens are employed to create intricate floral and symmetrical designs on the face. These colors represent the vibrant energy of life and the celebration of departed loved ones. Whether you choose to focus on the eyes, the cheeks, or the entire face, make sure to incorporate these vibrant tones to capture the essence of the holiday.
In addition to color, Day of the Dead makeup often features intricate lines and details. From delicate swirls and curls to precise geometric shapes, the level of detail you incorporate is entirely up to you. This is where you can let your creativity shine and bring your own unique interpretation to life. Whether you opt for a simple and understated design or a more elaborate and intricate one, each stroke of the brush or pencil should contribute to the overall theme of celebrating life and embracing death.
To complete your Day of the Dead makeup, consider adding some final touches that truly bring your look to life. This could include adding rhinestones or sequins to highlight specific aspects of your design, or even incorporating props like flowers or feathers into your hair. The goal is to create a visually stunning and memorable appearance that captures the essence of the celebration.
With your Day of the Dead makeup complete, you'll be ready to honor the tradition and join the vibrant celebrations. By embracing the beauty and symbolism of La Catrina and incorporating your own unique twist, you'll bring a touch of magic to the festivities.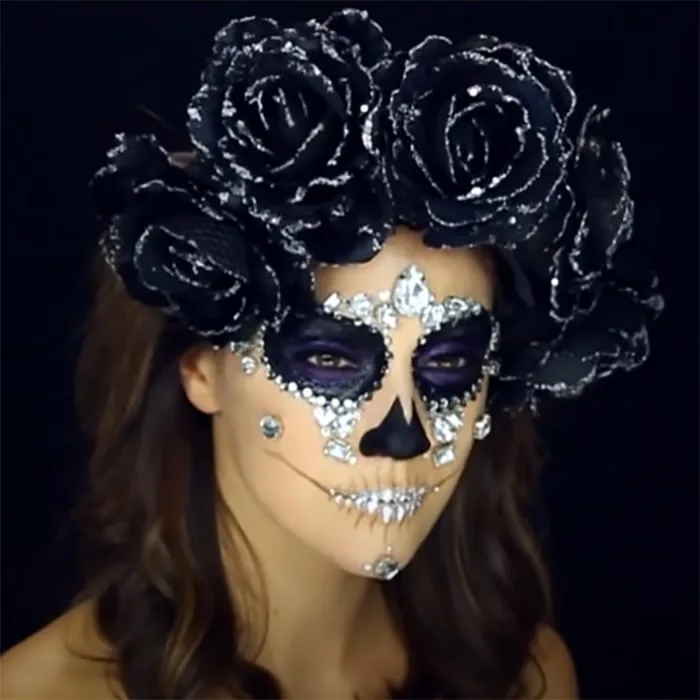 DIY sugar skull diamond makeup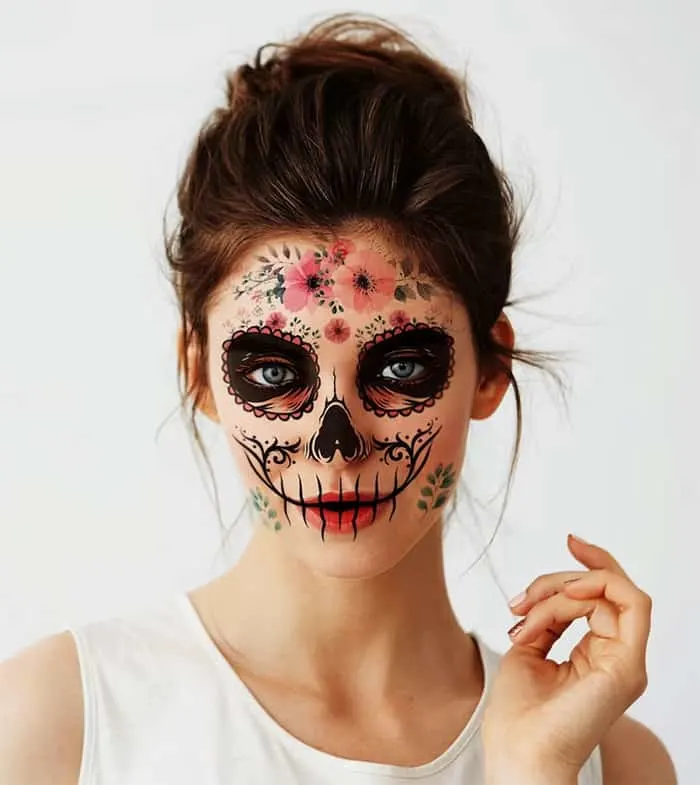 DIY sugar skull temporary tattoo makeup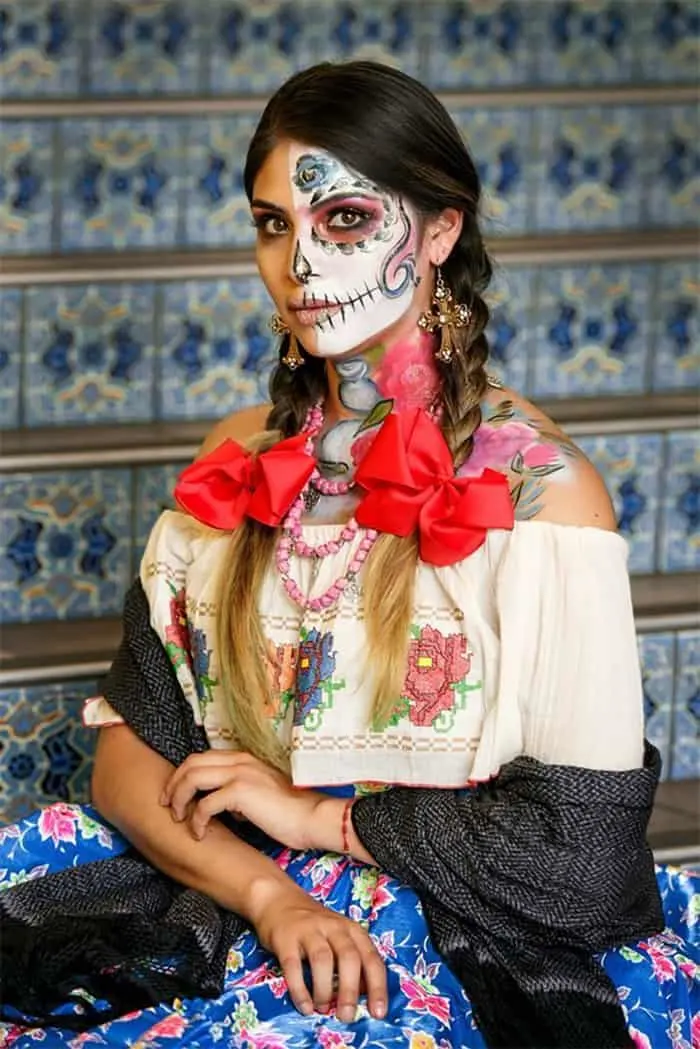 Day of the dead 28 makeup ideas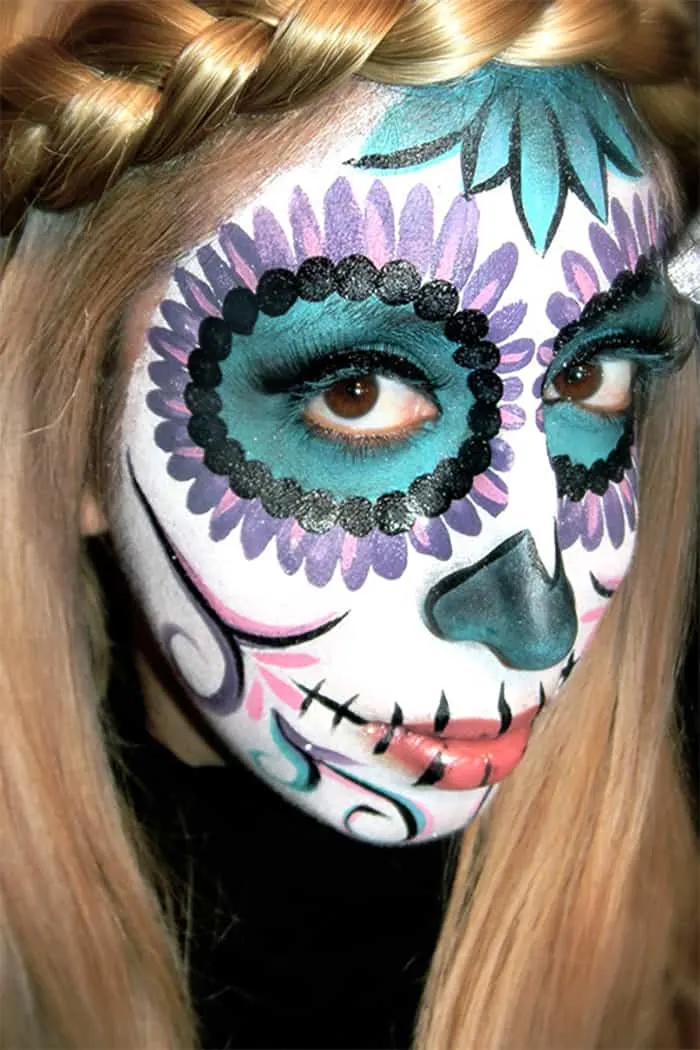 In conclusion, these Day of the Dead costume ideas offer an opportunity to transcend the ordinary and create an unforgettable impression. Whether you choose the elegance of a Victorian calavera, the burst of color with a floral sugar skull, or the iconic persona of La Catrina, you have the chance to embrace the beauty, tradition, and mystique of this Mexican celebration. Let your creativity shine and make this Day of the Dead one that will be talked about for years to come.
As you embark on your costume creation journey, remember to pay homage to the customs and symbolism of this rich cultural tradition. The Day of the Dead is a time to honor loved ones and celebrate their lives, so take the opportunity to infuse your costume with personal meaning and significance. Let your attire become a canvas that tells a story and sparks conversations.
Now, it's time to embrace the spirit of Day of the Dead and create your own breathtaking costume. The tradition awaits you.
Want to remember it? Save these Day of the Dead Costume Ideas on you favorite Pinterest board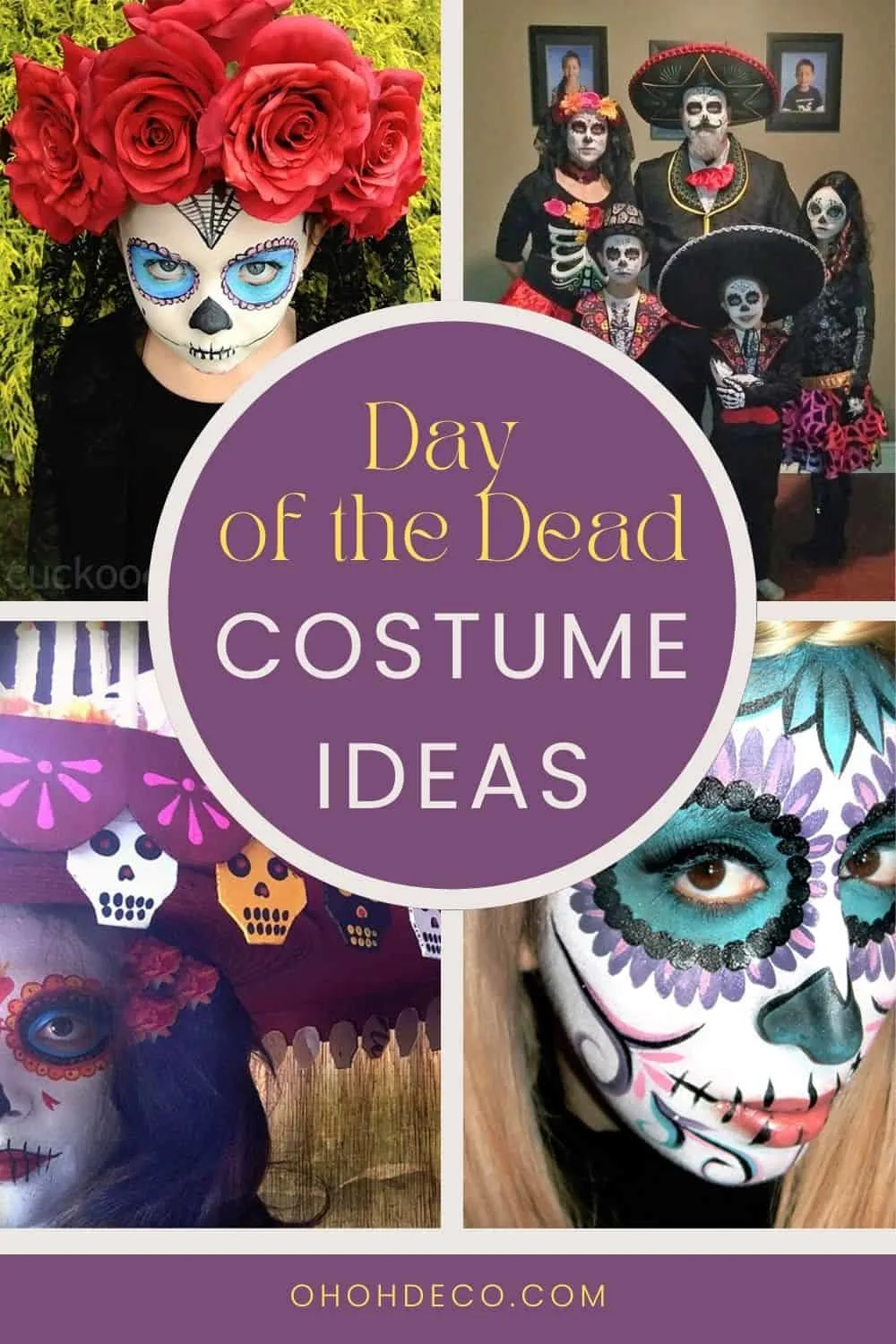 Amaryllis