The perforated paper is a faithful representative of Mexican festivities, especially in the traditional celebration of the Day of the Dead, where paper banners are placed to adorn the altars. It's usually present in many celebrations, such as national holidays, Christmas, and also at weddings, sweet sixteen parties and baptisms.
[ This post probably contains affiliates links, our full disclosure policy is really boring, but you can read it HERE ]
How is Papel picado made?
Pecked paper is a handmade product from the state of Puebla. Its elaboration requires very meticulous work due to the fragility of the paper. An original drawing is made and the figures are cut by hand with tapping through the bundles of sheets of Chinese paper.
The craftsmen began to sell their work around 1930, and the tradition was transmitted from generation to generation since then, becoming a traditional ornament of Mexican festivities.
I'm a big fan of easy and cheap decor, so paper banners are definitely something I like to use. I show you how to craft your own Mexican streamers. It's super simple to make using my free template. Scroll down for the step by step tutorial and the video.
* * *

El papel picado es fiel representante de las festividades mexicanas, sobretodo en la tradicional celebración de día de muertos, donde se colocan banderitas para adornar los altares. Suele estar presente en muchas celebraciones, como las fiestas patrias, navideñas, y también en bodas, fiestas de quince años y bautizos.
El papel picado es un producto artesanal originario del estado de Puebla. Su elaboración requiere de un trabajo muy meticuloso por la fragilidad del papel. Se realiza un dibujo original y las figuras son recortadas a mano con golpeteos atraves de los fajos de hojas de papel chino.
Los artesanos empezaron a vender su trabajo al rededor de 1930, y la tradición fue transmitida de generación en generación desde entonces, volviéndose un adorno tradicional para las fiestas en Mexico.
Soy un gran fanática de la decoración fácil y barata, por lo que definitivamente me gusta usar banderitas de papel. Te muestro cómo elaborar tu propio papel picado. Es muy simple de hacer usando mi plantilla descargable. Desliza hacia abajo para ver el paso a paso y el video.
What kind of paper is used for Papel picado
The traditional paper used is tissue paper. The size is usually larger than office sheets. You can also use rice or silk paper.
Sometimes you can also see Papel Picado made in plastic sheets to use outdoor. It's practical because it holds longer but is not as pretty as tissue paper.

To make papel picado you will need tissue paper cut at US office sheet size.
* * *
El papel tradicional utilizado es paper chino o papel de seda. El tamaño suele ser más grande que un hoja tamano carta. En ocasiones también se puede ver Papel Picado realizado en láminas de plástico para usar en exteriores. Es práctico porque es mas duradero pero no es tan bonito como el papel de seda.
Para hacer papel picado, necesitará papel de seda cortado al tamaño de la hoja tamaño carta.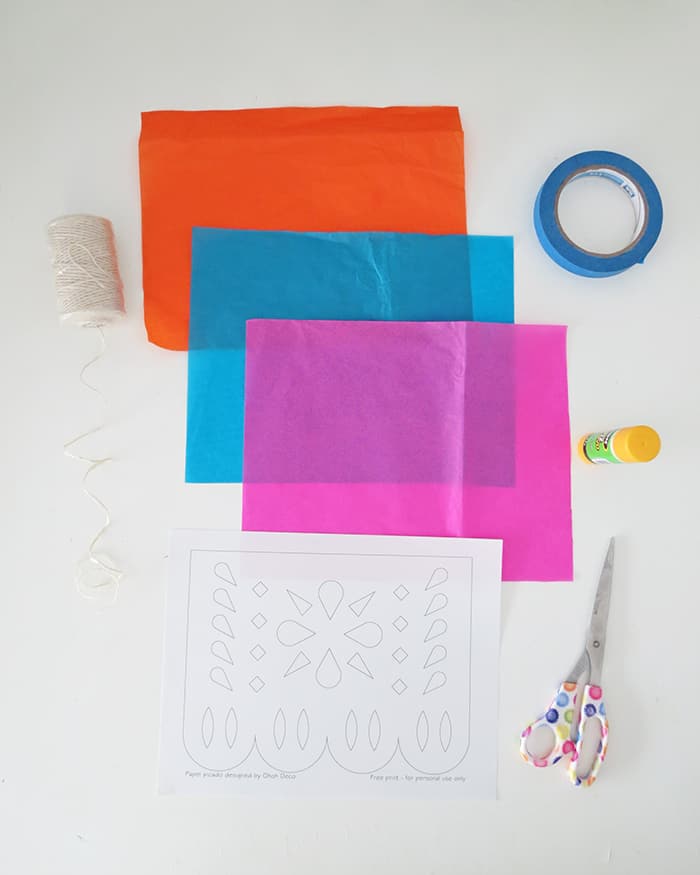 How to make DIY Papel Picado
Materials you will need to make your paper decor:
The free template is available in my FREE resource library along with a bunch of other great prints and patterns. All you need to do is fill out the form and check your inbox for a welcome email with the password in. Click here to get in >>>> FREE LIBRARY ACCESS
As you will use a bunch of paper to make your garland, the best option is to get a sorted
colored pack of sheets
. I especially
love this pack
, it will work great for a wedding or baby shower decor.
* * *
Materiales que vas a ocupar para hacer tu papel picado:
La plantilla está disponible en mi biblioteca de recursos GRATUITOS junto con un montón de otras impresiones y patrones geniales. Todo lo que necesitas hacer es completar el formulario y revisar tu correo donde recibiras un email de bienvenida con la contraseña. Haz clic aquí para ingresar >>>> ACCESO GRATUITO A LA BIBLIOTECA
Print the template and take 3 or 4 sheets of tissue paper. Put the sheets in a stack and place the template on top. Fold the pile in two and hold the edges with a little piece of tape, to prevent them from moving when you cut.
* * *
Imprima la plantilla y agares 3 o 4 hojas de papel chino. Coloquas las hojas en una pila con la plantilla en la parte superior. Dobla la pila en dos y sujeta los bordes con unoa pequeños trozos de cinta adhesiva para evitar que se muevan cuando recortes.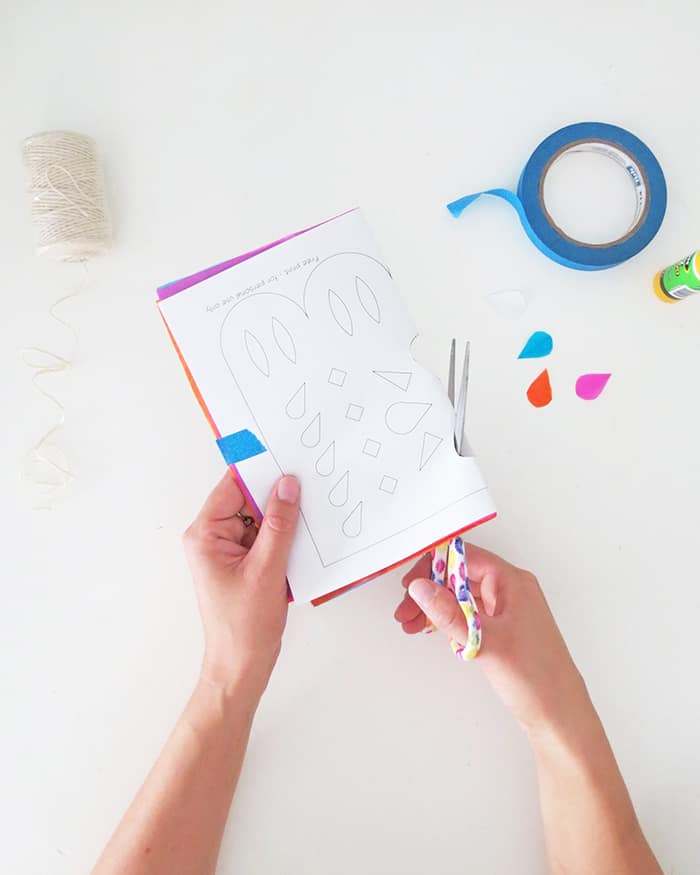 Cut the shapes following the template. Start by the ones on the fold.
* * *
Cortas las formas siguiendo la plantilla. Comiences por las del pliegue.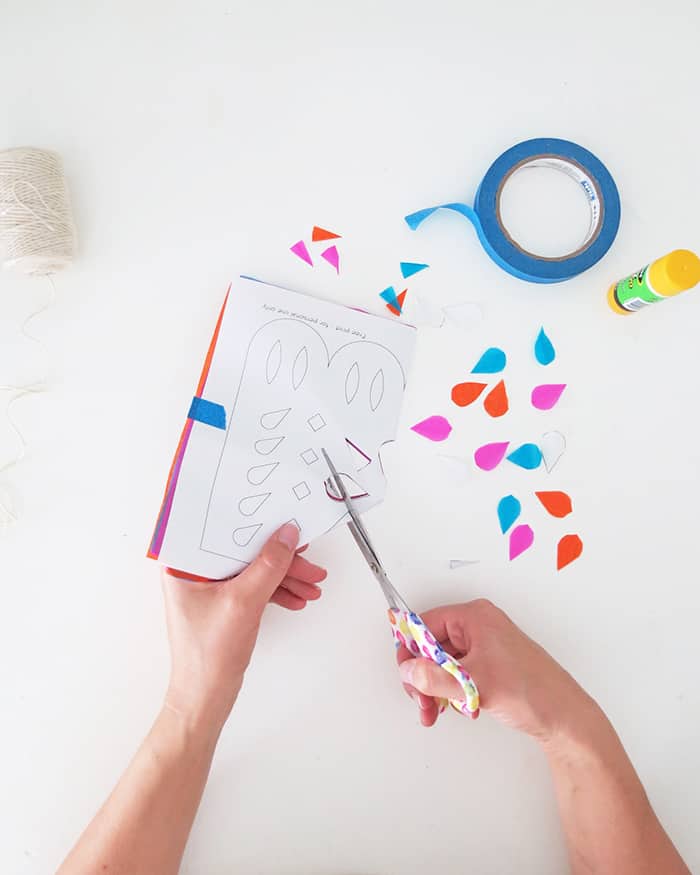 Follow cutting by making small folds in the center of each shapes. It's fine if your sheets have multiples folds. You will extend them later. You can watch the video, if you have doubt about this step.
But if you prefer keeping your paper sheets flat, you can cut the shapes using a cutter. It will take a little longer.
* * *
Sigas cortando haciendo pequeños pliegues en el centro de cada forma. Es normal que tus hojas tengan pliegues múltiples. Los extenderás más tarde. Puedes ver el video, si tienes dudas sobre este paso.
Pero, si prefieres guardar sus hojas de papel planas, puedes cortar las formas con un cutter. Tomará un poco más de tiempo.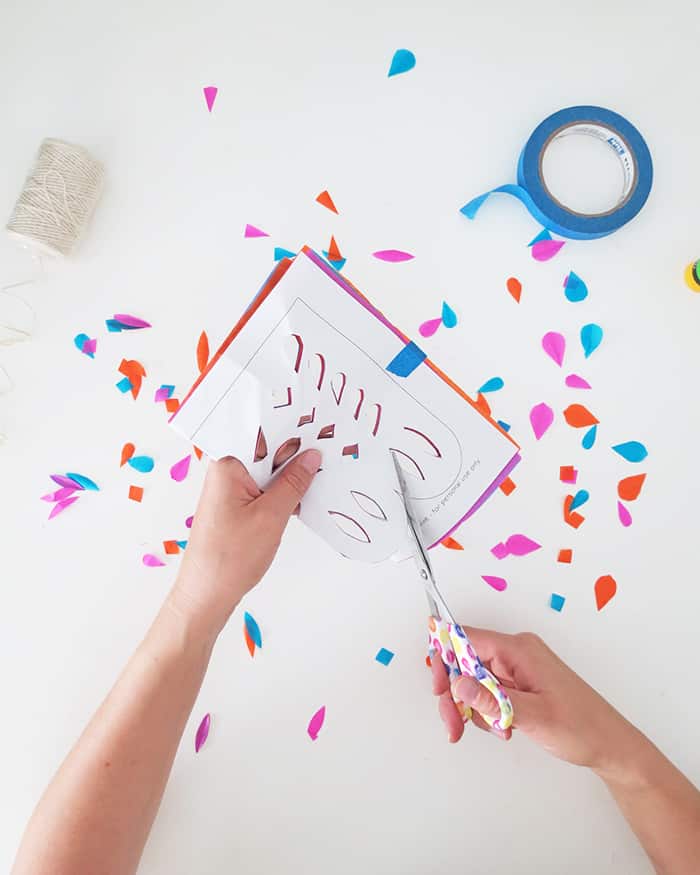 When you are done cutting the inner shapes, trim the banner edges following the template lines.
* * *
Cuando hayas terminado de cortar las formas internas, puedes recortar los bordes de las hojas siguiendo las líneas de la plantilla.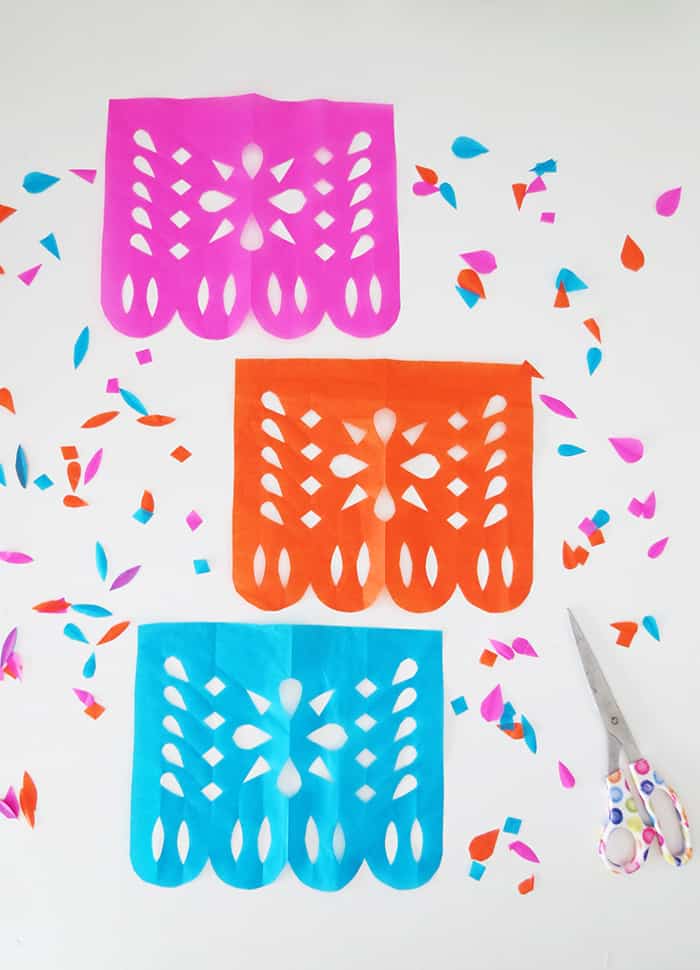 Unfold and done, you just make some pretty papel picado sheets.
* * *
Desplegalos y listo, acabas haces unas bonitas hojas de papel picado.
Follow Ohoh deco on Youtube and be the first to find out about the new DIY.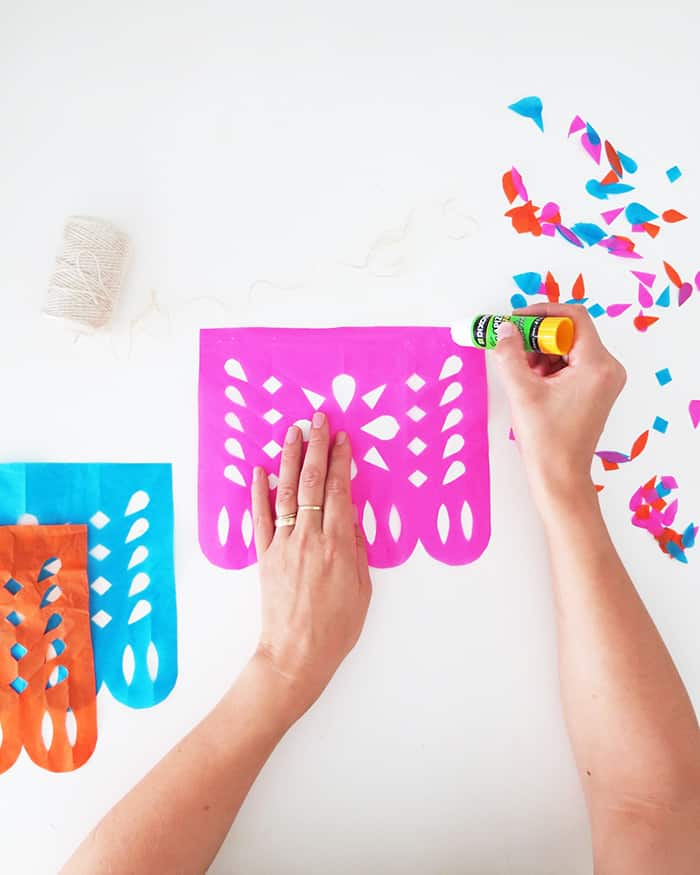 Now if you want to hang your papers you will have to glue them on a string. Cut a piece of string, as long as you want your banner to be. Fold the upper part of the banner, put some glue in the fold.
* * *
Ahora, si quieres colgar tus papeles, tendrás que pegarlos en una cuerdita. Corta un trozo de cuerda del largo deseado. Doblar la parte superior de la hoja de papel picado y pon un poco de pegamento en el doblez.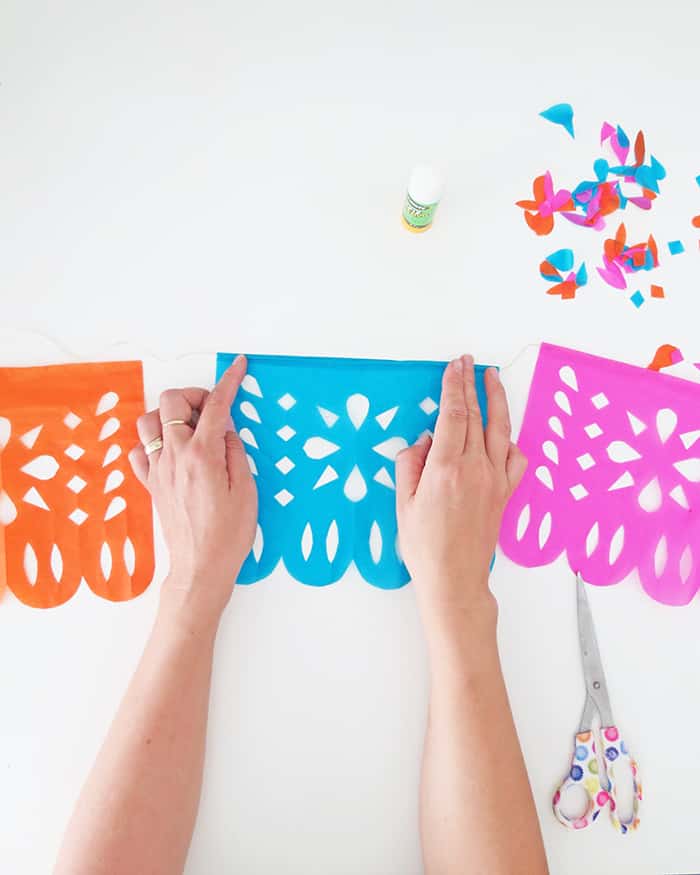 Place the string in and fold the paper around the string. Place a second papel picado at 1 in. from the first and repeat until you have the length you want.
And done! You have a pretty paper banner garland. I chooses colorful paper, but you can pick the shade your like to match your decor or party theme.
I saw some white papel picado hanged to decorate a wedding room, it was gorgeous! If you have a Cricut machine you should try Lia Griffith wedding templates.
* * *
Coloques la cuerda y doblas el papel alrededor de ella. Pon un segundo papel picado a 2 cm del primero y repites los pasos hasta que tenga una guirnalda del largo que te guste.
¡Y listo! Tienes una bonita guirnalda de papel picado. Eleji papeles de colores, pero puedes escojer los tonos que desees para que coincida con tu decoración o tu tema de fiesta. Vi unas girnaldads, de papel picado blanco, colgadas para decorar una sala de bodas, ¡Era precioso!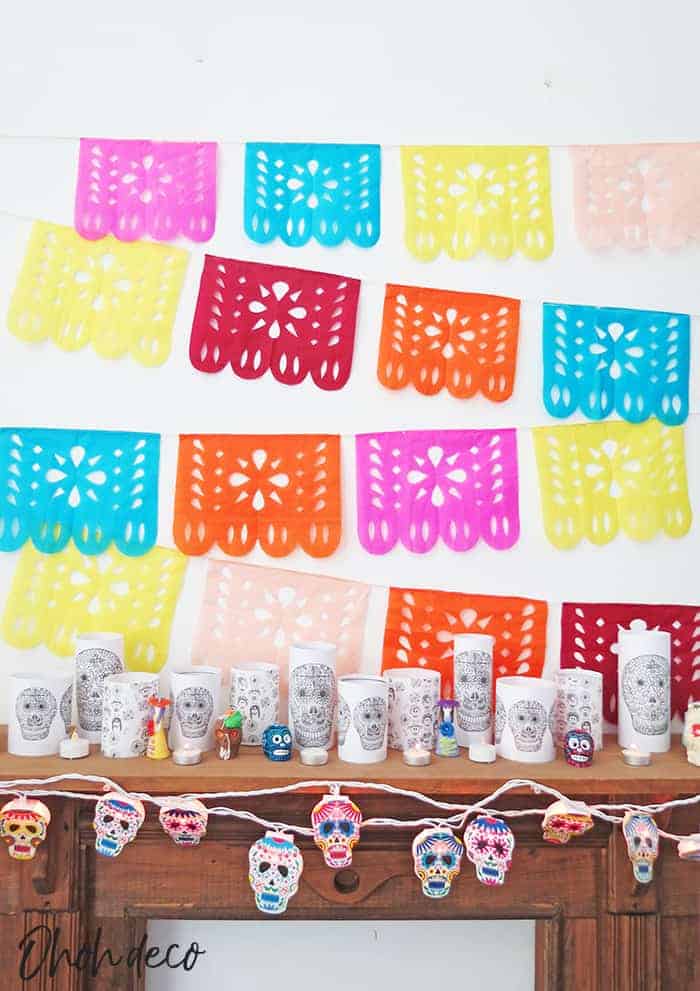 I hung them above my faux fireplace. I completed the decor with Sugar skull votives, the print is also available for free in my library…go get your password if you didn't!
I also added the sugar skull cord light I made. it looks very nice at night (scroll down to see more pics). If you like the garland you can grab the print in my shop (very affordable, don't worry) and you can also have a look at my step by step cord light hack HERE.
* * *
Los colgué arriba mi chimenea falsa. Completé la decoración con velas de calaveras, los dibujos también están disponible de forma gratuita en mi biblioteca … ¡Ves que si vas a necesitar la contasena para descagar todo eso!
También agregué las lucecitas de calavera. se ven muy bien por la noche (desliza hacia abajo para ver más fotos). Si te gusta la guirnalda luminosa, puedes comprar las plantillas en mi tienda (muy asequible, no te preocupes) y también puedes echar un vistazo a mi paso a paso para hace tus proprias luces AQUÍ.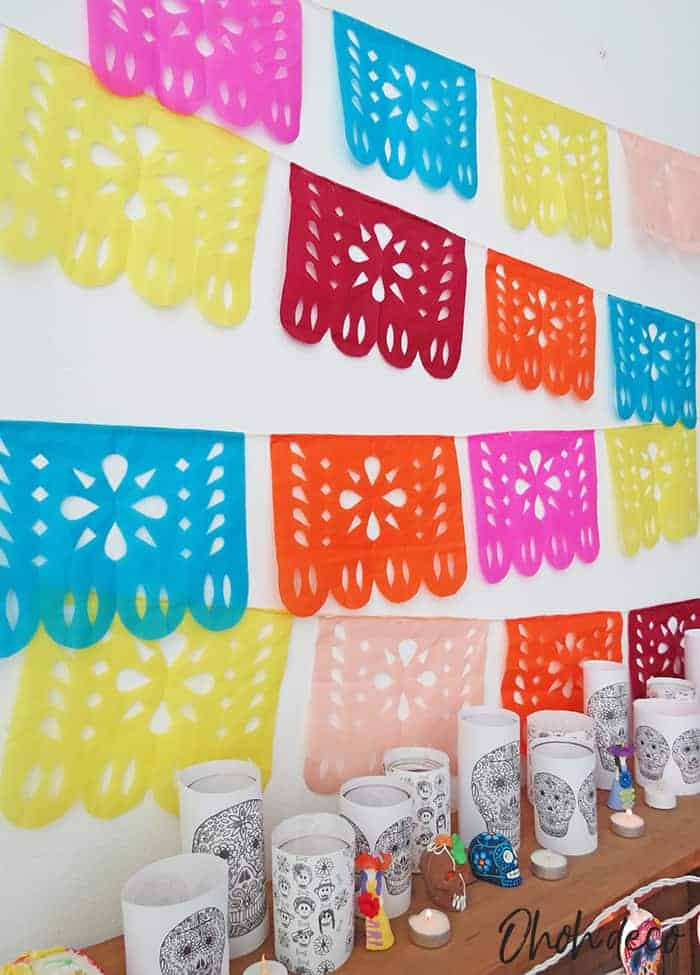 It's still a little early to set up our day of the deaths altar, but once we do I will try to upgrade the post with a few more pictures. My kids love this tradition, and I like to display the pictures of our missing beloved ones and talking about their lives.
I know it's a Mexican tradition, but does some of you make an altar?
* * *
Todavía es un poco temprano para establecer nuestro altar del día de las muertes, pero una vez que lo hagamos, intentaré actualizar la publicación con algunas fotos más. A mis hijos les encanta esta tradición, y me gusta mostrar las fotos de nuestros seres queridos desaparecidos y hablar de sus vidas.
Sé que es una tradición mexicana, pero ¿Algunos de ustedes hacen un altar?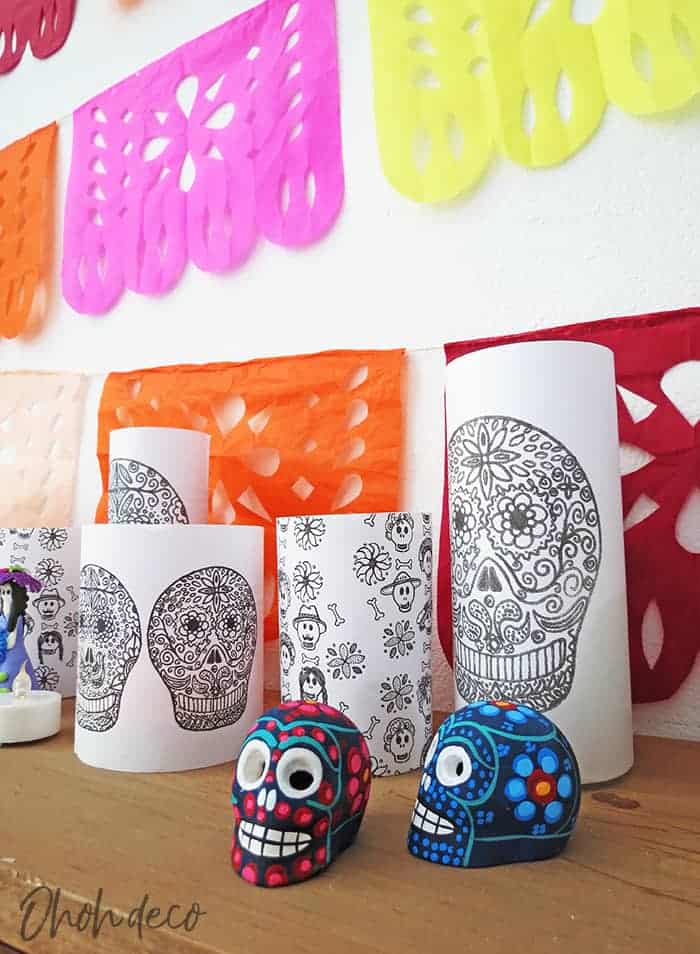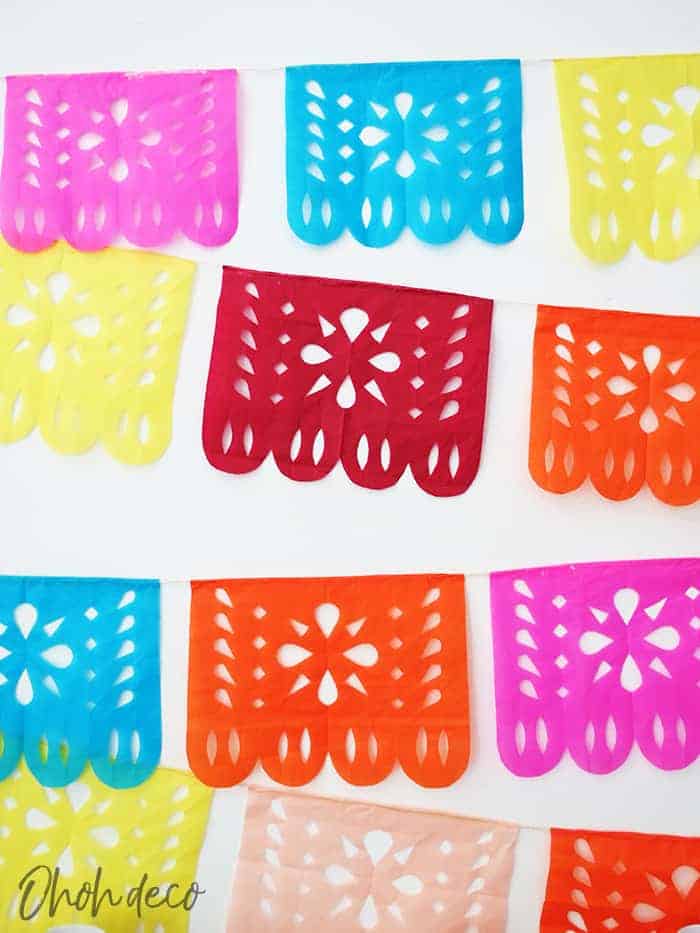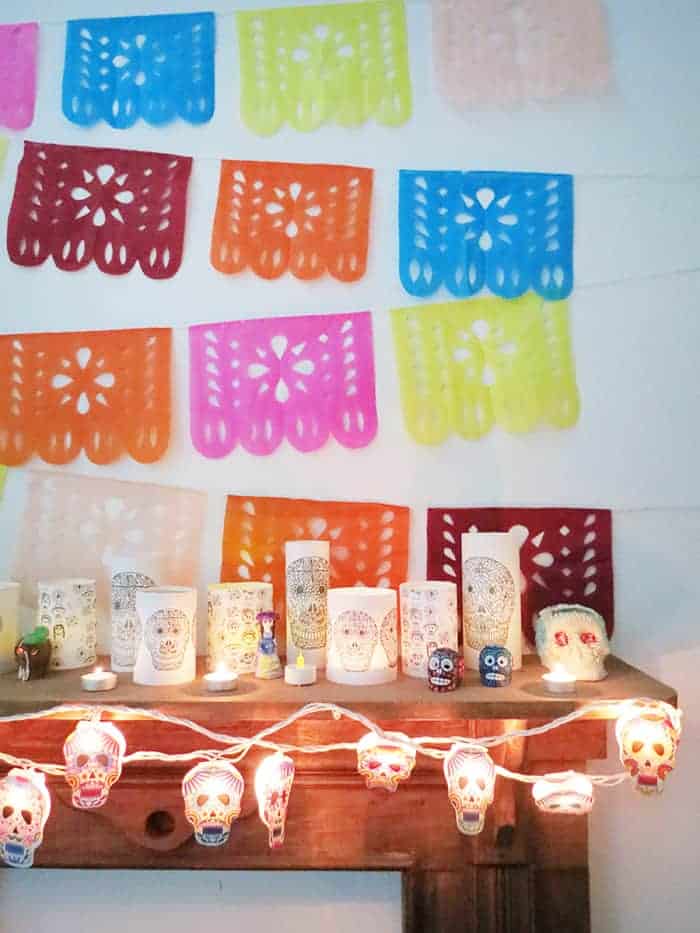 Want to remember this? Save How to make DIY papel picado in your favorite Pinterest board.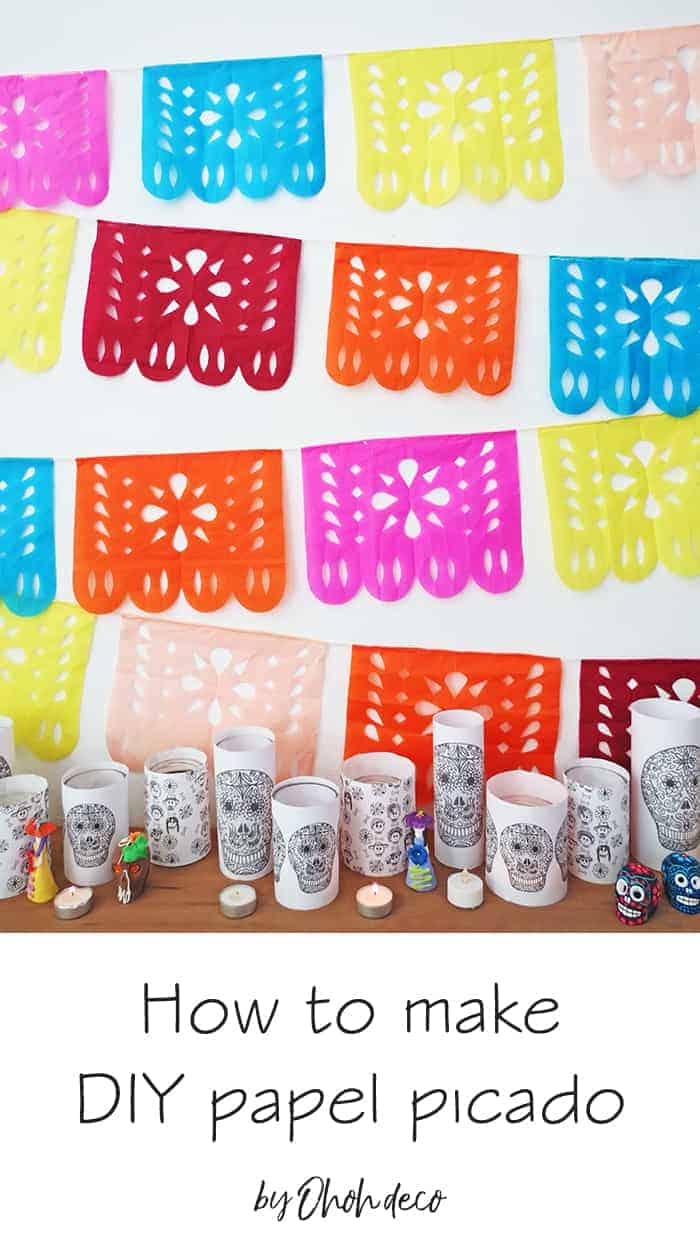 You will find the template to make your DIY Papel Picado into my library. It's FREE and open to anyone. All you need is the password to get in. Just fill out the form below and check your inbox for a welcome email with the password in.
You will find all the tutorials featured in the video on my "Best DIY" page.
Amaryllis