Little houses are always a cute way to decorate.
If you follow the blog for a while you may recognize these houses made out of paper.
[ This post probably contains affiliates links, our full disclosure policy is really boring, but you can read it HERE ]
These paper house templates are so easy and versatile. I used them to create a haunted village for Halloween and a snowy town for Christmas.
This time I created a colored village using pastel shades.
As it's wintertime, I placed the paper houses over a faux fur blanket and added a cord light for more seasonal decor.
Seriously this papercraft is so easy to make, I'm not even sure you need a tutorial.
You can find the house templates in my shop. There are 7 different shapes of houses (2 new models) to download and print.

It's an instant download, so you can print right away the templates on cardstock paper. Cut, fold, and past. Done!
If you like more detail, you can read the tutorial below or watch the video.
RELATED: DIY paper house craft
RELATED: DIY paper house cord light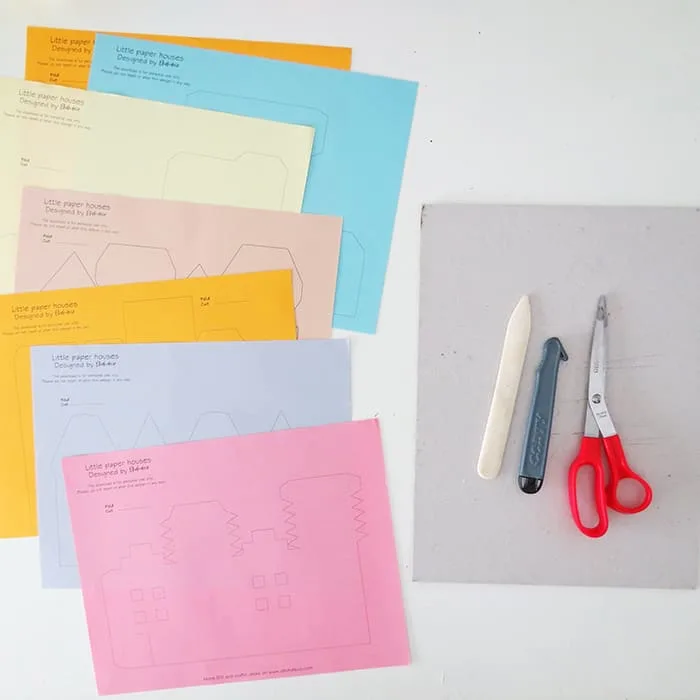 How to make a 3D house out of the paper template
Supplies you will need to make these paper house craft:
The 7 houses templates are available in my shop

If you want to make nice shaped and sturdy houses the best is to make them with cardstock paper. There are
nice color sets
that will work great for this craft (I like
these color shades
).
I also suggest you use a
bone folder
. The tool will help you to mark the folds and to crease nicely the paper.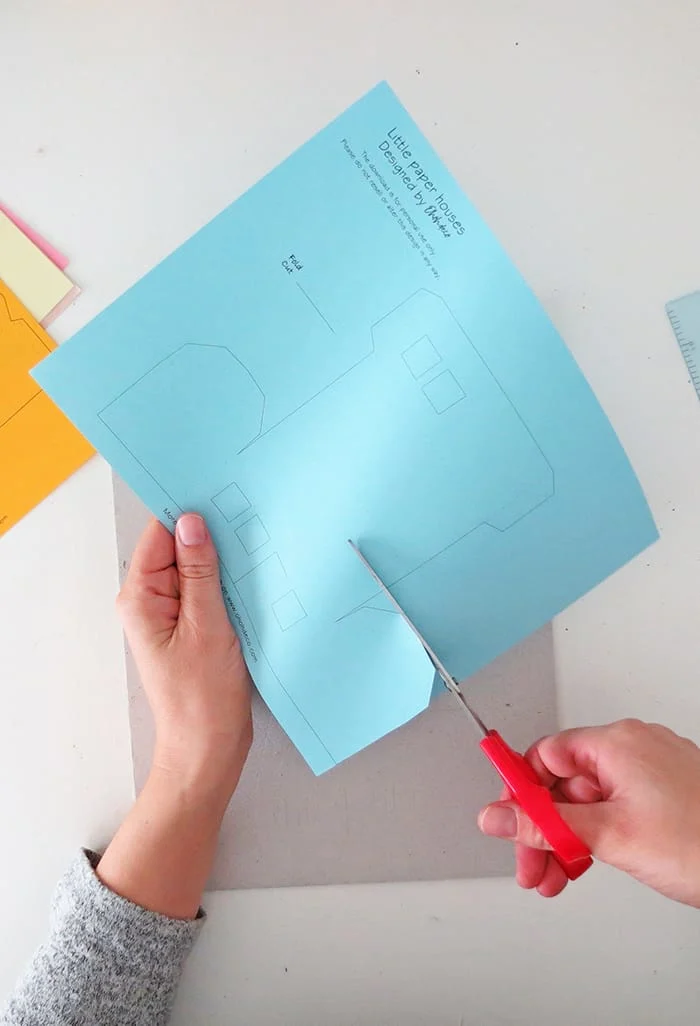 Download the file and print the templates. Cut the house shape following the lines. The straight lines are to cut, the dotted lines are to fold.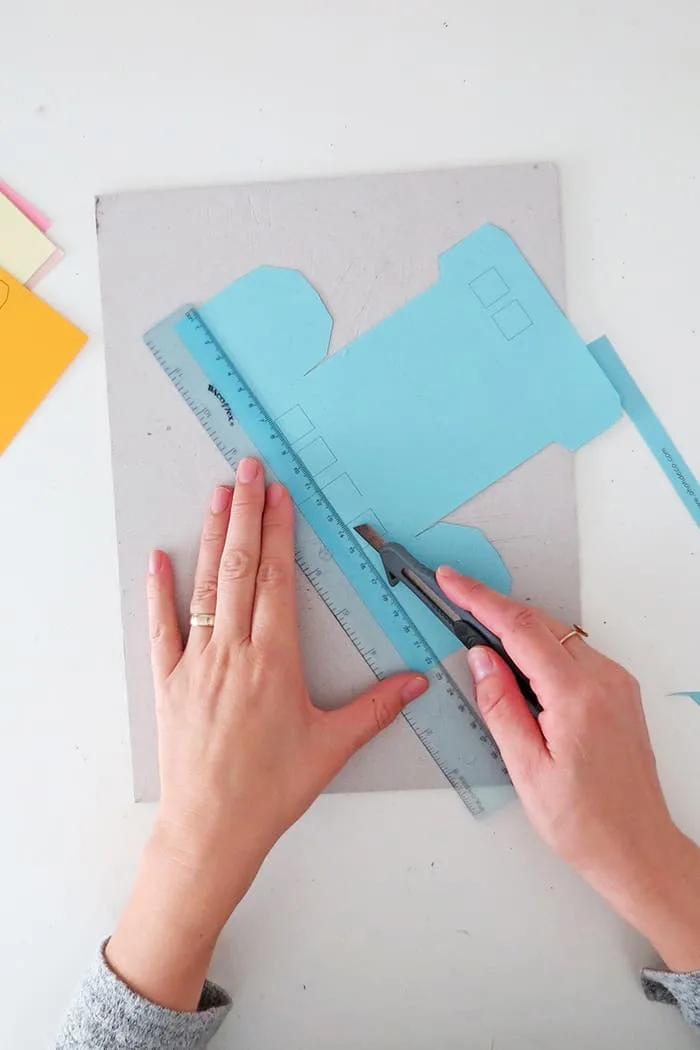 Use a utility knife to cut out the small details like windows, doors, and flaps.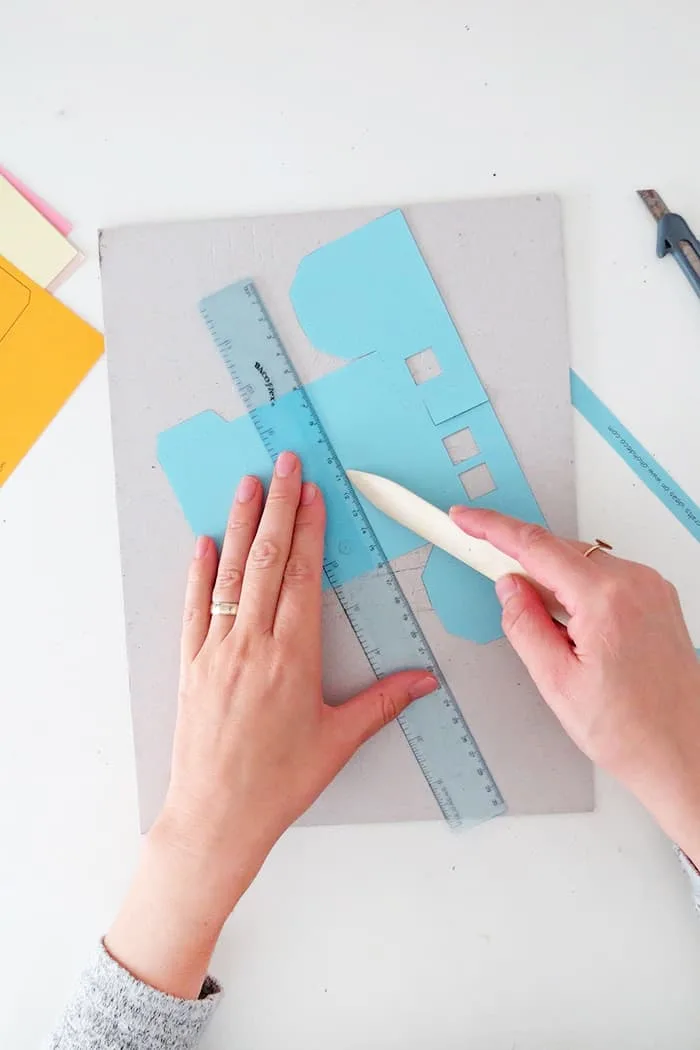 The dotted lines are to fold. Is much easier if you mark the folds with a bone folder. Lay the shape flat, pass the bone folder on each dotted line helping yourself with a ruler.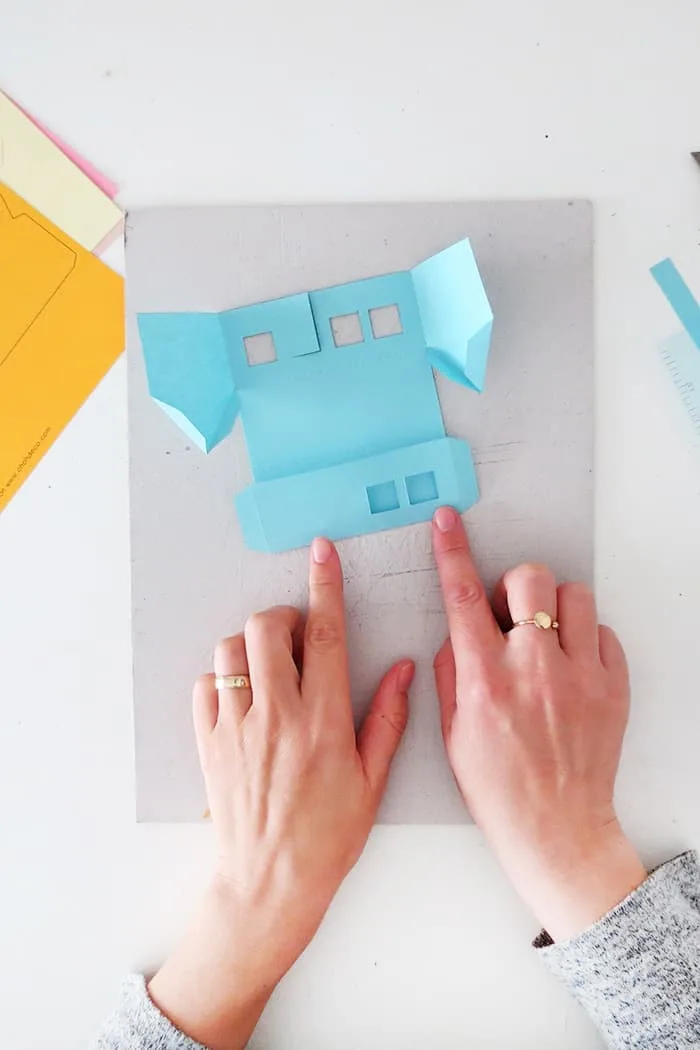 Now each crease is well marked and easy to fold properly. Add glue to the flaps and assemble the house.
Make as many houses as you want, you have 7 different 3D paper houses to try.
You can also watch the video tutorial: How to make DIY paper houses
Join me on Youtube and be the first to find out about the new DIY.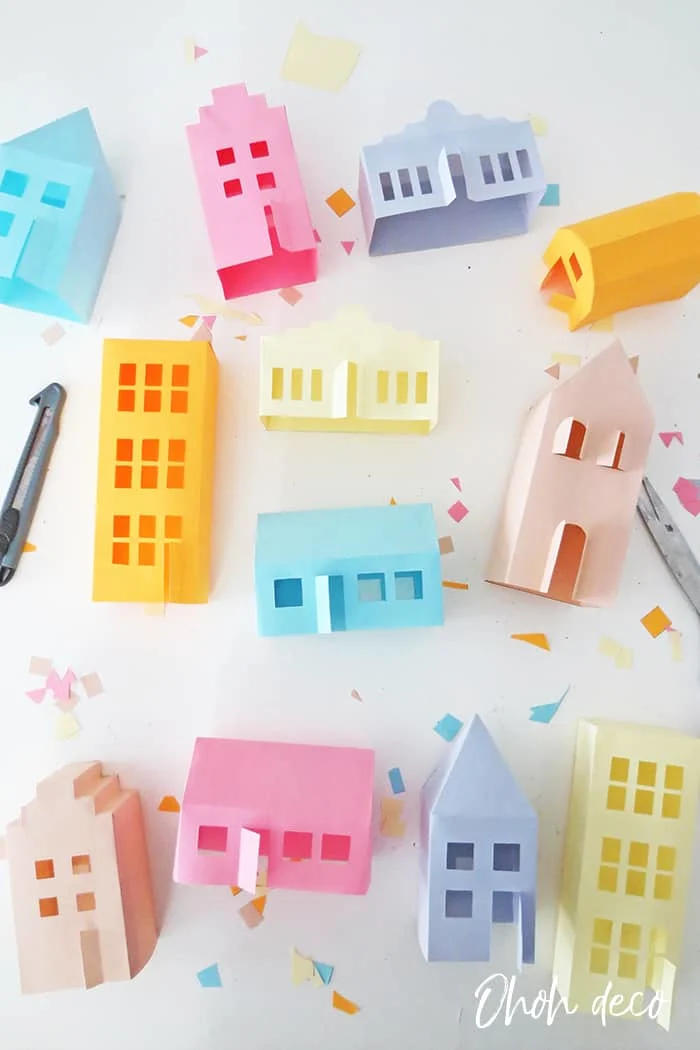 You can use these paper houses to create many nice decors.
Here go some ideas.
You can display them on a shelf or on a mantel.
You can pass a thread through the house roof and hang them on the Christmas tree or a plant.
You can also display them as a table center for a cute table setting.
Be creative and use different colors.
You can make the houses in white paper to create a snowy village.
Use black cardstock for a haunted Halloween town, or print then on brown paper and decorate with a white sharpie to make a gingerbread village.
To add a little magic, don't hesitate to add a LED tea light inside or a cord light around.
Tell me, where would you like to use your paper houses? Any other idea?

I love to craft with paper, it's an easy material to work with and there are countless DIY you can make.
RELATED: Paper house printable to decorate your planters
RELATED: How to make a Christmas gingerbread village with cardboard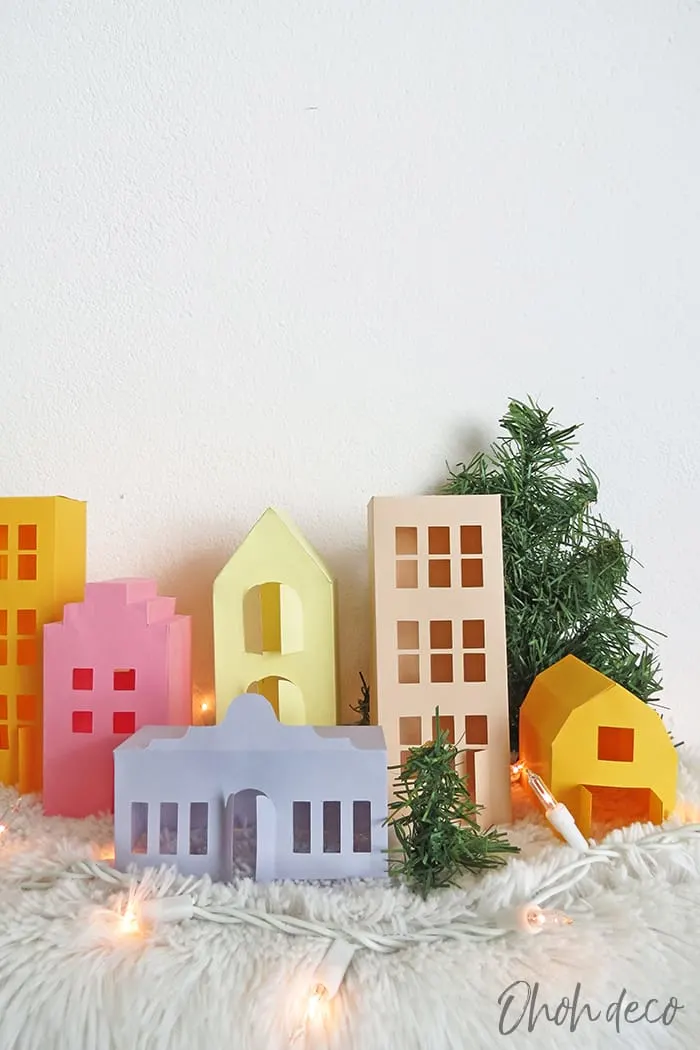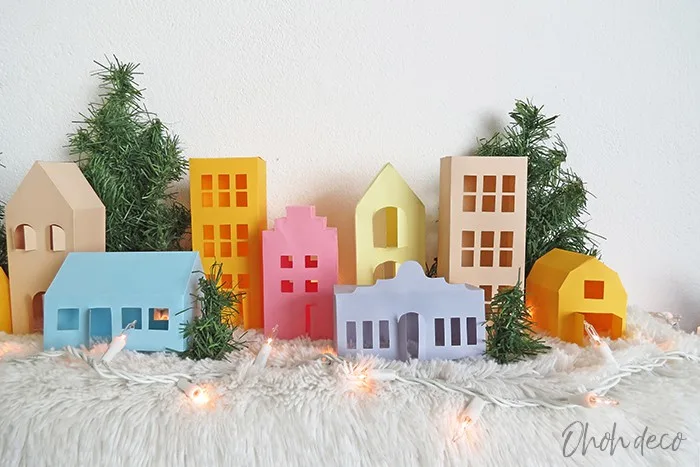 Want to remember it? Save these 7 Paper house templates in your favorite Pinterest board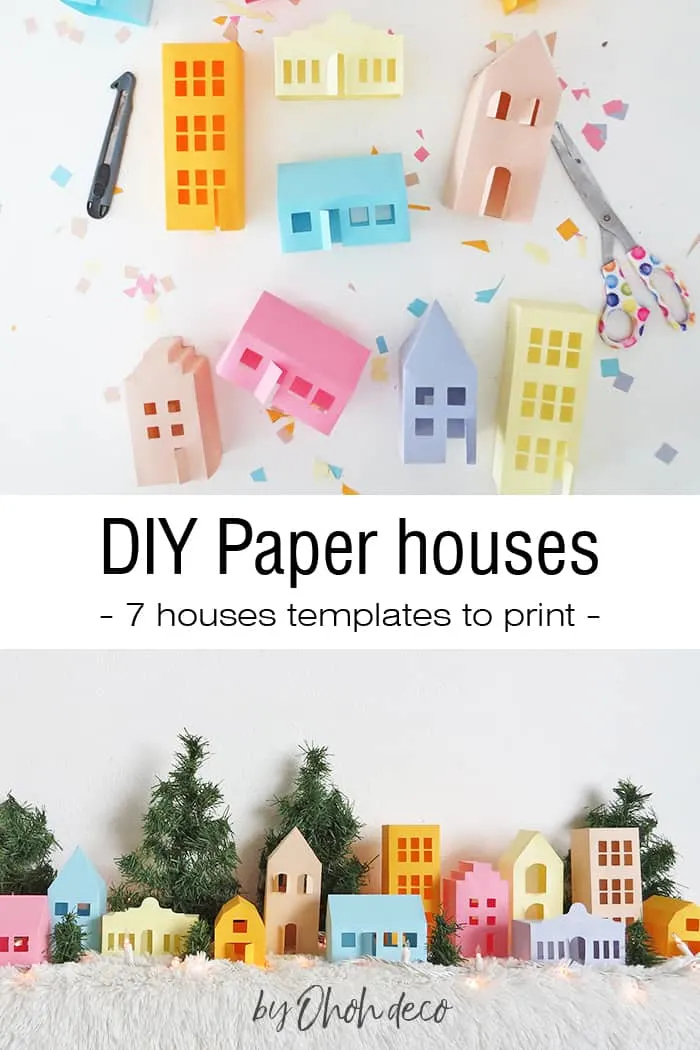 You will find all the tutorials featured in the video on my "Best DIY" page.
Amaryllis