Making pom poms is probably one of the easiest thing to craft. I'm pretty sure you learn how to make make some back in elementary school.
[ This post probably contains affiliates links, our full disclosure policy is really boring, but you can read it HERE ]
However if you can use a traditional pom pom maker (or a cardboard one) to create any pom pom size you dream about, it won't work as well to make giant yarn pom poms.
If you want to make a huge pom pom that doesn't fall apart, I suggest you have a look at this clever idea.
You can find the full step by step below along with a video tutorial.
You will see that you have to attach the yarns together several times, so the pom pom is strongly tied together in its center and won't fall apart if washing.
Therefore it's a great option if you want to make DIY giant pom poms to add to a throw blanket, a pillow, or a scarf.
RELATED: How to make a pom poms scarf
RELATED: How to make a Pom Pom Blanket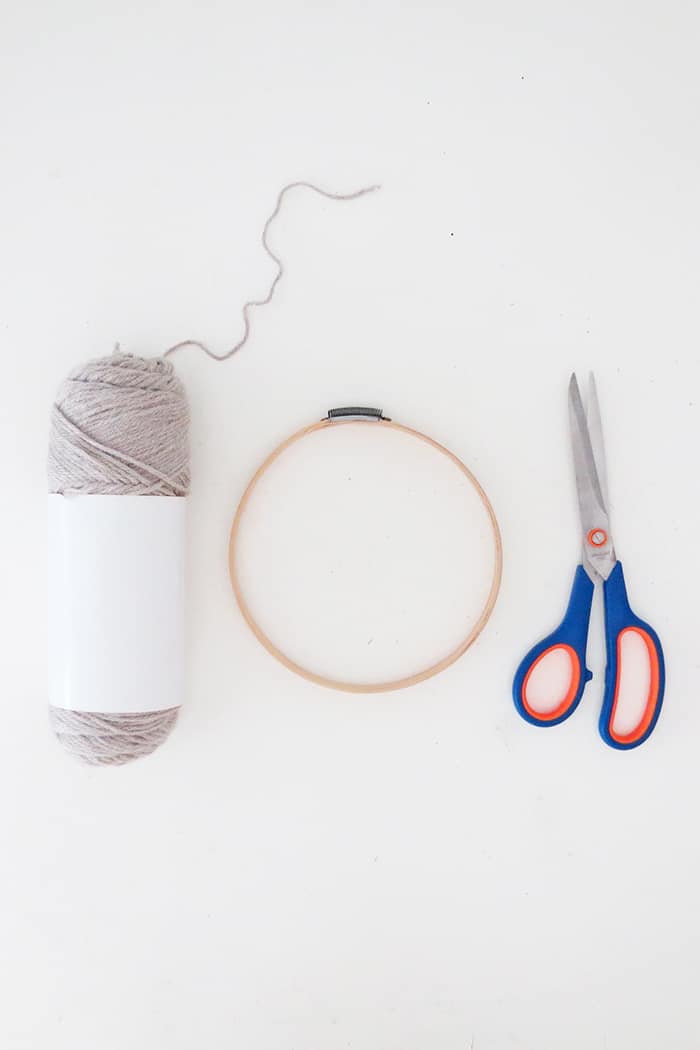 How to make extra large pom poms
You only need a few simple supplies to make big pom poms:
The size of the embroidery hoop will determine the dimension of your pom pom. I used a 6 in. hoop and end up with a pom pom of a similar diameter. They are plenty of embroidery hoop sizes, so you can pick the one that work best for your project.
As you can imagine you will need a good quantity of yarn to make a giant pom pom. I used one yarn skein of 3.5 oz (100g) to make one jumbo pom pom of 6 in. diameter.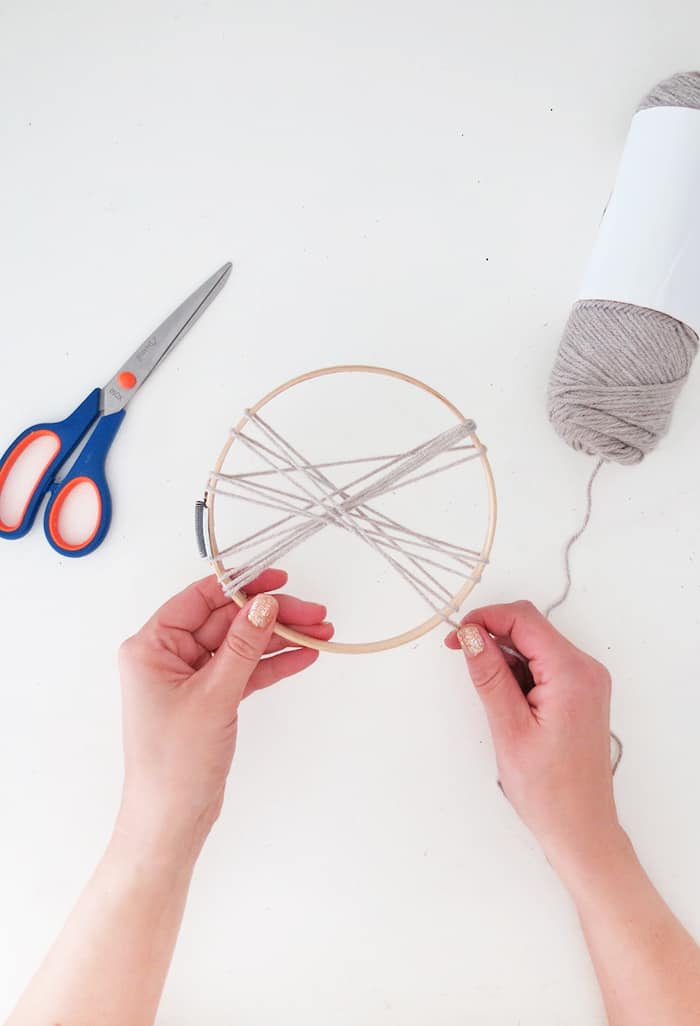 Wrap the yarn around the hoop. It's easier if you use the inner part of the hoop.
I only found the outer part of this embroidery hoop. I must have used the inside for a previous project. It works just fine but it's easier if you don't have to wrap the yarn around the metallic closure.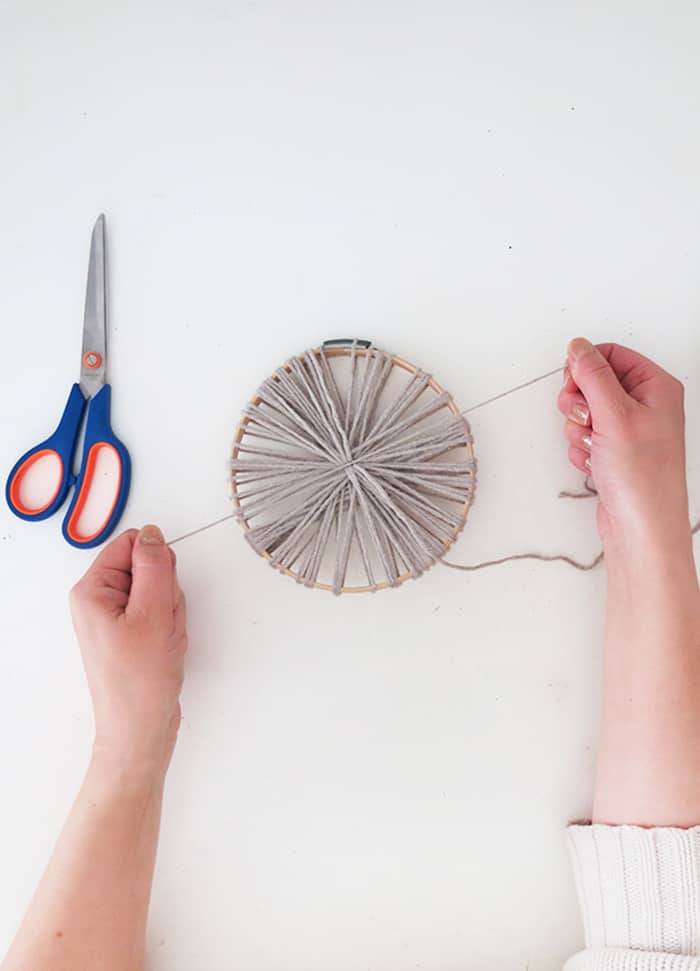 Once you have wrapped a first layer of yarn around the hoop attach them together in the center.
Take a piece of yarn, pass it through the layers of wrapped yarns and tie a knot in the center of the hoop, where yarns cross.
The best is to pass the piece of yarn 2 o 3 times and to tie several knots. So you ensure all the wrapped yarns of this layer all well attach together.
If you have any doubt about this step, you can watch the video tutorial.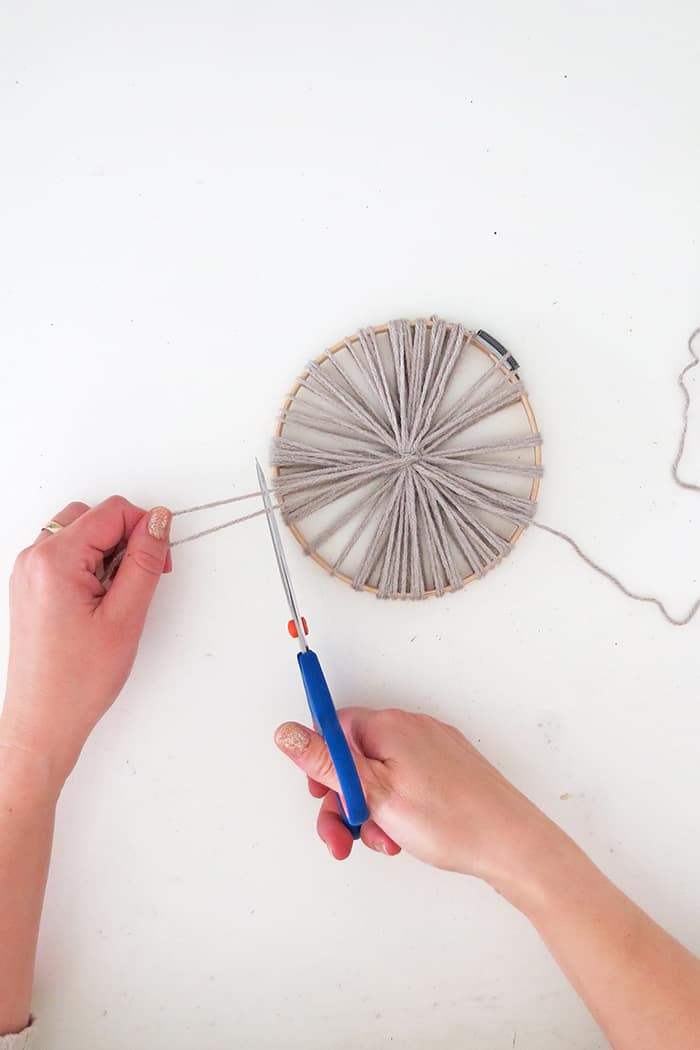 Once you are done tying knots, cut the extra yarn lenght.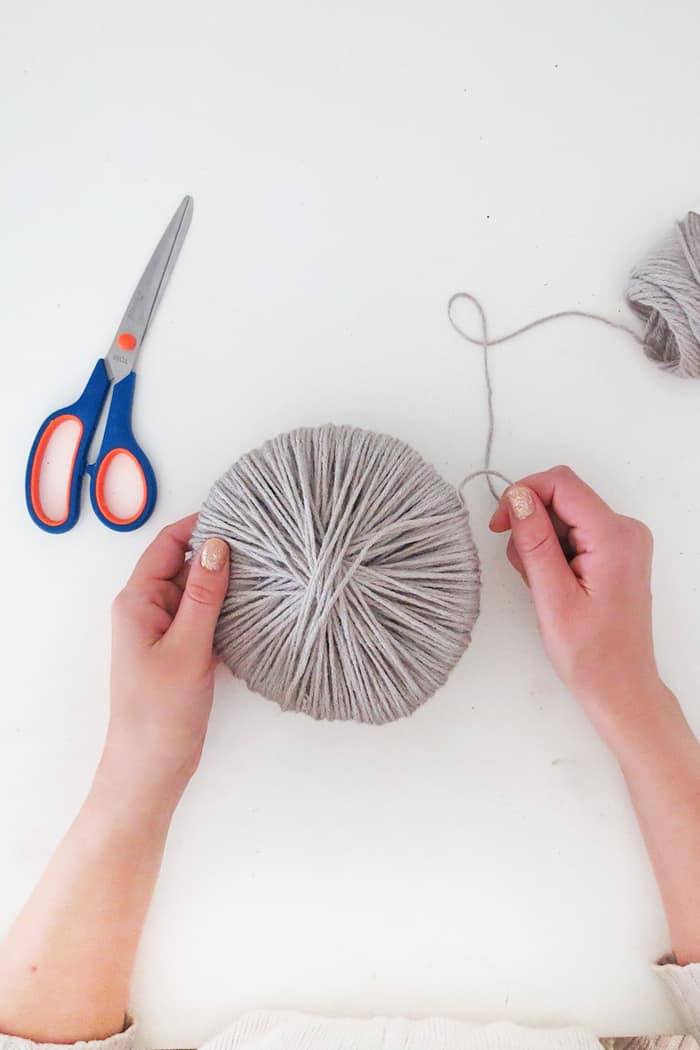 You now have to repeat the previous steps several times.
so, keep wrapping an other layer of yarn around the embroidery hoop.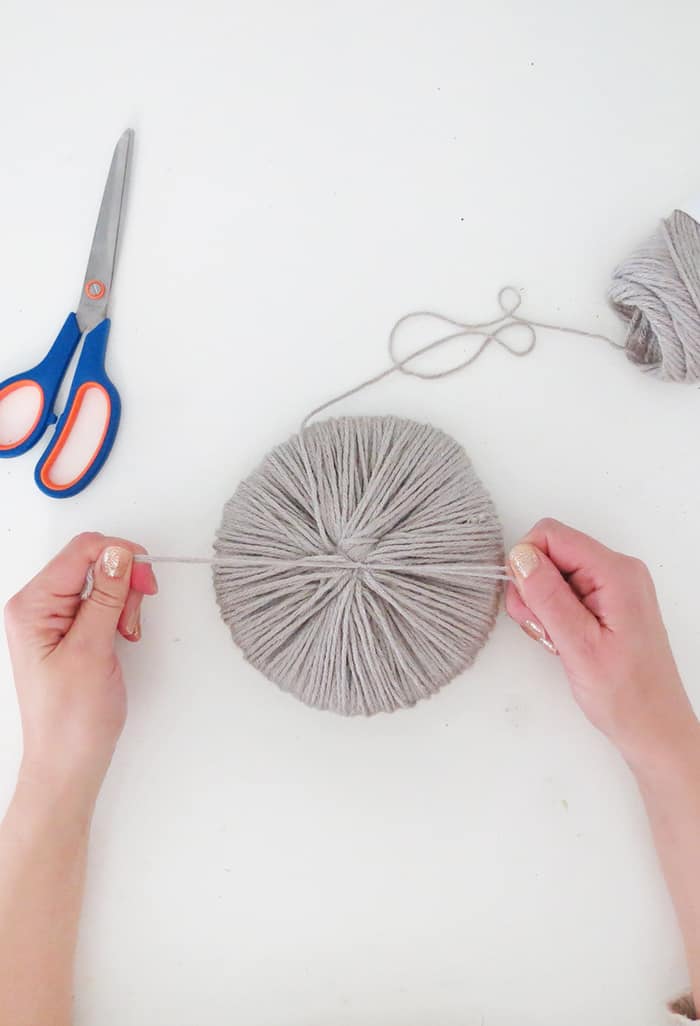 Take another piece of yarn, pass it through the yarn layers and tie a knot. Repeat 2 or 3 times to ensure all yarn is well tie together.
And again, repeat the previous steps until you have wrapped enough yarn to have an extra-large pom pom.
As I said I used one skein of yarn to make a 6 in. diameter pom pom.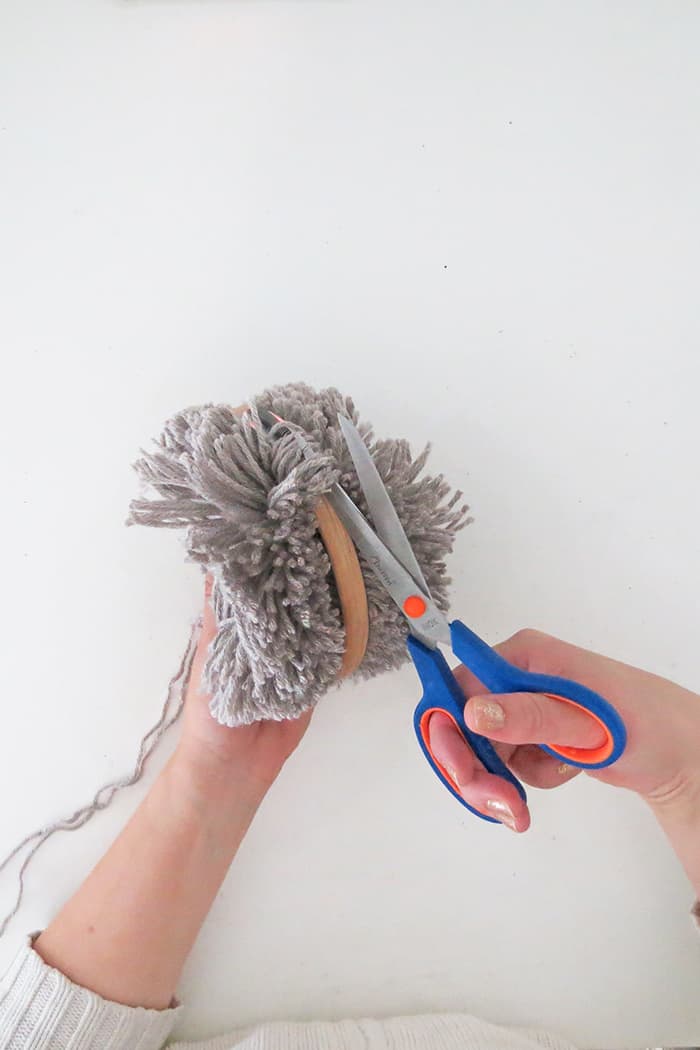 Once you are done wrapping the yarn, and that all layers are strongly knotted in the center, take a very sharp pair of scissors and cut all the yarn layers following the hoop.
I used my seamstress scissors and also my embroidery scissors. It's almost impossible to cut all layers at once, so proceed little by little.
It also help if the yarn is not wrapped to tie around the hoop.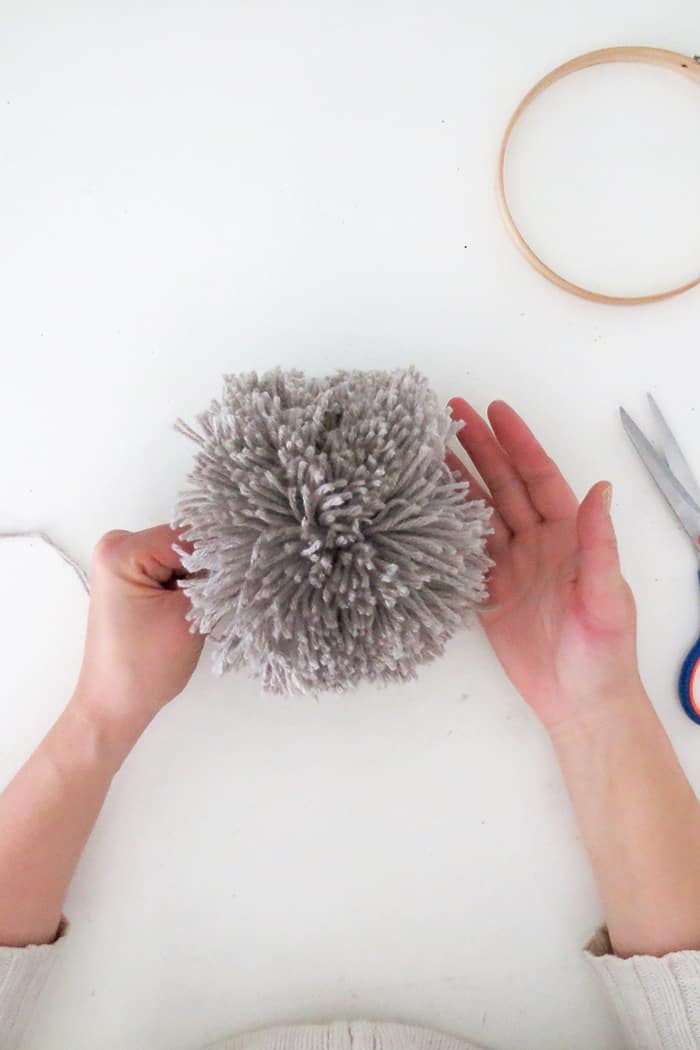 Your extra large pom pom is almost done.
It has a funny shape right now, but nothing that a good trim can't fix.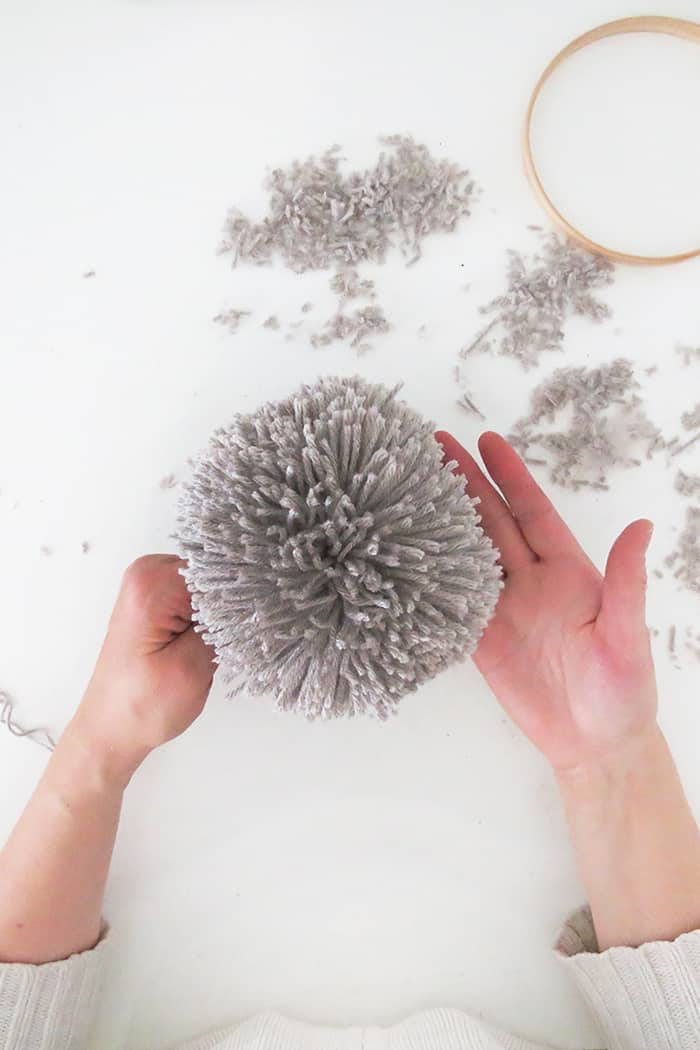 Take your scissors and trim the pom pom to give it a nice round shape.
If you want to attach your pom pom on a blanket or a scarf, don't trim the piece of yarn you used to make the last central knot.
Don't hesitate to turn it or to shake it. It also helps if you pass your fingers through your pom pom to unravel the yarns.
Trim the yarn little by little. It takes a little time and patience to end up with a nice round giant pom pom.
Follow Ohoh deco on Youtube and be the first to find out about the new DIY.
The step by step to make a jumbo pom pom ends here, I hope you enjoyed it!
This tutorial was inspired by one of Mandy's great DIY.
RELATED: The best ideas to decorate with pompoms
RELATED: DIY Wall Art with a Scarf
Let's keep crafting, if you want to use the pom poms to make a pretty pom pom scarf, I explain to you how below.
Want to remember how to make extra-large pom poms? Save it in your favorite Pinterest board.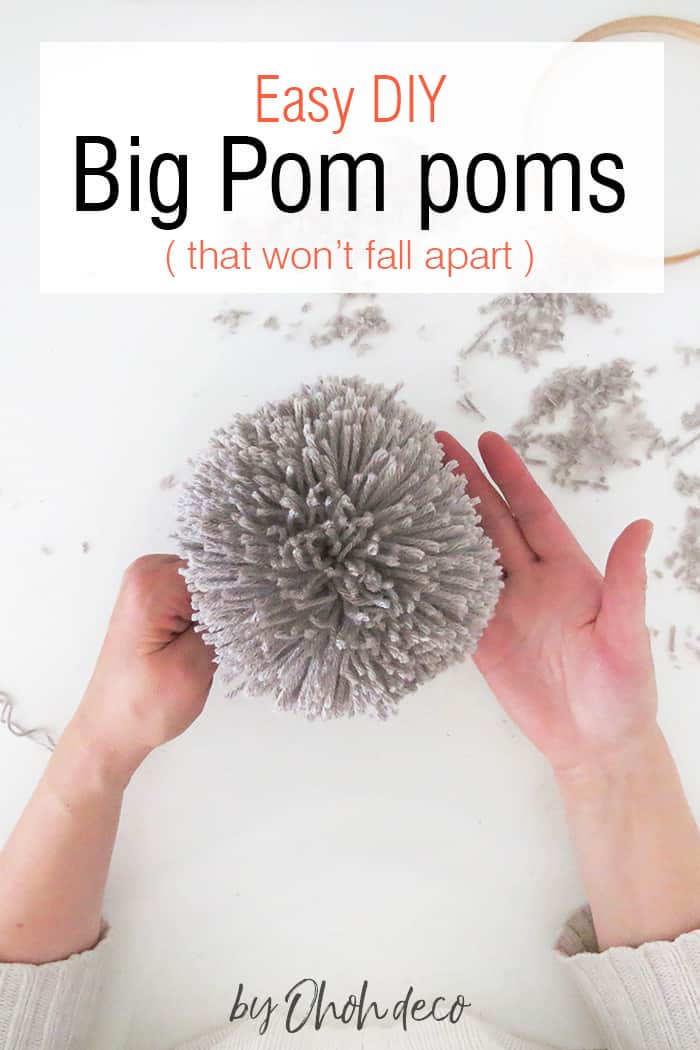 DIY pom pom scarf tutorial
If you want to make a cute pom pom scarf to wear this winter, this easy tutorial is for you.
You can sew your own scarf or customize one you already own.
If you want to sew your scarf, choose a nice lightweight fabric and cut a rectangle of approximately 2ft by 2 1/2 yd (65×240 cm).
Make a double fold hem along both long edges.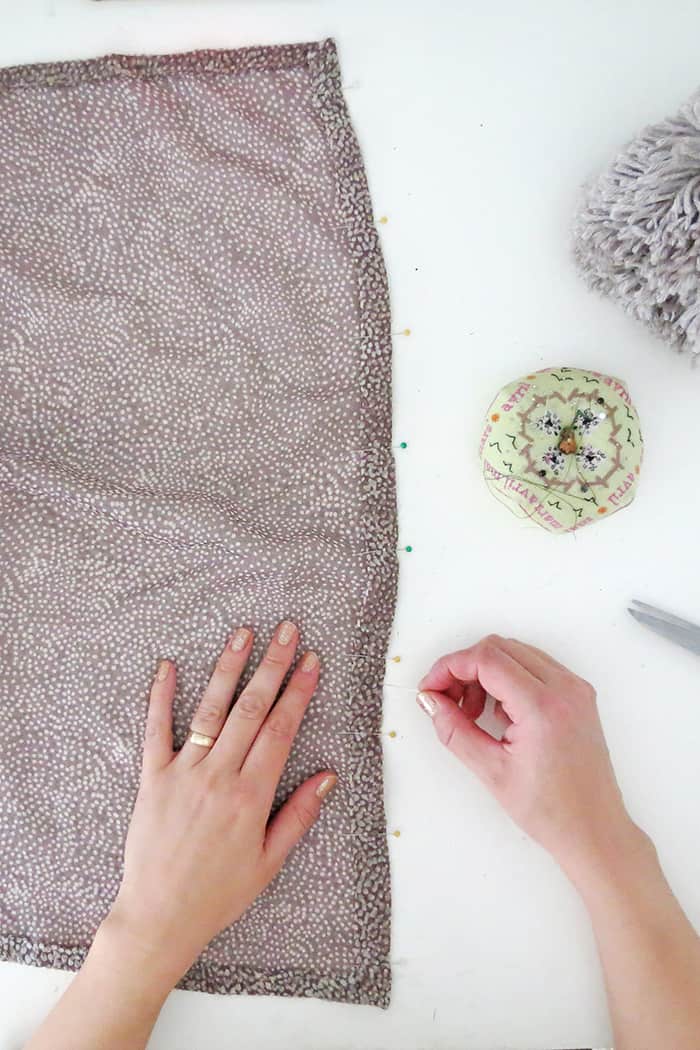 From now on the steps are the same if you customize a scarf or if you sew one.
Take one of the small edges of the scarf and make a fold of 1/2 in. (1cm). Prefer a double fold hem if you sew the scarf from scratch.
Pin to hold the fold in place and sew. Leave both ends of the fold open.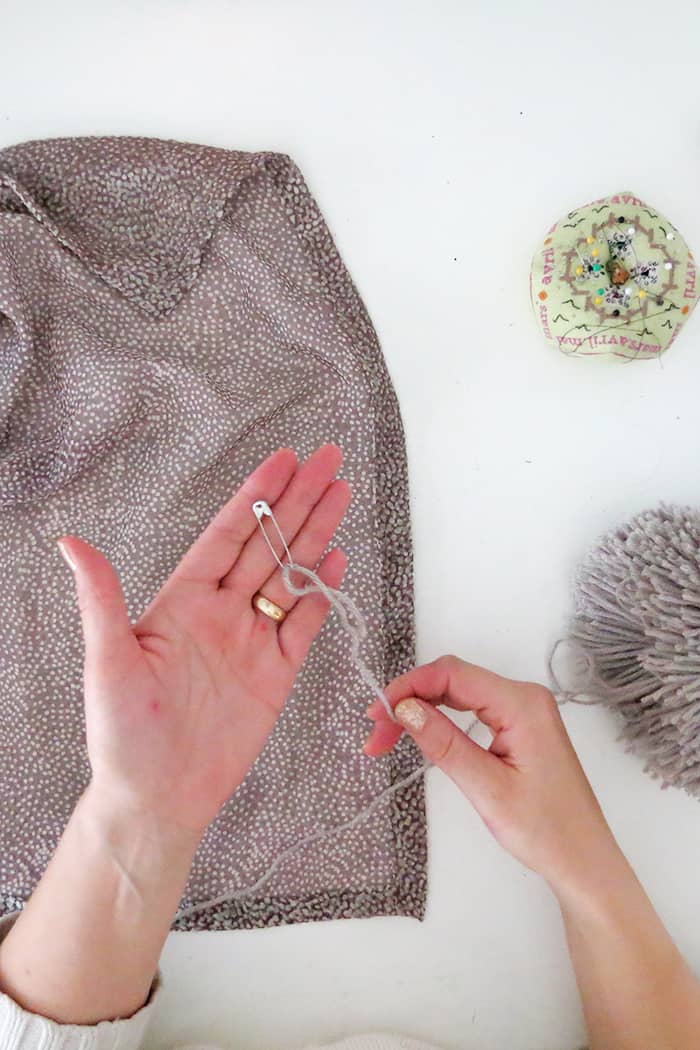 Take the giant pom pom and attach a safety pin at one end of the yarn.
Do you remember I told you not to trim the piece of yarn you used to tie the last center knot? That's why you need it to attach the pom pom to the scarf.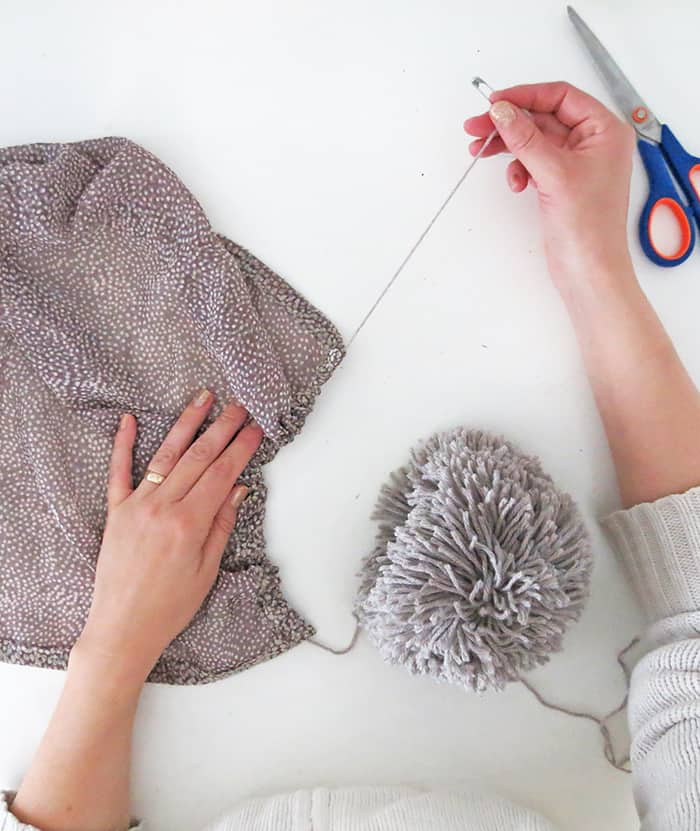 Pass the yarn through the fold, helping yourself with the safety pin.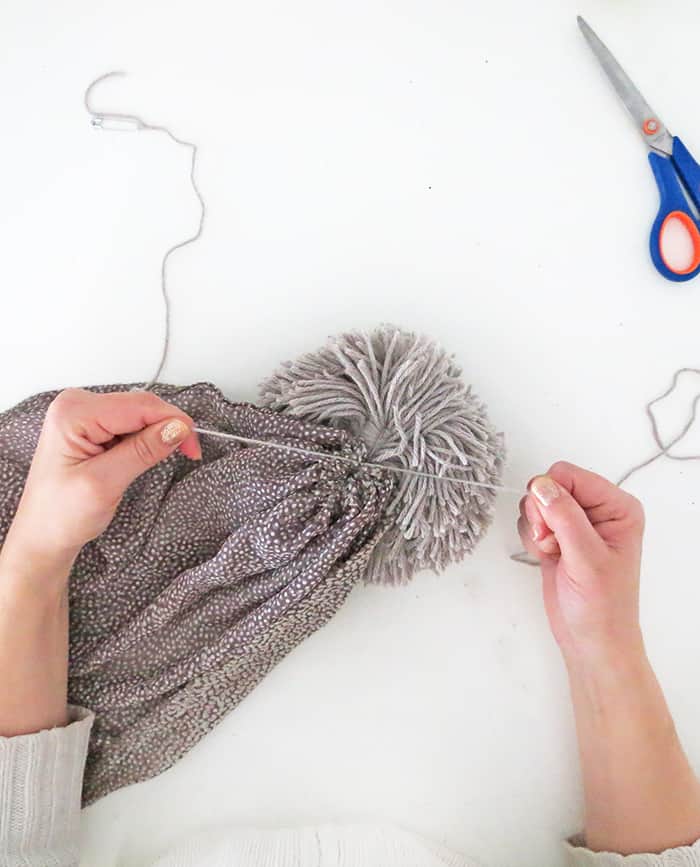 Take both ends of the yarn and make a double knot to attach the pom pom with the scarf.
Repeat the steps to attach a second pom pom on the other edge of your scarf and done!
It's a super easy and fun way to customize a scarf.
I love how it turn out. The jumbo pom poms are a little heavy but it not a problem when wearing the scarf.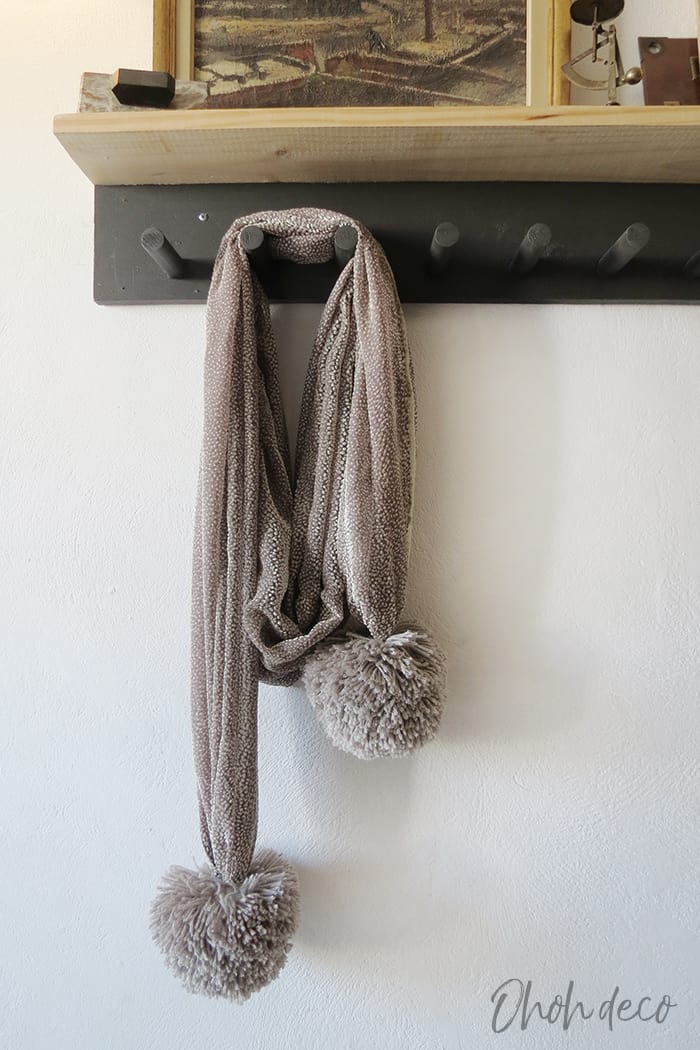 Tell me? Would you like to make a pom pom scarf? How would you like to use extra large pom pom? Any fun craft idea to make with pom poms?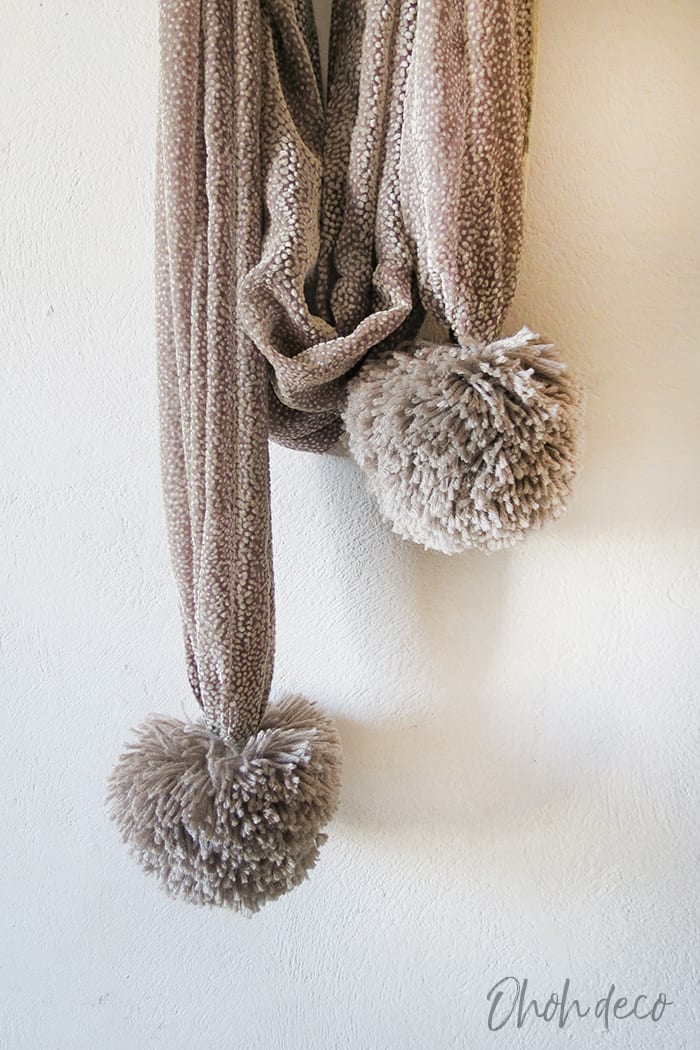 Want to remember it? Save "How to make extra large pom poms" in your favorite Pinterest board.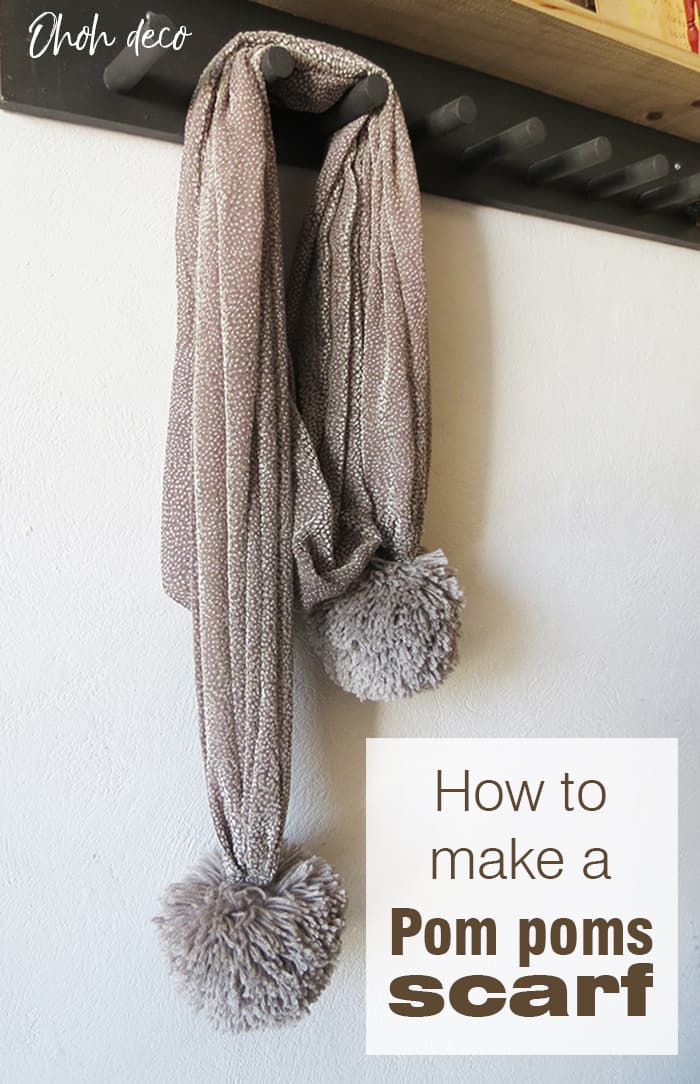 You will find all the tutorials featured in the video on
my "Best DIY" page
. Amaryllis