Complete your Christmas tree decoration by sewing an original star-shaped tree skirt. A tree skirt is a decorative fabric placed under the Christmas tree to hide the tree stand.
A Christmas tree skirt give your tree a nice finish and It's also the perfect backdrop for your Christmas presents.
Tree skirts are great wherever you are using a natural or an artificial tree. To suit your Christmas decor, nothing better than a handmade tree skirt that matches your color scheme.

[ This post probably contains affiliates links, our full disclosure policy is really boring, but you can read it HERE ]
This tree skirt with its starry shape is more original than a simple round tree skirt.
The pattern exists in three different sizes, which adapts to the height of your Christmas tree.
You can sew different variations of this pattern. You can make a plain star shaped tree skirt, or you can combine different fabrics to make a quilted style tree skirt.
You can also finish the edges with a simple fold, or sew colored, or finish with a pom pom trim for a festive touch.
The Christmas tree skirt is very easy to sew and is a perfect project for beginners.
I explain all the steps in detail in the PDF and in the video.
RELATED: Santa Pillow pattern
RELATED: DIY Christmas tree pillow
To sew the Christmas tree skirt you will need:
You can find below a list with the supplies you will need to sew the tree skirt.
Get the tree skirt pattern

The pattern comes in 4 sheets and can be print on US letter-sized paper. Place the pages following the printing plan and glue or tape the pages together.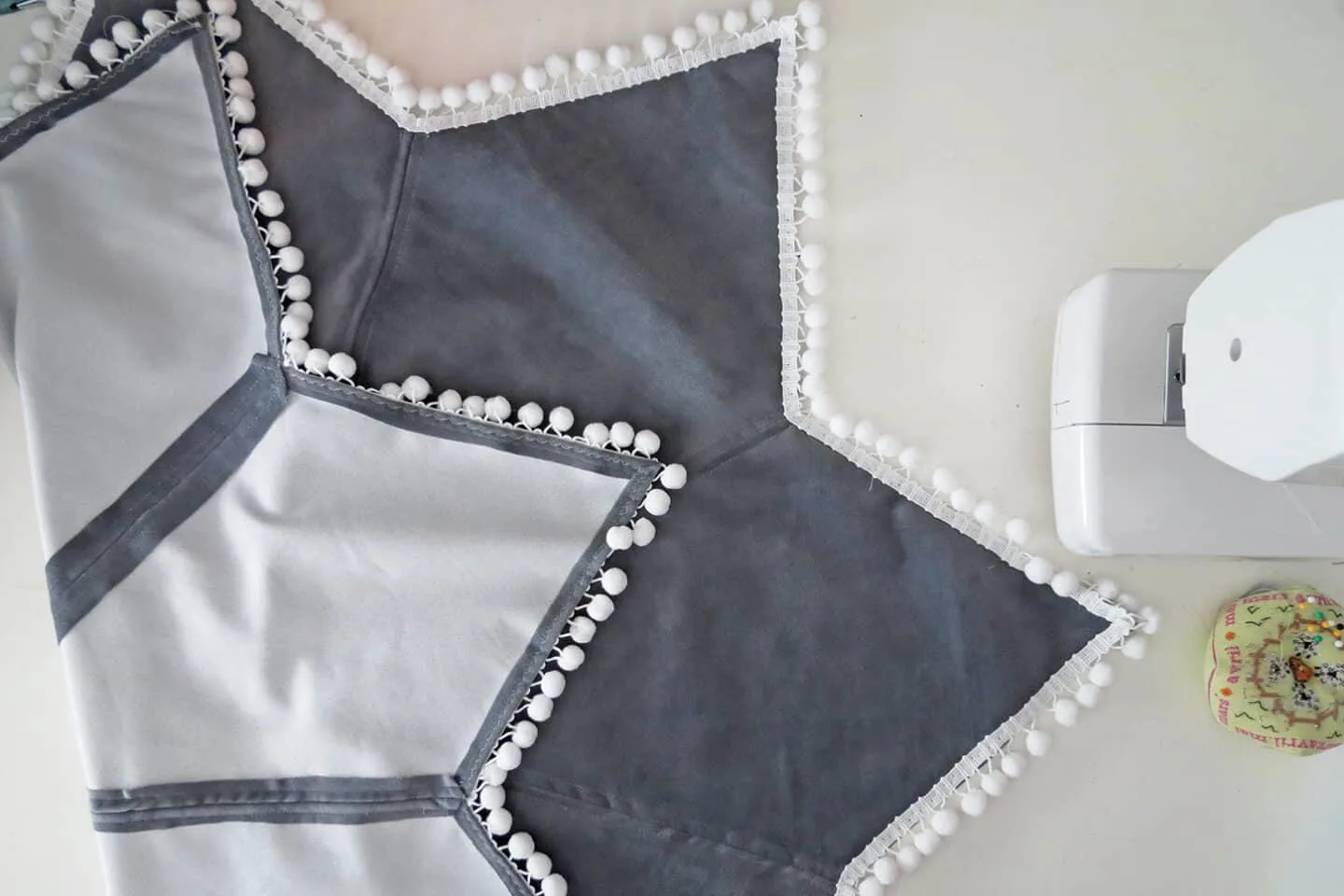 What does the tree skirt sewing pattern include?
PDF Sewing pattern
Step-by-step tutorial with pictures
Full video tutorial
This PDF digital file includes the actual pattern pieces for cutting out after printed and a full photo tutorial that shows you how to sew this pattern together. You can print the tutorial and assemble it to create a handy sewing notebook. It also includes a printable envelope to keep the pattern and notebook for future use.
To help you sew the tree skirt, you will also have exclusive access to the video sewing tutorial.
The detailed instructions allow everyone, even beginner, to easily sew this Christmas tree skirt.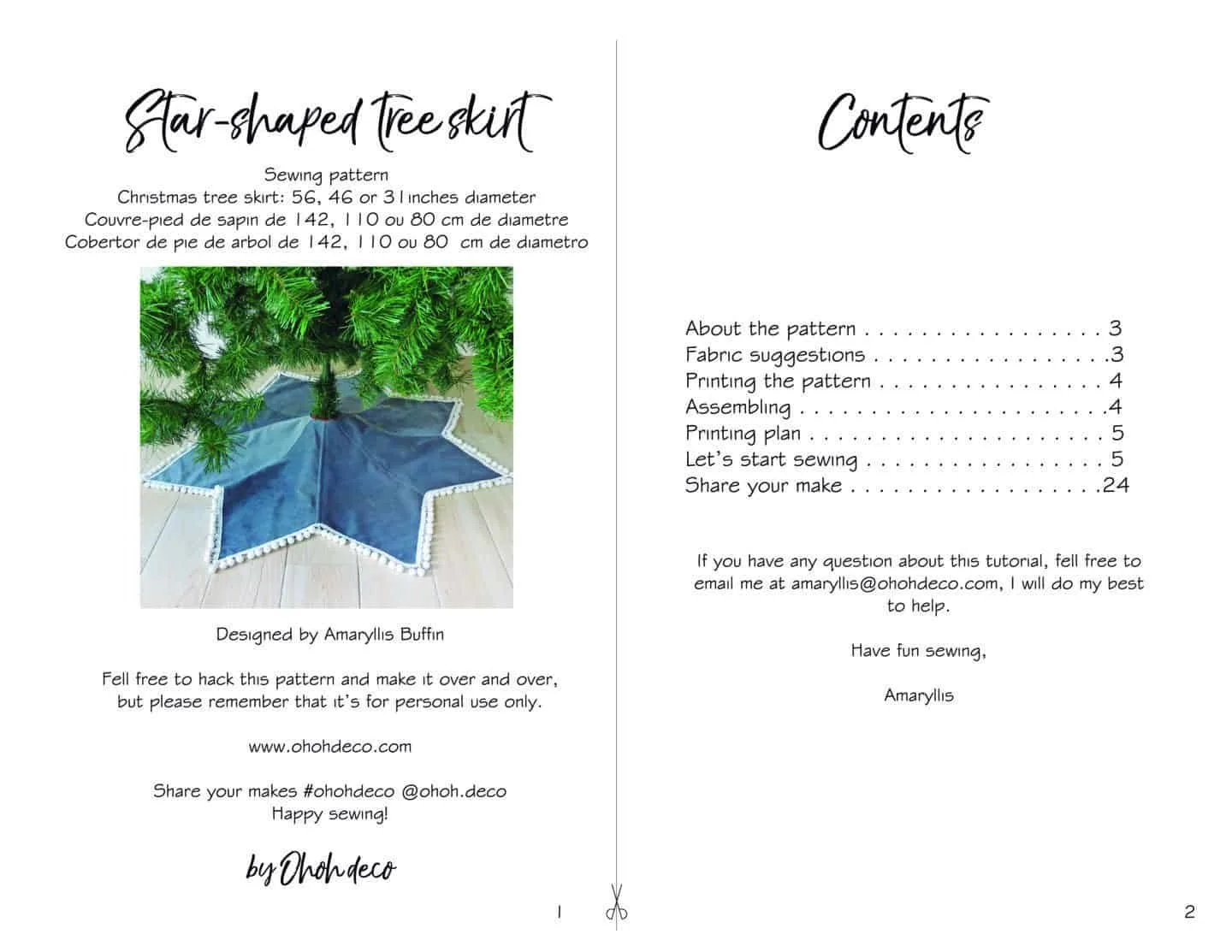 What size tree skirt should I get for my tree?
The pattern is available in three different sizes: 56, 46, and 31 inches in diameter (142, 110, and 80 cm).
This allows you to sew the tree skirt to the size that best suits the height of your Christmas tree.
You can use the large skirt pattern if you have a tree 7 feet (220cm) tall or higher.
The medium skirt is perfect for a 6-5 feet (180-150 cm) tree, it's the size I sewn for our tree.
The small skirt pattern is to be made for trees whose high is less than 4 feet (120 cm). Don't you agree that even small Christmas trees deserve pretty decorations?
I give you these measurements recommendations as an indication, feel free to choose what fits best for your tree and your decor.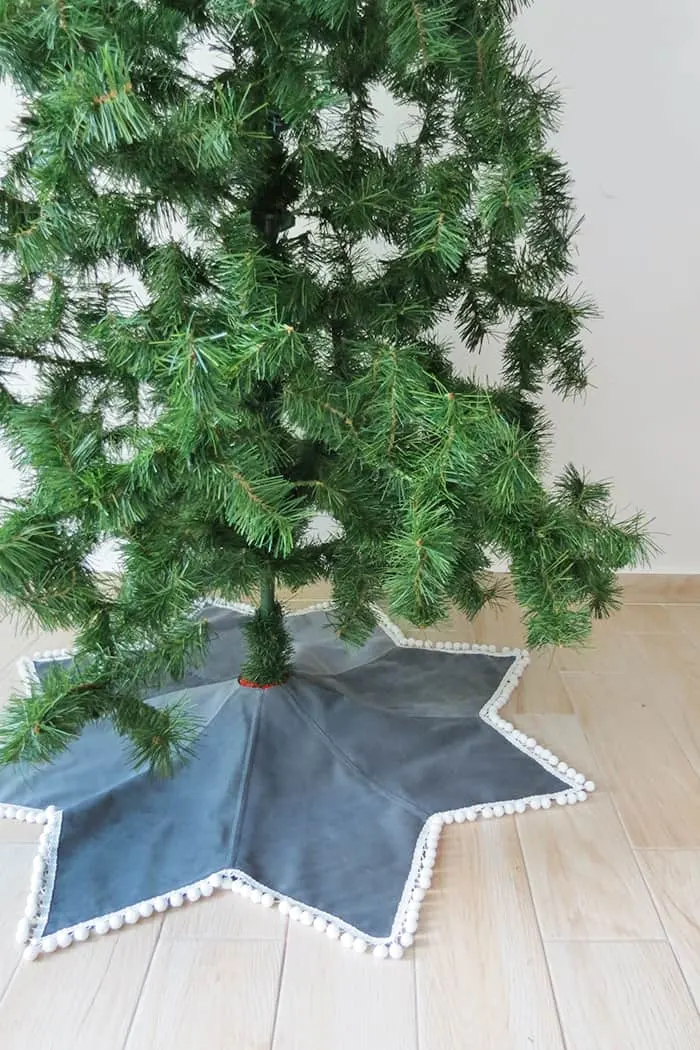 How much fabric do I need for a tree skirt?
As I said you can choose between 3 skirt sizes. The fabric yardage came into the PDF tutorial.
If you want to go ahead and check how much fabric you will need to make this Christmas sewing project, I share the details below.
Large diameter skirt (56 in. / 142 cm diameter) >>> 1 1/2 x 1 1/2 yards (1,5 x1,5 m)
Medium diameter skirt (46 in. / 110 cm diameter) >>> 1 x 1 1/2 yards (1×1,5 m)
Small diameter skirt (31 in. 80 cm diameter) >>> 3/4 x 1 1/2 yards (0,75 m x1,5 m)
I recommend you use medium-weight fabric such as velvet, faux suede, or cotton fabric.
It's easier to make the skirt with a plain fabric. If you choose a printed fabric, think about the design fittings when you cut out the fabric pieces.
I show you how to finish the star-shaped tree skirt adding a pom pom trim all around the edge. This detail gives the tree skirt a festive finish, but it's optional.


Join me on Youtube and be the first to find out about the new DIY.
I hope you will enjoy sewing this Christmas project with me.
Adding a handmade touch to your Christmas tree is a great way to make the holiday season special!
I love to see your creations, so please don't hesitate to leave a comment or to tag me on Instagram @ohoh.deco
RELATED: Easy to make Felt Christmas Ornaments patterns
RELATED: How to create a DIY Scandinavian Christmas decor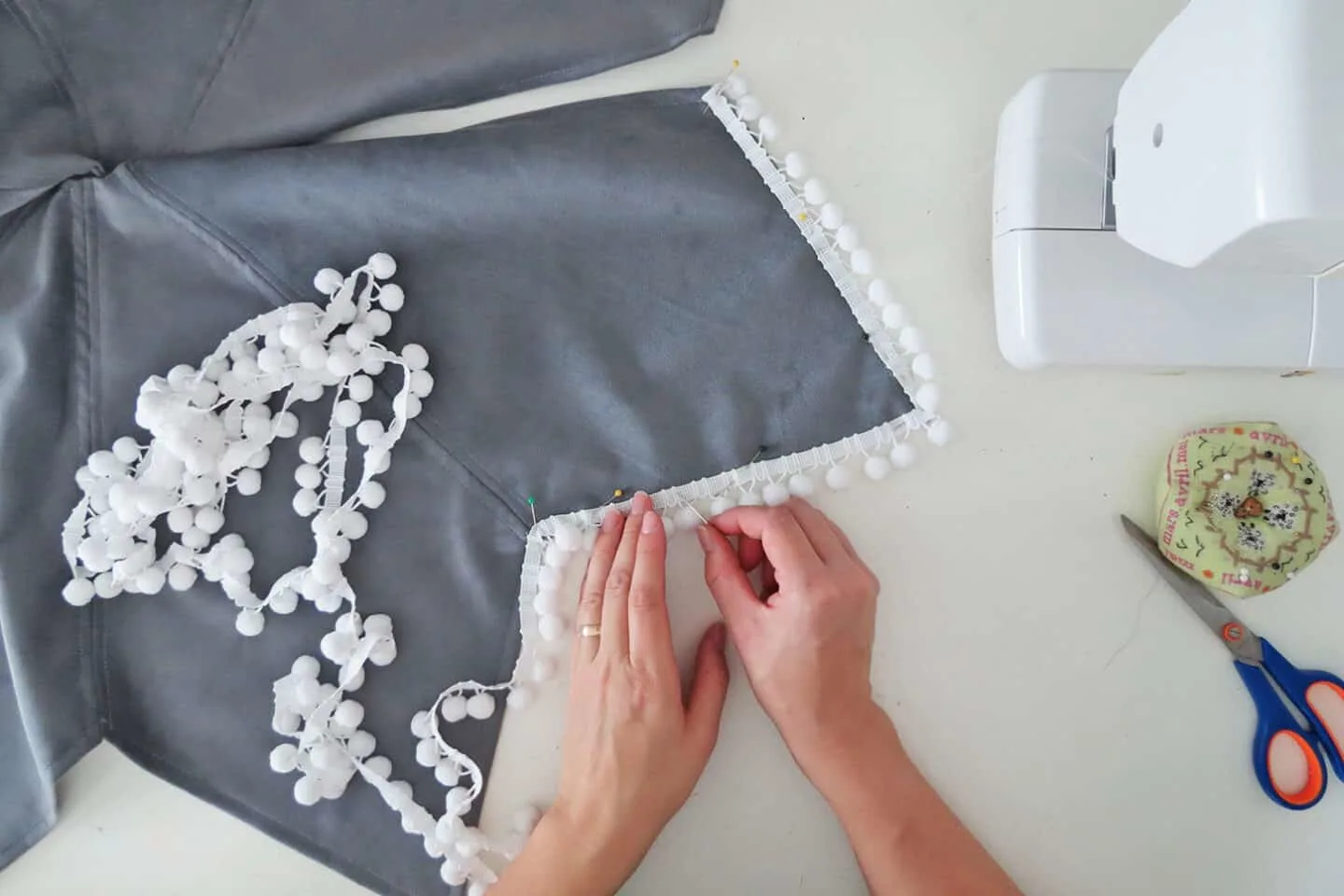 Want to remember it? Save this star-shaped Christmas tree skirt in your favorite Pinterest board.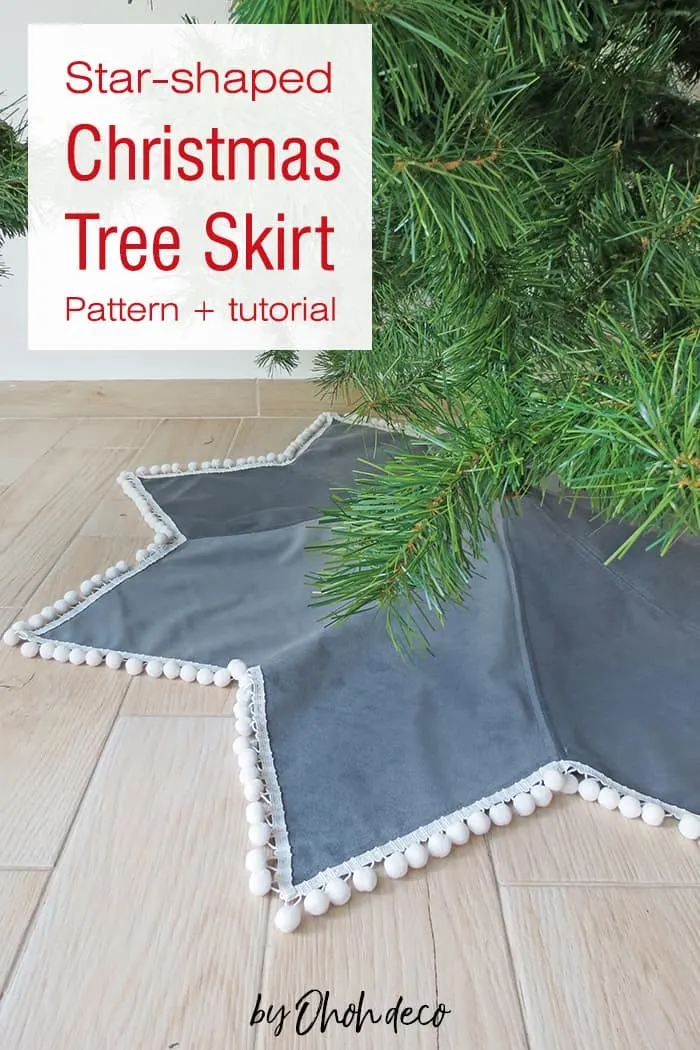 You will find all the tutorials featured in the video on my "Best DIY" page.
Amaryllis