Looking for the perfect idea to make your office Christmas door decoration stand out? We've got you covered! In this article, we will share 23 hilarious and creative ideas that will guarantee you the victory in your office funny Christmas door decorating contest.
Get ready to bring the holiday spirit to your workplace with these ingenious and funny door decor concepts!
[ This post probably contains affiliate links, our full disclosure policy is boring, but you can read it HERE ]
Ugly Sweater Extravaganza
What better surprise to make people smile than an Ugly Sweater Extravaganza Christmas door?
Start by decorating the outside of the door to create the sweater shape with mismatched or customized wrapping papers, decorated with holly and ribbons.
Give it your own creative twist by adding lights, tinsel, or any other festive touches you can imagine.
Inside the door, you can also decorate with colored papers and Christmas decorations that'll be sure to get your guests in the holiday spirit.
Finally, top it off with a large portrait of yourself, or coworker, above the door for a grand entrance. This fun and unique idea will make holiday memorable and joyful.
RELATED: DIY Christmas Bow Door
RELATED: Unleash the Magic of Christmas with Stunning Door Covers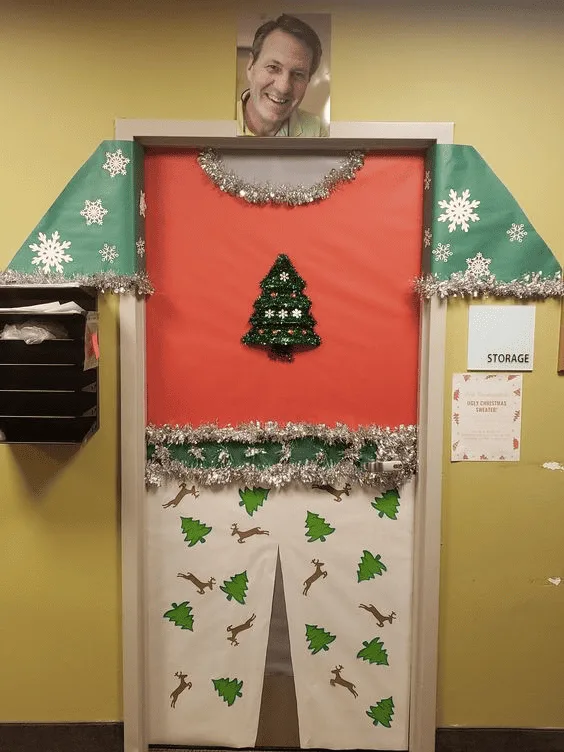 Santa Door inspiration
These funny Christmas door idea will take your holiday decorations to the next level. With a little creativity and some craft supplies, you can create an eye-catching display that will leave your coworkers in awe.
With a cheerful Santa, some crazy elves or a reindeer pair, these unique door decorations will make a big impact.
You can even hang garland, lights, and other festive additions for an extra special touch. Whether it's for a Christmas door decorating contest or just to celebrate the holidays, these fun Santa and elf Christmas door idea will light up your working days.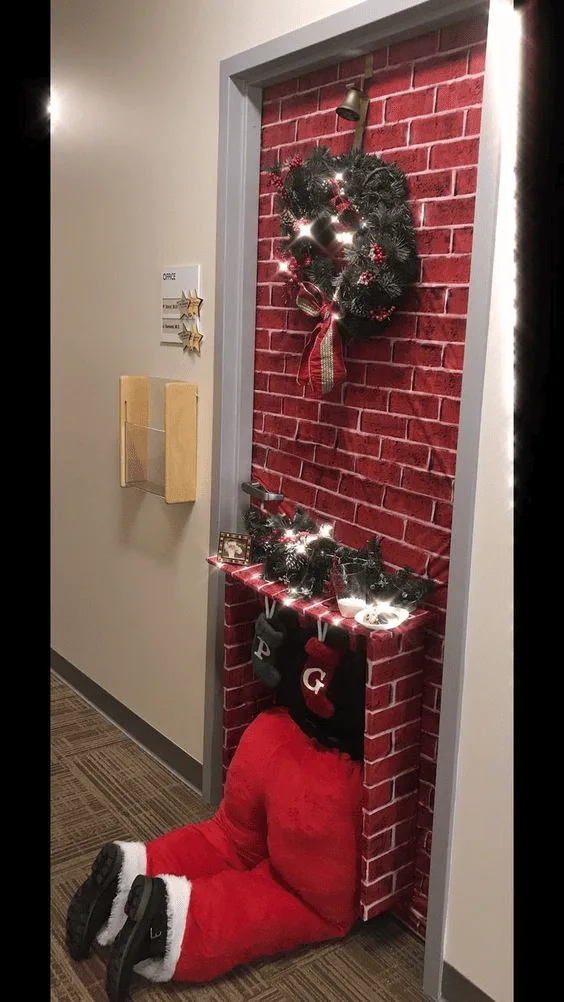 .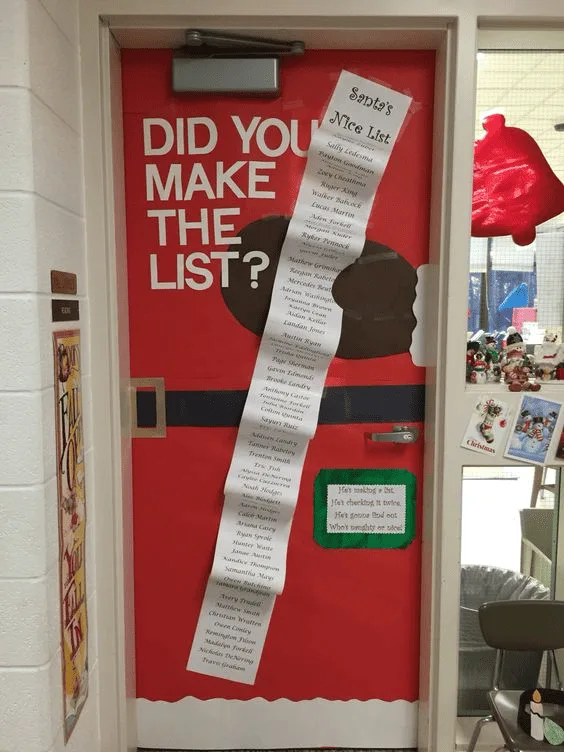 .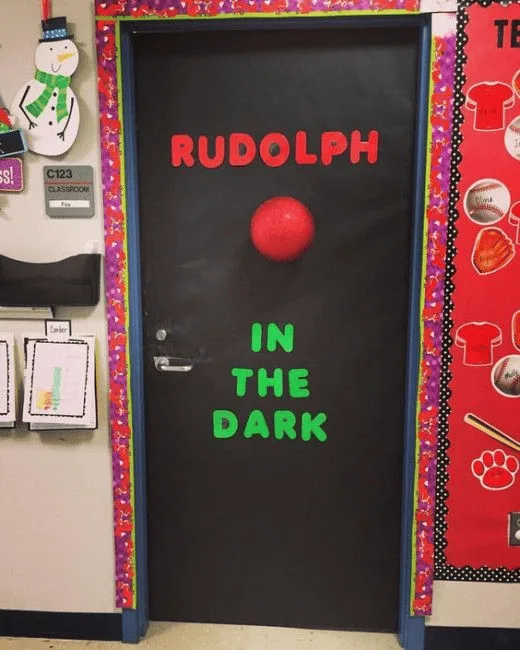 .
.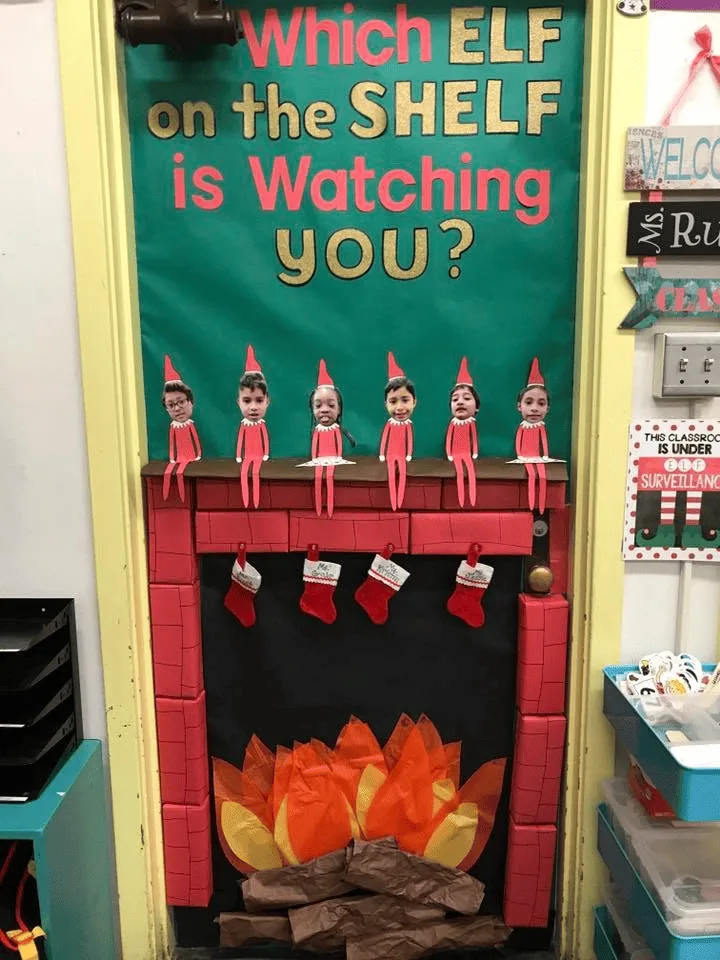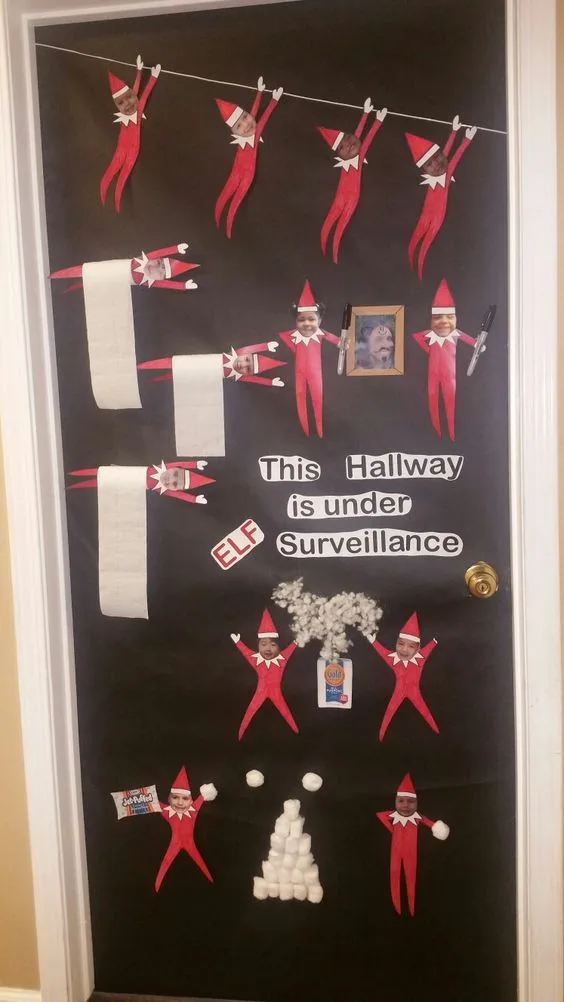 .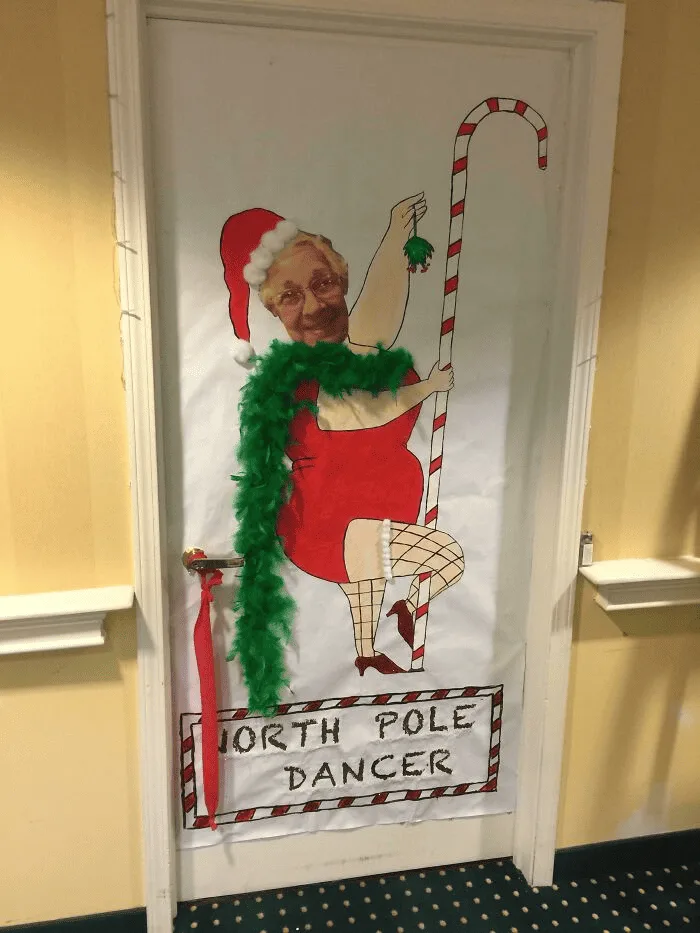 .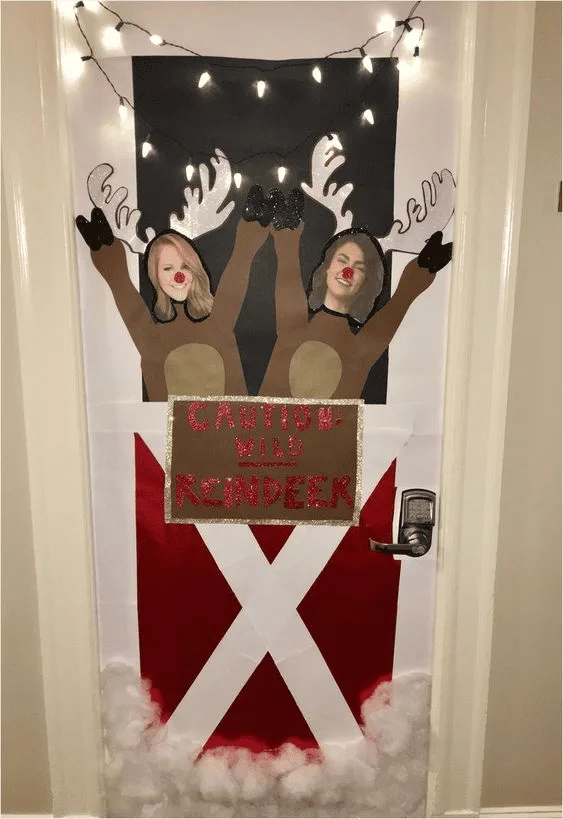 Take a sELFie
Get ready to show off your holiday spirit with a unique elf selfie Christmas door decoration. This fun and creative decoration is sure to put a smile on everyone's face.
With just a few simple supplies and a few minutes of your time, you can create a door decoration that will have all your colleagues talking for days!
Scroll down and look at the pictures for inspiration how to create your very own elf selfie Christmas door decoration. So, let's get started to make your holiday office the envy of your coworkers this year!
RELATED: Unleash the Magic: How a Christmas Door Bow Can Create an Enchanting Entrance
RELATED: DIY Elves advent calendar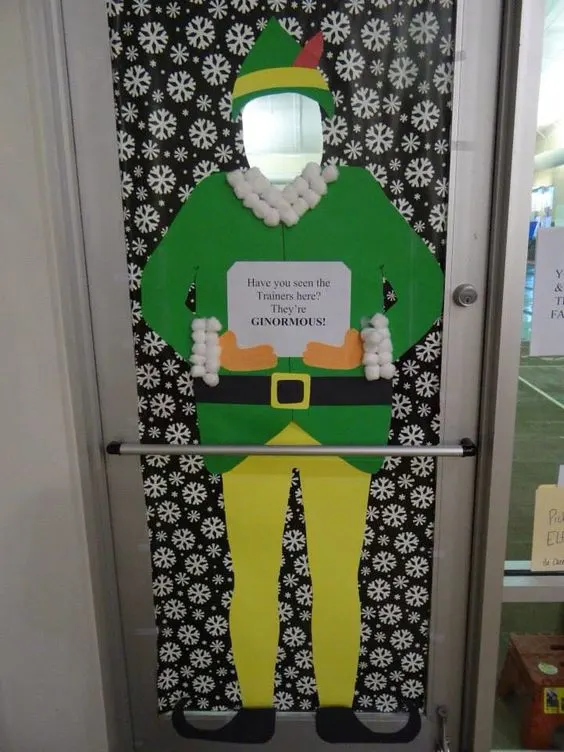 .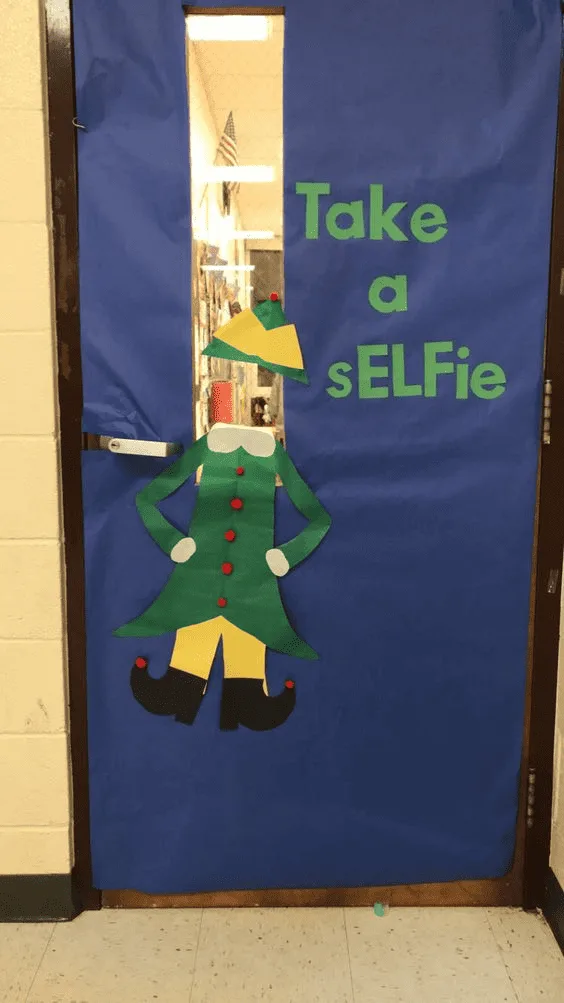 .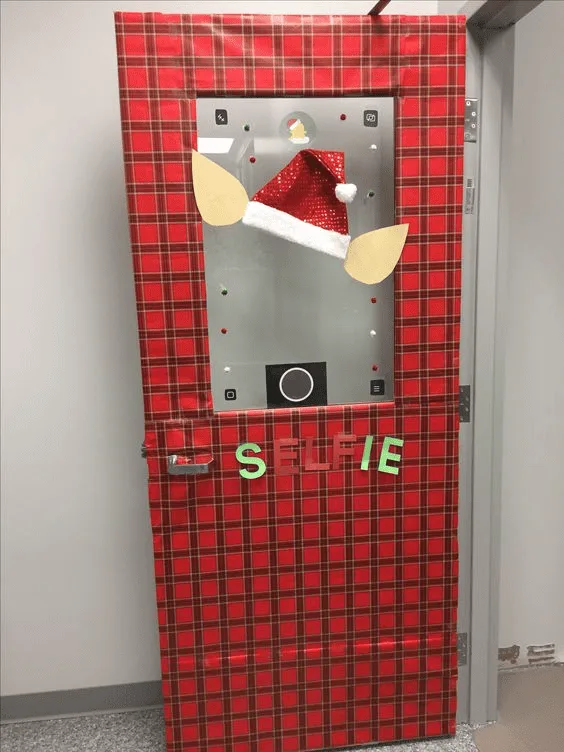 Grinch's Mischievous Lair
Now that you've been transported into the enchanting world of Santa, it's time to take your office door decorating game up a notch with the mischievous charm of the Grinch's Lair. These office funny Christmas door decorating contest ideas will have your colleagues laughing and marveling at the whimsical transformation of your door.
To create the Grinch's Mischievous Lair, start by covering your door with green wrapping paper or green fabric. This will set the stage for the infamous Grinch to make his appearance. Next, add some furry trim to mimic the Grinch's iconic fur and bring him to life. You can use green feather boas or, for a more textured look, attach green faux fur along the edges of the door.
No Grinch's Lair would be complete without a mischievous touch. Add some props that showcase the Grinch's attempts to steal Christmas. For instance, you can hang strings of stolen ornaments or attach cutouts of presents with the ribbon unraveling. Get creative with your props and think of ways to portray the Grinch's naughty antics.
To enhance the whimsical atmosphere, you can incorporate elements from the Grinch's cave, such as twinkling lights or fake snow. Hang string lights along the edges of the door and sprinkle faux snow on the floor in front of it. This will create a magical effect and add to the festive ambiance.
As your colleagues pass by, they will be greeted by the mischievous allure of the Grinch's Lair. The combination of the green door, furry trim, and playful props will surely bring smiles and laughter to their faces.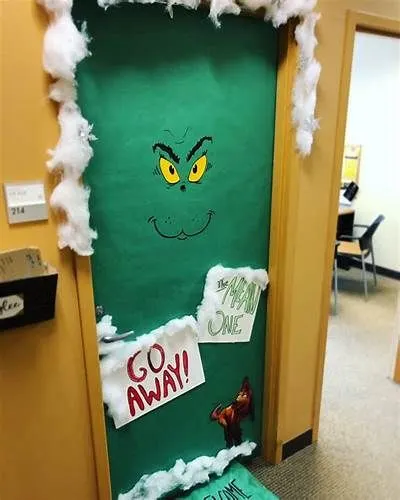 .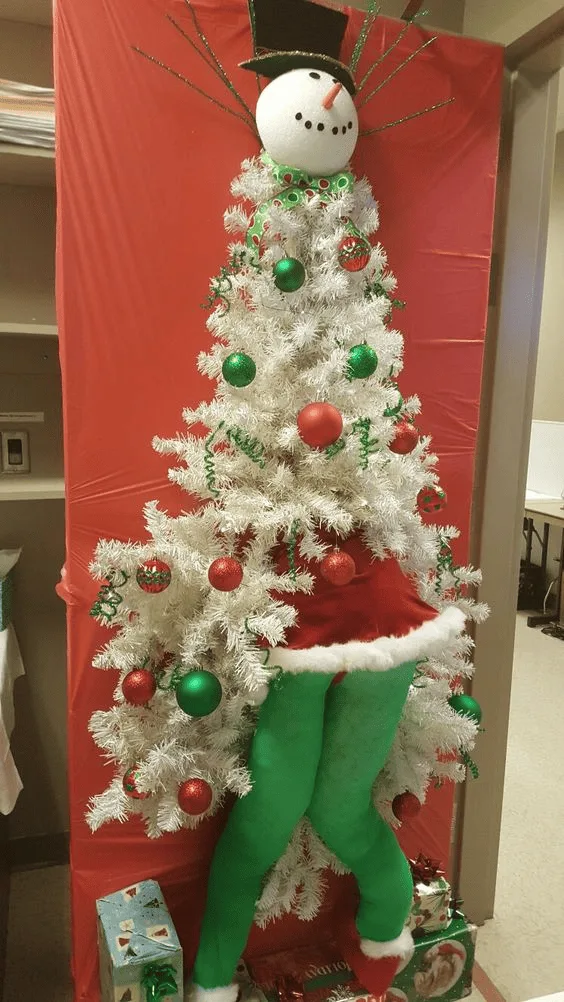 .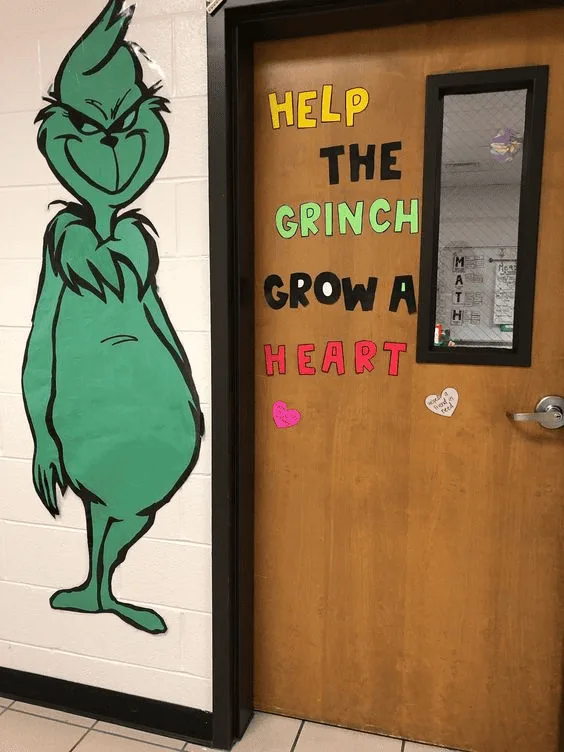 Meme Christmas door decorating
Adding a festive twist to your door decorations doesn't have to be difficult. Many individuals are turning to popular Christmas memes for inspiration.
Creating a meme-based Christmas decoration can be as simple as printing a copy of your favorite meme and adding it to your door with a festive border. This allows you to make a statement without spending too much or having to assemble a door decoration from scratch. Plus, it's a great way to bring some laughter and light to your home this Christmas season!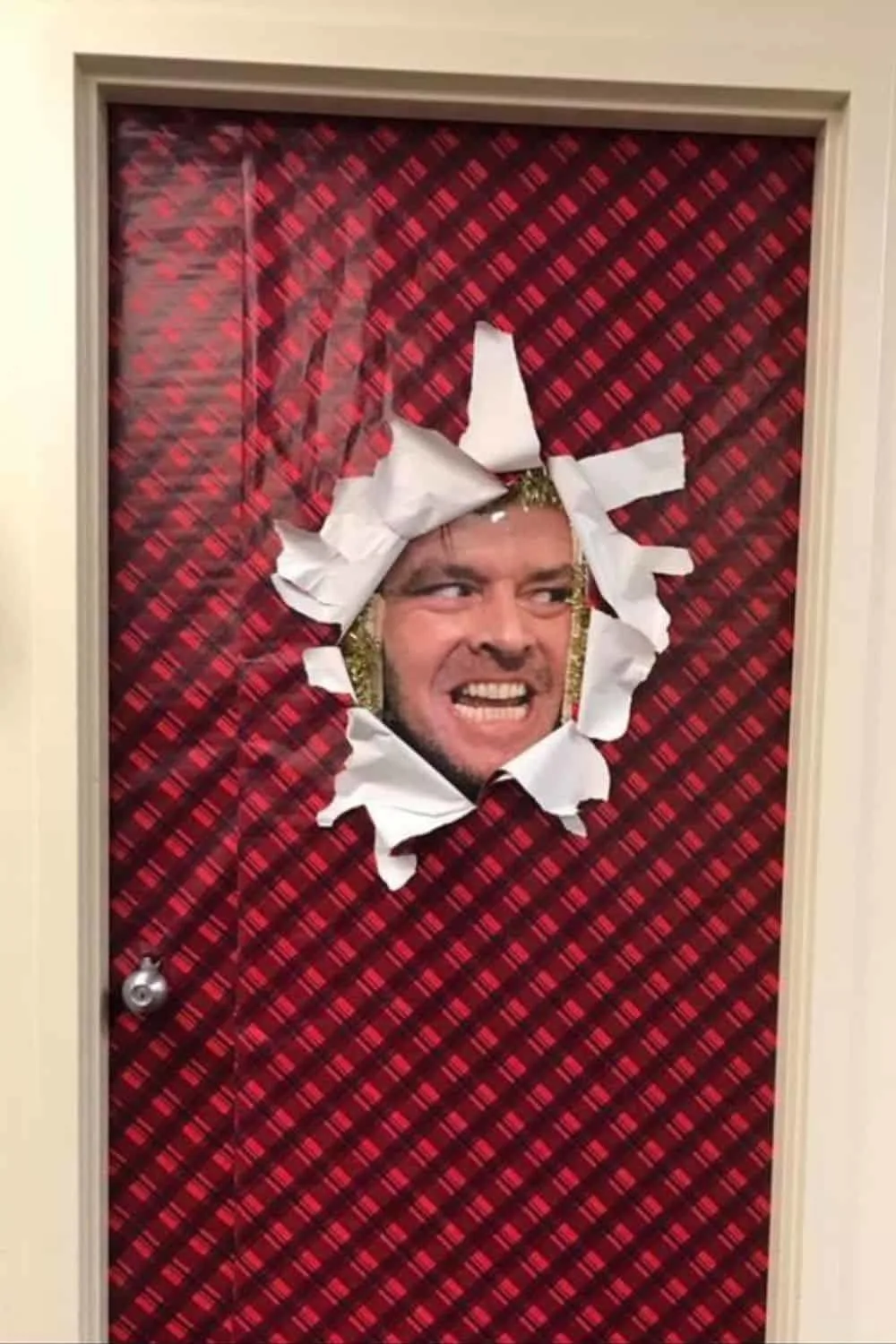 .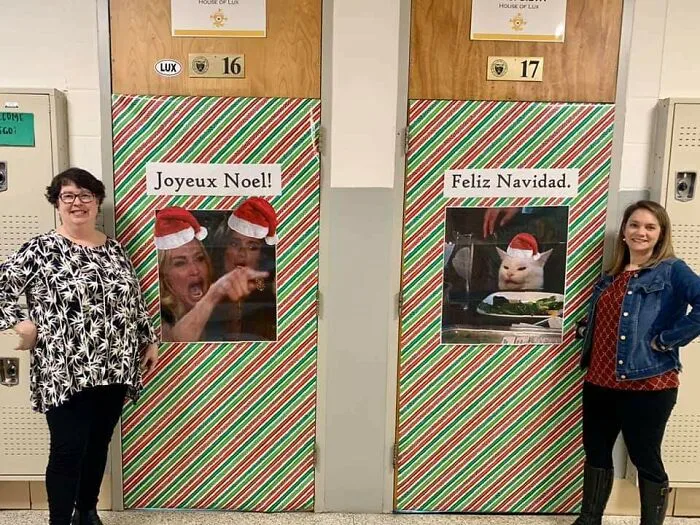 Candy Cane Lane
Next up is "Candy Cane Lane," a sugary-sweet adventure that promises to transport you to a world of peppermint dreams. Picture your office door transformed into a life-sized candy cane, complete with red and white stripes that wrap around the entire entrance. The illusion is so convincing that you'll feel as if you're stepping into a giant candy confection.
To bring this idea to life, start by covering your door with long strips of red and white crepe paper. Crisscross the strips to create the iconic candy cane stripes and secure them with clear tape. For an extra touch of festive charm, accentuate the door with oversized red and white bows, as if they were the decorative twists at each end of the candy cane.
Or you can also play it minimal, and just tape one candy on the door.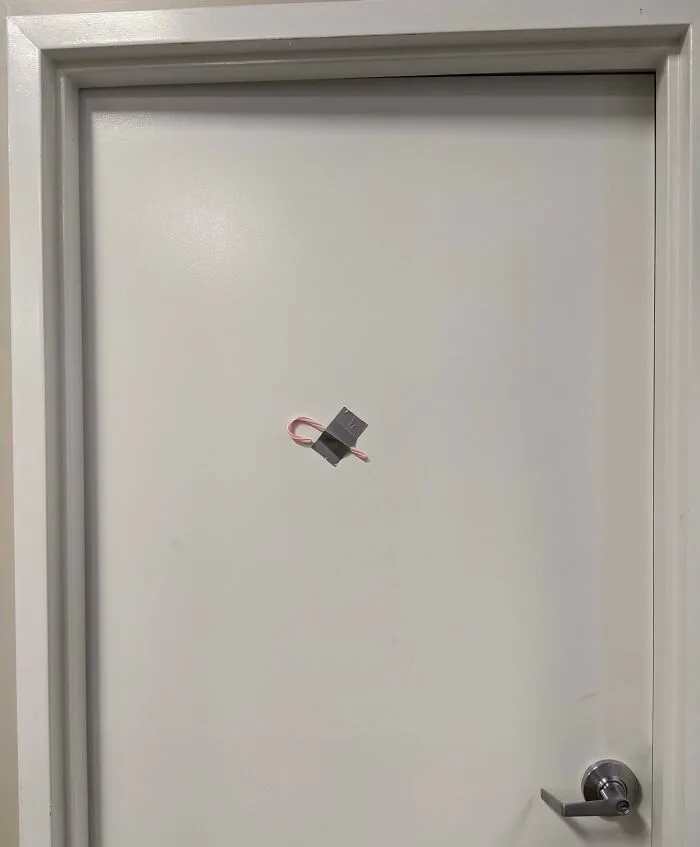 .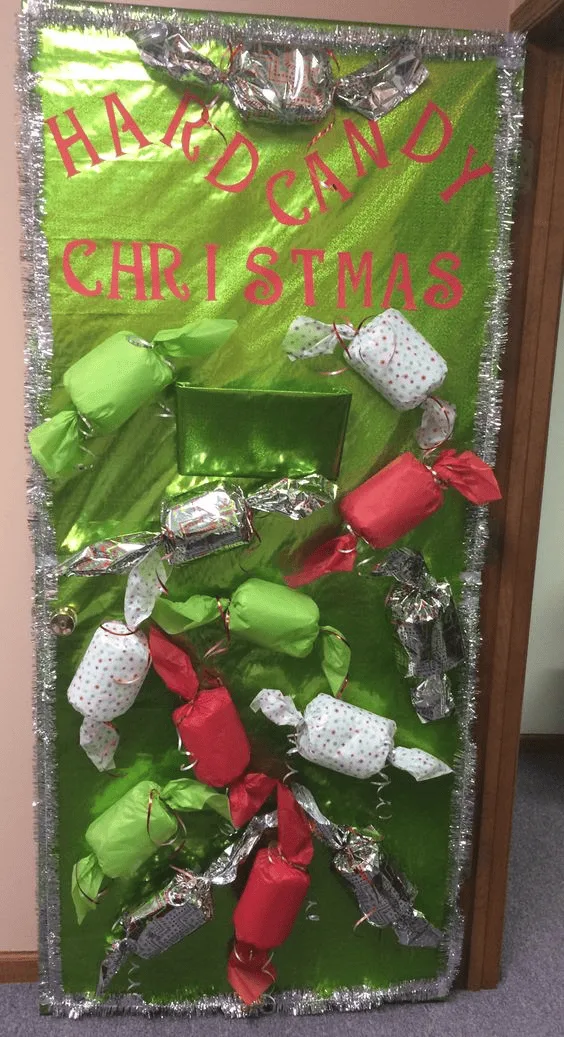 Use office supplies to decorate the door
If you run out of time, here goes a few last minutes door decorations ideas that you can make using the office supplies that are laying around.
Grab some post it notes to create a Christmas tree or a wreath. Or you can print a pic of some of your colleague and create a Home Alone door.
IT people can make a creative wreath with computer supplies.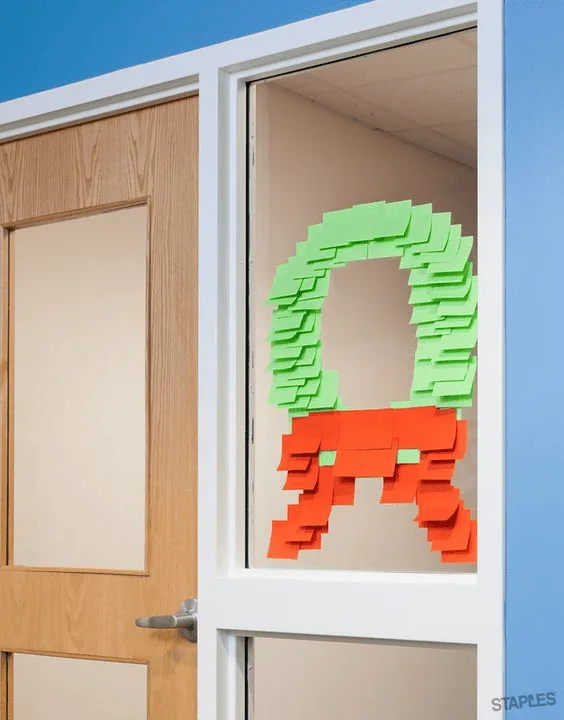 .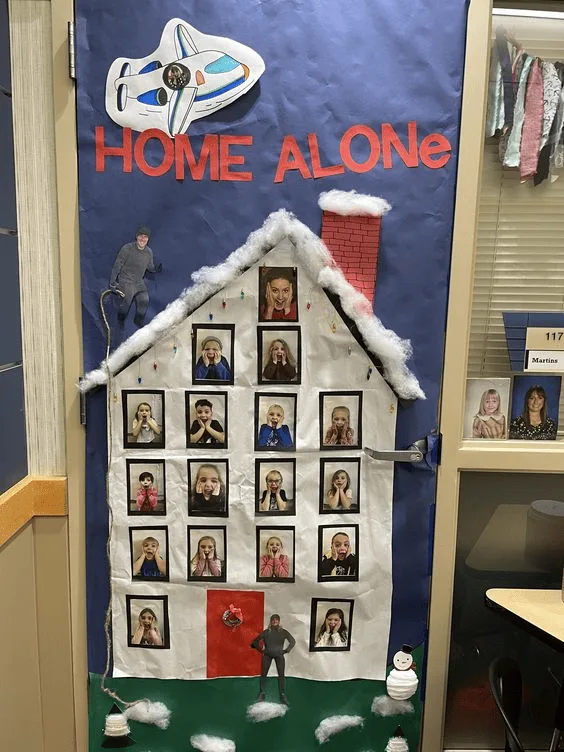 .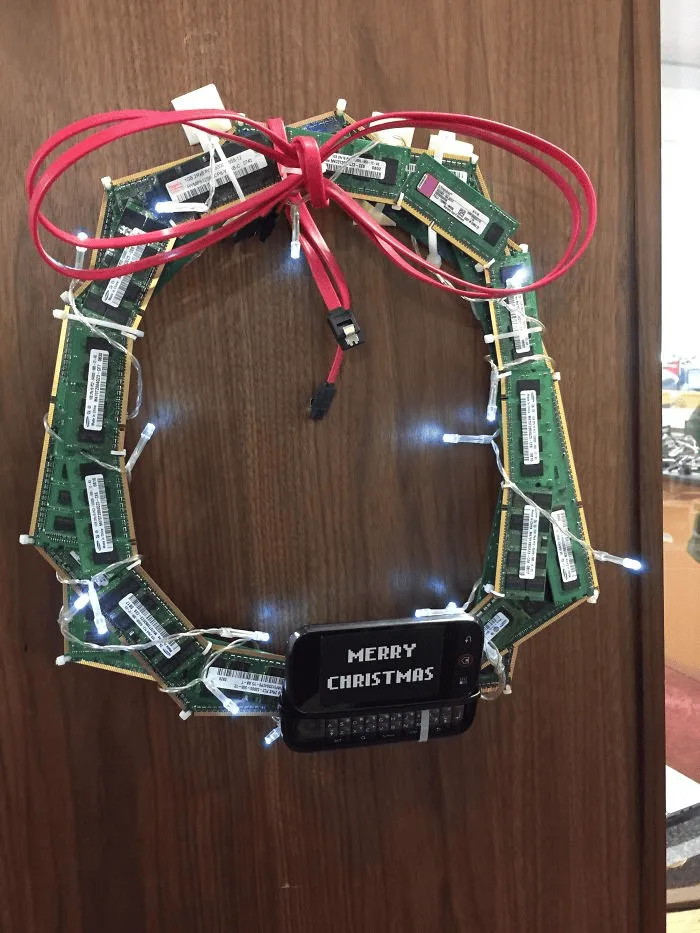 Set the rules for your office funny Christmas door decorating contest
To ensure the fairest outcome, and to make the contest as fun as possible for everyone involved, there are a few simple rules to follow.
Firstly, all participant must keep in mind that it is a fun competition, sense of humor, self-deprecation and a good dose of second degree is therefore required.
Secondly, participants must have all decorations applied and finished no later than the Wednesday before Christmas.
Finally, judges will decide the winner based on creativity, quality, and overall spirit. Winners will be announced at the Christmas party.
In conclusion, these 10 hilarious office Christmas door decorating contest ideas are your secret weapon to claiming the victory and spreading holiday cheer in your workplace.
From embracing the tacky charm of an Ugly Sweater Extravaganza to transforming your door into Santa's Workshop or the Grinch's Mischievous Lair, there's a theme for every taste and team spirit.
So, gather your supplies, let your creativity shine, and get ready to make a statement that will leave your colleagues in awe.
Remember, winning is about having fun and embracing the holiday spirit. Happy decorating, and may your office door become a beacon of joy and laughter this Christmas season!
RELATED: DIY office storage ideas
Want to remember it? Save these office funny Christmas door decorating contest ideas on your favorite Pinterest board.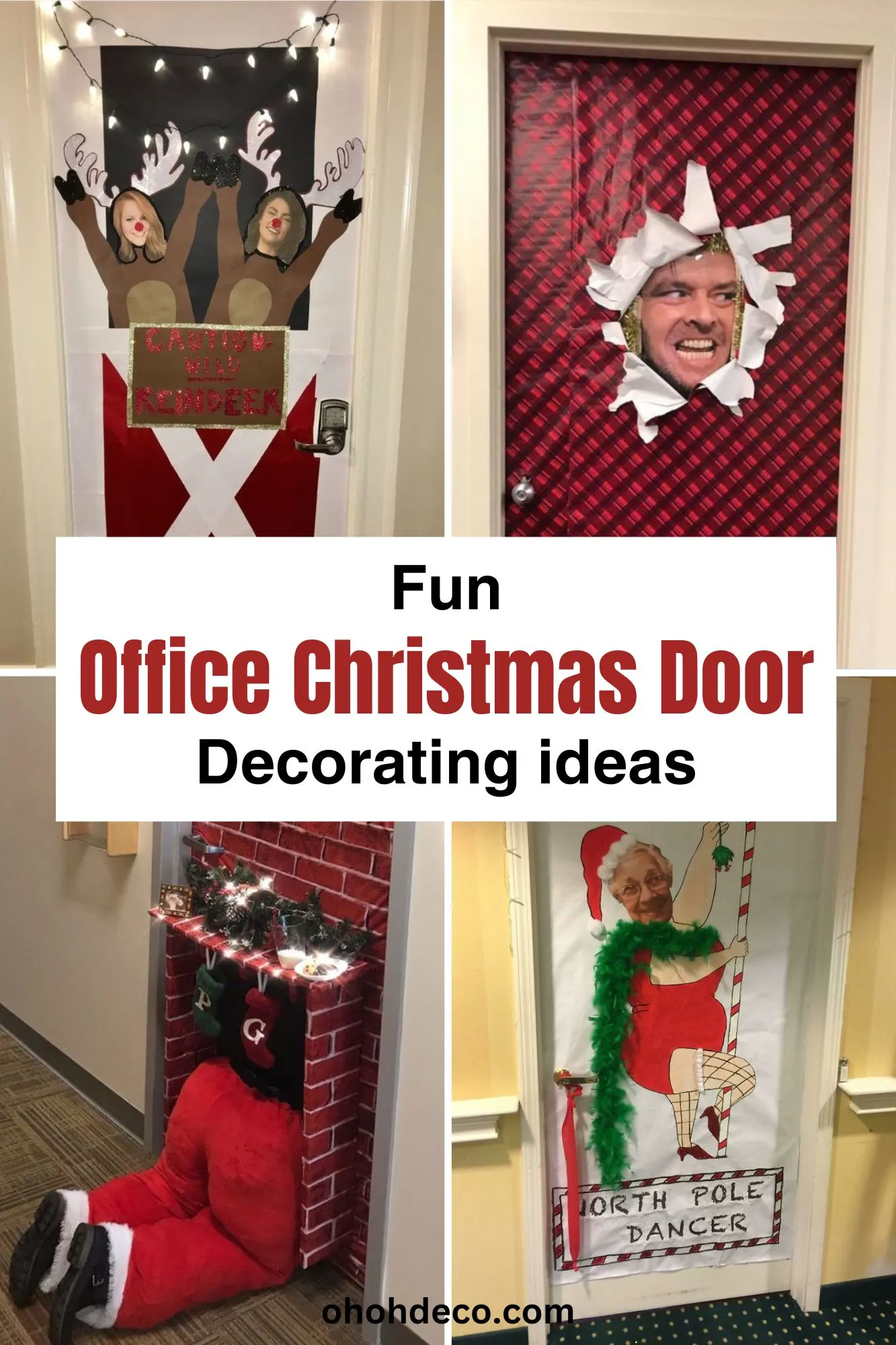 Amaryllis