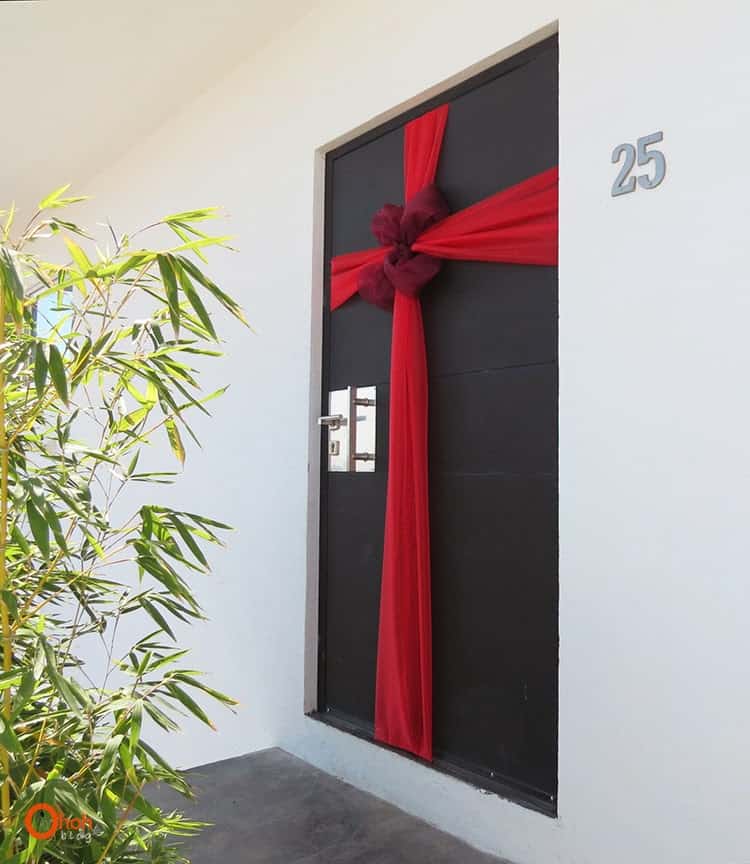 Christmas decor isn't complete without decorating the front door. Don't you agree? I hanged a wreath last year but it moved a little with the wind and scratched the door paint. Nothing serious but our door is metallic and painted with spray paint so it's more complicated to fix up the paint.
[ This post probably contains affiliates links, our full disclosure policy is really boring, but you can read it HERE ]
I wanted to find a nice idea of decoration for our door without damaging it. Making a bow and pack the door as a big gift is an easy Christmas door decoration. Plus it's budget-friendly and you can reuse the fabric year after years.
I also like that the door looks nice from outside and inside too. You will find all the details with a list of materials below. Don't forget to watch the video, I show you how I made the bow using two small pieces of fabric and twist ties.
RELATED: How to make Paper Christmas Angels
RELATED: Easy to make Felt Christmas Ornaments patterns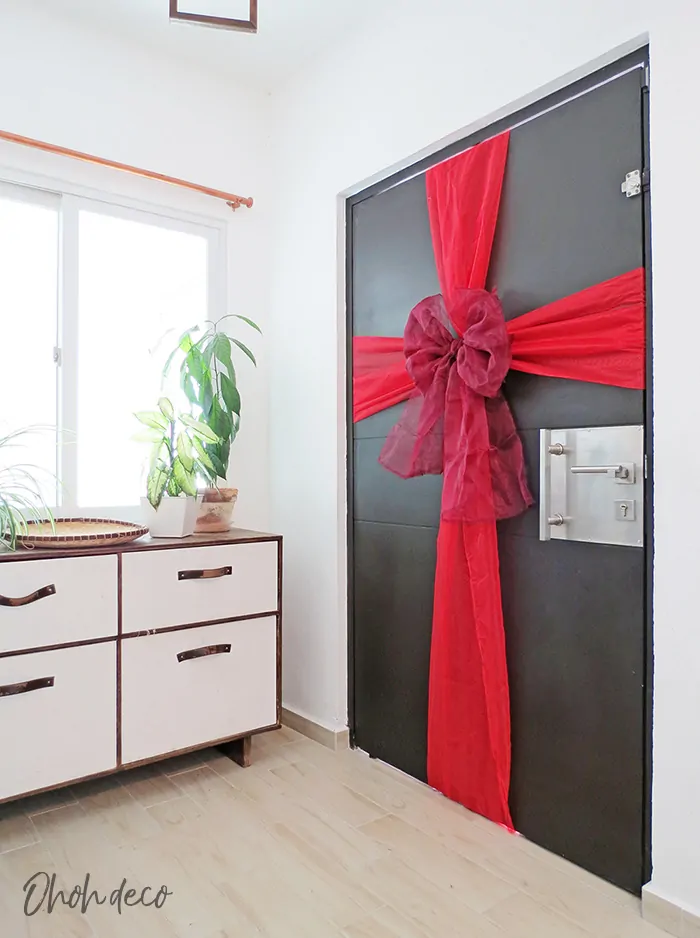 DIY Christmas Bow Door
Materials you will need to make your Christmas door decoration:
I used
organza fabric
, you can choose another one if you like. Keep in mind that the
fabric must be lightweight
and thin enough to be passed under the door and between hinges, if your fabric is too heavy you won't be able to close the door properly.
How much fabric do you need?
It depends on your front door dimensions of course. You need two pieces of fabric, one to wrap horizontally and a second to wrap vertically. I tell you how to take measurements:
Two times the width of your door + 1 yard to make the horizontal wrap.

Two times the high of your door + 1 yard to make the vertical wrap.
I cut the fabric in half lengthwise to have fabric strips 30 inches wide, so I ended up with some extra material. You can use it to make the bows.
If you prefer adding bows in another fabric color you will need 1 yard of fabric for each bow (so two yards if you decide to make a bow for the inside and another one for indoor). I also cut the fabric lengthwise to make the bows. I folded one part to make the bow itself and the other to make the bow tail.
Once the fabric is cut at the right dimensions, just wrap the door as a gift. To prevent the fabric to slip around, you can also use masking tape to hold it while making the knots. Once the knot is made it hold by itself, so you can remove the tape. I used some staples to hold the bows in place.
It took me less than 10 minutes to make this Christmas door decor and cost less than 8$!
* * *
Follow Ohoh deco on Youtube and be the first to find out about the new DIY.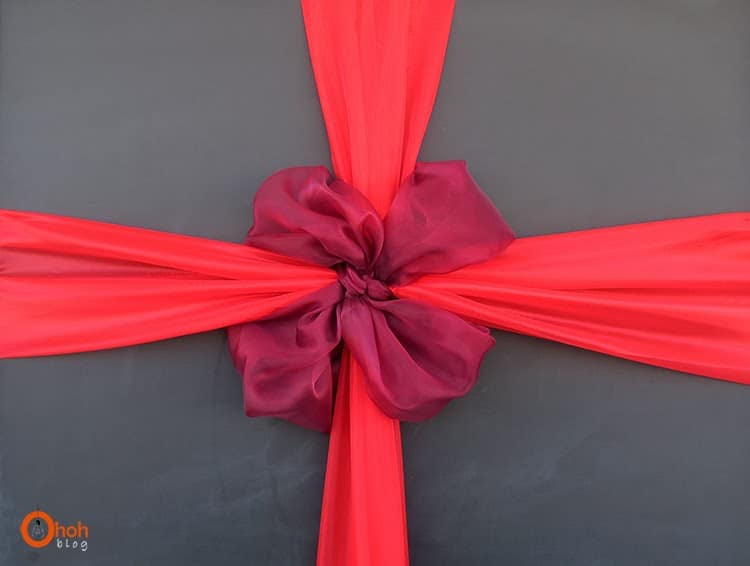 I love that it looks nice on both sides of the door. This Christmas craft works also if you want to decorate an indoor door, like a classroom or an office. I do prefer to use fabric as it's more durable and above all reusable years after years, but you can also make this bow door using crepe paper (for indoor use of course).
What do you think of this easy Christmas front door decoration? Which color would you like to use? Gold or silver will look very elegant, I will have to try it next year.
I love to see what you make, so don't hesitate to share your door creation in the comment, share them on social media using #ohohdecodiy or drop me an email at amaohoh(at)gmail(dot)com. Have fun crafting!
RELATED: 25 easy DIY Scandinavian Christmas Ornaments
RELATED: How to make a Christmas gingerbread village with cardboard

Want to remember this? Save this Christmas Bow Door in your favorite Pinterest board.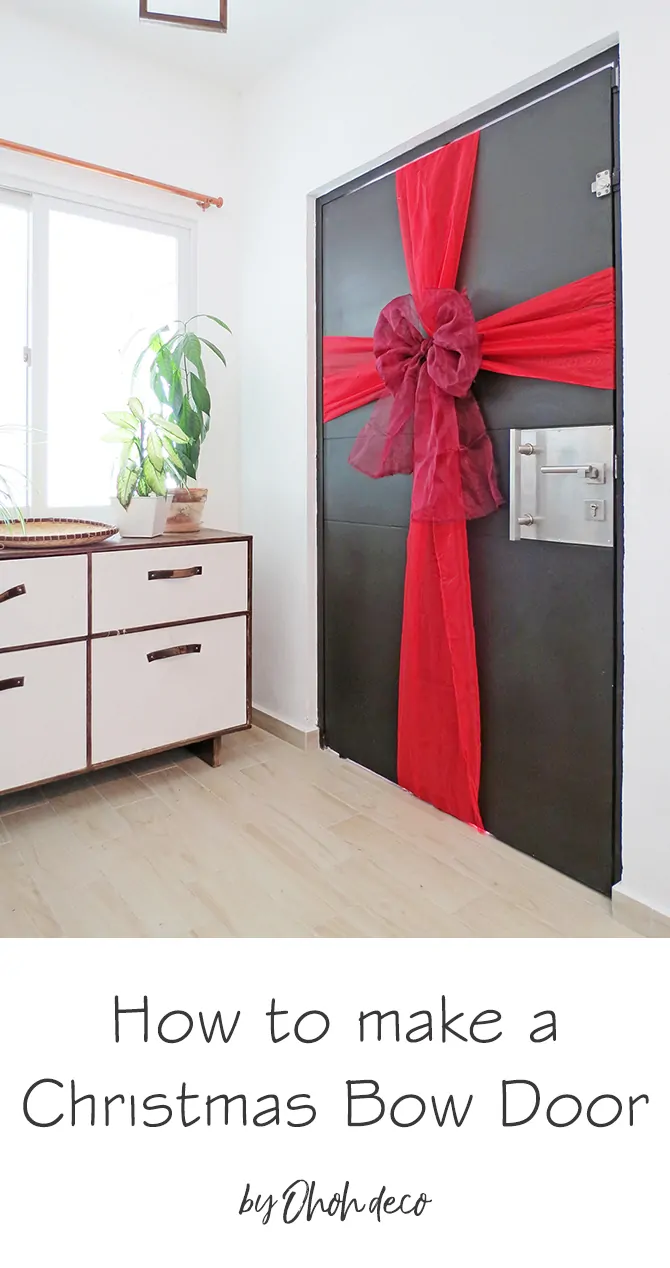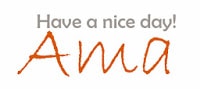 Amaryllis