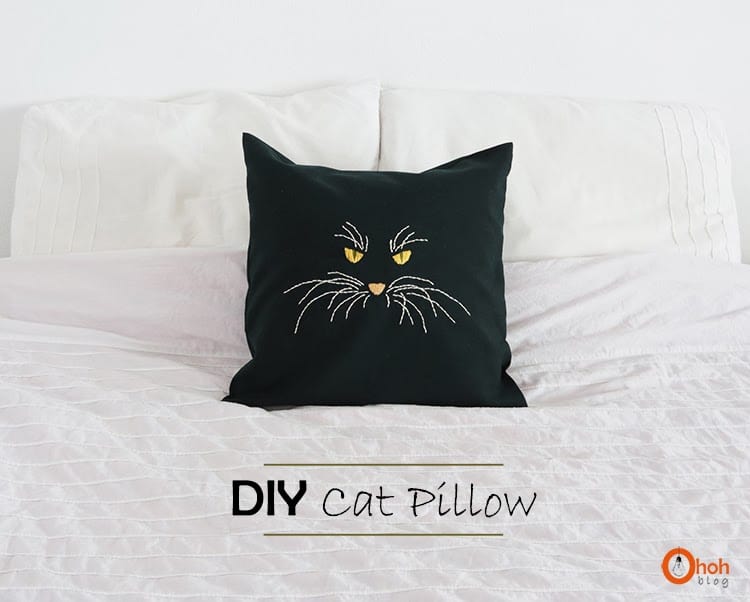 Who doesn't like throw pillows? I'm a big fan of cushions and I probably own too many already. But it doesn't stop me to make more, like this cute cat pillow.
[ This post probably contains affiliates links, our full disclosure policy is really boring, but you can read it HERE ]
Before you read further, I have to warn you that I've never done embroidery before and this cushion was my first try. I didn't think of sharing it on the blog at first but as the cat embroidery face turn out quite nice I figured you may enjoy it too.
The good news is that no embroidery skill is required and it's super easy to make. Ready to make your custom pillow?
RELATED: DIY Llama pillow
RELATED: How to sew a pillow cover with an invisible zipper
* * *
¿A quién no le gustan los cojines? Soy una gran fanatica de los cojines y probablemente ya tengo demasiados. Pero siggo haciendo más, como esta linda almohada de gato.
Antes de seguir leyendo, debo advertirte que nunca antes había hecho bordados y que este cojín fue mi primer intento. Al principio, no pensé en compartirlo en el blog, pero como la cara bordada del gatito salio bastante linda, pensé que te interesaria.
La buena noticia es que no se requiere habilidad de bordado y que es muy fácil de hacer. ¿Lista para hacer tu almohada personalizada?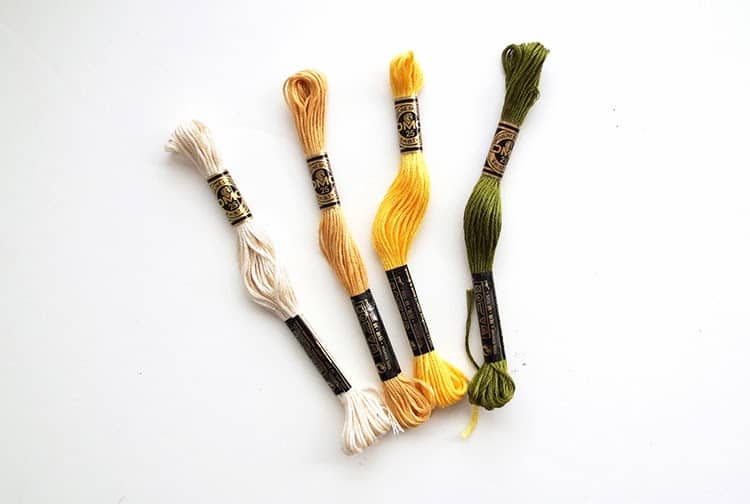 How to make a decorative embroidered Cat Pillow
Supplies you will need to make your cat pillow:
The free template to make this hand-embroidered pillow is available in my resource library along with a bunch of other great prints and patterns. All you need to do is fill out the form and check your inbox for a welcome email with the password in. Click here to get in >>>> FREE LIBRARY ACCESS
* * *
Materiales que vas a necesitar para hacer tu cojin:
La plantilla está disponible en mi biblioteca de recursos GRATUITOS junto con un montón de otras impresiones y patrones geniales. Todo lo que necesitas hacer es completar el formulario y revisar tu correo donde recibiras un email de bienvenida con la contraseña. Haz clic aquí para ingresar >>>> ACCESO GRATUITO A LA BIBLIOTECA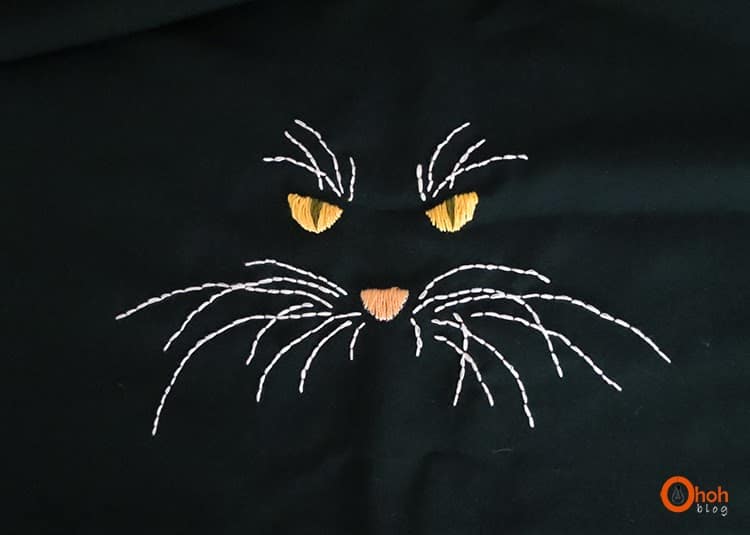 You first need to print the cat face pattern. I pinned the sheet on the cushion and stitches though both…but that wasn't the best option. The paper break in tiny pieces hard to remove and the last stitches was a pain to make as a large part of the template was falling apart.
So instead of messing around as I did, report the cat design on the fabric. Apply white chalk on the back of the sheet, place the pattern on the fabric, drawing facing up, and pass over the lines with a pencil.
The chalk will leave marks on the black fabric and the cat face will be transferred.
If you decide to work with a light color fabric, just use a darker color of chalk or you can also blacken the back of the paper with a pencil.
Once the cat face design is on your pillowcase, place the embroidery hoop and start stitching. It's a very simple hand embroidery design, I used back stitches to make the cat face.
I choose a cream color for the cat's whiskers and eyebrow. A beige shade to make the nose, Yellow and green for the eyes. It takes me around one hour to stitch the cat.
Would you like to make some other simple embroidery project? It seems that you can grab a load of awesome and
easy ideas in this book
.
* * *
* * *
Primero debes imprimir el patrón de la cara de gato. Puse la hoja sobre la funda el cojín y hice las puntadas a traves ambas … pero esa no era la mejor opción. El papel se rompió en pequeños trozos difíciles de quitar y las últimas puntadas fueron difíciles de hacer, ya que una gran parte de la plantilla se estaba desmoronando.
Entonces, en lugar de perder el tiempo como lo hice, puedes pasar el diseño del gato sobre la tela. Aplique tiza blanca en el reverso de la plantilla, coloques el patrón sobre la funda, el dibujo hacia arriba, y pases las líneas con un lápiz. La tiza dejará marcas sobre la tela negra y se transferirá la cara del gato.
Si decide trabajar con una tela de color clara, simplemente use un color de tiza más oscuro o también puede ennegrecer la parte posterior del papel con un lápiz.
Una vez que el diseño de la cara del gato esté dibujado sobre tu funda de almohada, coloques el bastidor de bordado y comiences a coser. Es un diseño de bordado a mano muy simple.
Usé color crema para los bigotes y las cejas del gato. Un tono beige para hacer la nariz, amarillo y verde para los ojos. Me llevo alrededor de una hora coser al figurita del gato.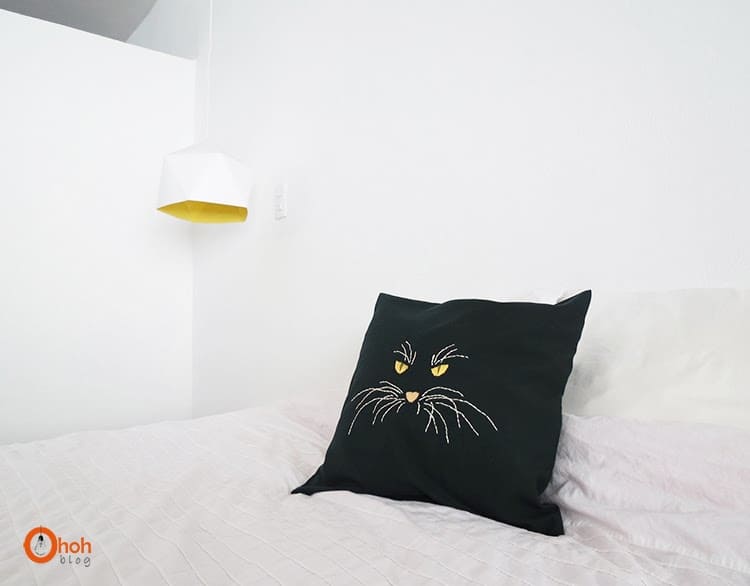 It works pretty well as Halloween decor, don't you think? If I will keep it on the couch even after November.
If you are a cat lover you can make this cat throw pillows in other colors! Remember to choose contrasting embroidery thread for an optimal result. Tell me, What color would you like to make yours? Brown, beige, grey…which is your favorite?
As I said, in the beginning, I love to make pillows, so you may like to have a look at these other tutorials:
RELATED: How to sew a circular floor pillow
RELATED: Origami cushion cover
* * *
Me encanta como decoración de Halloween, ¿Que opinas? Creo que lo voy a dejar en el sofa después de noviembre.
¡Si eres una amante de los gatos, puedes hacer que esta almohada de gatito en otros colores! Recuerdes elegir hilo de bordar que contraste con la tela para obtener un resultado óptimo. Dime, ¿de qué color te gustaría hacer el tuyo? Marrón, beige, gris … ¿Cuál es tu color favorito?
Como dije al principio, me encanta hacer cojines, por lo que te pueden interesar tambien los tutoriales enlistados aqui arriba.

Want to remember this? Save this Embroidery Cat Pillow in your favorite Pinterest board.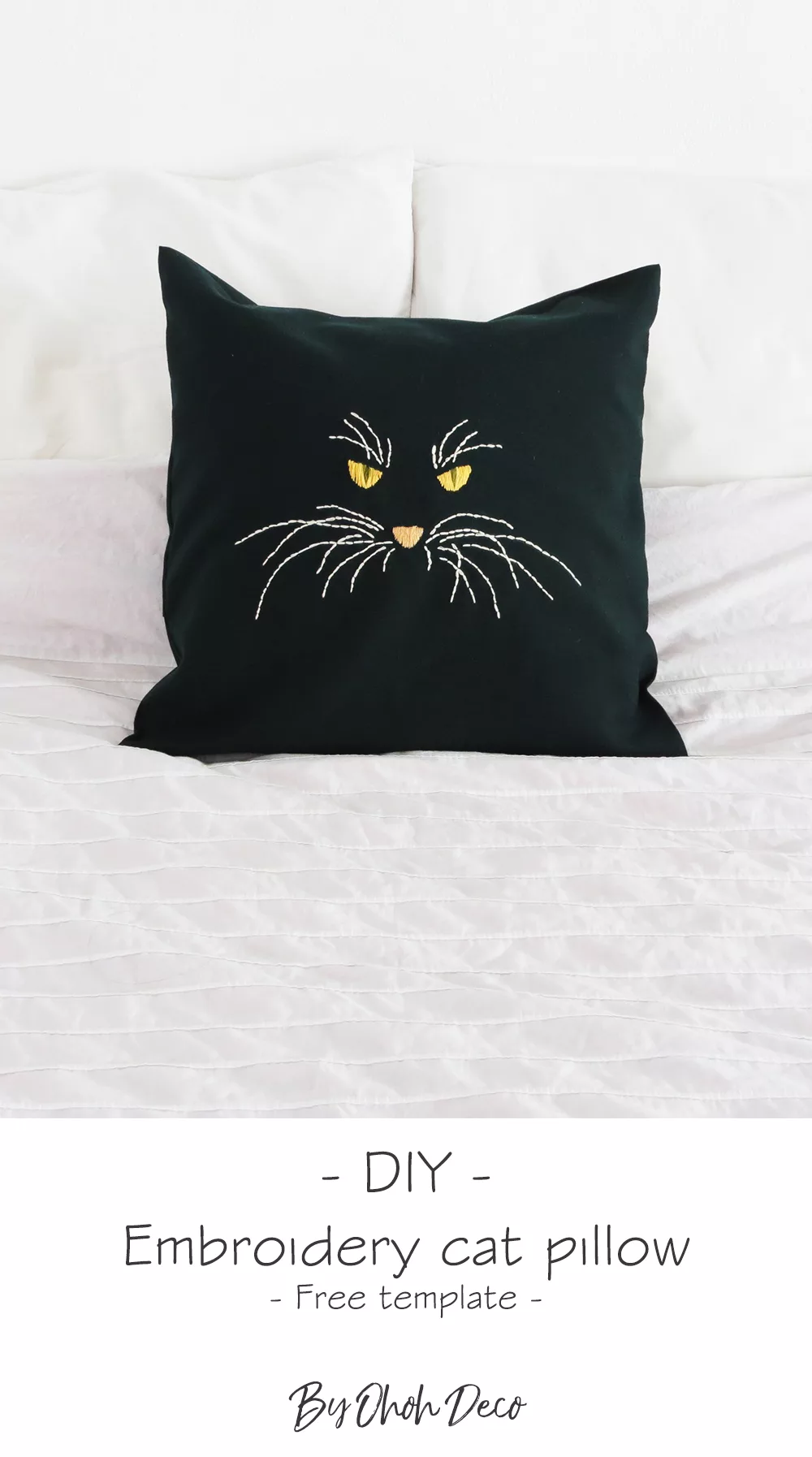 Did you see how cute is the pillow Mimzy made? You can have a look at her blog too: Mimzy and Company.
Don't hesitate to share your creations in comments or drop me an email at amaohoh(at)gmail(dot)com, I love to see what you craft 😉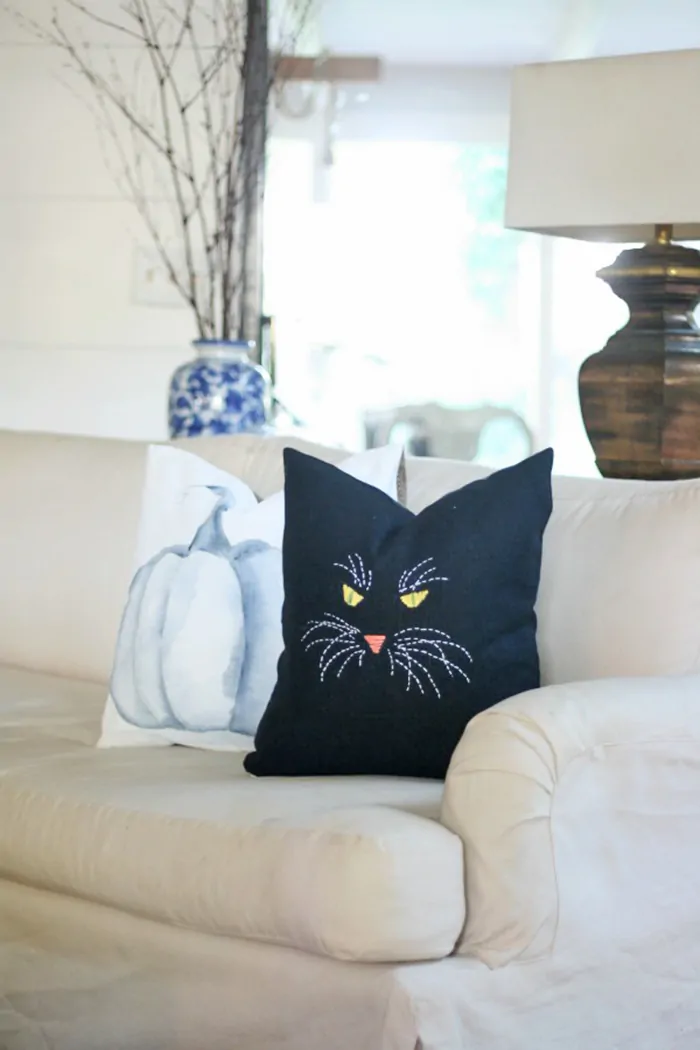 Looking for more sewing ideas?
You will find all the tutorials featured in this video on my Best off-page.
You will find the template to make your Embroidery cat pillow into my library. It's FREE and open to anyone. All you need is the password to get in. Just fill out the form below and check your inbox for a welcome email with the password in.
Amaryllis