Useful everyday but often ordinary, add some poetry to your kitchen with some cute cloud shaped pot holders.
I show you how to sew this simple free pattern in no time. It's a perfect project for beginners.
[ This post probably contains affiliate links, our full disclosure policy is really boring, but you can read it HERE ]
The real story behind this sewing project is that I bought some new kitchen towels but it turns out that they don't dry very well.
I had hoped that after a few washes it gets better but no. A dish towel that doesn't dry well is something really annoying…so I turned them into pot holders! Aren't these cloud-shaped pot holders cute?
The pattern is available in my library, which you need to be a subscriber to get access to. Don't worry it's free (and always will be) you just need to provide your email and you will receive your password to login to the library and download the pot holder pattern and a load of other cool free patterns and templates.
RELATED: Succulent pillow pattern
RELATED: Christmas tree skirt pattern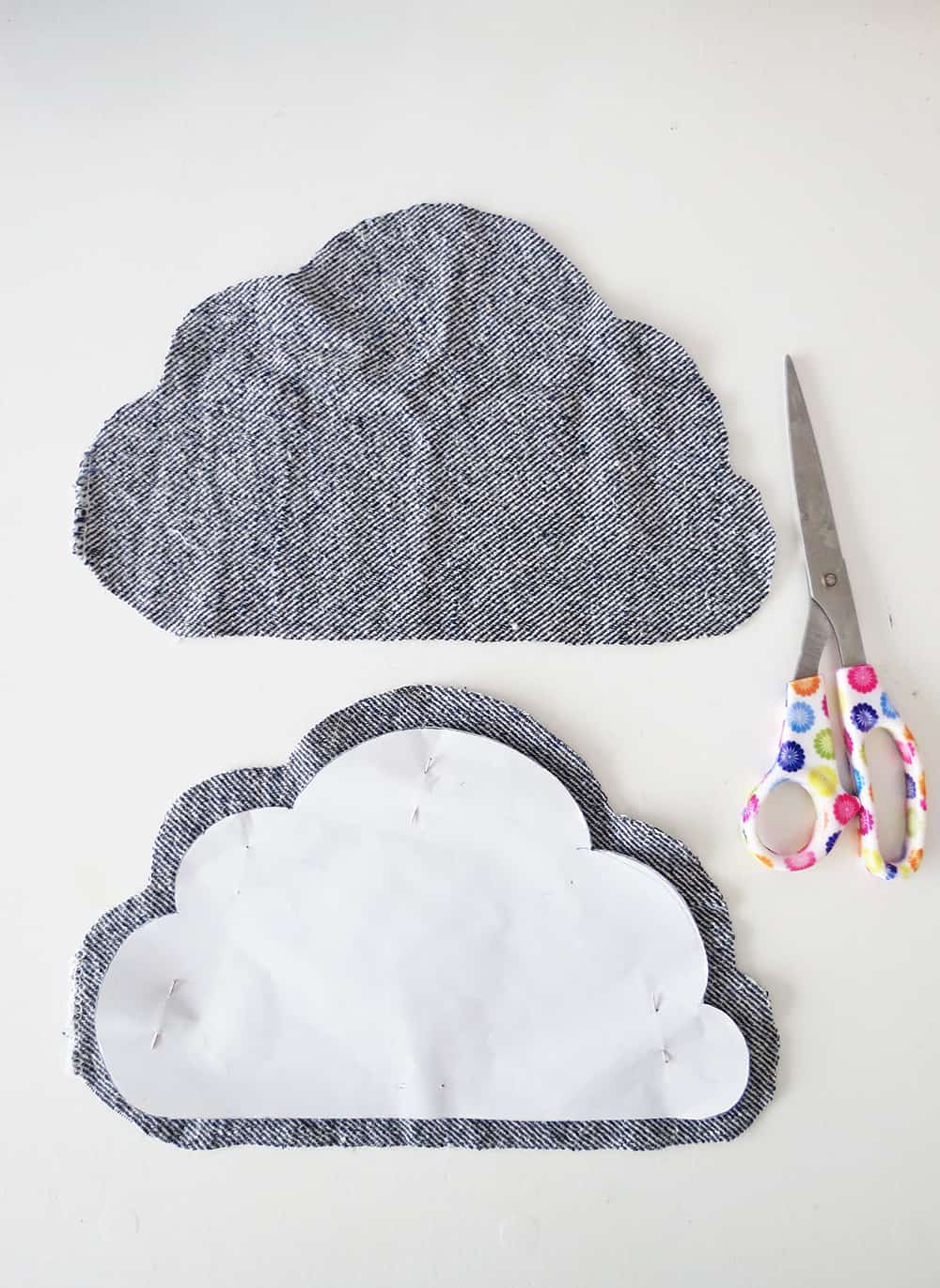 What material do you use to make pot holders?
Before starting the sewing tutorial I wanted to give you some tips on the best fabrics and batting to choose for sewing pot holders.
Make sure the fabric you choose it´s 100% cotton (no synthetic fibers that can melt). Other plant-based fibers such as linen or hemp will also work but they are more expensive. Don´t hesitate to dive into your fabric stash you will probably find some cotton scraps that will work great for this project.
The best batting for potholders is thermal batting, because it´s heat resistant. Quilt batting will also work. True is, you can use a wide variety of materials, such as old flannel sheet, terry cloth towel, denim, drop cloths, or old dish rags . Just avoid using any lightweight fabrics.
How to sew a pot holder
Supplies you need to make pot holders:
RELATED: The easy dress sewing tutorial
RELATED: 50 DIY pillows to jazz up your decor
Start by printing the pattern and cutting out the cloud shape.
Place the cloud on the fabric and report the shape two times. Don't forget that your cloud shapes must be inverted, like in a mirror.
Once you draw your first cloud, flip the pattern over to draw the second cloud shape.
Cut the fabric following the cloud shapes leaving a sewing allowance of 1/2 inch all around the shape.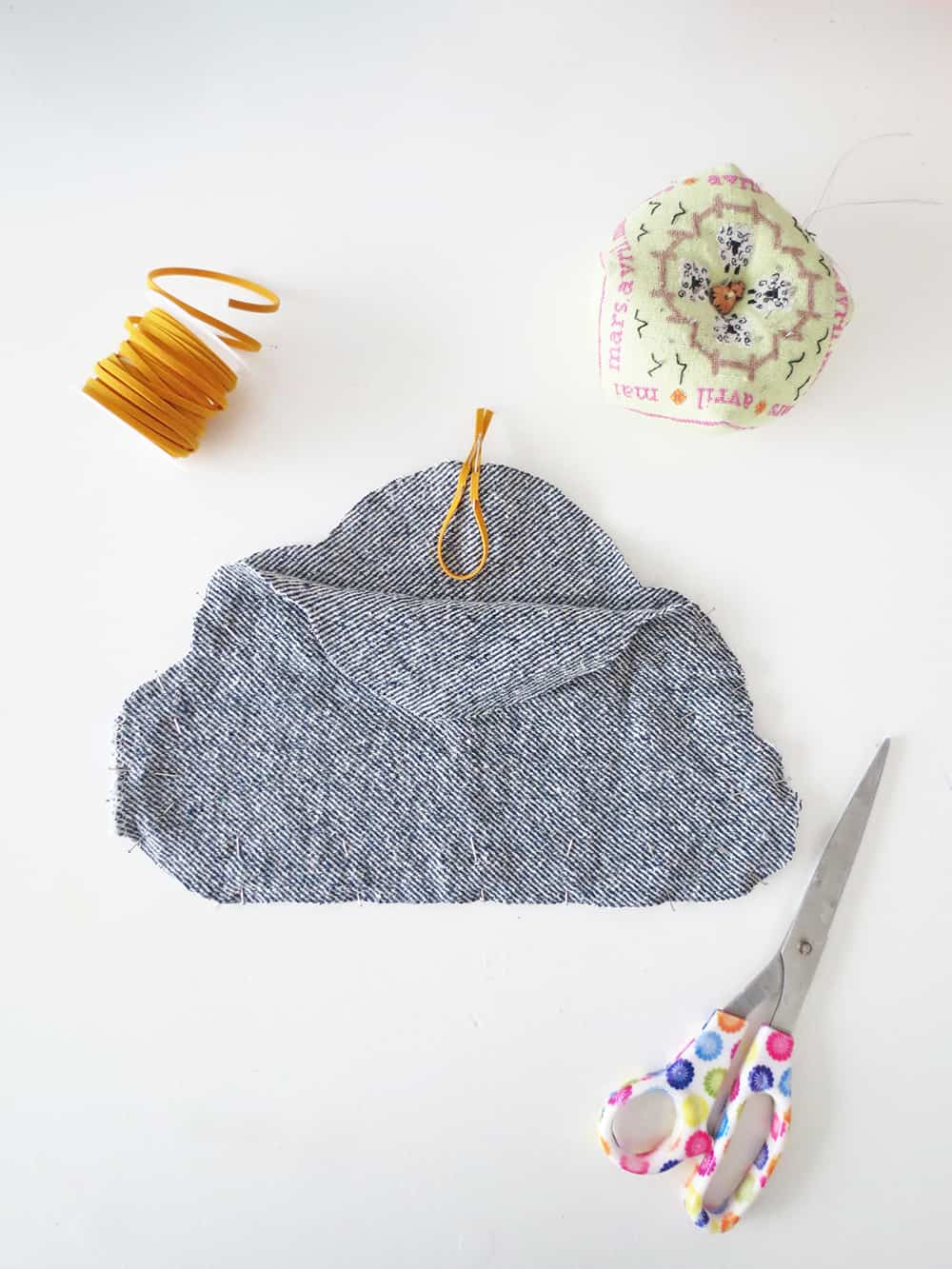 Place the two pieces on top of each other, wrong side out.
Cut a piece of leather cord of 5 inches and fold it in half. Place it on top of the cloud between the two fabric, the loop turned inside. Pin the cord and the fabric all around.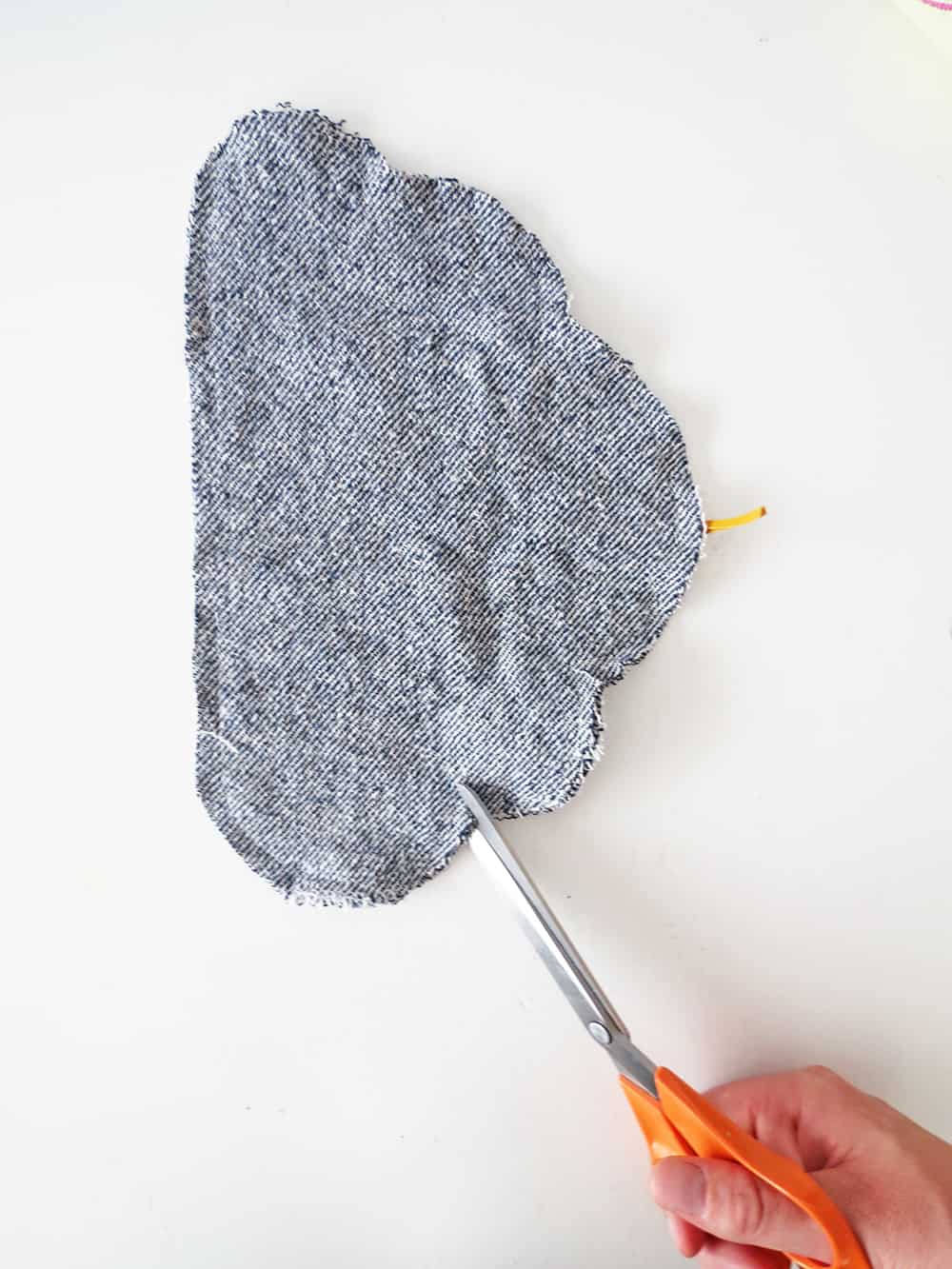 Sew all around leaving an unsewn gap of a few inches in the straight bottom of the cloud.
Using your scissors, make little notches all around the cloud so the shape will show up nicely once you turn it over. Be careful not to cut through the seam.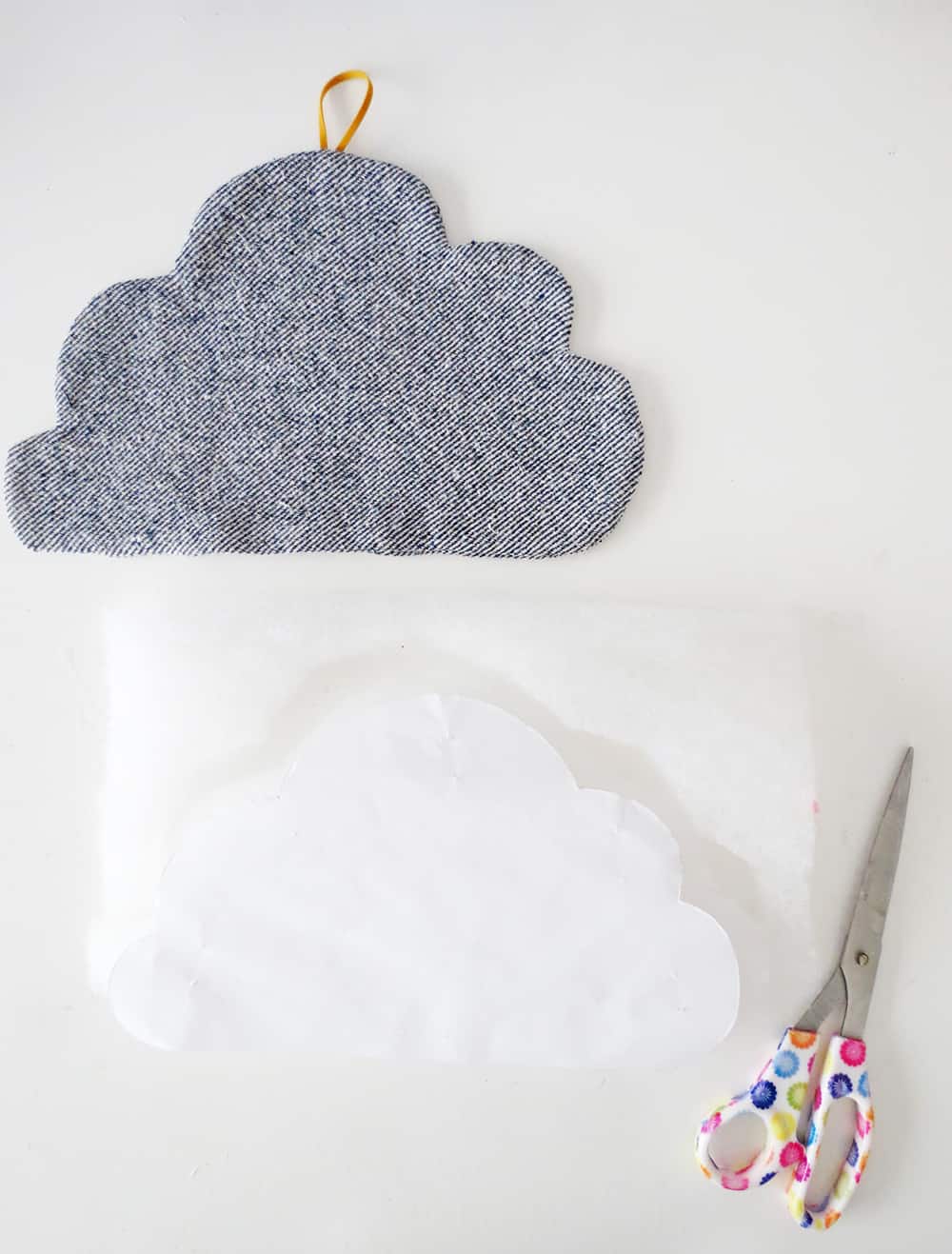 Turn the cloud right side out and iron. Take again the cloud pattern and place it on the thermal batting, report the shape and cut out.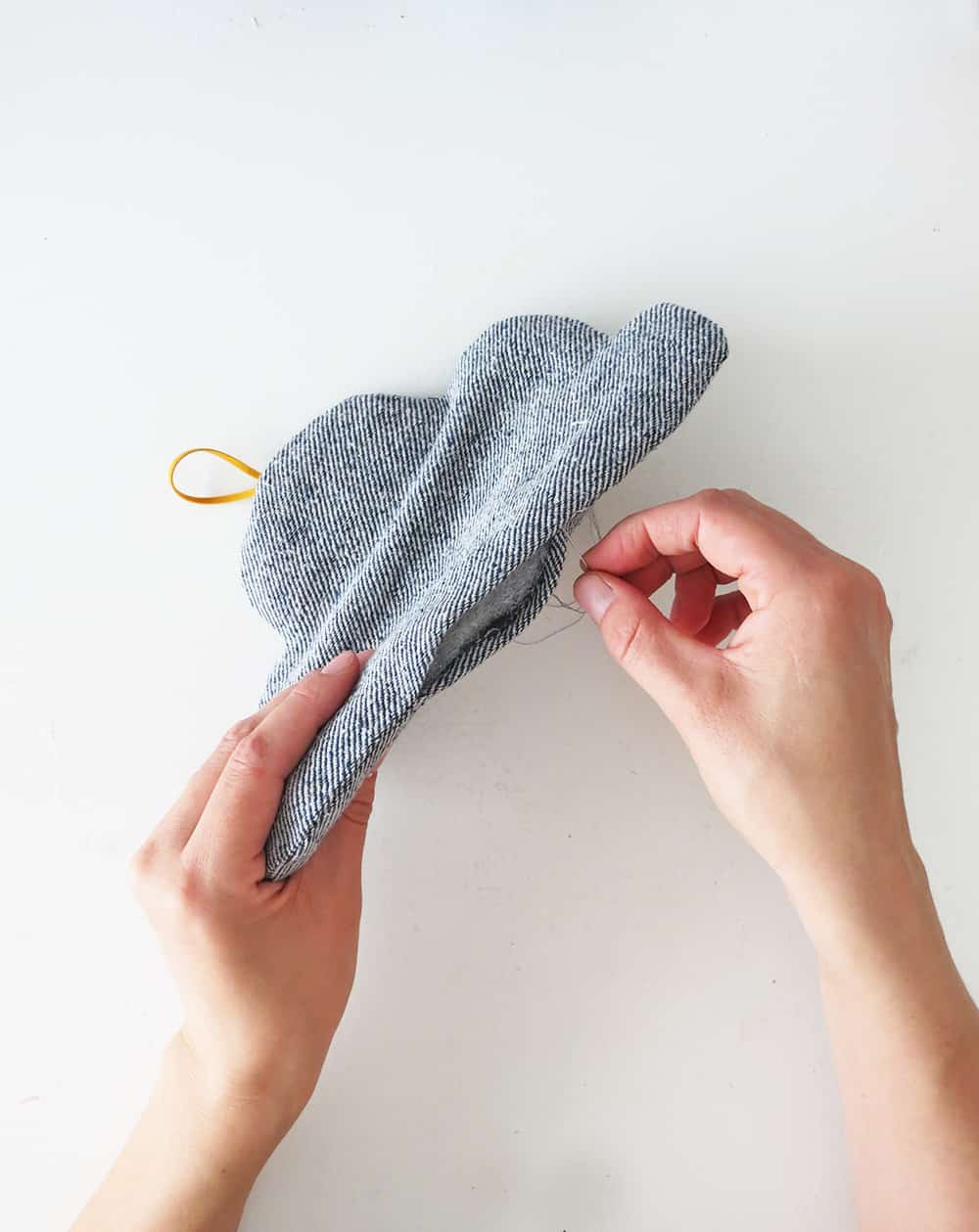 Put the batting inside the cloud and flatten it. Pin the cloud opening and close it with a few invisible hand stitches.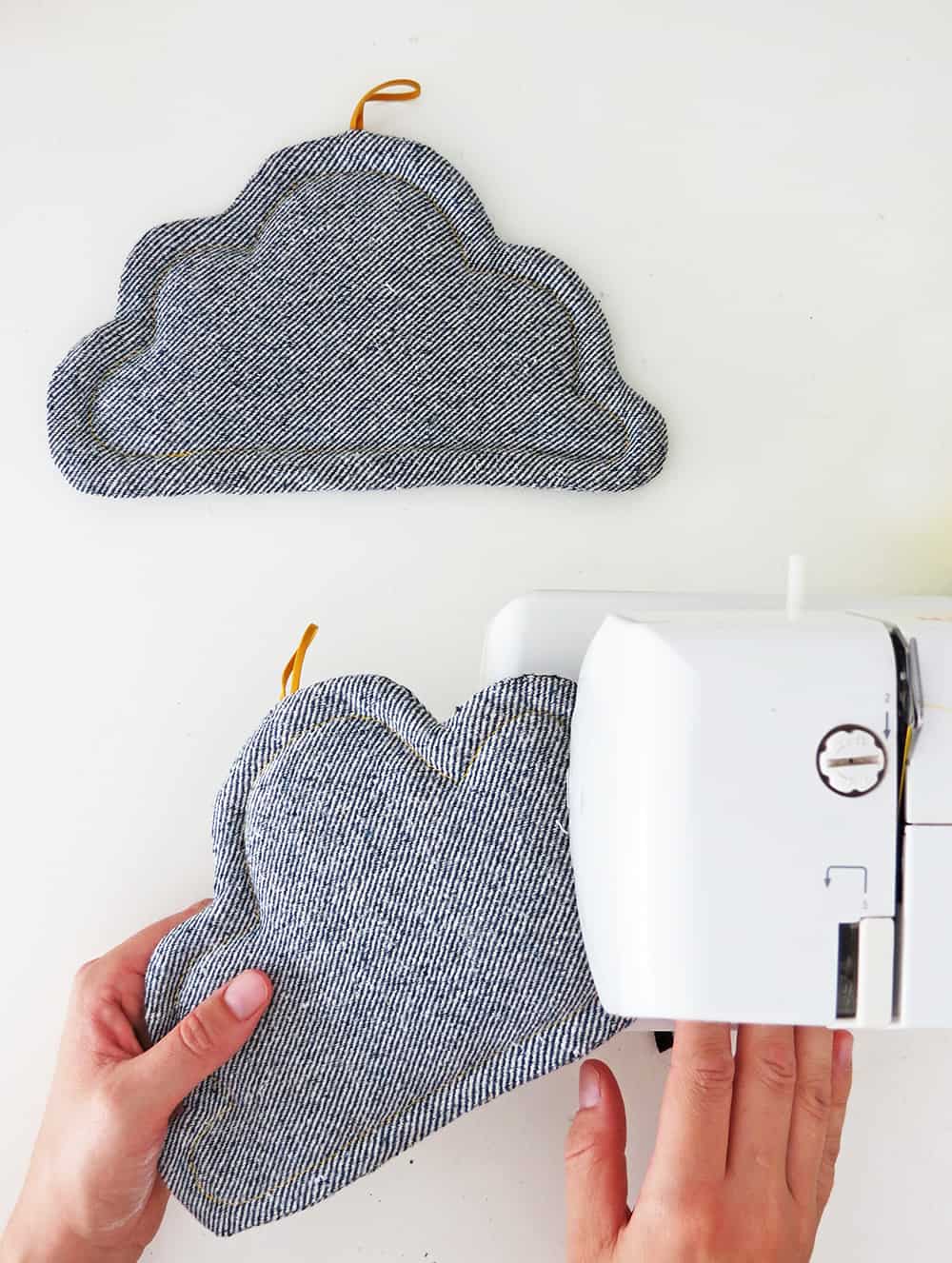 To ensure that the batting will stay in place inside your potholder, make a seam all around at 1/2 inch from the cloud edge.
You can use a thread that matches your fabric color or add a little contrast with a thread coordinated with the leather cord. And done, repeat to make a second potholder…or more!
I hope you enjoyed this easy sewing project! I love how the clouds pot holder hang in my kitchen.
These cute clouds can also make nice little gifts if you like to sew more. I feel they will look nice in any fabric color, which color would you like to make them?
I love to see your creations, so don't hesitate to let me a comment or share them on social media (FB: @ohohdeco IG: ohoh.deco)
RELATED: Easy to sew reversible placemats
RELATED: 13 ideas to sew pot holders and mitts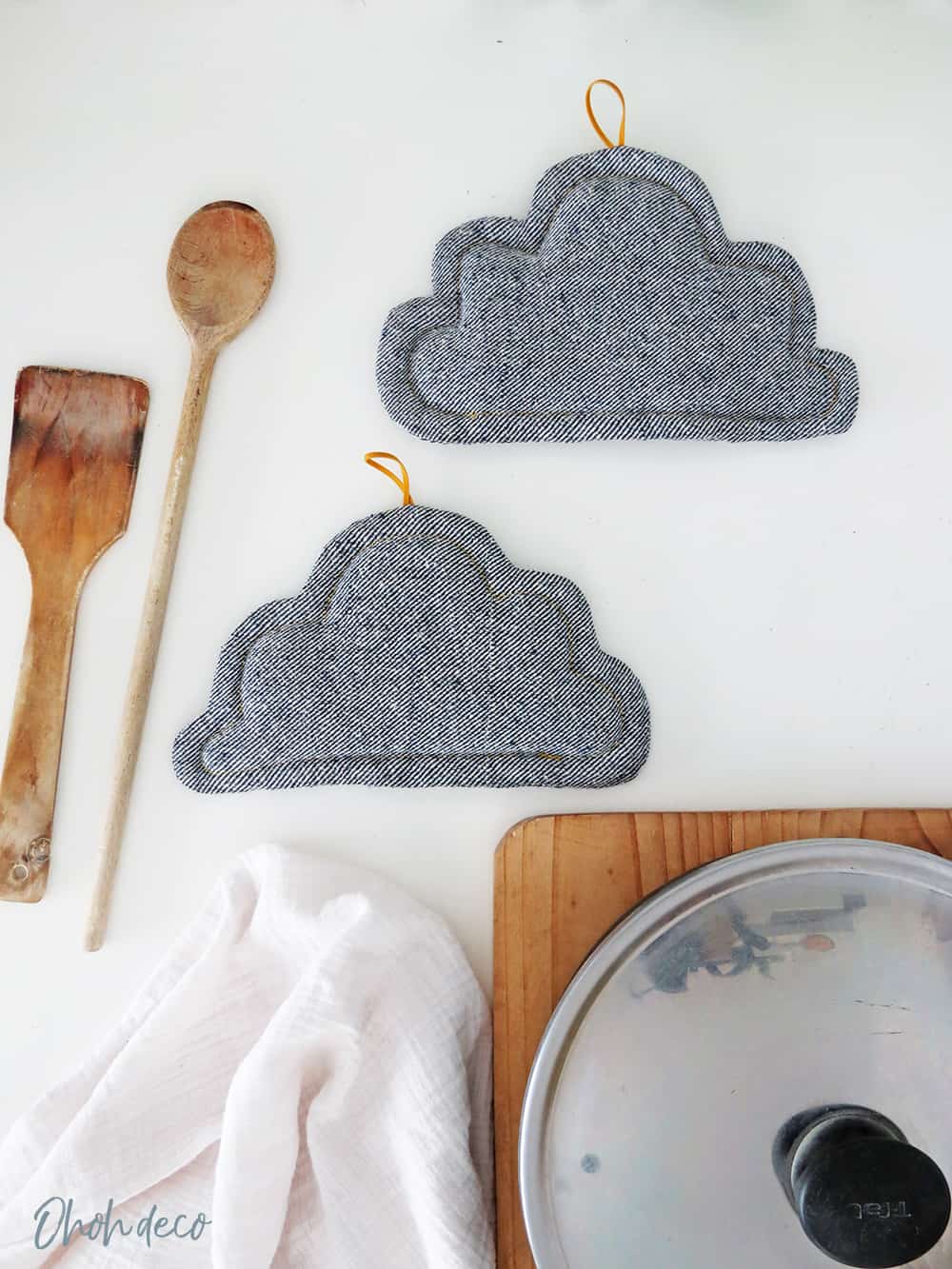 Looking for more sewing ideas?
You will find all the tutorials featured in this video on my Best off-page.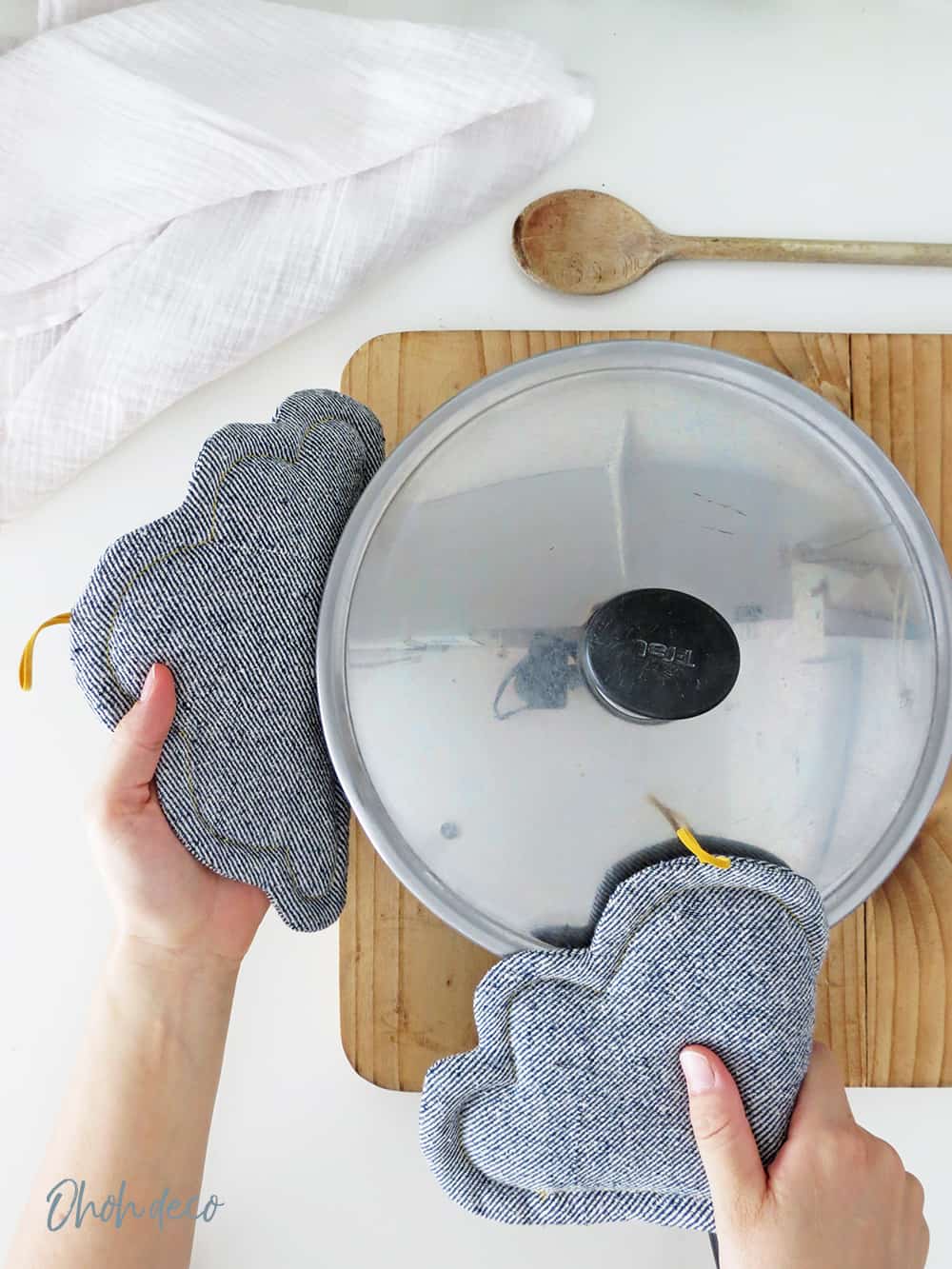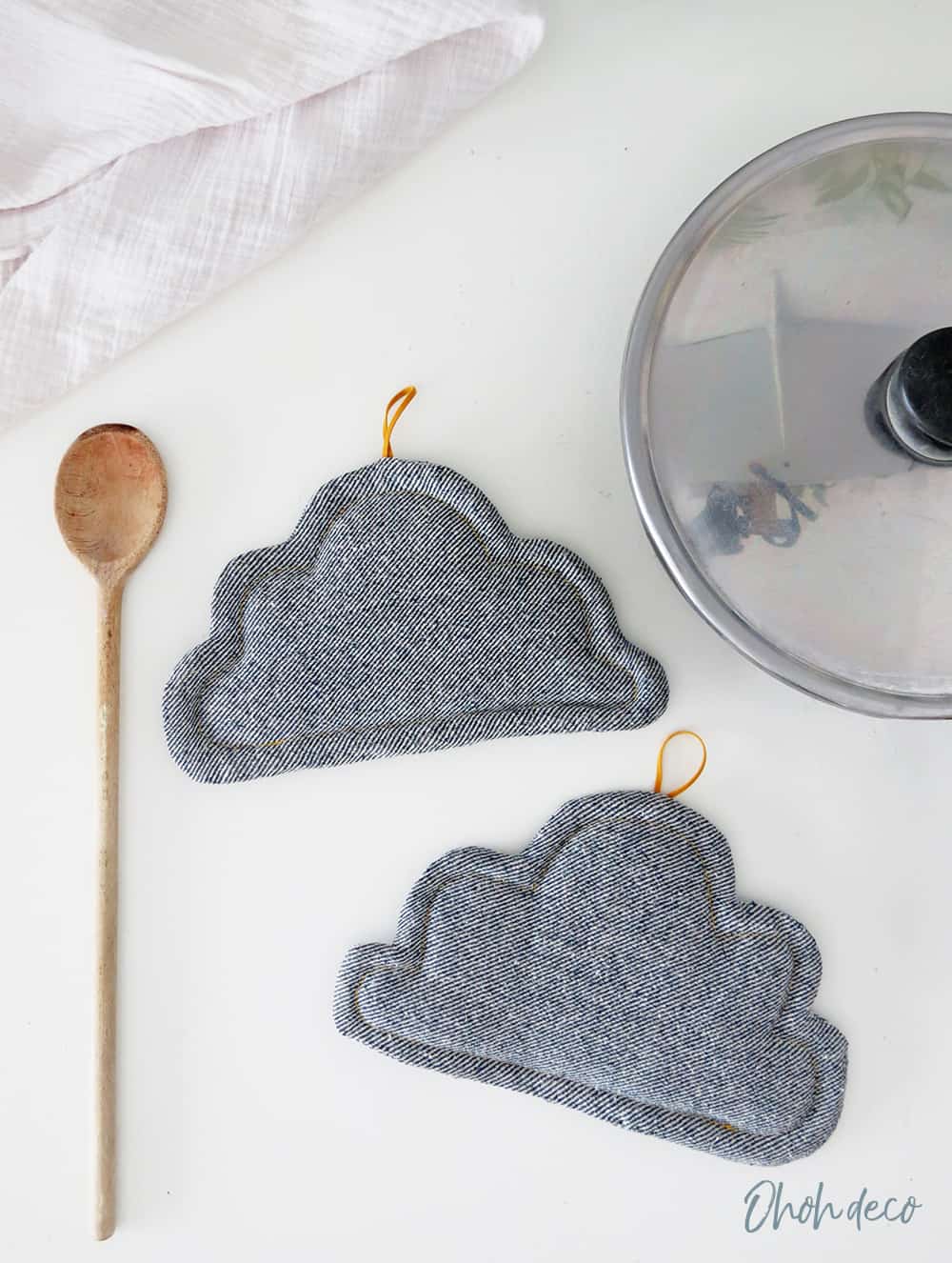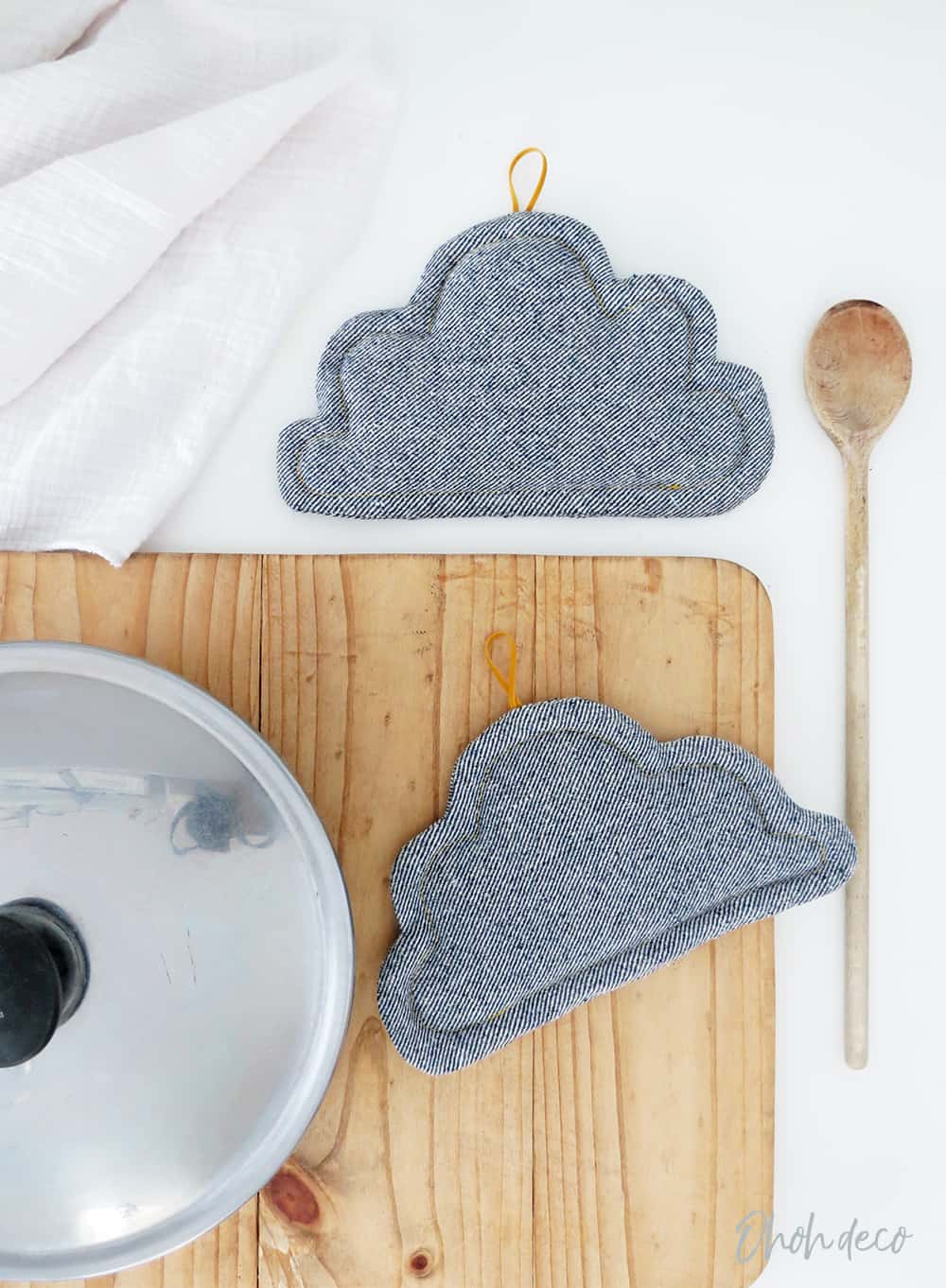 Want to remember it? Save these Cloud shaped potholders in your favorite Pinterest board.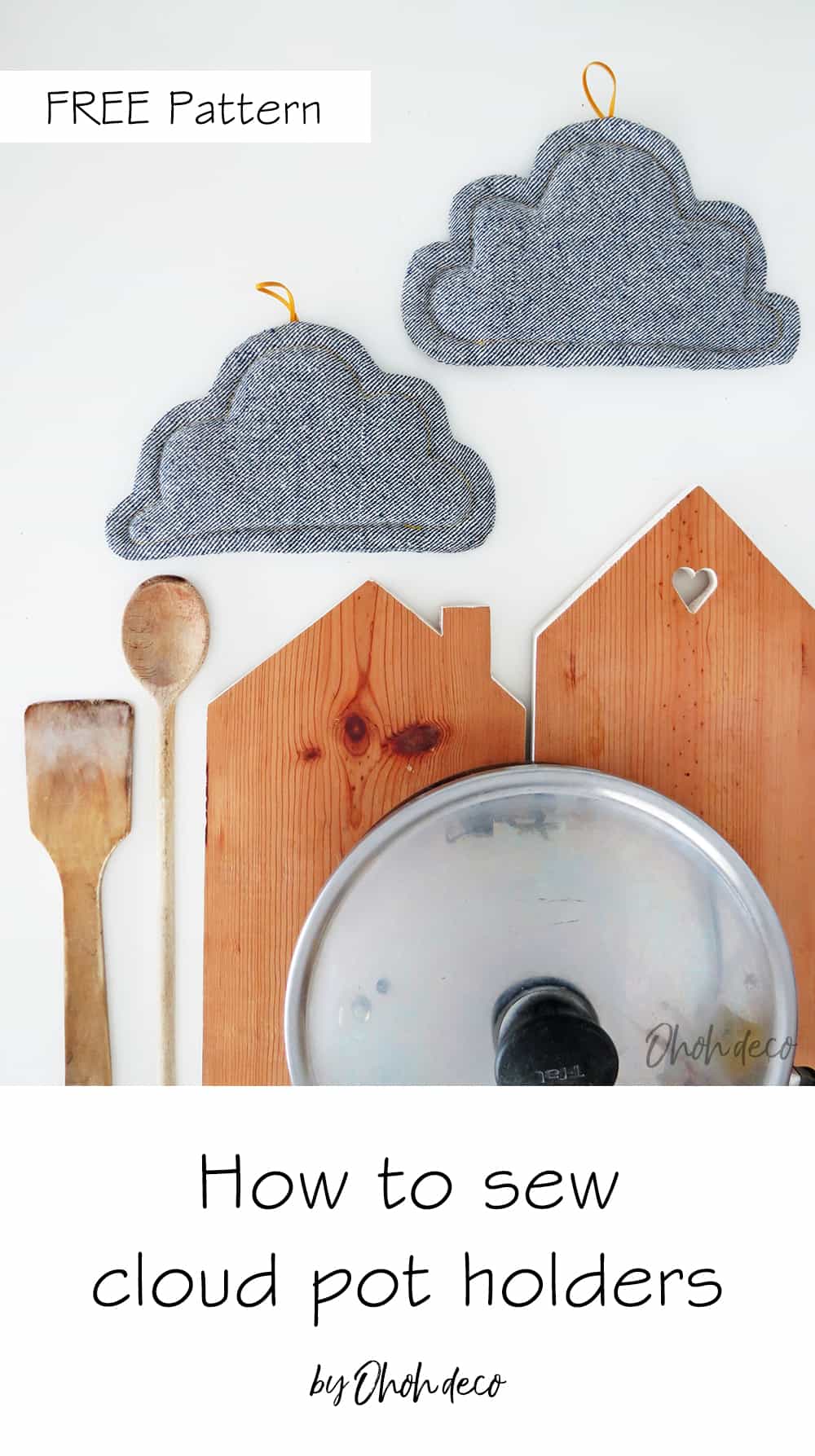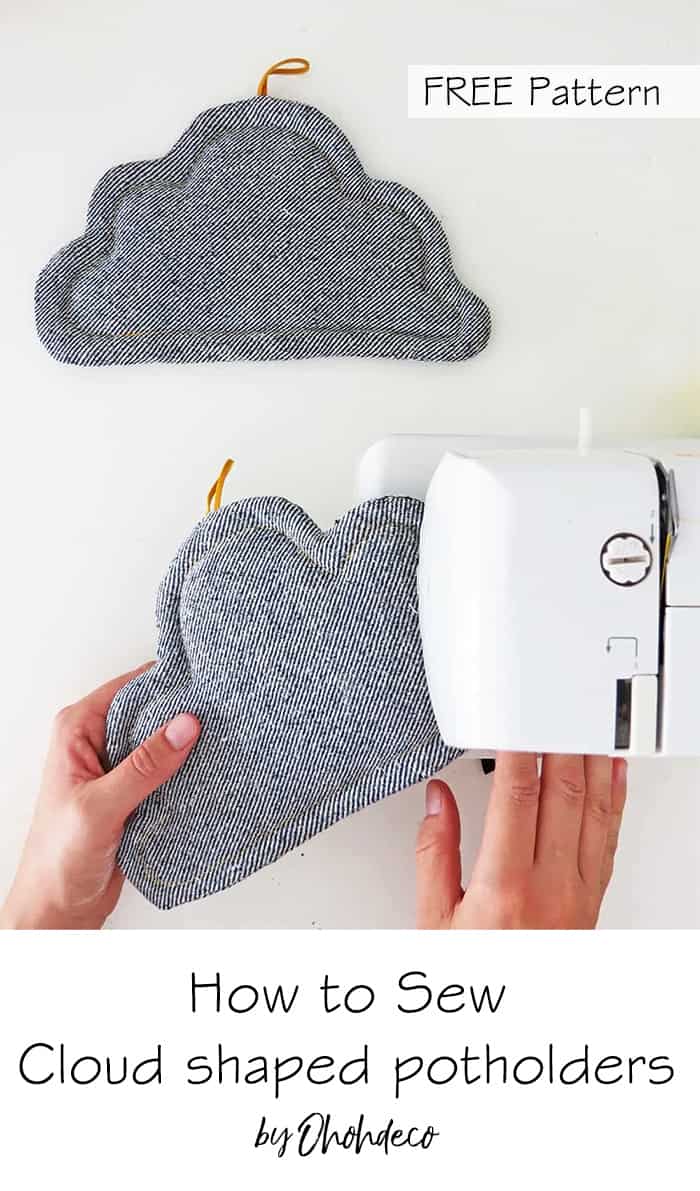 Amaryllis