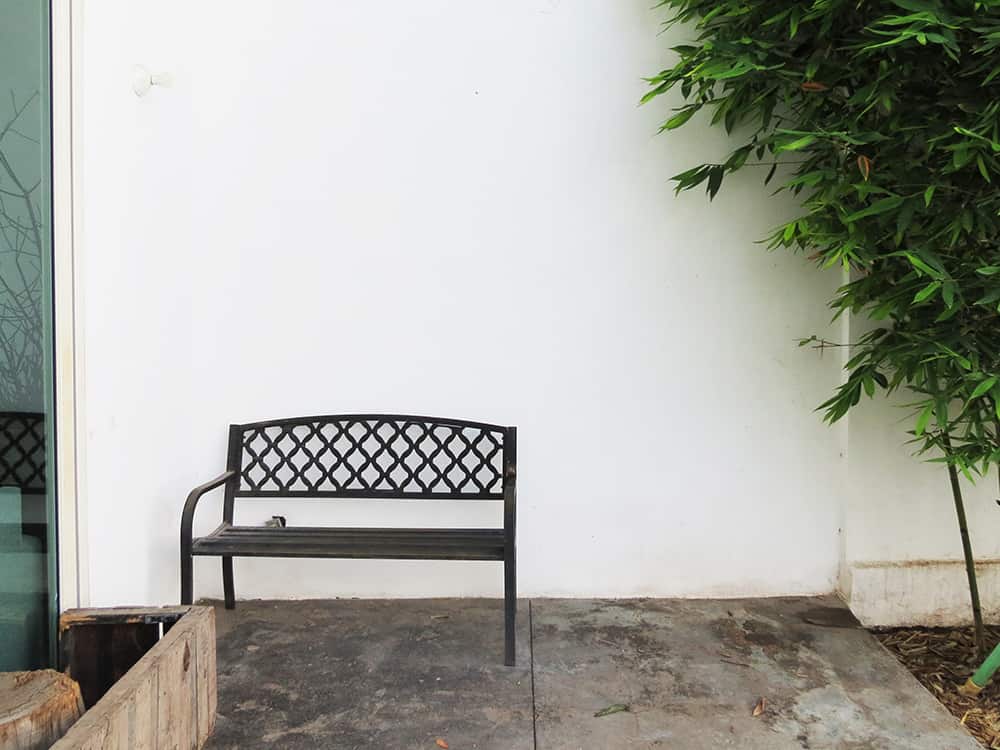 Last year I worked on my patio update and didn't take the time to share what I made with you. As summertime is just around the corner again, it sounds like a nice inspiration for today's post.
I wanted to create a nice atmosphere to chill out during the summer evening. I have a quite small backyard (around 1000 sqft) The only plants I have are the bamboos…not that I'm not dying to have a wonderful flowered yard but the bamboos are the only vegetation that the dogs couldn't destroy.
The patio is just next to our living room, it's a nice space to enjoy in the evening when the weather refreshes a little. As you can see in the before picture our outdoor space needed some love and a good cleaning. I borrow my hubby's pressure cleaner, which is the quickest way to tide up and clean outdoor. If you don't own one, to hire professionals can also be a good option (see sample power washing business pricing ).
The patio was ready for the makeover. I made these 3 DIY in collaboration with Bob Vila, so you will find the step by step on his page. I give you all the details and the links below. I also added a few plants, I won't let them outside because our dogs will end up destroying them. Thanks to my DIY rolling planters, it's easy to move the plants in and out.
* * *
El año pasado arregle un poco mi patio y no me tomé el tiempo de compartir lo que hice contigo. Como el verano está a la vuelta de la esquina, me pareció una buena inspiración para el articulo de hoy.
Quería crear un ambiente agradable donde nos podemos relajar durante las tardes de verano. Tengo un patio trasero bastante pequeño (alrededor de 100 metros cuadrados). Las únicas plantas que tengo son los bambús … no es que no me muera por tener un maravilloso jardín con flores, pero los bambús son la única vegetación que los perros no pudieron destruir.
El patio está justo al lado de nuestra sala de estar, por lo que es un espacio agradable para disfrutar en las tardes o noches cuando la temperatura baja un poco. Hice estos 3 DIY en colaboración con Bob Vila, por lo que encontrará los paso a paso en su página. Te doy todos los enlaces aquí debajo. También agregué algunas plantitas, no las dejaré afuera porque nuestros perros terminarán destruyéndolas. Gracias a mis maceteros sobre rueditas, es fácil mover y sacar las plantas.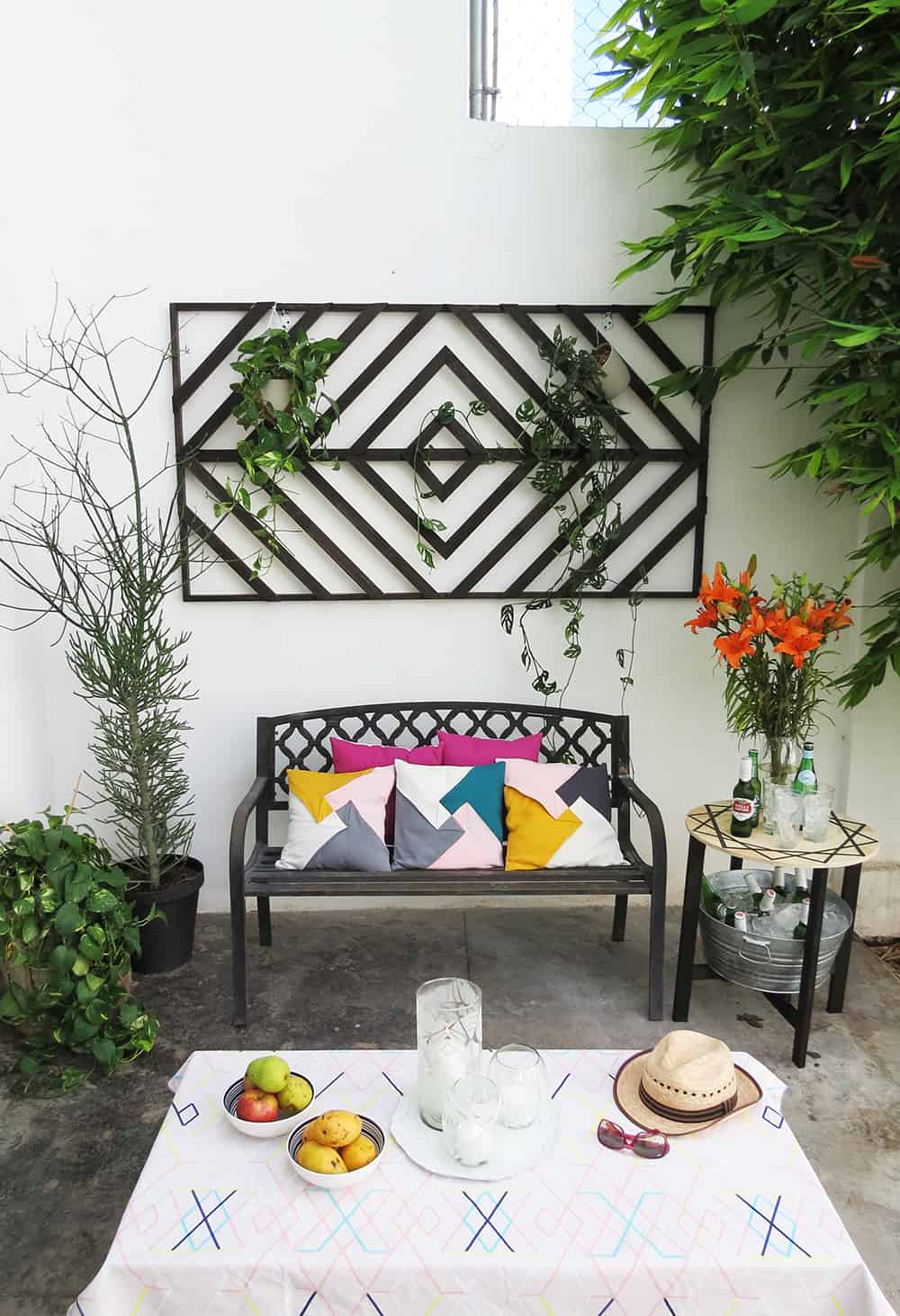 The first DIY I made is a wall trellis. It's a nice and graphic decor to hang on the empty wall. Plus I can use it to hang planters (and it's to high for my dogs to reach the plants so I may have some flowers in the yard this year). I made it with wood trims that I stained and varnished, it has been hanged on the wall since last summer and is still in perfect condition. You can find the tutorial and dimensions.
* * *
El primer DIY que hice es un enrejado. Es una decoración bonita y gráfica para colgar en una pared vacía. Además, puedo usarla para colgar macetas (y es demasiado alto para que mis perros alcancen las plantas, así que este año podre tener algunas flores en el jardín). Lo hice con tablitas de madera que tinté y barnicé, esta colgado en la pared desde el verano pasado y todavía está en perfectas condiciones. Puedes encontrar el paso a paso y las dimensiones AQUÍ.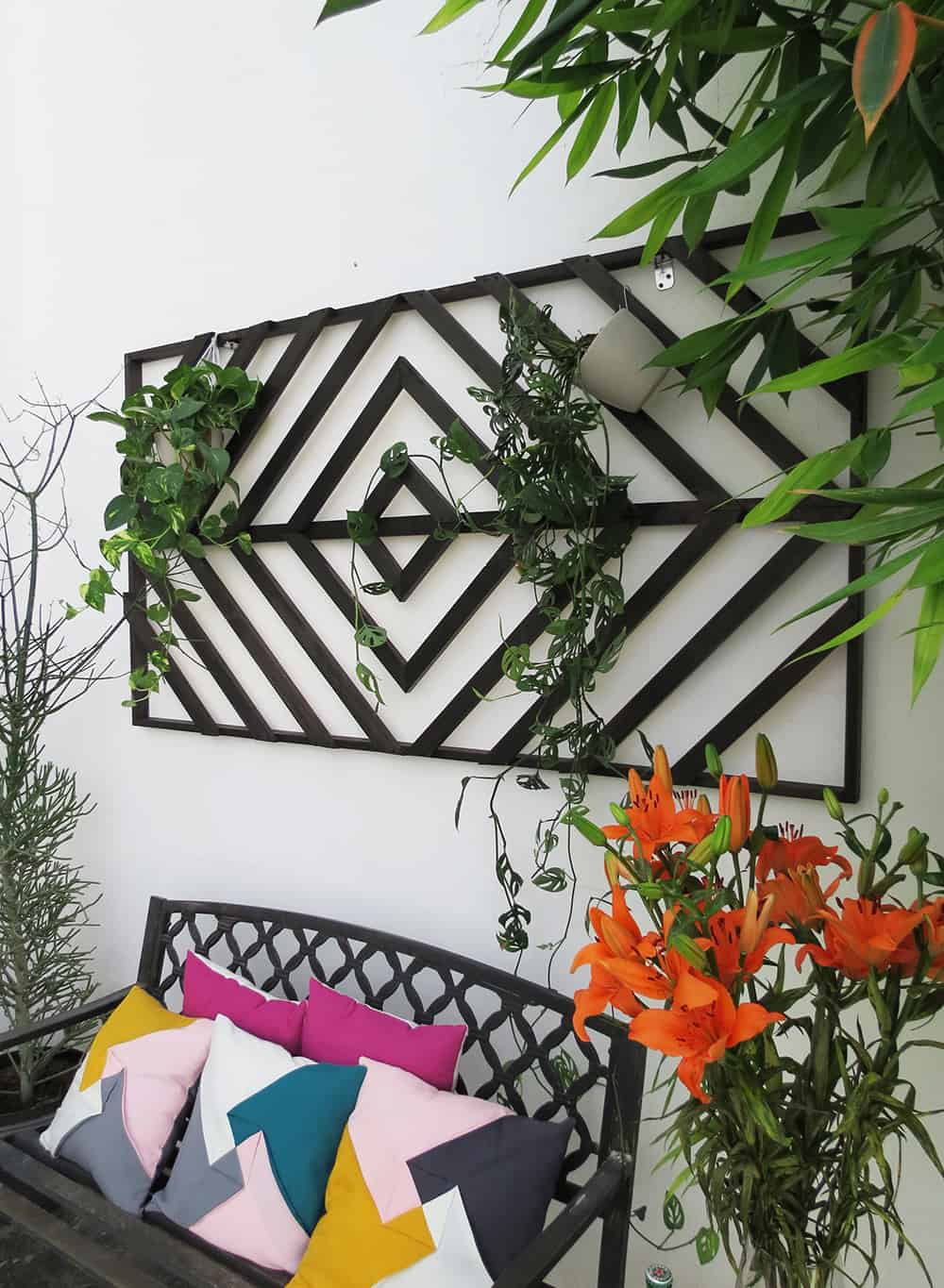 There is no good summer outdoor space without a cooler, nobody wants to have to run inside to get a fresh drink. So I made a handy two in one side table cooler. You have a nice side table to let your drink and snacks and under it a bucket to pour ice in and keep the drinks cold. If you feel it's something you need in your patio, you can read my article on Bob vila: how to build your side table cooler.
* * *
No hay un buen espacio afuera sin una hielera, a nadie le gusta tener que correr adentro para ir por una bebida fresca. Así que hice un práctico bricolaje de dos en uno: la mesita hielera. Tienes una mesa auxiliar para dejar tus bebidas y bocadillos y debajo de ella un cubo para verter hielo y mantener las bebidas frías. Si sientes que es algo que vas a necesitar en tu patio, encontrarás cómo construir la AQUÍ.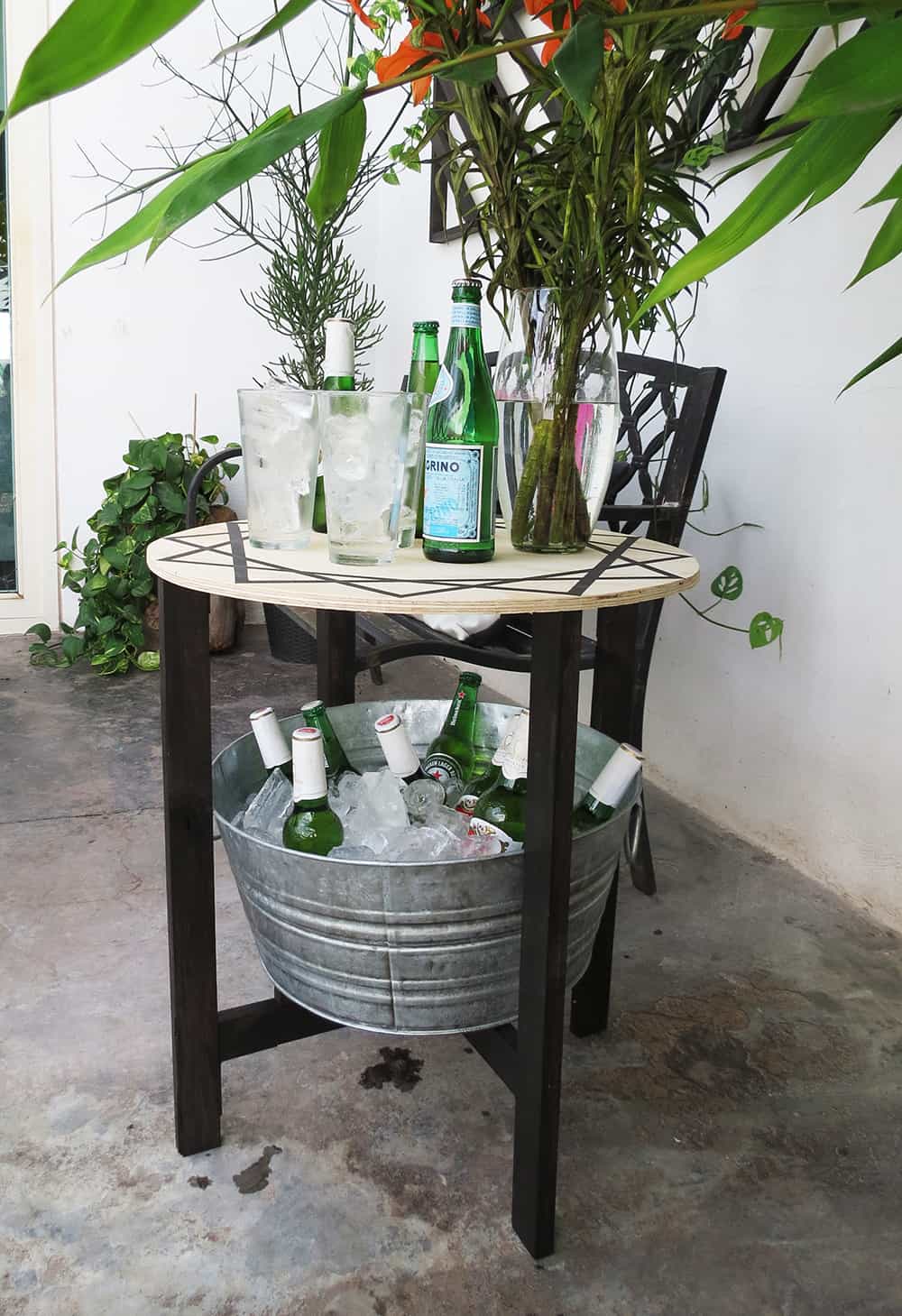 I don't have candles inside because with three kids I'm always worried about an accident but I like to have some outside. Candles give a nice light and remind me a bit of a campfire (waaaay smaller but still). We also have a lot of mosquitoes around, so citronella candles help to get them away. I customized glass vase to make some pretty candle holders. You won't believe how simple is to make etch glass.
* * *
No tengo velas adentro porque con tres niños siempre estoy preocupada que haya un accidente, pero me gusta tener algunas afuera. Las velas dan una luz agradable, y me recuerdan un poco a una fogata (mucho más pequeña pero aún así). También tenemos muchos mosquitos por aquí, así que las velas de citronela ayudan a alejarlos. Personalicé unos jarrón de vidrio para hacer un bonito porta vela. No vas a creer lo sencillo que es hacer vidrio grabado, el bricolaje está AQUÍ.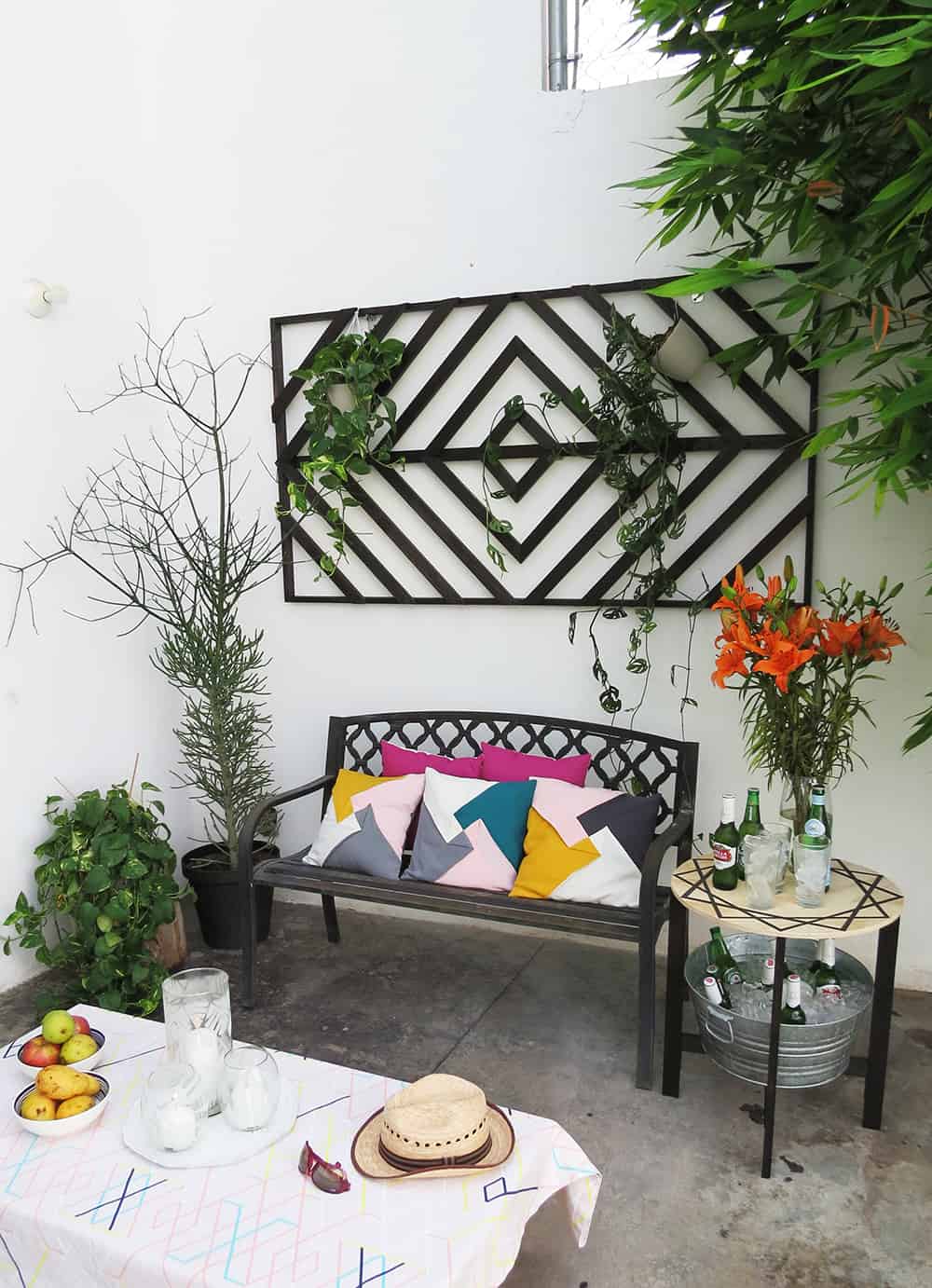 Incorporating plants and building gardens is much easier when you're working with a backyard and patio furniture in Houston, but with tight quarters cities like New York, you have to be fairly creative. You may enjoy having a look at these other 10 creative ideas to upgrade your patio. Making a DIY project is the best way to give your backyard a facelift on a dime.
Tell me, what do think of my patio upgrade? Do you have any work planned for your backyard?
* * *
Dime, ¿Qué piensas de mi patio? ¿Tienes algún trabajo planeado para tu terraza o balcón?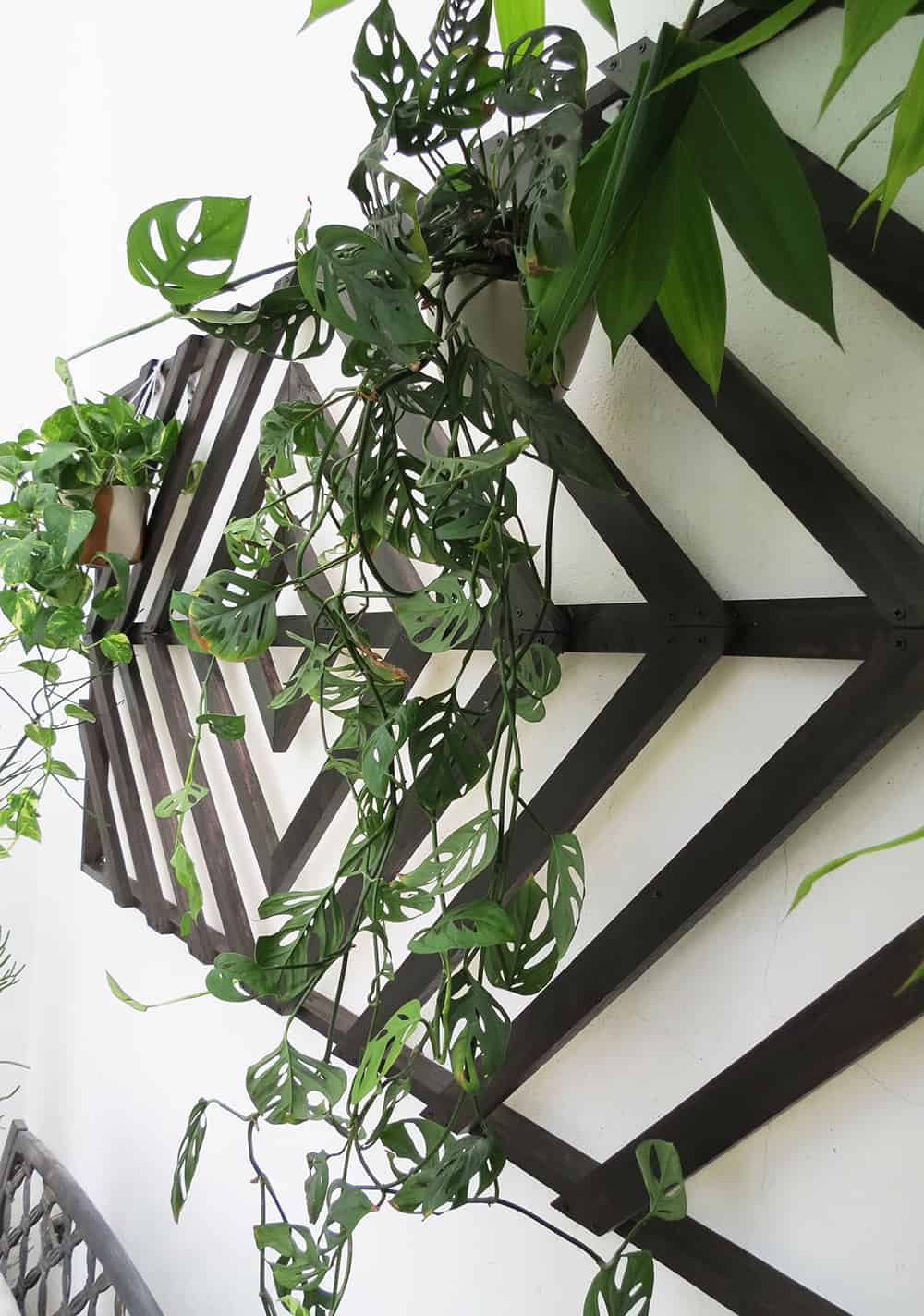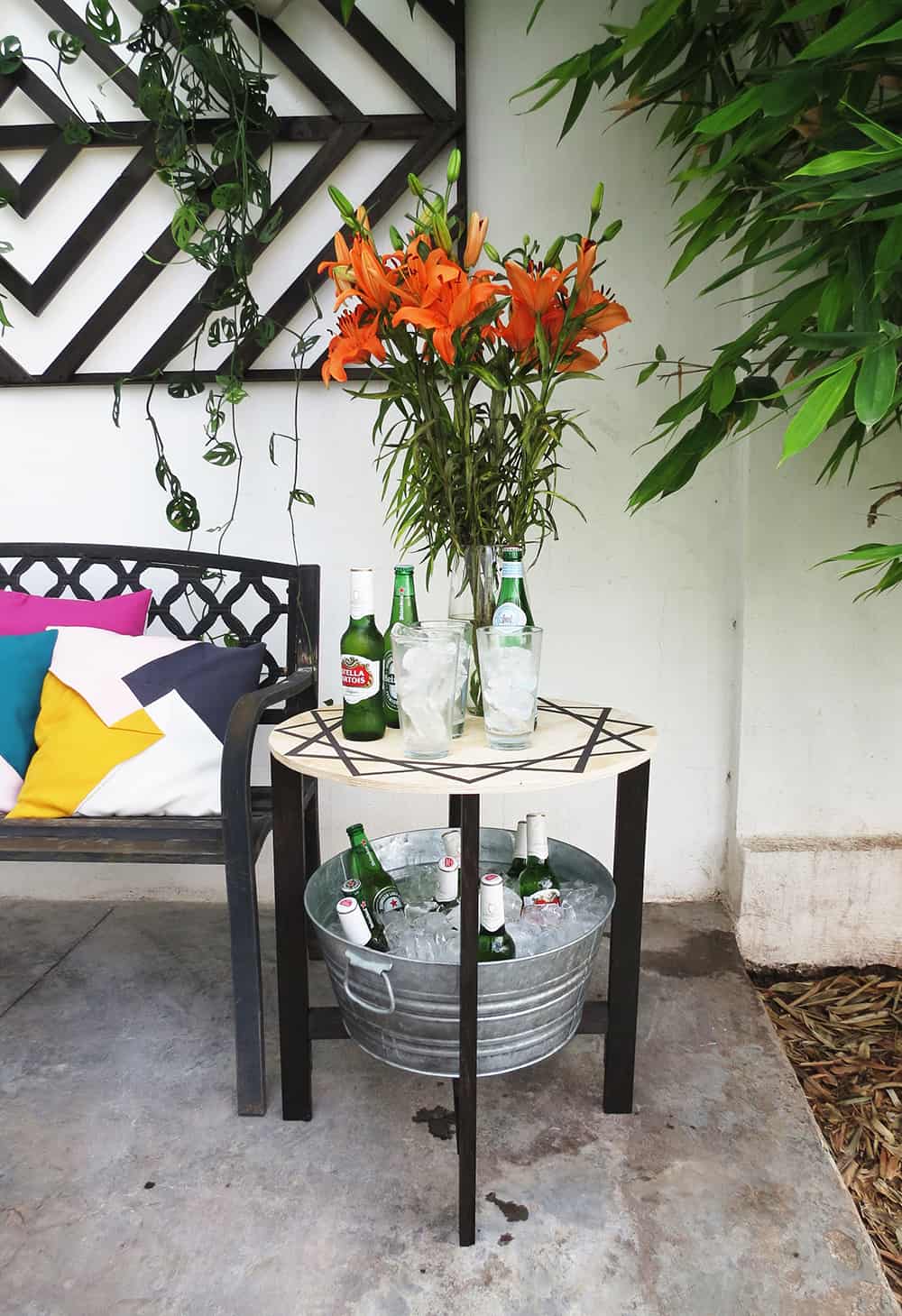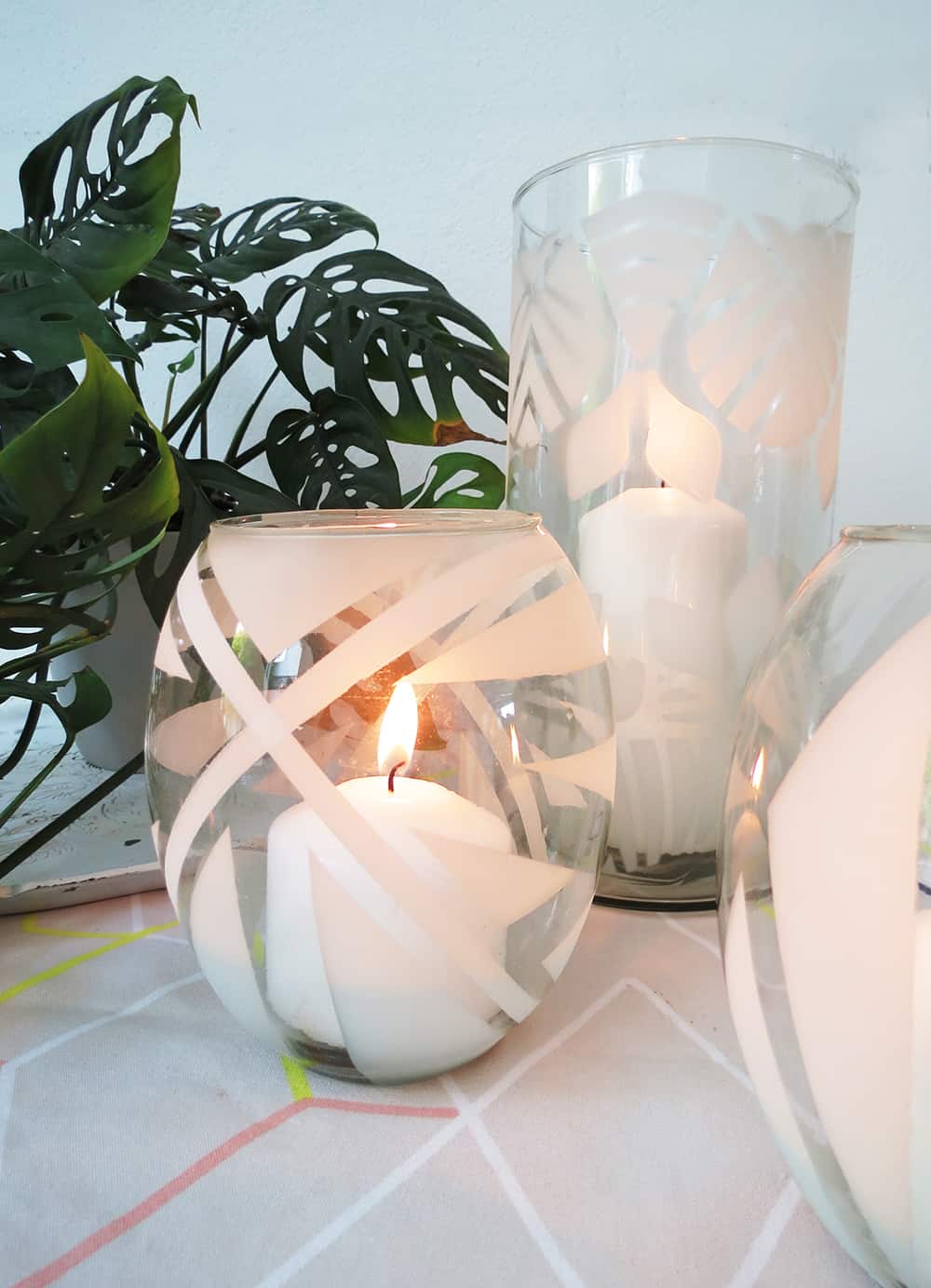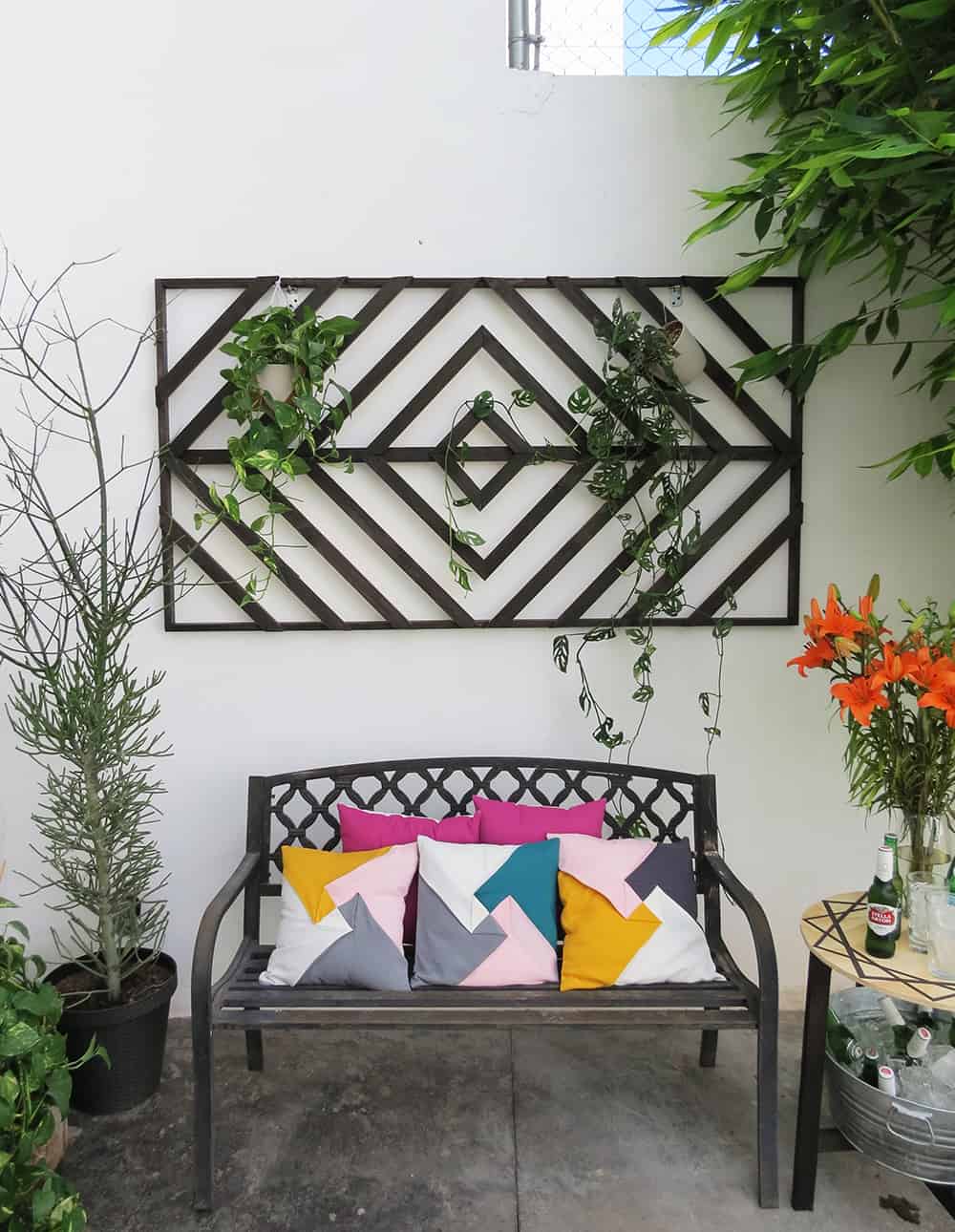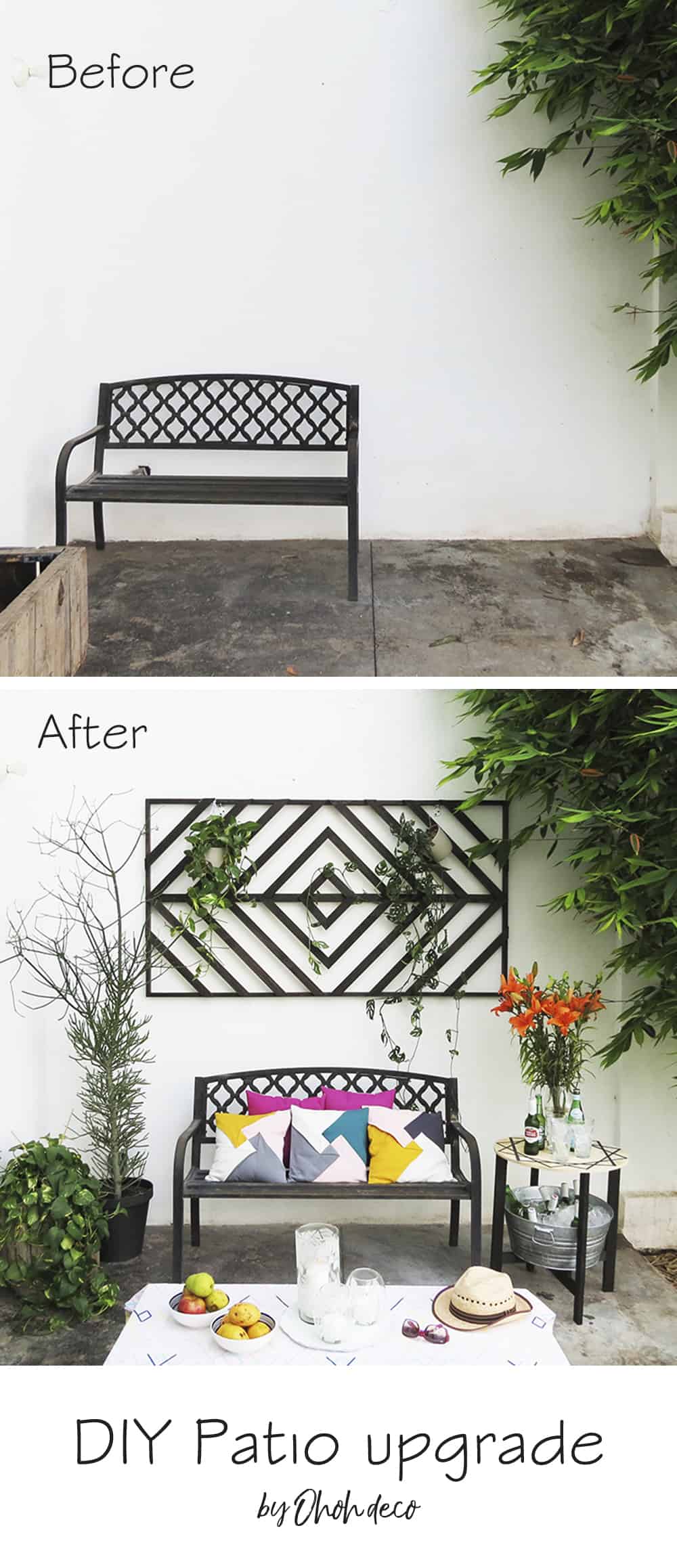 [AdSense-C]
Amaryllis