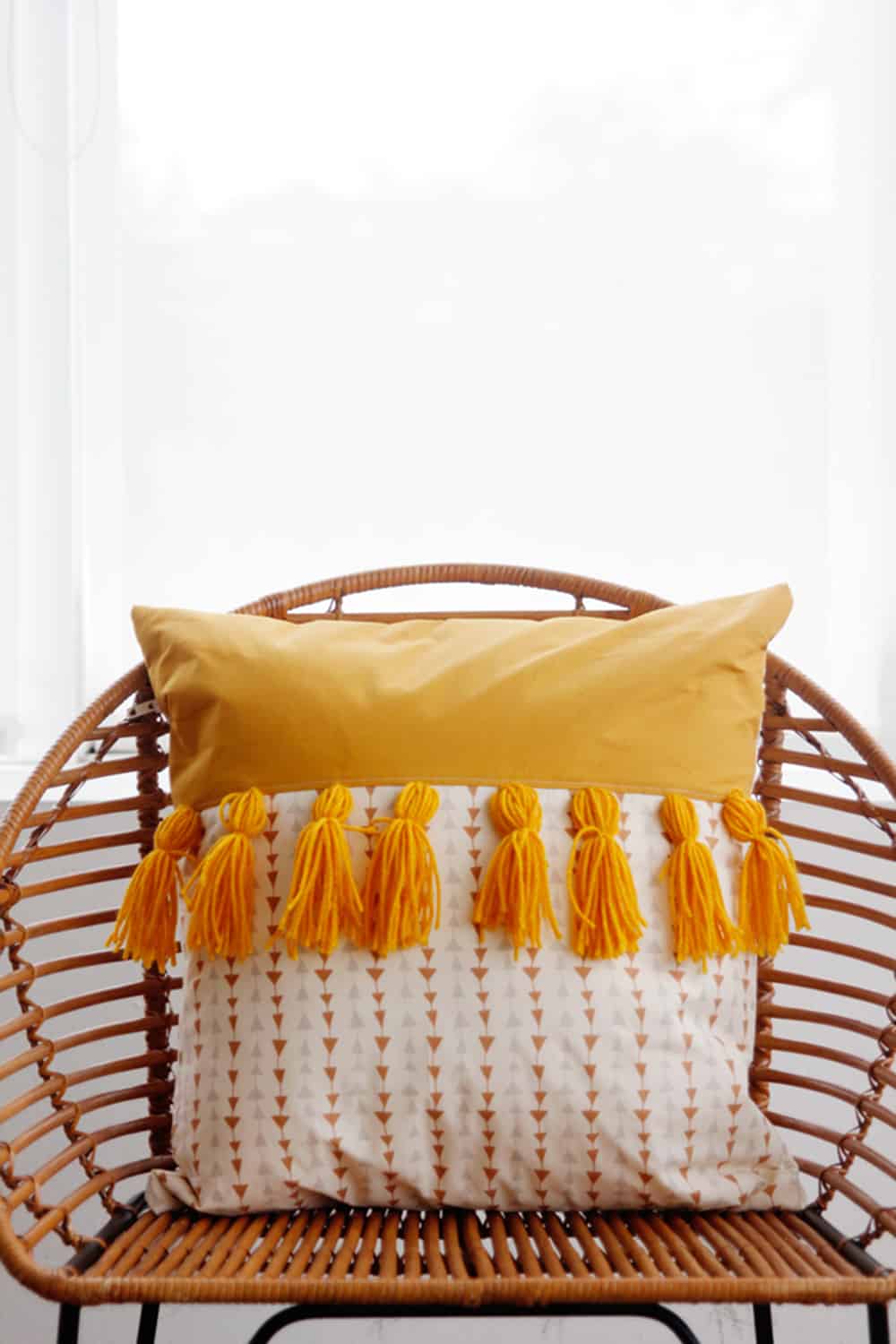 Throw pillows come in an endless variety of forms, colors, and texture, and they are your best ally when it comes to add a personal touch to your interior decor. Cushions give a cozy feeling to any room, not just on your couch. You can add pillows on your bed, on a bench in the entrance, on the kitchen chairs, or even place some on the floor to make a little reading nook or playing area for the kids.
[ This post probably contains affiliates links, our full disclosure policy is really boring, but you can read it HERE ]
Pillows add color and texture in the house, but it doesn't mean that they must be stacked anyhow. Read the following if you want some tips to well choose your cushions.
1. Choose a cohesive color palette and stick to it. You can pick one color in different shades or prefer a combination of several complementary colors. Think about how your color palette will look on your couch, armchair, or bed. You can choose a palette that contrasts with your decor (to add a pop of color) or prefer to keep the pillow in the same shade as your interior.
2. Mix print and solid fabric, and don't hesitate to add some texture (with knitted or weaved pillows as an example). The mix will look great as long as you follow your palette color. If you choose cushions in the same shade of color as the room decor, pick different texture to make your cushions stand out.
3. For a super cozy look play with different sizes of cushions: place the largest behind and smaller in front. On the bed, you can add one of two lumbar cushions. It will structure the pillow setting and they are super comfortable if you like to read or watch TV in bed. On the couch, if you don't want to move the cushions around every time you sit, you can place the bigger pillows on the sides and the smaller ones in the center. It visually creates an invitation to sit.
4. Add fun choosing different pillow shapes. A round or small lumbar pillow will look great in an armchair. You can decorate a kid's bedroom with some fun shaped cushions (doughnut, animals, letters…)
5. Don't go overboard! As much as we love pillows if you can't sit on your sofa or lie down in your bed, you have a problem … so remove some cushions.
If you like the cushions as much as I do the best is buy or sew pillow covers, so you don't end up suffocating under a ton of pillows. Covers are super easy to change, to wash, and to store. If you can't help yourself and still have some extra cushions around, you can put them in a nice basket, or even display them on a shelf if you lack room in your closets.
Now that you have some tips in mind to choose the right throw pillows, you can have a look at these 50 awesome tutorials to sew your own cushions. You will find knit and crochet patterns, some fun shaped pillows for the kids, a bunch of amazing ideas to customize pillow covers and a few options to make no-sew cushions. I'm sure you will find inspiration to create some pretty pillows for your home.
RELATED: One hour floor cushion
RELATED: Origami Cushion cover pattern
* * *
Los cojines vienen en una variedad infinita de formas, colores y texturas, y son tu mejor aliado cuando se trata de agregar un toque personal a tu decoración interior. Dan un toque acogedor a cualquier habitación, y no solo en el sofá. Puedes agregar cojines sobre tu cama, en un banco en la entrada, en las sillas de la cocina, o incluso colocar algunos en el piso para hacer un pequeño rincón de lectura o una área de juegos para los niños. Los cojines decorativos agregan color y textura a la casa, pero eso no significa que deban apilarse de cualquier forma. Lee lo siguiente si quieres algunos consejos para elegir bien tus cojines.
Elige una paleta de colores coherente y apégate a ella. Puedes elegir un mismo color en diferentes tonos o preferir una combinación de varios colores complementarios. Piensa cómo se verá tu paleta de colores en tu sofá, sillón o cama. Puedes elegir una paleta que contraste con tu decoración (para agregar un toque de color) o puedes preferir escoger cojines del mismo tono que tu interior.
Mezcla telas con impresión y telas sólida, y no dudes en agregar un poco de textura (como las almohadas tejidas por ejemplo). La mezcla se verá genial siempre si sigas los colores de tu paleta. Si elige cojines del mismo tono que la decoración de la habitación, elija diferentes texturas para que tus cojines destacan.
Para un aspecto súper acogedor, juegues con cojines de diferentes tamaños: coloques en el respaldo los más grandes y los más pequeños al frente. Sobre la cama puedes agregar uno o dos cojines lumbares. Estructurará la cama y son súper cómodos si te gusta leer o ver la televisión en la cama. En el sofá, si no quieres mover los cojines cada vez que te sientas, puedes colocar las almohadas más grandes a los lados y las más pequeñas en el centro. Creara visualmente una invitación a sentarse.
Diviértete eligiendo diferentes formas de almohadas. Un cojin redondo o lumbar pequeño se verá muy bien en un sillón. Puedes decorar la habitación de los niños con algunos cojines con formas divertidas (donas, animales, letras …)
¡No te pases por la borda! Tanto como nos encantan las almohadas, si no puedes sentarte en tu sofá o acostarte en la cama, tienes un problema … así que quíta algunos cojines.
Si te gustan los cojines tanto como yo, lo mejor es comprar o coser fundas, para no terminar asfixiada abajo de una tonelada de almohadas. Las fundas son súper fáciles de cambiar, lavar y almacenar. Si aún tienes algunos cojines adicionales, puede colocarlos en una bonita canasta, o incluso exhibirlos en una repisa si, no caben en tus armarios.
Ahora que tienes algunos consejos en mente para elegir los cojines adecuados, puedes echar un vistazo a estos 50 paso a paso para coser tus propios cojines. Encontrarás patrones de punto y ganchillo, algunas almohadas con formas divertidas para los niños, un montón de ideas increíbles para personalizar fundas y algunas opciones para hacer cojines sin coser. Estoy segura de que encontrarás inspiración para crear algunas almohadas bonitas para tu casa.
Picture above from See Kate Sew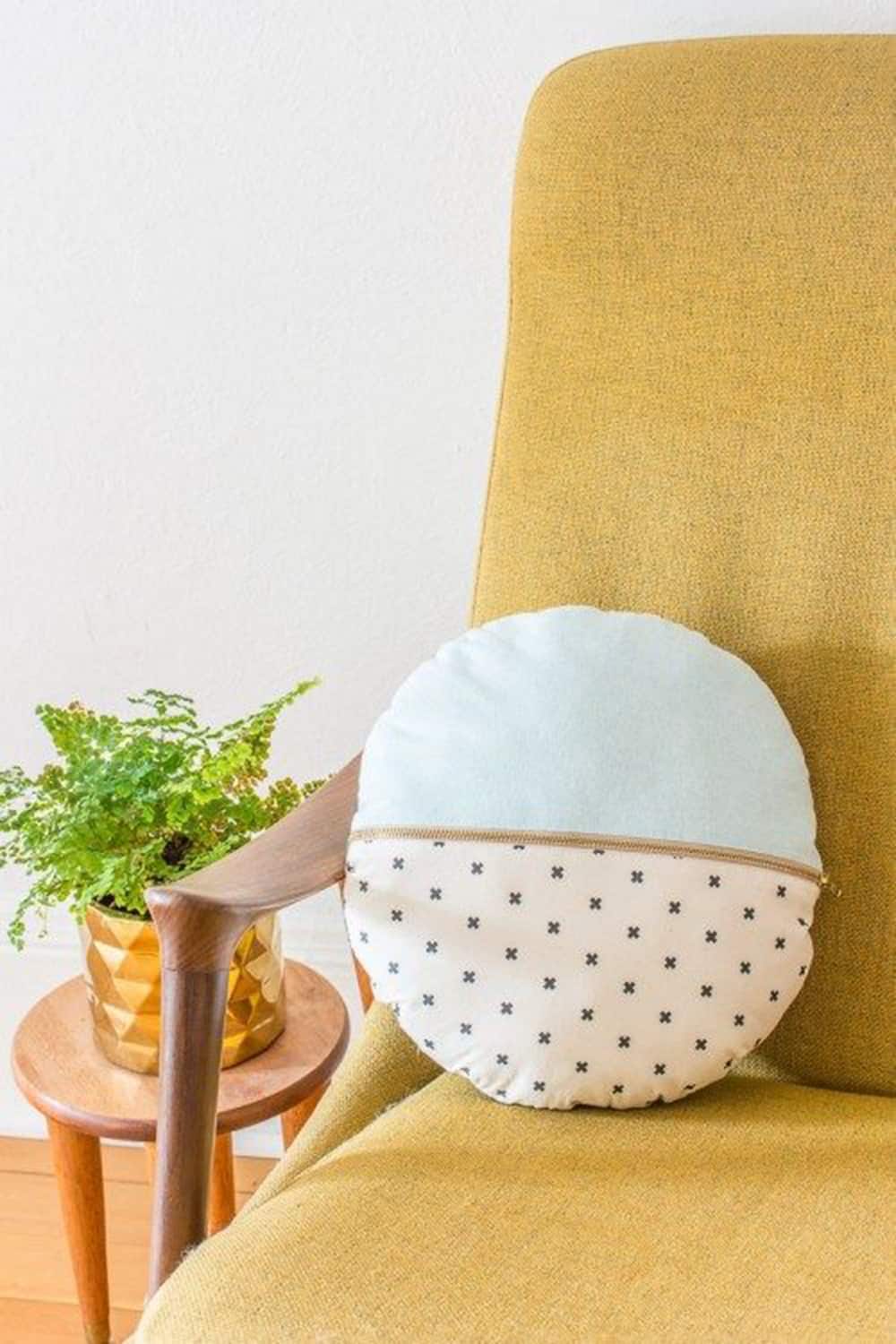 Picture from DIY in PDX
Sewing pillows tutorials
How to make an Egg shaped pillow
Two tones yarn tassels pillow (picture)
Make a round pillow with zipper (picture)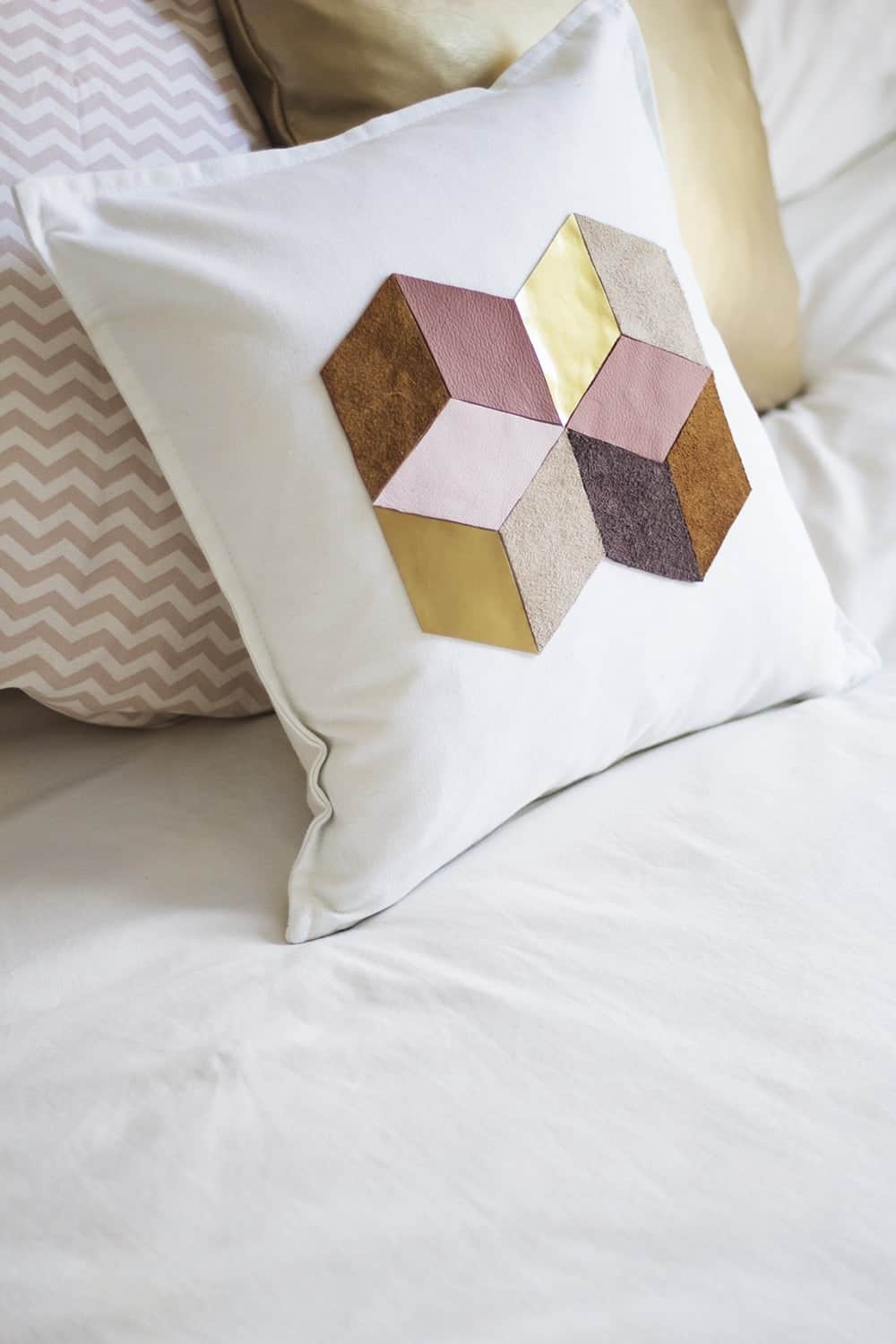 Picture from the Lovely Drawer
DIY Pillows hacks
How to make DIY painted pillows (picture)
Moroccan style customized pillow
No sew geometric cushion (picture)
No sew tassels and pom poms pillows
The easiest way to create a cute pillow is to customize a cushion cover. You can get what you need
HERE
and
HERE
.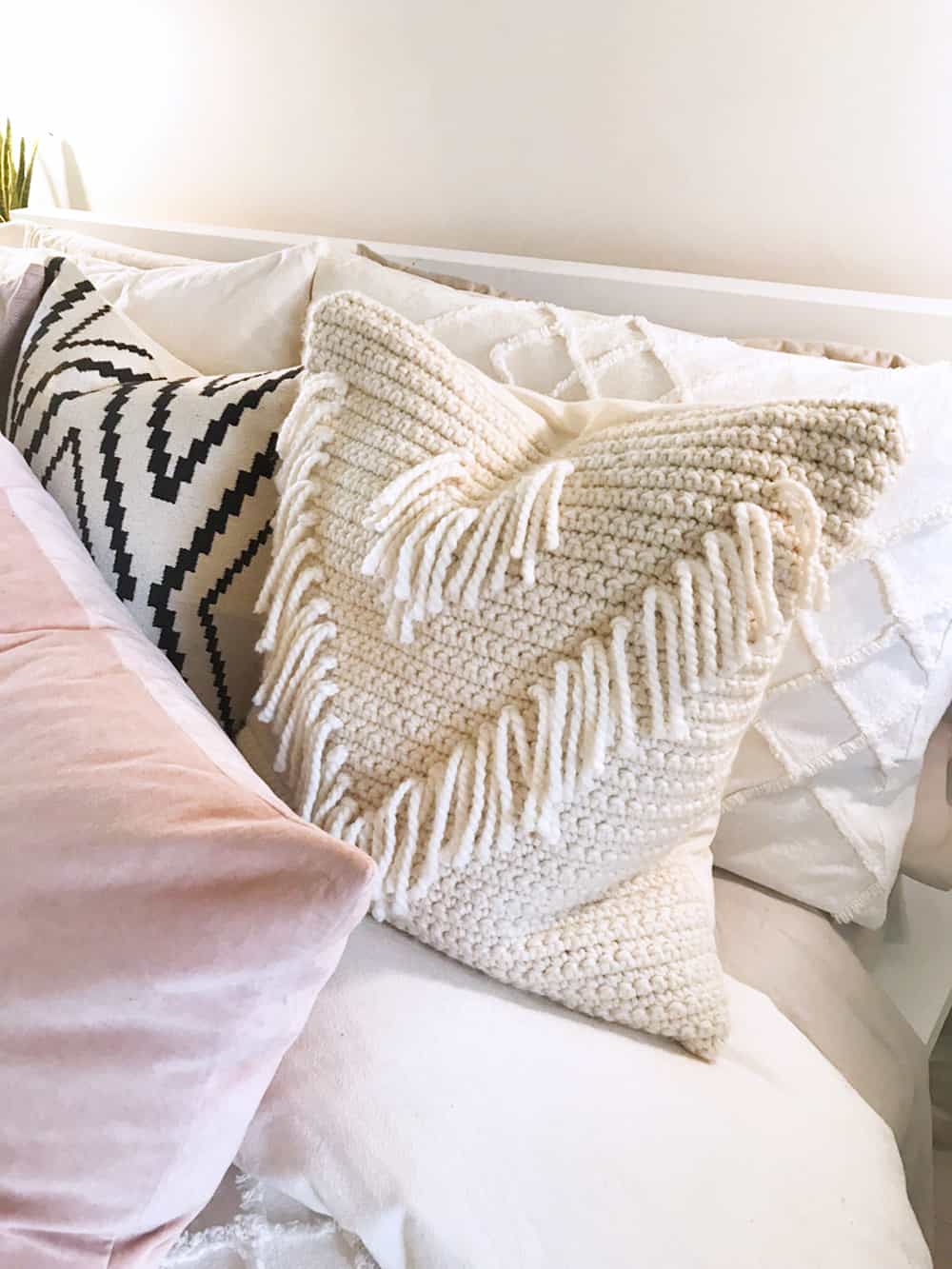 Picture from Pop Shop America
DIY Crochet and knit pillows
Easy DIY crochet pillow with tassels (picture)
Free round crochet pillow pattern
Heart-shaped pillow crochet pattern
Crochet and cross-stitch pillows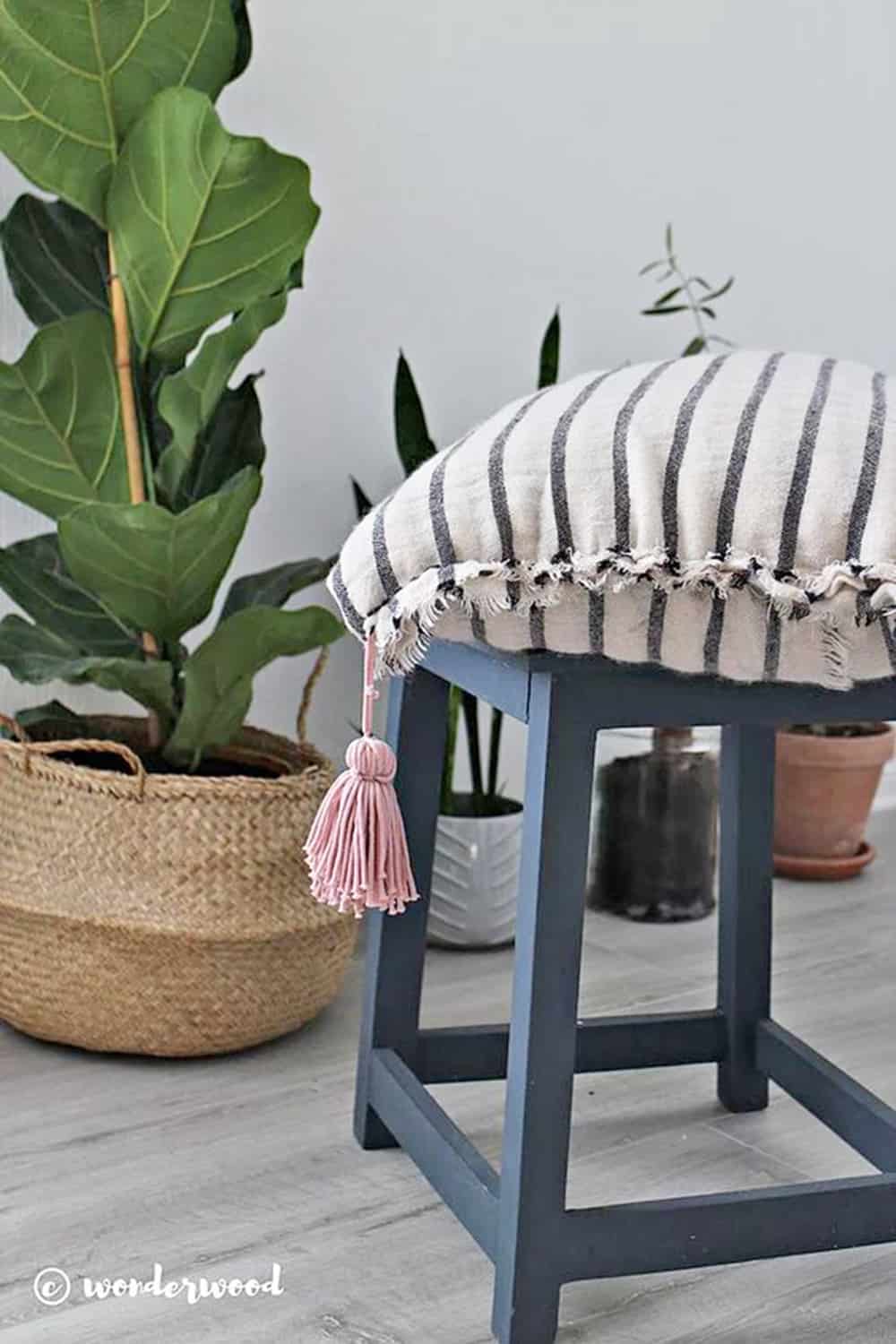 Picture from Wonderwood
DIY no-sew pillows
How to make a pillow using a table runner
Make a pillowcase with a scarf (hand stitches)(picture)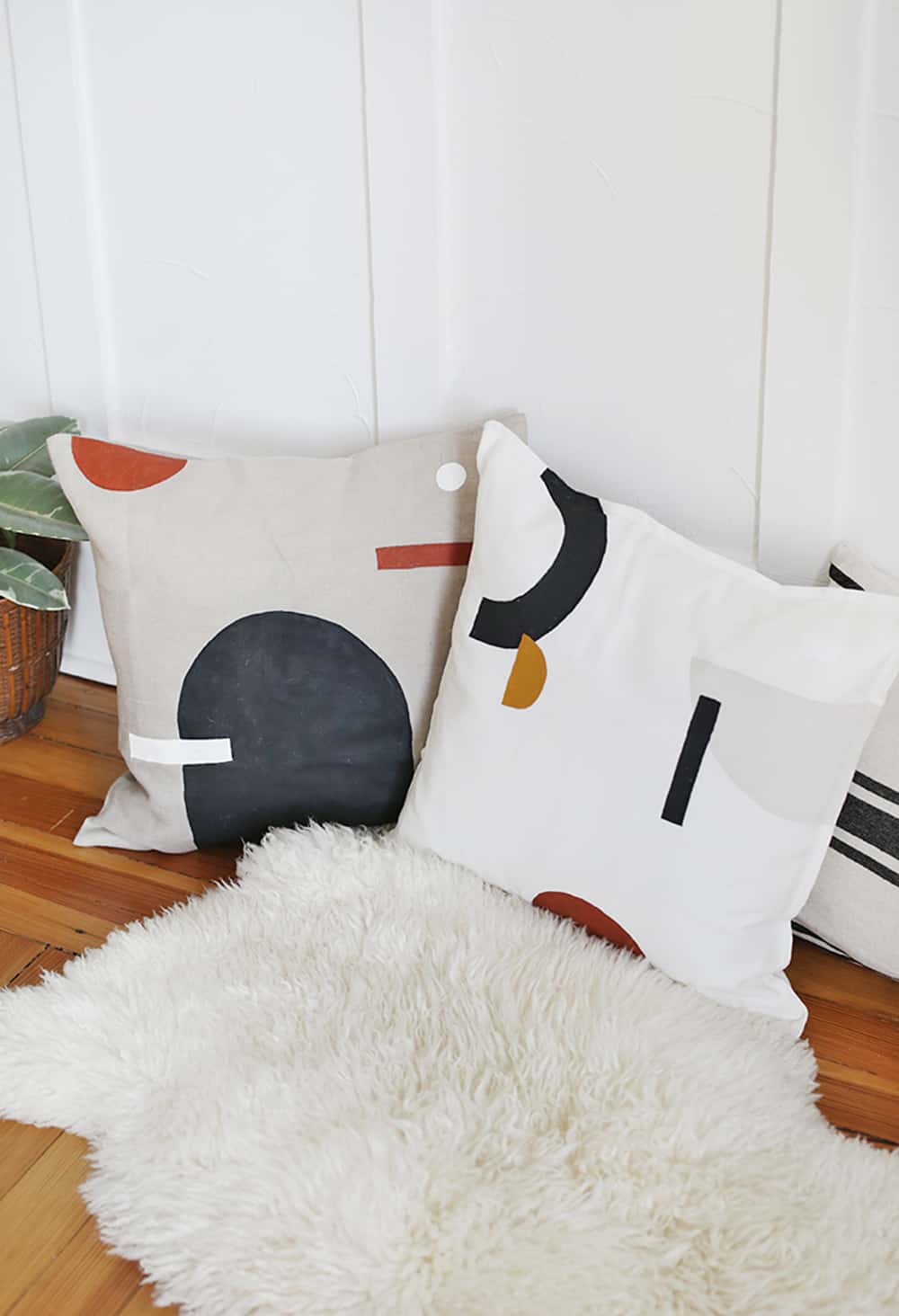 Picture from the Merry Thought
Ideas to make fun shaped pillows
DIY knot pillow tutorial (picture)
* * *
RELATED: DIY Rainbow pillow
RELATED: Llama cushion pattern
Picture from Little Inspiration
Want to remember this? Save these 50 DIY pillows in your favorite Pinterest board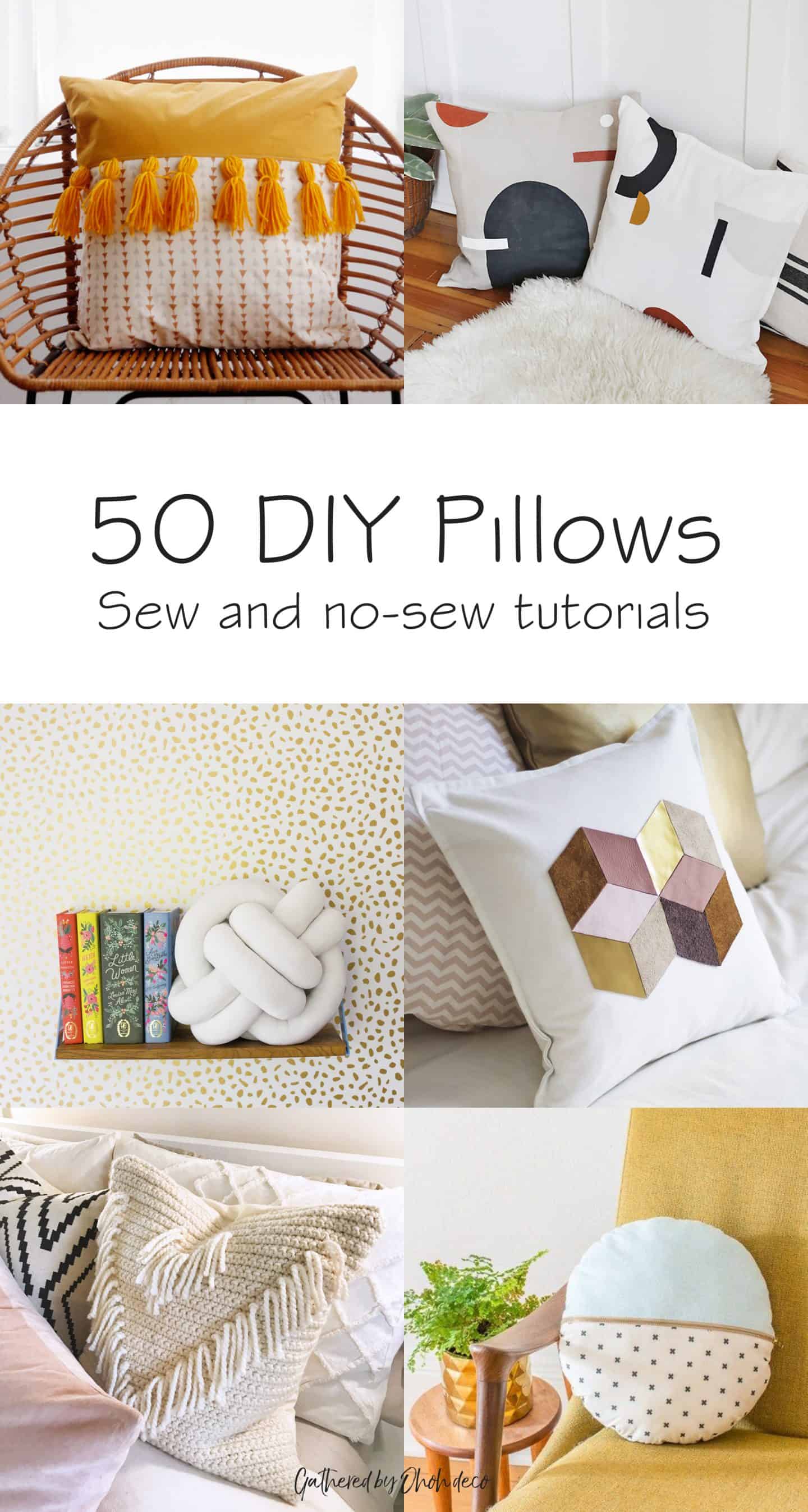 You will find all the tutorials featured in the video on my "Best DIY" page.
Amaryllis