Spice up your home with an easy homemade display shelf. Nothing better to decorate than a shelf with a few pretty items on it.
Organize your home with style, this wall shelf is the perfect spot to display collectible, a nice plant or a cute dry flowers bouquet.
[ This post probably contains affiliate links, our full disclosure policy is really boring, but you can read it HERE ]
My first plan when I made this DIY display shelf was to add some wall storage in the downstairs bathroom, but it turns out the shelf didn't fit in the space at all.
So I walk around the house looking for a place to hang it…and I end up flipping the bedroom wall decor to hang it above the drawers. I place it next to the floating nightstand shelf I made awhile ago.
It's nice to have decorative shelves to display plants and pretty items. I still feel that something is missing to complete the decor…maybe a few nice baskets? What do you think?
Follow the steps here under to make this cute wall shelf, it's easy to build and you won't believe the unexpected supply I used to make it.
Don't forget to share your make, I love to see what you build with my tutorials.
RELATED: DIY Easy Box shelves
RELATED: DIY cardboard Wall shelf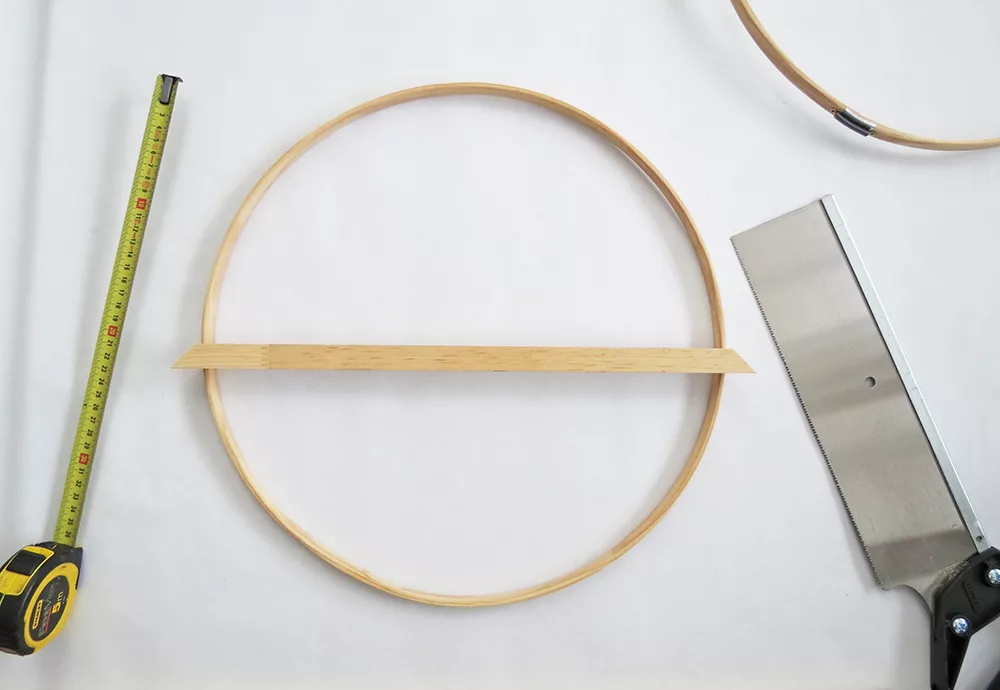 How to build a display shelf
Supplies you will need:
To build the shelf you will only use the inner circle of the embroidery hoop. I found a shop on Etsy where you can buy wood hoops that are perfect for this DIY.
First, place a hoop on a flat surface and build a wood frame around it.
You need to cut 4 identical pieces of wood trim. The end of each trim are cut at inverted 45 degree angles. The smaller side of the trim is equal at the wood circle dimension.
I give you the measurement with my dimension, but you can build your shelf with the embroidery hoop size you want.
The hoop I have has a diameter of 16 in. I reported that measure on the trim and trace two 45 degree angles at each end. The angles goes in opposite direction , like this >>> / 16in. \ (or see the picture above).
It helps if you use a miter box to make perfect 45 degree angles.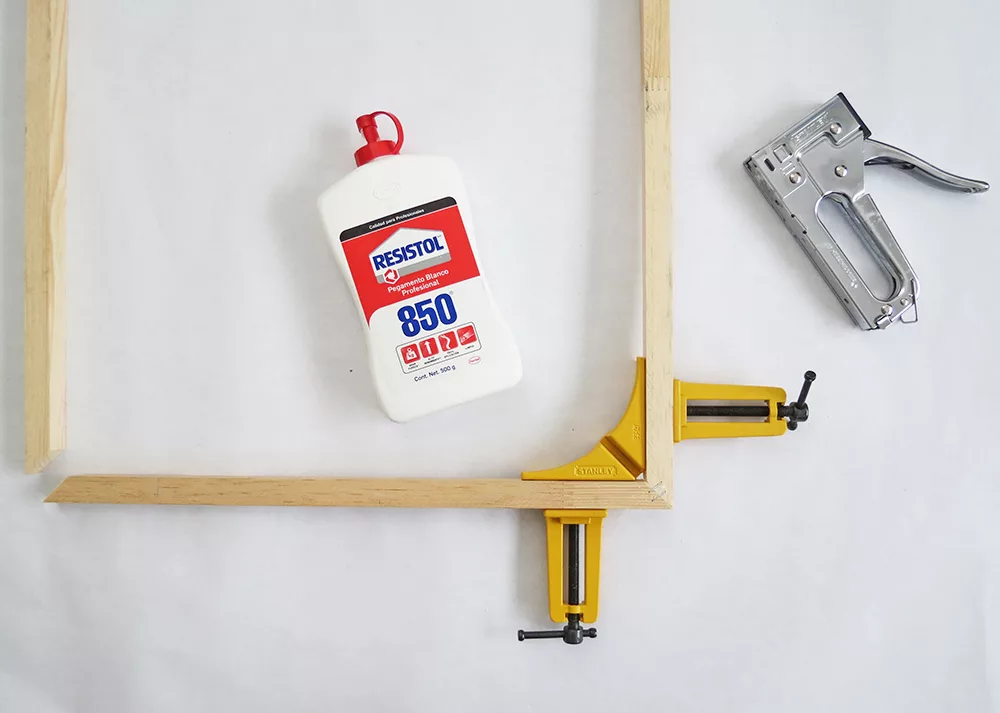 Once you have your 4 trim pieces cut, sand the edges and assemble the frame.
Glue the edges together and staple them to strengthen the assembly. It helps if you can use a 90 degree corner clamp to hold the wood trims while the glue dries. Repeat moving the corner clamp until the fourths side of the frame are build together.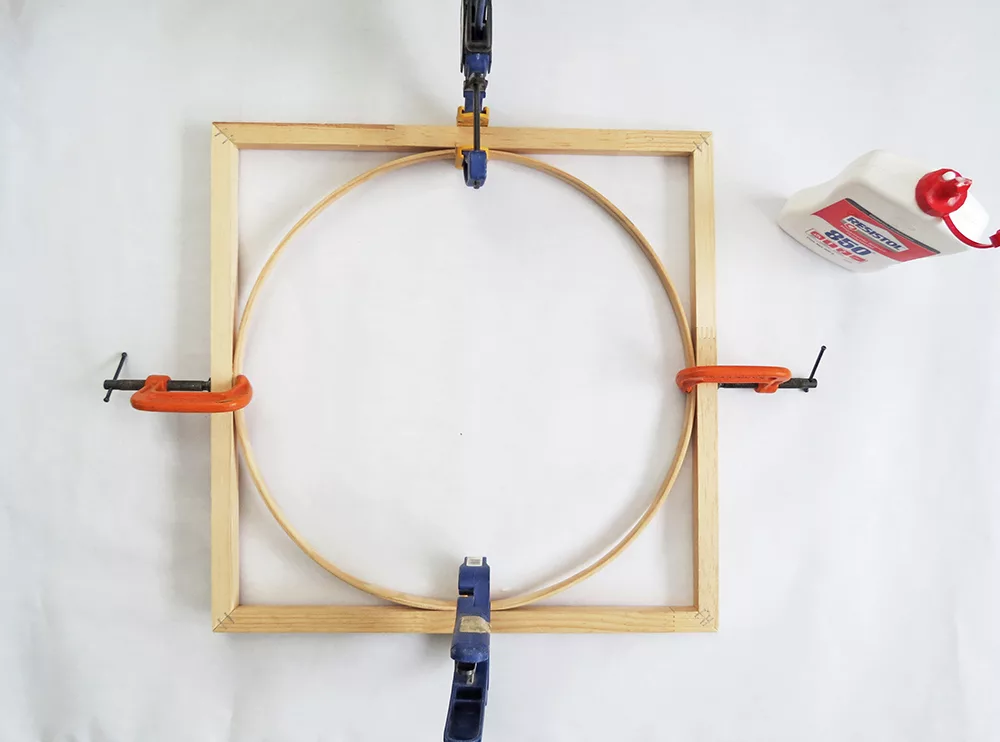 Slide the embroidery hoop inside the frame, add 4 glue dots to fix it into the frame and hold with clamps while the glue dries.
Then repeat the previous steps to build a second identical frame with the other wood hoop.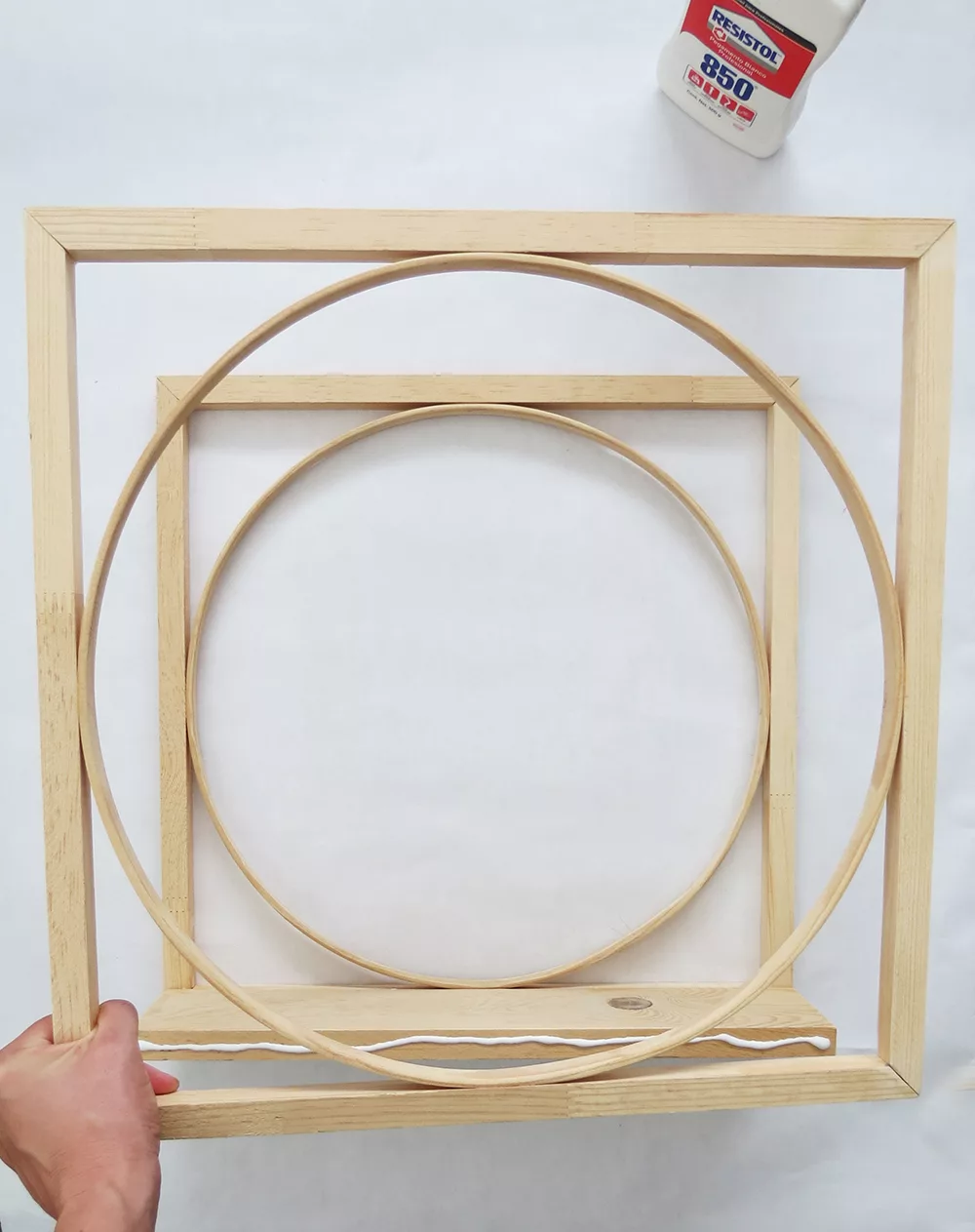 Cut a piece of 4 in. width plank to make the shelf base, and glue a frame on each side. Hold with clamps.
The glue is strong enough to hold the shelf together but the wood pieces have to be press together while the glue is drying.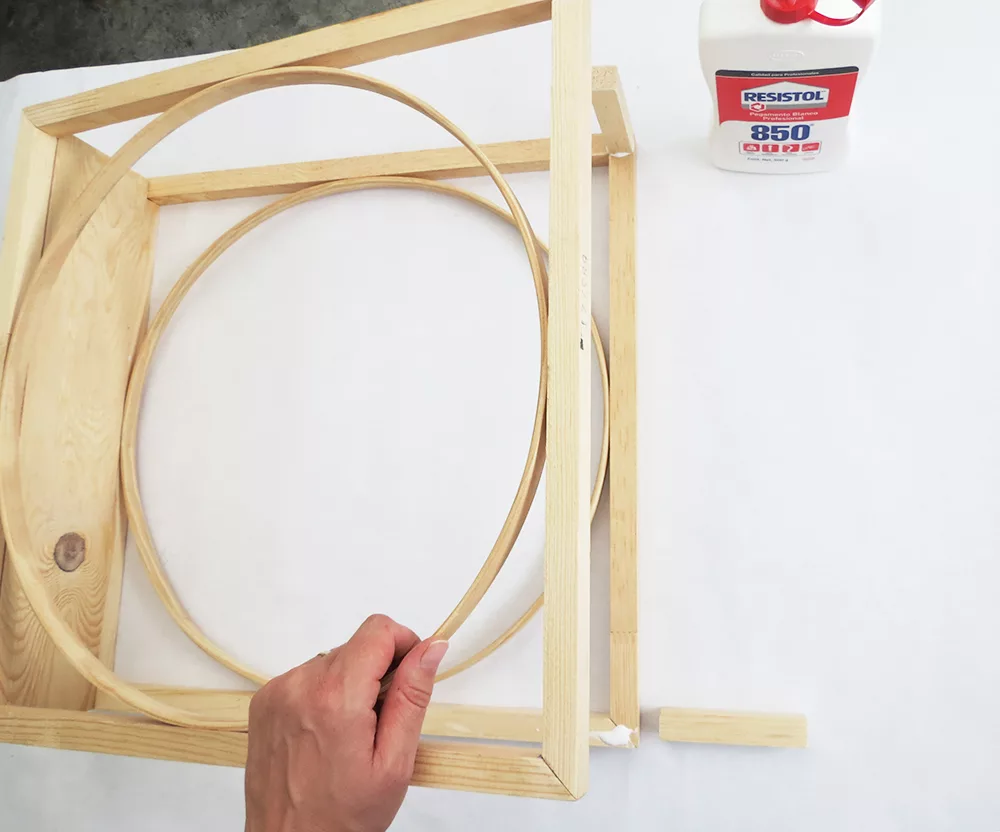 Cut two small trim pieces of 4 in. length and glue them to hold the upper part of the frames together. Again, hold the assembly with clamps while the glue dries.
RELATED: How to make a wall display shelf
To hang the shelf on the wall, nail 2 sawtooth hangers on the back.
It works in my case because I will only display lightweight decorative items in it. If you want to use your shelf to put planters or any other heavy item, I suggest you to add some metal brackets under the shelf for more safety.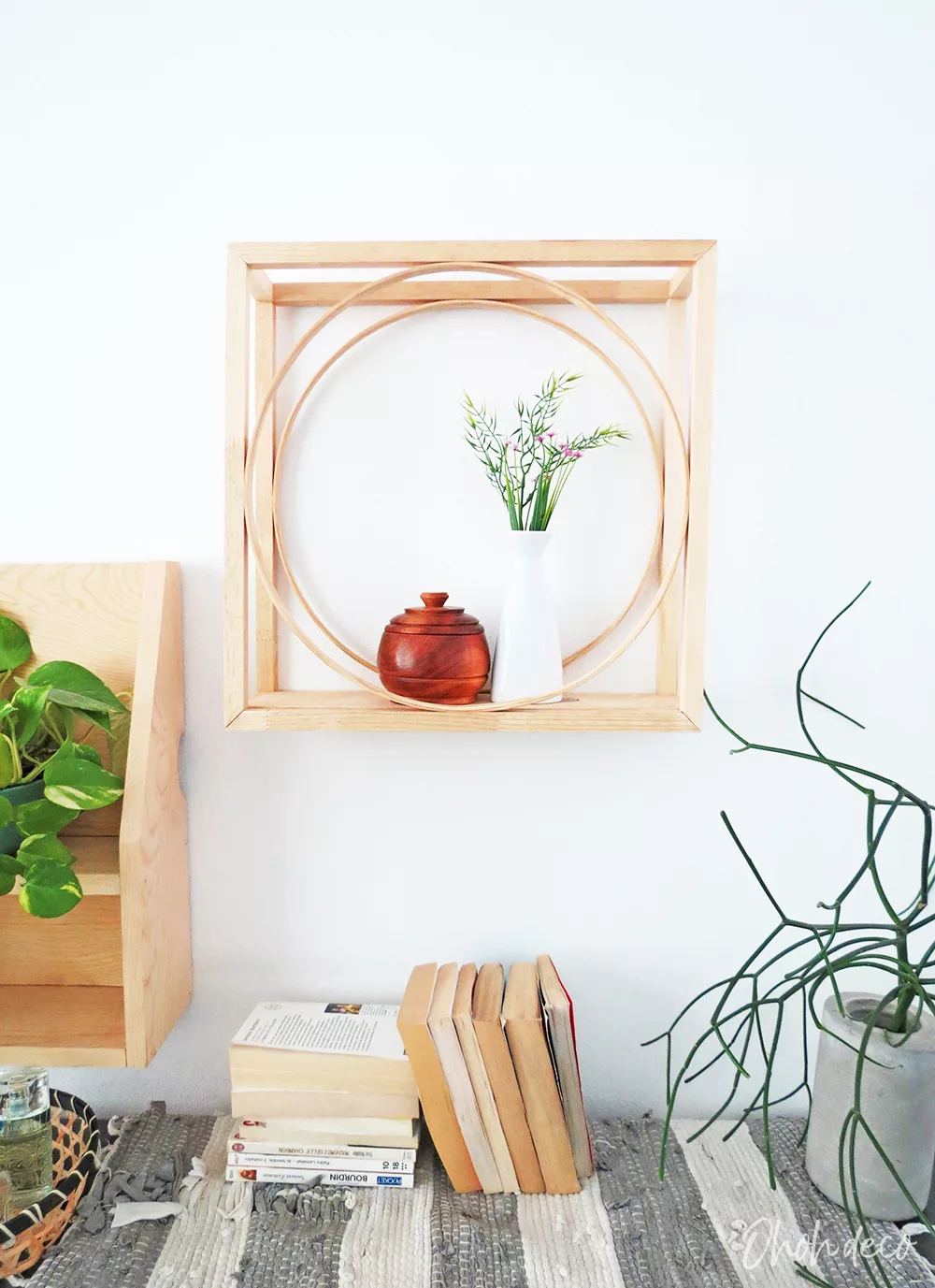 And done! What do you think?
I tried to display different items into the shelf to see how I like it the most. For now, I left my wooden Catarina in it (see the picture below).
DIY shelves are such a fun way to decorate. It's easy to change the items you put on it and switch it following your mood and to display seasonal decoration.
What do you want to place in your DIY display shelf?
I love to see your creations, so don't hesitate to let me a comment or share them on social media (FB: @ohohdeco IG: ohoh.deco)
RELATED: How to make a wall display shelf
RELATED: DIY drop shaped shelf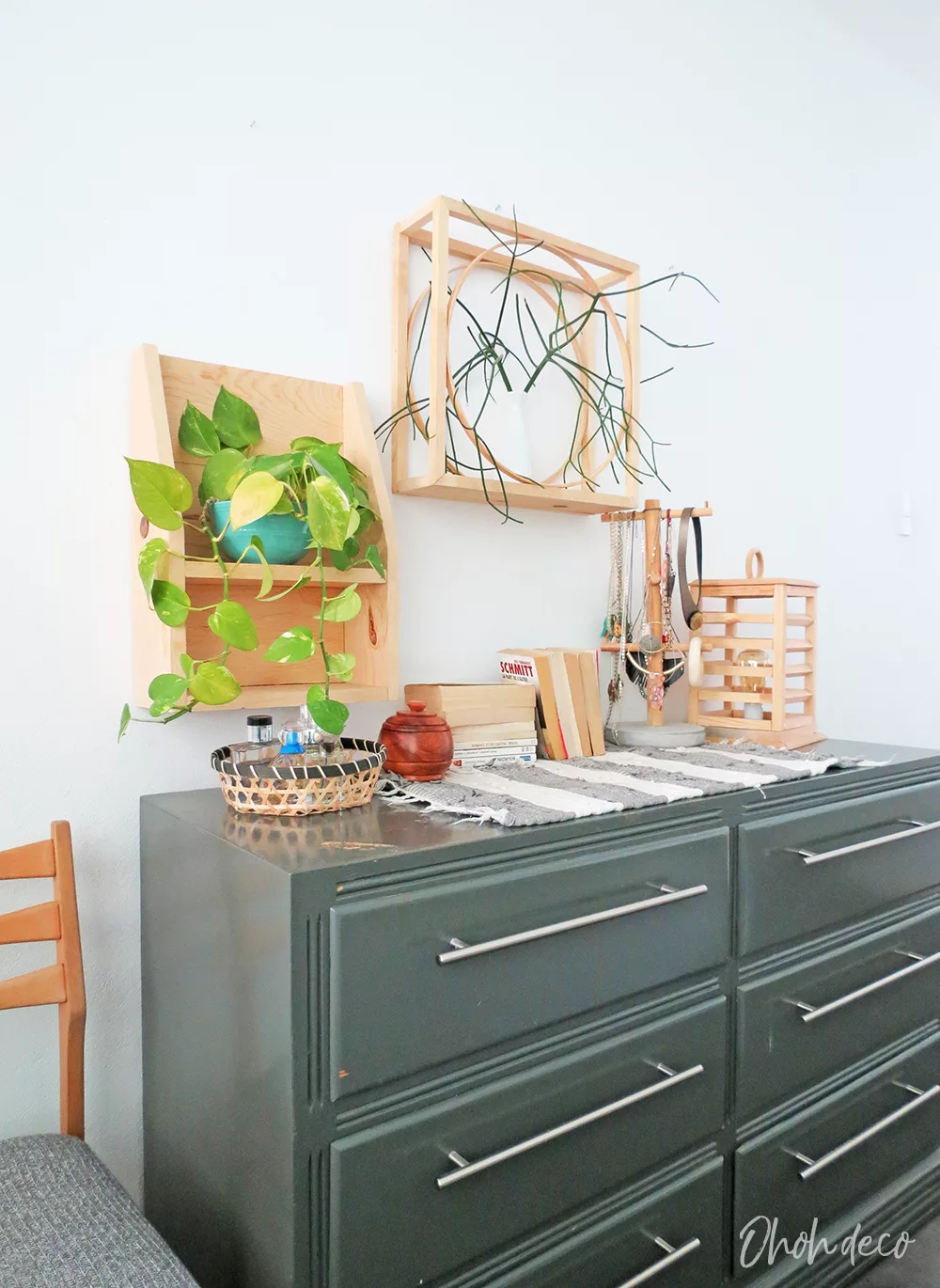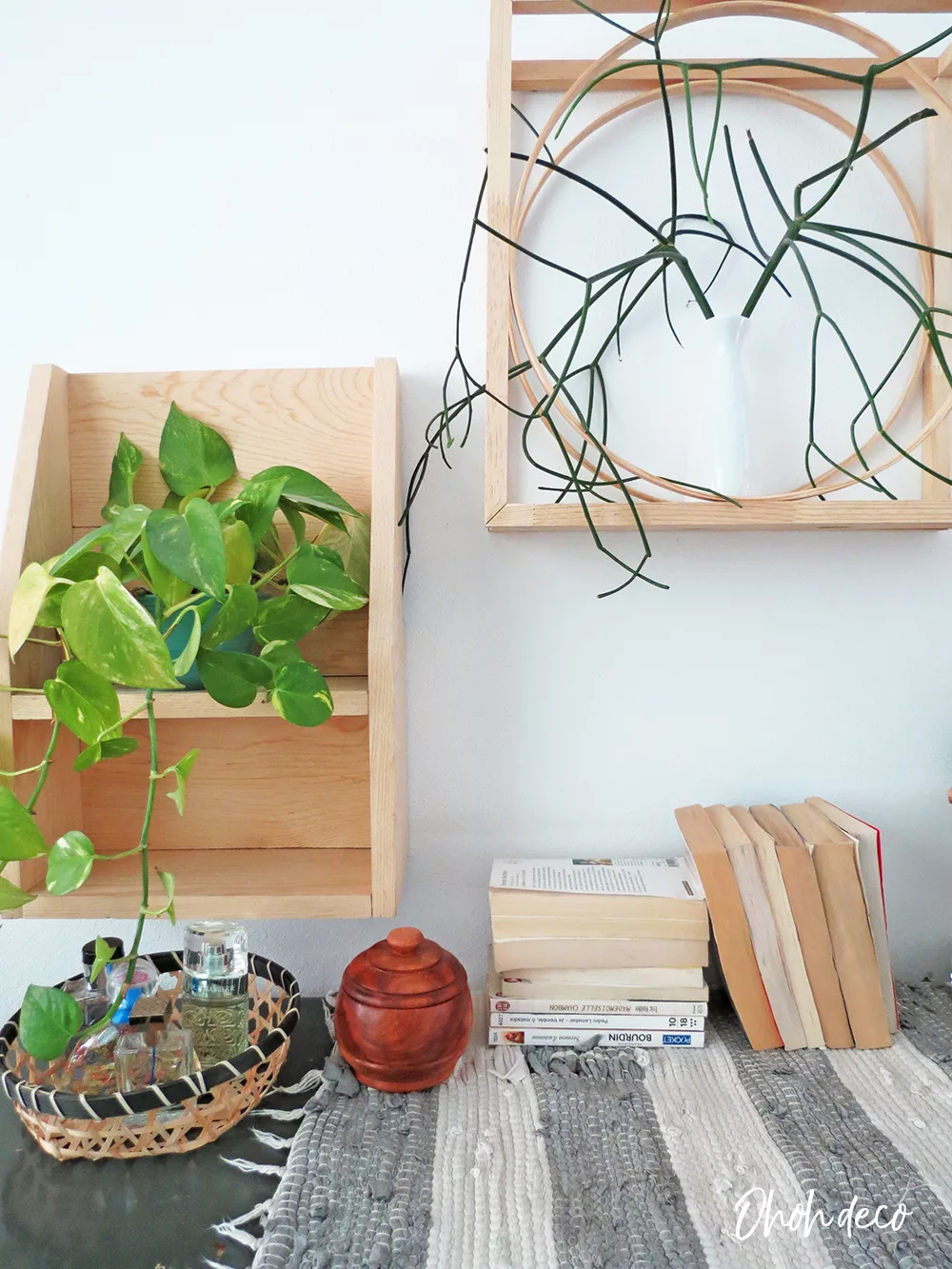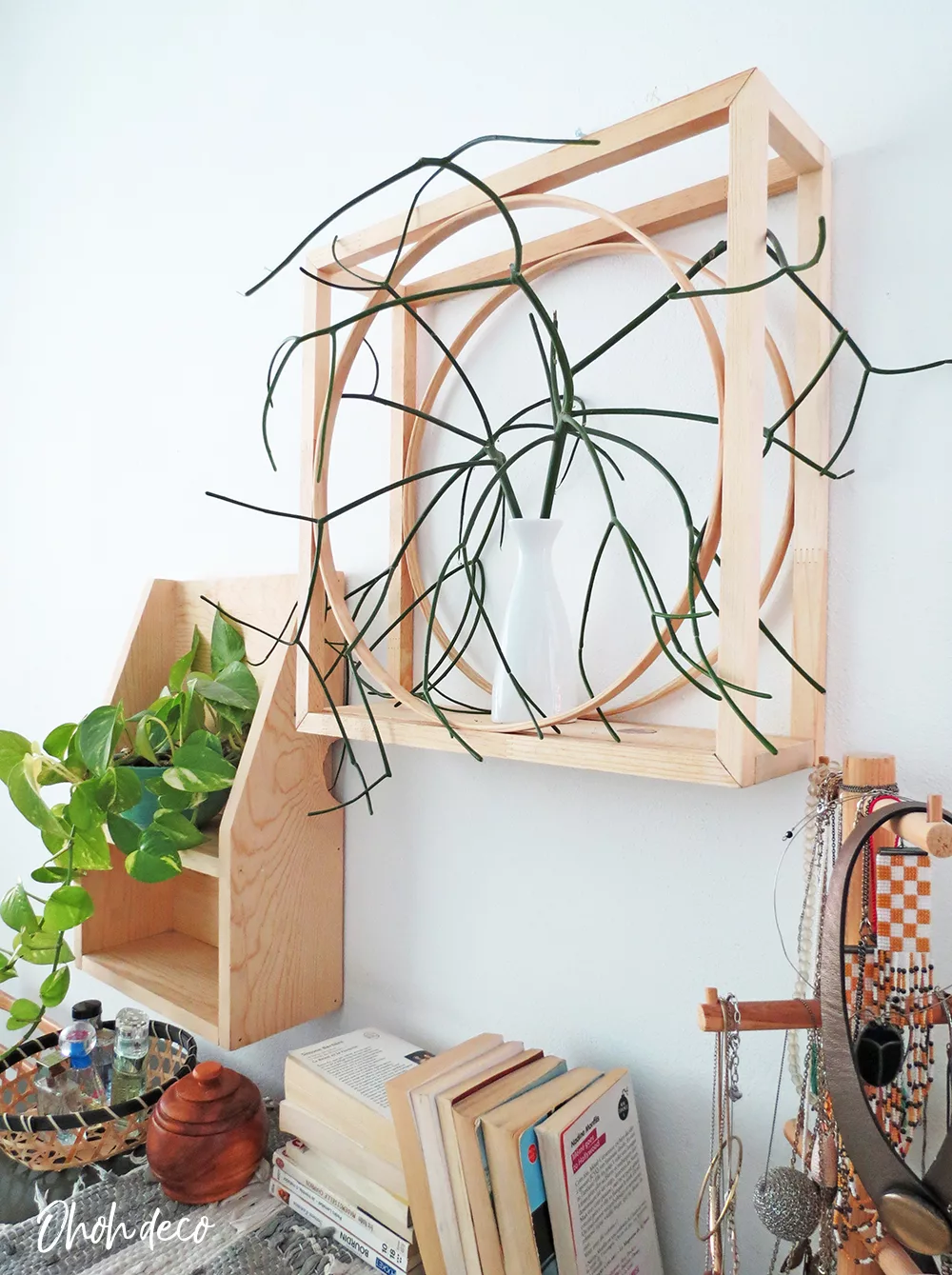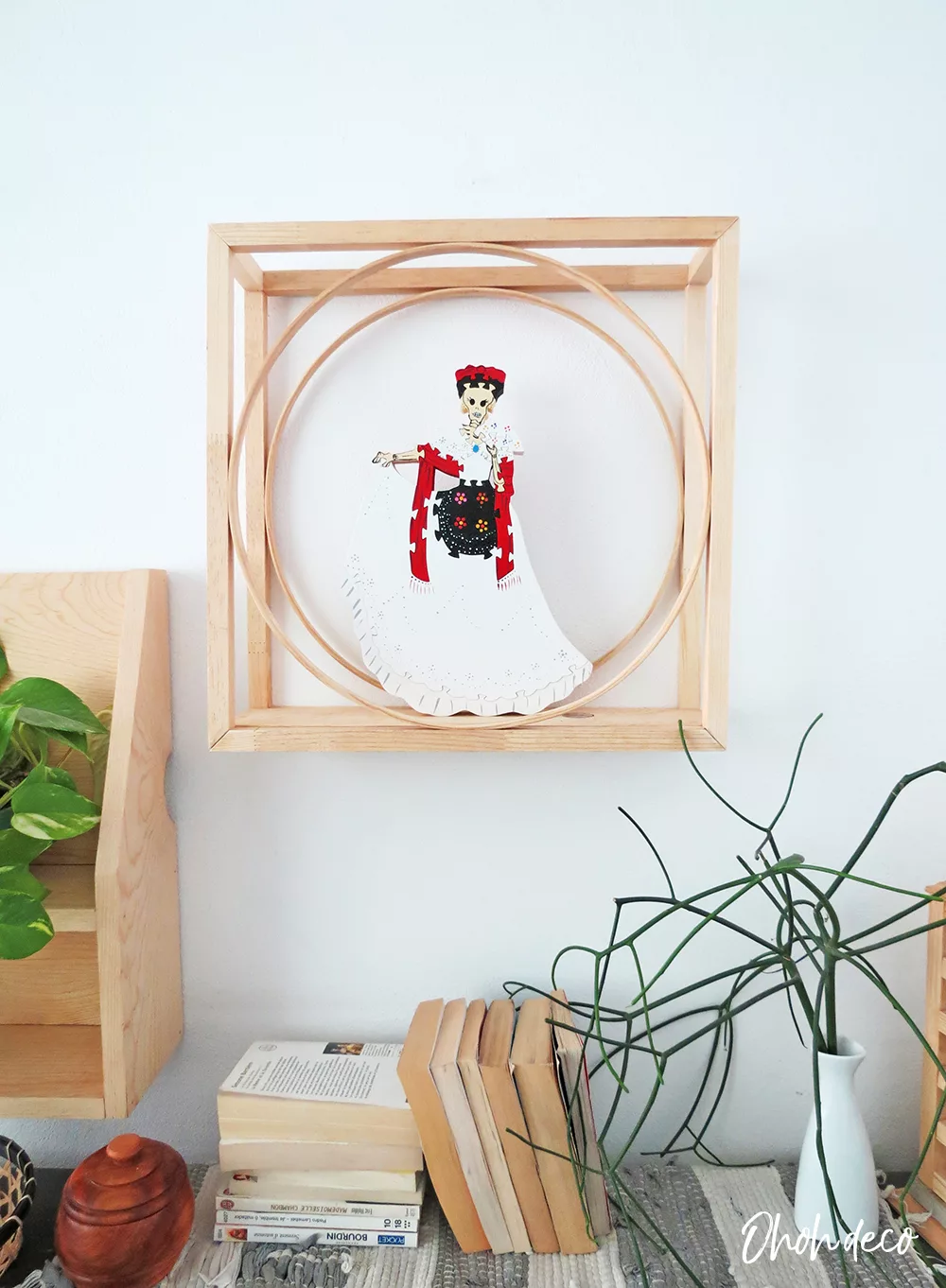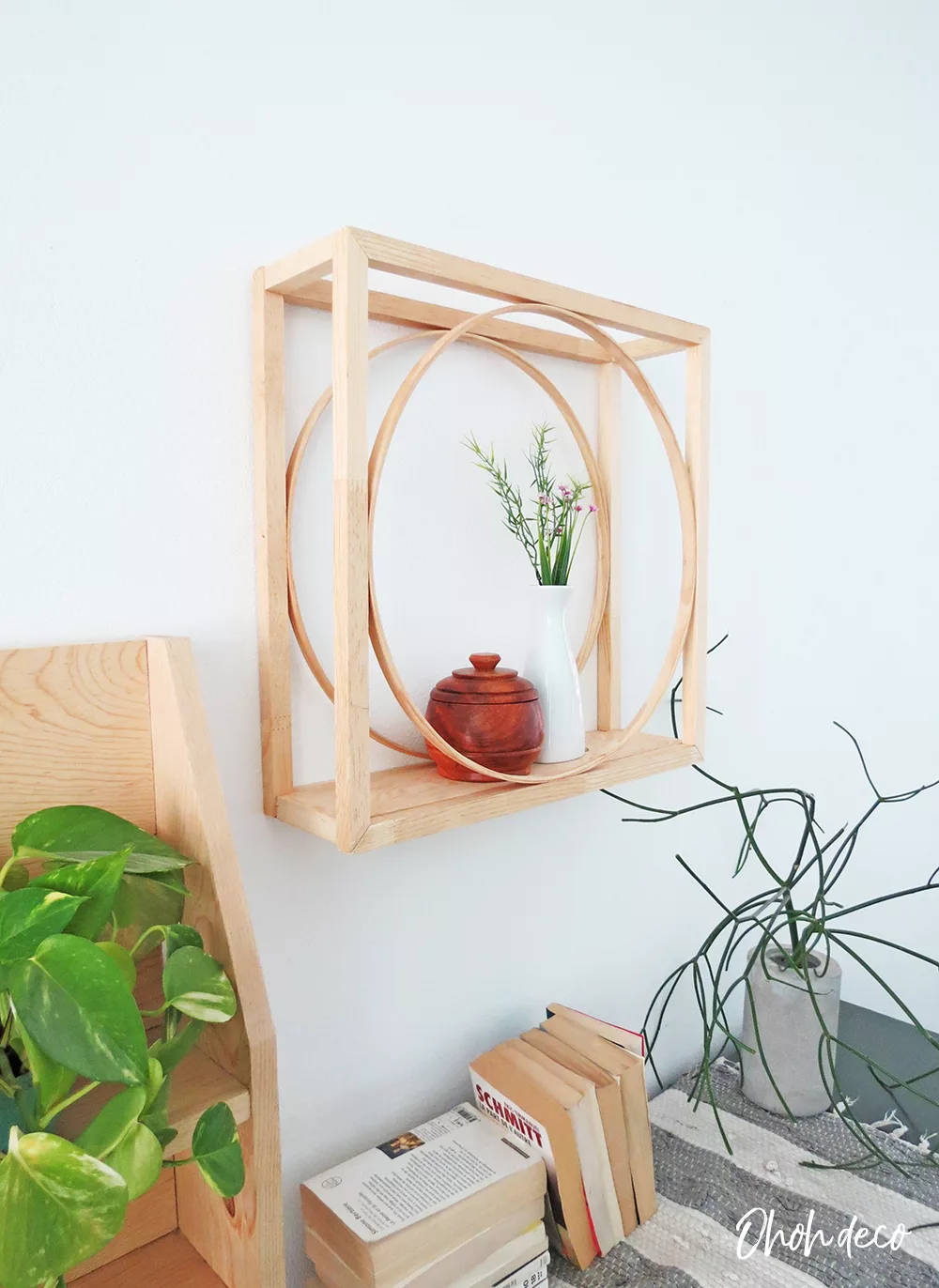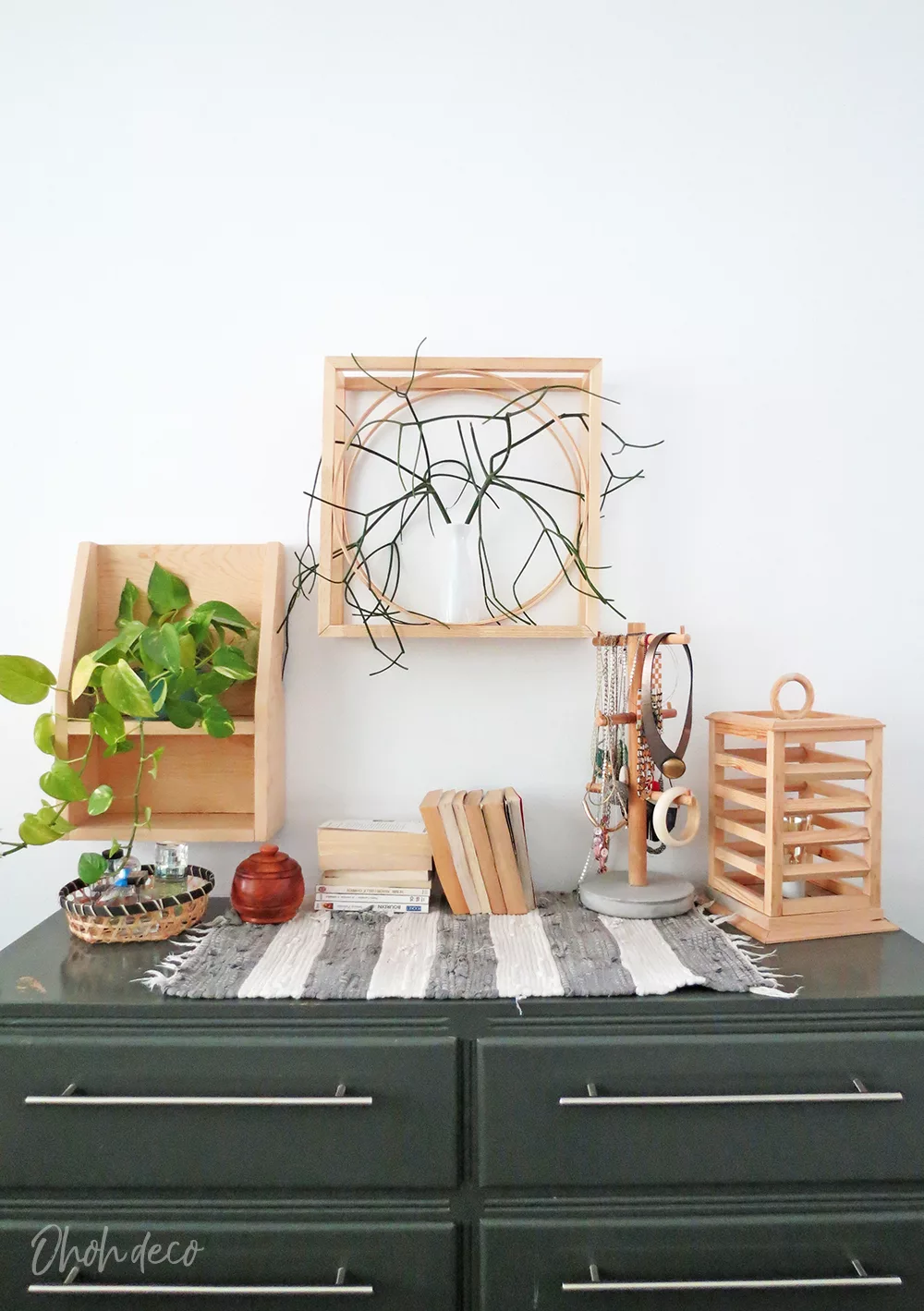 Want to remember it? Save this DIY Display Shelf in your favorite Pinterest board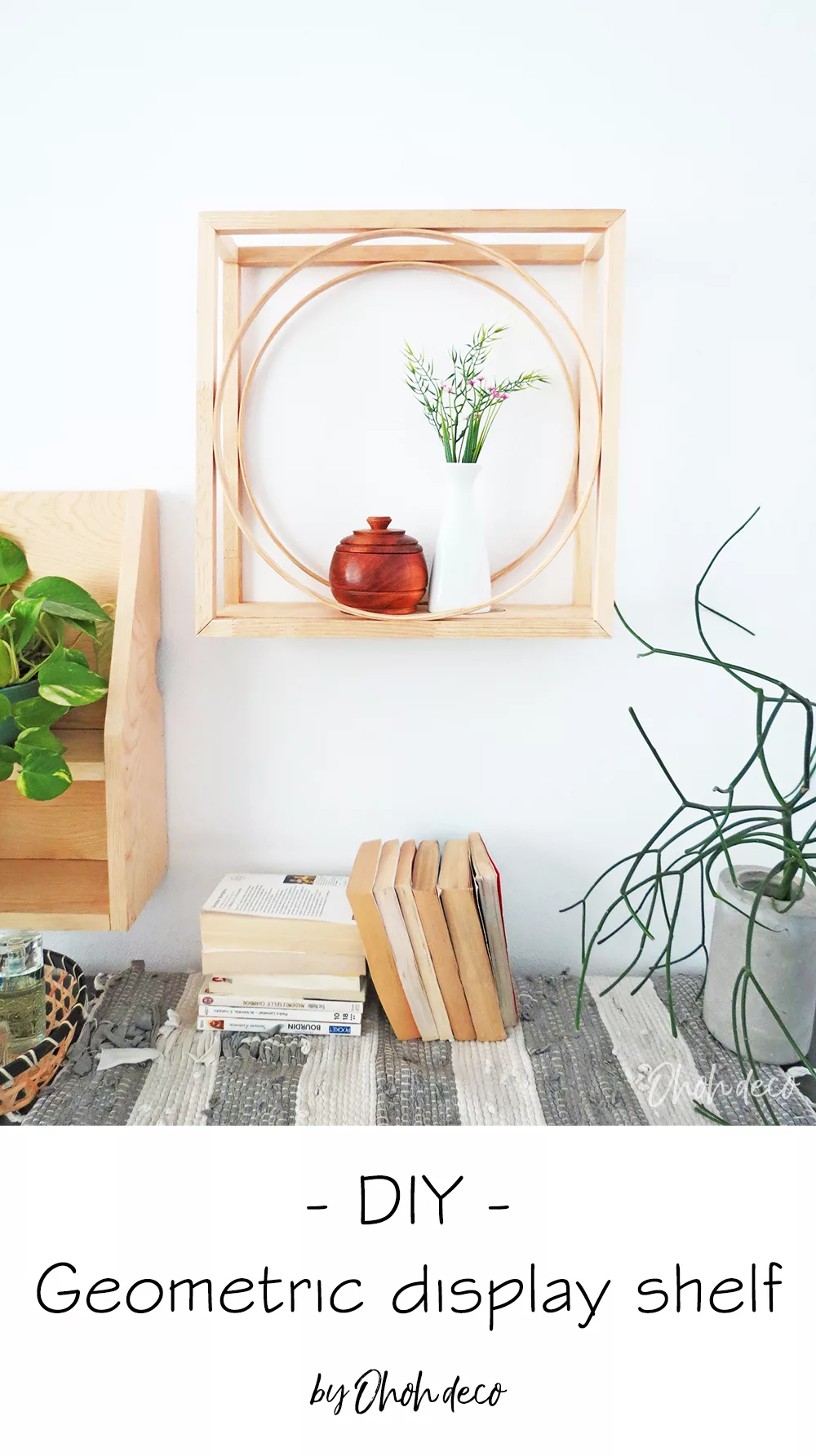 You will find all the tutorials featured in the video on my "Best DIY" page.
Amaryllis