Sewing a fabric pumpkin is a nice and cozy addition to your decor fall. It's quite funny to sit on the couch between a few comfortable and soft pumpkins pillows.
[ This post probably contains affiliates links, our full disclosure policy is really boring, but you can read it HERE ]
You can, of course, place the stuffed pumpkins in an armchair or on a bed, but you can also use them almost anywhere in the house to create a nice fall atmosphere.
Display soft pumpkins on a console table, a bench, or even on your front porch (provided it's sheltered from the rain of course).
I choose some classic colors to sew my pumpkins shaped pillows, rusty orange, and a pretty reddish-orange. The best thing about handmade projects, is that you are free to create the pumpkin cushions with the fabric of your choice.
Why not try to make some blue pumpkins, or using different shades of white and cream fabric for a modern look.

Tell me? What colors would you like to try?
RELATED: 15 DIY you will love to make this Fall
RELATED: 35 Halloween sewing projects ideas
Easy fabric pumpkin pattern
To sew this pillow you will need some simple supplies (see the list below) and the "cactus pillow" pattern. Yes, you read that right, surprising as it sounds, the pumpkin pillow is a hack of my cactus pillow.
I used the same pattern, instead of embroidering thorns on the sides and sewing a flower on top, I just added a stem and leaves.
You can buy the pumpkin pillow pattern in my shop.
If you previously bought the Cactus pillow pattern, just download the stem and leaf pattern.
You can now make two cute pillows out of the same pattern! How cool is that 😉
RELATED: DIY fabric pumpkin without sewing
RELATED: 20 easy pumpkins crafts ideas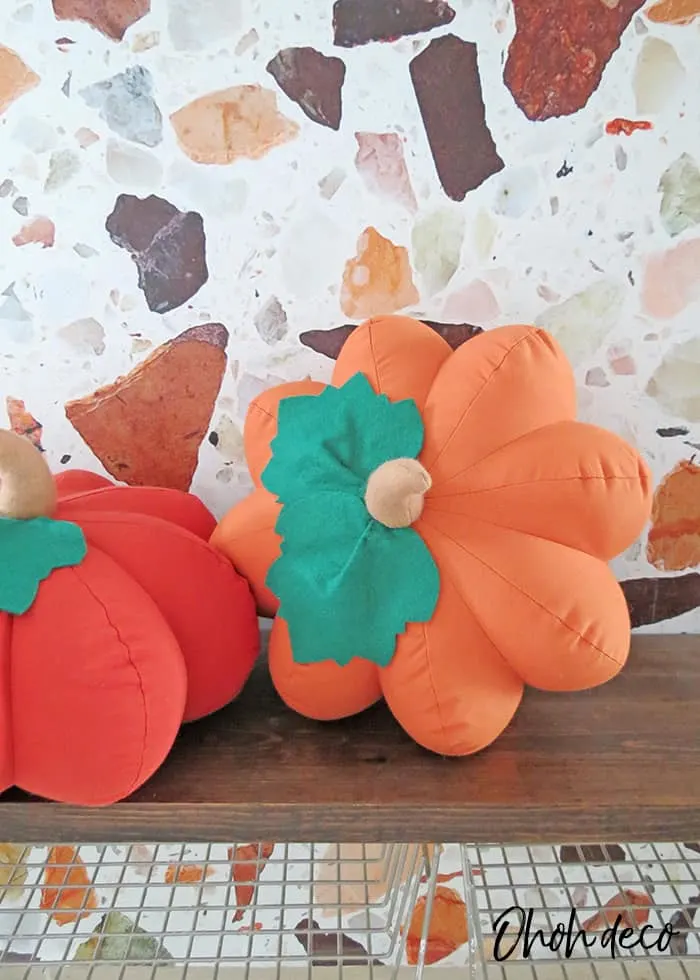 How to make a DIY pumpkin pillow?
Supplies you will need to sew a pumpkin cushion:
Tips:
You really need very little felt for this project, the b

est is to use scraps. If you don't have any this assortment may be a good option.
I used one bag of cushion filling foam for each pumpkin. If you want your pillow to be cozier I suggest you put some less. It gives you an idea of how much filling foam you will need.
Ready to start sewing your pumpkin shaped pillow?
Start by sewing the pumpkin body using the same pattern as the Cactus pillow (available in the shop). Follow the Cactus pillow tutorial from Step 1 to Step 23.
I used orange cotton fabric but it will also look very nice to sew stuffed pumpkin using sherpa fabric.
You can also add a touch of fun sewing the pattern using different fabric prints for a patchwork effect.
The PDF pattern includes the actual pattern pieces for cutting out after printing, a full photo tutorial that shows you how to sew this pattern together, and a detailed video tutorial. All are available as an instant download.
Just place your order and complete the payment. You will receive an email with the link to download your sewing pattern and tutorial.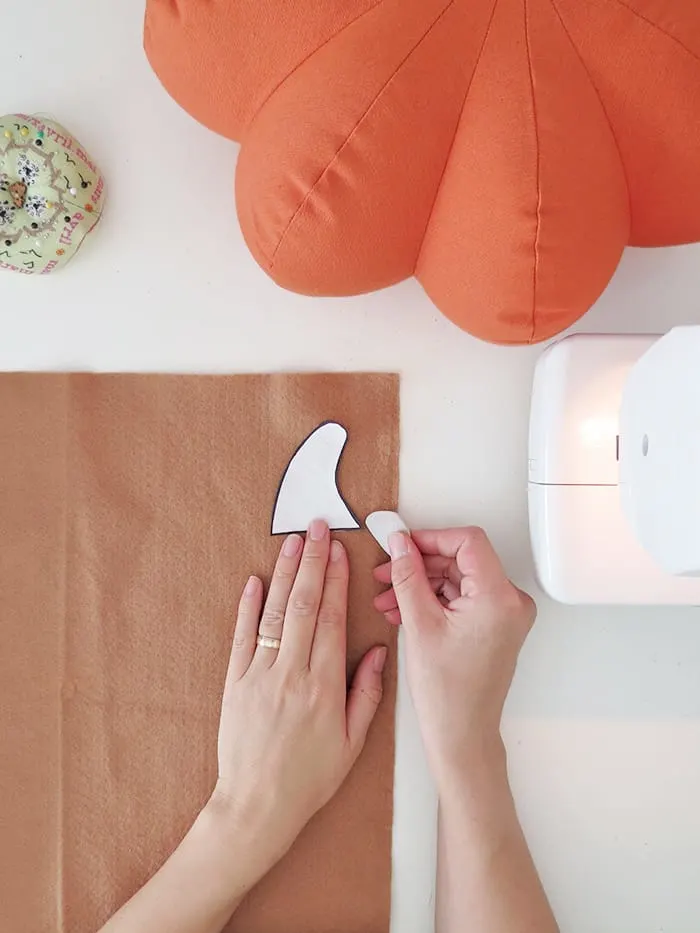 Once you have the pumpkin body shape, you can make the stem. Report the stem shape twice on the felt. Cut out the shapes adding a seam allowance of 1/2 inch (1cm).
If you don't already have it, you can click on the link to download the stem and leaf pattern.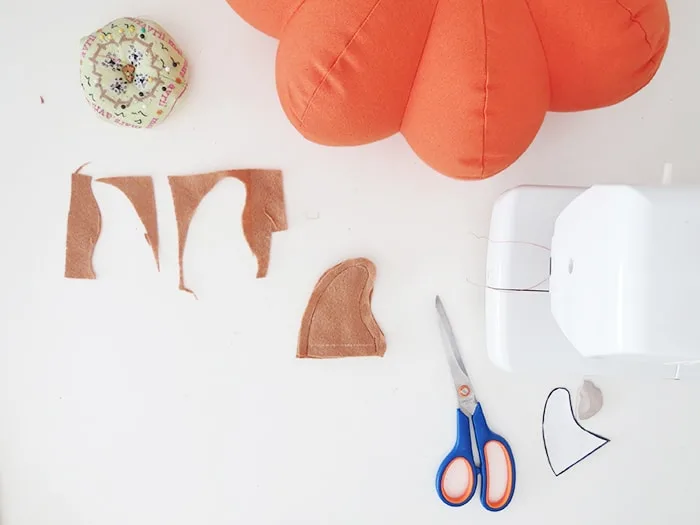 Place both stem shapes on top of each other, pin, and sew. Leave the bottom open.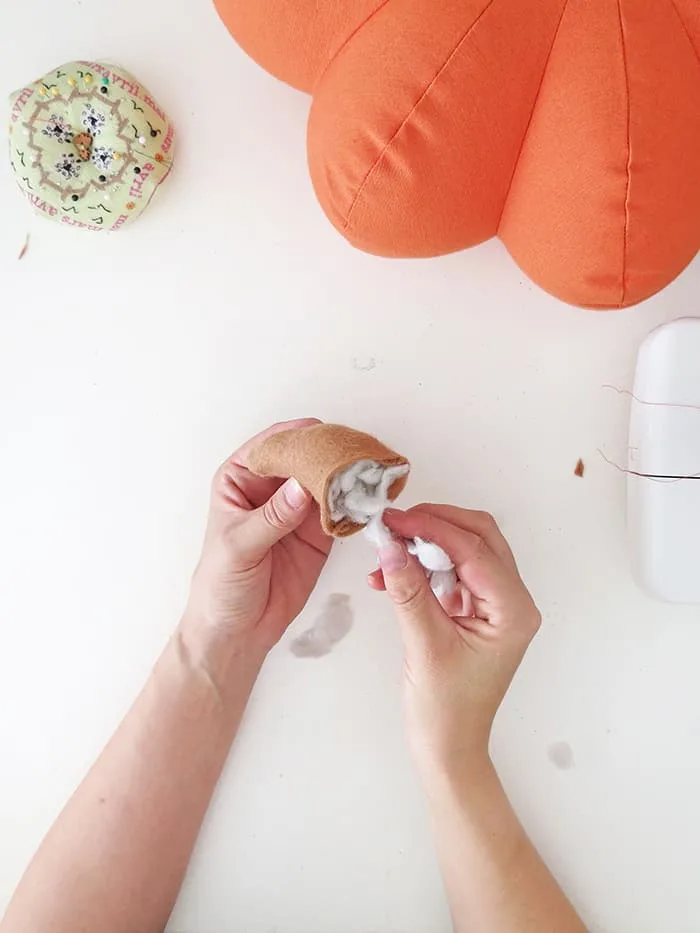 Turn the stem shape right side out and fill it with cushion filler.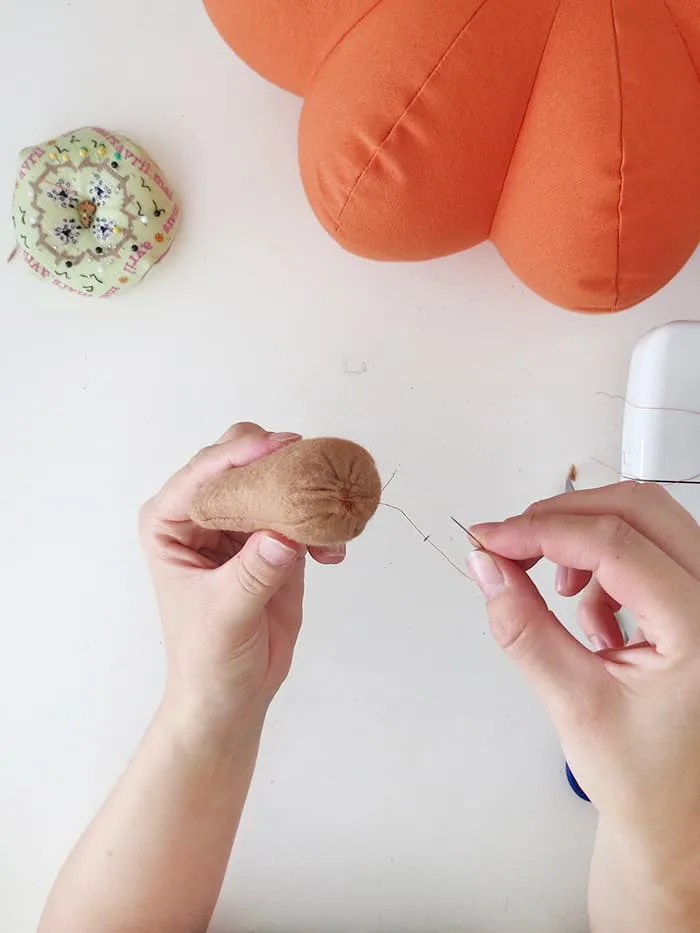 Close the stem bottom with a few hand stitches.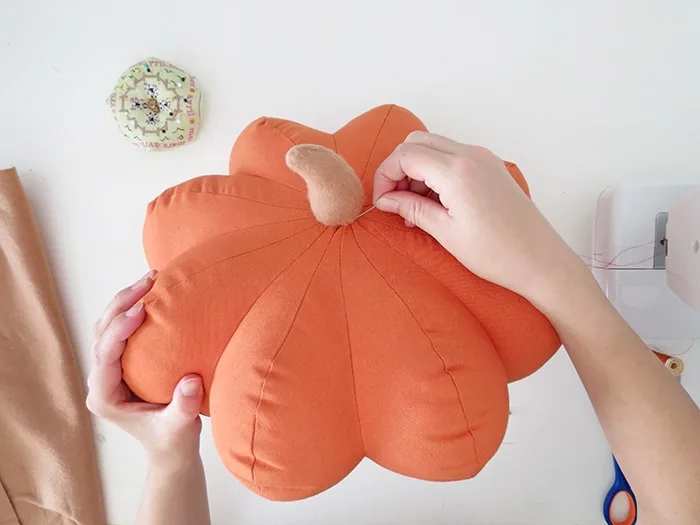 Place the stem on the pumpkin center a sew it with invisible stitches.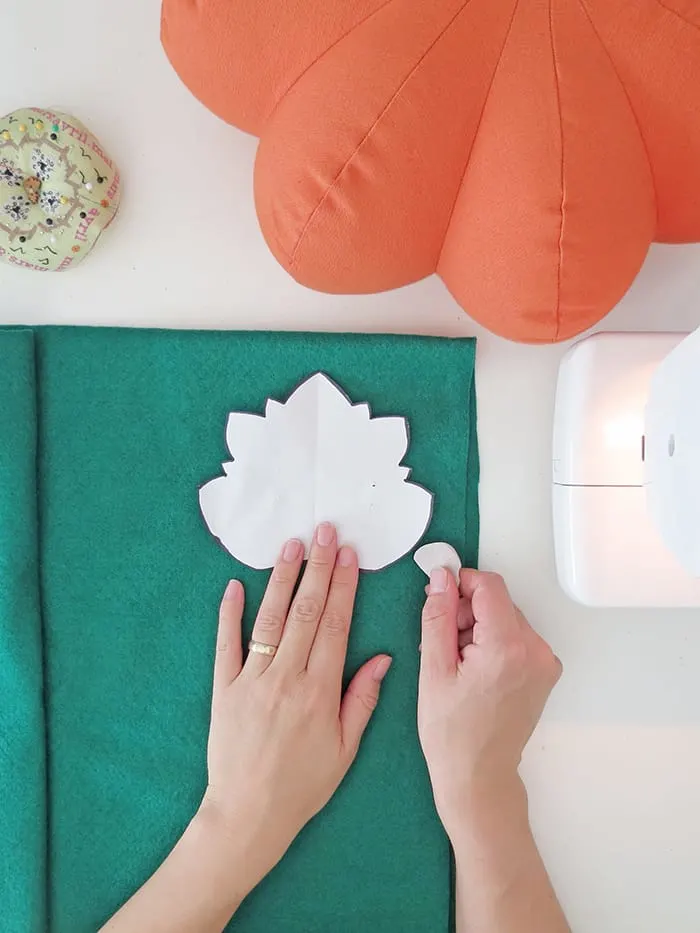 Take the leaf template and report it on the green felt fabric.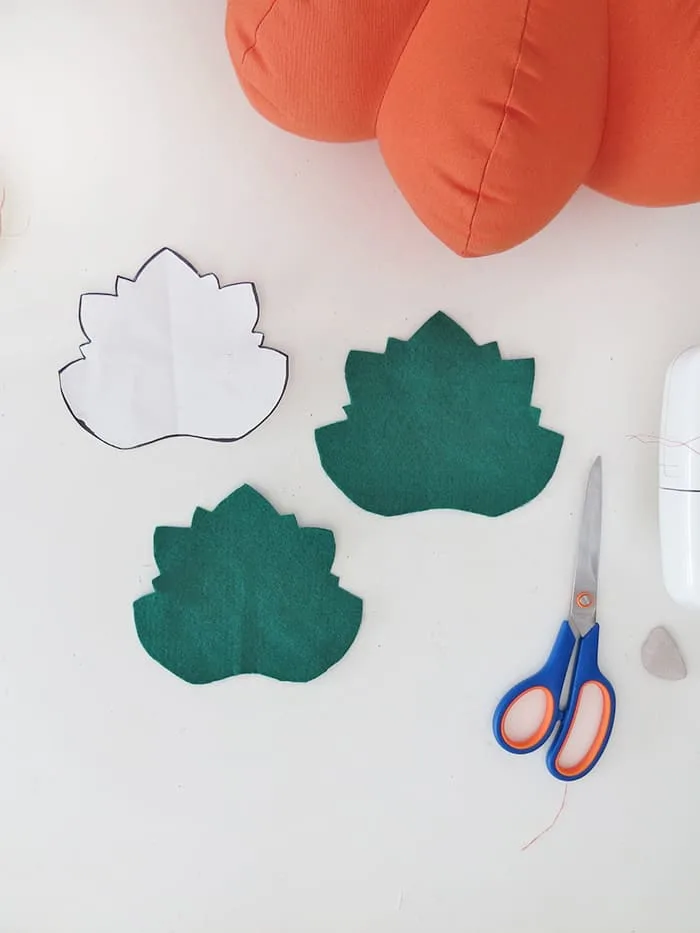 Cut out the leaves. You can choose to make one, two, or more leaves to your pumpkin.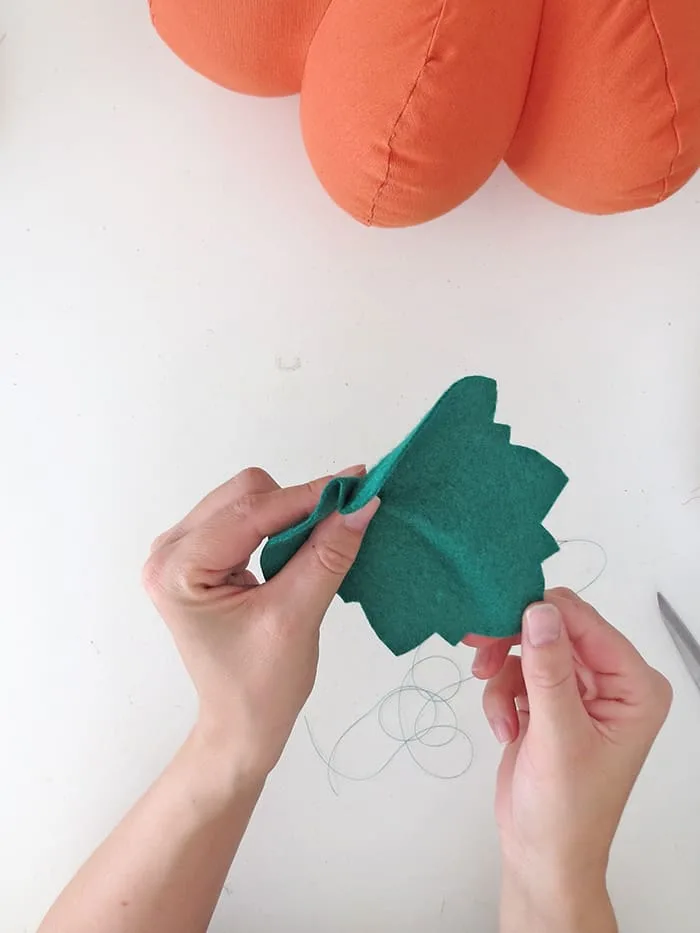 Make a double fold on the leaf center and stitch it next to the stem. Making the fold gives the leaf a nice volume but it works if you sew it flat too. I just made a few stitches next to the stem to attach the leaf.
I kept the pumpkin as it, but if you want a more spooky look you can cut some eyes and mouth shapes in black felt to make a pumpkin Halloween pillow.

RELATED: The Succulent pillow pattern
RELATED: Decorative embroidered Cat pillow
Follow Ohoh deco on Youtube and be the first to find out about the new DIY.
I hope you enjoy this fall craft. Remember the pumpkin pillow pattern is available in the shop.
Have fun sewing and don't hesitate to share your make, I love to see what you sew with my patterns.
RELATED: 27 Spooky and adorable Halloween decor ideas
Want to remember it? Save this Pumpkin shaped pillow in your favorite Pinterest board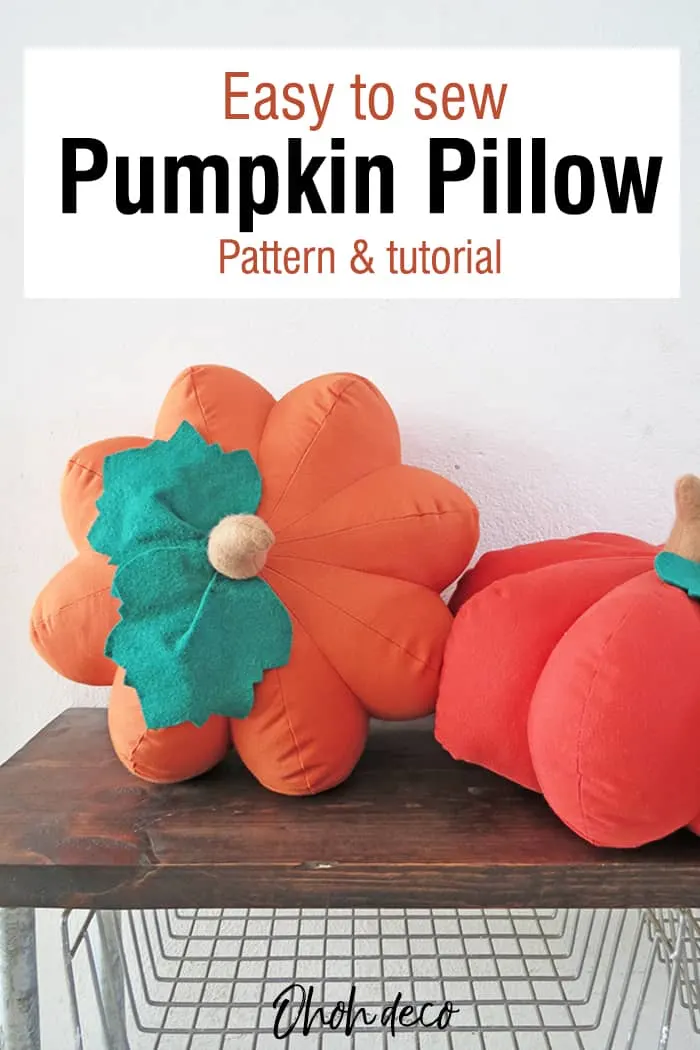 You will find all the tutorials featured in the video on my "Best DIY" page.
Amaryllis