Scandinavian Christmas decor is a great inspiration for the holiday season. Its simplicity and modernity are a must. We may see beautiful decorations in magazines and stores, but it's not always easy to reproduce this peaceful Scandinavian atmosphere at home.
[ This post probably contains affiliates links, our full disclosure policy is really boring, but you can read it HERE ]
I give you 6 simple tips to help you decorate your Christmas tree in a Swedish style. We will go over several essential elements, from the choice of the tree to the ornaments.
I will also give you some decorations ideas to complete your room and create the perfect Nordic Christmas you are dreaming about.
RELATED: 25 easy DIY Scandinavian ornaments
RELATED: How to create a DIY Scandinavian Christmas decor
1- Choose your Nordic tree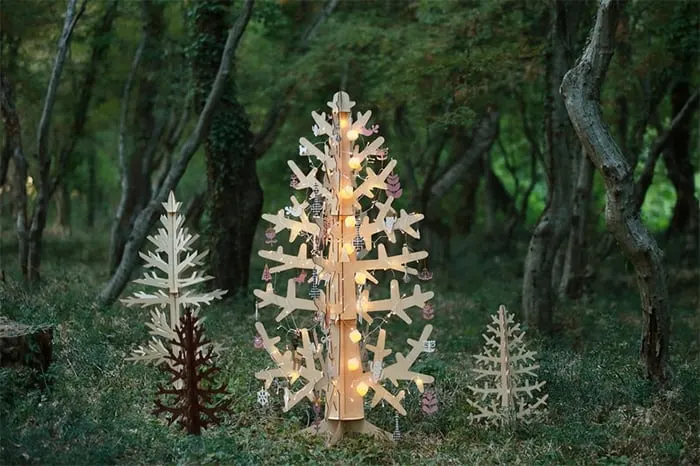 There are several options for you to choose the right tree. The best to create a Scandinavian Christmas is to have a natural tree. If possible get one in a pot with roots to be able to replant it and use it for several years in a row.
Obviously we don't all have space or the garden to keep our tree all year long.
So another option is to buy an artificial tree, you can find beautiful trees here and here, they look as great as natural ones. Prefer a tree with a natural shape and without ornaments.
The last option is to use a minimalist sculptural tree, like this one made of wooden dowels or this one.
Shop your Nordic Christmas tree
2- Cover the tree stand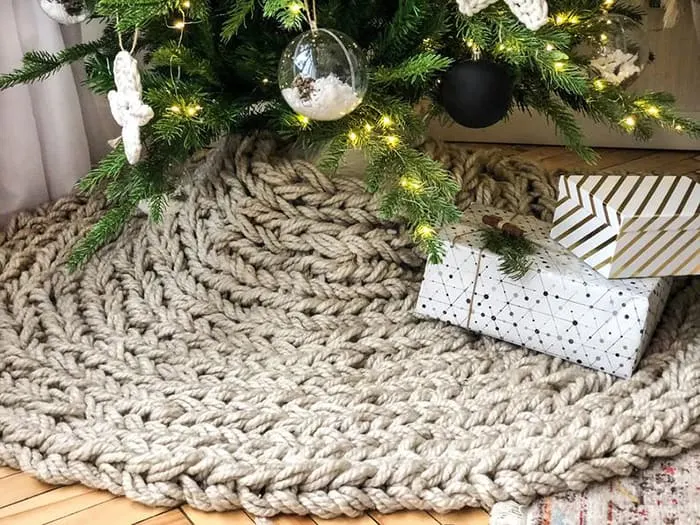 I always tend to forget this part and end up wrapping the base of the tree in a piece of wrapping paper, not pretty.
Know that there are very simple and much nicer solutions.
The first idea is to put your tree in a basket or in a metal bucket, pretty and efficient. You probably already have a basket that you can use for this purpose.
Another simple solution is to hide the tree base in a brown paper bag. If your tree is small, you can recycle one. Otherwise, you can follow the tutorial I wrote to make a paper gift bag to make a custom brown bag for your tree. You will just have to adjust the dimensions.
You may prefer a classic tree skirt, if so, choose it in neutral shades and in natural materials, like yarn or faux fur.
A last idea is to buy a pretty tree stand in stores. There are very elegant options and at different prices. A tree stand is something that we use for many years, so it's probably worth investing in something pretty.
Get a modern tree stand cover
3- Decorate with simple ornaments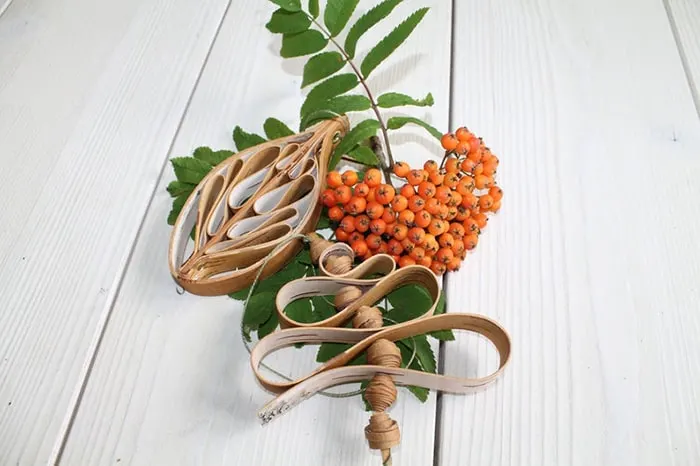 Simplicity is the key. Choose a range of neutral and soft colors for your decorations and ornaments, such as white or black.
You can also add natural elements like pinecones, straw decorations, wooden beads.
Avoid mixing too many styles of ornaments, limit yourself to 2 or 3 models. Play with different ornaments sizes so that the decoration of your tree is interesting while remaining simple.
It isn't necessary to add garlands to your tree. But if you like to use some, choose a simple one, like this garland of wooden beads, this felt garland or this pretty paper-cut garland.
Shop Scandinavian ornaments
4- Add soft lights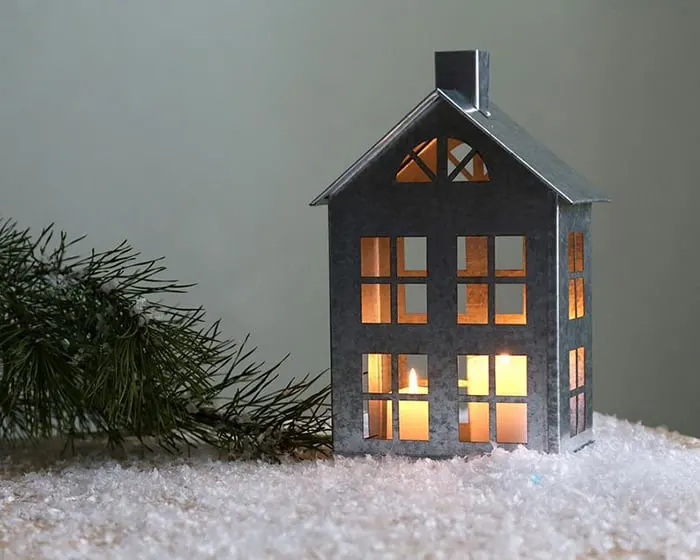 Nordic nights are long and the lack of light is felt at this time of the year. It's therefore important to add lights in your shade. Prefer white lights with warm tones. You can use a classic light cord or use pretty garlands, like this one.
Although traditionally a lot of candles were used to create a cozy atmosphere, for safety reasons it's preferable to have LED candles. It's as pretty and less risky.
You can place some LED candles at the foot of the tree to highlight it.
Shop the best Christmas lights
5- Keep decorating around the tree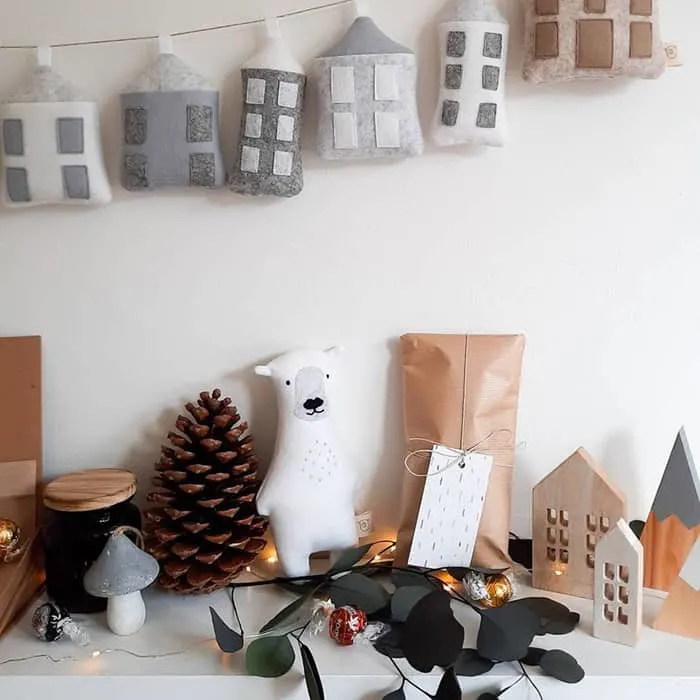 Christmas decoration doesn't stop with the Christmas tree. There are a few simple items you can place around your tree to make it stand out.
Use the gifts as a decorative element and place them at the foot of the tree. For the decorative effect to be successful, wrap your gifts in neutral paper, such as brown paper or recycled paper.
Add a natural element as a gift topper like branches or pine cones. You can also complete with some fun gift tags. Attach gift tags and toppers with string.
Place your gifts at the foot of the tree as a nice decorative complement. For more convenience, you can put the gifts in a basket or a crate.
To complete your pretty Nordic tree. do not hesitate to add some decorations in the room.
It can be Christmas decorations like a pretty garland, an advent calendar, or a natural wreath.
You can also use decorative elements to change the atmosphere of the room and make it more cozy and Nordic.
Add faux fur plaids and knitted cushion covers on the couch. Display of small trees in pots, use vivariums with moss or poinsettias as a centerpiece or on a console.
RELATED: DIY paper star advent calendar
RELATED: Make a gingerbread Christmas village with cardboard
6- Handy summary to decorate a Nordic Christmas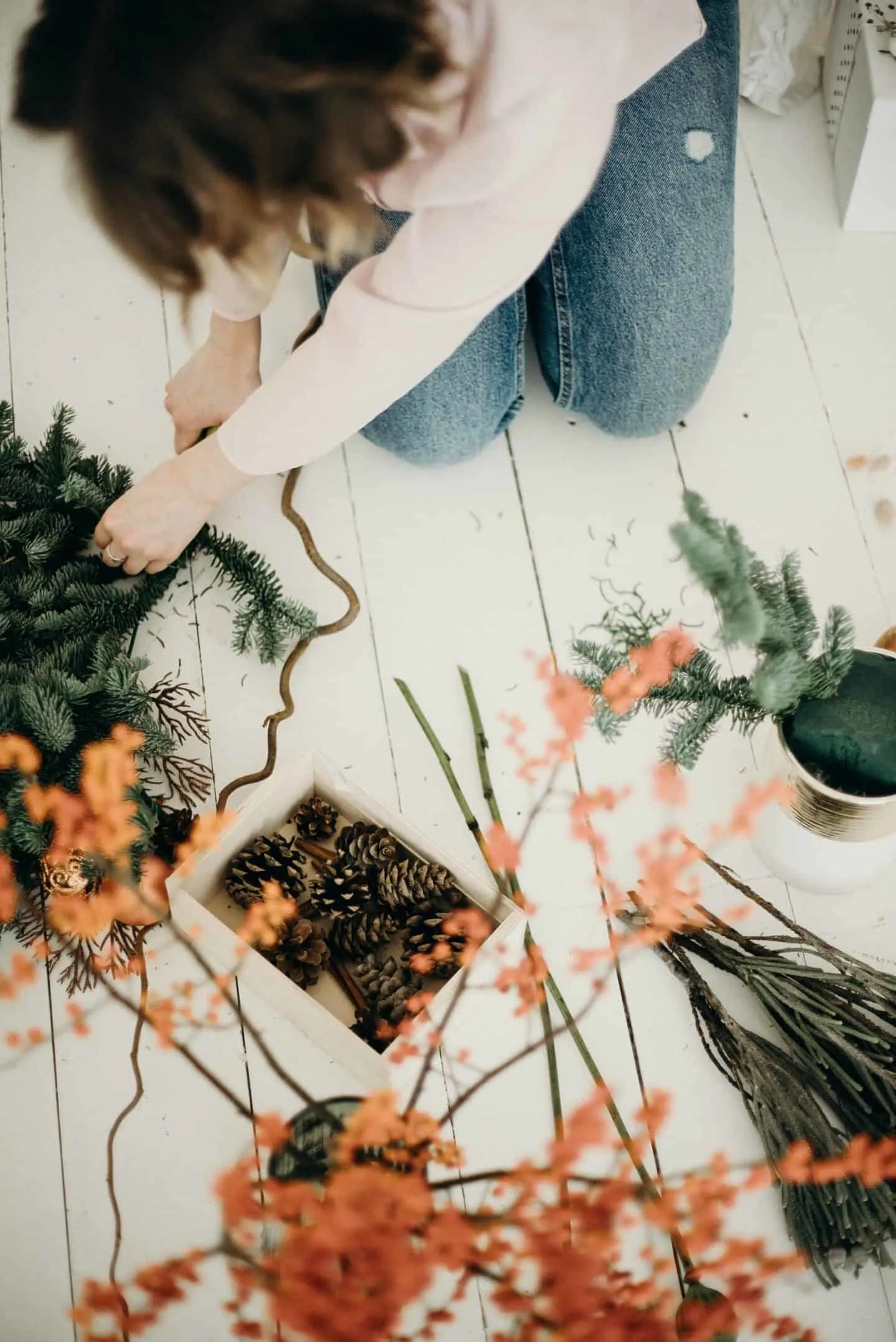 As a reminder, you will find below a quick summary guide to easily decorate your Christmas tree with a Scandinavian style:
Natural tree
Simple ornaments
Choose soft colors
Add soft lights
Decorate around the tree
Simplicity is the key
Favors natural materials
Add evergreen plants
All points are detailed in the article above. If you like more ideas and other tips to create a Scandinavian Christmas decor at home, you will probably enjoy these articles: How to create a DIY Scandinavian decor and 25 easy DIY Scandinavian ornaments.
Have fun decorating your tree!
Want to remember it? Save these tips to decorate a Scandinavian Christmas tree in your favorite Pinterest board.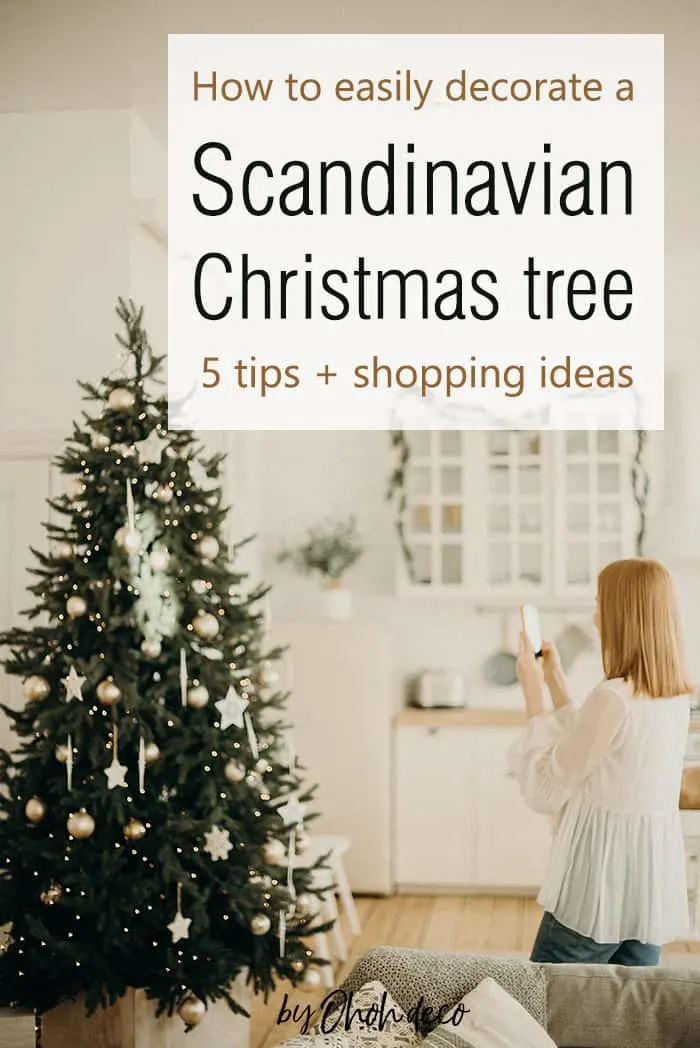 You will find all the tutorials featured in the video on my "Best DIY" page.
Amaryllis