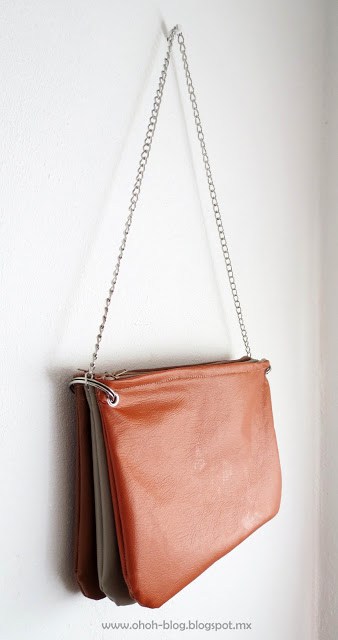 I have been sewing a lot lately, and didn't have time to take pictures yet! So, one of the last things I made was my sister birthday's present, a trio zippered bag!
I work on the same basis as the Duo zippered bag, but I used 3 different faux leather colors to make the pouches.
The purse is super practical with its three pouches. You can choose to make it in a wide variety of colors and combine them the way you like to suit your taste.
The pouches are not lined, this makes it a very easy sewing project to achieve.
[ This post probably contains affiliates links, our full disclosure policy is really boring, but you can read it HERE ]
RELATED: How to sew tote bag
RELATED: How to sew a leather pencil case
How to sew a fake leather purse
Supplies you will need to make a leather zippered bag:
Some faux leather fabric just looks like plastic…that's not the one we want to sew with. If it helps,
this one has a nice texture
and comes in different colors.
Cut 6 rectangles of 12″ x 8″ (20 x 30 cm) and rounded two corners. Put grommets on the two corners that aren't rounded. You can have a look at the picture below if you have any doubt.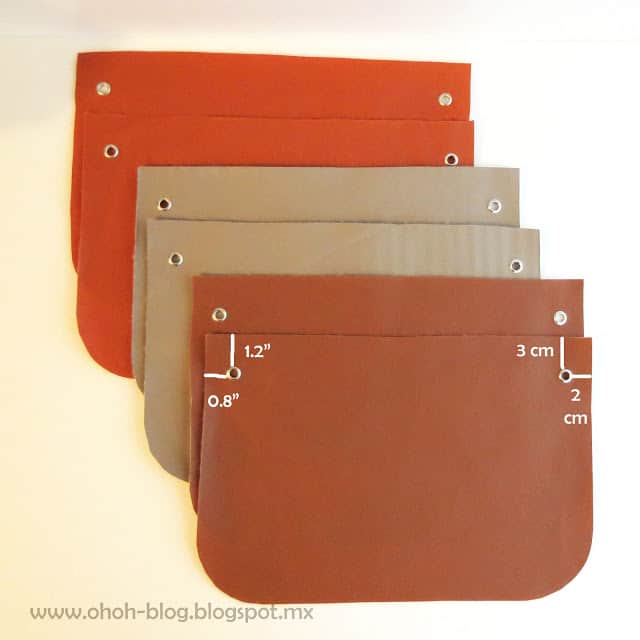 To sew the first pouch, grab two rectangles. Lay one right side facing up and align the zipper on the top edge. The zipper is the wrong side up. Sew them together.
Place the second rectangle on top, the wrong side up. Align the top edge with the zipper and sew.
At this point, both rectangle are sewn with the zipper. Leave the zipper open and make a seam along both of the zipper sides to keep the leather flat.
Place both rectangles on top of each other, right side facing, and sew along the three sides.
Turn the pouch right side out and done.
Repeat to make two more pouches.
When you sew your faux leather I don't recommend using pins because they will leave small holes visible in the faux leather fabric.
I suggest you to use these kinds of clips to keep the pieces together when sewing.
If you prefer following a tutorial with pictures to make the pouches, you can follow steps 1 to 7 of this tutorial. Be careful not to add the leather strips mentioned in step 7.
This is what you must have at this point: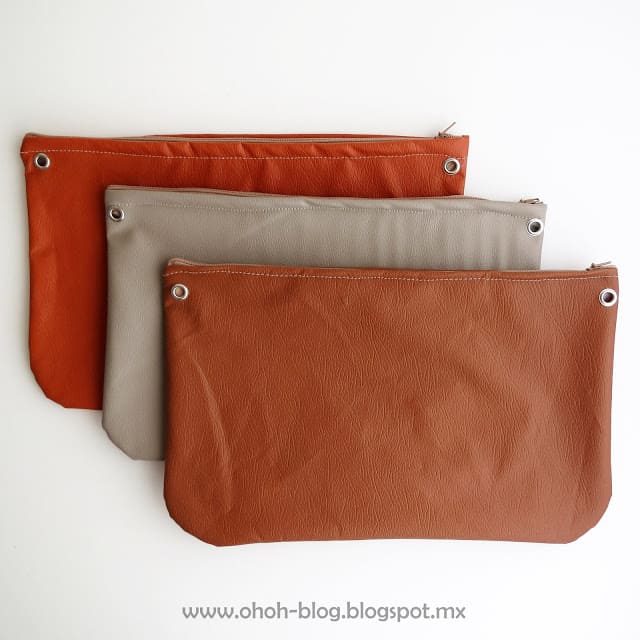 Then just pass a key ring on each side of each pouch to keep all 3 together. Finish by adding the chain t make the purse strap.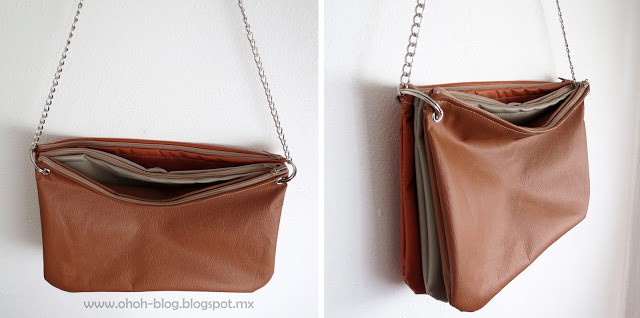 Et voila! Nice new bag for my lovely sister! The inspiration came from this fabulous Celine bag.
Want to remember it? Save this faux leather purse in your favorite Pinterest board

You will find all the tutorials featured in the video on my "Best DIY" page.
Amaryllis