I bought some new kitchen towels but it turns out that they don't dry very well. I had hoped that after a few washes it gets better but not even. A dishtowel that doesn't dry well is something really annoying…so I turned them into potholders! Aren't these cloud-shaped potholders cute?
The free pattern is available in my library, which you need to be a subscriber to get access to. Don't worry it's free (and always will be) you just need to provide your email and you will receive your password to login to the library. You will also get my newsletter every Sunday with cool DIY to make (no spam, I swear).
* * *
Compré algunas toallas de cocina nuevas, pero resulta que no se secan muy bien. Había esperado que después de unos cuantos lavados mejorarían, pero ni siquiera. Un paño de cocina que no se seca bien es algo realmente molesto … ¡así que los convertí en unas agarradores de olla! ¿No son lindos con esta forma de nube?
El patrón es gratuito y está disponible en mi biblioteca, del cual necesitas ser [email protected] para tener acceso. No te preocupe, es gratis (y siempre lo será), solo debes proporcionar un correo electrónico y recibirás tu contraseña para iniciar sesión en la biblioteca. También recibirás un correo mio cada domingo con un DIY (nada de spam, te lo prometo).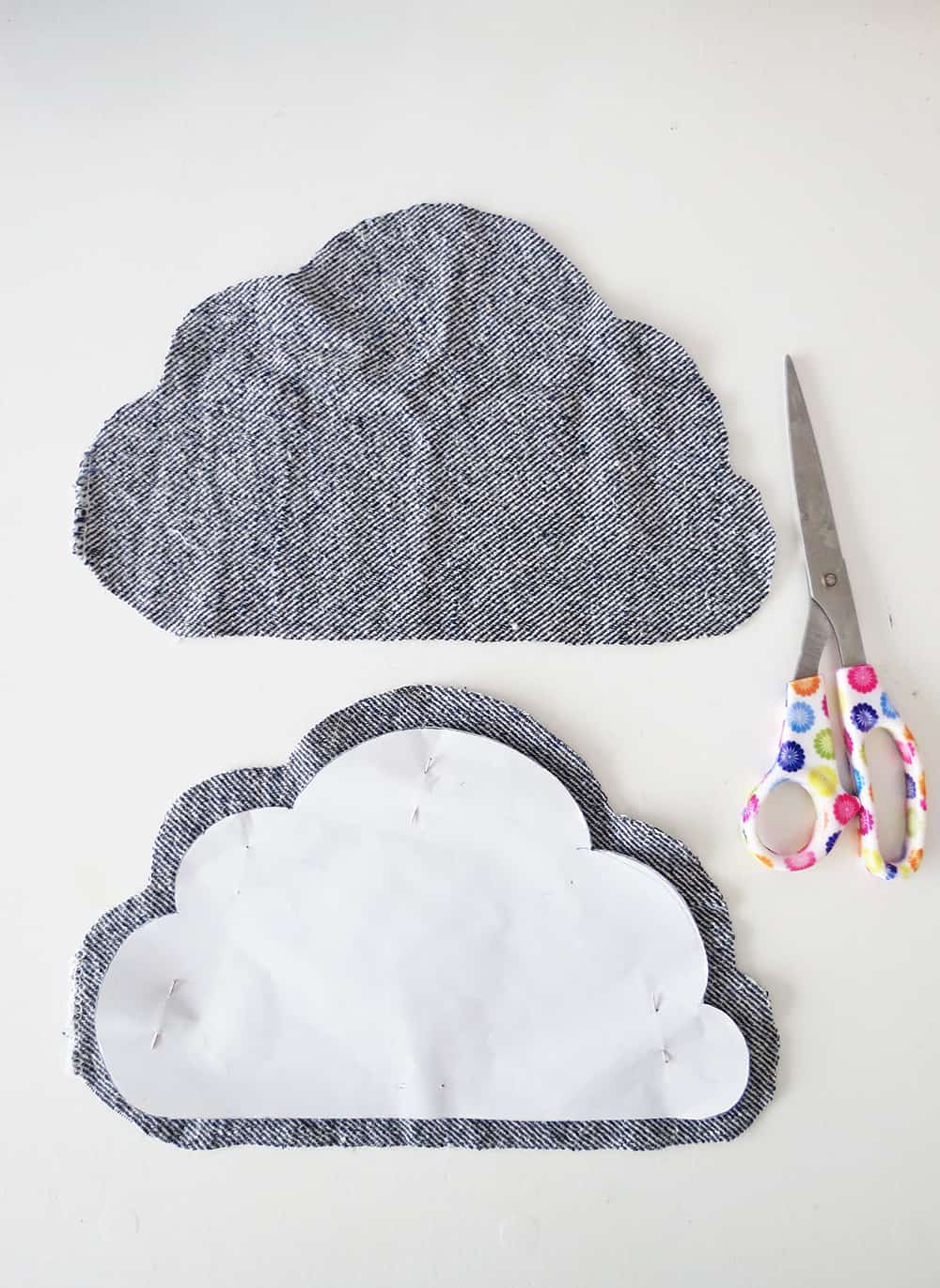 How to sew potholders:
Material you need to make a cloud pot holder:
Some thick fabric (it's a great project to use your scrap fabric)
Thermal batting
Leather cord
Thread
The free pattern (click to get access to my library or subscribe here under and download it)



Print the pattern and cut out the cloud shape. Place the cloud on the fabric and report the shape two times. Don't forget that your cloud shapes must be inverted, like in a mirror. So once you draw your first cloud, flip the pattern over to draw the second cloud shape. Cut the fabric following the cloud shapes leaving a sewing allowance of 1/2 inch all around.
* * *
Material que necesitas para hacer un agarrador para ollas en forma de nube:
un poco de tela gruesa (es un proyecto perfecto para usar tus sobras de tela)

Guata térmica

Cordón de cuero

Hilo

El patrón gratis (haga clic aqui para acceder a mi biblioteca y descargarlo)
Imprimas el patrón y recortes la forma de la nube. Coloques la nube sobre la tela e copias la forma dos veces. No olvides que las formas de las nubes deben ser invertidas, como en un espejo. Así que una vez que dibujes tu primera nube, voltea el patrón para dibujar la segunda. Cortes la tela siguiendo las formas de nubes dejando un margen de costura de 1,5 cm alrededor.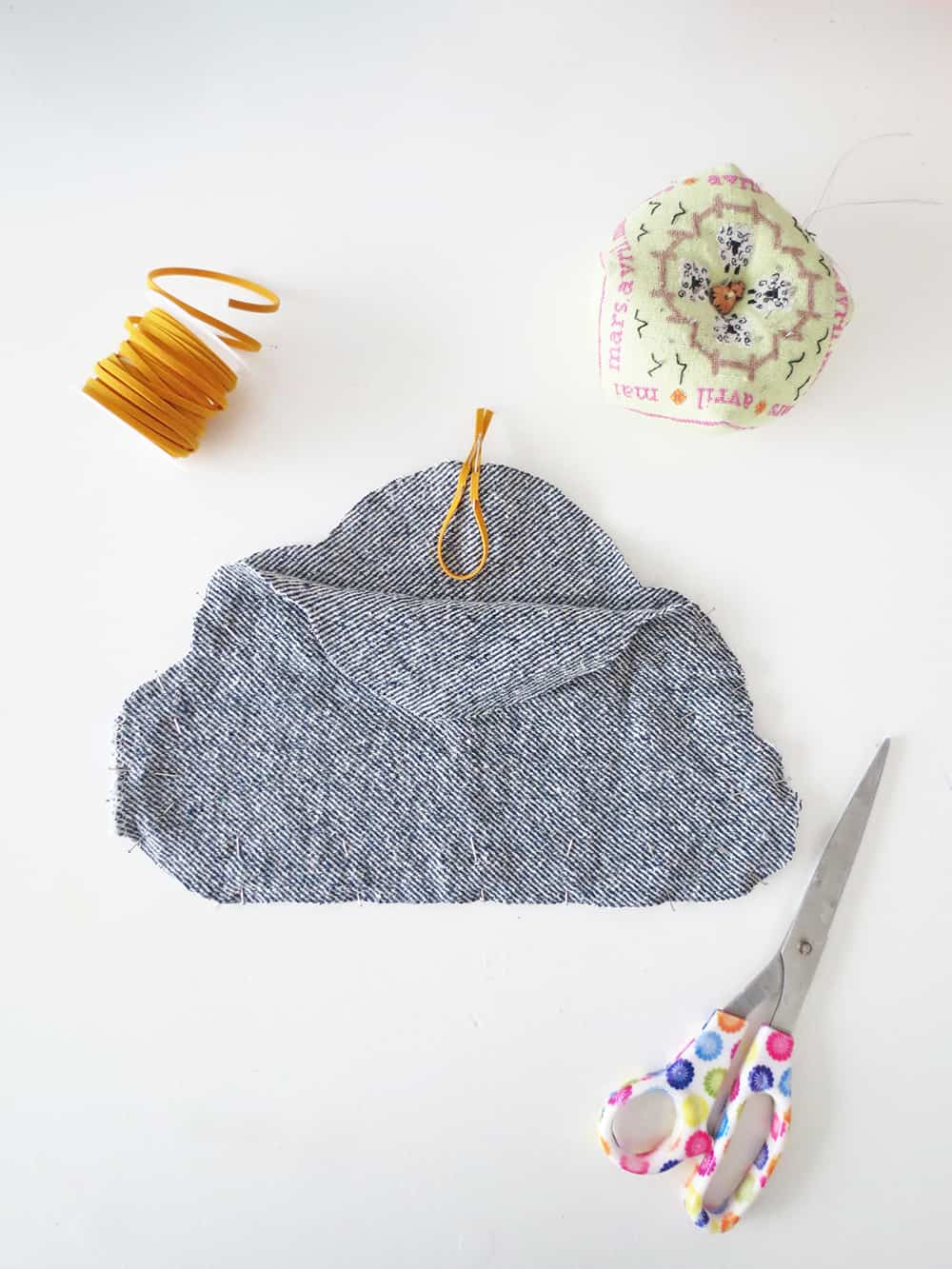 Place the two pieces on top of each other, wrong side out. Cut a piece of leather cord of 5 inches and fold it in half. Place it on top of the cloud between the two fabric, the loop turned inside. Pin the cord and the fabric all around.
* * *
Coloques las dos piezas una encima de la otra, con el reverso hacia fuera. Corta un trozo de cordón de cuero de 10 cm y dóblalo a la mitad. Lo colóquas en la parte superior de la nube entre los dos tejidos, el bucle girado hacia adentro. Sujete el cordón y la tela alrededor con alfileres.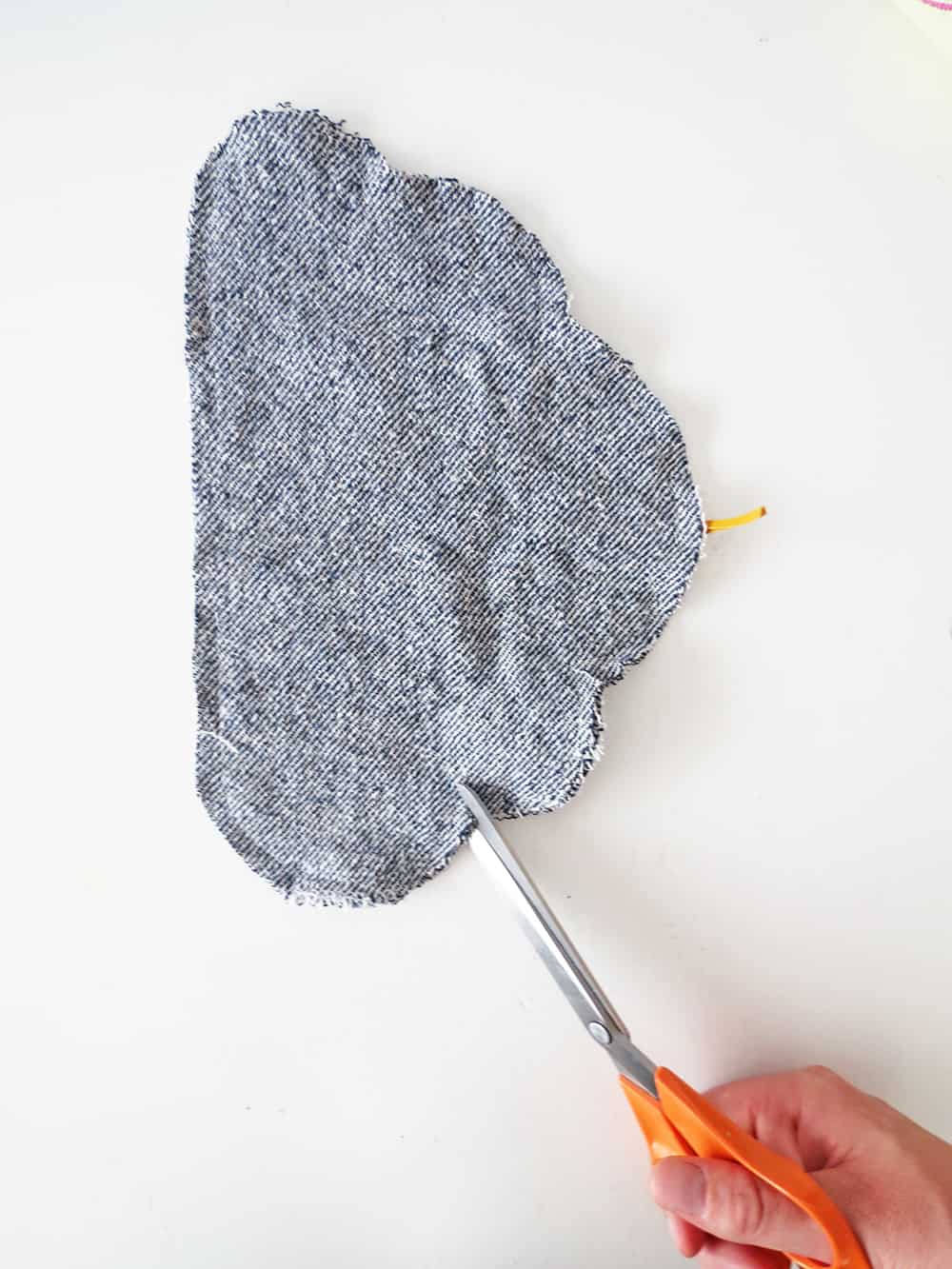 Sew all around leaving an unsewn gap of a few inches in the straight bottom of the cloud. Using your scissors, make little notches all around the cloud so the shape will show up nicely once you turn it over. Be careful not to cut through the seam.
* * *
Coses alrededor dejando una apertura de unos centímetros en la parte inferior recta de la nube. Con las tijeras, haz pequeñas muescas alrededor de la nube para que la forma se vea bonita una vez que la volteas. Ten cuidado de no cortar la costura.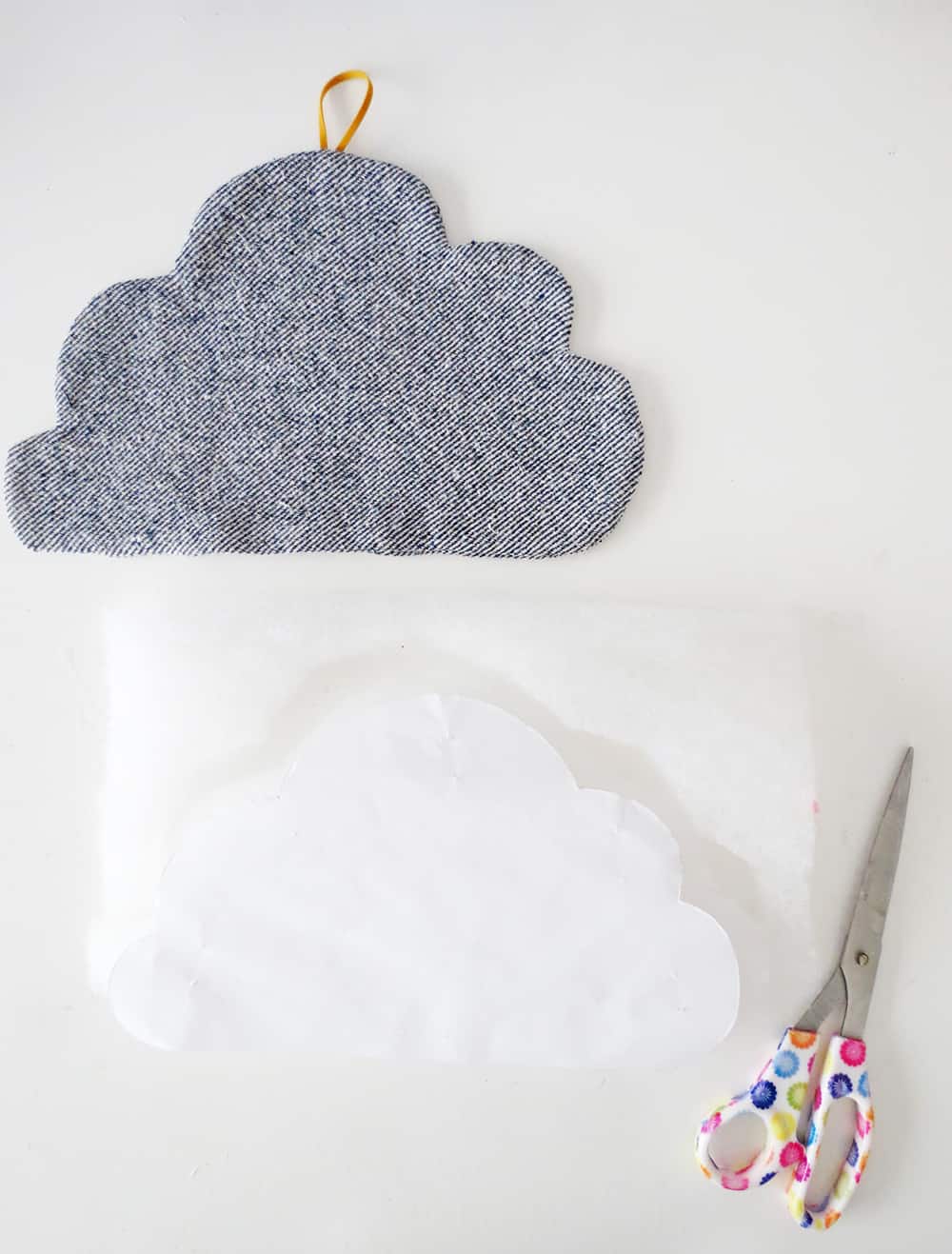 Turn the cloud right side out and iron. Take again the cloud pattern and place it on the thermal batting, report the shape and cut out.
* * *
Volteas la nube y plancha la. Retomas el patrón de la nube y coloca lo sobre la guata térmica, reportas la forma y recortas.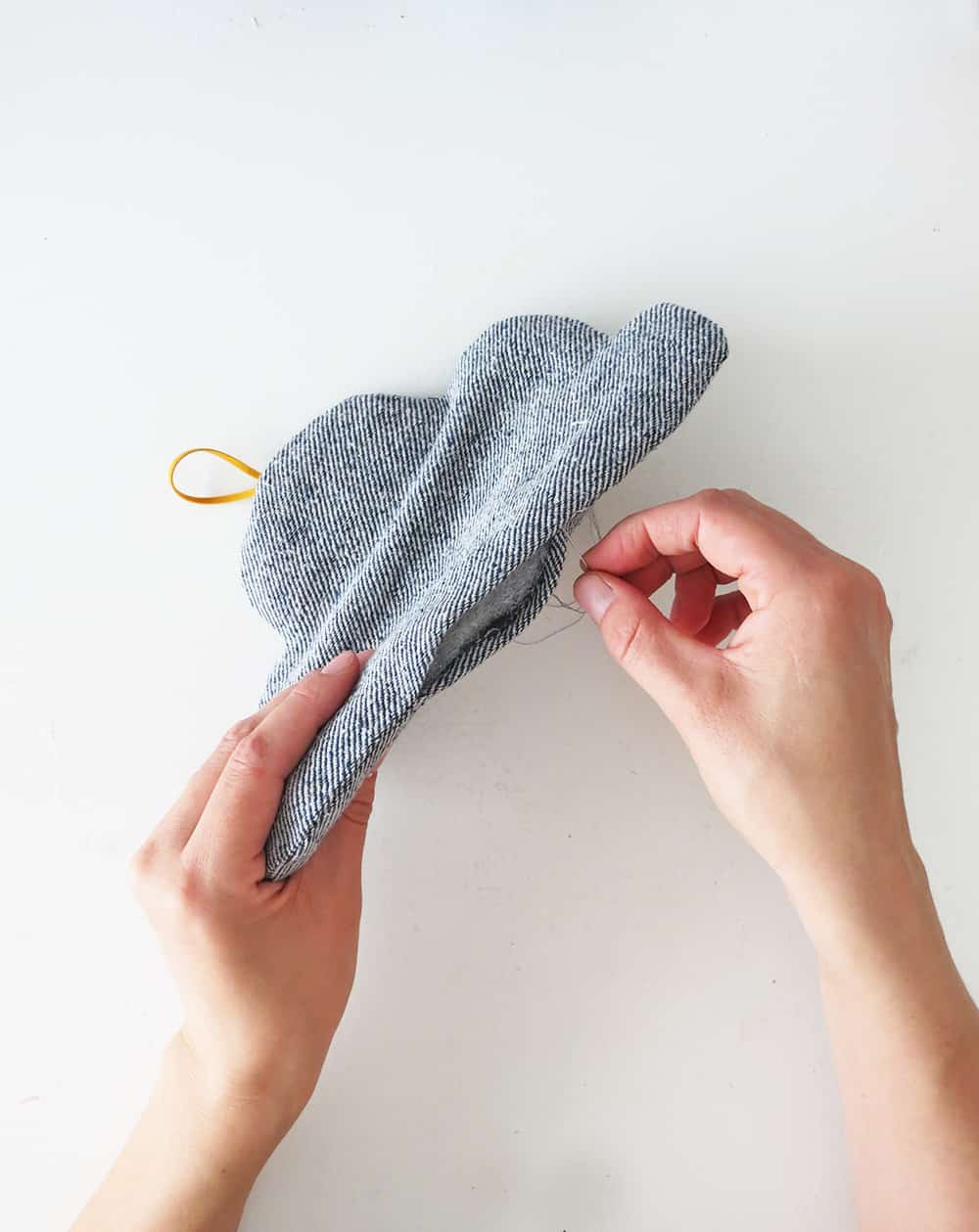 Put the batting inside the cloud and flatten it. Pin the cloud opening and close it with a few invisible hand stitches.
* * *
Pon la guata dentro de la nube y la aplanas. Cierras la abertura de la nube con unos alfileres y coses unos puntos invisibles a mano.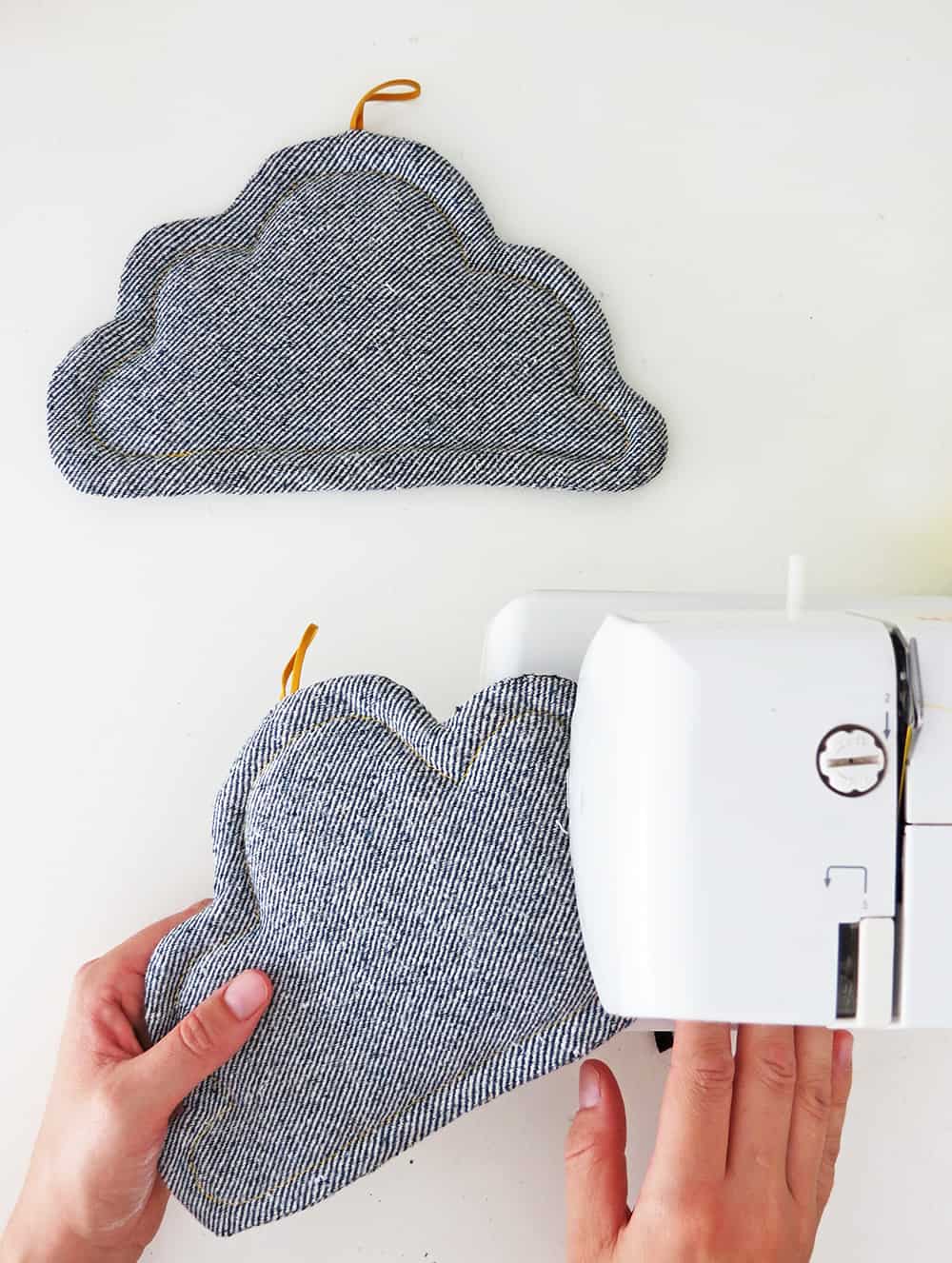 To ensure that the batting will stay in place inside your potholder, make a seam all around at 1/2 inch from the cloud edge. You can use a thread that matches your fabric color or add a little contrast with a thread coordinated with the leather cord. And done, repeat to make a second pot holder…or more!
* * *
Para asegurarte de que la guata permanezca en su lugar dentro del agarradero, haz una costura alrededor de la nube a mas o menos 1.5 cm el borde. Puedes usar un hilo que coincida con el color de la tela o, como yo, agregar un poco de contraste con un hilo que combina con el cordón de cuero. Y listo, repite para hacer un segundo agarradero … ¡o más!
Looking for more sewing ideas?
You will find all the tutorials featured in this video on my Best off-page.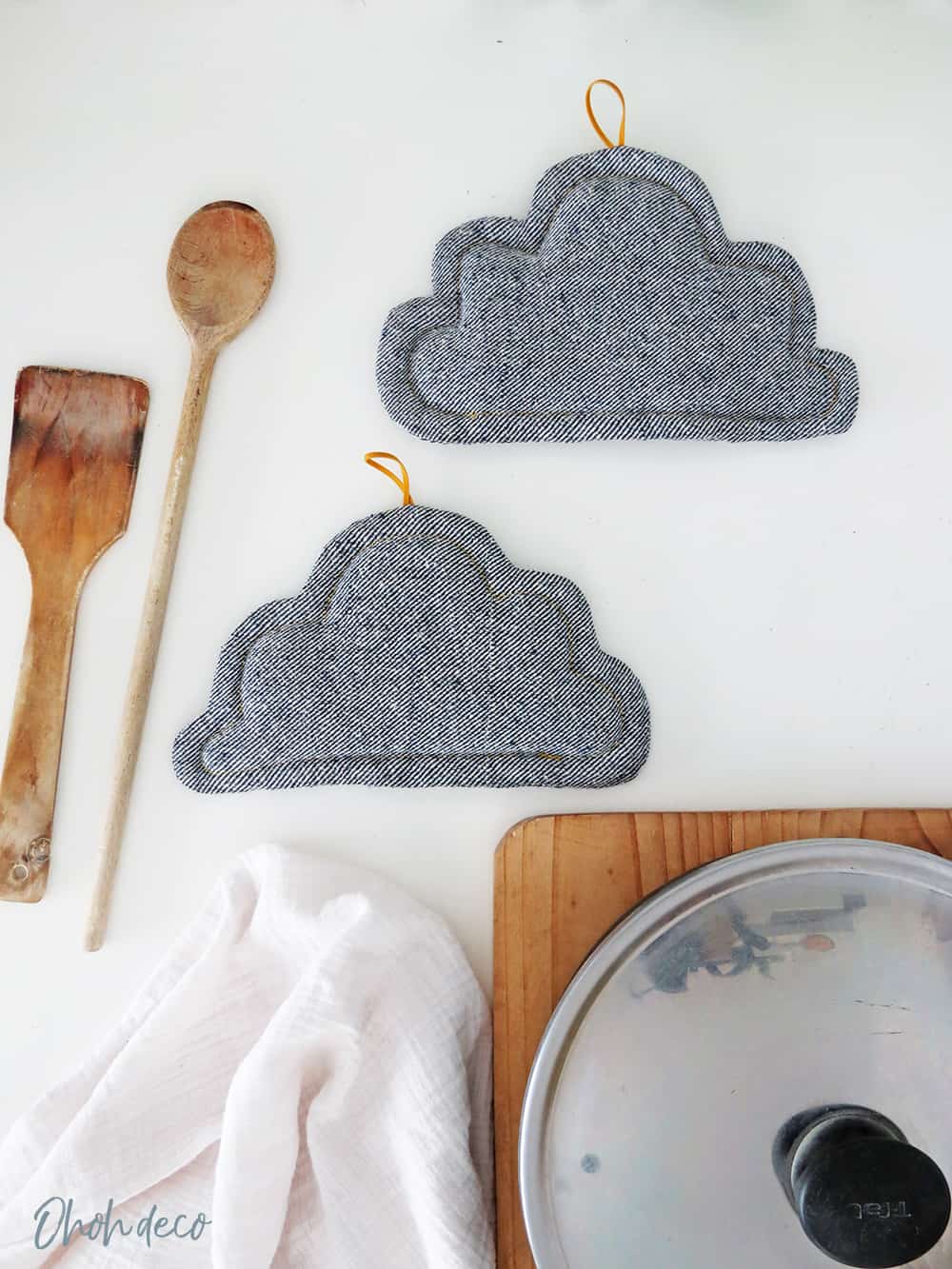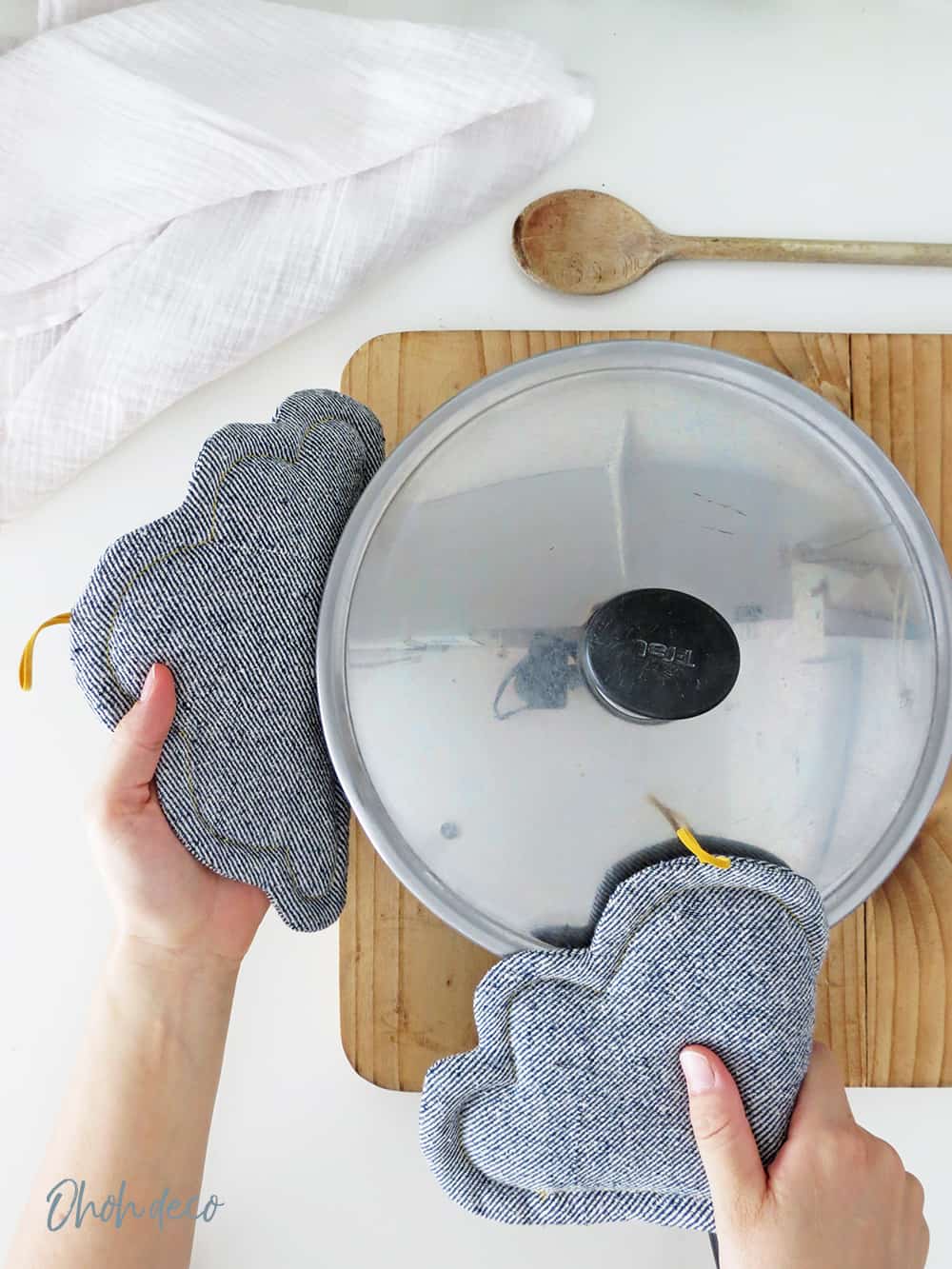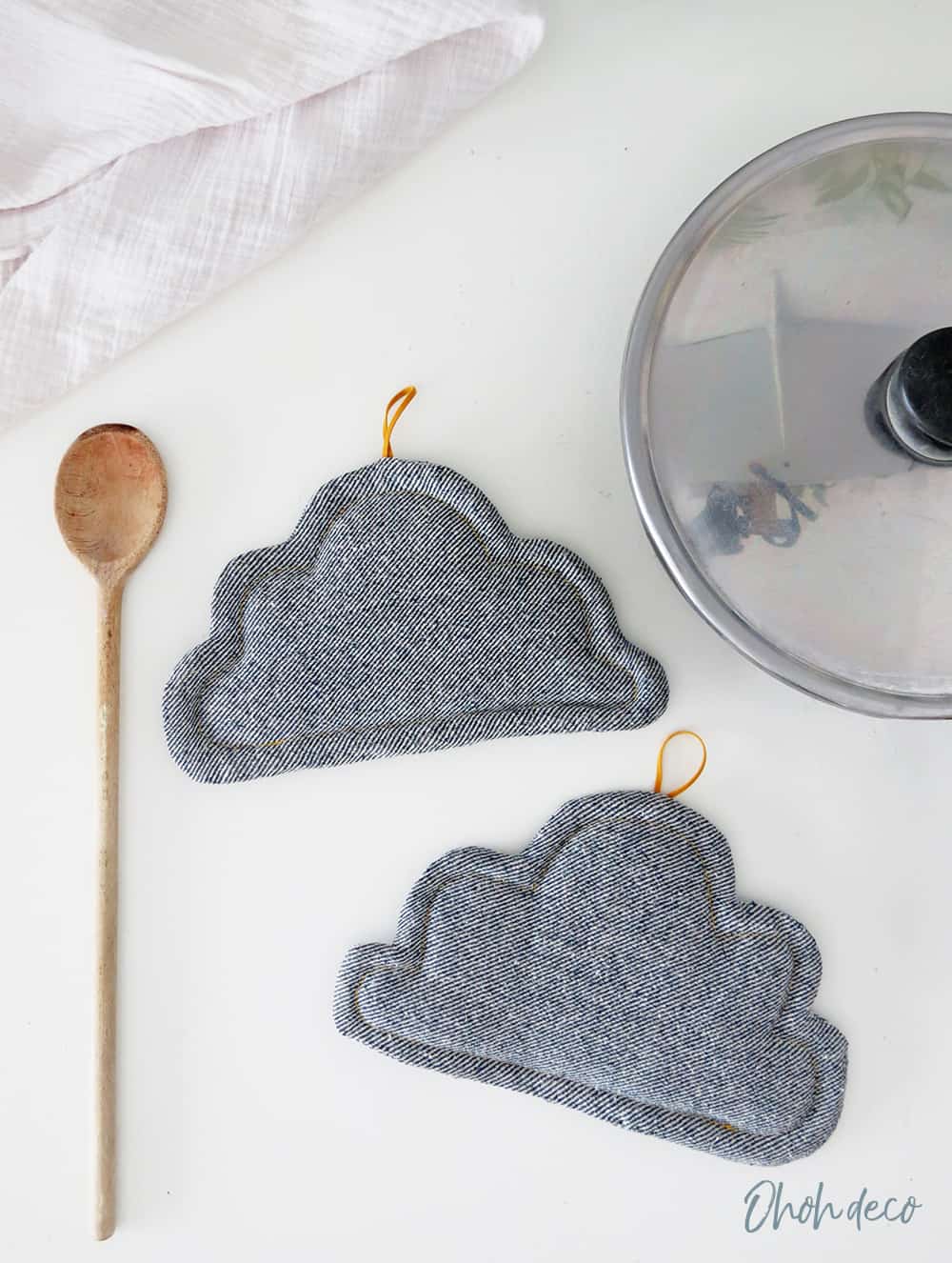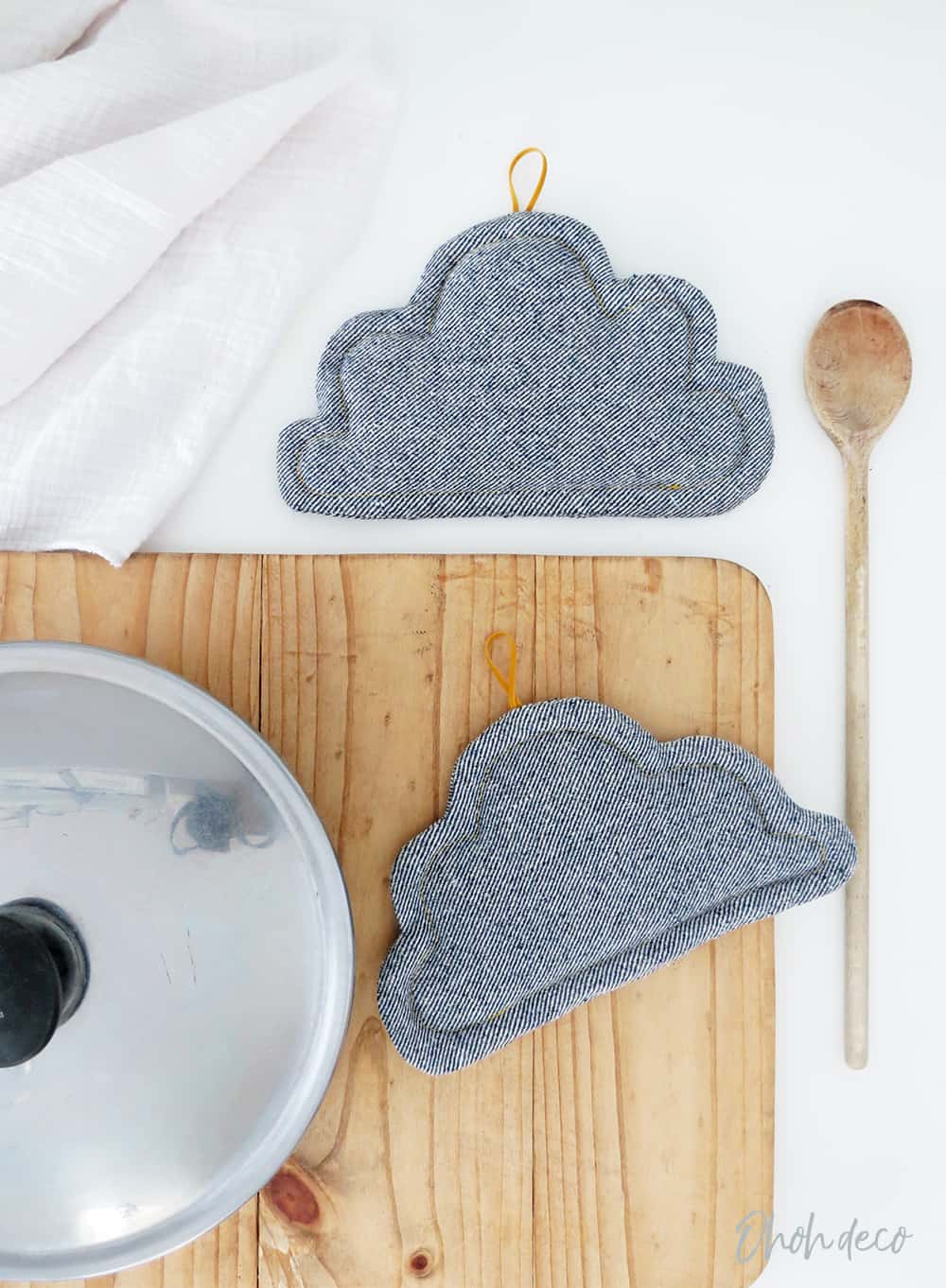 Want to remember it? Save these Cloud shaped potholders in your favorite Pinterest board.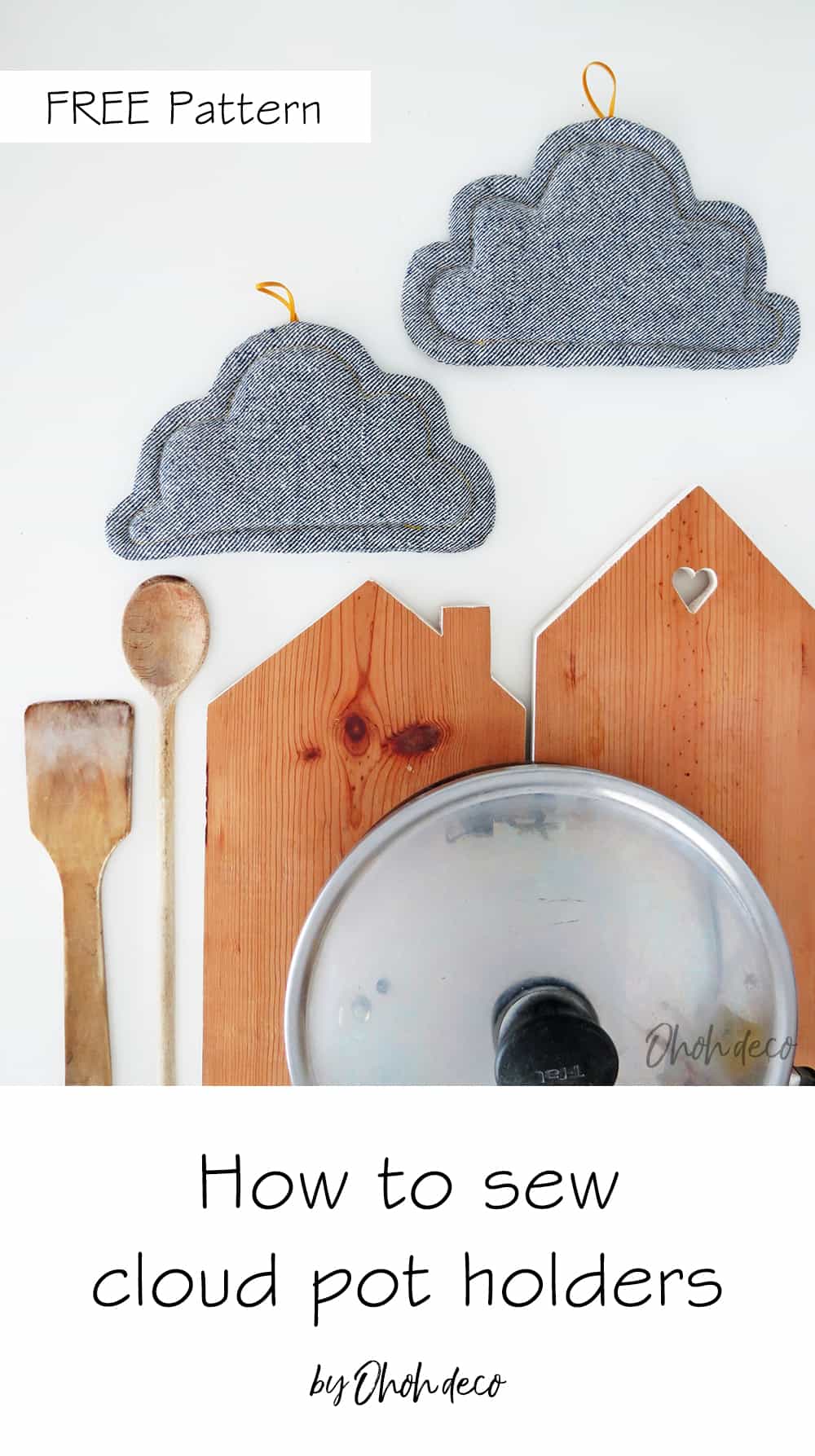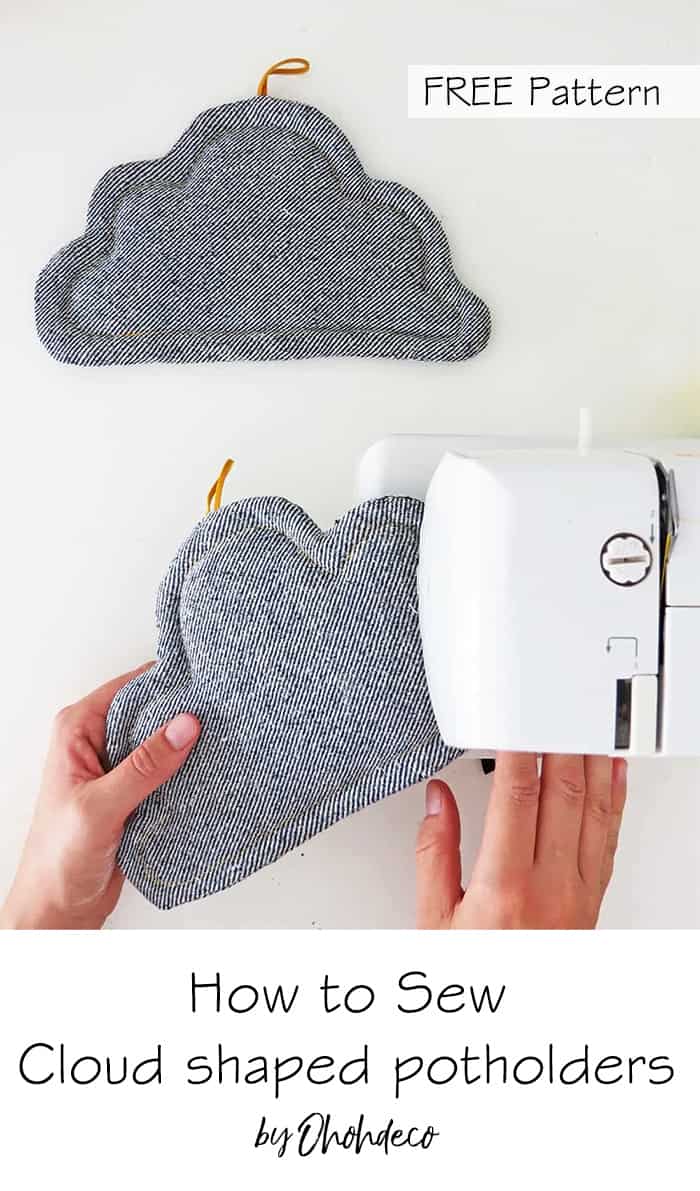 Amaryllis