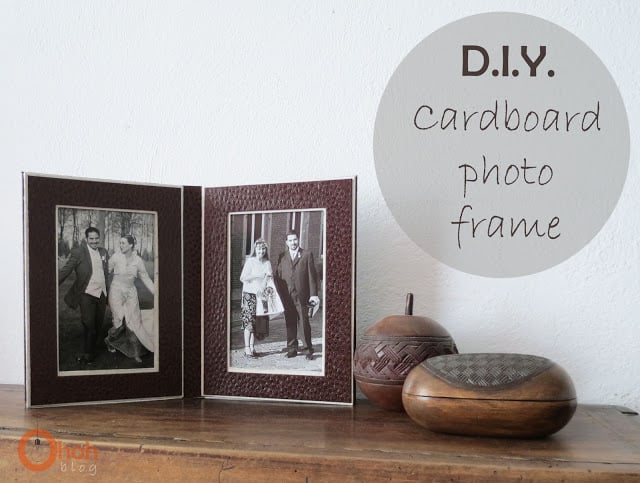 It's been a while since I made something with cardboard, I almost forgot it was soo nice and fast!
Father's day is coming, so it was the perfect opportunity to do something.
It took me about two hours to realize this project. The photo frame folds in the middle, in you want to put it away (but who wants to do that?). Thanks to the fold it stands on itself and is perfect to display on a desk or a console.
The pictures are slide in the frame, so it's super easy to switch them if you like to.
I will put pictures of my kids in it and give it to my husband. It will make a cute father's day's present!
[ This post probably contains affiliates links, our full disclosure policy is really boring, but you can read it HERE ]
RELATED: How to make paper gift bag
RELATED: How to make Paper photo frame
How to make a photo frame with cardboard
Materials you will need for this handmade photo frame:
Cardboard (2mm and 0.5mm thickness),
2 different papers (I used brown Skyvertex and beige tissue paper)
pencil
ruler and square
cutter
scissors
It's important to work with good quality papers when you do cardboard craft. What makes this DIY picture holder nice-looking is the faux leather paper, it comes in different colors.
Don't mistake it
with this one
which is too thick for this project.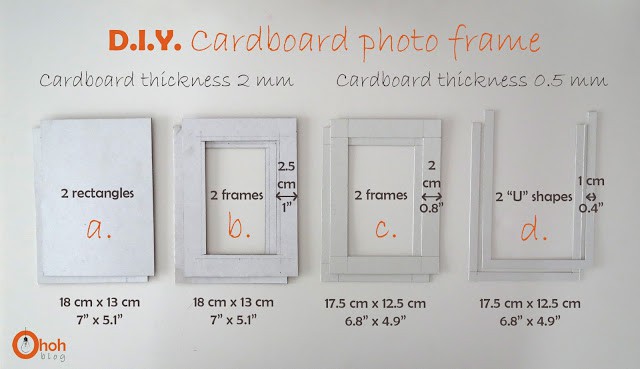 Here are pieces you have cut in the cardboard, A/B are made in 2mm cardboard and C/D in 0.5 mm cardboard.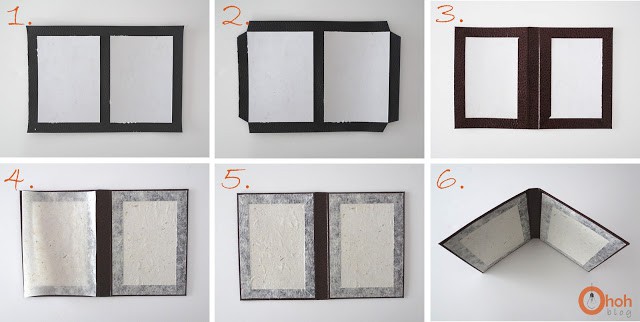 1- Glue "A" pieces on the wrong side on skyvertex paper, rectangles must be parallel with a 0.8″ (2 cm) space between them. The paper should exceed rectangles around 0.8″ (2 cm)
2- Cut paper angles.
3- Fold paper flaps and glue them on cardboard. Cut an extra piece of paper and glue it on the center to fill the gap between rectangles to make the hinge to fold your photo frame.
4- Cut 2 rectangles on the beige paper of 7″ x 5.1″ (13cm x 18 cm)
5- Glue them on the inside of the frame.
6- What you must have at this point. You just finished the back of your photo frames.
To glue the paper nicely without bubbles, I spread the white glue with a brush and then I flatten the paper by hand. If you like making paper and cardboard craft, this
simple tool is very handful
and will help you to achieve better-finished projects.

7- Glue "D" pieces on the back of "B" pieces.
8- Cut 2 rectangles in the beige paper and glue them on the front.
9- Cut angles and the center. Fold and glue the flaps on the back. You now have 2 beige frames with a small ledge on the edges that will alow you to slide the photos into the frame.

10- Cover the "C" pieces with brown paper (wrong side together), and cut the angles.
11- Fold and glue the paper flaps. At this point, you must have 2 brown frames.
12- You now have to assemble the three pieces together. Lay the back part flat and glue the beige frames on it, one on each side of the fold. Leave free the hinge in the middle.
Then glue the brown frames on top of the beige frames, center them so your frame will look nice.
To be sure that all the parts are well glued together you can put them under a pile of books (or anything else heavy) to press all layers until the glue dries.
RELATED: DIY cardboard box storage
RELATED: Easy paper wall hanging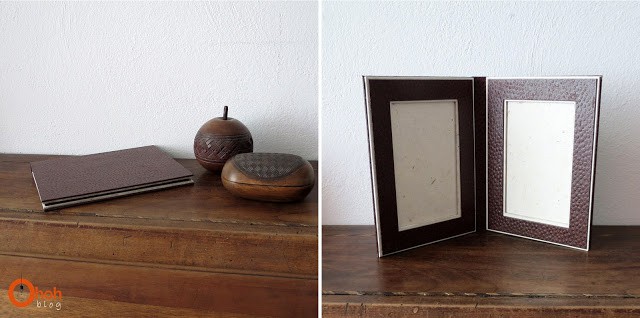 Et voila! Folded and Opened!
I kind of ruined the surprise showing the gift on the blog before the day … but with luck, he will not even notice!
So tell me, what did you plan for father's day?
I hope you enjoyed this creative photo frame. Do you have any other idea to make photo frame you like to share?
I love to see your creations, so don't hesitate to share your make in the comments or drop me an email at amaryllis(at)ohohdeco(dot)com.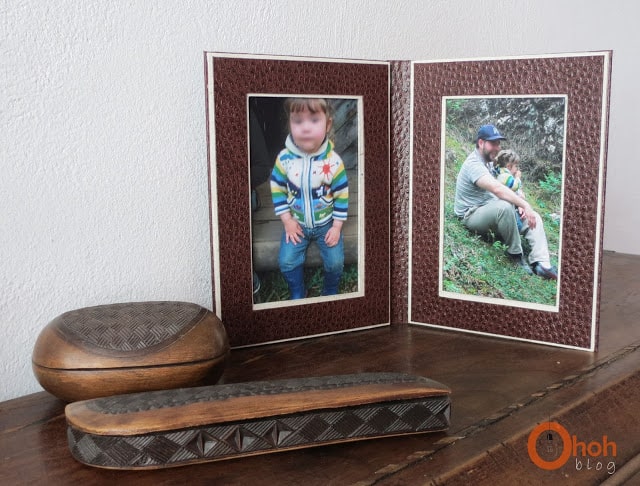 Want to remember it? Save this DIY cardboard photo frame in your favorite Pinterest board.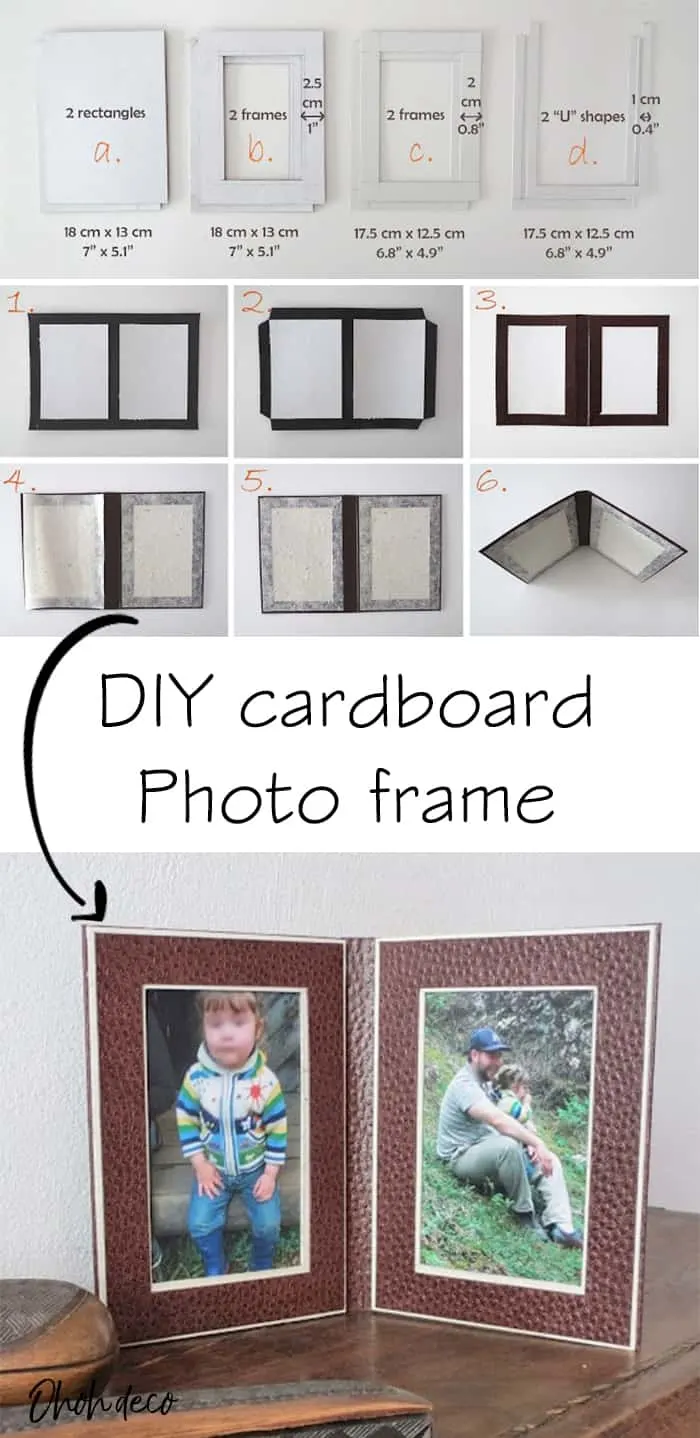 You will find all the tutorials featured in the video on my "Best DIY" page.
Amaryllis